How many pairs of jeans should a guy have?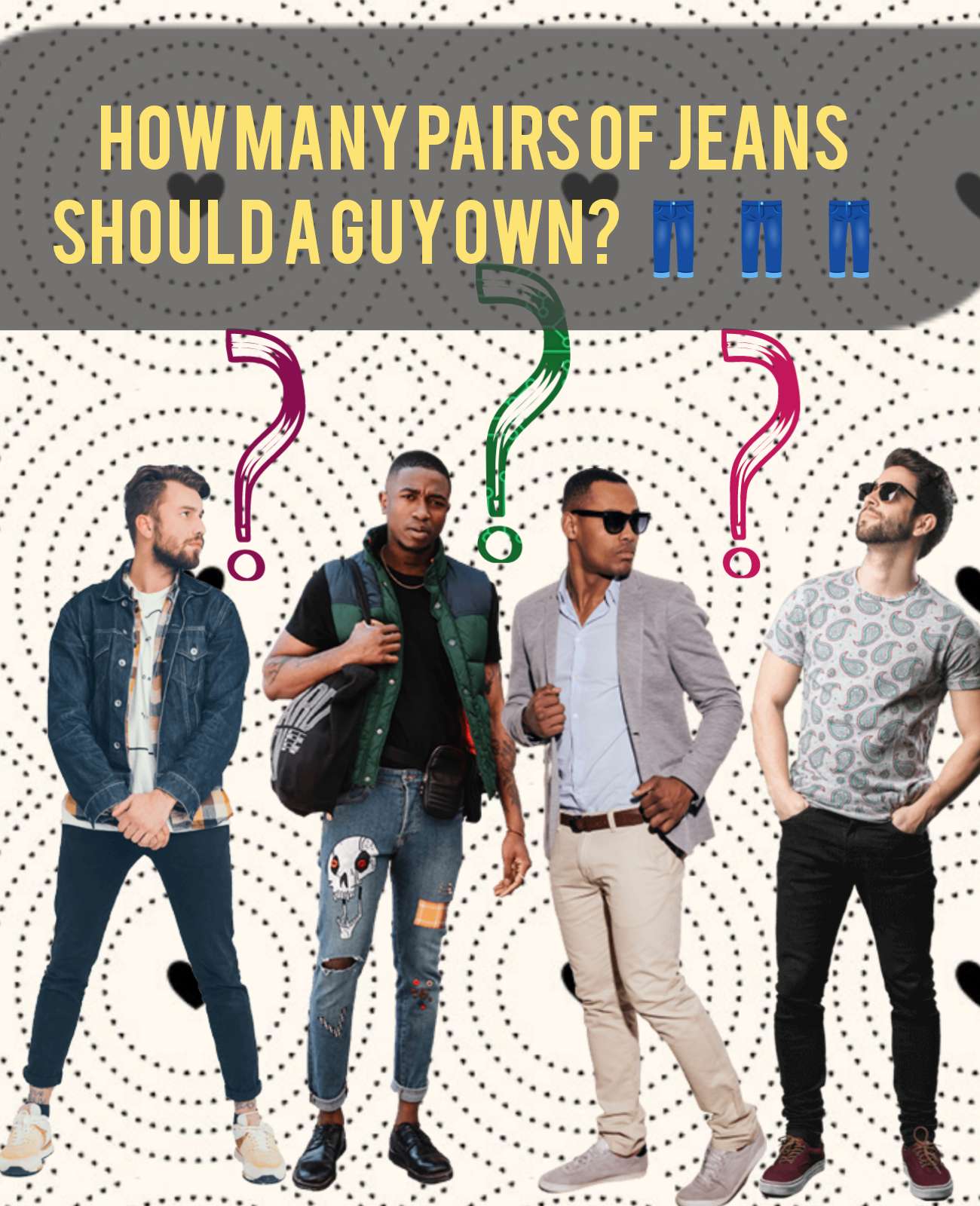 Modern man can't imagine life without jeans, A garment that's the most popular item of clothing in the world, a garment that's the easiest to use, that doesn't require much maintenance, washing, and ironing, something that looks good on everyone, and to top it all off, it gets better with age just like the good old wine, we are talking about jeans, you know it already! Every guy needs a few pairs of jeans in his wardrobe, that's a no-brainer, but can we replace the words "a few" with a number? In the context of jeans, it's tricky, but it's possible. We have worked on that, and we have come up with a number, the answer to your question, "How many pairs of jeans should a guy have?"  
The answer: 5 pairs of jeans: 
This includes a pair of classic slim and straight dark blue jeans, black jeans, white jeans, distressed or ripped jeans, and light blue jeans. If you are an ardent jeans fan you must be familiar with different styles and types of jeans. But this minimalist list of jeans includes only the styles and types that are classic and timeless and therefore essential for every guy to own.
The 5 pairs of jeans every guy should own: 
1. A classic slim and straight dark blue pair: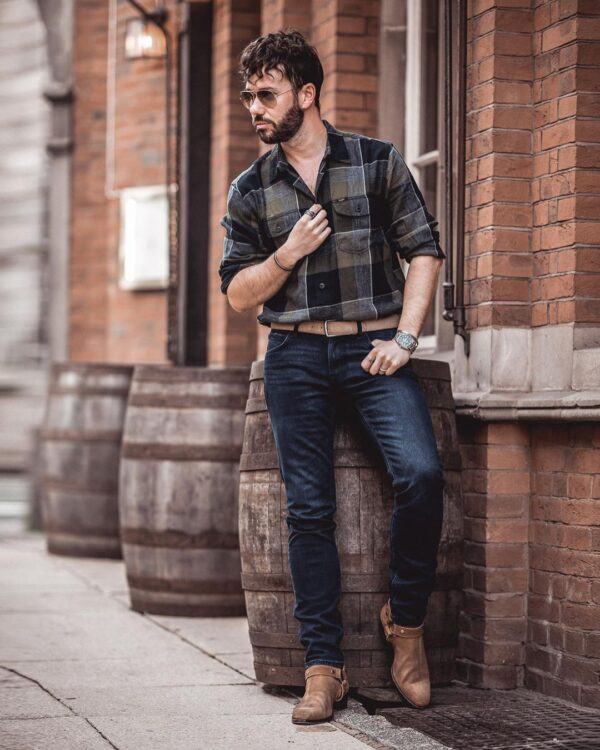 This pair of jeans is a de rigueur staple in every man's dresser you can't do without. You will be using it in every situation. It can be easily dressed up, with the addition of a white button-down and a blazer to create a crisp blazer with a pair of jeans outfit. It's important to take care of these all-important denim jeans because you will be using them extensively. image source: Your Average Guy.
 When do you use it?: This classic pair of jeans is a versatile staple that you'll use in most situations and it's most suitable for businessy outfits. This pair of jeans is that handy dandy option for you when you don't have an ironed pair of dress pants for the office. You can substitute dress pants with these classic jeans for your work, either using a button-down in white or black or using a crisp blazer with them for dressed-up jeans with a blazer look.
2. The black jeans: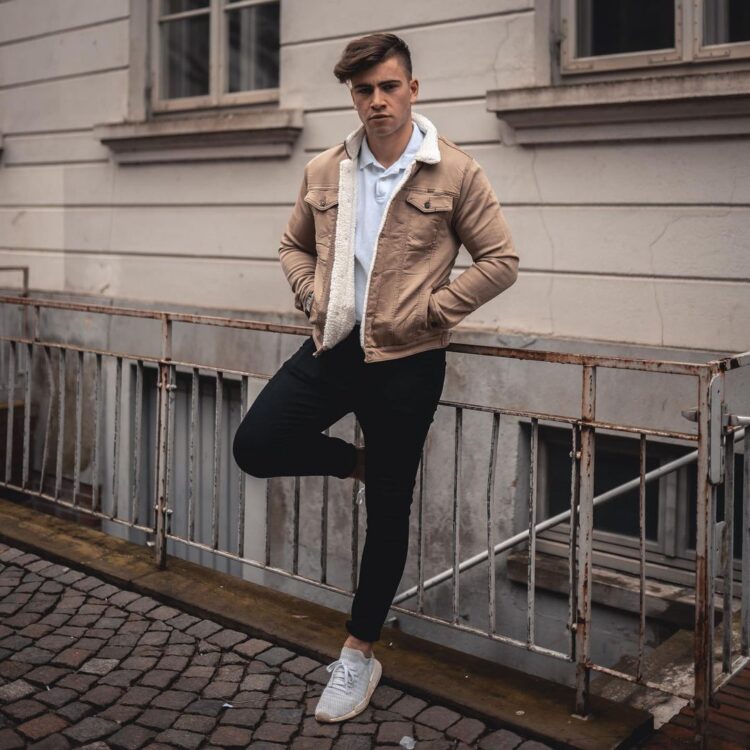 Black jeans are a relatively new entry in the men's style scene. They came to the limelight in the noughties and 2010s. These jeans are almost always slim-fit or skinny and they work for everyone
When to use them?: Like the classic dark blue jeans black jeans can be used in both casual and smart situations. Straight-leg black jeans can be effortlessly teamed with a blazer for a smart look. On the other end of the spectrum, you can wear them with a black leather biker jacket for a timeless all-black outfit. Black jeans are perfect for fall and winter, you can use them with topcoats in black, camel, or grey colors, tan trench coats, peacoats, and hooded jackets in addition to a timeless biker jacket. This doesn't mean you can't use black jeans in summer, you can use white tees or black tank tops to create some awesome summer outfits. 
3. The distressed, knee-ripped jeans: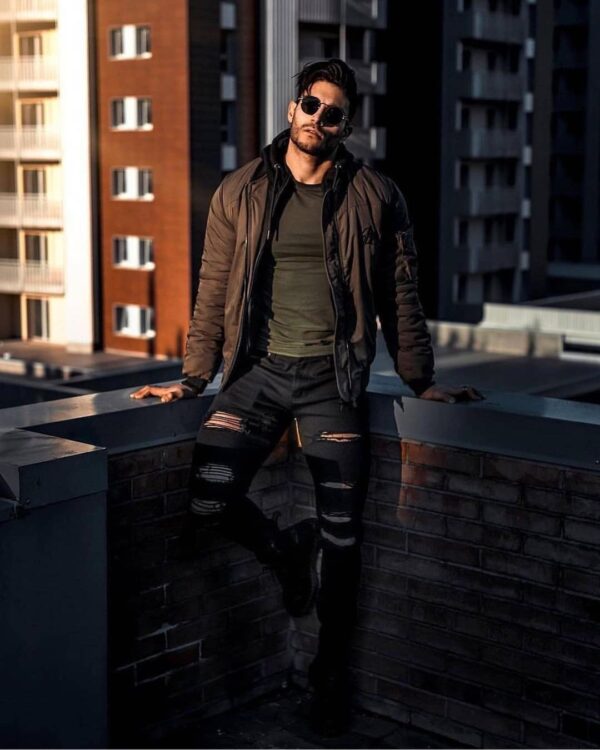 Your wardrobe should boast a worn-in, distressed, knee-ripped, or all-over ripped pair of jeans, whichever is your cup of coffee, you must own at least one of them. This is especially true if you fall into the younger demographic or you are one of those men who are young at heart! Knee-ripped jeans are very trendy in the 2020s, and they are most likely to stay in style for years to come. Distressed jeans are a timeless staple in men's casual wardrobes and they are a quintessential piece in men's hipster, bad boy, and scruffy chic styles. 
When to use distressed or ripped jeans? This version of denim is at the extreme casual end of the men's style spectrum. A pair of distressed or worn-in jeans is best suited for an off-duty day, for a day at a resort, for parties, and for a casual stroll down the street. You can rock your distressed knee-ripped jeans all seasons round. In the fall you can use your best casual jackets with ripped jeans for a cool casual outfit. In summer a tee or a tank top is the obvious choice for you to team up with your pair of distressed jeans. You should wear tops that can match the shoes you are going to wear.
Here is the link to some ripped jeans outfit ideas for men.
4. A pair of white jeans: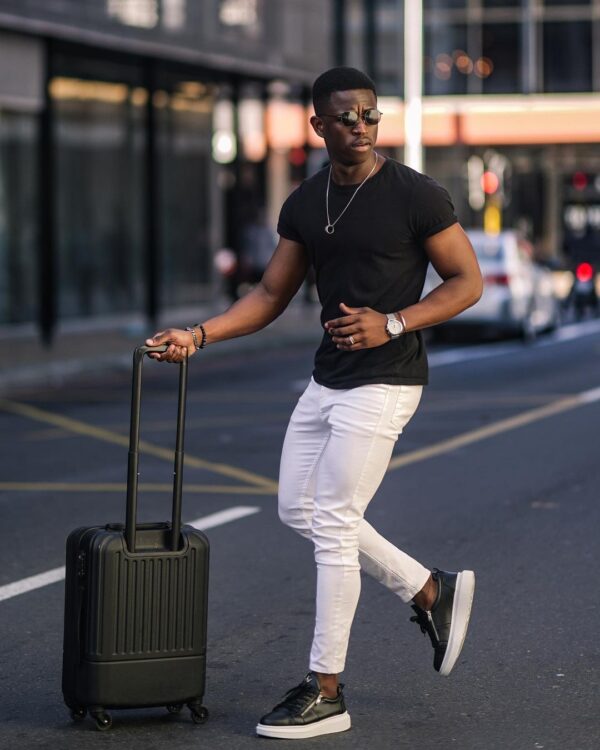 You shouldn't write off a pair of white jeans as your fashion choice, even if you are not a big fan of them. These neat denim jeans are at the apex of fashion trends for men in the 2020s, and they are here to stay. White jeans will brighten up an off-duty summer day in your life like nothing else. And their utility is not limited to summer alone, you can use them in spring and autumn too with the same stylish edginess.
When to wear a pair of white jeans? Summer and spring are the seasons you should allow yourself to enjoy the pristine purity of the color white. Couple a pair of white jeans with a black tee or polo shirt, and introduce a pair of low-top white or black sneakers into your outfit scheme, and voila! You have the most effortlessly stylish summer outfit on your body. White jeans can be incorporated into your outfit in numerous stylish ways with a number of tops like black leather biker jackets, peacoats, topcoats, and any top in earthy tones will work with these. As for footwear stick to white sneakers or black boots for a stylish statement.  
Here is a link to some white jeans outfit ideas if you are interested.
5. Light blue jeans: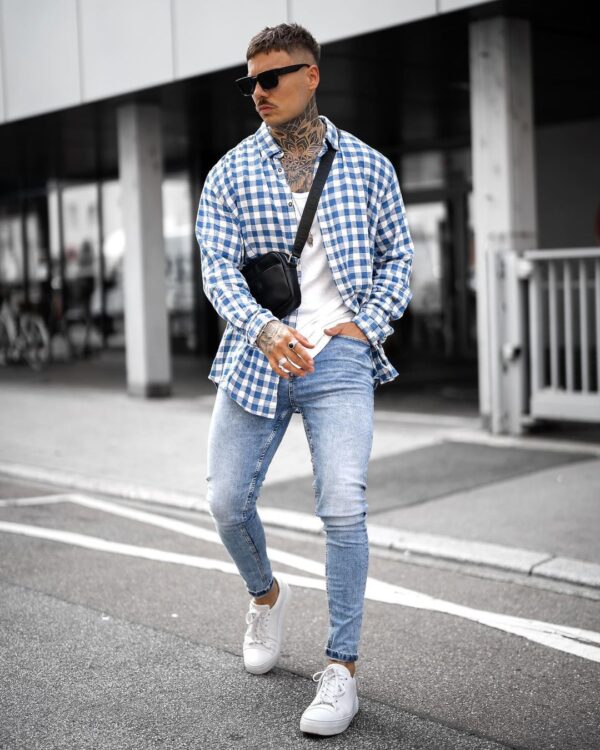 Clear blue spring skies and sun-drenched scenes of summer, yes you can associate a pair of light blue jeans with all this. A pair of light blue jeans should be a part of your casual wardrobe, even if you are not a die-hard denim fan. You may not use these light blue denim jeans often, but these jeans will usher a fun twist into your casual denim routine.
When to wear a pair of light blue jeans? This is a summer and spring staple for a relaxed casual day. A white tee with light blue jeans and white sneakers is a look that is as simple as it is stylish and is full to the brim with ease and peace of mind. You just can't go wrong with these light blue jeans, white tee, and sneakers. There are other countless ways to rock this serene and stylish hue of denim. You will simply miss something by not having this pair of jeans in your closet. 
FAQs: 
How many jeans does an average guy own?
According to some studies an average American guy owns 7 pairs of jeans. This figure may be different for other countries but it hovers between 5 to 7.
Are 4 pairs of jeans enough?
Yes, 4 pairs of jeans will do if you are a staunch minimalist plus not a big denim fan. Speaking from the utility perspective, 4 pairs of jeans will fulfill your most (but not all) fashion needs. Let's say you skip the light blue jeans from our list of five essential jeans for guys, You will miss something, other pairs of jeans can't make it for that, but you can live without them.
Is one pair of jeans enough?
One pair of jeans is a whole pair more than zero pairs! You may as well ask, can we live without jeans? There can't be a one-size-fits-all kind of answer, it all boils down to your lifestyle at the end of the day! If your personal style requires next to nothing in terms of denim jeans then so be it, you can do without a single pair of jeans, and you can count on a single solitary pair of jeans. To sum it up, you CAN spend your life in a single pair of jeans if you use them very rarely and jeans have no big role to play in your fashion game.
How often should a pair of jeans be washed?
it depends on the frequency with which you use your jeans plus the nature of your job and activities. If you are a guy who loves outings, and physical activity and you have a job that requires physical work, then you may have to wash your jeans more frequently. That said, a pair of jeans should be washed whenever you feel the need. You don't have to do the washing quite often, because denim doesn't tend to gather dust and get dirty too often, this is the beauty of this fabric.
How often should you replace your pair of jeans?
Again, it depends. It depends on the quality of the fabric and the frequency with which you use your jeans. If you are comfortable with the fit and you take good care of them then you can spend years if not decades in them. Denim jeans manufactured by some brands are designed to be so durable that they remain usable for decades, and on the flip side, there are some fast fashion brands that produce low-quality denim, which is not that durable. It all boils down to the quality of denim you are using, and the way you like it decides how long a pair of jeans will stay with you.
How many shirts should a guy own? If you are interested in finding the answer to this question, here's the link. And what about the tees?