How many t-shirts should a guy own?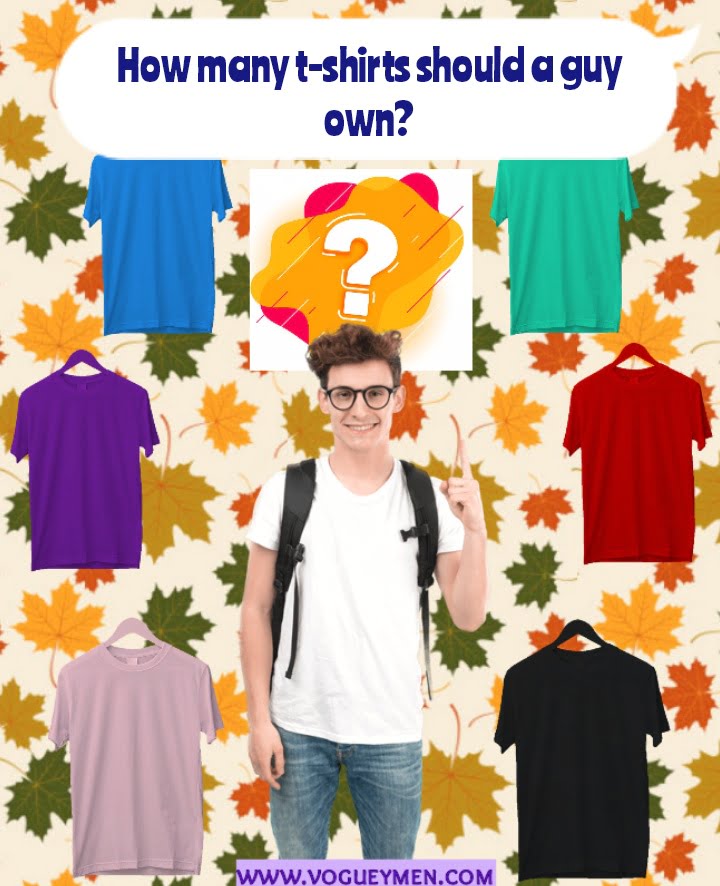 How many tees should I own? This is a question you must have asked yourself. In case you happen to have a lot of them, and after seeing your tees piled up in your closet, some of them discolored and worn out and some others you have never worn, you must have faced the paradox of choice at some point. You must have wondered how to make things more manageable with dozens of t-shirts scattered here, there, and everywhere in your wardrobe. There are some tees you always wear, there are some you just buy and forget and never use. Not everyone needs to own dozens of tees(over-choice is not a pleasant scenario), and not everyone can survive on too few tees. There is a definite number of tees every guy should own and this should represent every regular guy's sartorial needs. If you are in search of a definite number of tees you should own,  that help you fulfill your basic needs and help you declutter your wardrobe and that won't fail you on the style front as well, you are at the right place. 
The answer: 10  t-shirts:
That's it, 10 is your number, there is no long story here. There's nothing like a t-shirt when it comes to versatility and ease of use. This minimalist list of tees will help you keep your collection up-to-date and ready to use. These ten tees will suffice your needs, it doesn't matter if you are a fine-looking fashionista or a devil-may-care scruffbag.
The 10 tees every guy should own.
You can have a diverse collection if know something about different types of tees. 3 white tees, 2 black tees, a Henley, a tee in neutral shades other than black or white, a raglan sleeve tee, a graphic tee, and a moisture-wicking performance tee complete this list. 
 The deets:
1. Three plain white tees: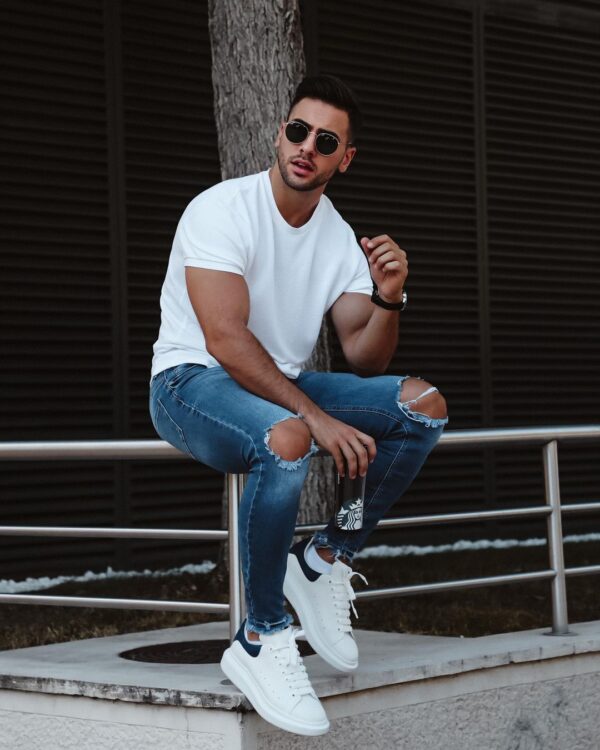 A plain white is an absolute non-negotiable item in your wardrobe. It's the simplest yet most versatile and effortlessly stylish t-shirt you can own. A white tee goes with anything under the sun, denim jeans of any type, shorts of any fit or fabric, and dress pants of any style, a white is something you can always count on. Due to the extensive use, one white tee is not sufficient, 3 white tees will suffice your needs, one of them can be a v-neck collar if you like.
Image source: nemajagrujic@Instagram
2. Two black tees: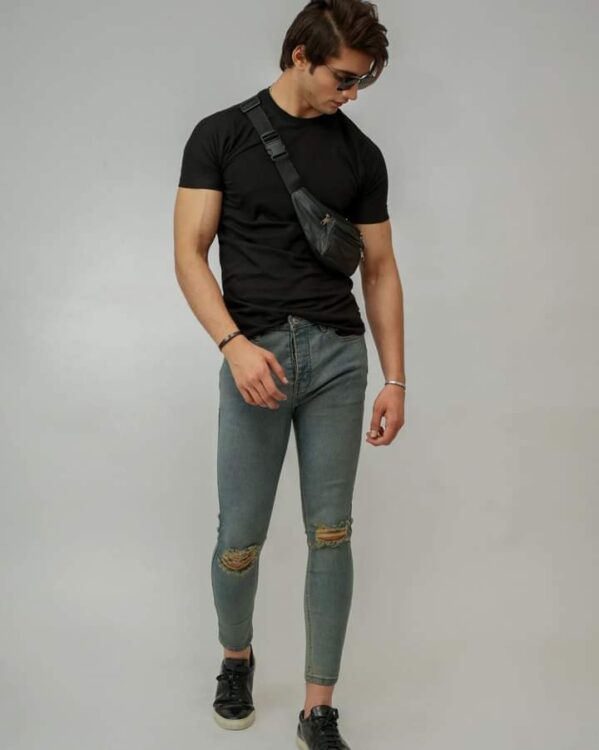 A black tee is one of the black must-haves for guys. Your wardrobe needs in fact a couple of them. You'll be wearing one when not using a white tee. You can wear a black tee as a standalone top with jeans or chinos in any hue in the warmer season. A black tee is a super easy layering choice in the milder season, it can be layered under a black overcoat or a biker jacket for an effortlessly cool look.
3. A tee in neutral shades.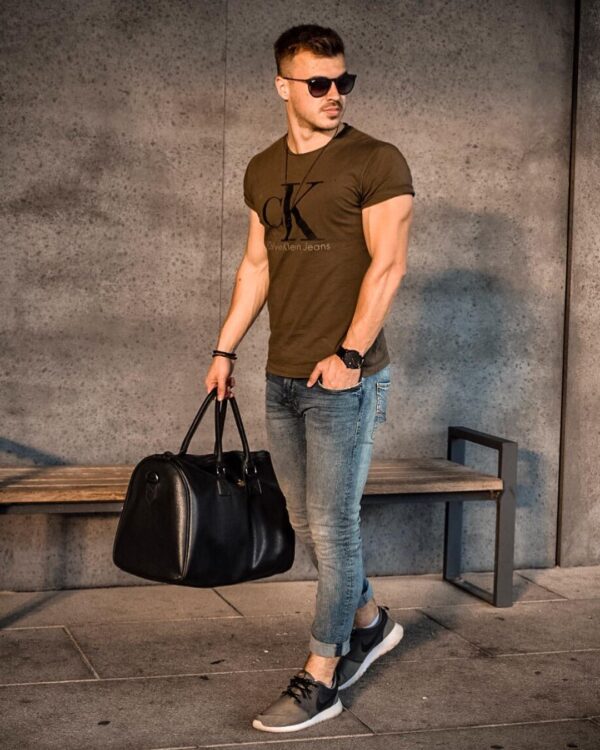 One of your tees should be in neutral shades other than black and white. Navy, grey, light brown and beige are some of the options to consider. It's up to you to choose one from a light color pallet or from earthy tones. The choice of a neutral shade depends on your personal preferences and also on the staples available to you in your wardrobe. 
Image source: fabibader@Instagram
4. A Henley tee: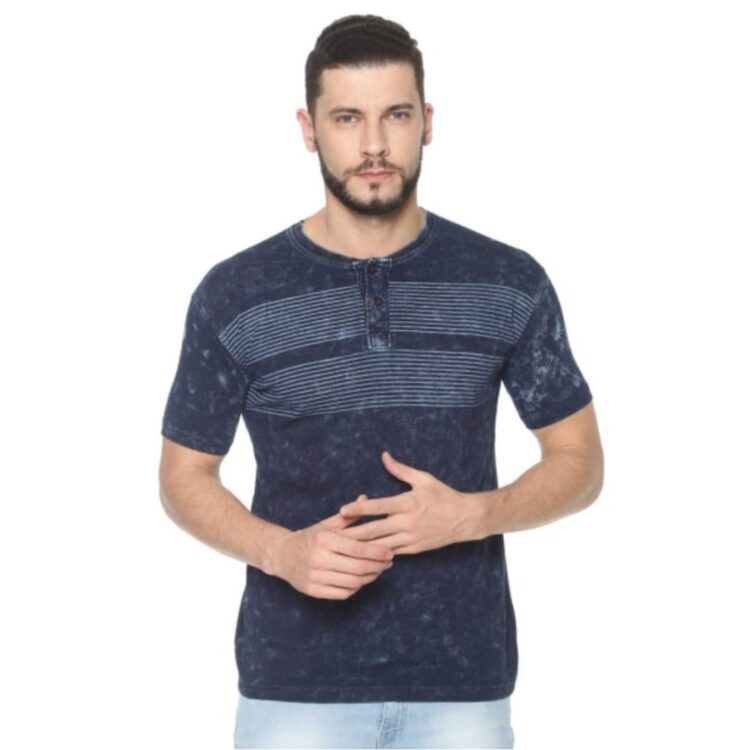 A Henley tee is a classic, it's basically a polo shirt(which we are not including in our list of tees, it's a separate category of shirts per se) without a collar. A Henley tee features a 3 to 5-inch long placket that may or may not have buttons. Owning a Henley tee adds variety to your tee shirt collection. Choose the color that you use the most. As for styling a Henley tee, it's no different from a classic t-shirt, you can wear it just like an ordinary tee…
Image source: unicartshop@Instagram
5. Raglan sleeves tee:
A tee with raglan sleeves can be recognized by diagonal seams starting from the neckline to the underarm area. The sleeves and body of the shirt are always in different, often contrasting colors. This tee allows you to add colors to your outfits, and the two colors of a raglan sleeve tee make it more versatile, you get more options for color coordination and matching and mixing. A raglan-sleeve tee is seldom used as a layering piece, it's almost always used as a standalone top with any kind of pants or shorts.
Image source: beckandhersy@Instagram
6. A graphic tee:
As the name suggests, a graphic tee showcases a print, a logo, or a piece of writing. Such a tee is a bit tricky to style. It can be layered, under a blazer in neutral shades. For a bolder look, you can use a graphic tree with an unbuttoned button-down. 
Image source: kennethturcio@Instagram
7. A moisture-wicking performance tech tee:
A performance tech tee comes to your rescue when you are engaged in some sort of physically demanding activity, like working out in the gym. A tech tee is lightweight, moisture-wicking, stretchy, soft, durable, and has odor-resistant qualities. These qualities make a tech tee a must-have if you often do physical activity and tend to sweat a lot. 
How many t-shirts should a guy own?
Image source: irish_fitfam@Instagram
How many t-shirts should a guy own?
Why 10 shirts?
Tees are shirts that are not just overused but abused at times. While we don't recommend abusing this all-important wardrobe piece, we do stress the need to own as much as you need. 10 is a safe figure, 10 tees will suffice your needs as long as you keep replenishing the older overused tees. This list includes everything thing you'll need on any possible occasion as far as tees are concerned. To further enrich your casual day-to-day wardrobe you should consider adding more tees to your collection, and keep it diverse, and this introduction to types of t-shirts might be helpful for you.
Replenishing tees in your wardrobe:
As soon as you notice discoloration and irreparable stretching out in a tee, it's time to replace it with a new one. It's hard to predict the shelf life of a tee but it is a well-known fact that an average tee withstands 25 to 35 washings. Tees made of durable materials and of course, with less frequency of use tend to have longer lives. It's advisable to replace a tee when it's no longer in use and maintain the count of 10 tees at all times for a functional and well-equipped wardrobe.