How many dress shirts/ button-downs should a guy own?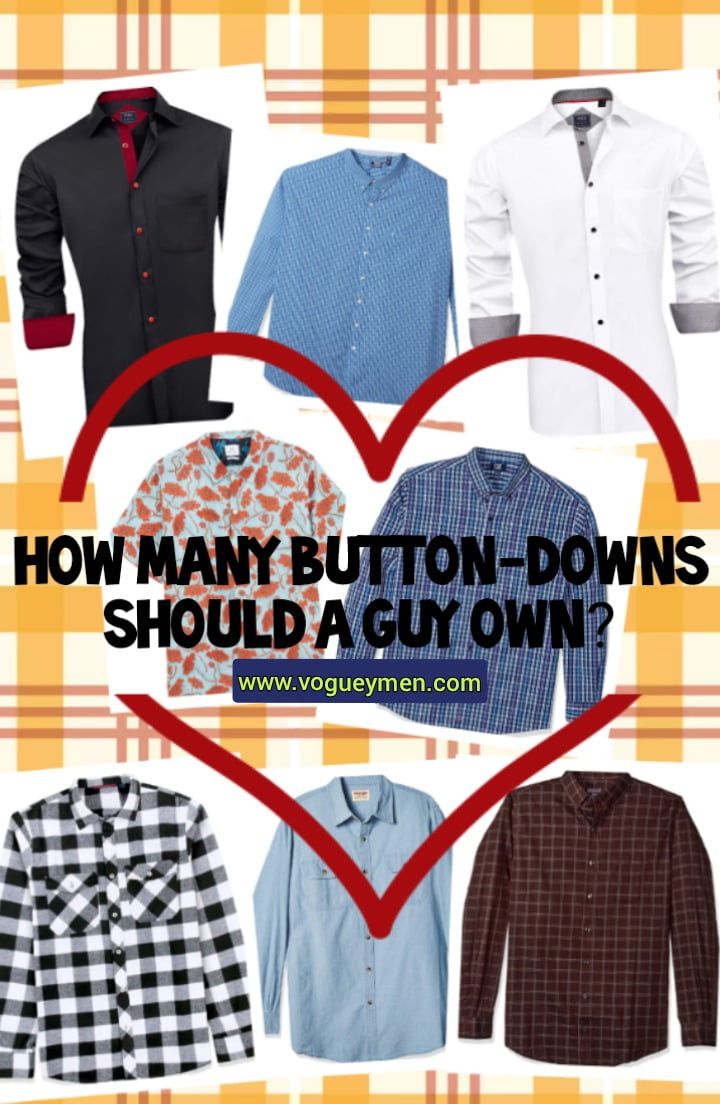 A button-down shirt is one of the wardrobe essentials, and you absolutely need some of these in your wardrobe even if you are not, particularly a big fan of them. How many button-down shirts should a guy own? This is a question that should've popped up in your mind at some point. It's true, not all men are fans of button-downs but everyone needs to own a few in his wardrobe. Different guys have different dressing needs, depending on the kinds of jobs they have, their lifestyles, the climate they live in, and last but not least, their personal sartorial tastes, that said, a modern man's wardrobe is incomplete without some dress shirts. Button-downs or dress shirts fall in the category of essentials for a reason. How many of them should a regular guy own? this question stands in need of an answer. If you are waiting for the number impatiently, and are just hurriedly scrolling down these sentences, well, you don't have to, there is going to be no cliffhanger, but there will be a little bit of explanation and some justification for the number we are going to affix to the query in your mind, how many button-downs should I own?
The answer: 9 shirts:
Here we are, with the magical number, welcome your little aha moment! This is the bare minimum we are talking about, the bare minimum from both style and functionality points of view. Our verdict, every grown man regardless of profession or field of work must own at least 9 button-downs.  But why 9? Well, before answering the "why" part, I'd like to draw your attention to the "which" part of the explanation. 
Which 9 button-down shirts?:
This list of 9 button-down shirts that you'll need to have in your wardrobe goes like this. We will come up with the details of the 9 button-downs every guy needs to own, but if you want to know about the number of tees every guy should own, you can navigate to this link.
So here are the details, two white button-downs, two black ones, a dress shirt with pastel hues(like sky blue for example), a check shirt, a linen shirt, one denim shirt, and a floral print button-down, are all you need! These nine button-downs will suffice your style needs all year long in every sartorial situation that runs the gamut from a super formal office setting to a super easy day at a beachside resort. 
9 different types of button-down shirts every guy must own:
1. A couple of white button-downs: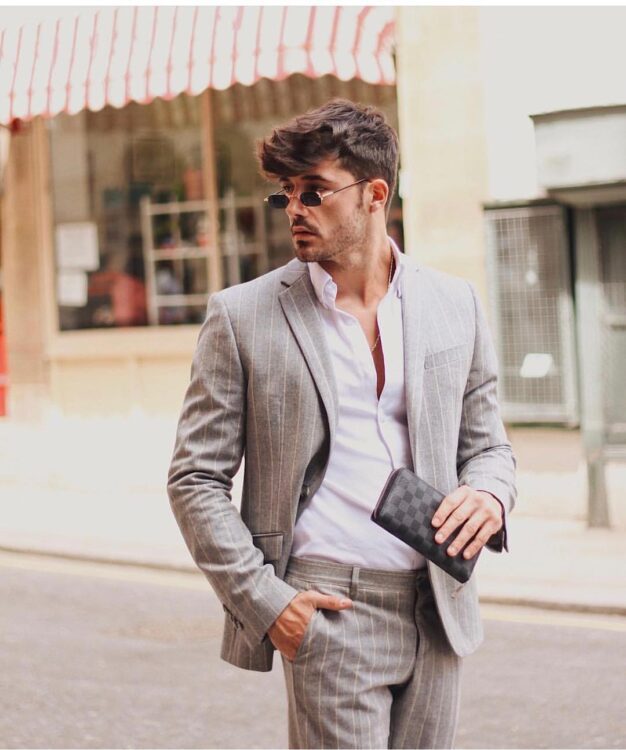 A white button-down is an absolute must-have for every guy. It's so essential that I'm recommending not one but of them! One as a backup. You are gonna need this shirt for a number of situations, both formal and informal. A white button-down is a preferred choice for men's formal outfits with suits and office attire.
Image source: nolsonshirts@Instagram
2. A black button-down shirt: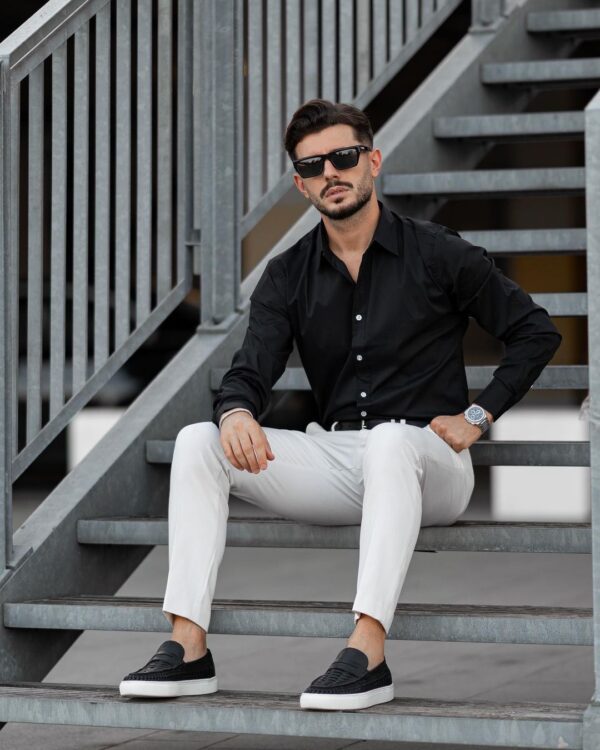 A black button-down makes it to our list more because of the style point of view. A black shirt is as functional as its white counterpart, but it is more stylish, versatile, and edgy. A black shirt can be worn with less formal bottoms like chinos and jeans to create some stylish black shirt outfits.  This shirt is a must-have for every guy who is serious about staying au courant with the fashion scene. 
Image source: omarspaneshi@Instagram
Now if you are looking for some fashion inspiration on styling a black shirt, here's your link.
3. A dress shirt in pastel hues: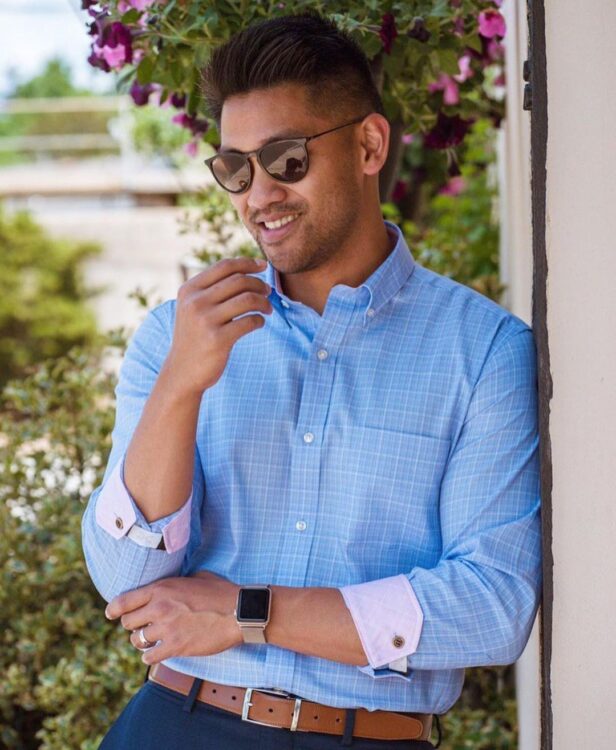 A dress shirt in lighter shades is on our list of must-have button-downs because of the versatility it offers to your formal outfits. It can be a shade of blue, pink, or green. You can choose a shade that complements your skin tone and the color of suits you prefer. 
Image source: tailorbyrd@Instagram
4. A crisp checkered button-down: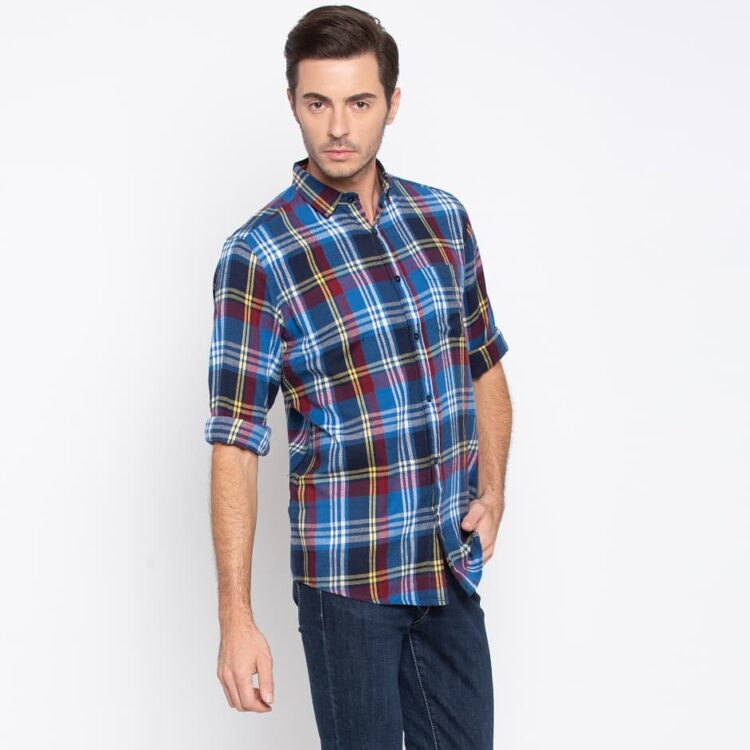 A checkered button-down should be present in your collection of formal button-downs. This shirt is a must-have for you to beat the monotony in your formal outfits, after all, you can't wear a white or a blue shirt every day to your office. Even if you don't have to wear button-downs often, you need a plaid shirt to make your formal repertoire a bit more interesting. These button-downs are ideal for formal and smart casual occasions. 
Image source: nickandjessclothing@Instagram
5. A flannel: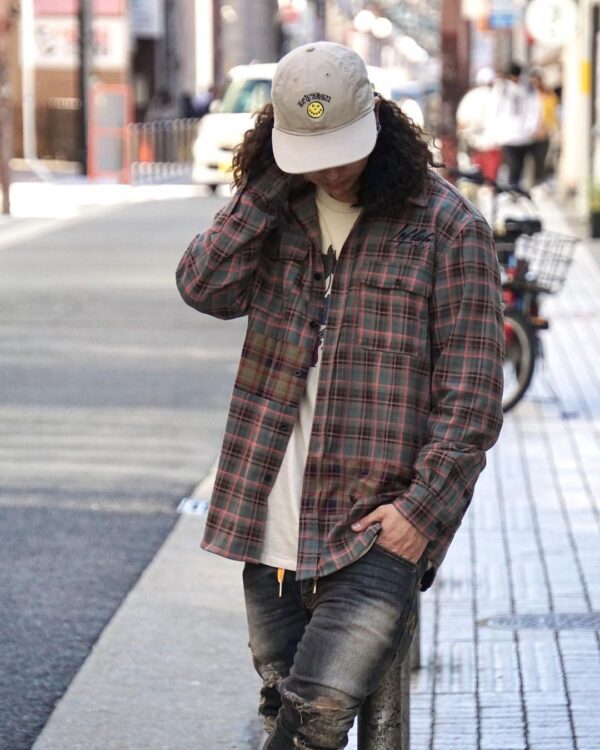 Flannels are a must-have, every guy must own one according to one prestigious fashion blog. Flannel is a type of fabric made of cotton or wool, it's easy to use especially for casual and smart casual outfits. A flannel often comes in checkered prints, it can be used tucked or untucked with slacks, chinos, and jeans. Flannel is a warm fabric, as such, it is especially suited for winter and fall. Flannels come in a wide range of color palettes, including white, black, red, green, and grey, They add color to your outfits and help you make them relaxed by dressing down a bit. 
Image source: leflah_asuka@Instagram
A linen shirt for summer: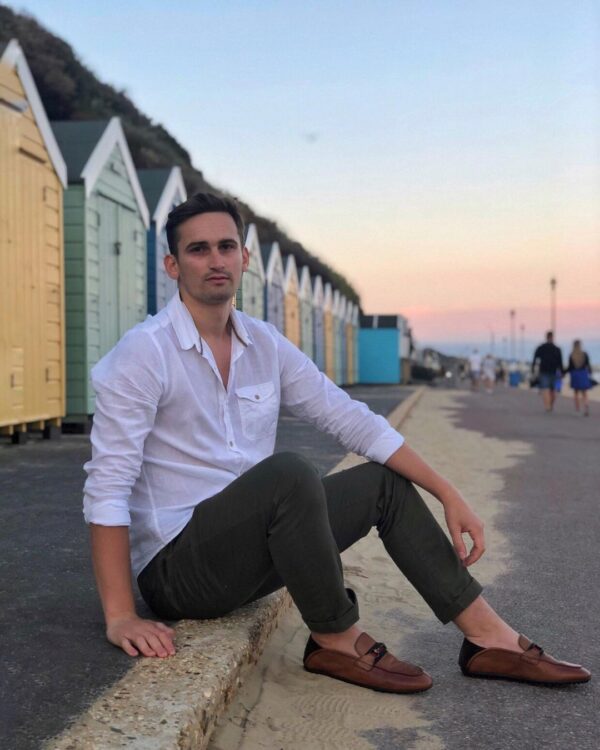 You need a linen shirt in summer because linen is a material that is breathable, and absorbent, it dries faster and is strong. These qualities make a linen shirt extremely suitable for summer. A linen shirt is always worn untucked and it is often worn with shorts and chinos. If you live in a country where summers are long and harsh, you'll have to invest in more than one linen shirt to beat the heat. 
Image source: subtlepapi@Instagram
A denim shirt: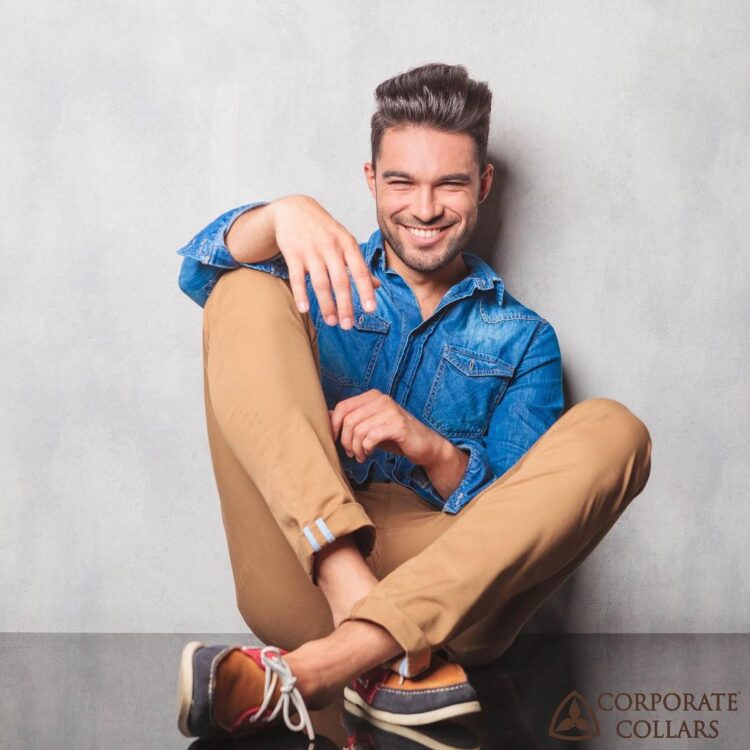 A denim shirt is on the list for all the right reasons. Contrary to popular perception, a denim shirt is equally validated as a formal shirt. You can wear it just like a formal button-down with a suit. You can wear it tucked in as well. Informally you can use a denim shirt to create a double denim look, pairing a blue jean shirt with white jeans or black jeans is a breeze. A denim shirt is equally suited as a layering piece in winter with a jacket or topcoat. 
Image source: corporatecollars@Instagram
Here's a collection of outfit ideas to wear a denim shirt stylishly.
A floral print or tropical print button-down: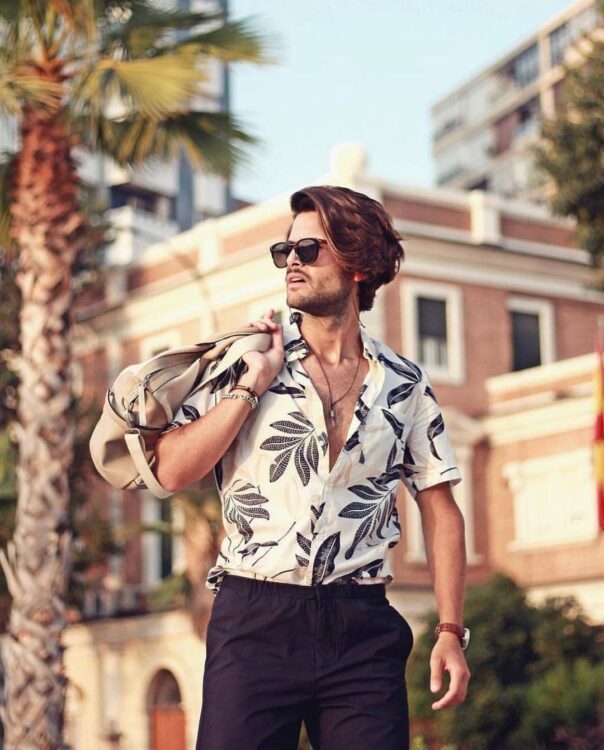 A floral print shirt, preferably a short-sleeve one, is on our list because of the stylishness it offers to men's resort wear in summer. A short-sleeve floral shirt is a summer staple that can be worn with shorts, chinos, and jeans. You have to invest in a cool short-sleeve button-down to spend your summer vacays in style. 
Image source: fashionmensdaily@Instagram
Why should you own these 9 button-down shirts?
As a modern fashionable man, you can't afford to be lacking in any department of style be it formal, smart casual, street style, casual, or resort wear. To move with the times you need to have your fashion arsenal ready and well-equipped. Minimalism is the thing that helps you do just that with the minimum number of staples and essentials, without going overboard and making things too complicated. These nine button-downs will suffice your sartorial needs all year round whether you are an office-goer or have a field job, and whether you are a regular guy or a fashionista posting daily on Instagram.