54 denim shirt outfits for men.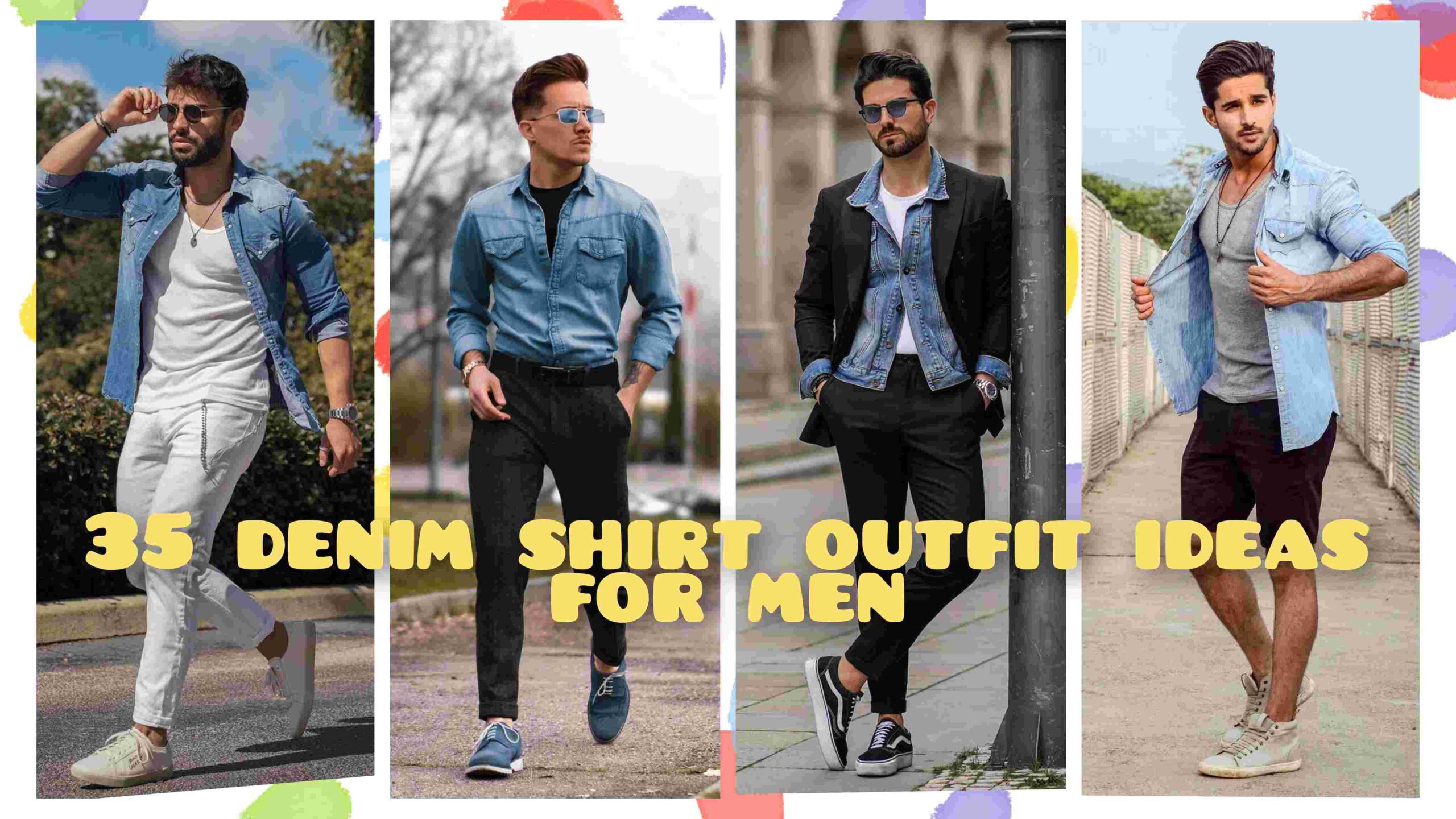 Often blue but always sexy, a classy, durable, easy-to-use, and timeless button-down in men's wardrobe! yes, you guessed that right, we are talking about the iconic denim shirt. And as a guy who takes his fashion needs seriously, you must be well aware of the worth of a denim shirt in your wardrobe. At first blush, a denim shirt may look like that vintage emblem of classic Americana streetwear giving off Western vibes, but this shirt is also evergreen, versatile, and an always-on-trend wardrobe stable. A denim shirt is being used by modern men in new off-the-beaten-track styles while creating ultra-modern looks. The retro charm of this shirt is timeless and it still enchants fashion lovers, but at the same time, its contemporary appeal never fails to fascinate fashionistas. If you are on the lookout for some inspiration to pull off this iconic piece for creating some stylish denim shirt outfits, you are at the right place. Wondering how to treat this always-trendy denim button-down? let's have a look at this brief cheat sheet before jumping on to our list of 35 denim shirt outfit ideas for men.
How to wear a denim shirt: 
Fit: Proper fit is important if you wear it tucked in or untucked. When you pinch at any side of the shirt, there should be 1.5 inches of extra fabric. Sleeves should end at the base of the thumb and the length must not be any longer than the middle of the pants zipper, or it should extend up to the middle of the back pockets of the pants. It should never cover these pockets fully. 
When to wear a denim shirt?: Being remarkably versatile, a denim shirt can be worn in any setting, from casual to formal and in between. 
What goes with a denim shirt: You can wear it on its own in summer, with trousers and shorts. It can be layered with jackets of any style, blazers, bombers, and topcoats.
Making it look better: Pay a little attention to detail. Color coordinate, accessorize, and mix with the right ingredients. There are colors that always work with a blue denim shirt, you should be opting for these timeless combos to create a stylish look.
Taking care of a denim shirt: Denim is a tough fabric but it's not invulnerable. Regular washing and ironing are a must for the long life of this shirt. Always wash with cold water, hang dry, and use a mild detergent. Washing with hot water and with the wrong kind of detergent may shrink and discolor your shirt. 
54 Denim shirt outfit ideas for men 
Looking formal, professional, and stylish in a denim shirt.
To style a denim shirt formally choose a dark-wash denim shirt without fading and any embellishments, think of pairing it with dress pants or chinos. Add a blazer or sport coat, a solid color tie, or a patterned tie that is not too loud, and dress shoes or loafers. A denim-on-denim look won't be office-like with a denim shirt, overdoing the accessorizing part won't help either. Here are some outfits that'll help you look both stylish and professional in your denim shirt.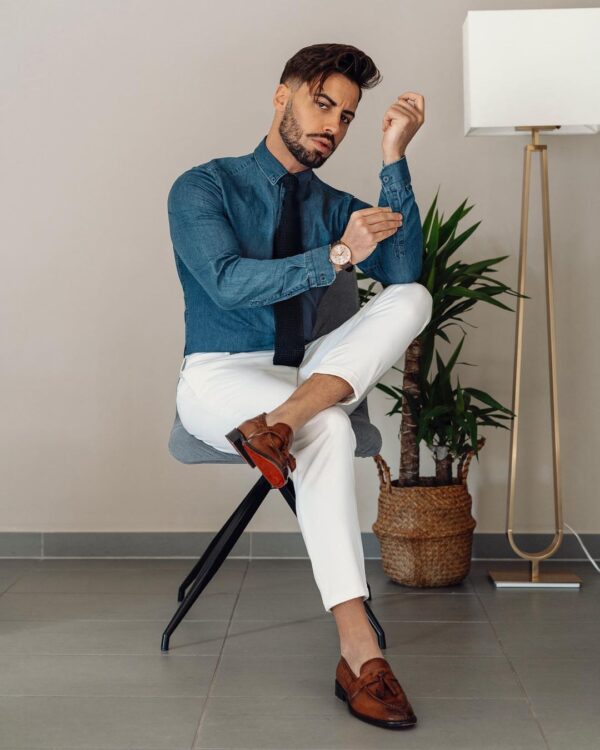 Going business casual with a denim shirt:
A denim shirt with shirt collars worn over the lapels of a suit jacket is one perfect way to rock this iconic denim shmatte. Shirt collars roaming free over lapels is a style popularised by movie stars of the 70s and 80s ( Like in the movies Scarface, and Goodfellas), this style is making a comeback, especially with the subject we are dealing with right now, the iconic denim shirt!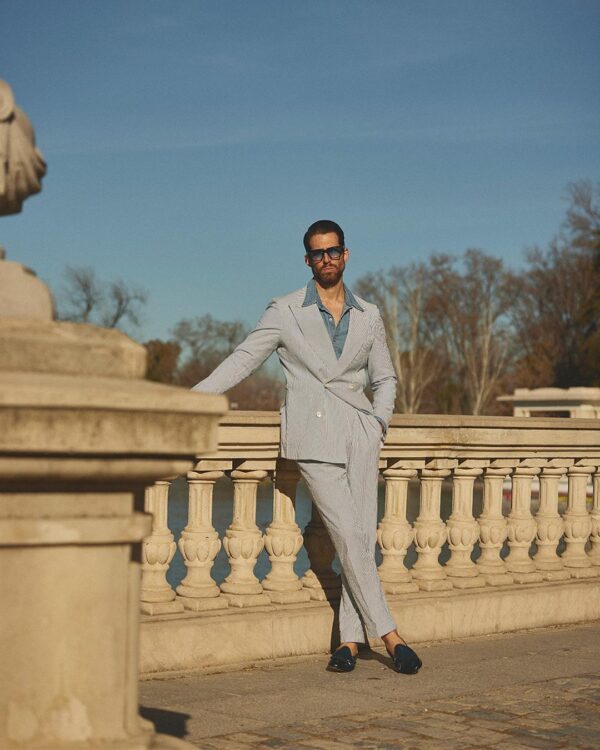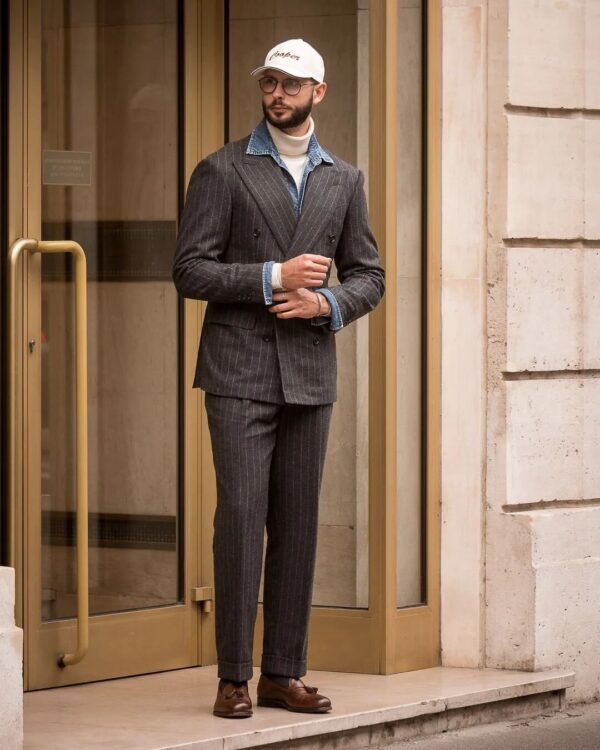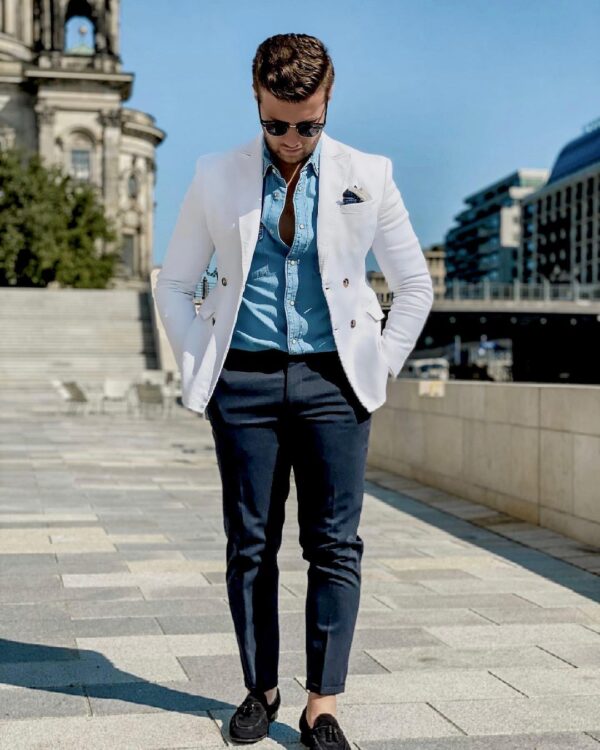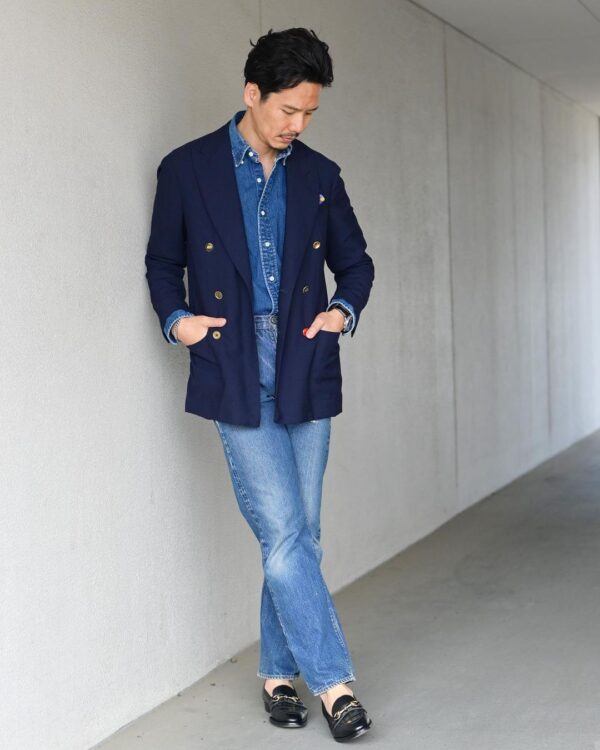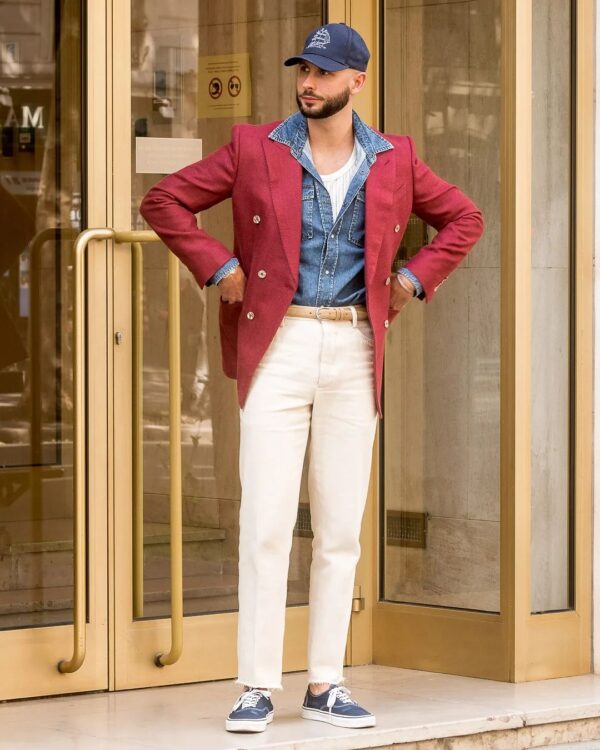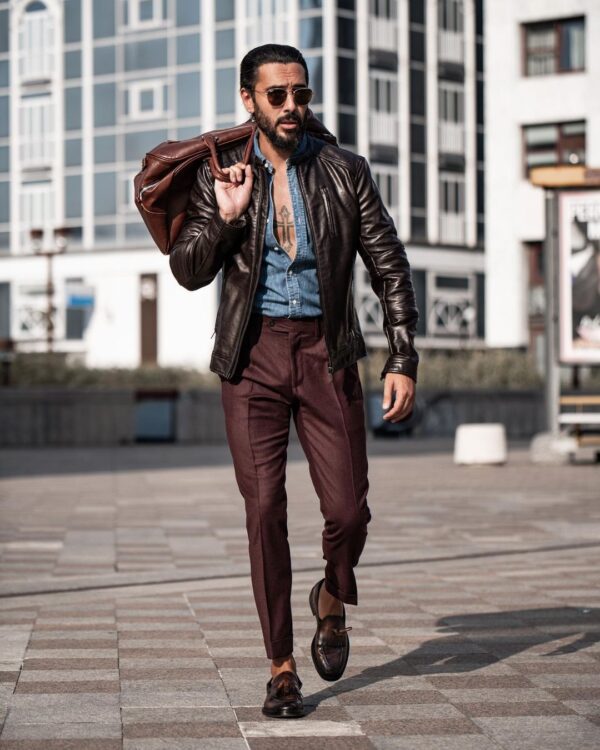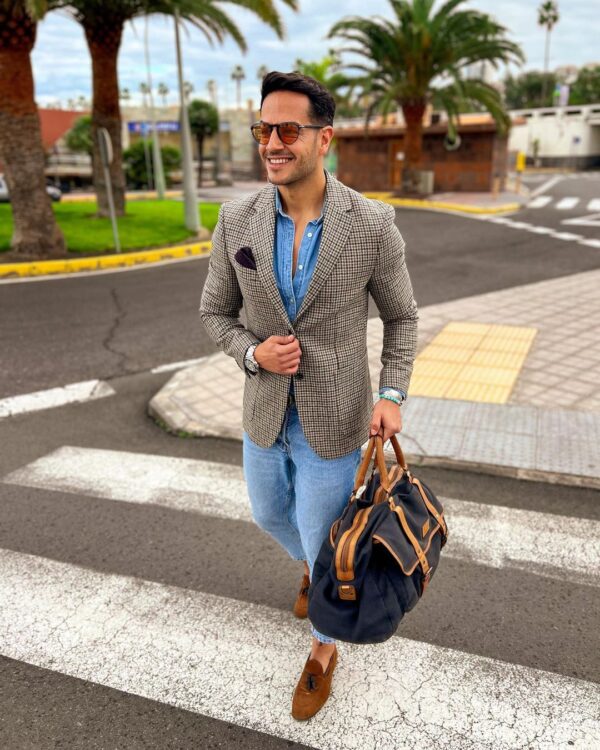 The smart casual suit with a denim shirt:
A suit sans necktie is becoming ever more popular, for being laid back and chic. You can sub the stiff-collar formal shirt with a much more forgiving denim shirt to dress down a formal suit. So polo shirts, tees, and mock necks are not the only options when styling a smart casual suit without a necktie.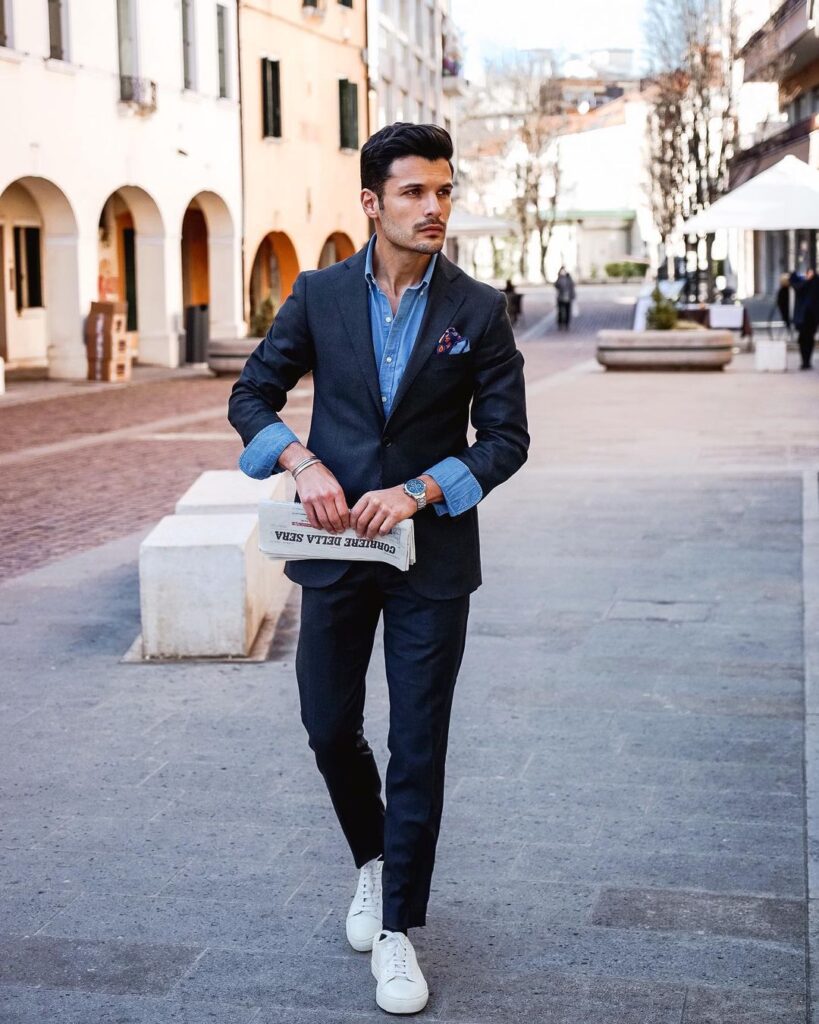 Denim shirt outfits with white bottoms.
White bottoms are the best choice for you if a neat and chic casual look is what you are looking for. You can never go wrong with a blue denim shirt and white pants combo. White jeans, chinos, shorts, or slacks anything goes with a crisp denim shirt provided that it fits you just right.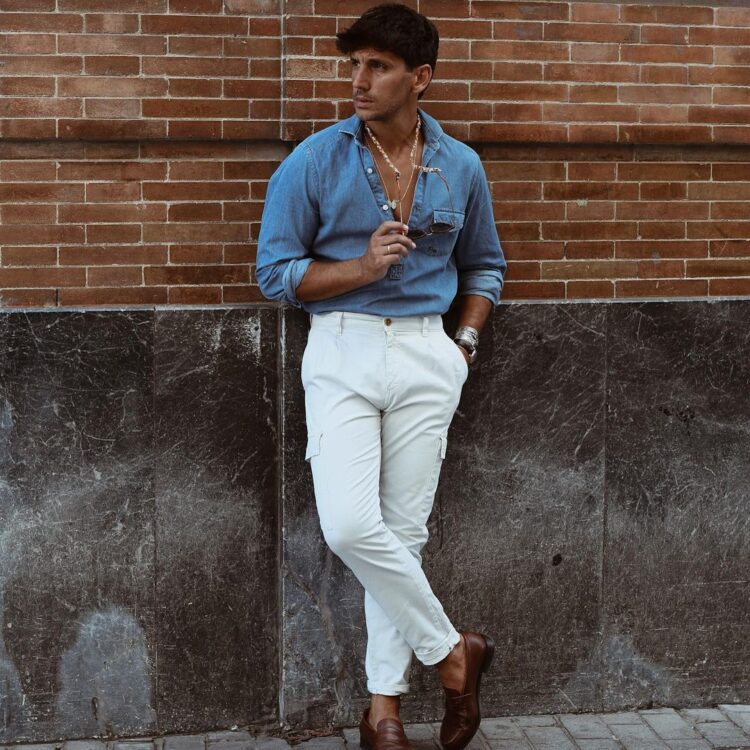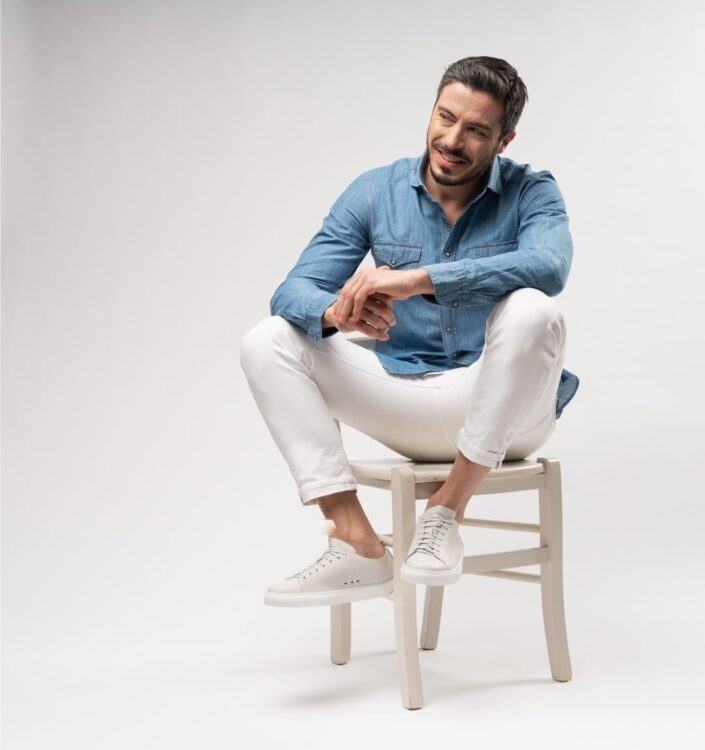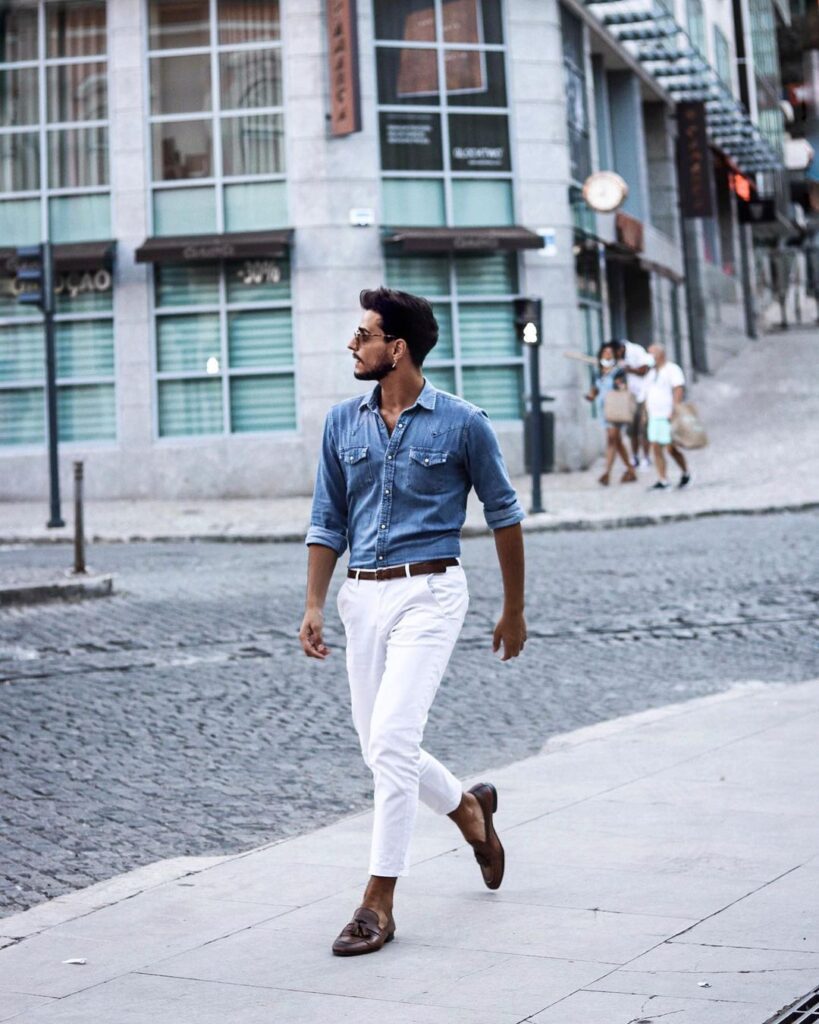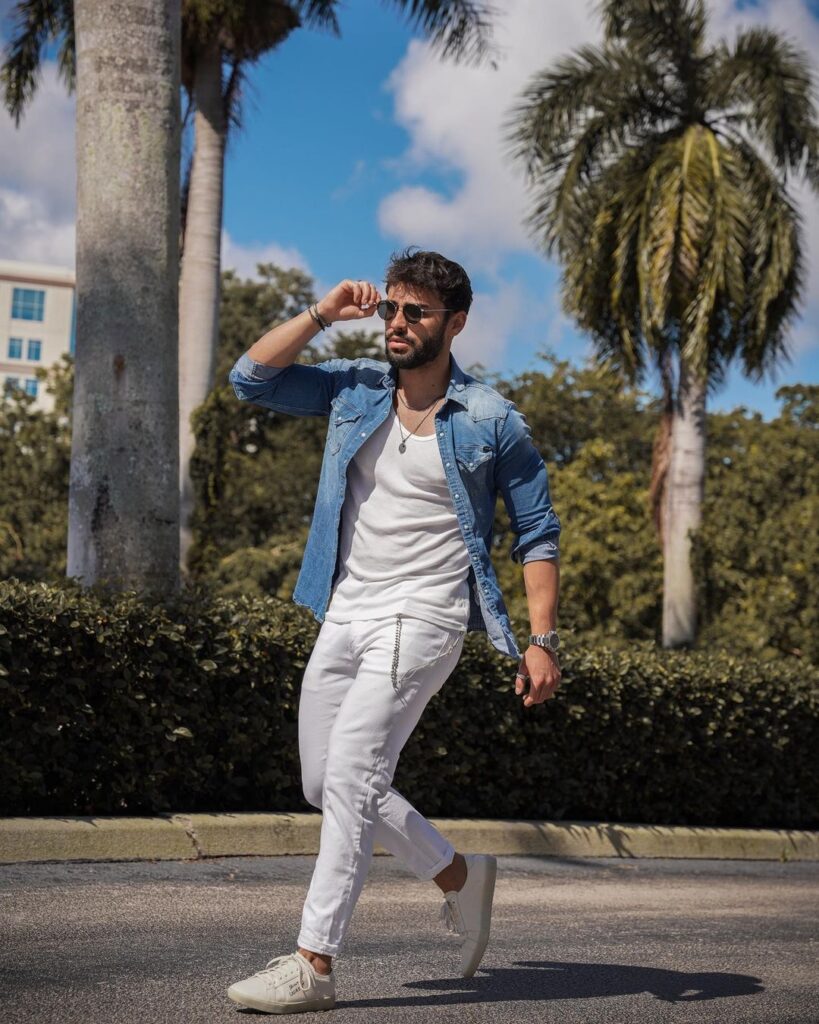 The denim-on-denim take:
One of the most popular ways to style a denim shirt is to wear it with other denim pieces, such as a denim jacket or jeans. This look is casual and relaxed, and it can be dressed up or down depending on the occasion.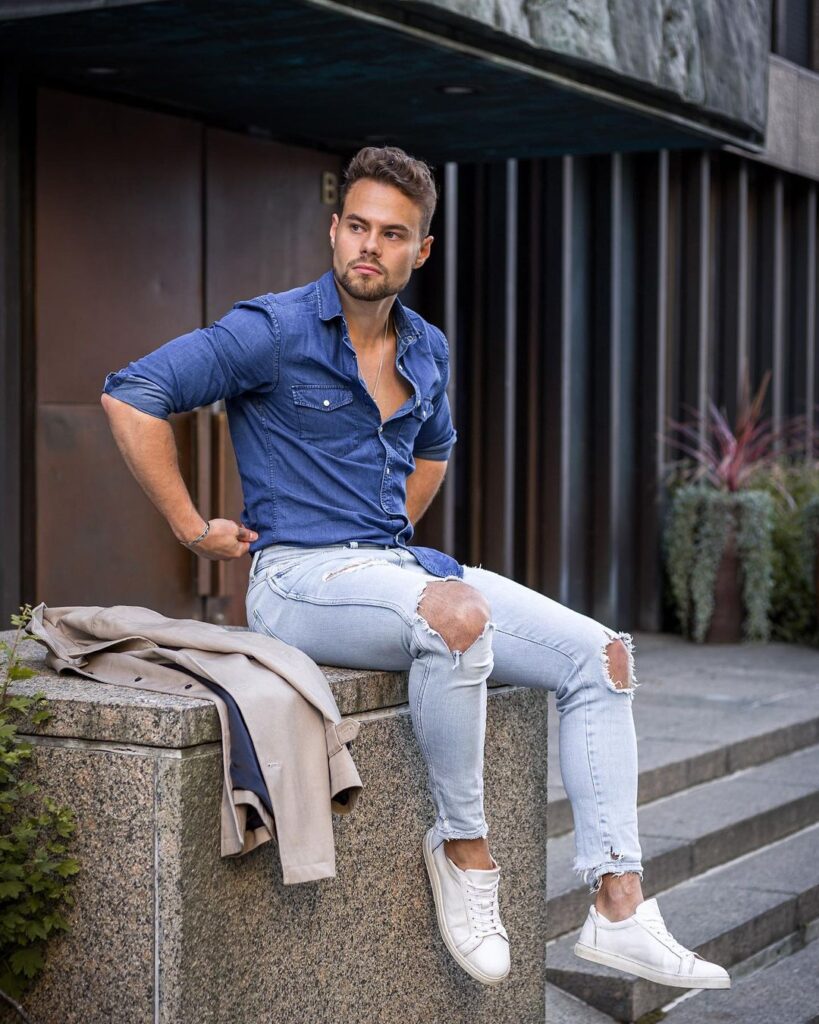 Denim shirt outfits with black slacks or jeans.
Black jeans or slacks are the bottoms of choice for many guys to pair with a blue or navy denim shirt. There are many ways to give this combo a touch of your personal style by choosing the shoes and accessories of your choice. These denim shirts with black jeans or slacks outfits will give you a hint to experiment and have fun with your denim shirt.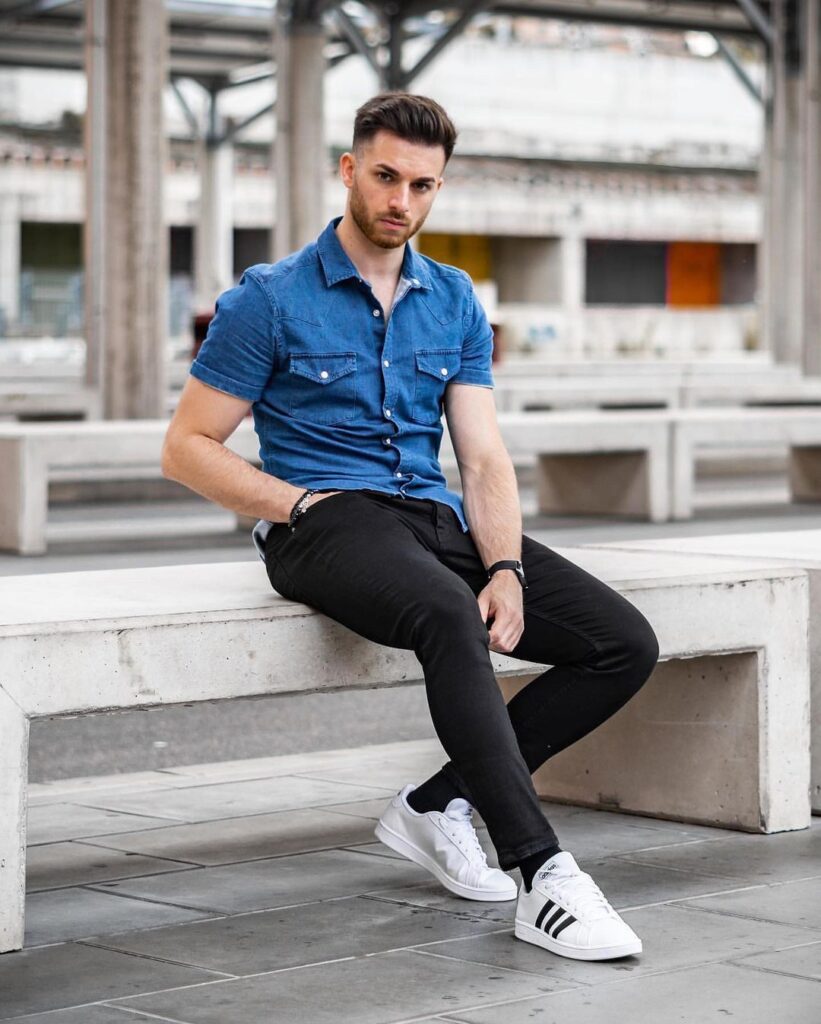 The layered look.
A denim shirt as an overshirt, or layered under a topcoat, Moto jacket, or blazer is another way you can rock a jean shirt. Layering a denim shirt like any other shirt is always on the table, and when done right you can have a dapper look with a denim shirt layered under a biker jacket, a topcoat, or any other jacket. This wear-everywhere shirt can be a shirt of your choice in fall and winter too, and it won't disappoint you in any department. You can layer a jean shirt under a sweater and use matching headgear like a baseball cap or a beanie to complete the look.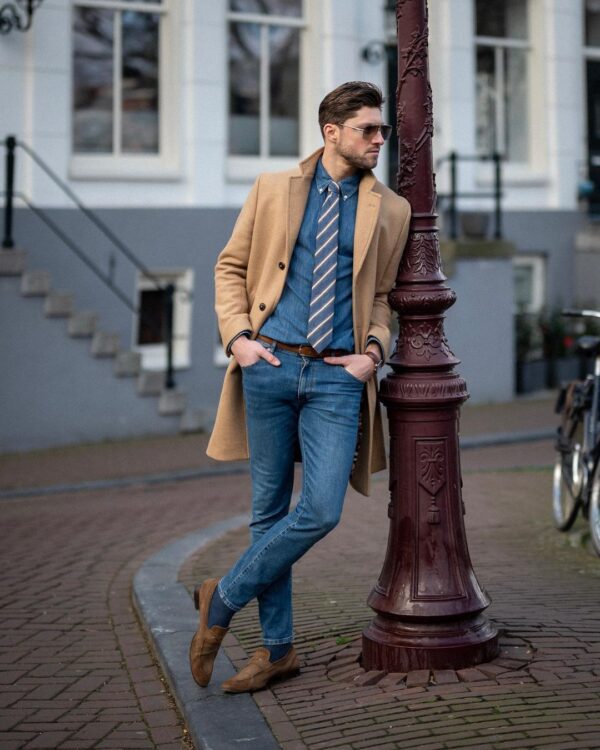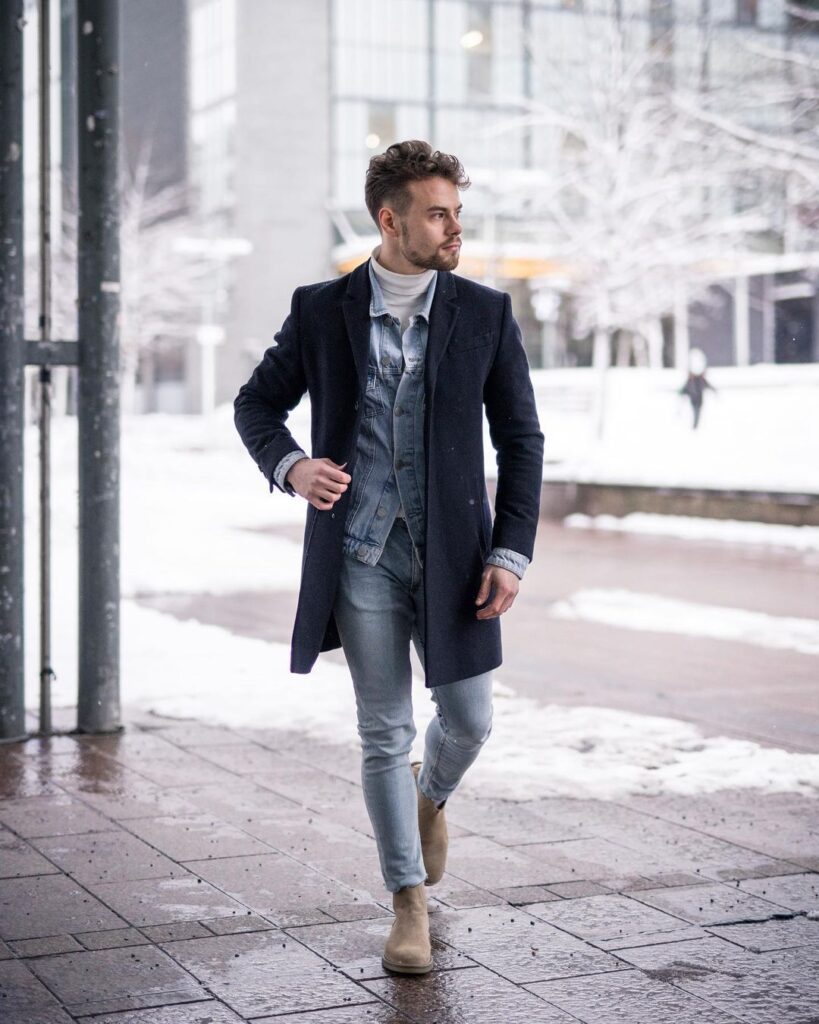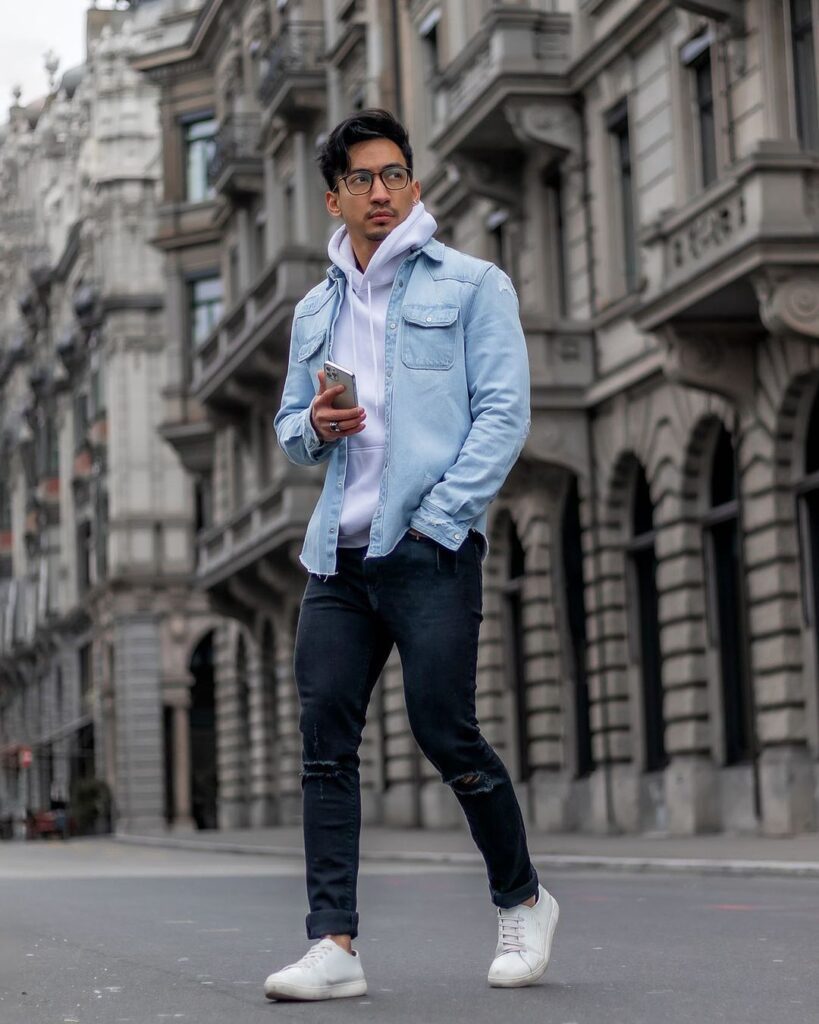 With khakis and gray slacks.
Other than black and white, khakis and light shades of gray are the colors that work best with a blue denim jacket. Khakis are one the essentials every fashionable guy should own, pairing a light blue or navy blue denim jacket with a pair of khaki pants always works for everyone. These gray pants and khaki pants outfits with denim jackets prove the point.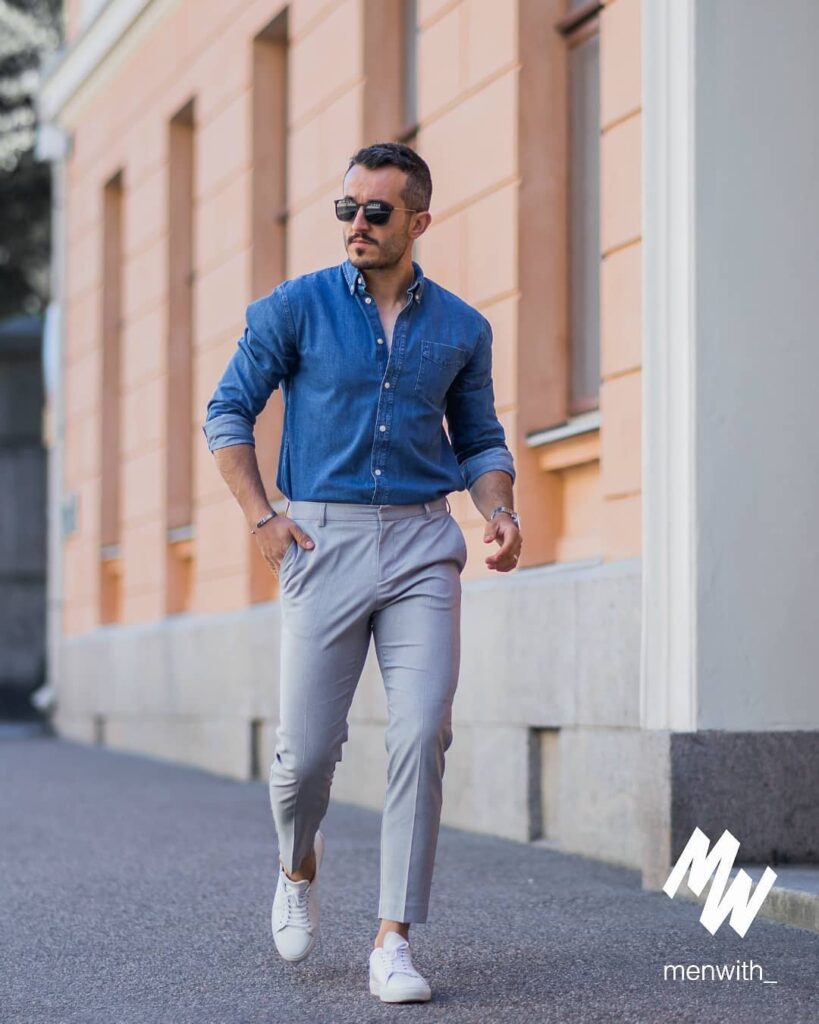 Outfit 31: A denim shirt layered under a black leather jacket.
Denim shirt outfits with shorts for summer.
Denim shirts can be paired with shorts for a relaxed but chic statement. For a neat summery look, you may wear a light-wash denim shirt with white shorts and sneakers. Denim shorts with black shorts together work perfectly to create an edgy summer outfit. Here are some additional tips for pairing denim shirts with shorts. You can wear a denim shirt all buttoned up and or unbuttoned when layering it over a tee. It's better to wear a denim shirt untucked with shorts unless you are layering something over it like a vest or maybe a blazer.  Consider the occasion when styling denim shirt outfits with shorts. For example, you might want to wear a more dressy denim shirt and shorts outfit for a night out, or a more casual outfit for a day at the beach. Experiment and have fun with different colors and styles of denim shirts and shorts to find a look that you like, and act bold in trying innovative outfits with denim shorts.