13 different types of men's t-shirts.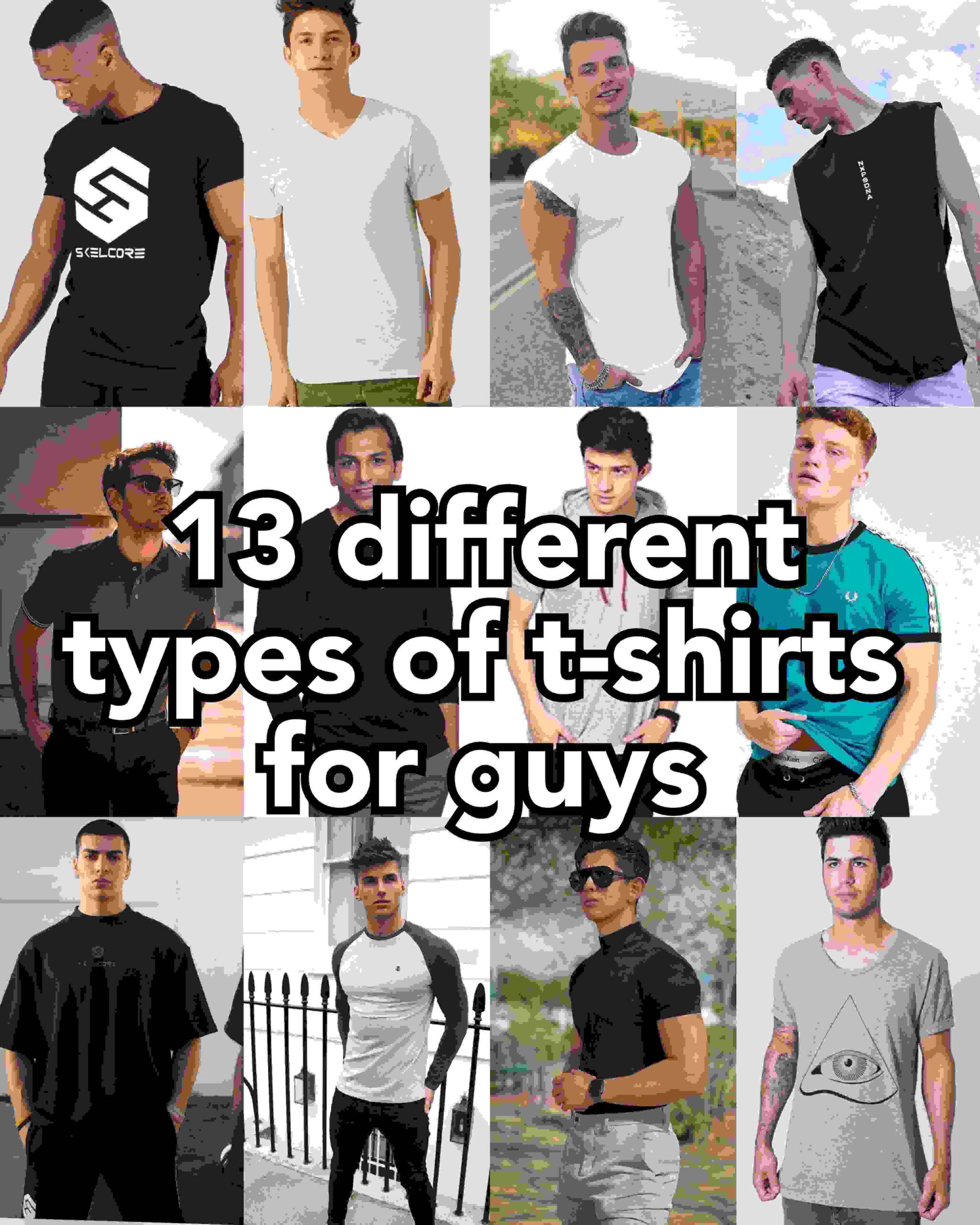 No item of clothing ever enjoyed such universal popularity, as the humble t-shirt. Rising from the ashes of the American Civil War, the shirt we know today as a t-shirt or tee was initially used as an undergarment. It remained an underdog on the men's fashion scene until the 1950s when Hollywood heartthrob James Dean donned one in his iconic movie A Streetcar Named Desire. Its popularity soared and the humble t-shirt has never looked back ever since. A t-shirt is one of the most popular men's casual shirts, and this explains why more than 2 billion shirts are sold annually. Every guy owns quite a few tees in his closet these days, they are now regarded as one of the basic style needs of a man of any age.  If you are a t-shirt aficionado, you might be interested in knowing about different types of T-shirts, This post is just about that, let's get on with it, our definitive list of 13 different types of T-shirts for men. 
1. Crew-neck t-shirt: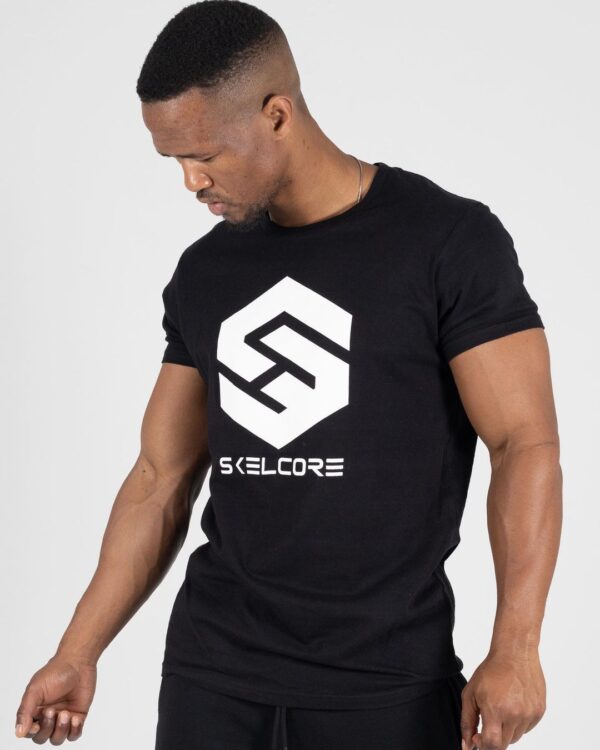 This type of tee features a round neck that circles the neck. It's the most popular, versatile, and easy-to-style version of a t-shirt. These round-neck tees work with everything and suit every guy, this explains the universal appeal of this top. Every guy must own a number of these tees to keep his wardrobe well-equipped.
skelcore@instagram
2. V-neck tee:
As the name suggests, this type of tee features a neckline that is V-shaped at the front. This tee is the option for you if you want to show some amount of skin on your chest. A guy can wear a v-neck tee not only as a standalone piece but also as a layer with jackets, blazers, and topcoats.
Scoop neck tee: 
A scoop neck tee is easily recognized by a low and wide u-shaped neckline, exposing a lot more chest than the crew-neck tee. This type of tee is more suited as an undergarment, especially in neutrals. But this doesn't disqualify this shirt from being used as outerwear. Guys rock this shirt for a bolder off-duty look in summer.
wastedheroes@instagram
4. Oversized baggy tee: 
As the name suggests, this is a loose and bulky version with sleeves that extend up to elbows and a length that may cover the buttocks. A normal t-shirt is often close-fitting and with short sleeves extending no further than mid-biceps. An oversized tee has a unique aesthetic that makes it popular among street-style aficionados. 
skelcore@instagram
5. Muscle shirt/tee:
Merriam-Webster dictionary defines a muscle shirt as a close-fitting t-shirt that is usually sleeveless. This makes a muscle shirt akin to a tank top that is designed like a tee shirt. The fabric of a muscle tee is usually very stretchy, soft, and with moisture-wicking qualities. These qualities make this tee the shirt of choice for fitness freaks and gym-goers.
nxp@instagram
6. Raglan sleeve tee( Baseball Tee): 
The next on our list of types of T-shirts is the Raglan T-shirt. A raglan tee can be recognized by a distinctive diagonal seam that starts from the neckline to the underarm area. The sleeves don't end at the shoulders but extend all the way to the collar and neckline. A raglan can be short-sleeved or long-sleeved. The raglan tee is a summer staple, The best way to wear it a raglan tee is to use it as a standalone top, it is seldom used as a layered top.
blakely@instagram
7. Cap sleeve tee: 
This type of tee features a very short sleeve that barely covers the shoulders, and these tiny sleeves do not extend beyond 2 to 3 inches. Cap-sleeve tees are more popular among women, but men use them too. These tees are summer staples, they are popular as beachwear, resort outfits, and gym outfit choices. If you are a guy who is proud of his biceps and triceps and you want to show them off with a twist then this cap sleeve tee is for you. 
8. Mock neck tee: 
A mock neck tee is characterized by a round standing collar and short sleeves. A long-sleeve shirt with a collar like this will simply be called a mock neck. A mock neck tee can be used as its own or as a layer with a suit. This tee is tucked in most of the time and is used as a piece in smart casual outfits in spring and fall. 
orlandosalazar@instagram
9. Ringer tee:
It's a tee that features a ribbed band in contrasting colors on the collar borders and sleeve ends. This type of tee is often used as a standalone top with summer outfits with chinos and shorts. A ringer tee is almost always short-sleeved; it can be used as a layer sometimes with an overshirt or a light jacket. 
elite.m_store@instagram
10. Pocket tee shirt:
The one and only distinguishing feature of this tee, as its name would imply, is a solitary pocket at the front. A pocket tee, quite unsurprisingly, can be any type of tee with a pocket at the shirt's chest. Most tees don't have pockets, the pocket the eponymous pocket tee boasts is not of much use, as you can't use it to pocket some of your valuables or anything. 
11. Polo neck tee:
 It's the only tee that has a collar, and this makes it a bit enigmatic. Some say a polo shirt is not a tee, but most agree that it belongs here on the list of types of T-shirts. A polo shirt is essentially a tee with a collar, a placket neckline with two or three buttons, and with an optional pocket. A polo shirt can be short-sleeved or long-sleeved and it can have any type of collar. There are polo shirts with band collars or collars that resemble camp collar shirts. visit this link to find out more about some polo shirt outfit ideas.
cantimagineit@instagram
12. The henley tee: 
A henley tee is essentially a polo shirt with a collar! Only a three to four-inch placket with 3 to 4 buttons is a feature that distinguishes a henley tee from a normal tee. Just like a polo shirt, a henley tee can be had in long sleeves or short sleeves, and it is often preferred as an outerwear shirt in summer.  
bluebusstore@instagram
13. Hooded tee: 
A hooded tee is the last entry on this list of types of T-shirts. A tee with a hood, well, is fittingly called a hooded tee or, more rarely, a short-sleeve hoodie. This tee is popular among gym-going guys and guys with bad-boy traits. A hooded tee can spice up your casual and street style with the nonchalant swag of a bad boy. 
.