16 types of men's belts.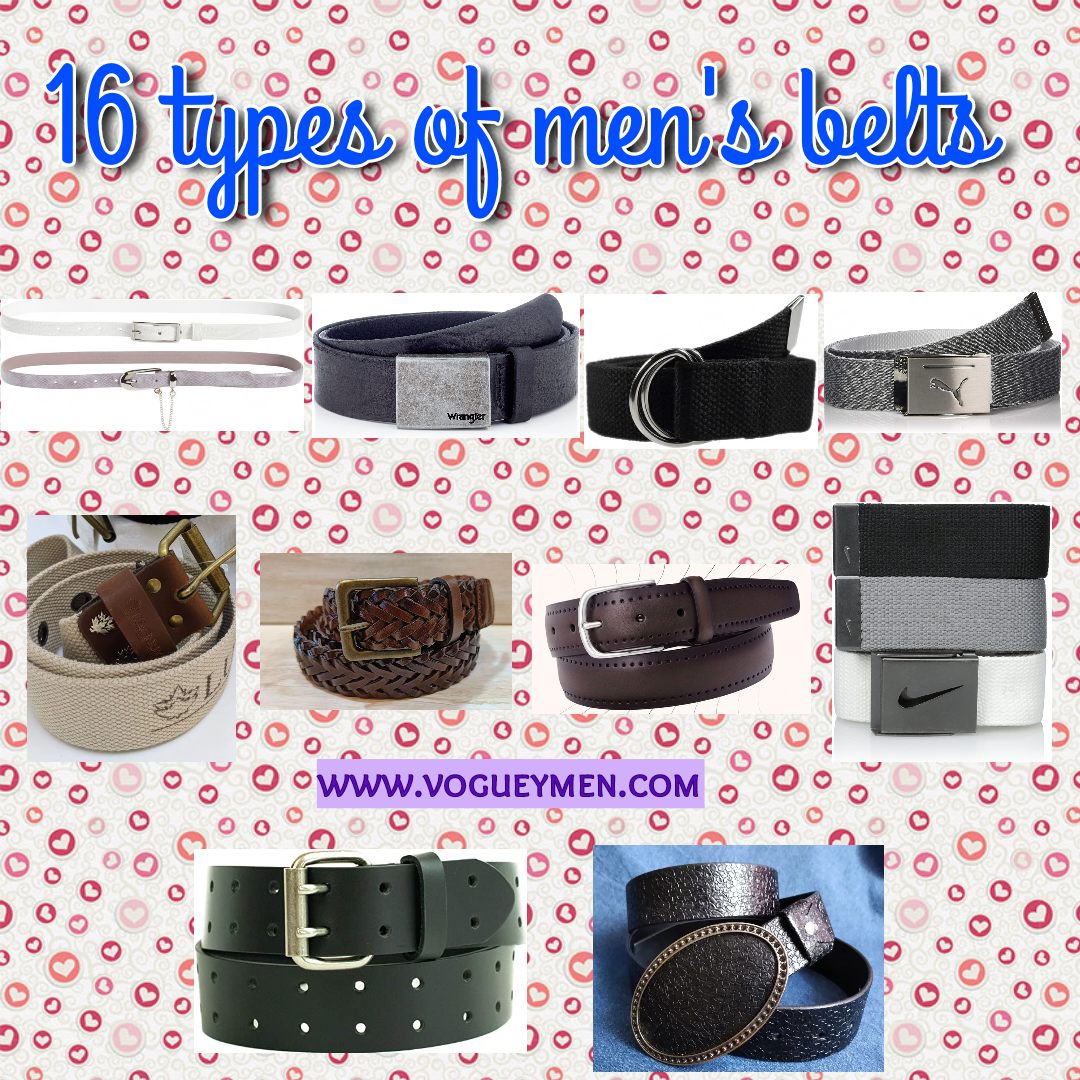 Are you wondering what type of belt should you own? When there's a cornucopia of materials, colors, and buckle types, a belt can be found. Isn't it hard to decide? Well, when you have some information about these 16 types of men's belts it will be much easier for you to decide which ones you need and which ones you should own.  Yes, it's true men are increasingly opting for wearing pants that don't require a belt to keep them in place. But does that mean belts are going out of style? Hell no! Belts have always been on men's fashion essentials list, they still are and they will forever remain on this list for every man. Despite the increasing popularity of pants with side adjusters, a belt remains an accessory that every guy needs to own, like any other accessory, you can always use a belt to elevate an outfit, other than using it simply for its functionality. Every guy needs to own some belts for their trousers, jeans, chinos, and even shorts. Which ones should you own? To answer this question it's better to have some knowledge of the types of men's belts. We have classified belts on the basis of usage, width, material, and buckle type. This list of belts will include only fashion belts for guys, Special-purpose tactical belts like the rigger belts are beyond the scope of this list, so let's get into it without further ado.
16 Types of men's belts.
Belt types on the basis of material and usage.
1. The classic single-prong leather belt:
The classic or dress leather belt tops our list for a reason. It is the most popular and widely used accessory. A classic belt has a medium width that ranges from 3 to 3.2 cm and is often used with formal suits as well as dress pants and shirt combinations. These belts can be found in full-grain genuine leather, suede, and faux leather.
2. Casual leather belt for jeans: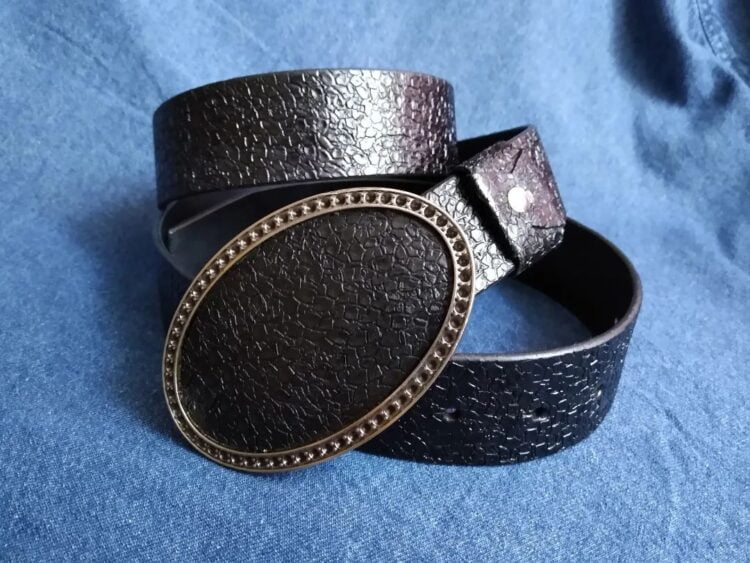 This belt is different from the classic belt only in two ways, its width and use. The casual leather belt has a greater width, which is slightly more than 4 cm, and is almost exclusively used with jeans and some types of shorts. Unlike a classic belt, a wide leather belt doesn't always feature sewn seams at the edges. You can find this kind of belt in materials other than full-grain leather, like suede and canvas. 
3. Types of men's belts, Skinny belts, or thin belts: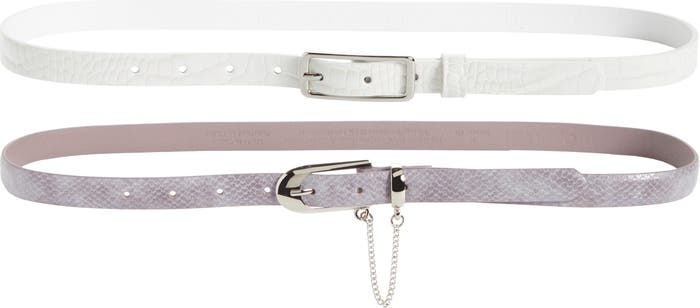 As the name suggests, these belts are of narrow width, slightly more than 2 cm. These are casual belts but can occasionally be used with formal or smart casual suits. They can be of any material, like plain leather, braided leather, or fabric like canvas. Skinny belts won't add much bulk to your waist, which makes them a good option for you if are a fan of fitted shirts and slim-fit pants. 
4. Fabric belts:
A fabric belt or in other words a non-leather belt is often made of cotton, canvas, nylon, or polypropylene. These belts are used with casual and streetwear outfits. Fabric belts are casual but more functional as compared to classic leather belts. These belts often sport unconventional buckles that offer edge and pizzazz to your casual outfits with cargo pants and jeans. 
5. Braided belt:
The next on our list of types of men's belts is the braided belt. This belt is created by intertwining long strips of leather and forming a smooth and flexible plait. There are no distinct holes in this belt, instead, the gaps between the strips function as holes, as prongs can be inserted into any of these holes. Braided belts are completely unisex and have an enduring style appeal.
6. Web belt: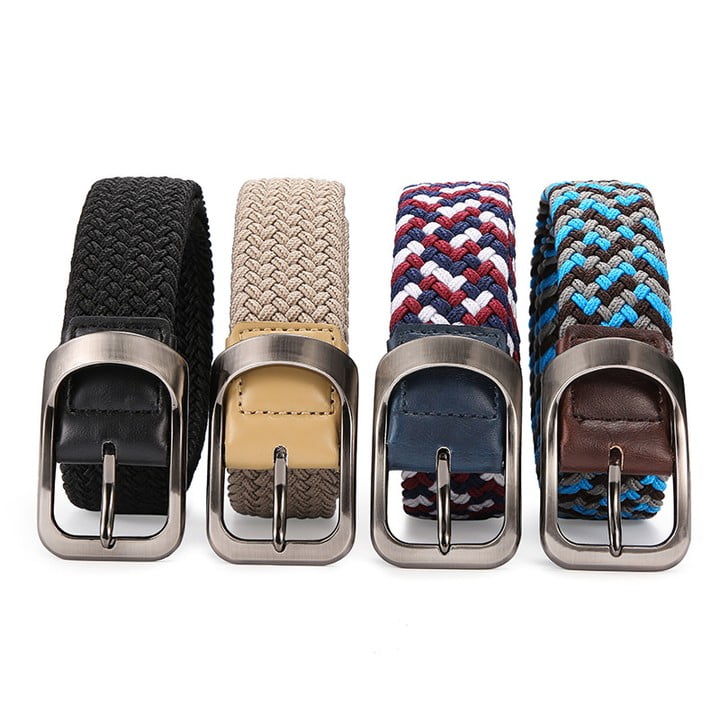 Often manufactured from cotton or nylon and occasionally from leather, these woven belts are markedly different from braided belts, wefts and warps are very thin. These belts are breathable, stretchy and very versatile. Webbed or woven belts can be skinny or wide and they often have automatic buckles.
7. Reversible belt: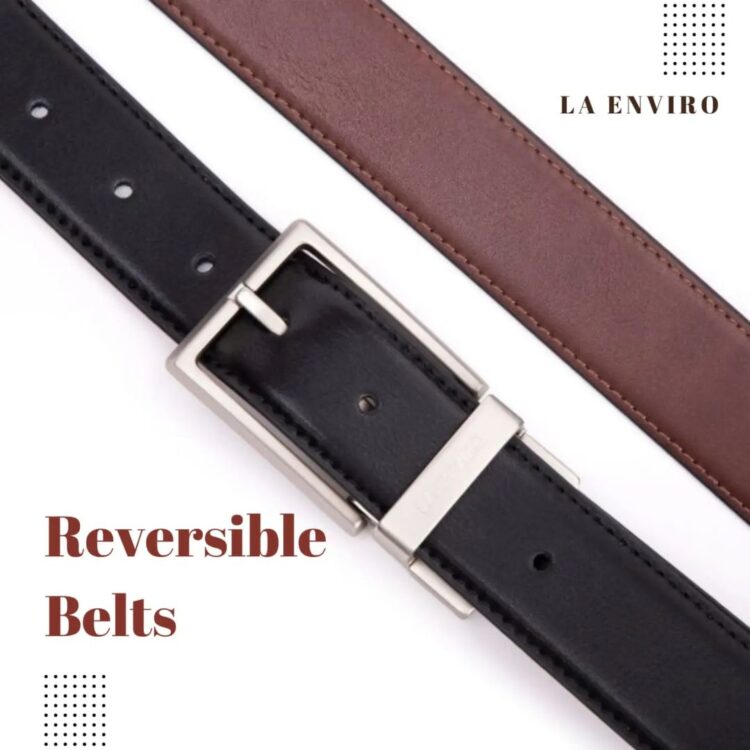 A reversible or double-sided buckle belt is a thrifty choice for guys. It can be used both ways, inside out too. A reversible belt has two different sides, black and brown usually along with a buckle that is used both ways. A double-sided belt is a versatile yet economical option because it can be used with a number of outfits for having two different colors 
8. Studded belts:
These belts are decorated with studs that provide glitter, style, and detail to these accessories. These belts are often associated with punk and emo cultures and they are often worn by guys who prefer a unique hip look. These belts are often known by names like gothic belts, rock and roll belts, punk or emo belts, etc. Studded belts often feature decorations like pyramids, stars, domes, skulls, or hexagons to give them a distinctive appearance.
9. Grommet belts:
These belts can be recognized from rows of grommets ( large eyelets) along the belt strap. Grommet belts are unisex and casual and are often worn with jeans or shorts. Like studded belts, they are also associated with punk and rock subcultures which makes them especially popular with the younger demographic. These belts are often found in leather or canvas and in varying colors most popular are black, white, khaki, and grey. These belts can have one or more than one row of grommets along the strap length. Grommeted belts became popular in the early 2000s and they have moved on from the cusp-of-the-millinium connotations since then.
Belt types on the basis of buckle style.
10. Single prong belt: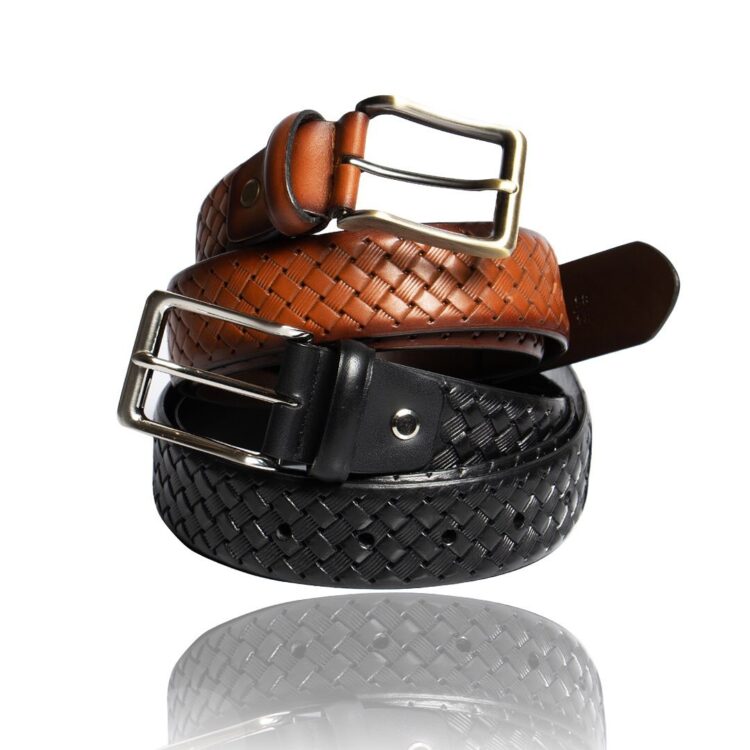 As the name suggests, this type of belt features a buckle that has a single prong within a metal frame, the prong can fit in any of a number of holes which are usually 1 inch apart. This belt type is the most common and widely used.
11. Double tongue/prong buckle belt: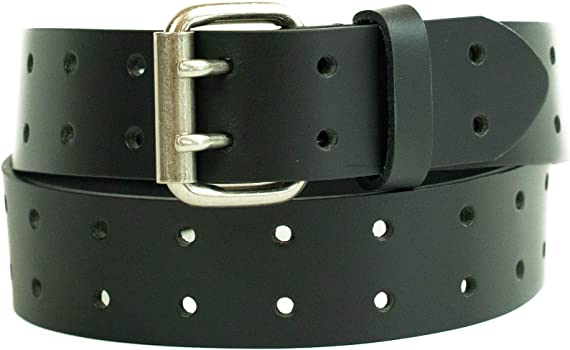 This type of belt features a buckle that has two pins or prongs with two rows of holes on the belt strap. The two prongs fit in a couple of holes and can be fastened as per the waist length. Other features are almost the same as that of a single-prong belt. 
12. D-ring or O-ring buckle belt(double ring):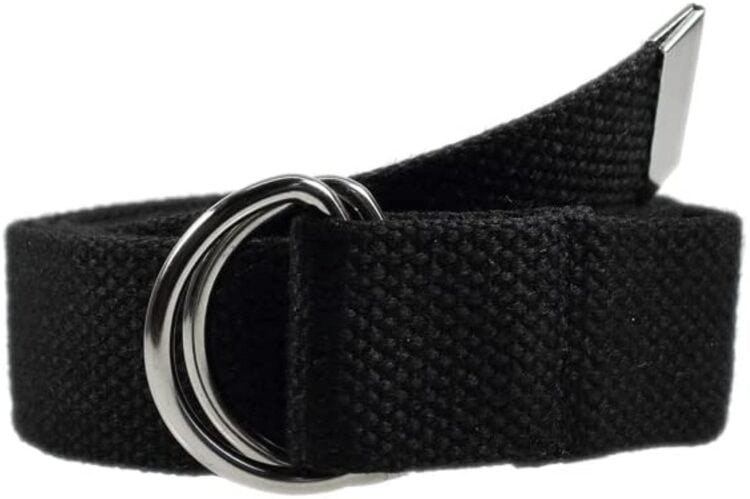 The buckle in this type of belt features a couple of d-shaped or o-shaped rings at one end of the belt. You just have to thread the belt through the belt loops of your pants, keeping the rings at the top of your zipper, exactly where a belt buckle should rest. Then you have to pass the loose end through both D-rings, and lastly fold back the loose end thread it over the closest ring, and thread it through the first D-ring. 
13. Clip buckle or side-release buckle belt:
This belt type showcases a buckle that consists of a hooked part called male and an insertion part called female. The hooked part has a central rod with two spring prongs. These spring prongs fix into and get blocked in the side holes of the female part when inserted. To unfasten you simply have to press the two sides of the insertion part. Side-release buckle belts are primarily casual and are often used with jeans and cargo pants.
14. Box-frame buckle belt/A ratchet belt or an automatic belt: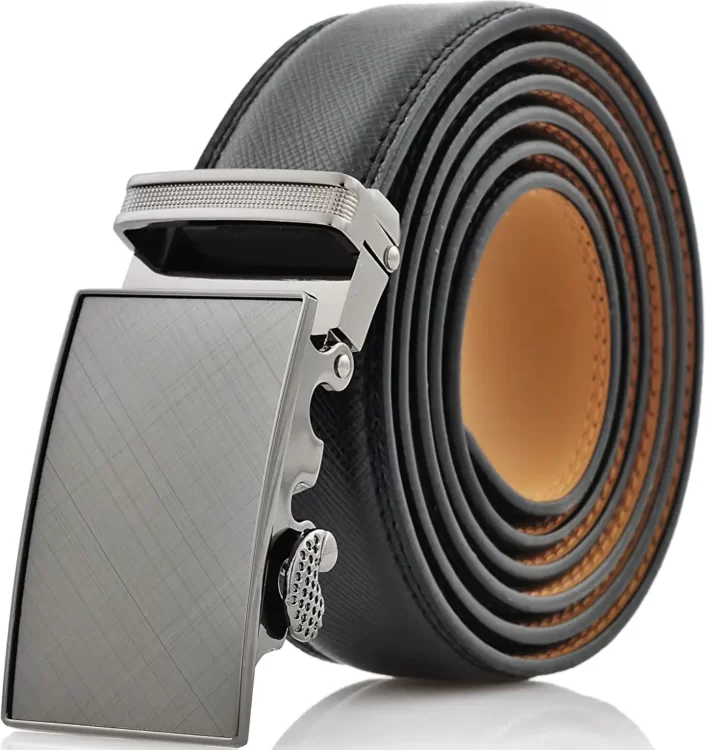 A box frame buckle belt has a hollow box at the back of the buckle, with two windows for the belt strap to slide through. There is a lock pin, teeth, and a small release and adjustment lever to hold or unfasten the belt. This buckle type works best with fabric belts and web belts because the teeth work best with these materials. This works with leather belts too, which have a nylon track with small teeth-like notches sewn into the back of the belt. The nylon track removes the need for belt holes and ensures a better fit.
15. Flip-closure or flip-top buckle belt: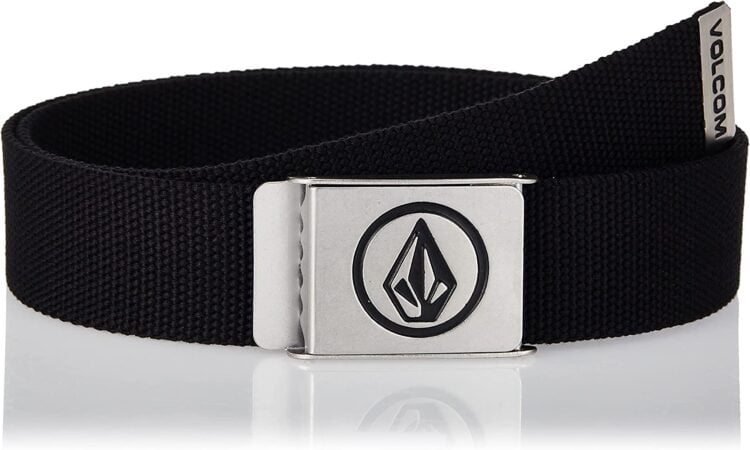 A flip-top belt is a military-style belt featuring a buckle that has a plate that actually flips or opens like a door and has hinges on one end, allowing the belt strap to be inserted or removed. Like a ratchet belt, a flip-closure belt has a toothed interior that keeps the belt in place. This buckle type is used for fabric belts, canvas, or polypropylene straps, it isn't very suitable for leather ones.
16. Plate buckle belt:
The metal plate is usually rectangular or oval, and the belt strap can be of leather or fabric, plain or studded. You can get customized plate designs too and can have your initials or name on them. Plate buckle belts are casual and are worn with jeans and chinos, it's one of the trademark cowboy fashion accessories. The fastening and unfastening mechanisms are often automatic, flip closure, or side release.