How do you look good in a belt? 5 ways to match a belt with your outfit.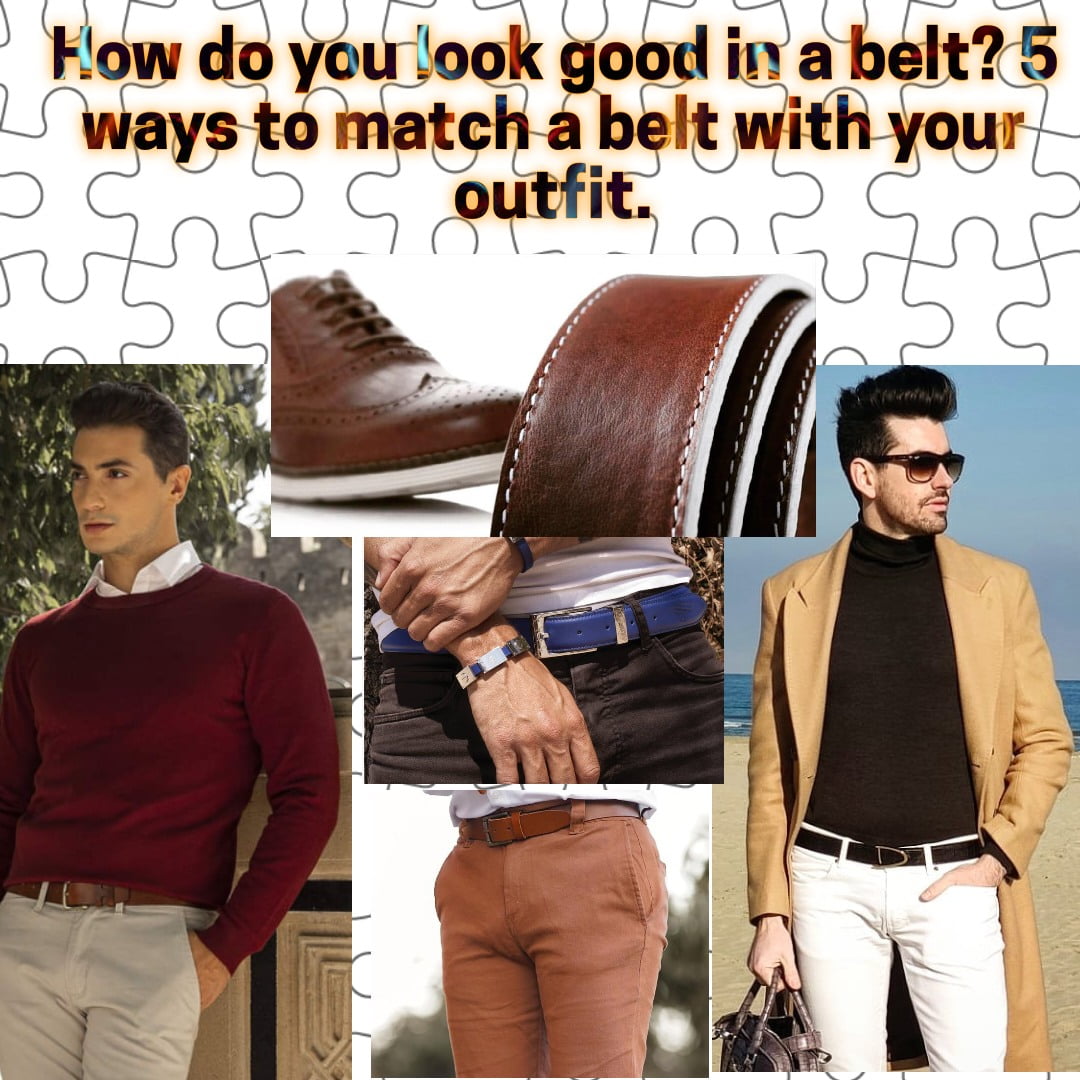 Belts are an accessory every guy needs, they are especially needed to keep your jeans in place as well as your formal pants, chinos, and even shorts. With formal suits, many men wear belts, some don't as they prefer tailored and fitted pants that don't require a belt to keep them in place. If you use it the right way, a belt can make your outfit look better, more stylish, and more put-together, it all depends on how you use it. In this article we'll be talking about how to match belt with outfit, in fact, 5 ways you can do that.
How to wear belts?
 A belt is more than just a necessary evil; it can elevate your style if done right and ruin the same when you mess with it. You should choose the belt that compliments your outfit, is occasion-appropriate, does the job it is meant to do, and above all, looks good on you. Let's start with the basics. 
The length and breadth.
For a belt to look good on you it has to be of proper length and breadth. The rule of thumb, when it comes to the right length of a belt, is that it should be 2 or 3 inches more than your waist. Proper breadth is equally important, you should always look for slim belts to use with smart outfits. Broader belts with fancy buckles should be left for casual outfits, especially with denim at center stage. Belts to be worn with jeans come in a large range of widths, they can have a breadth slightly greater than 4 cm, and on the thinner side, they can be as slim as 2.5 cm. Classic or formal belts are slimmer; they have a breadth of around 3 cm. You can use slightly longer belts with casual pants or shorts, but you should always stick with the proper length of belts with formal wear, which is 2 to 3 inches more than your waist length. If you are 32 go for a belt that's 34 or 35 inches long at the most. Men typically wear belts counter-clockwise i.e. from left to right.
Casual and formal belts:
Belts you'd use on different occasions will be different. There are numerous types of belts, formal settings require you to wear belts that are thin and in neutral shades like black or brown and with small buckles. Casual belts can either be ultra-thin and skinny or broader than usual and can have embellished details and fancy buckles. 
5 ways to match a belt with your outfit.
Now let's jump into it, 5 ways you can match your belt with your outfit.
You can't ignore the way a belt looks within an outfit. A mismatched and ill-fitted belt will ruin your outfit no matter how precious clothing items have you pieced together to create that look. Your belt, if you're using one, should match the pieces, pure and simple! Matching the belt with your shoes is the ancient rule preached by fashion gurus since time immemorial. But is it the only way to make a belt look good in your outfit? Of course not. There are other easy rules, some five of them to make your belt look awesome in any outfit.
1. Match the belt and shoes: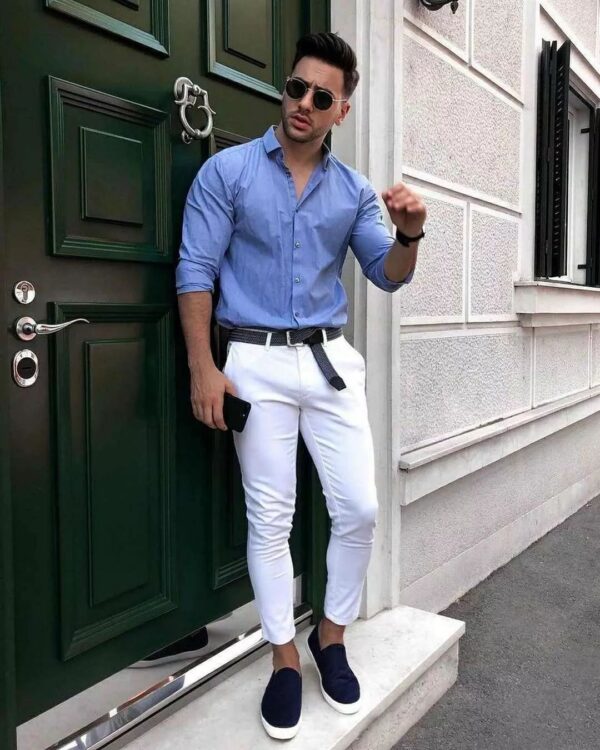 As mentioned earlier, It is the best-known rule for styling a belt, matching it with your shoes in color and texture. You have to coordinate your footwear with the rest of the outfit, one way to do that is to match the shoes with the belt. Brown leather belt with brown shoes and a black one with black shoes. This rule is especially handy when styling formal suits. Few people now wear a belt with a suit, but if you are wearing one, abide by this tenet and you will be better off.
2. Try matching the belt with pants:
It's a good starting point when you are wearing a button-down with dress pants. It's a good idea to match the belt and pants in color. There's no need to match them exactly, keeping them in similar shades will work just as well. A brown or red belt will work with various colors and shades. A beige belt with khaki pants would look stylish and sophisticated.
3. Color-coordinate the belt and the shirt: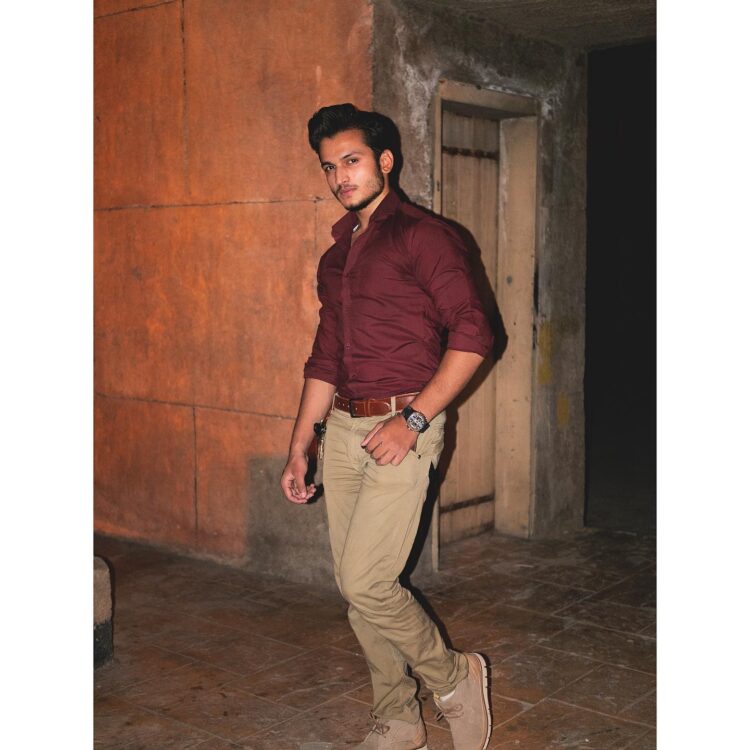 You can keep your shirt and belt in the same or matching shades. A black button-down shirt will look effortlessly cool with a black belt. You can try a white belt with a white shirt for a hip statement. A button-down in earthy tones would look great with a brown or red leather belt, this will create a stylish smart casual look with a belt. A belt that matches the shirt in shades elevates your tucked-in shirt outfit and makes it look more put-together and sophisticated.
4. Match the belt with your jacket: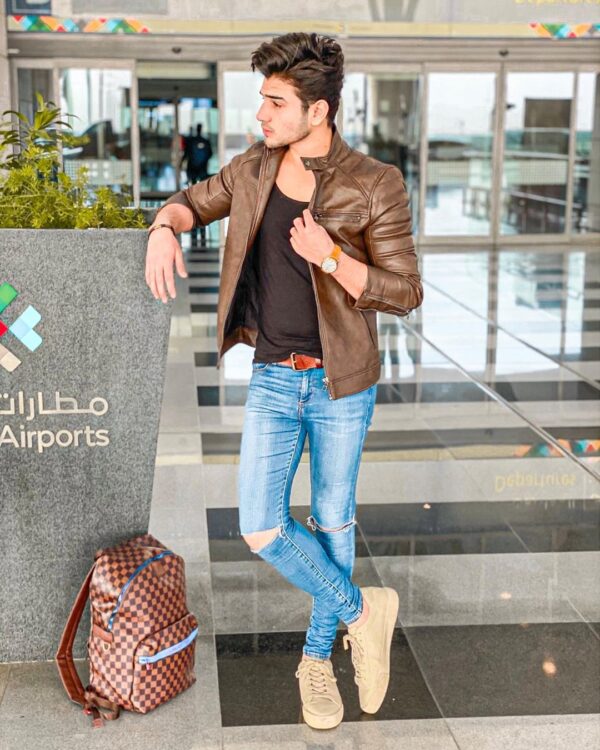 Whatever jacket you are wearing matching the belt and jacket is always a great idea. You can wear a belt that matches the blazer, bomber, gilet, or biker Whatever you are wearing, always works when the belt is matched with—a black leather jacket with black leather and the brown one with a brown or red jacket. The same can be practiced with a suede jacket, try matching the belt in color and texture with your jacket.
5. Match the belt and an accessory: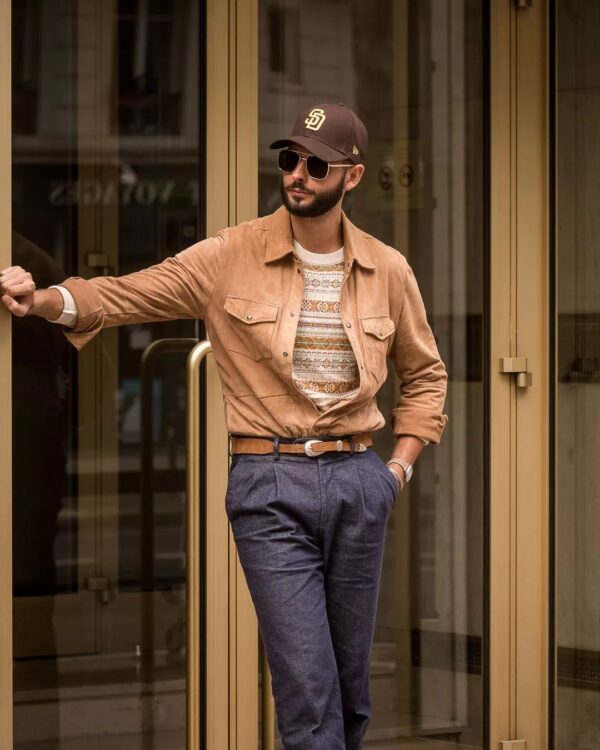 Here's the final entry on our list 5 ways how to match belt with outfit. You can also match your belt with an accessory, like a baseball cap. A wristwatch with a leather strap, a leather bracelet, and even a cross-body bag are other accessories you should think of matching and complementing your stylish belt. It's even possible to match the metal with metal, this means you can match the buckle and a metal bracelet or wristwatch straps. 
Belts with jeans.
With jeans, belts tend to be wider in width and with conspicuous buckles. There are some thin versions of a casual belt that are worn with jeans. Leather, nylon, canvas, and braided belts are the types of casual belts that men use with jeans. Wearing belts with jeans is particularly recommended because modern jeans are stretchy and tend to be low-rise, without a belt in place you may face the embarrassing situation of accidentally showing your butt crack when bending over. 
How many belts should a guy own? 
Every guy should own at least 4 belts, there is no upper limit for this. A top-shelf black leather belt and a brown one both slim and with seams at the edges are must-haves for every guy for formal situations. Every man must own two other belts for casual usage, this makes a total of four belts that every guy must own. A top-notch broad belt to be worn with jeans is a must, from among many types of belts, you can choose the color and texture of it in accordance with your footwear collection, shirts, or jackets you often wear with jeans. The fourth belt you should own should be suitable to be used with your jeans, shorts, and chinos. A webbed or braided leather belt or a slim leather or nylon fabric belt can be a good choice. 
FAQs.
Is it okay to wear belts with jeans?
It depends on your personal choice, all jeans have belt loops, so you can wear a belt with a pair of jeans every time you wear them if you like. Wearing a belt with jeans is especially recommended if you are a fan of low-rise skinny jeans, a belt will have them firmly hoisted over your butt. But with medium-rise jeans, that are not skin-tight you can go beltless.
How far should a belt extend past the buckle?
The correct length of a belt is 2 or 3 inches more than your waist. So a belt of correct length extends past the buckle no more than 3 inches at the most. If it extends shorter than this 3-inch length, say 2 or even one inch, it's okay, your belt will fit you just right.
What kind of belt to wear with jeans?
You should wear a wide belt with jeans manufactured to be worn with jeans. A classic slim belt won't look flattering with a pair of jeans. It's better to opt for a 4 cm wide belt with a stylish buckle to keep your jeans in place. If ultra-thin belts are your thing and you think you can pull one off with your jeans, you can also go for this casual belt style.
Can men wear skinny belts?
Skinny belts are popular, guys wear these 1-inch wide belts with formal pants, jeans, and shorts and are in style like always. Skinny belts are best suited for tailored smart casual suits without ties, slim-fit chinos, and shorts when you are wearing your shirts, tucked in.  
Where should a belt sit on a man?
Your belt should sit no more than one and a half inches below your belly button. Any lower you risk sagging your pants. It would be best if you never went above the belly button, going above the belly button would look obviously ridiculous. So a belt sitting anywhere between your belly button and one and a half an inch below it is a safe bet.
Is it okay to wear a belt with a suit?
Some fashion gurus absolutely loathe the idea of wearing one with a suit, and some others deem it absolutely imperative. So it basically depends on your personal style preferences, it depends on what kind of pants you wear. If you are into rocking loopless pants that have side adjusters instead, you don't need to wear a belt with a suit. 
What's the standard breadth of a belt?
It depends on the type of belt. A classic or formal belt has a width of slightly more than 3 cm. Informal belts that are worn with jeans are slightly wider, they have a width of 4.1 inches. Skinny belts can go as slim as 1 inch.