How to match shoes with clothes for guys? 6 minimalist rules that always work no matter what!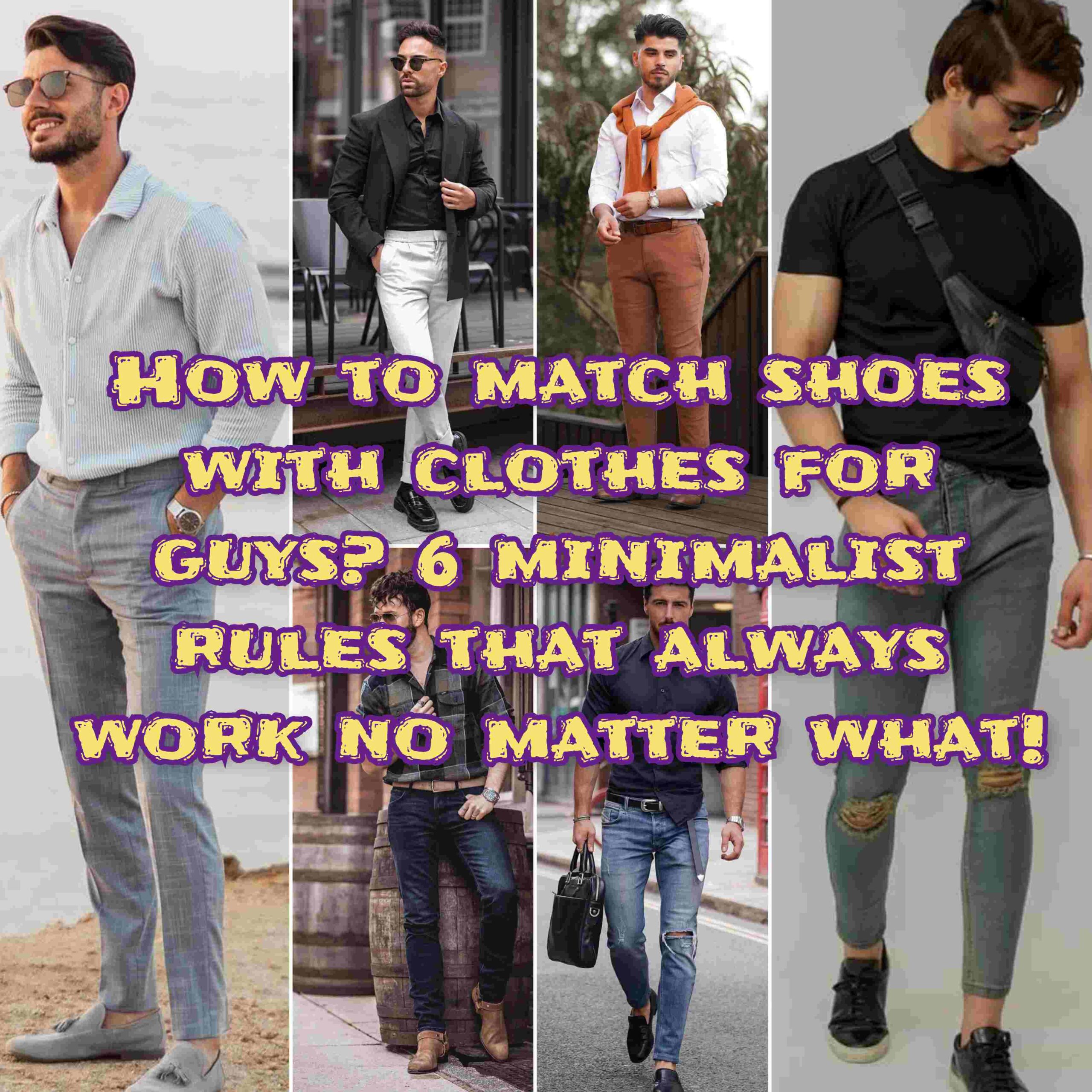 A nice pair of shoes takes you not just to lovely places, it also makes great outfits for you. A well-matched pair of shoes set the tone of your outfit and offers the all-important first impression. Shoes are most of the time the first thing people notice in your style, and they are as important to your outfit as your face and hairstyle to your personality, this makes it super important to mix and match and color-coordinate your pair of kicks with your ensemble to express yourself through your style. 
Matching shoes with your clothes:
The sartorial triangle consists of tops, bottoms, and footwear, they are the three corners of this triangle, and you have to keep them well-coordinated to create a stylish outfit. Shoes can make or break your style, they are as important as any other element of this triangle. To create awesome outfits, you must match and coordinate the shoes and other elements. By matching, we mean keeping the pieces in somewhat similar or exact-same shade in a monochromatic way. Other than tops and bottoms, there are accessories that constitute an important part of your outfit, especially headgear, belts, bandanas, and gloves, and your shoes chime in with these to style your outfit to perfection. It's always better to opt for minimalist manly colors, black, brown, and white, when choosing shoes because it will make it a breeze to pair your shoes and clothes in unison.
1. Match the shoes with pants.
This is the most common way to wear shoes and it's a no-brainer. Matching shoes and pants make you look tall and slim and give you the freedom to choose the shirt or jacket of your choice. You don't have to worry about mixing and matching the shirts and jackets with your pants and you can break free from the vicious cycle of neutrals when choosing your tops. You can try your favorite button-down in any color and pattern, and you can choose any graphic tee or tank top in summer. This way of matching shoes with the outfit is best when you want to try a shirt in your favorite color, a novelty shirt, or if you just want to go off the beaten track with your tops. This style of matching shoes with your outfit is especially suited for pants in black color or in earthy tones. You can wear your beige suede loafers with khaki pants, and your oxblood tassel loafers with pants in similar shades. omar Spaneshi
2. Match the shoes with shirts: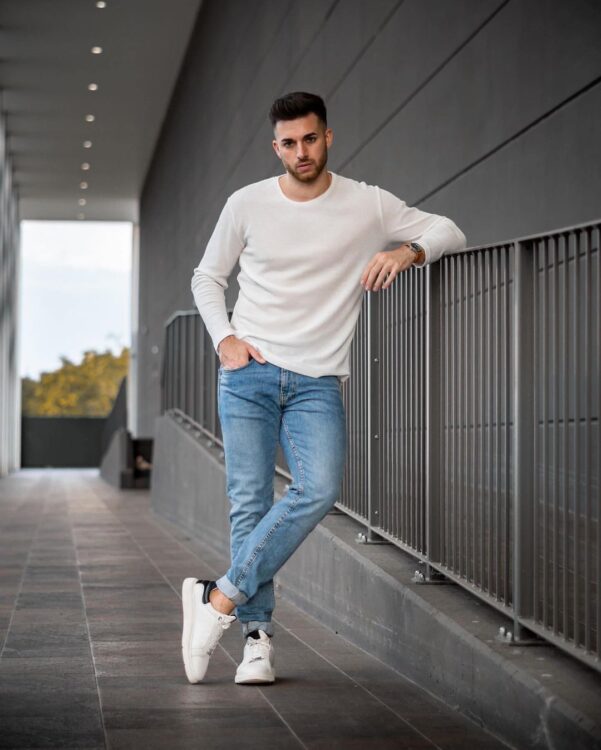 This practice of matching your shoes with your shirt is very trendy and popular with guys. This is especially popular in men's summer outfits. Keeping a tee or a button-down and shoes in the same shades is one of the best practices when matching shoes with clothes. A white tee, blue jeans, and white sneakers are one effortlessly stylish way of matching shoes with shirts. This style of matching shoes with the outfit allows you to choose the pants of your choice. With a shirt and shoes in the same color, you have absolute freedom to choose the pants without worrying about anything. You can rock any pair of chinos, trousers, cargo pants, denim shorts, khakis, distressed and ripped jeans, joggers, in short, any species of shorts or trousers under the sun, with a white tee and a pair of white shoes, or with any t-shirt and shoes in the same colors. When you are looking to rock pants in your favorite style and color, go for this style of matching shoes with an outfit.
3. Match the shoes with belts: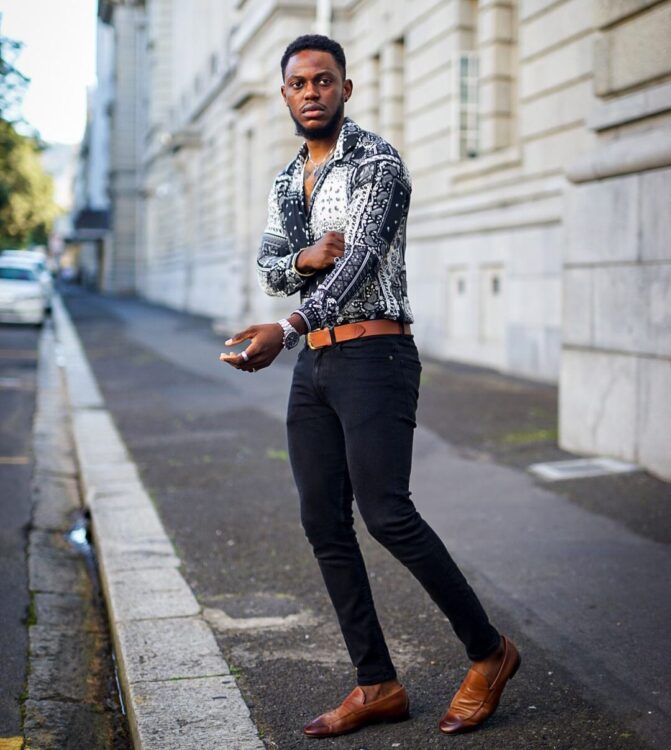 Belts are one of the most important accessories, they are used for both style and functionality they offer. One way to match your shoes with the outfit is to match them in color and texture with your belt. This is an especially useful rule for men while wearing formal suits. A leather belt is a must when you are wearing suits with pants that have belt loops rather than side adjusters. Brown shoes with a brown leather belt and black pair of shoes with a black leather belt! This fashion rule is a time-tested recipe for styling your shoes and incorporating them into your a-la-mode outfits.
4. Color-match shoes, pants, and belts.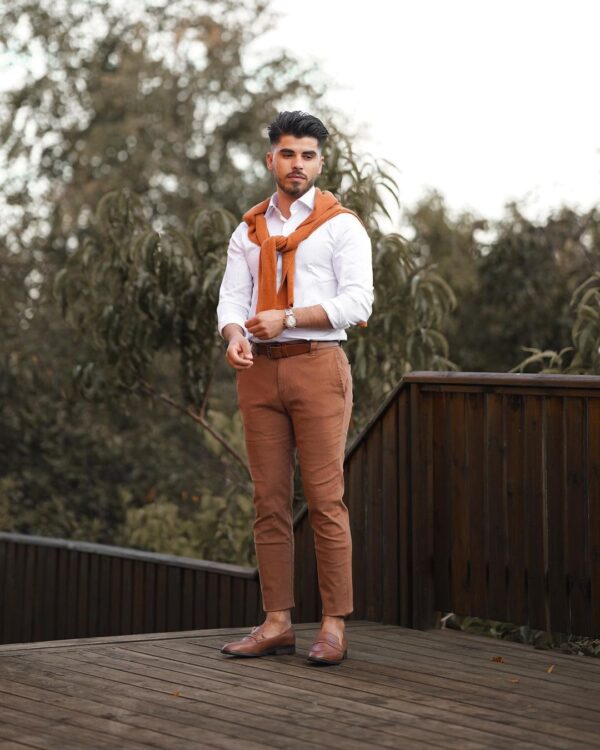 This is an advanced step of the 1st rule, the lower half monochrome look is trendy and popular. This look is particularly recommended for black shoes, pants, and belts all in black. The same can be done with brown items. Again this look will give you a free hand to choose the shirt of your liking. 
5. Color-match shoes, shirt, and jacket.
This look comes to your rescue when you want to wear your black or brown shoes with pants that you won't usually wear with these shoes. When you choose a black shirt(tee, button-down, or polo shirt), layer it under a black jacket and use them with black shoes. You are free to choose the pants of your liking. This look is a great way to pair your black shoes with any pants. 
6. Color-match shoes, belts, and shirts: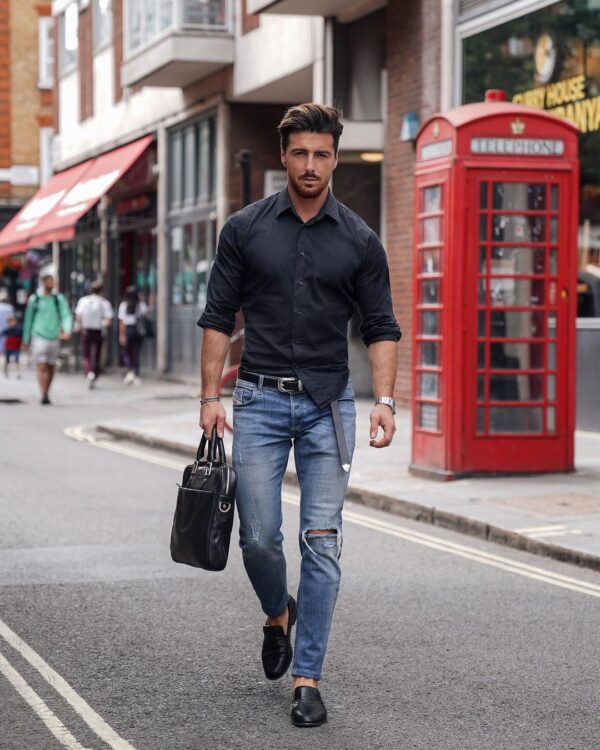 Do this when wearing a button-down shirt, and this is especially useful with black or brown shirts. All these things can be had in a single color, black or brown are especially hand and the easiest to style.
Shirts, trousers, and shoes combinations for guys:
Your style game, more than anything else, depends on the way you team your shirts, trousers, and shoes together. When wearing dress pants with button-down shirts paying attention to the rules becomes all the more important. In this section, you will see 10 outfits that explain how to match and mix all the 3 cardinal elements of your sartorial triangle.
Outfit#1: How to match shoes with clothes?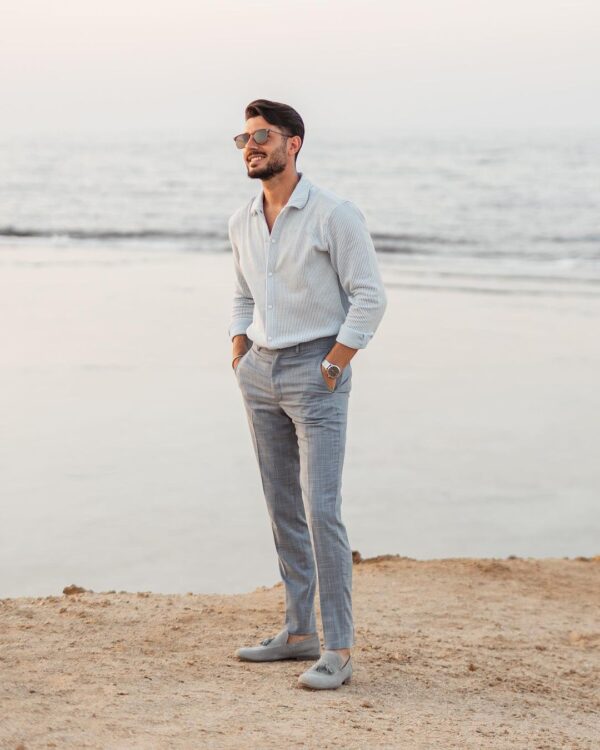 Outfit#2: How to match shoes with clothes? Shoes and pants!
Outfit#3: How to match shoes with clothes?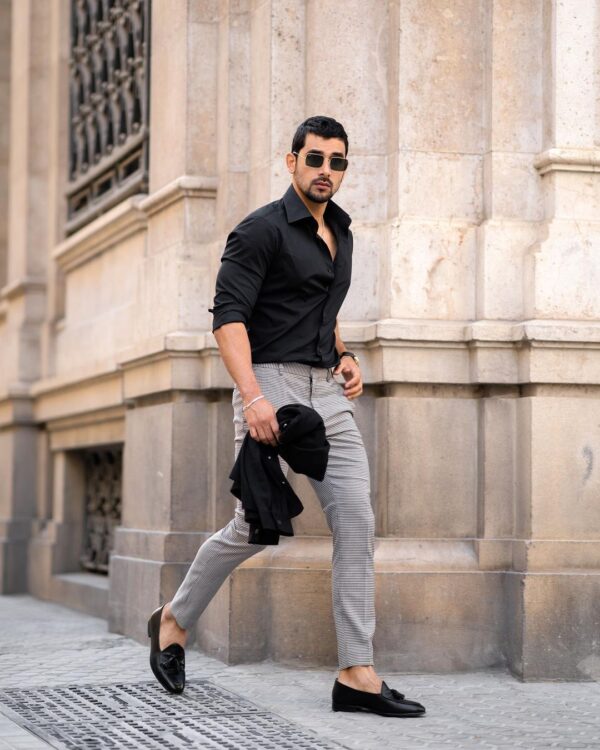 Outfit#4: How to match shoes with clothes?
Outfit#5:
Outfit#6: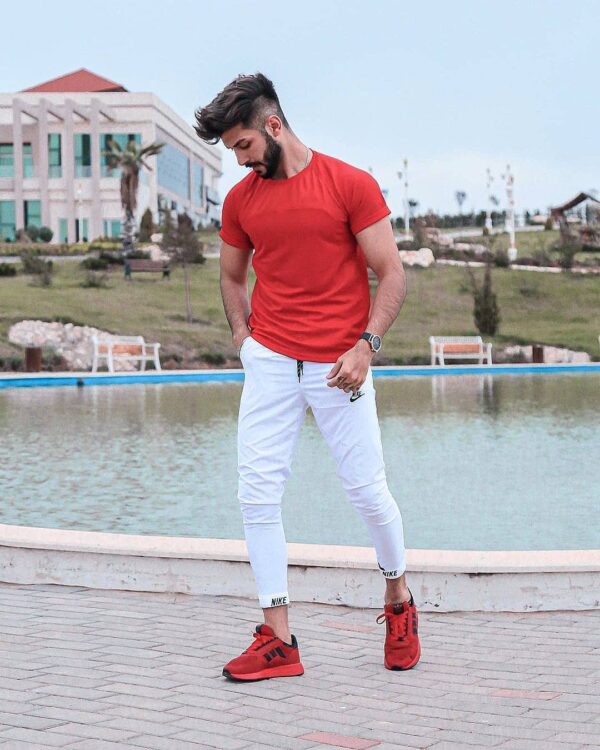 Outfit#7: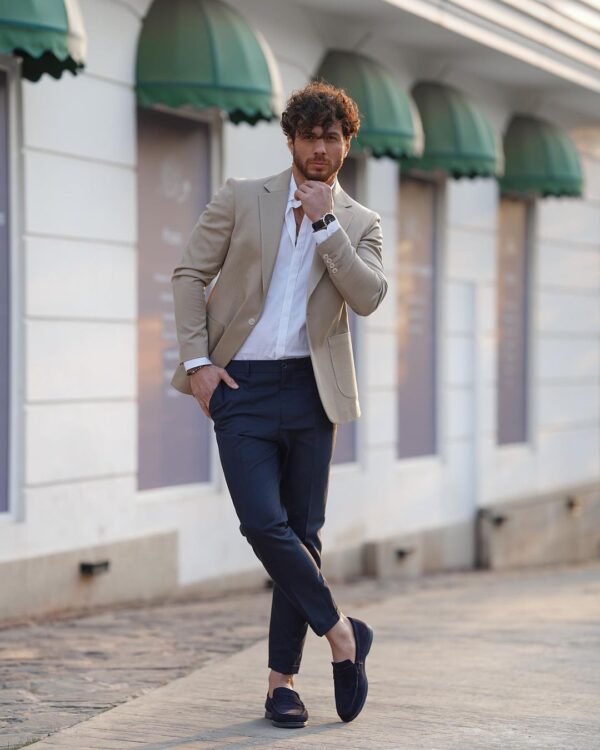 Outfit#8:
Outfit#9:
Outfit# 10: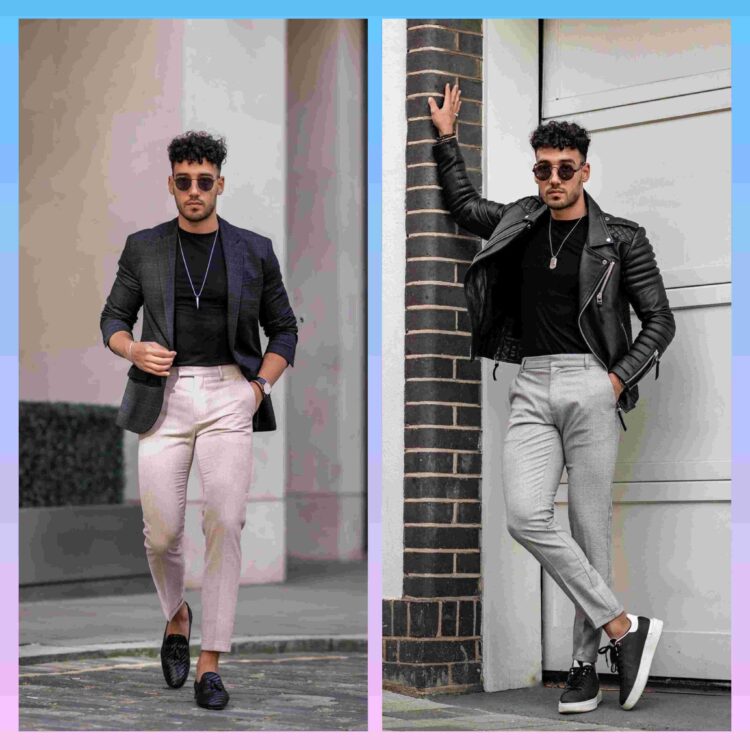 FAQs: 
Is it okay to match the shoes and the shirt?:
This is in fact the perfect way to make you stylish and keep it well coordinated. It's in fact one of the best practices to match your shoes with your outfit. When using white with jeans or chinos you opt for white sneakers, it's a no-brainer, in the same way, you should prefer black shoes with a black shirt. This gives you the freedom to choose the pants of your choice.
What color of shoes goes with everything?
black or brown leather shoes (Lace-up or slip-on) are the most versatile shoes that can go with everything. You can pair a pair of black Chelsea boots with every outfit imaginable, formal or casual, and everything in-between. Plain white sneakers closely follow this race of versatility, they can be worn with lots of outfits, especially casual and semi-formal ones. But there's nothing like black or brown leather Chelsea boots, they are unique in so many ways, and their versatility is unparalleled in every setting of men's style. 
Should your shoes match your outfit?
Yes, absolutely, unless you want to add them to your outfit to give off a pop of color. Your shoes should either match your pants or any other component/s of your outfit. It could be your shirt, jacket, or belt. You can however use some shoes with every outfit, like a pair of brown shoes. Shoes in neutral colors like black, brown, white, etc go with most outfits, even then it's better to match them with an element of your outfit. 
How to match shoes with pants?
It's simple and straightforward, keep your pants and shoes in the same shades, in monochromatic ways, alternatively, you can keep them in slightly different shades of the same color. Your khaki pants would look good with shoes in similar tones of color, like beige or light brown. Similarly, wear your brown shoes with pants in earthy tones for stylish finishing touches. Keep your pants and shoes in shades of the same color, if you are not matching your shoes with the shirt or belt.