35 different types and styles of jeans for guys.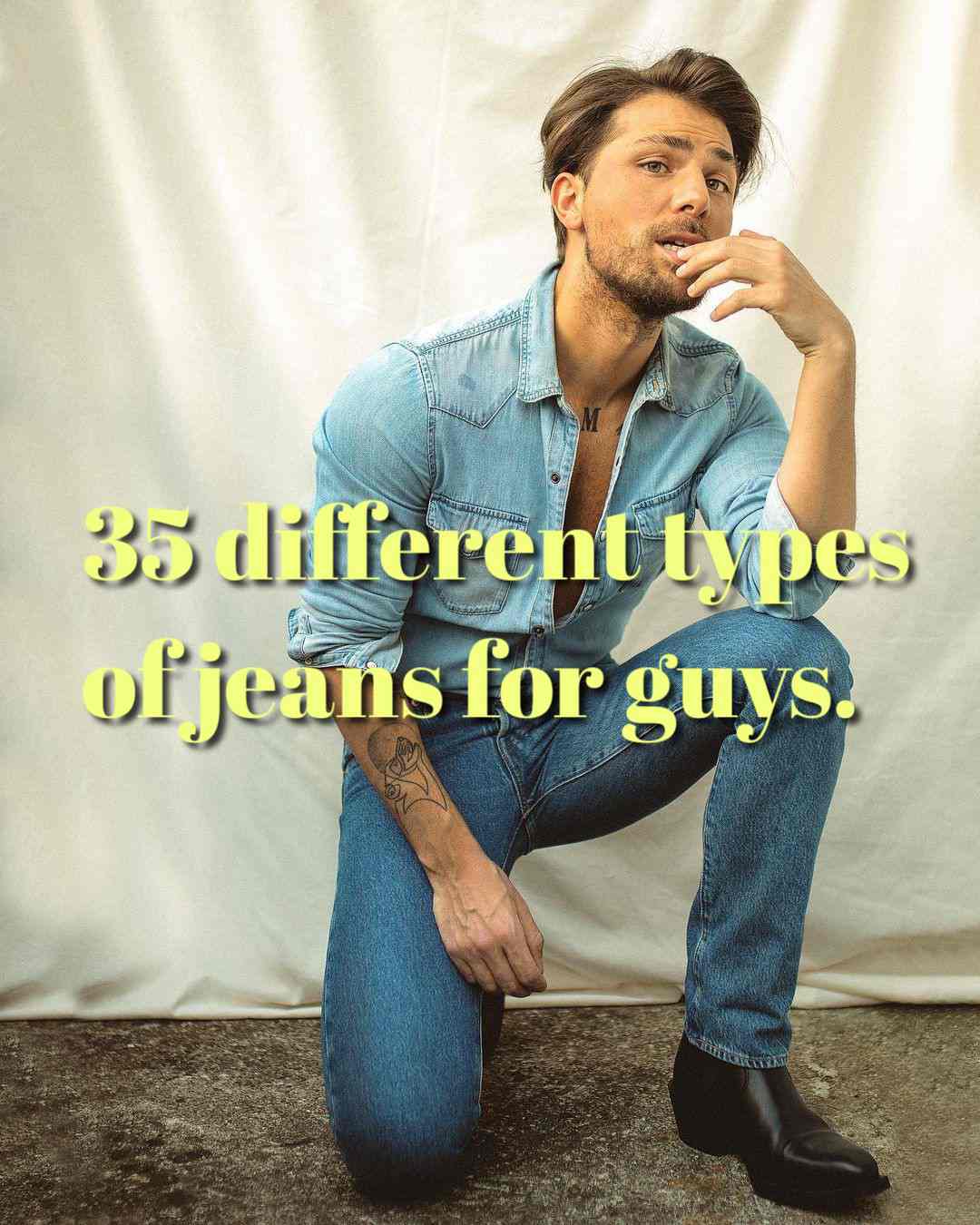 How many different types of jeans are there for men? Types of jeans? There are loads of them, you already know that. We'll walk you through some 35 different types of jeans and it certainly will satisfy your curiosity as a denim aficionado. We are going to dig into this topic, with all the necessary details you are looking for. Jeans are a staple and the most popular men's bottoms, they are versatile from the fashion standpoint and sturdy and easy to maintain from a utility POV. For the purpose of our article, we are classifying Jeans on the basis of 4 factors, wash, rise, fit, and style. We'll discuss them one by one, let's dive in.
Wash: 
Washing in the context of jeans means washing the denim jeans with certain chemicals, bleach, dyes, and objects to produce a desired level of softness, wear, fading, and shredding. There are different techniques used to produce fading and distressing in jeans, we won't go into the details of the process, but we'll enlist 4 types of jeans that are easily identifiable due to the washes they undergo.
1. Acid-washed jeans: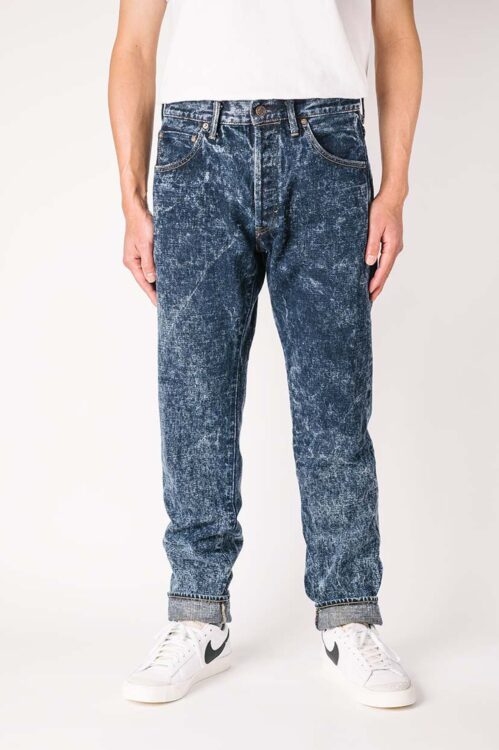 Acid-washed jeans feature fading effects, and blue or black jeans show whitish fading effects which are fashionable and trendy. To acid wash a pair of jeans, they are washed in a large rotating drum with porous pumice stones and chlorine until the die is faded and the jeans are almost bleached white. Chlorine bleach and muriatic acid are used to produce acid washed fading in jeans. 
2. Smoke wash or light wash jeans: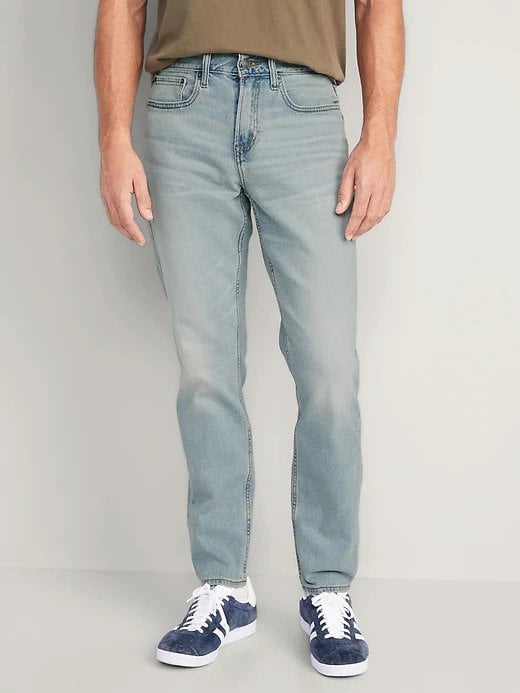 This type of acid wash showcases the lightest fade, this type of fade features light discoloration in some shade of white resembling smoke. Smoke-wash jeans are also called light-wash jeans for obvious reasons. Light-washed jeans are acid washed with porous pumice stones marinated with chlorine or potassium permanganate and Sodium hypochlorite. 
3. Snow-wash jeans: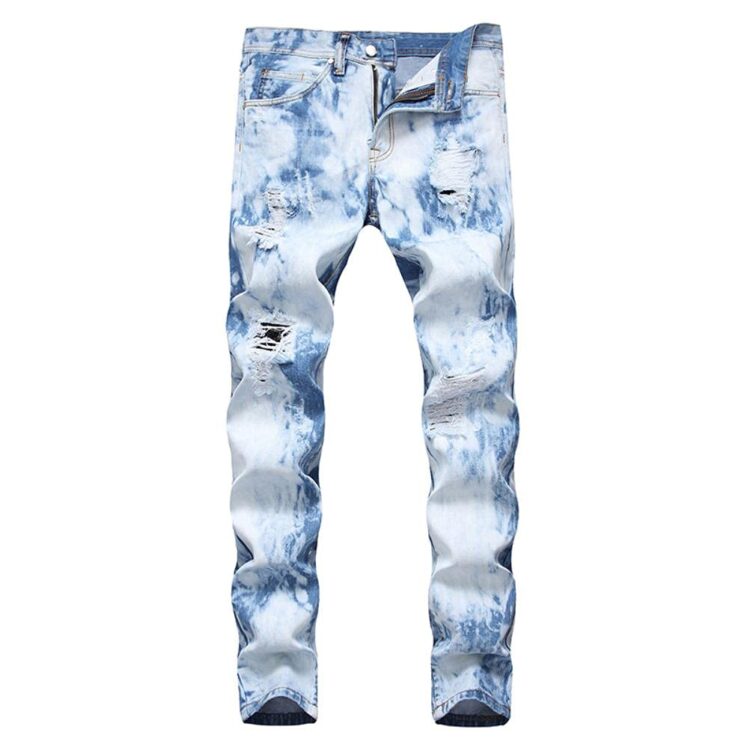 Snow-washed jeans are simply jeans that are stonewashed and have a distinct mottled appearance and snowflake-like fading. Snow wash jeans have small faded areas interspersed throughout the fabric. Snow-washed jeans were insanely popular during the 80s and these jeans with snow-like whitening are still popular among fashionable men.
4. Stone-washed jeans: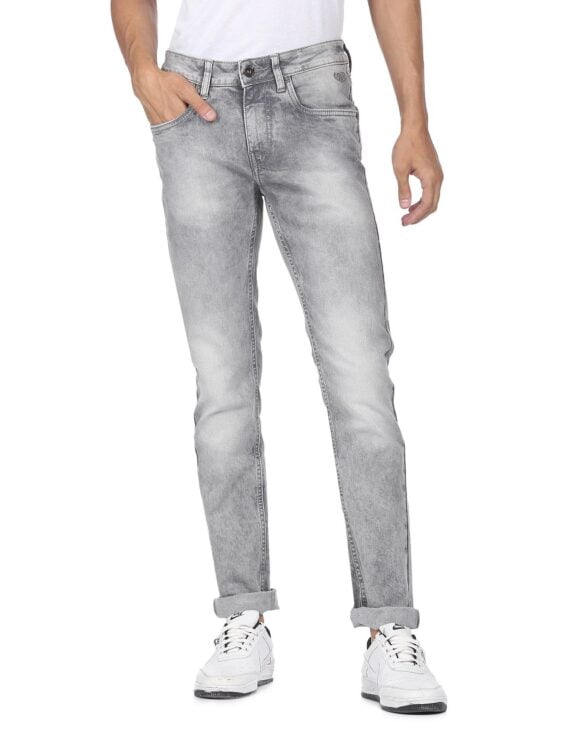 As the name suggests, stone-washed jeans are washed with stones and they feature distressing and frays. Jeans are washed inside a sizeable rotating container or drum with small stones which can either be smooth or porous like pumice stone. Stone washing produces distressing and wear and tear in jeans, this makes them soft, worn in, and distressed. 
The enzyme wash and bleach wash are other ways to introduce fading and distressing in jeans, here's an excellent article on this topic. 
Rise:
Rise in jeans means, according to Primer magazine, the distance between the crotch seam between your legs and the top of the waistband. Jeans' rise can range from 8 to 13 inches.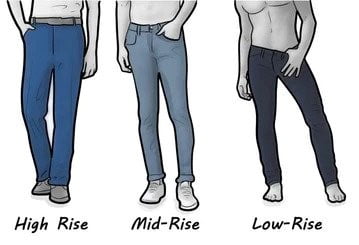 1. Low-rise jeans:
They have a rise of about 8 to 9 inches, and they usually sit just above your hip bones. They are ideal for you if you want to elongate your upper body. The bell-bottom jeans of the 60s and 70s famously featured a rise between this range. 
2. Mid-rise jeans:
Mid-rise jeans are also called regular-rise jeans. They are the most popular and have a rise between 9 to 11 inches. These jeans rest anywhere between the navel and the hip bones, they are good for you if you are seeking a balance between your lower and upper body.  Mid-rise jeans are ideal for guys with medium height. 
3. High-rise jeans:
The rise in high-rise jeans measures more than 11 inches and they sit at the normal waistline. High-rise jeans make your legs look longer, and they make for easier fits, it's better to use a belt with these jeans to keep them in place. Unlike low-rise jeans, your bum crack will never show up when bending over or sitting. 
Fit: 
Fit is another factor on the basis of which we can classify men's jeans types. Some jeans are bulky and baggy and others cling to your body like second skin. Here are five types of jeans with respect to fit. 
1. Baggy/wide-leg jeans:
Wide-leg jeans are the baggiest and the bulkiest of all types of jeans. These jeans are typically loose all over the leg and tend to get wider at the bottom. Baggy jeans became popular in the 80s and remained popular among hardcore punks, ravers, rappers, and skaters in the 90s. They are making a comeback in 2020's post-pandemic paradigm shift from skinny to baggy style.
2. Relaxed fit jeans: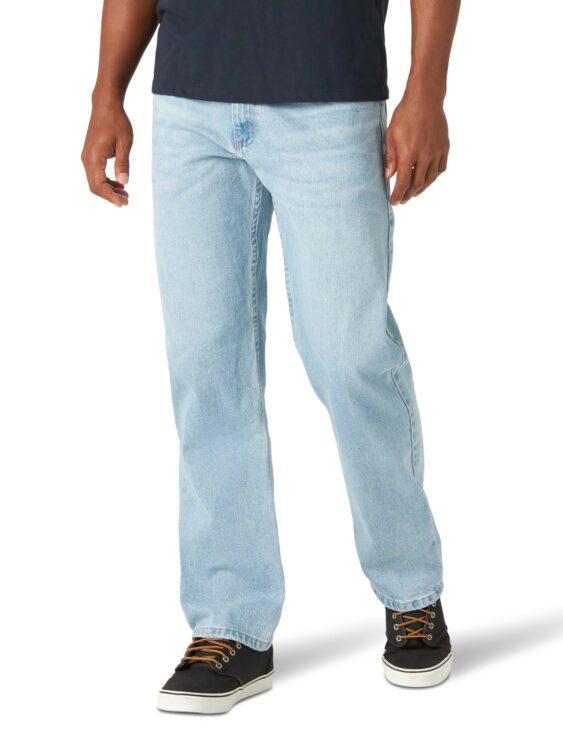 Relaxed-fit jeans are slightly less baggy and are straight all along the leg. Relaxed-fit jeans usually feature more room at the thighs and the seat and are thus as comfortable as sweatpants. Relaxed-fit jeans have historically been worn as a workwear option by factory workers and field workers for the ease of use and practicality they offer. Nowadays you can find a pair of relaxed-fit jeans in both stretch and non-stretch varieties. 
3. Straight-cut jeans: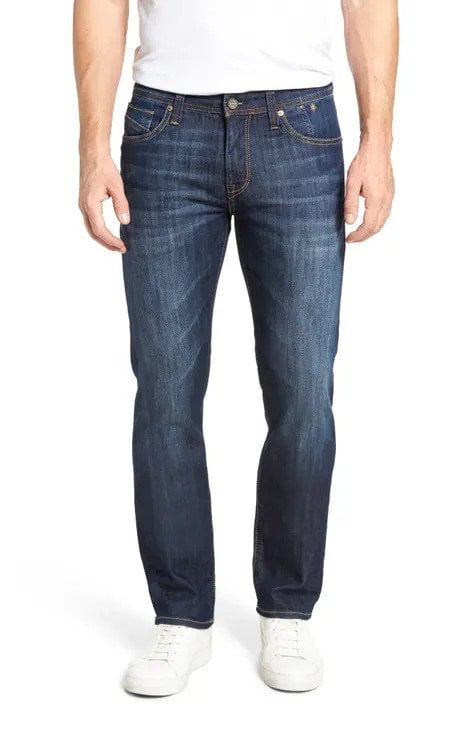 They are pretty much like the relaxed-fit jeans differing only in being slightly less roomy and baggy. Straight-cut or straight-fit jeans are also called regular-fit jeans for being the most popular style and fit of jeans. The straight-cut jeans are one of the classics of men's wear, they are the most versatile, and you can style them for any occasion across the spectrum of formal to casual.
4. Bootcut jeans: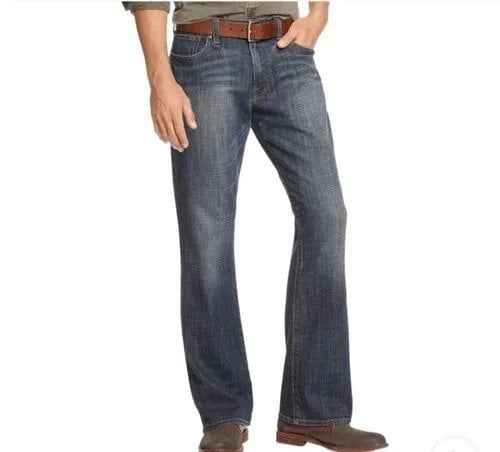 Boot-cut jeans are slim-fit but slightly flared at the hem, but not like the bell bottoms, coming late on this list. These jeans are a western wear staple and are cut to fit over a pair of sturdy cowboy shoes. Boot-cut jeans usually feature a high rise and sit just under your belly button, the natural waistline. These jeans are always in style, and you can rock them if you want to explore the cowboy fashion aesthetics of the 60s and 70s.
5. Slim-fit:
Slim-fit jeans are straight jeans but more form-fitting without a taper at the hem. In the 70s and 80s, these slim-fit jeans were called drainpipe jeans. Slim-fit jeans are tight all along the leg and have a narrow leg opening at the hem. They are different from the skinny jeans in some ways. They are not tapered, have a wider non-tapered leg opening, and are not too stretchy. 
6. Tapered fit: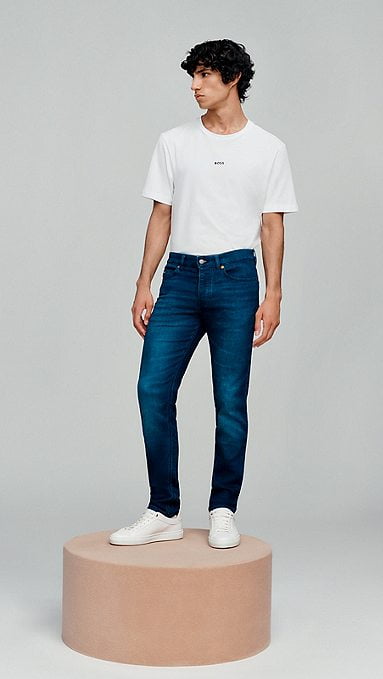 Tapered-fit jeans progressively become narrow from top to bottom, an effect known as tapering. Tapered jeans have a narrow opening at the hem but are wider at the thighs. There are three main varieties of tapered fit, the relaxed tapered, straight tapered, and the slim tapered fit, all three are self-explanatory. A slim tapered fit will feel like skinny jeans if you have got muscular thighs and meaty glutes.  image source: Hugo Boss
7. Skinny:
Skinny jeans are form-fitting jeans that stay close to your skin from top to bottom hence the name skinny. Skinny jeans taper at the hem, they are considerably narrower and tighter below the knees. Skinny jeans were quite a rage during the 2010s and they are still popular among men who are confident of their athletic bodies. Skinny jeans are great for shorter guys who want to look somewhat taller and these jeans also allow you to draw attention to your footwear. 
8. Super skinny/Spray-on: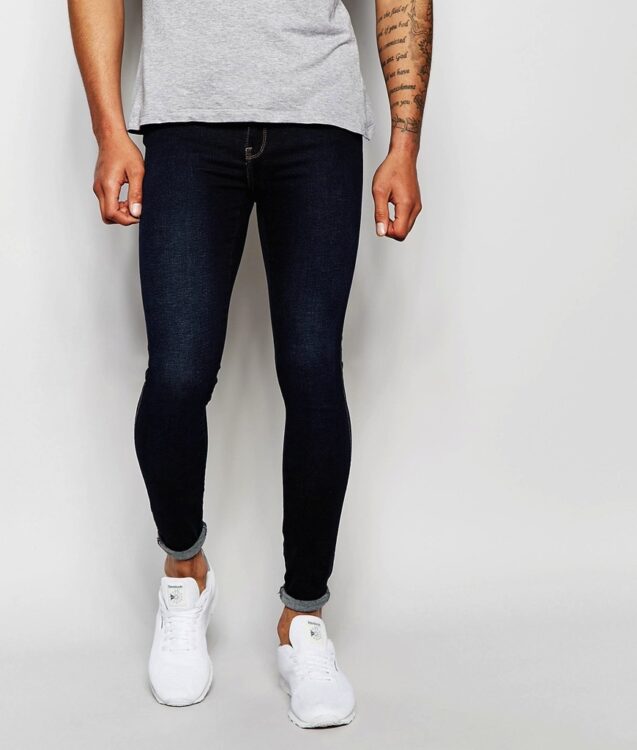 Super skinny jeans, as the name suggests, are the super figure-hugging type of skinny jeans. They cling to your silhouette from top to bottom like a second skin. Some businesses market these jeans by the names of spray-on jeans or athletic jeans. To make them stretchy and easy on your body, manufacturers make use of stretchable and soft varieties of denim, they make use of elastane or Spandex. Spray-on jeans are usually more stretchable than normal jeans. This makes it easy to put on or take off these super tight super skinny jeans which some call jeggings, or the jeans leggings. image source: The jeans blog
Looking for some outfit ideas with super skinny jeans? This article might interest you!
Styles.
It is almost impossible to enlist all styles of denim under the sun, but there are styles of men's jeans that have remained popular for an extended period of time. This section includes some 20 types of men's jeans on the basis of style, let's get started. 
1. Distressed or ragged jeans: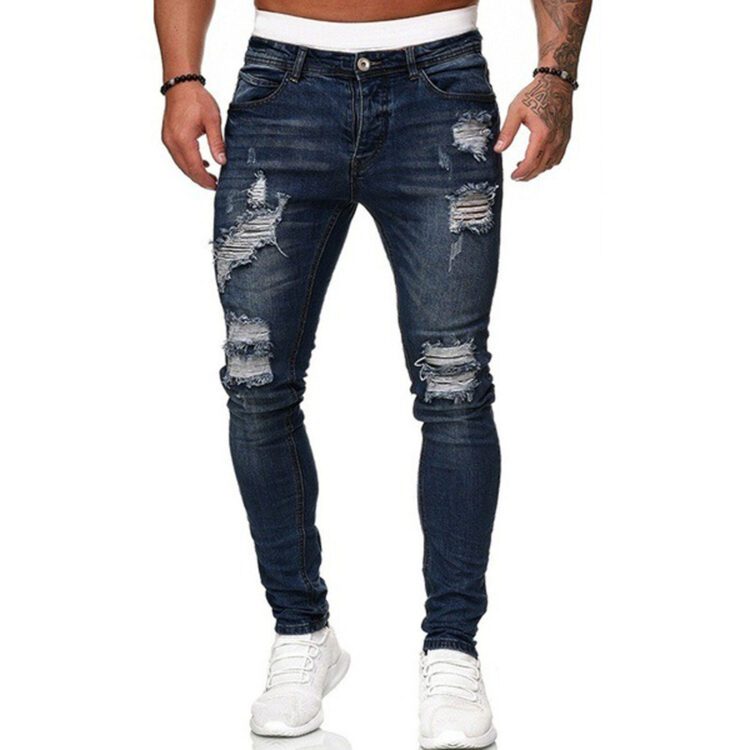 Distressed jeans are jeans that are manufactured in a faded, frayed, or ripped form. They are purposely damaged to look frayed, faded, and old. These jeans may have all of these features at the same time. They can have holes, vertical cuts, strategic fading, or frays to give them a worn-in look. Distressing means treating the denim to make it look aged, used, and worn in. Distressed jeans may or may not have holes and rips, but they do always have visible distressing signs like fading and fraying.  
2. Ripped or shredded jeans: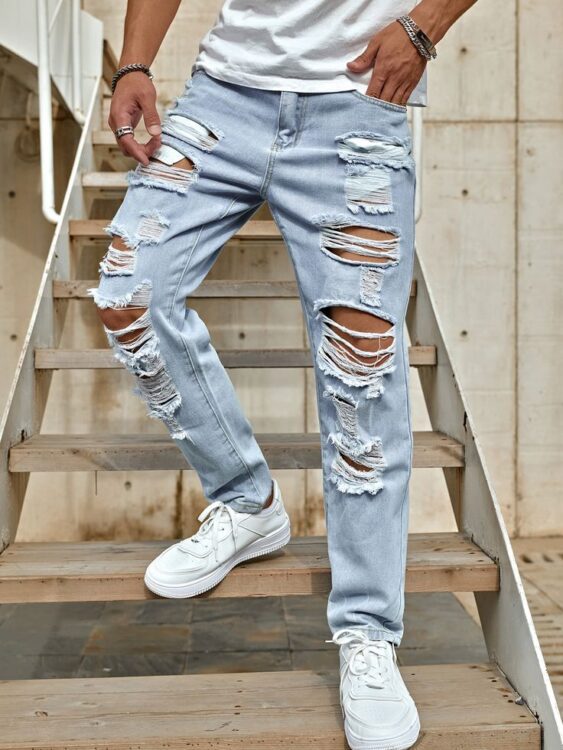 Not all distressed jeans are ripped, some can be frayed and faded but not ripped. This makes ripped or shredded jeans a subcategory of distressed jeans. Ripped jeans are jeans with skin-exposing cuts, slits, or rips anywhere along the legs. Knee-ripped jeans have rips at the knees and nowhere else. Allover ripped jeans have several rips and holes along the legs, they are also called super ripped or super distressed jeans. 
3. Ankle zipper jeans: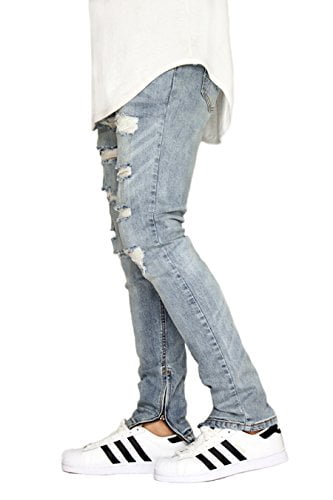 As the name implies, this style of jeans features a zipper at the ankle. These jeans are also known as bottom-zipper jeans. The zip at the hems is more fashionable than functional, it doesn't serve any purpose other than unzipping at times to let your ankles breathe.
4. Side striped jeans:
Side stripe jeans became popular during the late 2010s, like track pants they feature stripes down the sides of the legs. These stripes are often of conspicuous dark or bright colors. Athleisure fashion gained a boost during that period and many features of track pants and joggers were introduced into other staples of menswear. Side stripe jeans are stretchy and slim-fit, which makes them popular among men who have a taste for athleisure-inspired wardrobe staples.
5. Elastic cuff jeans/ Denim joggers: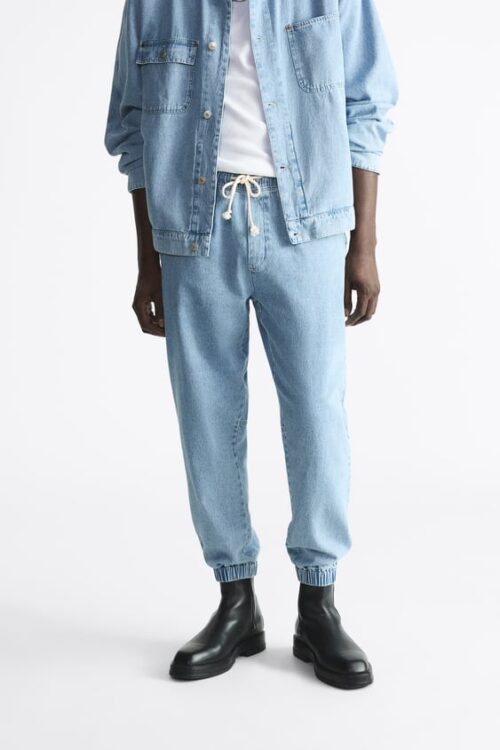 Denim joggers are the next on our list of types of men's jeans, and like the side-striped jeans, they are also an athleisure-inspired style of men's jeans. This style of jeans is cut in joggers style, it's often tapered and features an elasticated cuff at the hem. Denim joggers can be skinny or relaxed fit but they are always tapered. You can wear them just like sweatpants or joggers with the same ease but greater versatility. 
6. Biker jeans or Moto jeans: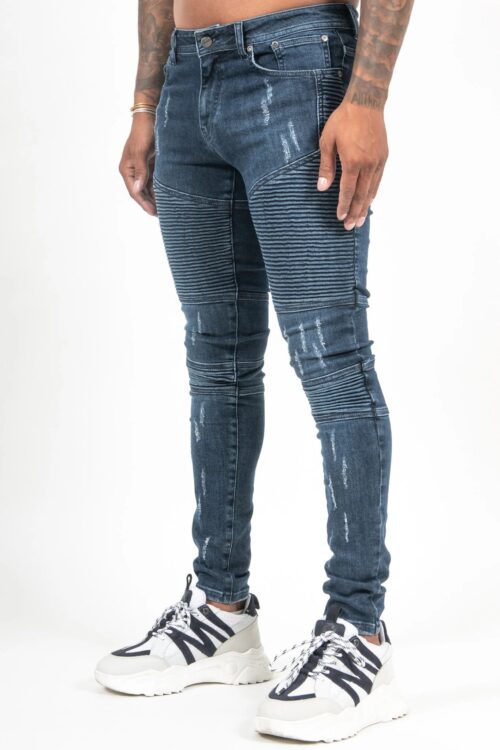 These jeans are specifically designed for bike riders. They are popular among non-riders as well for the stylish appeal they offer. Biker jeans are often slim-fit and feature characteristic biker panels at the thighs and knees for added protection. These ribbed detailing at the knees and above are padded inside and there are hip protectors in most of these Moto jeans making them safe for riding and extremely durable. They are a style staple for guys who prefer rugged bad boy fashion choices. image source
7. Cargo jeans:
Just like cargo pants, these jeans have multiple patch pockets at the thighs. These pockets can be used to carry items but some of the pockets can be purely ornamental. These patches are sometimes called patch pockets because they were originally used to store watches. They are of military origins and nowadays cargo jeans are used just like cargo pants, in some respects jeans are more versatile than cargo pants. Usually cargo jeans or pants are straight-cut, but tapered and skinny fits are becoming more popular and desirable. 
8. Flared jeans or bell bottoms: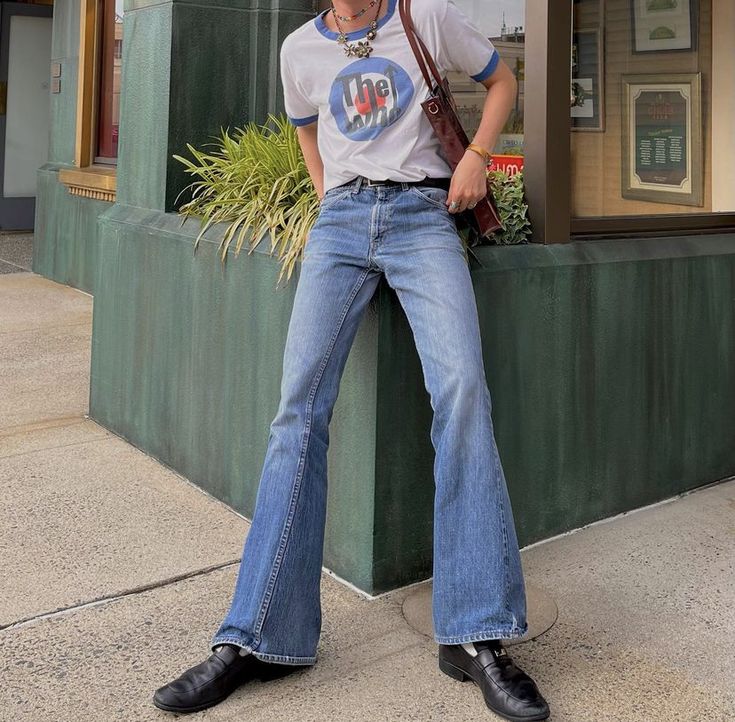 These jeans are distinguished by the presence of hems that gradually become quite wide below the knees an effect called flaring. Flared jeans with slimmer tops and wide bottoms (below the knees) became popular during the 70s and 80s. Men's jeans are typically less flared as compared to women's jeans. They are only slightly different from boot-cut jeans, which also have wider bottoms.  
9. Contrast stitch jeans: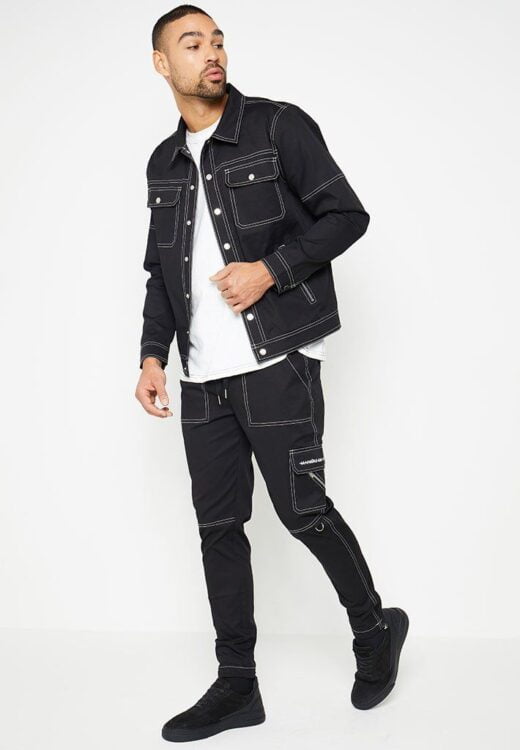 They have a stitching thread that's visible and it contrasts in color with the fabric. White or yellow stitching is usually used and it's easily visible for any wash of jeans. White thread is usually used for stitching on black jeans and yellow for navy jeans. All stitching for front pockets, back pockets, fly, sideseam, and inseam are in a color that is easily noticeable. Some types of contrast stitch jeans can feature decorative stitching on the back pockets, thighs, and knees. 
10. Patchwork jeans: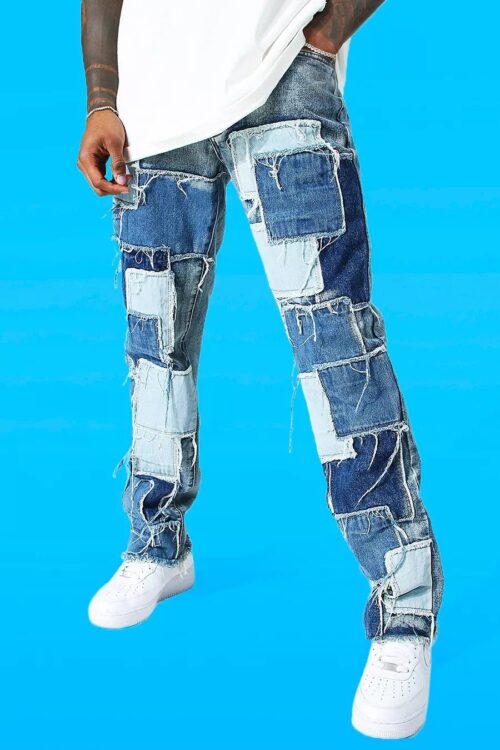 Patchwork jeans, sometimes called panel jeans are created when you go one step further than the ripped jeans trends, as a DIY twist on regular or distressed jeans. These jeans simply feature different pieces/patches of denim of different shapes and sizes sewn on the thighs, knees, and calves. Patchwork jeans have remained immensely popular in the past and they are making a comeback.  
11. Cropped jeans or ankle-length jeans:
Cropped jeans or ankle jeans (not to be confused with ankle zipper jeans) are short-length jeans with having bottom hem reaching below the knees but an inch or two above the ankles. Ankle-length jeans can be any pair of jeans with a length two or three inches shorter than normal jeans. Cropped jeans became a rage in the later 2010s and they still are popular. Cropped jeans are in style in a wide range of fits ranging from baggy to skinny. 
12. Capri jeans:
You can think of Capri jeans as a shorter version of cropped jeans, a hybrid between denim pants and denim shorts. So, if you want to go one step further with your ankle-baring penchant, go for these Capri jeans and your calves will thank you in summer. More popular as a women's wear item, Capri jeans are liked by some men for being simple, minimal, and summery. 
13. Cigarette jeans:
Yes, like cigarette pants, cigarette jeans exist and not just for women but for men too. So what actually are cigarette jeans? They are, according to Jo-Lynne Shane, slim-fit jeans that are cut straight from knees to ankles and more fitted in the thigh area. Unlike skinny jeans cigarette jeans are not tapered from the knees down and are often ankle length. Simply put cigarette jeans are a hybrid between skinny jeans and straight-cut jeans, they are skinny from hips to knees and straight from knees to ankles. 
14. Pleated jeans or denim suit pants: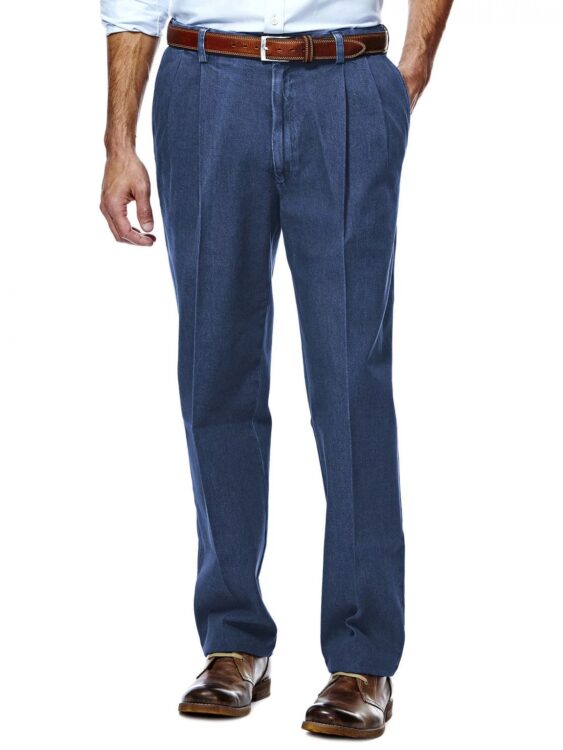 Pleated denim pants are simply suit pants made of denim, you may think of them as denim dress pants. A pleat, according to Fashion Beans magazine, simply is a fold or a tiny tuck of fabric between the pocket and fly which adds an extra inch of material on each leg. Pleated jeans are a more tailored version of jeans that look exactly like a pair of suit pants and they are worn just like suit pants. 
15. Carpenter jeans: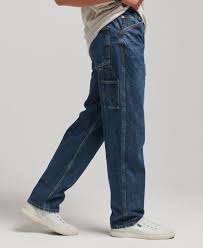 Carpenter jeans are baggy functional jeans with wide belt loops, padded knees, extra rivets and pockets on the outer legs, and a hammer loop on the left leg. Some versions feature a rectangular patch pocket with a slanted cut on the right leg for storing small objects used while working. These jeans were popularized by brands like Tommy Hilfiger and Wrangler. They are often blue and sometimes khaki, gray, and even yellow. 
16. Stacked jeans: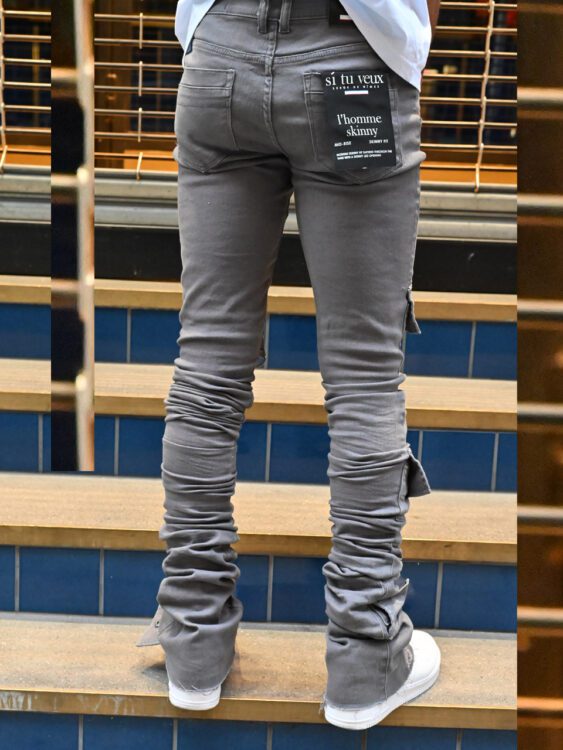 According to Rockstar Original, stacked jeans are a style of jeans that are cut extra long so that they bunch up, forming rolls of fabric below the knees. For a more pronounced stacking effect, these jeans are manufactured with a skinny fit in the thighs and a slight flaring at the bottom hem. Stacked jeans have gained enormous popularity in recent years. Super stacked jeans are longer having extra fabric bunched up at the calves. 
17. Paint splatter/ paint dot jeans: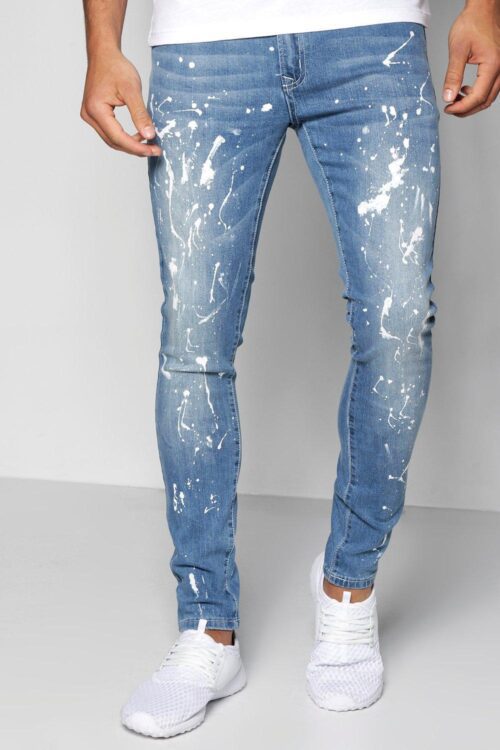 This style of jeans features stains and flecks of paint tastefully splattered on leg fronts. A pair of paint dot jeans is just perfect to put out "I'm good with my hands" energy without sweating bullets while painting the walls of your home. You can DIY a pair of distressed jeans and convert them into a paint splatter masterpiece by using white, yellow, or green acrylic paint. 
18. Drop-crotch jeans: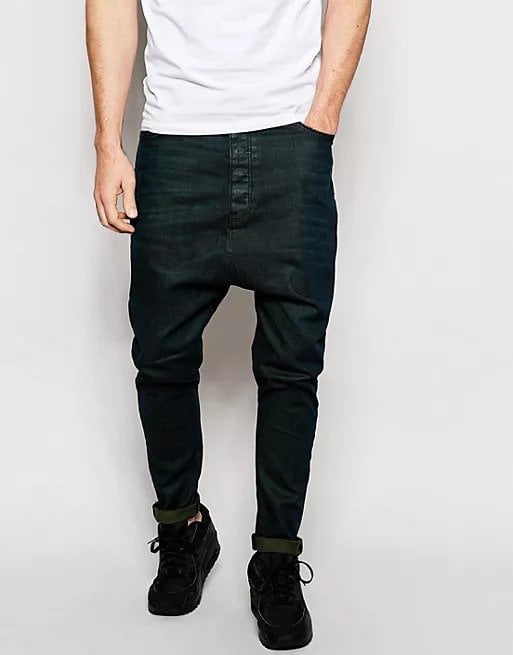 A pair of drop-crotch jeans have a loose sagging crotch and comparatively skinny and tapered legs. They are also called droppies or slouch jeans. Drop crotch jeans rose to popularity in the 2010s especially due to rockstars like Justin Bieber and Kanye West. 
19. Harem jeans: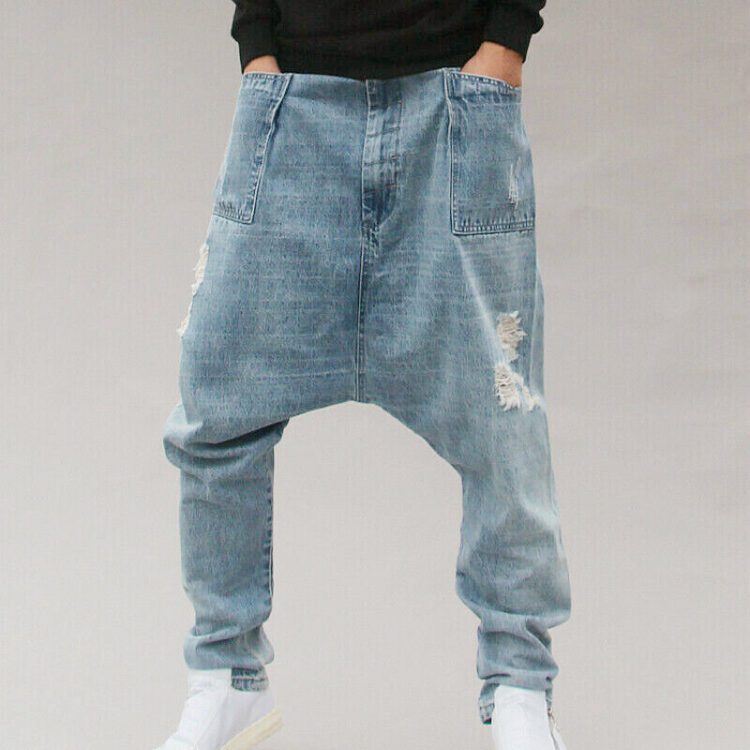 They are a harem pants-inspired style of jeans. Harem jeans are baggy, long pants tapered at the ankle, occasionally with side flaps on the hip that button at the waist area. You can think of them as an exaggerated version of drop crotch pants, baggier, and with a more sagging crotch. Modern harem jeans are almost indistinguishable from drop crotch jeans and people use both of these terms interchangeably at times.  
20. Camouflage jeans: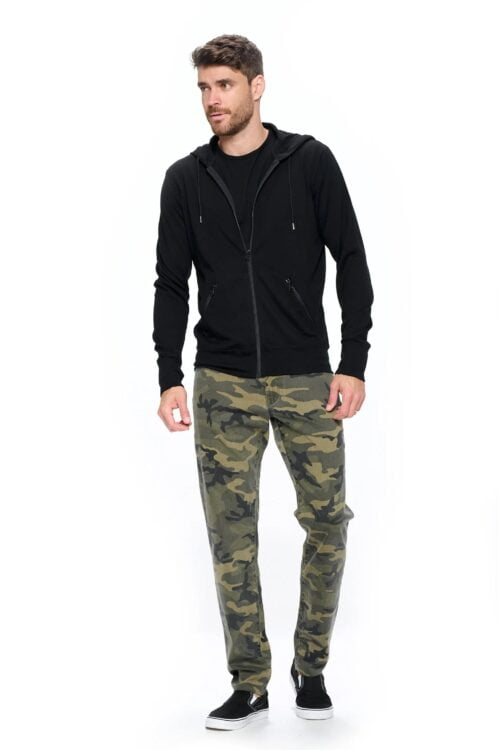 These jeans as the name suggests, are simply denim pants with camouflage print. Camo jeans are worn just like normal camouflage pants. This version of jeans is suitable for use during outdoor activities like hiking, camping, and during other similar stuff and as a chic casual streetwear option if you use your sartorial imagination to good use. You might find these camouflage pants outfit ideas interesting for you.