11 Types Of Turtlenecks For Men.
A Turtleneck, guys, you like it or not, belongs to the very must-haves for any man's wardrobe in 2022. There are many types of these turtlenecks out there in the market and online too. They come in a variety of fits, materials, and styles.  Which one should I buy? Which one should I try? These are the questions men are asking these days. To get an answer to these questions, it's better to have some information about the types of turtlenecks that are available and that are popular. A turtleneck is a very versatile and elegant top and a man who takes his style seriously knows the true worth of one. Turtlenecks come in many styles and are used in both informal and casual outfits. These tops with high necks were popularized by intellectuals like Carl Sagan and Michael Focault in the 60s, and pop stars like Bob Dylan solidified the turtleneck as the undisputed king of winter sweatshirts. So here is our list of 11 types of turtlenecks, 
11 types of turtlenecks for men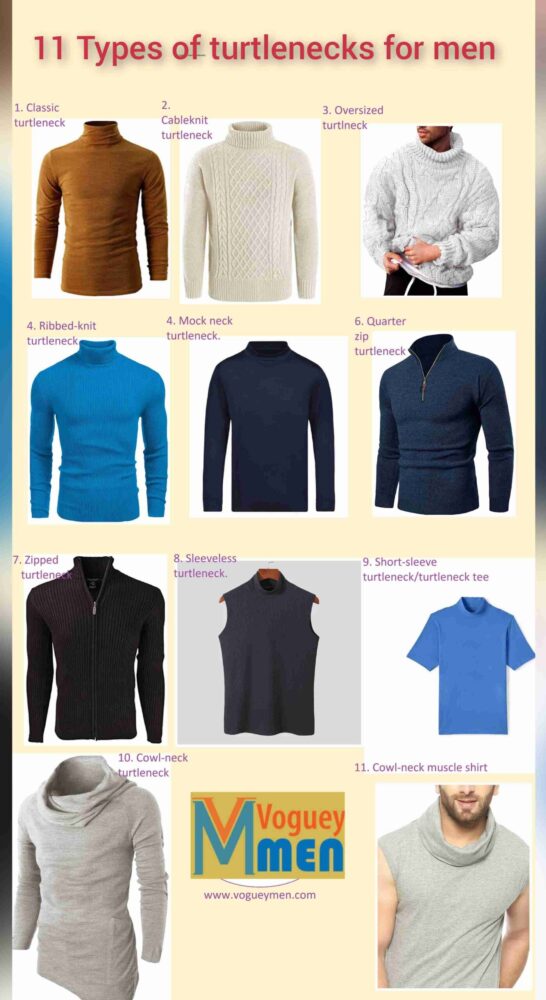 1. The classic turtleneck:
A classic turtleneck is simply a sweatshirt made of wool, cashmere, cotton, or any other fabric, with a tube-like foldable collar. It can be a lightweight cotton sweatshirt with a high foldable collar to use in the warmer weather or it can be a sweater with similar features. A classic turtleneck is equally effective in both formal and casual settings. Unrivaled in so many ways, the classic turtleneck continues to be the fashionista's favorite sweatshirt and one of the men's fall essentials. 
2. The mock neck:
Also called a funnel neck or a mock turtleneck, a mock neck is a turtleneck with a smaller round collar that extends up to your Adam's apple but doesn't cover it. Whereas the collar of a classic turtleneck extends beyond Adam's apple up to the chin. Mock necks are trendy these days; guys love to wear them like a tee shirt as a casual wear option.
3. Oversized turtleneck sweater: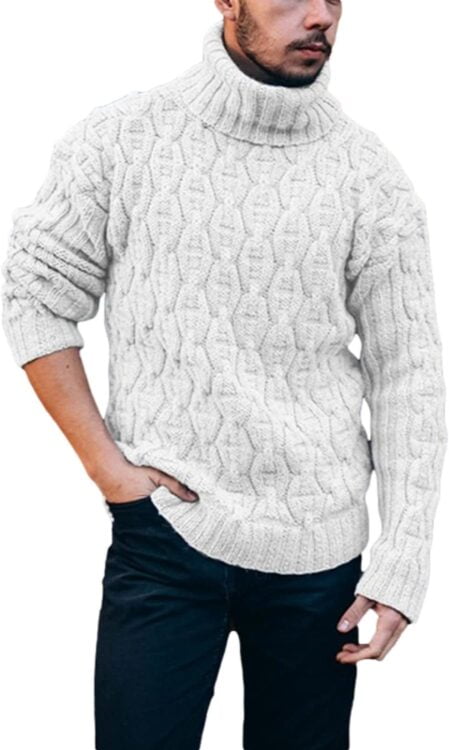 These roll-necks are thick and bulky often made of wool. The neckline extends up to the chin. Oversized turtlenecks are Ideal for days when temperatures dip and you need something warm, up top to ward off the cold. You can wear it under a long coat or a thick shearling jacket.
4. Zip-up turtleneck:
This one has a zip-up front from bottom to top. This versatile version of the turtleneck has been around for decades. A zip-up turtleneck can be worn all on its own or as a layering piece that goes very well with topcoats and jackets. This version of the turtleneck can be a real test for your layering skills! Simply because it can be layered in so many ways. 
5. Quarter-zip turtleneck:
This type of turtleneck supports a small zip front that covers only one-fourth of the shirt front.  This quarter-zip turtleneck is one gem of classic outerwear for men. This often comes in a short round collar and is also known as a quarter-zip mock neck sweater. This under-appreciated turtleneck type is amazingly versatile. It looks like a shawl collar sweater when you put it on with the zipper open and you can wear it over another turtleneck for the unique double-turtleneck look.
6. The cowl neck: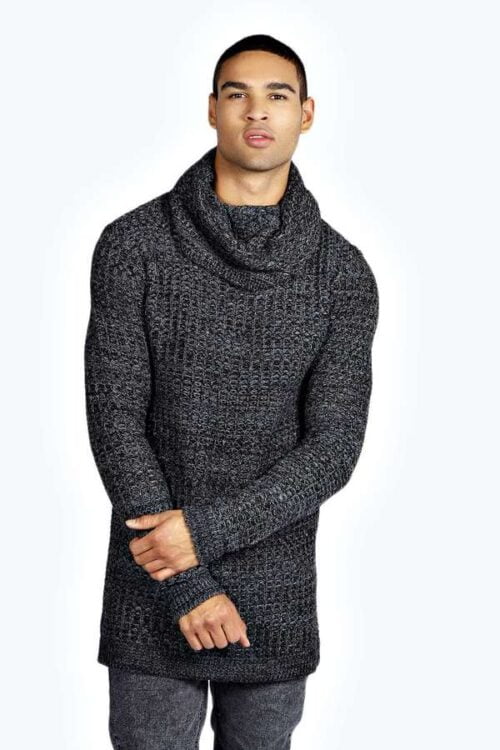 Yes, cowl neck turtlenecks for men exist and men absolutely love them, especially those who take their street-style looks seriously. A cowl neck is simply a loose draped form of collar-line with wide folds. This is a relatively modern addition to men's fashion, millennials are credited with adopting this type of collar which was once deemed to be a feminine fashion. These cowl neck turtlenecks are usually lightweight and are made of cotton fabric, ideal for warmer weather. 
7. Cable knit turtleneck:
These turtlenecks are easily identifiable by the type of knitting they feature, the cable knit! Cable knit turtlenecks typically feature a knitting pattern consisting of cables or ropes forming patterns. Cable knit turtlenecks are one of the most popular types of turtlenecks, they are a winter staple. These warm and cozy tops are usually used in combination with topcoats or shearling jackets to beat the cold. And in such a combo, they are second to none in warding off the cold. image source
8. Rib-knit turtleneck:
This type of turtleneck typically features ribbed knitting which is a knitting pattern consisting of vertical lines. This type of turtleneck is popular for being elegant and classy. This is mostly a thicker version of turtleneck sweaters and is used in winter.  image source.
9. Short sleeve turtleneck/ mock neck:
This type of turtleneck is in fact a tee shirt with a high collar. This uniquely stylish turtleneck is a good substitute for an ordinary tee on a warm sunny ⛅ day.  These turtleneck tees are often manufactured from cotton or flannel and are usually muscle-fit.  It can be an interesting addition to your summer wardrobe collection.
10. Turtleneck muscle shirt: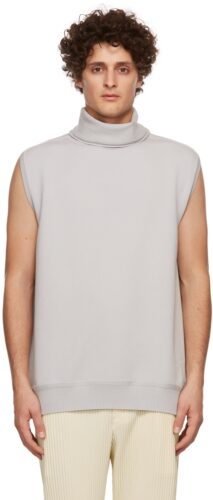 A sleeveless turtleneck? Yes, a tank top with a turtleneck collar!  These tops exist and they look extremely stylish. An excellent candidate if you are looking for a muscle shirt that does justice to your sculpted arms by attracting the attention they deserve and at the same time accentuating your jawline. 
11. Cowl Neck muscle shirt: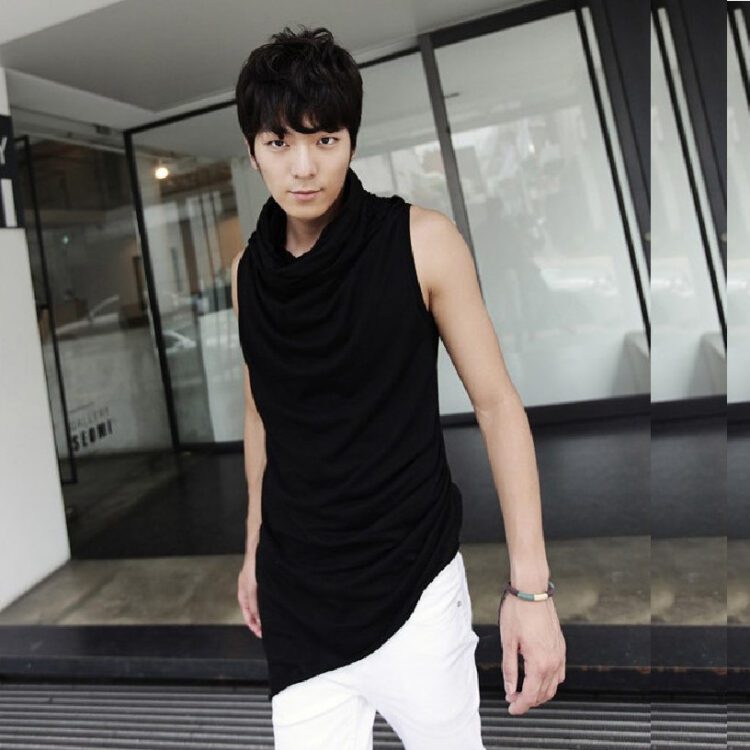 This one is a tank top with a loosely draped collar. A cowl neck tank top is a great option if you are into sleeveless shirts, and if you are looking to spice up your gym style. Working out is something like an inescapable duty these days for fitness-savvy men, but this doesn't have to be a tedious grind. Trying to dress up for working out can be one way to make working out more interesting. A cowl neck tank tee can be something that you'd love to switch to some days in your gym. 
FAQs:
Is a roll-neck and a turtleneck the same things?
For all intents and purposes, roll necks and turtlenecks are the same things. Both terms are used interchangeably meaning the same thing. A turtleneck is a more favored term in the US, while in the UK businesses prefer the term roll-neck. The term turtleneck is a relatively older and more widely used term whereas "roll neck" on the other hand is of more modern usage. 
What bottoms/pants go with turtlenecks?
Dress pants go very well with a turtleneck for a formal dress because turtlenecks have long been worn as an alternative to neckties and shirts. When wearing casual outfits, your turtleneck can go with both jeans and chinos, dressing down a turtleneck shouldn't be a problem because there are so many amazing casual outfit ideas available on the internet synching turtlenecks with jeans, chinos, topcoats, and jackets.
Are turtlenecks bad for short guys?
Turtlenecks hide your neck which is not good for you if you are a short guy. A mock neck is a good choice for you, and wearing a lightweight turtleneck with a suit is a good idea. Avoid a chunky oversized turtleneck if you are a short guy, prefer the fitted ones instead, and tucking your turtleneck in is best for you to add a little more length to your silhouette.
Can you wear a turtleneck in summer?
Yes, but not all types of turtlenecks can be worn in summer for obvious reasons. And there are some that are more than just okayish to wear in summer because obviously not all turtlenecks are created equal!  The ones called mock necks are often made up of lightweight cotton or even flannel; they are great to rock in summer. They can be worn instead of a tee and they look great with chinos and jeans. Then there are other types of turtlenecks that are in fact summer staples. Like the short sleeve turtleneck, or a turtleneck tank top. 
What is the difference between a mock neck and a turtleneck?
A mock neck and a turtleneck are slightly different. A turtleneck usually has longer tube-like collar wear as a mock neck has a smaller round collar that extends up to your Adam's apple. The collar of a classic turtleneck extends beyond Adam's apple up to the chin. You can roll over or fold the tube-like collar of a turtleneck but this is not the case with a mock neck.