The turtleneck is an evergreen wardrobe staple, it has remained both trendy and classy for years. A turtleneck is basically a sweatshirt with a tube-like foldable collar, you can wear one all year long, but fall and winter is the time when you most need this versatile and useful top. A turtle neck goes by several names, you can call it a roll neck, a high neck, a Polo neck, or a skivvy.
A turtleneck can be an element in a number of outfits that are both stylish and on-trend. Turtleneck outfit ideas for men straddle the coventional boundary of casual and formal meaning you can use one in any situation if done right. Turtlenecks have made an explosive comeback in recent years and they are still trendy. These tops are especially popular nowadays as a preferred layering choice for a number of fall outfits. If you are looking for some style inspiration for using a turtleneck this fall, then you are at the right place. We have rounded up 40 failsafe turtleneck outfit ideas for men for your inspiration.
A turtleneck all on its own:
Without a layering piece up top, a turtleneck all on its own works best in casual situations. The mock neck style of turtlenecks is your best when the weather is moderate. You contrast the turtleneck with pants in color, like opting for a black turtleneck with pants in lighter colors and vice versa. Or you can go for shades of the same color for a touch of sophistication. Going monochrome with this look may not look good on everyone. Solid and neutral colors like black, white, light brown, and grey are the easiest colors to style and work with most bottoms.
Outfit 1:
2. Outfit #2: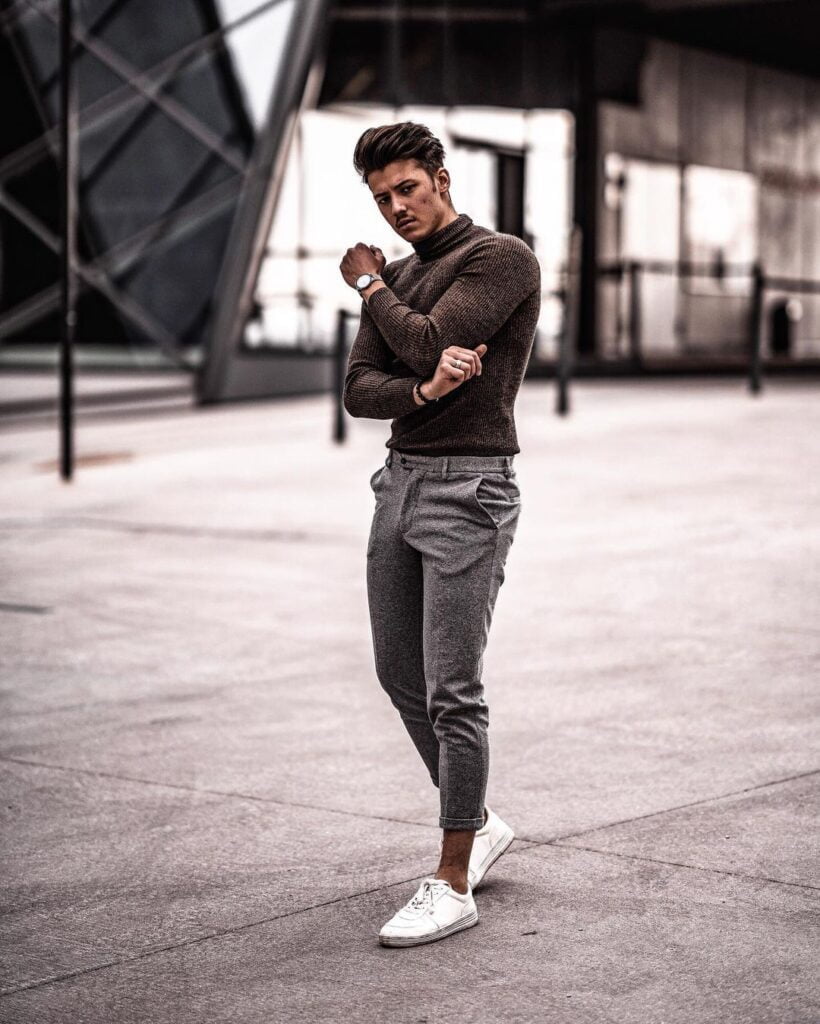 3. Outfit #3: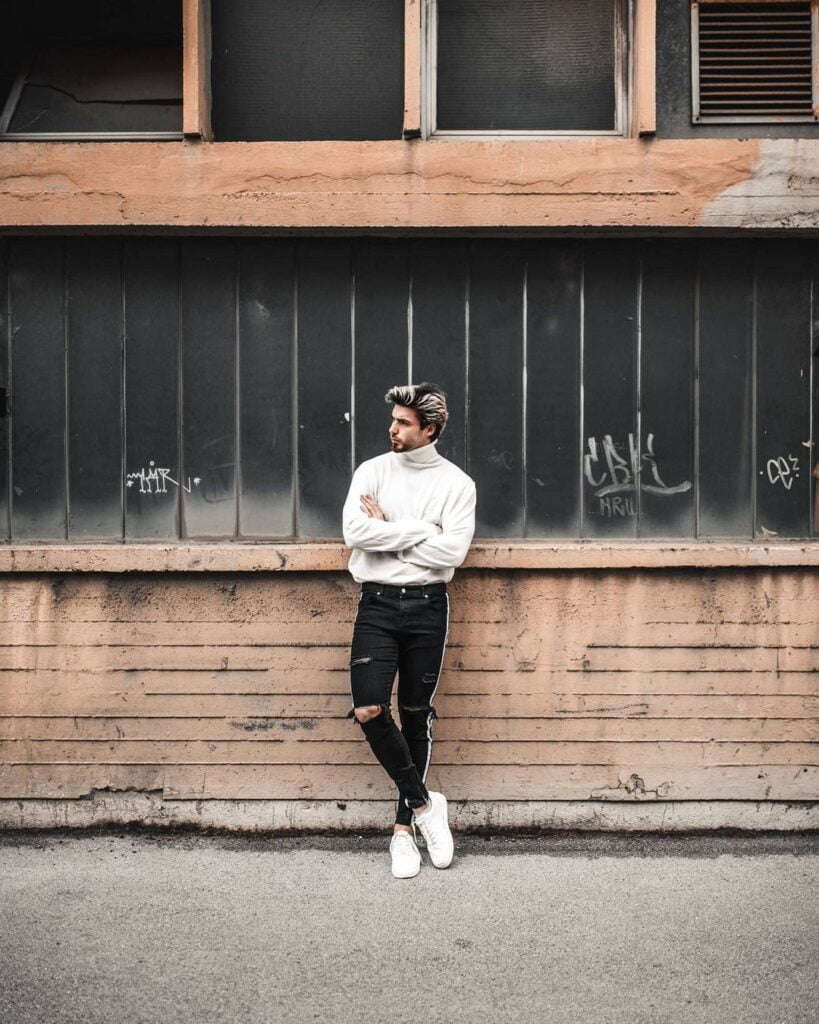 4. Outfit #4.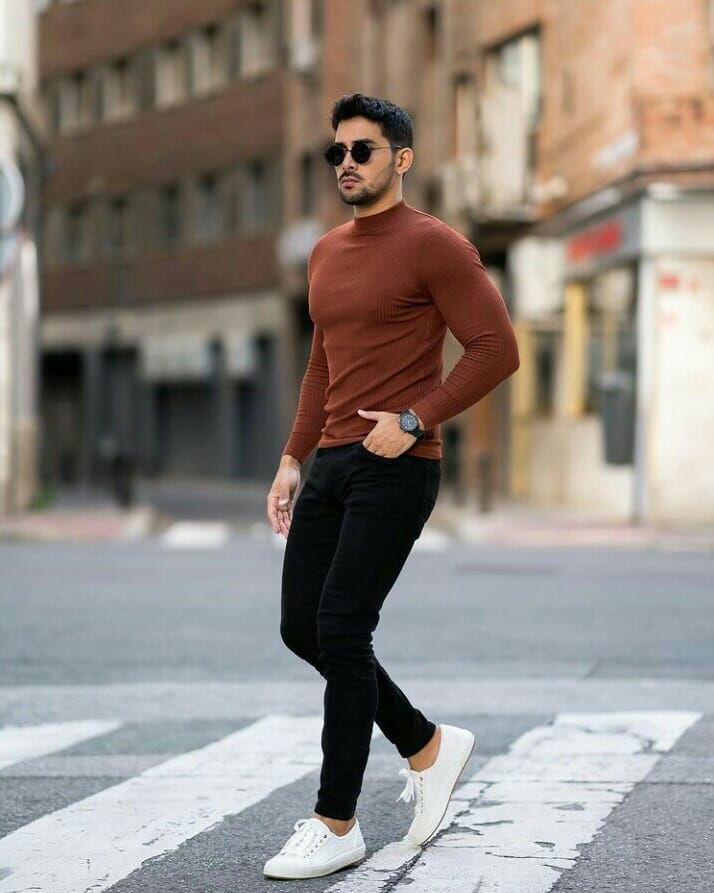 5. Outfit #5:
Turtleneck under topcoats:
Turtlenecks under topcoats or long coats look elegant, this on-trend look is fashionistas' favorite. A topcoat whether in black, gray, or even camel is probably your best choice if a chic casual look is what you are looking for. To keep things simple, opt for a turtleneck and topcoat in similar shades, or go for shoes that complement your overcoat. Again, a basic turtleneck in black or white is the easiest to style and you can effortlessly coordinate it with other pieces of your outfit.
Turtleneck with blazers:
Blazers are a great match for turtlenecks, not only in formal settings but for some casual outfits too. A turtleneck has historically been the choicest alternative to the formal stiff-collar button-down. A turtleneck under a blazer or a structured suit jacket is the dressiest way you can rock a turtleneck. Light-weight turtlenecks and mock necks are your best bet to try with a crisp blazer. Here we go with some stylish blazers with turtleneck outfit ideas.
Turtlenecks under bomber/denim jackets:
We are now moving towards the more casual end of the sartorial spectrum. A denim jacket or a bomber jacket works perfectly with a turtleneck to create a cozy laid-back look. Not for too cold temps, these turtleneck outfits men's will surely strike a chord with you if a bomber or denim jacket is something that floats your boat.
Turtlenecks under shearling or fur-collar jackets:
Shearling jackets with turtlenecks will surely make you believe that it's perfectly possible to stay warm and stylish all at the same time. A turtleneck can be stylishly layered under a cozy and comfy shearling jacket to create a dapper winter statement. Color-coordinating a turtleneck with the shearling lining is always a good idea, what we mean by that is that a white chunky turtleneck will work effortlessly with a jacket having white fur collars or lining.
Turtlenecks under suede jackets and other winter jackets:
Suede biker jackets and peacoats are the tops that can upgrade and elevate your turtleneck outfits like nothing else. Here are five outfits that combine suede biker jackets with turtlenecks to create interesting ensembles.
Turtleneck under a trucker jacket or a leather biker jacket:
You can rock your turtleneck with a leather biker jacket or a classic trucker jacket.