40 stylish ways to wear white jeans for men.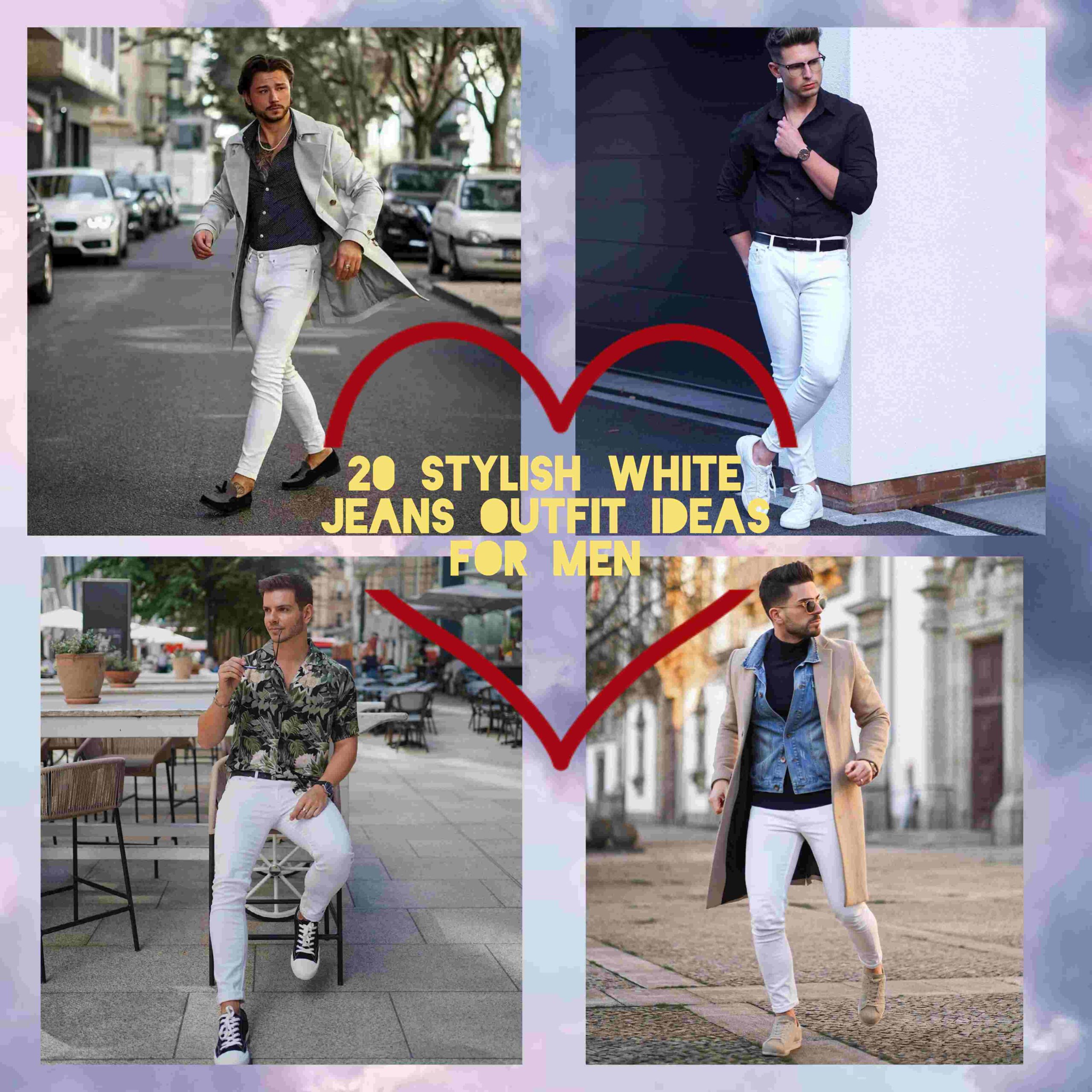 Neat, nifty, cool, and classy! This is how white jeans fans describe them. Even if you are not that big a fan of white jeans, these denim trews deserve a spot in your casual collection. Why? Well, you can create some super amazing casual combos by using these white jeans as bottoms. This article will bring you some exciting white jeans outfit ideas. These outfits will surely convince you of the stylishness and elegance that white jeans bring. You can wear them almost all year long but summer is definitely the best time to give them a shot. White slim-fit jeans can be a welcome break from a rather dull routine of wearing all the somber hues of denim all year round. These 40 stylish combinations of this classy and casual version of denim are worth your attention and will be an inspiration to dress like a true bon vivant.
A brief style guide on white jeans: 
Styling a pair of white jeans shouldn't be that intimidating for you, even if you consider yourself a bonafide stumblebum. That was on a lighter note, white jeans do in fact require more care and they are a bit more sophisticated than blue or black jeans. 
Fit:
Fit is really down to your own preference, it's up to you to choose between straight, slim, skinny, or baggy styles. The styles of white jeans that work best for everyone are straight and slim taper, wide-legged baggy white jeans aren't for everyone, it's better to prefer the straight, slim, or skinny fit. Ankle-length tapered white jeans should be your go-to choice, because of the obvious advantage they offer in keeping the bottom hems from getting dirty.
Shoes to wear with white jeans:
A neat pair of white sneakers, black leather sneakers, or boots can be effortlessly combined with white jeans, it's better to color-match the shirt with the shoes. You can go for more casual shoes like buff Chelsea boots, boat shoes, or espadrilles when you are wearing a top that somehow has something in common with them in color. Red or oxblood leather shoes or boots may not go well with them though, but you can pull off the red sneakers with white jeans especially when you are wearing something red up top. 
What to team up with them?
Shirts and tops in light earthy tones like beige, smoke, and camel work with white jeans but your best choice will be blue, navy, and black. These colors work for everybody. A black tee, a sky blue or navy denim shirt, or a sweatshirt in light brown shades work perfectly with white jeans for all guys with any skin tone. A white polo or a tee with horizontal black lines works well with white jeans. 
White jeans in winter:
You can't be more wrong if you think that white jeans are to be worn in summer alone. You can wear them in winter too, especially when temps are not too chilly and it doesn't rain all the time. So layering comes to your rescue in winter to keep you comfy and cozy in winter. White jeans can be insanely stylish and cool in mild winters when paired with winter fall pieces like trench coats, black leather biker jackets, bombers, and denim jackets. Wool top coats with a layer like a hoodie, tee, or button-down can be another for you to rock white jeans in fall 
Formal or casual:
White jeans are not as rugged and scruffy as blue jeans or any other style of jeans. This makes them more suitable for situations that are casual but not rugged! What we mean by that is you should wear white jeans in ways like resort style, summer festivals, and sports events. Ripped white jeans can be used in a slightly rugged and more casual way but not the way guys wear distressed jeans in blue and other colors. As for dressing up in white jeans, you can accomplish this "feat" in a number of ways. Adding a blazer and a sports jacket is the easiest way to smarten up your white jeans. Coming back to the original question, yes white jeans are a bit of both, formal and casual but not rugged as blue jeans.
5 key takeaways:
Go for straight or slim taper fit, they work for everybody both from style and functionality POVs.
When in doubt about the choice of colors for tops to team with white jeans, go for a black tee, polo, or button-down, or better yet a blue denim shirt. 
White sneakers are the most popular and easiest to style, they are the default footwear choice for white jeans but they are not the only game in town. Black sneakers, buff Chelsea boots, casual loafers, and espadrilles are equally stylish choices to rev up white jeans swag. 
When not using black, navy, and blue, keep the top tonal, meaning soft brown, stone, and light gray. 
For a total white, consider mixing different shades of white. 
40 White jeans outfit ideas for men.
With tees and tank tops:
White jeans are more appropriate for summer because of the reflective properties of the color white. This makes a T-shirt a no-brainer to pair with white jeans. Black tees are by far the best option. It works for everyone. In fact, any tee in solid and neutral colors will work with a pair of white jeans. Graphic tees and tees in bright colors like yellow or orange should be avoided at cost. If a tank top is your thing you can go for one to team up with these jeans to create some bold tank top outfits with white jeans.
With polo shirts and blue denim shirts:
If you are aiming for somewhat smarter and laid-back white jeans combinations, replace the tee with a polo shirt. A polo shirt in black and earthy tones works seamlessly with these jeans. White jeans with black polo shirts create some dapper polo shirt outfits. Denim shirts especially in blue always work with white jeans, when in doubt you can always count on a denim shirt outfit with white jeans.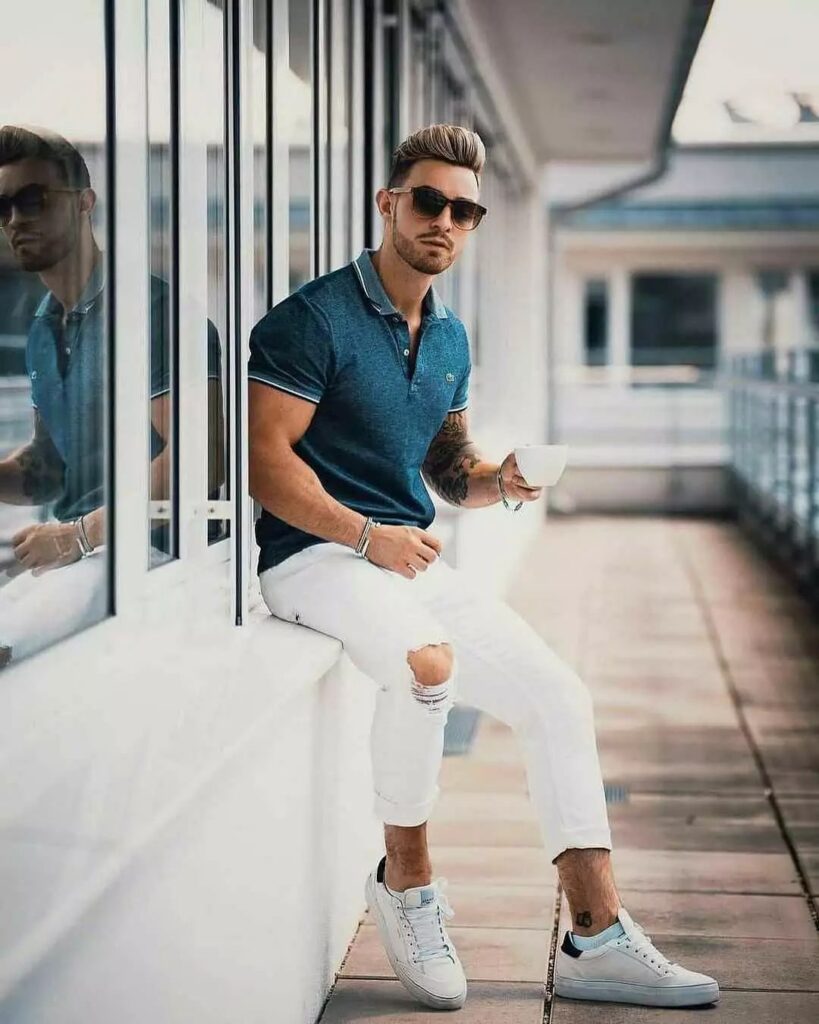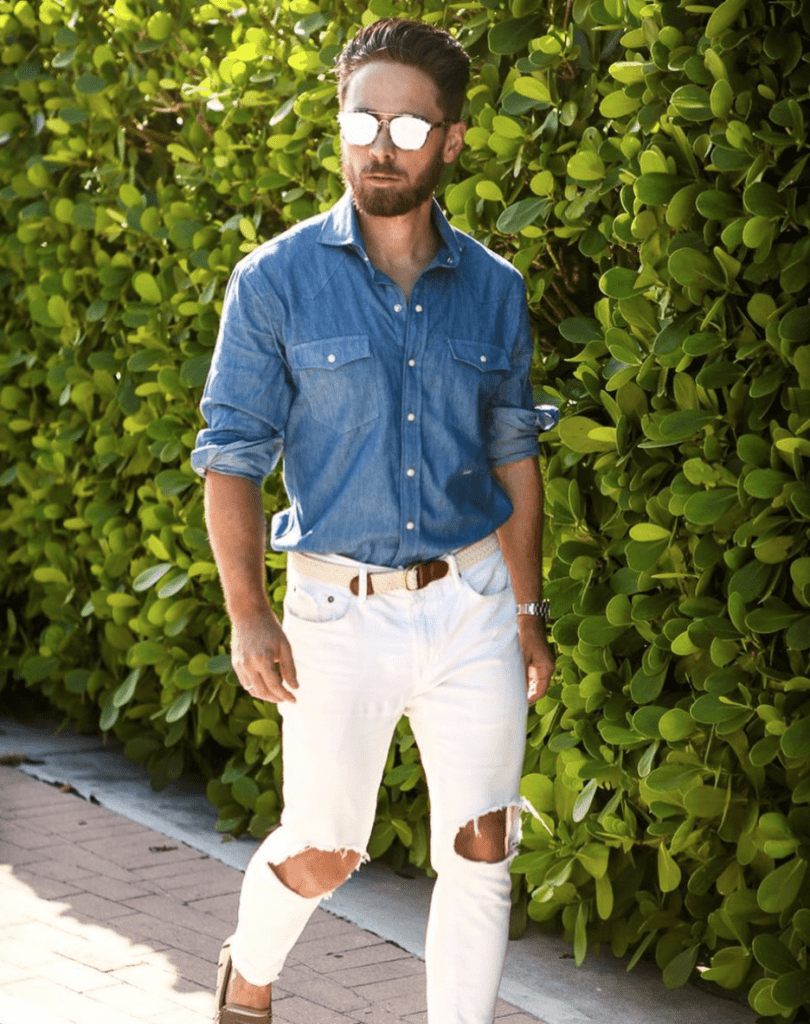 With button-downs:
The best way to add a pop of color to your white jeans outfits is to go for graphic button-downs. It's not necessary to stick with the boring basics, button-downs let you get bold, stripes, checks, tropical prints, polka dots, and floral prints options are many for the bold. Floral shirt outfits with white pants have something special about them, especially those fashion-forward, beach-loving, and outgoing types of men.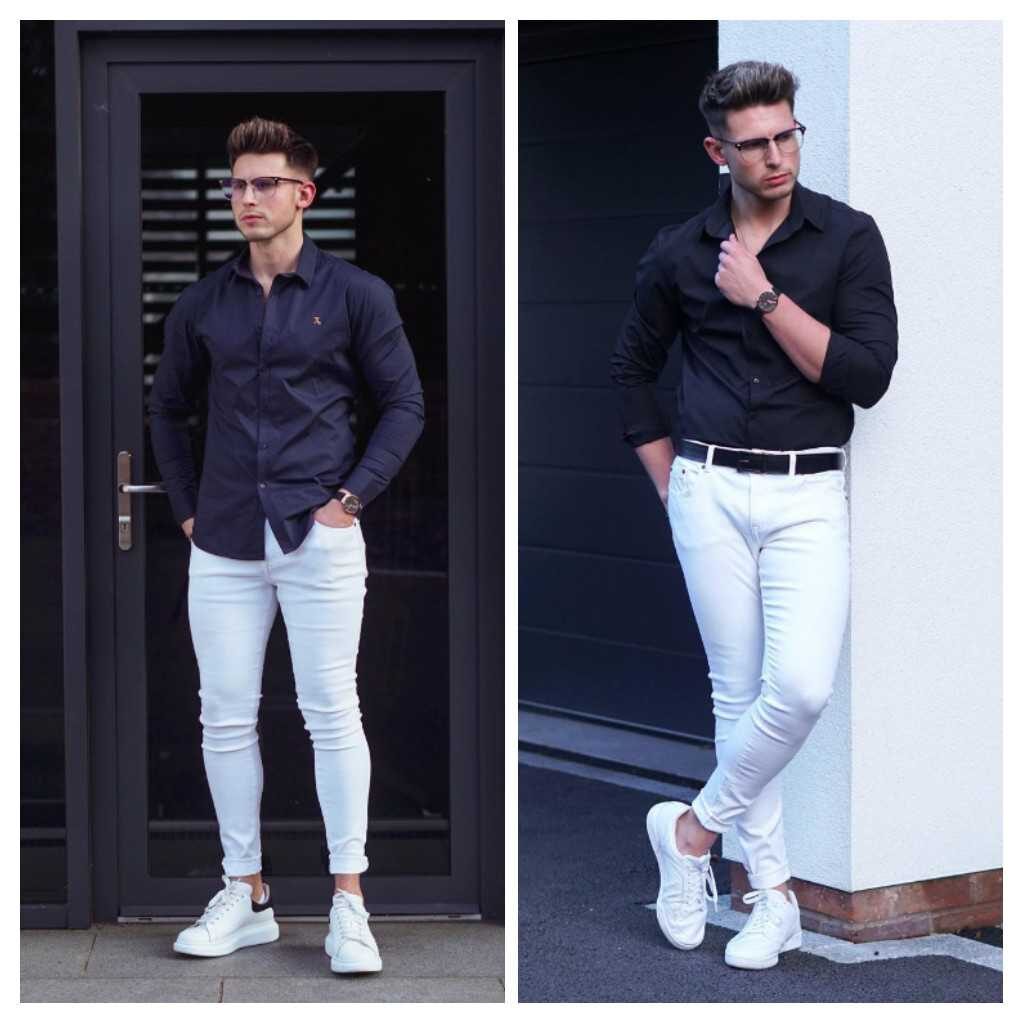 Blazer with white jeans:
As described earlier, adding a blazer is the best way to dress up your white jeans outfit, and by doing so you can create a stylish smart casual jeans and blazer look. Choosing the blazer to pair with your white jeans shouldn't be that much of a problem, provided that it fits you well and you feel at home with it when wearing it.  For a chic casual flare go for a crisp blazer in navy or black. To make the look even more put together opt for a button-down in similar hues, navy or black, or any other shades of black. When looking to spice things up you can swap the button-down with a tee, polo, or even a hoodie in solid hues. For a dressier take on your white jeans style venture, go for blazers in pastel hues, soft brown, or maybe stone or off-white. And if floral print is your thing then let yourself indulge in it and go for a floral button-down underneath a crisp blazer in pale hues with a neat pair of white jeans and rock like a true fashionista. 
The layered look with white jeans. 
You already know, white jeans are no forbidden fruit in winter and fall. So if they are an important player in your casual fashion game, then there's no need to dump them in colder months. Adding additional layers to your sweatshirts, turtlenecks, and hoodies will offer you abundant options to get creative. And then you can sport your best leather jackets, denim jackets, and topcoats over these layers to rock these winter and fall white jeans outfits.