40 ripped jeans outfits for men.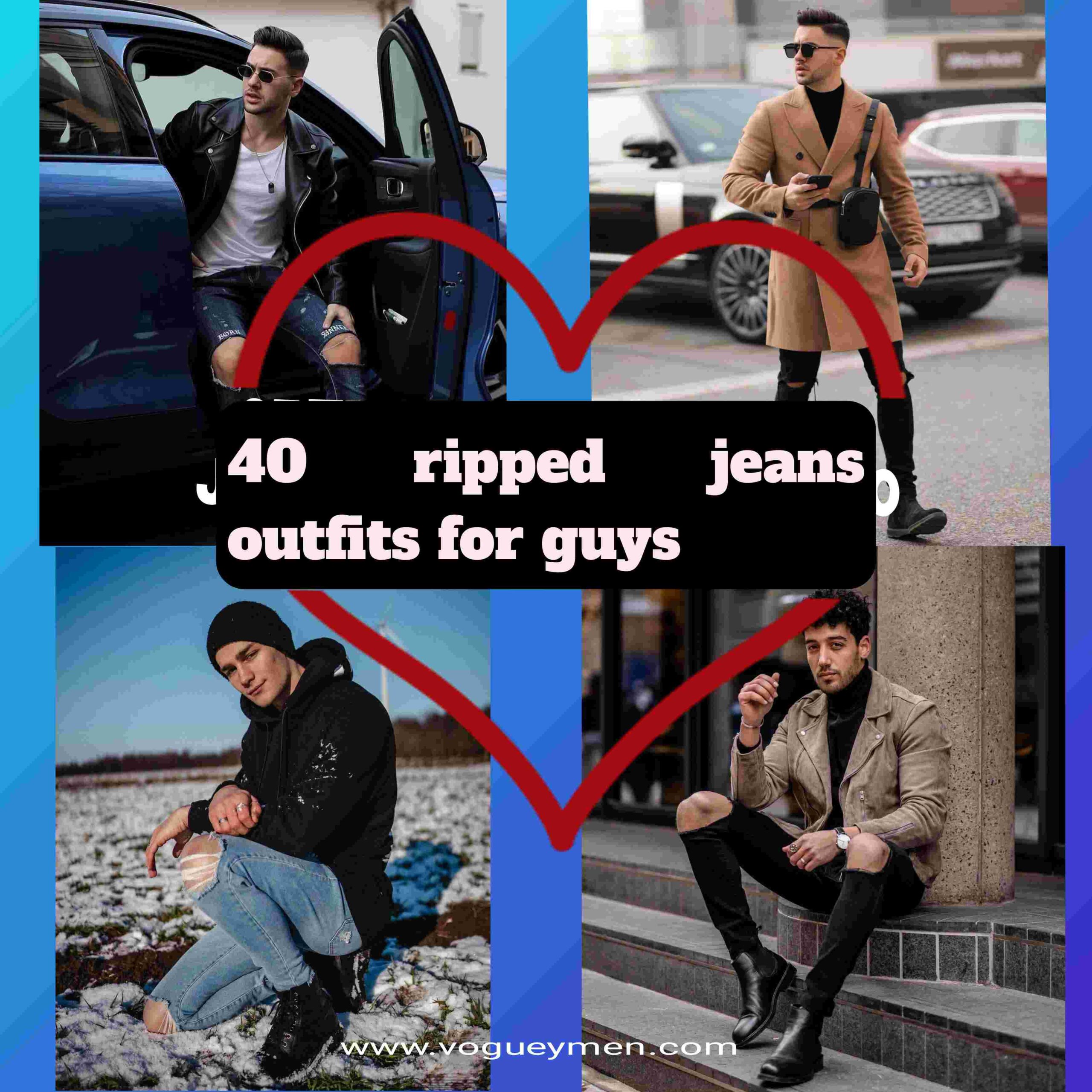 Ripped jeans have a special spot in men's wardrobes, especially those men who have a taste for badass Americana style. For a fun twist in your casual style, you can opt for jeans with holes in the knees, or anywhere along your legs on any off-duty day of the week in any season of year. You can rock these ripped jeans and feel totally great in them, these 30 ripped jeans outfits for men will provide you with the inspiration you are looking for. Ripped jeans can be had in so many styles and iterations, they can have minor scrapes and frayings, skin-baring holes, the knee-ripped version, and you can get your hands on the ones with rips all over. Knee-ripped jeans or slash-knee jeans are a particularly popular choice for guys, especially in the fall. Probably because they let your legs breathe when your torsos are all wrapped up in jackets and layerings. Before moving on to our collection of 40 ripped jeans outfits for guys we'll walk you through a brief style cheat sheet. 
How to wear ripped jeans for guys?
A bit of the history of ripped jeans:
The Ripped Jeans saga dates back to the good old 70s when punks started ripping off their jeans in solidarity with the less fortunate people of society. The Ramones, the Sex Pistols, and other punk rappers in the mid-70s popularized ripped jeans. Ripped jeans fad remained popular on and off till the 2010s. In the 2010s this trend came back with a vengeance and ripped jeans became a rage, especially the ones ripped in the knees became particularly popular in the late 2010s. Ripped jeans are still in even in 2023, you can rock a pair and look absolutely fashionable.
What tops work with ripped jeans?
You can style your ripped jeans in so many ways, from the minimalist white tee-white sneakers look in summer to the more sophisticated layered combos in fall. You can use these jeans in summer with minimal tees, linen shirts, and tank tops and you can use them with a myriad of layers to create stylish casual outfits for fall. Ripped jeans have always been at the apex of casual styles for both men and women; the modern skinny style makes them even edgier. In summer you can wear your ripped jeans with tees in neutral hues, linen shirts, casual button-downs, and denim shirts that work well with these jeans. Come winter, you can opt for top layers like jackets, hoodies, and overcoats. Since an effortlessly cool look is what you are looking for, so a leather or suede moto jacket should come to your mind as the first choice. A denim jacket is equally awesome for conjuring up that iconic denim-on-denim look with the rips adding to the casual swag. For a somewhat sportier take on the ripped jeans fashion, you can opt for a hoodie or a varsity jacket. For an edgier look, you can go for a topcoat, that will definitely be better in solid colors like black, gray, or camel. Even though it seems counterintuitive to think of dressing up the ripped jeans, if you are serious about an elevated ripped jeans look then you can count on a crisp blazer that fits you perfectly.
Footwear options:
So which shoes to wear with ripped jeans? Our simple answer is any shoes you can wear with regular jeans minus the dressier loafers and lace-ups. Does this mean you can't wear an elegant pair of dress loafers with your ripped jeans? Well, you can but it's better to avoid them. According to DMARGE, sneakers, Chelsea boots, and Chukka are by far the best choice to team up with ripped jeans. Sneakers and Chelsea boots are insanely versatile, you can defo count on them all the time with your ripped jeans in any style and fit. Chunky ankle boots are something we can recommend if slim-fit or skinny-fit is what you prefer in your jeans, these boots look just made to be worn with tapered jeans, and with ripped jeans, they exponentially elevate the rugged appeal and scruffy charm of the ripped denim.   
What kind of rips do you want and feel comfortable with:
This is an important consideration, you should never go for an overly ripped pair of jeans if you don't feel confident in them. As a starting point, you should go for a pair of jeans with holes in the knees called knee-ripped jeans, they work for everyone. If you have never tried that ripped style then it's better to start using a pair with minimal distressing.
Is it professional to wear ripped jeans?
Ripped jeans should never be worn in formal settings, they are just not suitable for that. You just can't dress them up, even if you try it will look ridiculous, at least at the present, as no one can predict the future of fashion. You can smarten them up though, in a chic casual way by bringing in a sport coat or a topcoat in solid hues.
Making a ripped jeans outfit look better on you:
You'd definitely want to look better than the average Joe, with a unique personal touch to the casual street style. First off, you must consider color-matching or coordinating different pieces of your outfit. You can start off by matching your shoes with your outfit, then you should be able to connect to tops and bottoms the right way. And finally, you should be ready to accessorize your look without going overboard. Minimal but efficient use of accessories is recommended. A pair of sunglasses can spice up your casual ripped jeans look, a bandana, a wristwatch, or basic jewelry can likewise make things interesting. Accessories that are too refined and look pricey should be avoided, as you are aiming for a scruffy casual street-style appropriate look with a rugged pair of ripped jeans.
40 ripped jeans outfit ideas for men.
1. Ripped jeans in summer:
In summer it's simple and straightforward, these minimalist looks are for everyone. Tees, tank tops, and linen shirts go seamlessly with pair of ripped jeans. There are lots of other options for you when choosing shirts to team up with ripped jeans, for example, a camp collar shirt, a floral print button-down, a crochet knit shirt, a polo, and the list goes on. Tees and tank tops are the easiest choices, if pairing tank tops with jeans challenge you then this writeup on a tank top with jeans outfit ideas might be an interesting read.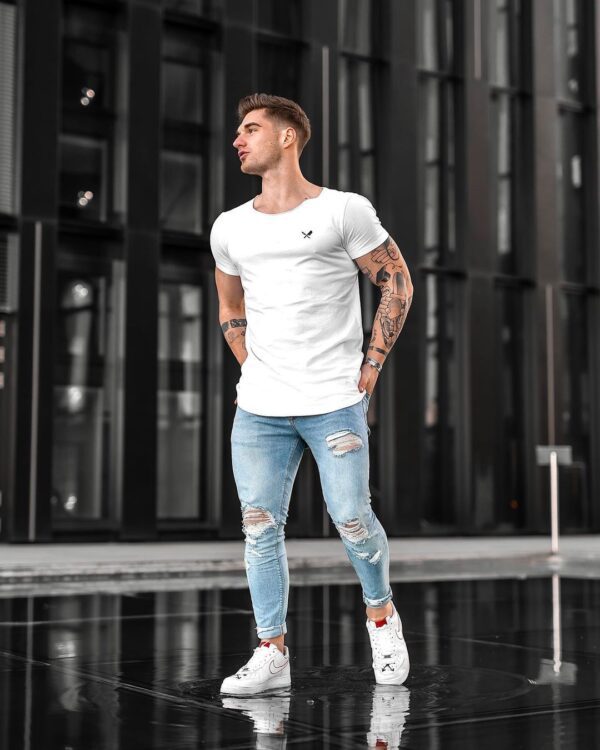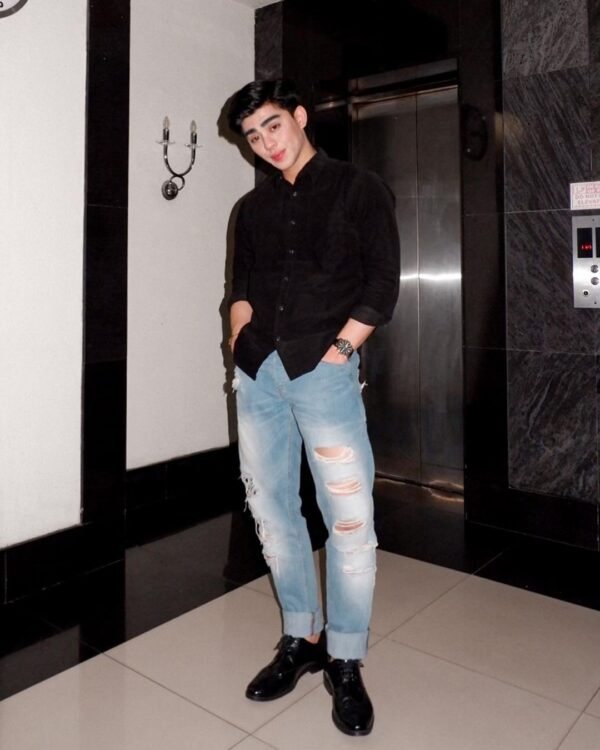 1. Ripped jeans with leather biker jackets.
Nothing screams Americana than ripped and rugged jeans teamed with a badass biker jacket. A black leather biker jacket is by far the most popular choice for guys around the world, but if colors fascinate you you can go for a brown or a burgundy biker jacket and style it with your ripped jeans. A black moto jacket teams up with every style of jeans, black, blue, navy, gray or white. You can diversify your outfit by adding layers under the Moto jacket. A hoodie, a turtleneck, or a textured sweatshirt will work with this combo.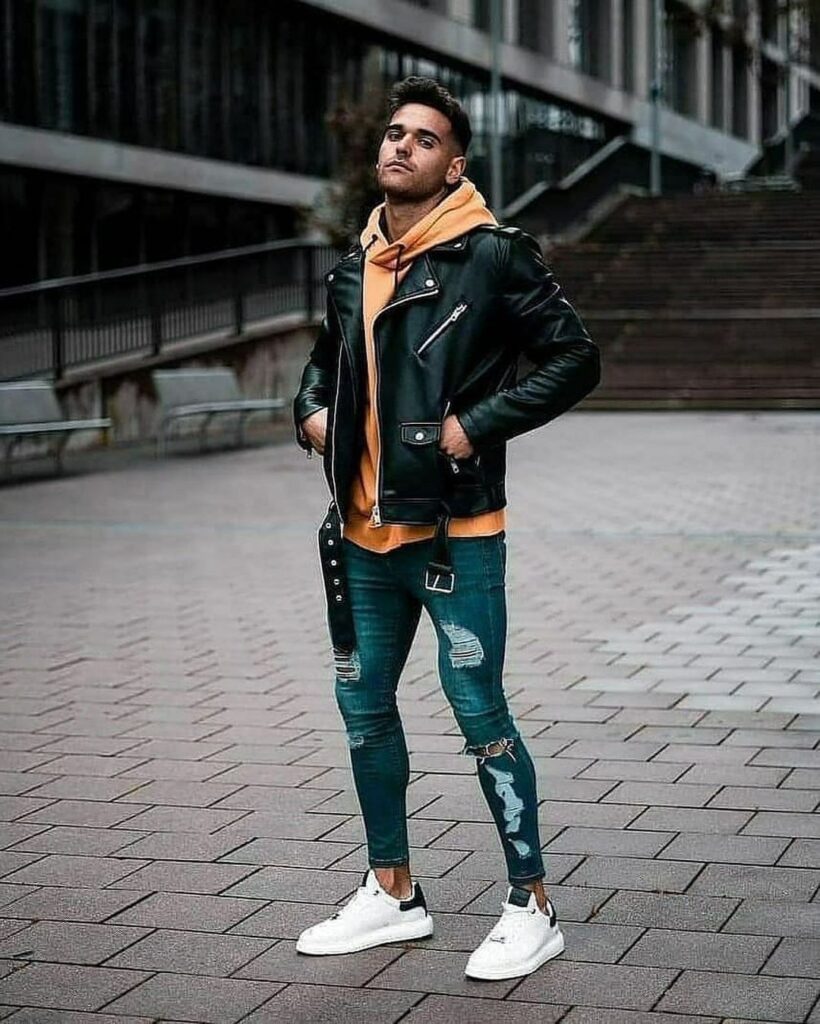 2. With suede biker jackets:
For a more refined and polished take on the Moto jacket and jeans look swap the leather jacket with a suede biker jacket in pastel hues and you'll see a surprisingly elevated look. On a clear fall day, a swanky suede jacket layered over a tee or turtleneck is just perfect to combine with a rugged pair of ripped jeans.
Ripped jeans outfits for men.
4. Ripped jeans outfits for men with a blazer:
You can smarten up the casual look by introducing a crisp blazer to the equation. A blazer or sports jacket can balance the distressed jeans look. An unstructured blazer slim-fit blazer will be a better choice as it will be consistent with the overall casual feel of this combination. A blazer-jeans outfit with ripped jeans is the way to go for you if a balanced look is what you are looking for.
5. Knee-ripped jeans with pullover hoodies:
A hoodie will always be a handy choice to effortlessly combine with a pair of distressed jeans. You can use a chunky hooded jacket without a top layer with ripped jeans all on its own for a preppy casual look with these jeans. It's always better to opt for hoodies in solid hues without logos to be consistent with the minimalist casual vibes. You can have a look at this collection of outfits with hoodies to find out more about how to look hot in a hoodie.
Ripped jeans outfits for men.
6. Ripped jeans with topcoats and overcoats:
Topcoats are the most popular choices for guys to add elegance to a fall street-style look. Think about layering an overcoat in solid and neutral hues over a color piece for a pop of color. Tees, sweatshirts, turtlenecks, and hoodies are your options as layering pieces.
Ripped jeans with bomber jackets.
Bombers when layered over a hoodie or a T-shirt are another option for you to create a stylish fall outfit with a pair of distressed jeans.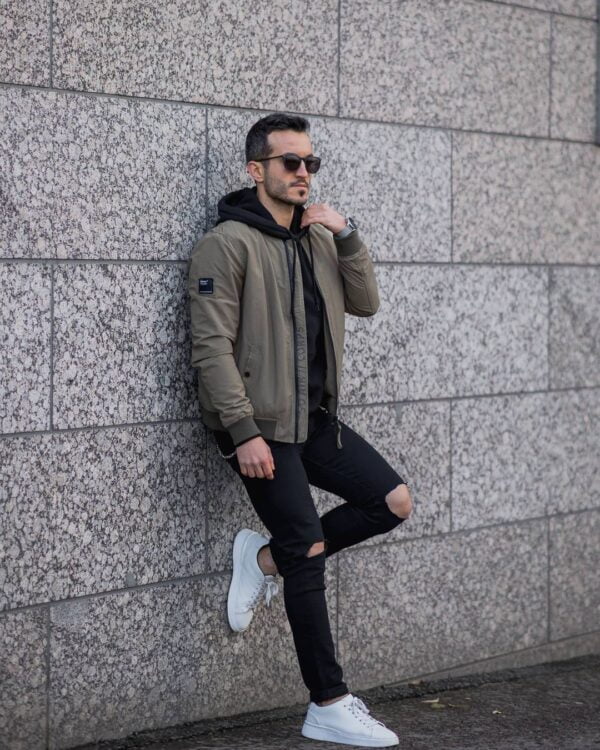 12. Ripped jeans with puffer jackets:
Puffer jacket is a fall and winter staple and you use this staple with ripped jeans to create that badass casual with ripped jeans. Puffers whether in solid neutrals or in bright colors work perfectly with a pair of jeans, puffer jacket outfits with ripped jeans are as stylish as they are practical in winter. When the weather is not chilly, you can use a puffer vest, that sleeveless puffer jacket and pair it with ripped jeans for an on-trend puffer jacket outfit.
Ripped jeans outfits for men.
13. Knee-ripped jeans with a checkered jacket and trucker jackets:
An overshirt, a flannel, a chore jacket, or a trucker jacket you can combine any one of these with a pair of ripped jeans, and if you do it right you'll definitely love your distressed jeans even more.
14. Ripped jeans with denim jackets.
A denim jacket with jeans is a no-brainer, right? Exactly, but it's not everybody's cup of coffee. If double denim or denim-on-denim look is your thing, then a jean jacket with ripped jeans is something you should try. Whether you go for denim separates or coords, it's down to your personal preference.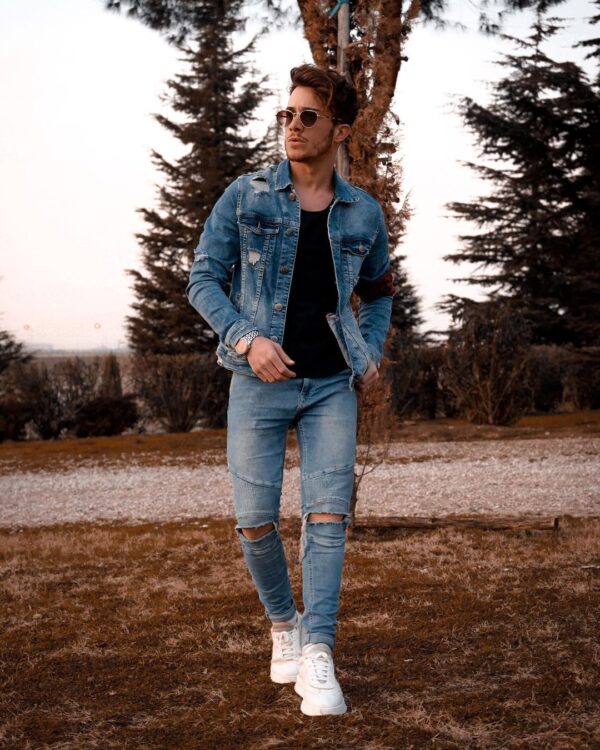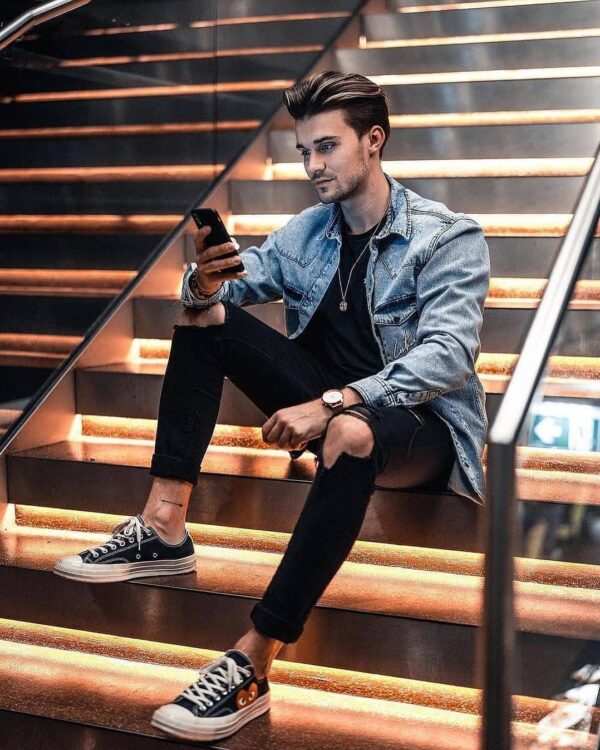 Overly ripped jeans
:
Now, this is a style of jeans that features lots of distressing and rips and holes, they might scare some guys off but some confident guys do opt for them, and if you do it right you will rock this ultra-distressed style of denim and will enjoy it more than any other casual bottoms.