How to look hot in a hoodie? 45 outfits with hoodies for guys.
There was a time when a guy clad in a hoodie was judged and was the magnet for all sorts of suspicions. Prison, they said, was the only place where a guy would feel at home while wearing a hoodie! But times have definitely changed. A stylish hooded sweatshirt is now one of the wardrobe essentials for men. Fashion-forward guys are constantly looking for ways to look hot in these cool and comfy hoodies. A hoodie is now a part of casual and street fashion, every street-style aficionado owns a few. The garment started as a functional piece helping the wearer to ward off cold and keep ears from freezing in cold winds. It's a fashion essential for every guy who believes in looking and feeling cool in casual situations too. 
How do you look hot in a hoodie?
Looking hot in a hoodie won't be that hard, only if you could keep in mind a few basics.
The right fit and fabric:
A hoodie usually tends to be baggier and bulkier than a sweater, especially when you are wearing it as a standalone top with no layer over it. But this doesn't mean the baggier the better. Too bulky and you risk losing your silhouette without a hint. And if it's too short, your undershirt or tee will be showing and that won't be a good site. Choose a hoodie that adequately covers your tee but doesn't make it impossible to reach your pants pocket or zipper!
How to choose the color of your hoodie?
When it comes to color choice, orange, lime or pink may not be everyone's cup of coffee. Because these bold and bright colors are somewhat intimidating for most guys and understandably so. The case of color blocks, graphics, and stripes is only slightly different because they are also not the easiest to style. The handiest options, as far as the color of your hoodie is concerned, remain neutrals and solids. You can easily integrate a hoodie in neutral shades into your outfit without racking your brain. White, off-white, gray, light brown and black are some of the most popular colors, sticking with them will work for most guys. Black or white hoodies are the most popular among men, as they are the easiest to style. These colors integrate well with other pieces of your outfit. This doesn't mean you can't wear color, you can achieve an incredibly stylish with colorful hoodies if you do it right, this is what this article is all about.
Pants to wear with hoodies?:
Hoodies are almost always casual, so naturally, jeans, joggers, cargo pants, and chinos should be your choice when styling your hooded sweatshirt. Dress pants should come at the end of your list of bottoms to pair up with hoodies. As a standalone piece, a hoodie works with any pair of jeans no matter the fit and fade. Sweatpants come next, hoodies team up with them naturally with gym wear, casual and lounging situations. 
Shorts with hoodies?  
You can definitely rock a hoodie with any pair of shorts, for your early spring street look. An urban casual look is what you get when you pair your badass hoodie with a clean pair of gym shorts, and if sleeveless hoodies float your boat, even better then! A sleeveless hoodie goes with every pair of shorts under the sun, from a squeaky clean pair of white shorts to those rough-and-ready denim shorts. A neat white, gray, or black pullover hoodie will work with every pair of shorts on any off-duty day of summer to hit the pavement in style. 
Formal or casual?
Is this even up for debate? Hoodies are casual, and they have remained casual ever since they became popular as a men's wear staple. Guys wear hoodies with their sporty and casual outfits. For most guys hoodies work best as a casual top, it's easiest to pull off this look. If your office culture allows for relaxed outfits then you can think of wearing a hoodie to your office otherwise it's better to reserve your hooded jacket/sweatshirt for off-duty days, lounging, and working out. 
Layering:
A hoodie can look incredibly stylish when it's used with another layer on top. This layer not only provides you extra warmth and coziness on chilly days but it also, if done right off course, can kick your casual swag up a notch. This extra top layer can be a denim jacket, a topcoat, a bomber, a blazer, a leather biker jacket, a puffer, or even an overshirt like a flannel. A top coat can actually dress up your ordinary hooded sweater in neutral hues. Any wool topcoat in solid hues like black, camel, or gray you own and love to wear on weekends can oomph up your hoodie look. It's up to you how you match your hoodie with the top layer or coordinate it with other pieces of your outfit. You can layer a blazer over your hoodie, or better yet use a suit and replace the button-down with a hoodie for a preppy smart casual look. A bomber or leather jacket works just as well with a hoodie, a check flannel should be your choice if you are looking for a fun twist on your hooded sweater outfit. When it comes to vests, there's nothing like a cushy puffer vest to layer over your fave hoodie, a denim vest will be equally comfy to team with it but it's better not to experiment with a sweater vest, suit vest, or cardigan with your hoodie. 
5 top tips to look hot in a hoodie: 
Match your hoodie with shoes: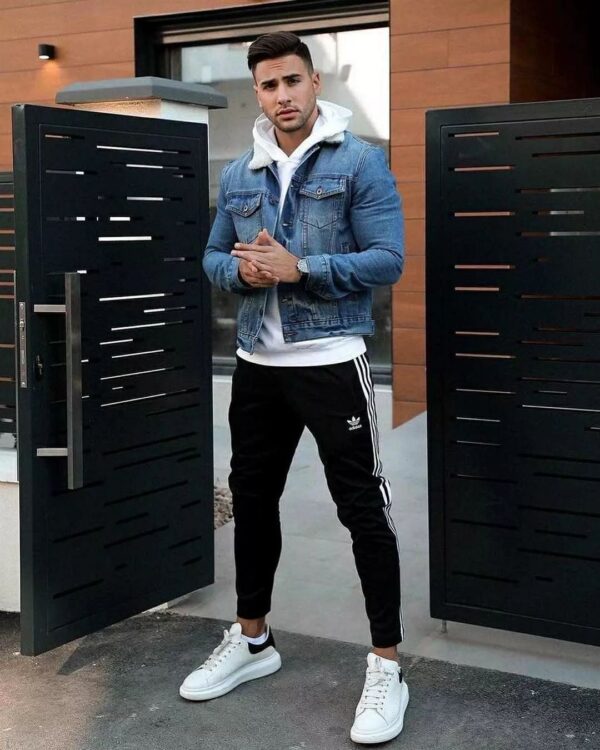 Shoes should match your shirt, this rule is equally applicable to hoodies. Wearing white sneakers when wearing a white hoodie is one way to make your white hoodie look good on you. Black Chelsea boots would likewise make a black hoodie well-integrated into your outfit.
2. Color coordinate with the top layer: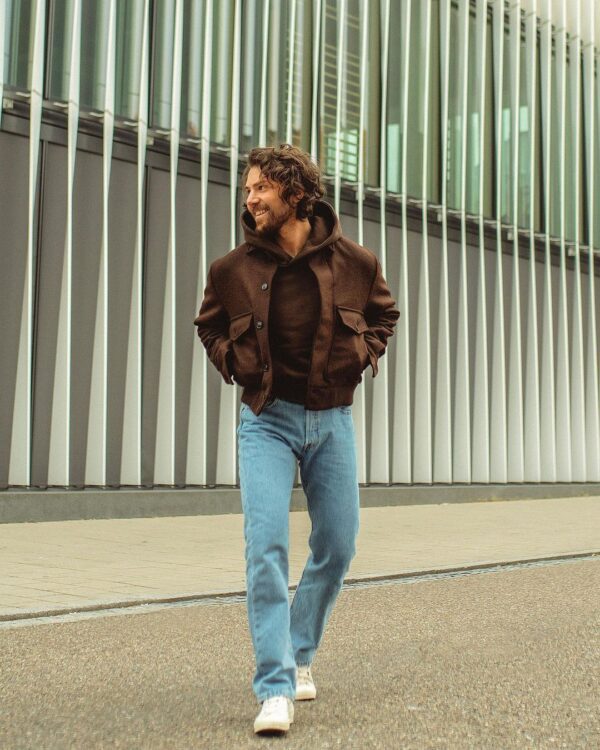 Keep the top layer (denim jacket, topcoat, puffer, or whatever top you are layering over the hoodie) and the hoodie monochromatic or in different shades of the same color. This trick will add depth and dimensions to any ordinary casual outfit with a hoodie. This trick will help you draw attention to your bottoms and footwear.
3. When in doubt try the monochromatic look: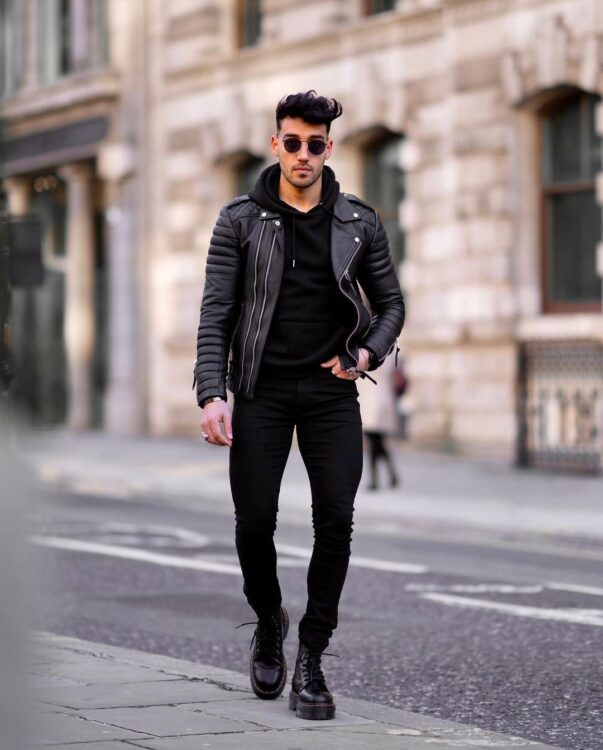 A monochromatic (black) will work for everyone, it's a no-brainer. If your wardrobe isn't lacking in black staples, this is the look for you. Team up your black chinos or jeans and layer a black leather biker jacket, bomber, or topcoat over your black fleece hoodie, introduce black ankle boots or sneakers to the equation and you are all set to rock your all-black hoodie outfit.
4. Match the top layer with your shoes: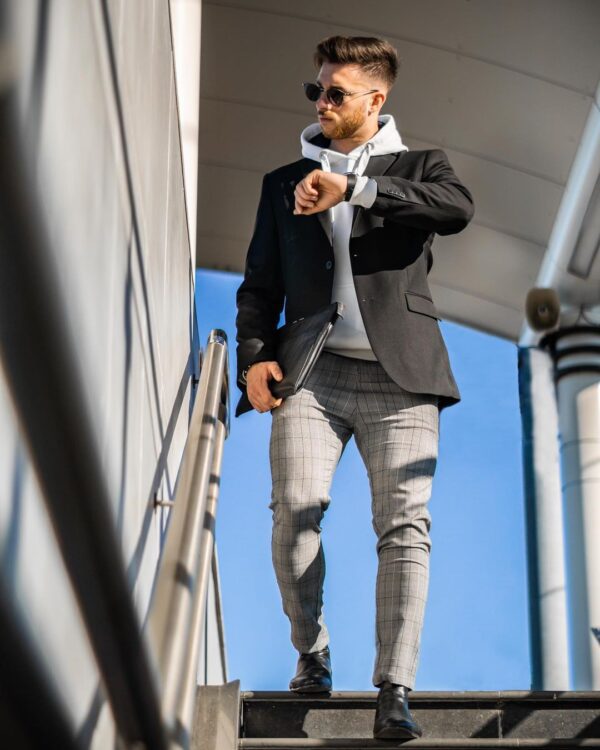 This is another way to allow your hoodie outfit a bit of sophistication. Match the topcoat, overshirt, or jacket you are layering over your hoodie with the shoes you are sporting, by matching we mean keeping them in the same color/shades. You can keep the pants and the hoodie in similar shades to infuse extra oomph into your smart casual hoodie outfit.
5. Use accessories to amp up your style:
You can always count on a nifty baseball cap, a beanie, or a pair of sunglasses to amp up your hoodie outfit. Matching the baseball cap with any of the individual pieces of your ensemble will work to your advantage. 
Outfit ideas with hoodies for guys.
Here's a collection of hoodie outfits for your sartorial perusal, you can customize these ideas and carve out a statement of your own, here we go.
Outfit#6: A white hoodie under a blue denim jacket: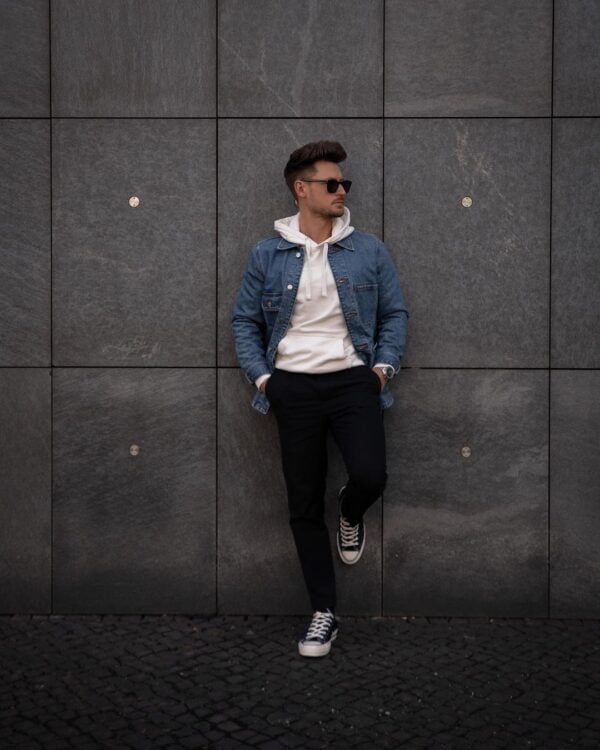 Outfit#7: A beige hoodie layered under a varsity jacket with cargo pants.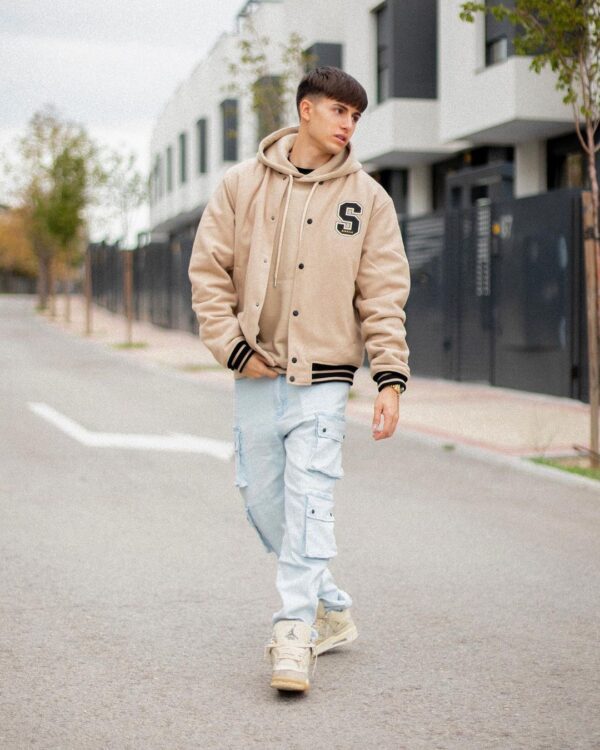 Outfit#8: Layered under a puffer jacket with baggy cargo pants.
Outfit#9: A hoodie with varsity jackets.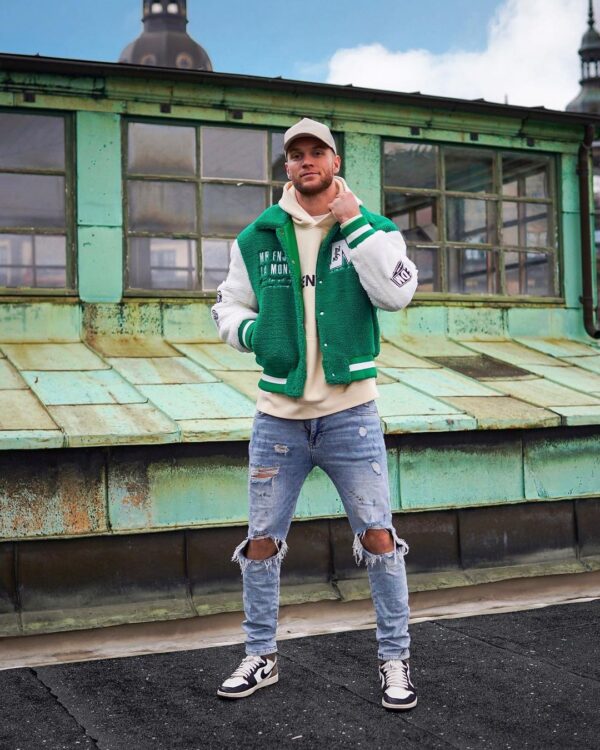 Outfit#10: A hoodie layered under a leather biker jacket with black jeans.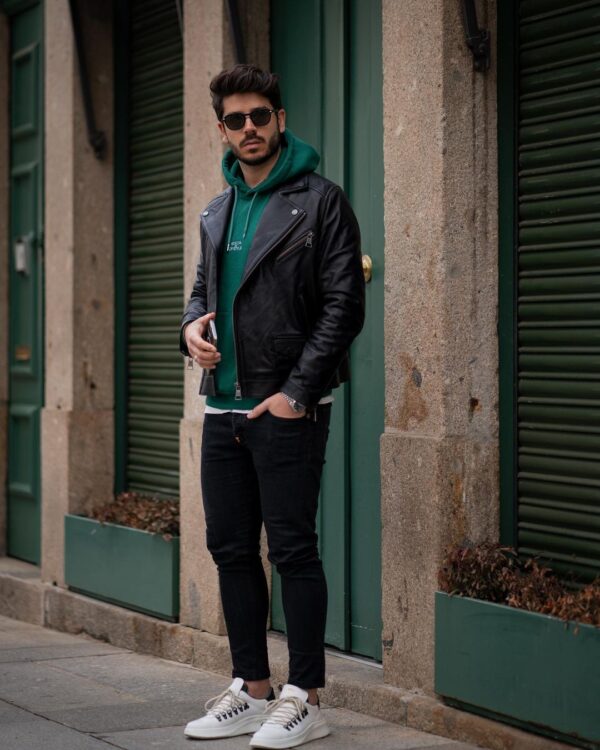 Outfit#11: A gray hoodie under a bomber jacket with black jeans.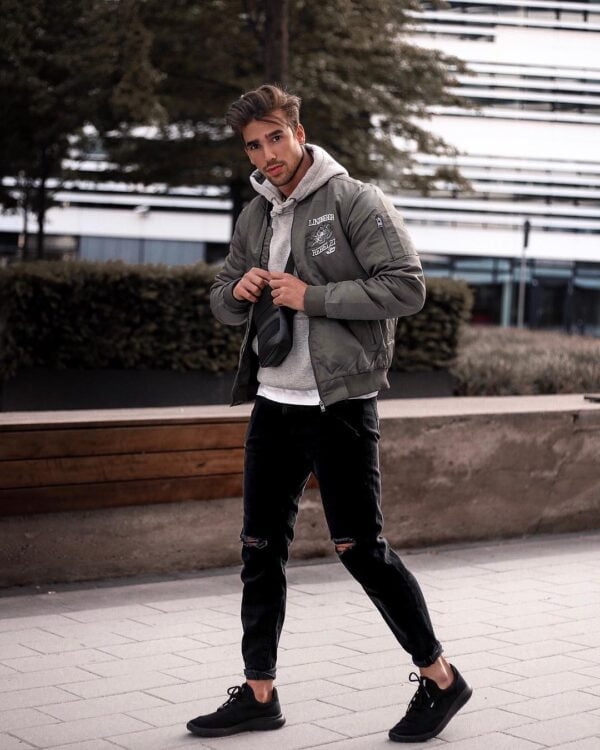 Outfit#12: A hoodie layered under a puffer jacket, a matching beanie, and blue jeans.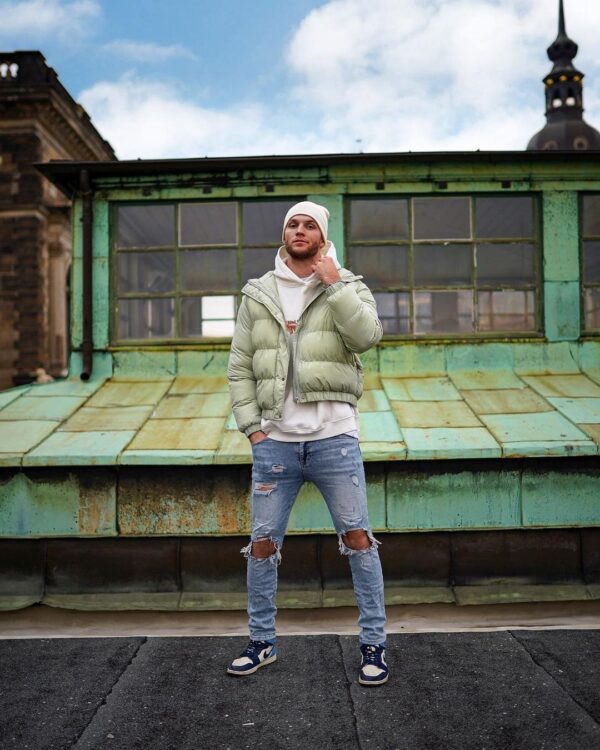 Outfit#13: A red hoodie under a quilted jacket.
Outfit#14: A graphic hoodie under a puffer jacket and gray jeans.
Can I wear a hoodie with a blazer?
The hoodie and a blazer combo, for some, was a horse and rabbit stew not long ago. Some believed this combination to be something like pushing the boundaries, but it's no longer the case. It's a legitimate thing in 2023, and more men are opting for this combo. A sports jacket and hoodie are not poles apart these days, and you can combine them in so many ways. All you have to do is to combine the right ingredients. By right ingredients, we mean a hoodie of sleek and slim fit that can comfortably nestle under the suit jacket or blazer, a blazer in neutral hues, and a pair of pants or slacks that complement the duo up top. When choosing a hoodie to layer under a blazer, it's better to opt for one in neutral hues or earthy tones. Solid unstructured blazers will likewise work better than structured and textured ones. If you are wearing tonal pieces up top then it's better to introduce a bit of contrast by opting for contrasting jeans or slacks. These outfits will definitely seal the deal for you, a perfect outfit idea for your next stroll down the street.
Outfit#15: A gray sports jacket over a white hoodie, gray chinos, and white sneakers.
Outfit#16: A gray blazer over a light gray hoodie and white pants.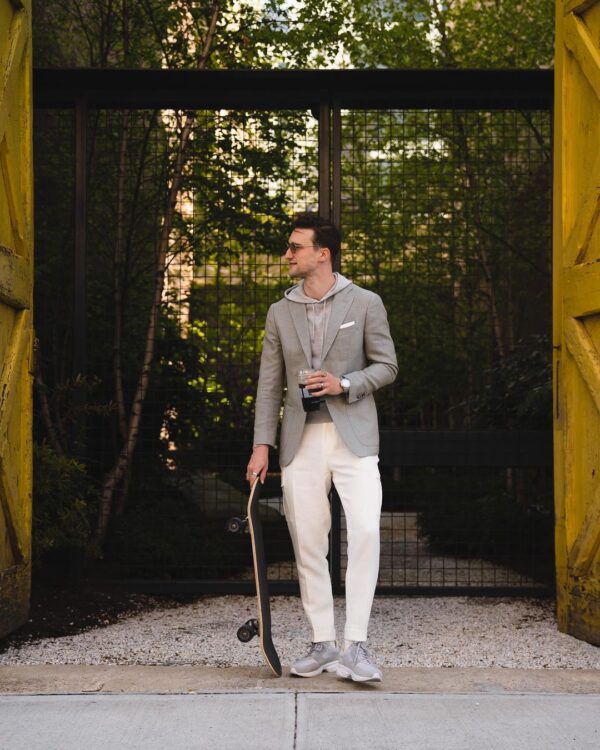 Outfit#17: A black blazer layered over a white hoodie.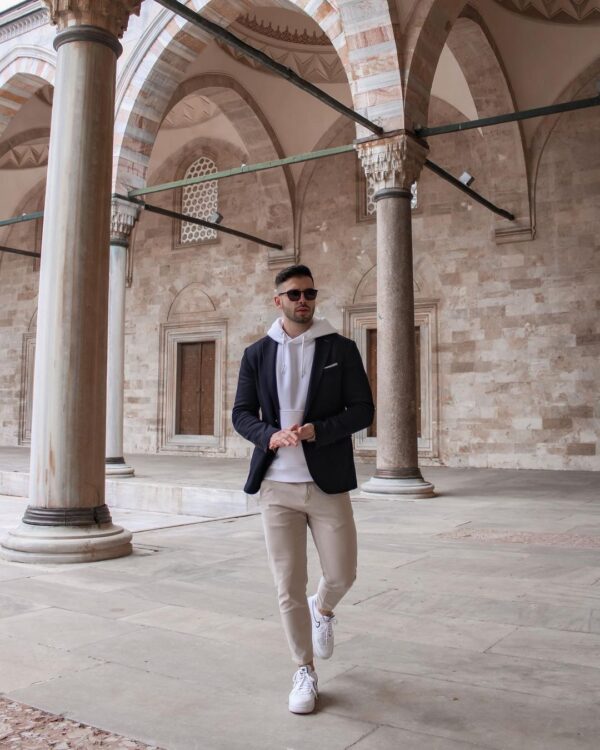 Outfit#18: Blazer, and a hoodie in neutral hues with jeans.
Outfit#19: A gray hoodie with a black suit.
Outfit#20: A camel blazer layered over a light brown hoodie, black jeans, and black leather Chelsea boots.
Outfit#21: A tweed blazer layered over a white hoodie, light-wash jeans, and white sneakers.
Outfit#22: A white hoodie, white sneakers with a light navy suit.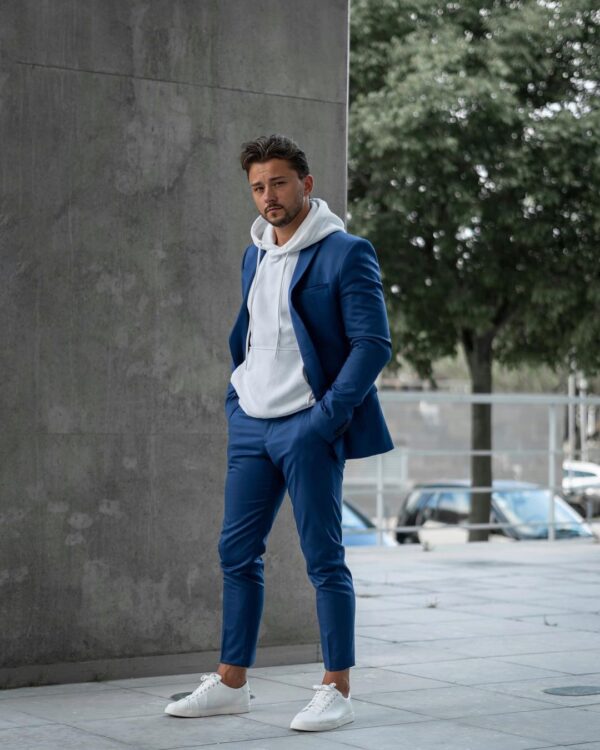 Outfit#23: A navy blazer layered over a light gray hoodie, black jeans, and white sneakers.
Outfit#24: A camel blazer layered over a white hoodie with chinos.
Hoodies with topcoats.
A topcoat or an overcoat blends in perfectly with hoodies, this combo is a street-style phenomenon, every fashionable guy tries it in fall and winter. You can pair a topcoat in any style and color with a hoodie, choosing between jeans and slacks is up to you. A camel topcoat outfit with a hoodie is phenomenally functional and stunningly stylish at the same time. A gray topcoat will never disappoint you in your quest to look different but dapper at the same time on any day of the autumn. And a black overcoat with a hoodie? absolutely dope, you can check out this article for more inspo with stylish black topcoat outfits.
Outfit#25:
Outfit#26: A camel topcoat over a light brown hoodie, black cargo pants and black leather ankle boots.
Outfit#27: A tan trench coat over a white hoodie.
Outfit#28: A black topcoat over a light gray hoodie and blue jeans.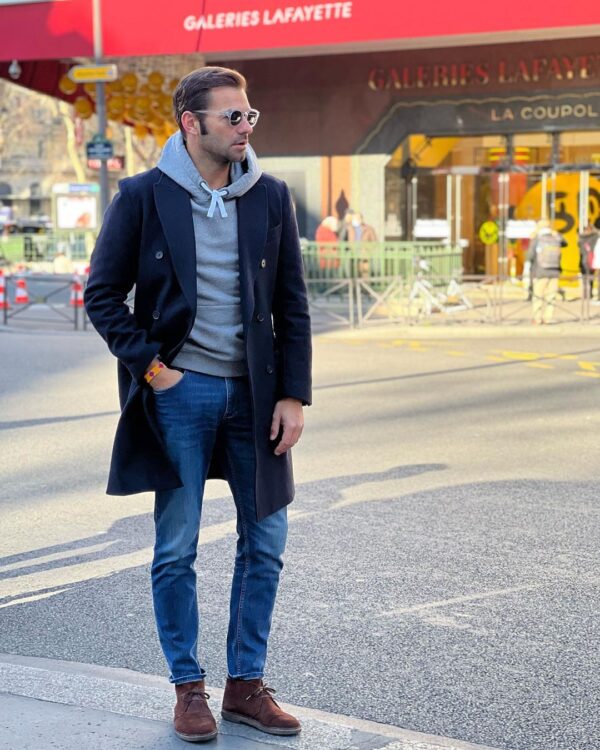 Outfit#29: A black topcoat over a black hoodie with blue jeans.
Outfit#30: A camel topcoat over a light gray hoodie with jeans.
Check flannel over hoodie outfits.
It's one of the most stylish and practical ways to rock a hoodie in fall and winter. A flannel is remarkable for its insulation and together with a hoodie it makes for a very comfy fall combo. As Men's Flare puts it, a flannel over a hoodie outfit is equally inspired by classic streetwear, skate culture, and grunge, and it suits all manner of body shapes and ages. Here are a few of these outfit ideas.
Outfit#31: A flannel shirt layered over a brown hoodie with sweatpants.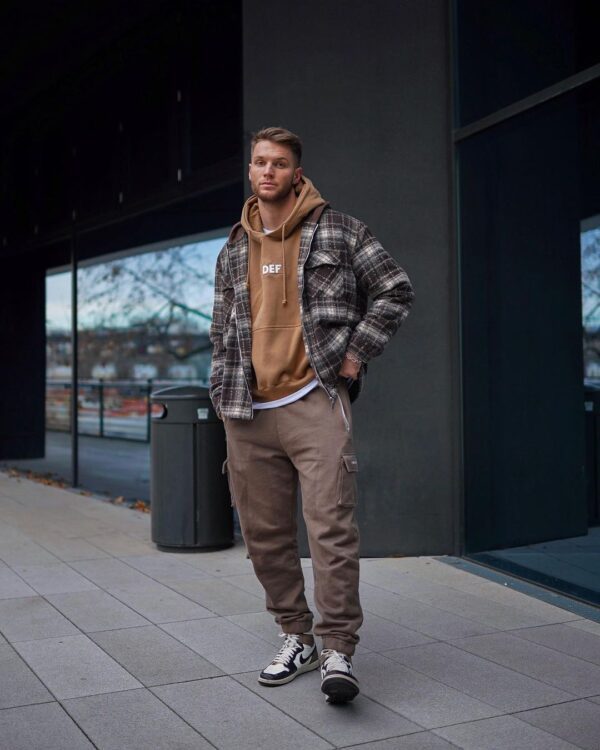 Outfit#32: A flannel shirt over a brown hoodie.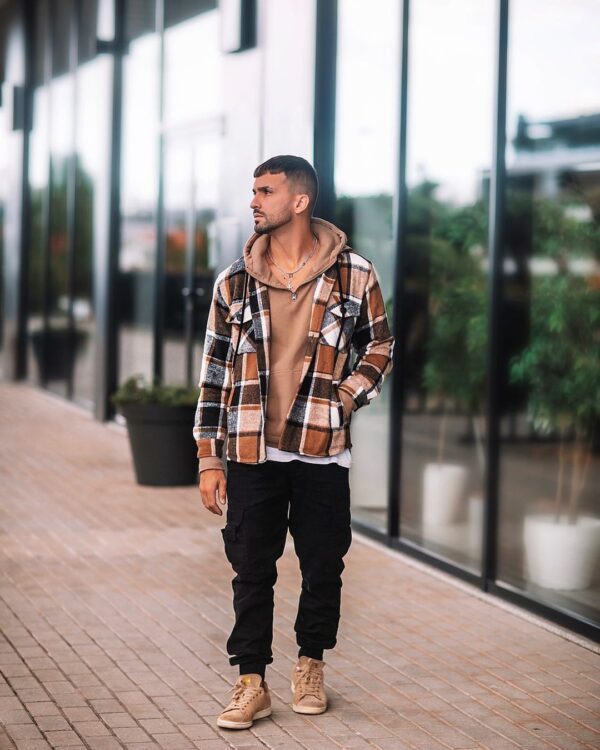 Outfit#33: A black flannel shirt layered over a red hoodie with black cargo pants.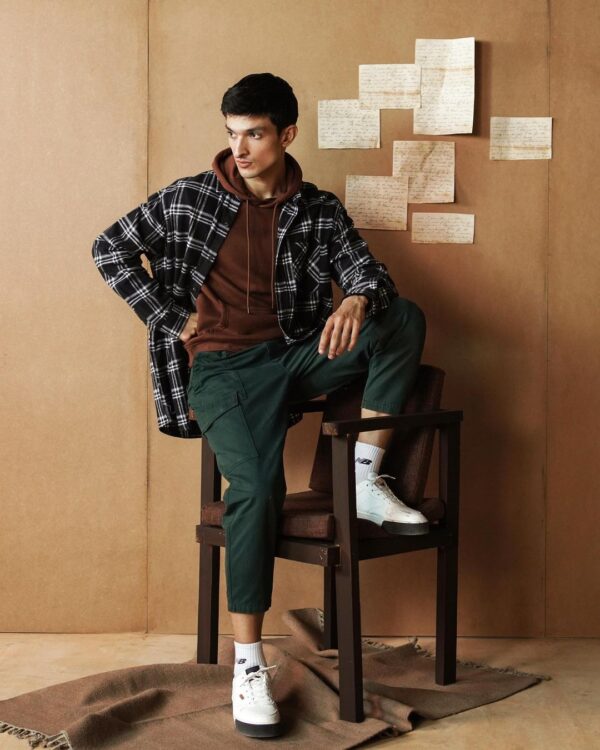 Outfit#34: A red check shirt over a white hoodie, black jeans, and white sneakers.
Outfit#35: A varsity jacket over a gray hoodie with light-wash blue jeans.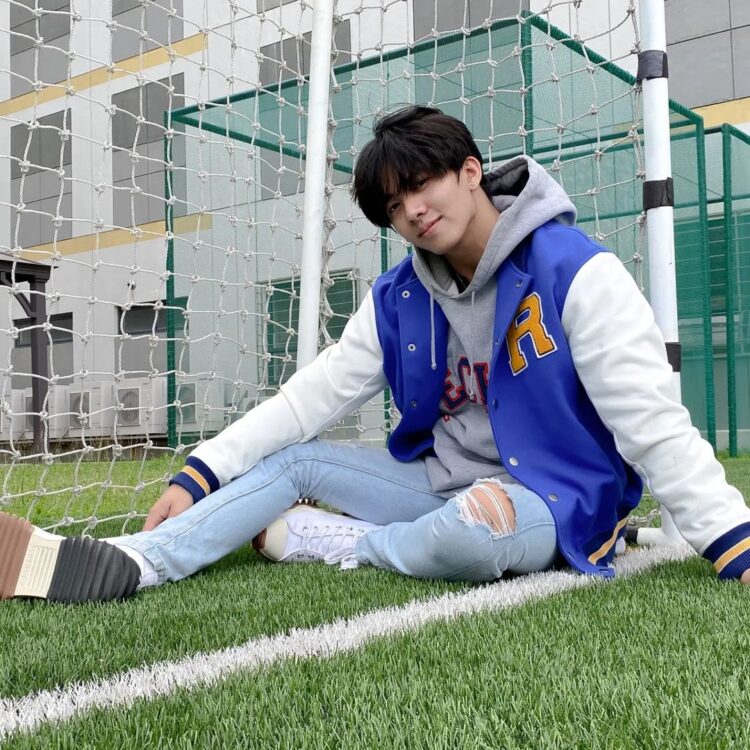 Outfit#36: A varsity jacket over a white hoodie, a matching baseball cap, and beige cargo pants.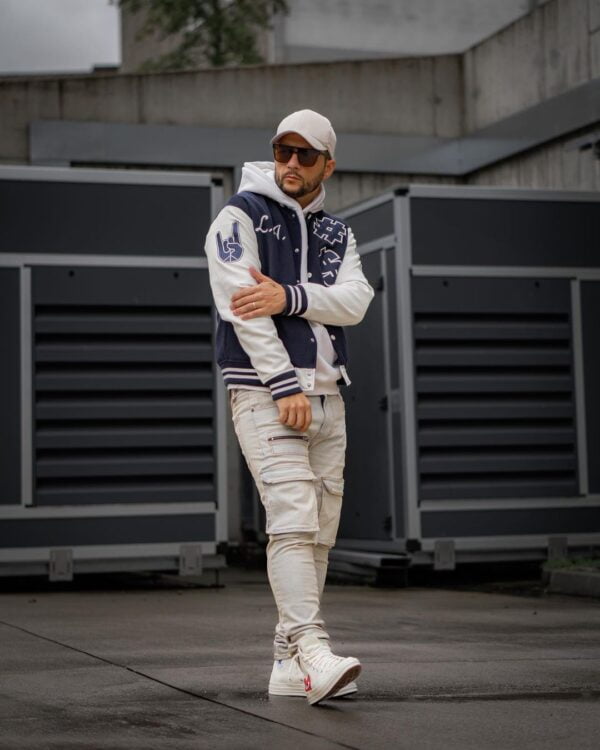 Outfit#37: A hoodie with a denim-on-denim look.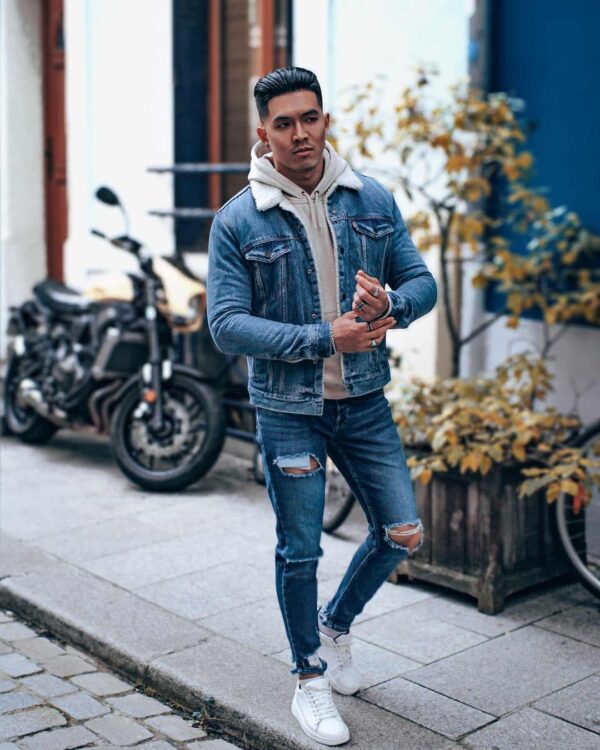 Outfit#38: A red hoodie under a denim jacket with black jeans.
Outfit#39: A red hoodie with a gray denim-on-denim look.
Outfit#40: Winter outfits with hoodies.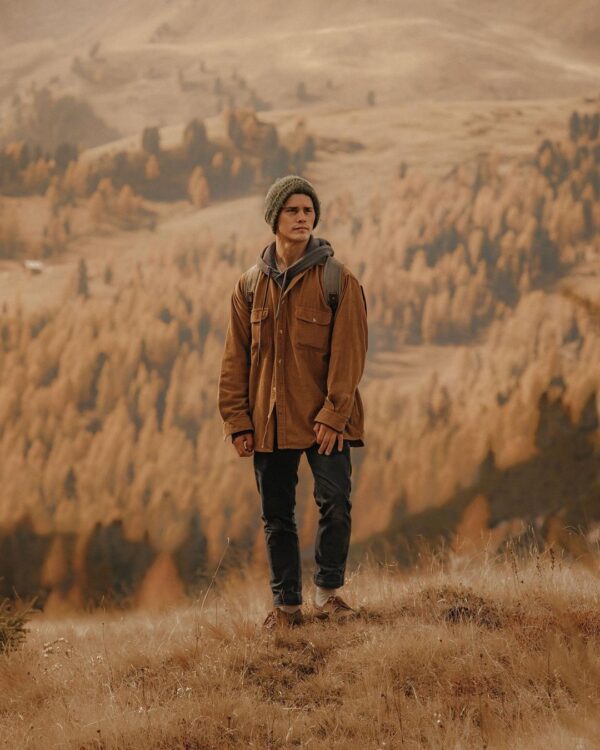 Outfit#41: A puffer vest layered over a hoodie.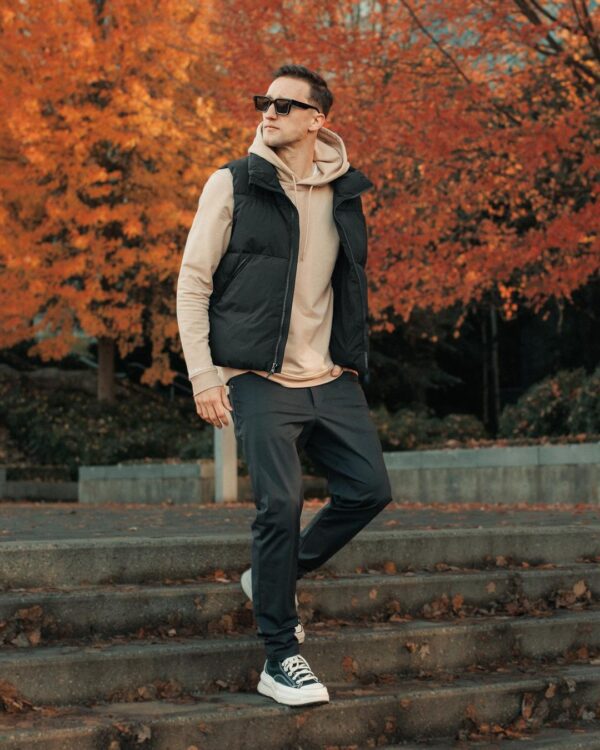 Outfit#42: A varsity jacket layered over a dark brown hoodie with black track pants.
Outfit#43: Winter outfits with hoodies.
Outfit#44: A quilted vest over a hoodie outfit.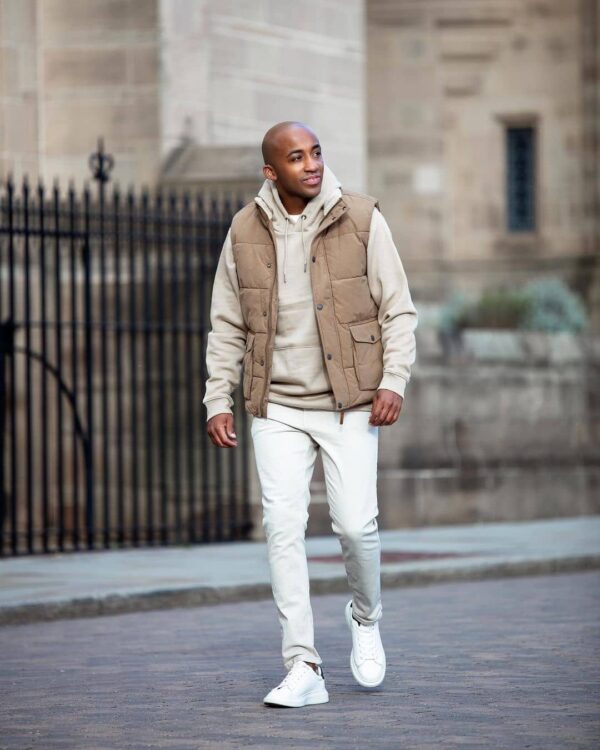 Outfit#45: A hooded denim jacket with jeans.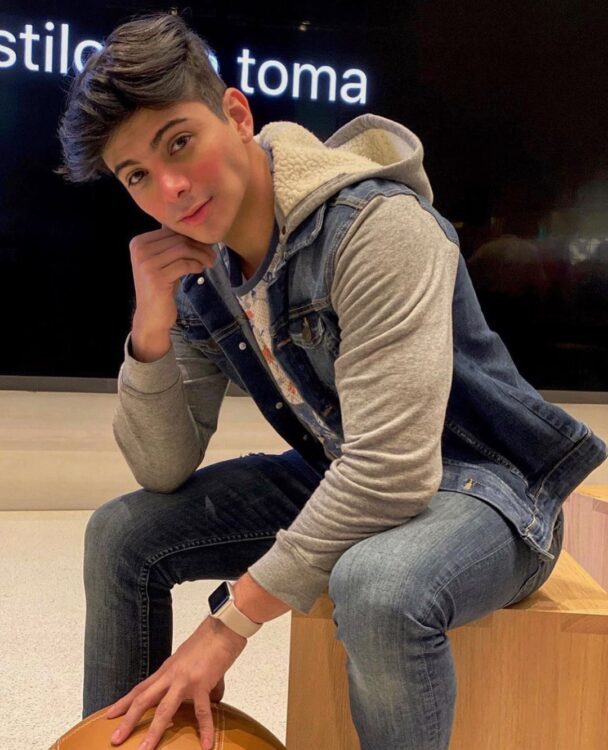 FAQs:
What pants are best for hoodies?
Hoodies are casual, which means casual bottoms work best with hoodies. Jeans, joggers, chinos, and cargo pants are your best choice to team up with your hoodie to form a comfy hoodie outfit. Layering a jacket up top will provide you with additional options when it comes to your choice of pants. 
Should a hoodie be baggy?
It depends on how you are wearing your hoodie. You can go for a baggy hoodie if you are wearing it as a standalone top without layering anything over it. A baggy hoodie would look good with relaxed-fit cargo pants and slacks, but it's better to avoid skinny-fit sweatpants or jeans. Similarly, it won't be practical to layer a bulky and baggy hoodie under a close-fitting jacket, bomber, or biker. Go for a close-fitting hoodie when you are layering it under a biker, flannel shirt, or varsity jacket.
What color hoodie looks best?
Neutrals like white, gray, and black and other solid colors like blue, navy, red, cream, and burgundy are the best colors to opt for because they work for everyone and are the easiest to style. A black hoodie can be used in so many ways, similarly a white or gray hoodie is equally versatile. It's easy to coordinate a white or black hoodie with other pieces of the ensemble-this makes them the most stylish hoodie colors available to any guy.
Is it okay to wear a hoodie without a shirt?
It's perfectly fine if you are wearing your hoodie next to your skin without a shirt coming in between. But if you want to wear your hoodie for more than one day, it's better to wear an undershirt or a tee underneath. A tee underneath will protect your hoodie from sweat and odor and thus will enable you to wear it for more than a couple of days.