Trunks vs boxer briefs, Briefs vs slips, what the heck is the difference?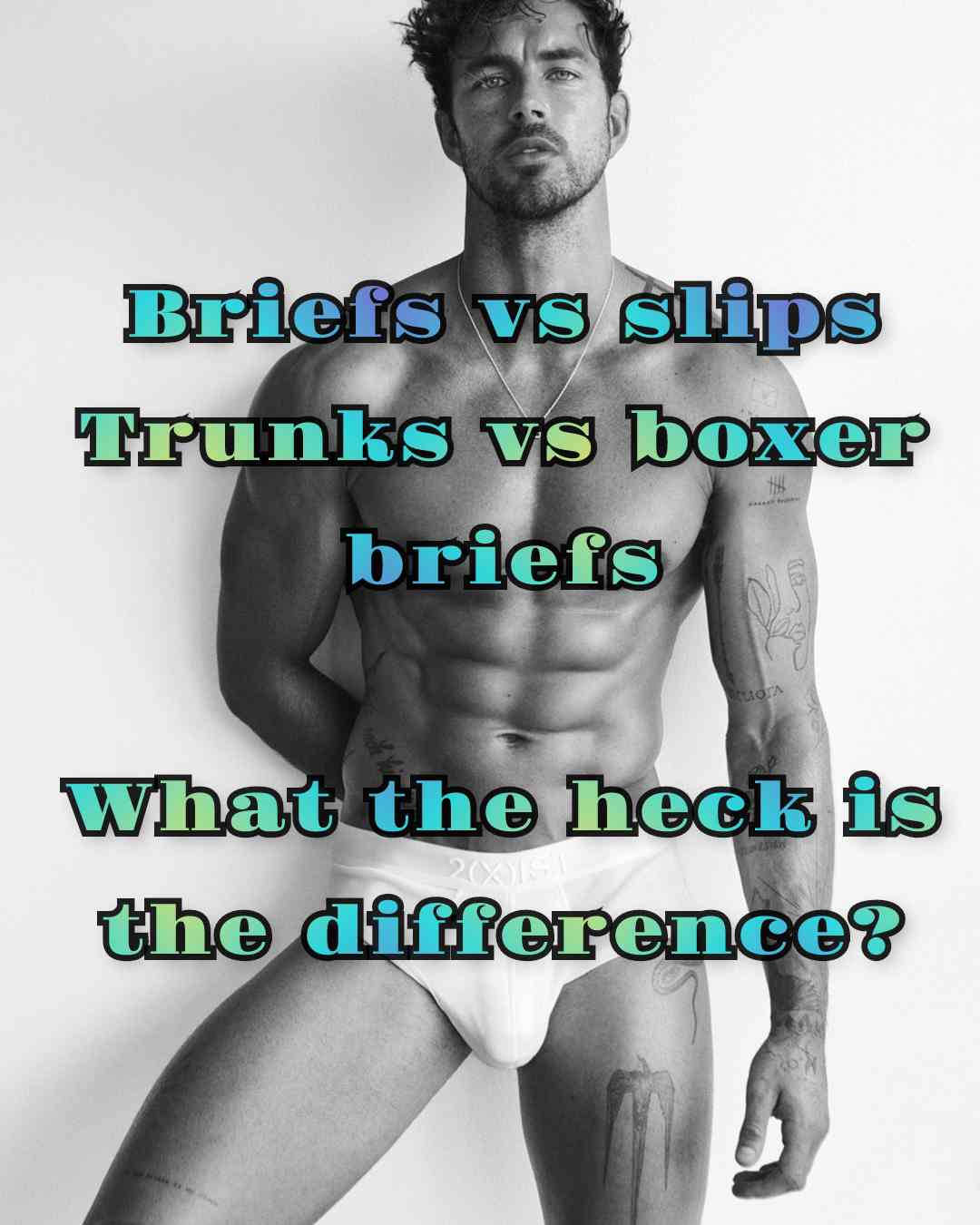 Briefs and slips, and boxer briefs and trunks, there is a lot of confusion surrounding these terms, they are often used interchangeably and most of the time incorrectly. It's exceedingly difficult for most men to earmark these types of underwear with exclusive and discreet definitions because there's a gray area. All of these are different types of men's underwear and it's easy to be dismissive and say that all of them are just different names of the same thing, just brand names or trade jargon. But, as a matter of fact, they all differ in subtle ways. Without going into long and exhaustive details and history, we will prefer to cut to the chase and explain the difference straight away. And then we'll move on to a little bit of the history of each garment to make things even clearer with a reference to the historical background. 
We'll be eating the whole elephant one bite at a time, let's start off with the briefs vs slips enigma. 
Briefs Vs slips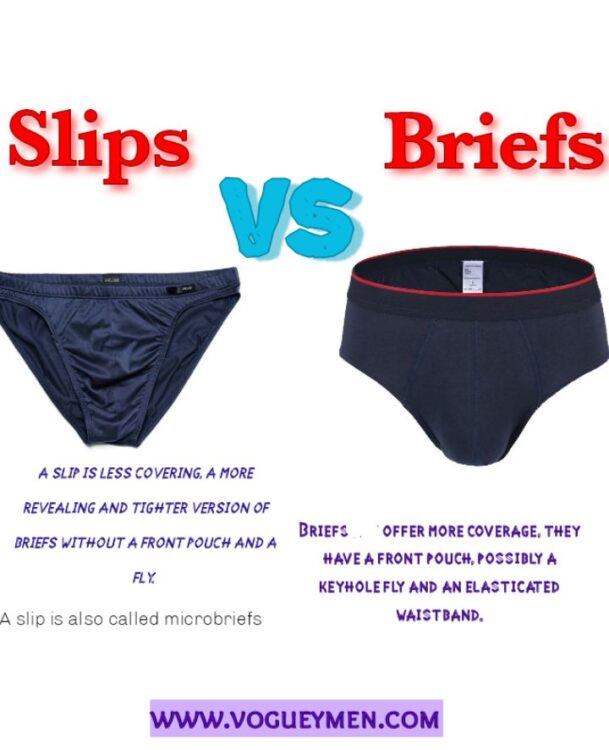 Both are similar in some ways and different in others. 
Similarities:
They are similar in a lot of ways, almost indistinguishably. A popular fashion blog claims that they are actually one and the same thing. For all practical purposes, it rings true. Both slips and briefs are short and tight undergarments that cover your bum and genitals and groin up to where your legs branch off. Both slips and briefs are used primarily as an undergarment and very rarely on their own for swimming and sunning. Both of these schmattes feature a separate elastic waistband attached to the main body, that may or may not be of the same color. 
Differences:
It's time to turn our attention to how they differ. From a functional point of view, there's no big difference. The biggest difference is the front pouch and size, it is present in every pair of briefs but not in slips. A men's slip is considerably less covering, a more revealing and tighter version of briefs without a front pouch and a fly. That's probably the reason why a slip is sometimes called a micro brief. The other major difference is the presence of a keyhole fly, unlike briefs, slips don't have them. Briefs sometimes do have flies. These differences exist at present, but some businesses and marketers use both of these terms interchangeably, which means both of these terms might mean the same thing in the future. Slip is an American term, and "briefs" is a term preferred sometimes in the UK, for the same kind of men's underwear. This explains all the confusion surrounding these all-important garbs meant for the protection of our manhoods 
History of briefs:
It'll be even clearer to distinguish briefs from slips once you have known something about the history of each. Briefs as we know them today, were born in 1934, in Chicago, and today's renowned underwear company Jockey is credited for that. 30 thousand pairs were sold during the first three months, and this innovation transformed Jockey into a leading clothing brand in the years to come. This short form-fitting form of men's underwear never looked back ever since, and it became popular all over the world in the coming decades.  
History of slips:
The story of slips is totally different from that of briefs. This name has actually been borrowed from one of the women's clothing items, in fact, an undergarment, an underskirt. A full slip hangs from the shoulders supported by narrow straps and extends along the skirt length. The word slip then began to be used for women's panties in some European countries as a false friend. From this usage, retailers began to use the word "slip" as a fancy term for men's short briefs, which are used both as an undergarment and swimwear option. 
Trunks vs boxer briefs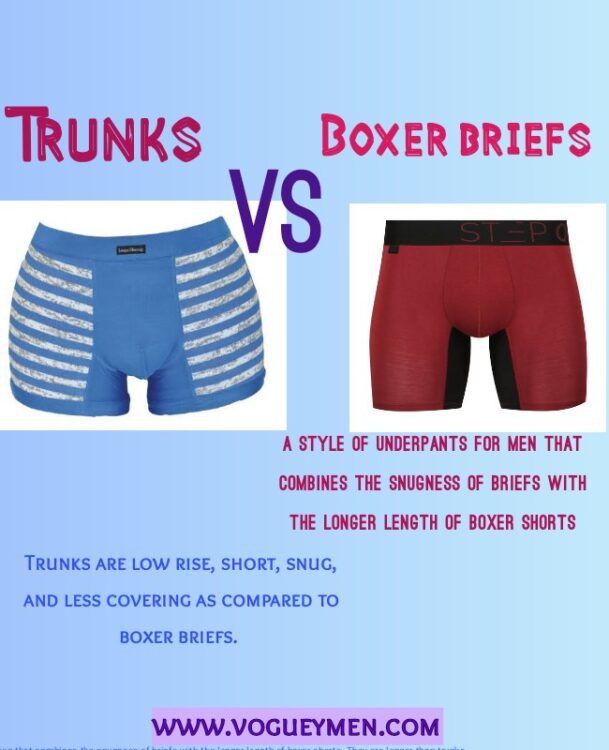 Trunks vs boxer briefs comparison would feel like a downhill walk if you have already grasped the difference between briefs and slips. Modern usage of the trunk is markedly different from the way it was used in the past. In the UK and Australia, the terms trunks and boxer briefs mean the same thing. In the US though, they are slightly different, this short comparison will make it even clearer, the way these two types of men's underwear are different and similar.
Comparison: 
Boxer briefs have a high waist and long length and they are mostly manufactured from knit cotton, trunks on the other hand are low rise, short, and snug.
Boxer briefs offer more coverage, they are especially suitable for guys with bulky builts and who have bigger behinds. Trunks on the other hand are less covering, skimpier, and have a snug fit, and they'll be a suitable option for you if you have a slim and athletic build. 
Boxer briefs are more suitable to be worn with relaxed-fit pants for being less snug and having extra fabric, they are not suitable for wearing under skinny jeans and other tight pants. Trunks, however, are ideal for wearing with slim-fit jeans and other form-fitting bottoms and shorts.
To wrap this up, we can say trunks are just a compact version of the roomier and longer boxer briefs. They are made from the same fabrics: cotton or modal fabric with a touch of Spandex for extra stretchability. 
History of boxer briefs and trunks:
Boxer briefs are a relatively new entry in the men's underwear scene. Giorgio Armani is credited with the creation of this undergarment, Richard Gere wore a pair designed by Armani in his erotic thriller "American Gigolo" in 1980. The movie went on to have a cult following and the pair of briefs he wore for his steamy scenes became popular as men's underwear. In the following decade, Mark Wahlberg rocked a pair of boxer briefs in one of his best-known music videos, and this underwear type became wildly popular as a functional and fashionable underwear article. 
The term trunks, as we have used in this article is of modern origins. By trunks we mean a shorter and tighter version of boxer briefs. If we go back in time a little, the term "trunks" was used for knee-length shorts worn by boxers in the early 20th century. Even earlier in the late middle ages, there were trunk breeches or trunk hose, they were loose and baggy trousers covering men's legs up to knees. Modern trunks, however, have very little in common with these antiquated versions of men's shorts.