13 types of men's underwear.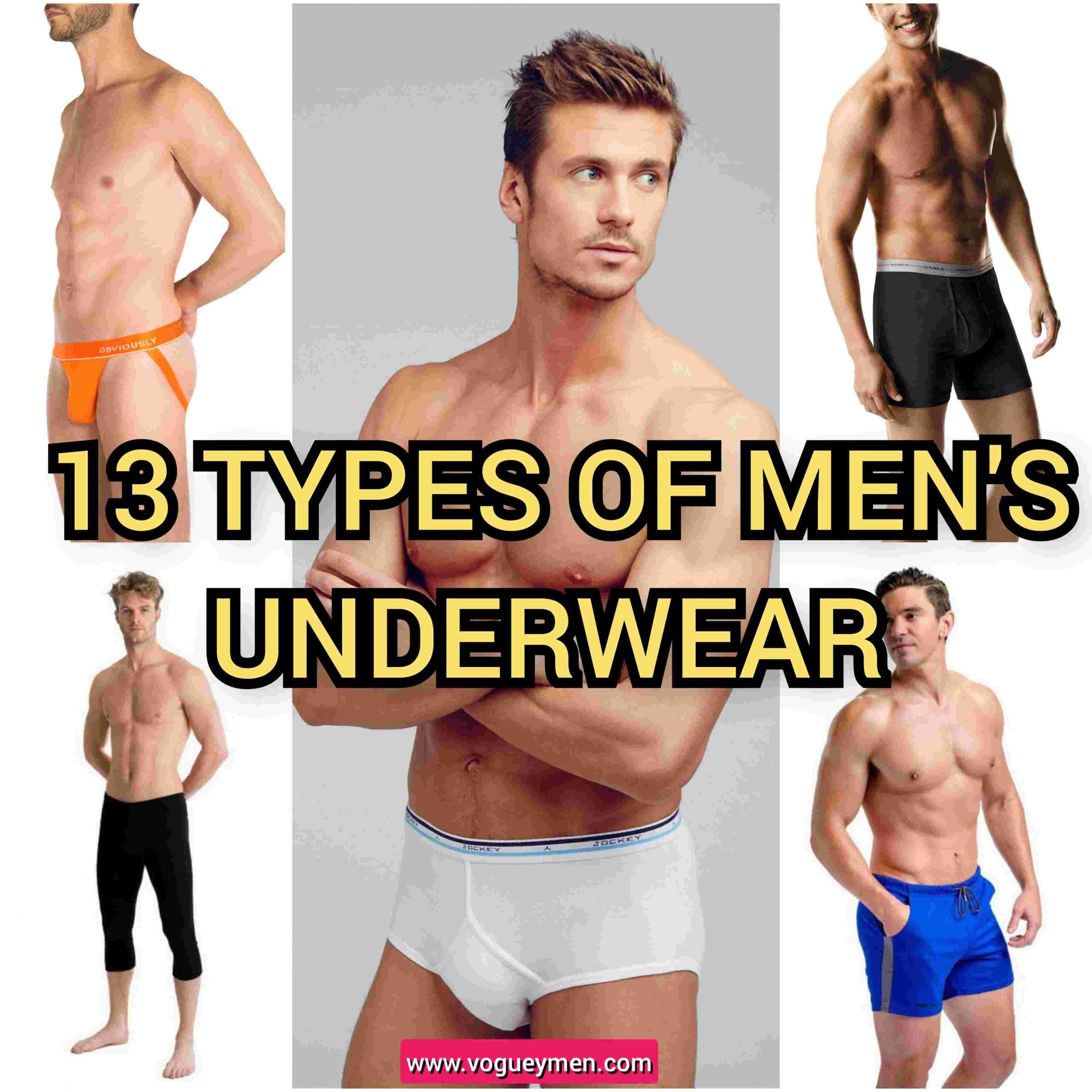 Men's undies come in as diverse a range as women's, and they are important for men just like they are for women. We'll be discussing thirteen types of underwear for your interest because we know how much these underpants interest you! Undies, underwear, and underpants go by a number of different names, there are many styles of this undergarment. But let's not forget one important thing, they all have something in common: they protect your carnal assets, the valuables they call genitals. Apart from this ballsy duty, underpants help you lay the foundation of your getup and give shape and form to your outfit. Before moving ahead with our list of 13 types of men's underwear, we'd like to draw your precious attention to a little disclaimer. Some readers may find some of the items on our list somewhat louche, lubricious, or risque, so apologies in advance. These items are at the end of the article so scroll on! 
13 types of men's underwear.
1. Classic briefs/Y-fronts: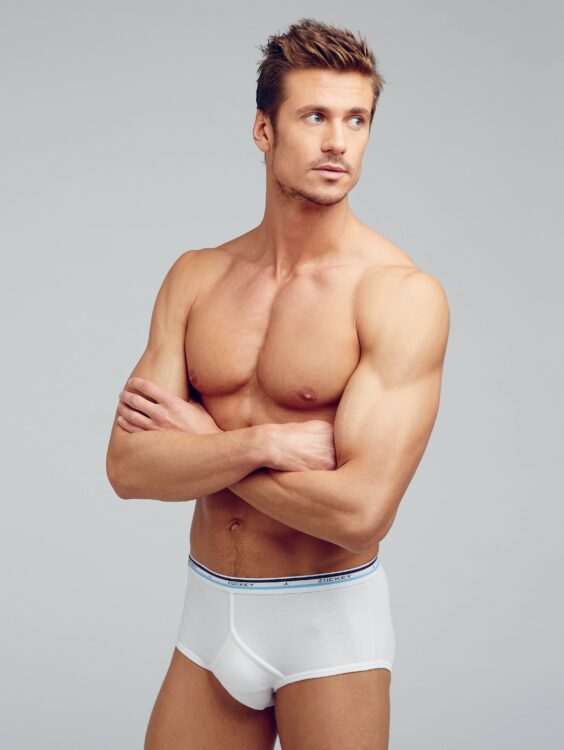 Description: Classic briefs are the commonest and most popular type of men's underwear. Briefs fully cover the buttocks and genitals up to the groin areas but they have no leg sections. They typically feature a keyhole fly, a front pouch, an elastic waistband, and a leaner leg band that ends at or near the groin. Historically, white underpants called tighty-whities have remained popular with men, but colored and patterned briefs are growing in popularity. The front cut of classic briefs resembles the English letter Y, hence the name Y- front. Briefs are form-fitting and this makes them suitable for working out and athletic activities.
How do men use them? Classic briefs are at the top of our list because they are the most popular and widely used underwear type for men. Guys wear this underwear type everywhere under any type of trousers.  image source
2. Slips:
Description: Slips are essentially flyless briefs that do not have a distinct pouch for male privates. Both terms, slips, and briefs are used interchangeably by some businesses, but they are slightly different versions of the same undergarment. Slips may or may not feature an elasticated waistband. The fact that they don't have a front pouch makes them more acceptable for using it as a swimwear item or a piece for activities like sunbathing and pool partying. Like classic briefs, slips are often made of cotton with a blend of elastin for extra stretchability. Nylon slips are equally popular for being durable and strong.
How do men use slips? Slips are used as a day to day underwear, and occasionally as outerwear for swimming, sunning, and pool parties. 
3. Trunks or boxers/boxer shorts: 
Description: Trunks or boxer shorts are longer and looser underwear. Trunks have a leg section that covers the upper thighs. They have an elasticated waistband that is built-in and not a separate elastic strip as sewn like in briefs or slips. Trunks usually do not have a fly, and they do not feature the front pouch that we see in classic briefs and slips.
How do men use them? : Trunks or boxers are usually worn as an undergarment with jeans and other casual trousers like cargo pants. It's preferred by men who want more coverage and a loose and flexible fit. Boxers are also worn as ultra-casual outerwear for summer by some men. Image source: Fruit of the Loom.
4. Boxer briefs/A fronts.
Description: Boxer briefs are the softer and more form-fitting version of boxer shorts or trunks. Boxer briefs are simply briefs with short leg sections, they almost always have a fly, which can be buttoned or a keyhole fly. A pair of boxer briefs have a conspicuous elastic waistband, which is a separate strip sewn onto the body. 
How do men use them? Boxer briefs and classic briefs are used in similar ways. They are always used as undergarments, unlike boxer shorts which can sometimes be used as an outerwear bottom in ultra-casual settings. Image source: Walmart
5. Midway briefs: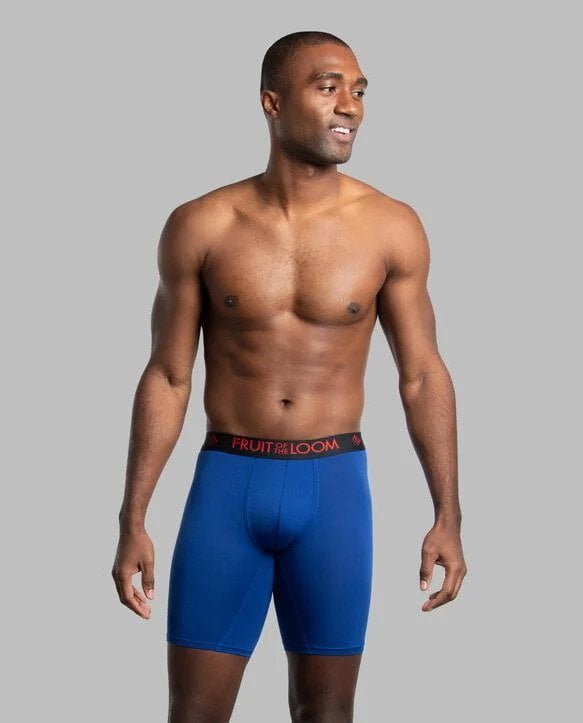 Description: Midway briefs, as the name suggests, are a bit longer than boxer briefs. They cover your thighs up to just above the knees. Jockey, one of the leading manufacturers of men's underwear introduced this item in the 1990s, and it became popular as an undergarment.
How do men use them? A pair of midway briefs are preferred by guys who want a well-defined shape for their lower body and who like their upper thighs to look more defined. 
6. Bandless briefs/ bikini briefs: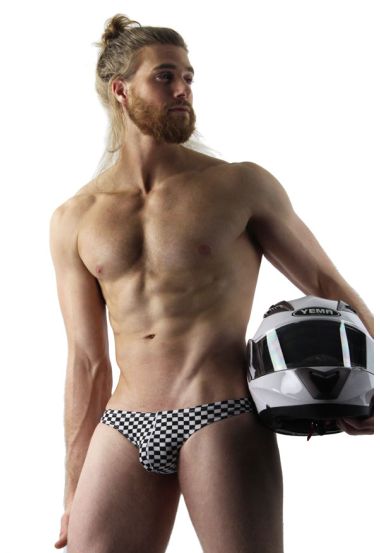 Description: These are men's underwear bottoms without flies and waistbands. Bikini briefs offer even less coverage than classic briefs and they are always of a tighter fit and a thicker and softer fabric. 
How do men use them? This type of underwear is usually worn for activities like swimming, sunning, and for pool parties, but they are also used as an undergarment for casual summer outfits. Differio
7. Long johns or thermal underwear:
Description: Long johns or thermal pants are basically a type of underwear that covers the whole legs. The purpose of thermal underwear is to provide insulation against extreme cold. Thermal pants are usually manufactured from a cotton blend, polyester, or wool. Woolen ones provide the most efficient insulation against cold and they are preferred in colder countries. Long johns are form-fitting and usually feature a keyhole fly. 
How do men use them?  They are worn as underpants in winter to ward off the cold. Thermal pants can also be used as loungewear or sleepwear options in the colder months of the year. image source: britishthermals
8. Buttoned underwear: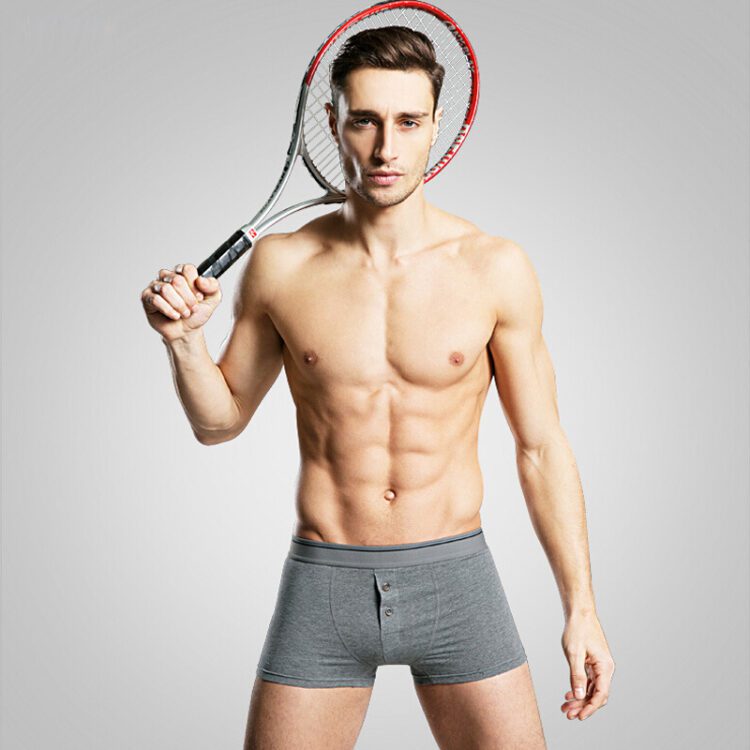 Description: Buttoned underwear can be briefs, slips, or boxers that have a buttoned fly at the front. Bikini briefs and boxers are the types of men's underwear that usually feature buttoned fronts. Modern button fly briefs or trunks feature a single button for easy use. Multiple buttons exist on some swimming trunks for ornamental purposes. 
How do men use them? Buttoned boxers and briefs are used as an undergarment and bikini briefs with buttons are used for swimming and sunbathing. 
9. Drawstring underpants: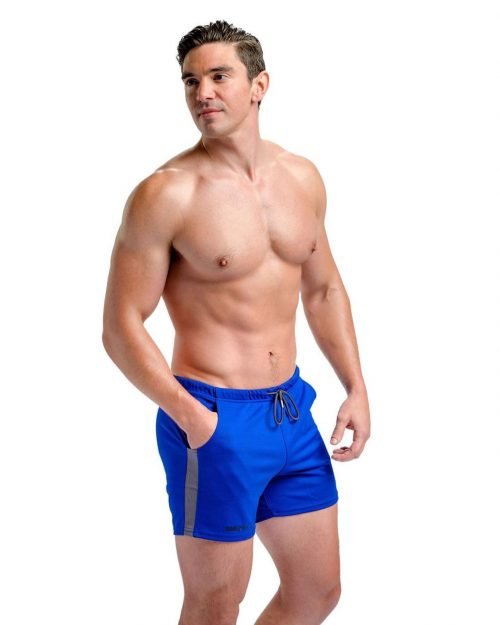 Description: Men's undies that have a drawstring instead of an elastic waistband are another type that's on our list. The drawstring offers a tighter fit that makes them useful as outerwear for summer outdoor fun on the beach. Elastic waistbands can cause discomfort for men who suffer from groin dermatitis, this makes drawstring underpants a good choice for them. Drawstring underpants with an easy access fly must be preferred as they will be more practical and easy to use.
How do men use them? Like the previous item on the list, drawstring underpants are usually used by men for summer recreation on the beach or swimming pool, but this doesn't mean they are any less popular as an undergarment. 
10. Side split or side slit underpants: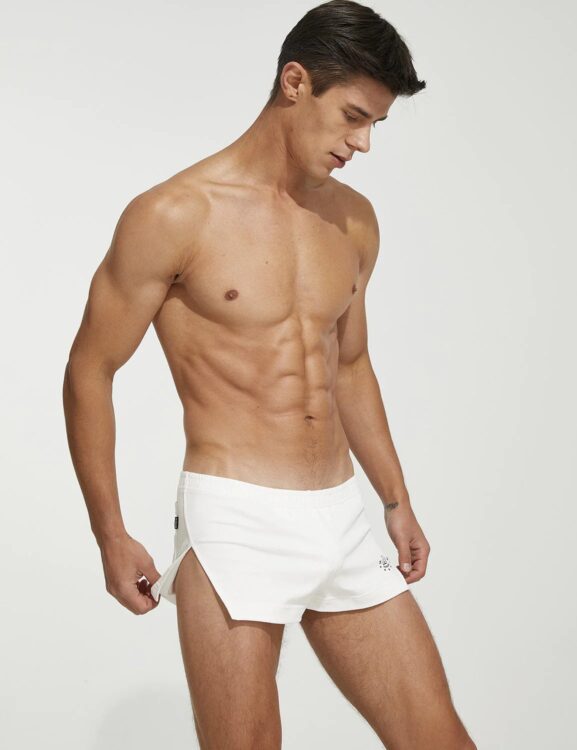 Description:
Side-split or split-side underpants typically feature a notched cut at both the left and right sides. These shorts are breathable and comfortable to use and resemble the retro running shorts that used to have similar split sides. Split sides enhance the range of motion for your legs by offering less restriction on the sides. 
How do men use them?  These briefs resemble running shorts, but they can be used as a breathable and sexy underwear option.
image source: seobean
11. Jockstraps: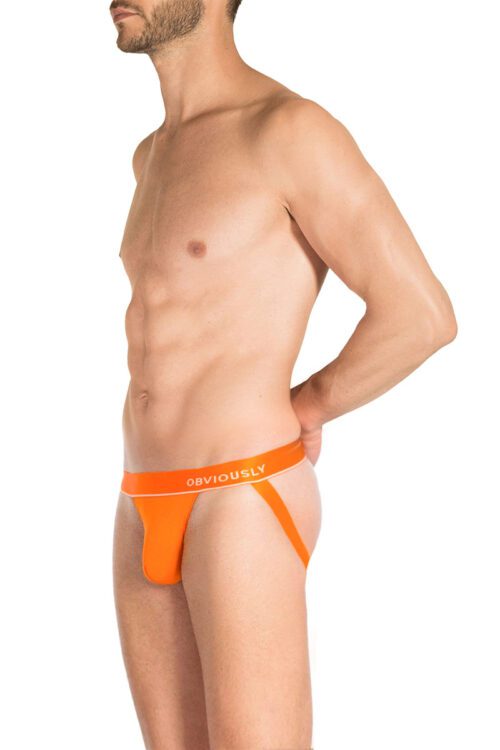 Description: A jockstrap comprises an elastic waistband with a protective pouch for the genitals and two elastic straps on the left and right sides. It's clear from this description that your derriere will be exposed while wearing a jockstrap. Jockstraps were originally manufactured as protective gear for men's genitalia during contact sports like soccer or rugby. Nowadays jocks are worn as normal underwear by men of all sexual orientations, even though this popularity owes much to gay men. 
How do men use them? Jockstraps are often used during sports activities like cycling, football, and rugby, but they're being increasingly used as underpants by men. 
image source: topdrawers
12. G-string or Thong or T-back:
Description: Now are moving closer to the racier entries on our list, a thong or a G-string is a very skimpy undergarment that just covers your genitals and there's a string that passes through the buttcrack, leaving your buttocks totally exposed except for the string that passes through the buttcrack and disappears somewhere in the middle. Some call it butt floss for this reason. G-strings are becoming popular, especially among the younger generation of men who love to wear them as an undergarment underneath their nine-to-five attire. 
How do men use them? Guys wear a G-string under jeans and other casual pants. They are preferred by guys who are proud of their athletic physiques.
13. Tanga briefs: 
Description: A form of revealing underwear with two triangular panels, a front, and rear, connected by a narrow band or string around the hips. Tangas are of Brazilian origins, like everything Brazilian they are exotic, oomphy and louche and ooze zing and sex appeal like very few other things.
How do men use Tanga briefs: A super casual version of underwear, loved by men who are in love with themselves!