7 styles of cross-body bags for men.
So you are interested in knowing about different styles and types of a sling bag or cross-body bag, a bag that men wear so close to their bodies and that sits anywhere from the chest to the hip? Some people use the term cross-body bag or sling bag interchangeably, it's obviously incorrect, while they are similar in some ways, they are different in many ways. We'll discuss 7 different types of cross-body bags later on in this blog post, but first, let's have a look at what a cross-body bag actually is. The reason for this small distraction is the confusion surrounding this term. A cross-body bag is simply any shoulder bag you wear across your torso to distribute the weight evenly. You can think of it like a style of wearing a shoulder bag, diagonally across your torso, the strap is slung across a shoulder and the bag or the pouch sits on the opposite hip. This means it's not a particular type of bag, it's a style of wearing a bag. 
Types of cross-body bags! How does this make sense when we say a cross-body bag is not a type of bag, it's just a way of styling a bag? Well, what we mean by that is, the types of bags you can wear in a cross-body way! Diagonally or in some cases horizontally across your torso or chest. It's as simple as that.  And it's pertinent to remark that a cross-body bag is not just another bag you carry on your shoulder, it's a fashion accessory you can rock to elevate your style. Now, we are ready to go ahead with our 7 different types of bags you can wear in a cross-body style,  let's get started. 
1. Sling bag or sling pack:
Cross-body bag and sling bag are two terms used by people synonymously, although there's a difference between them. The term "cross-body bag" is an umbrella term used for any species of bag you wear across your body. A sling bag is a type that is across your chest and the bag sits somewhere below your chest, not exactly on the chest. It's a modern style of men's bag usually with rectangular dimensions having a side slightly elongated and tapered.  image source: eBay
Use: Men wear it casually when on the go, it stays close to the body sitting just above the abdomen. A sling bag is the most popular type of cross-body bag. It's especially popular with the outgoing type of men and guys with a digital nomad lifestyle. 
2. Messenger bag/ or a courier bag or laptop bag:
This bag has bigger dimensions as compared to a sling bag and other types of sling bags. A laptop bag is often of regular rectangular shape or rarely of square shape. It's meant for carrying a laptop, a modern-day necessity. But the utility of this bag is not limited to carrying laptops alone. You can use them to carry other items of daily use.
Use: You can wear a messenger bag or a courier bag as a cross-body bag because of the long straps of the bag. This makes it easier to wear it the crossbody way to distribute the weight of your laptop evenly.
3. Satchel:
A satchel can be worn across your body too. It's a bag with two straps and a distinctive flap at the front. In good ol' days, a satchel was used by school boys to carry their books and stuff to school, nowadays we use it as a cross-body bag to help us with our stuff while keeping our hands free when on the go. A satchel is as spacious and roomy as a messenger bag. Use: 
4. Fanny pack or belt bag:
Also called a belly bag sometimes or a waist pack/bag, a fanny pack is a type of sling bags you carry around your waist, near, or on your belt. It's for guys who don't care about adding an extra layer around their waists. Wearing a bag around your waist is not an everyday necessity, but it's particularly handy for errands, visits to the airports, and meandering through the busy streets of Santorini. It's ideal to keep your extra cash within easy reach for yourself, and of course to keep the fears of pickpocketing at bay. 
5. Chest bag:
A chest bag is simply a sling bag that sits on the chest. This version of the cross-body bag keeps your valuables close to the bosom keeping them in your sight at all times. You can think of it as a sling back with a much smaller strap so that it sits on your chest. 
Use: Like any other cross-body bag you use it when traveling. It's the safest of all cross-body bags because it's on your chest, and your things in the bag will remain safe and out of the reach of pickpockets unless you are in deep sleep. 
6. Sling backpack: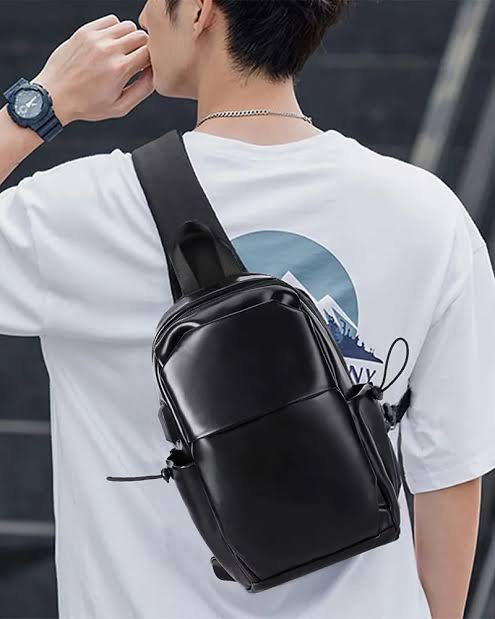 You wear your sling back like a backpack and it becomes a sling backpack. You can try this style when you grow tired of sporting your sling back on the chest, abdomen, or waist. It will feel much easier to sport your sling bag this way when you have to walk a lot or are on a morning jog.  A sling backpack is perfect for you when you are on a short hiking trip. A sling bag will be just enough to carry your small water bottle, a pack of salted nuts, and your cell phone to accompany you on such a trip. 
7. Flight bag:
A small minimalist square-shaped bag with a strap is called a flight bag. A flight bag is usually built with a long strap to wear it across your body. It's handy for you to use in summer with your jackets and long coats because you won't have to scour your pockets (you'll have many of them in winter because of the multiple layers you have to wear) every time when you need something. A flight bag is one of the types of sling bags that is lightweight and with minimal storage which makes it easy to use on a daily basis, especially in winter.