How to style a cross-body bag? 25 outfit examples with cross-body bags.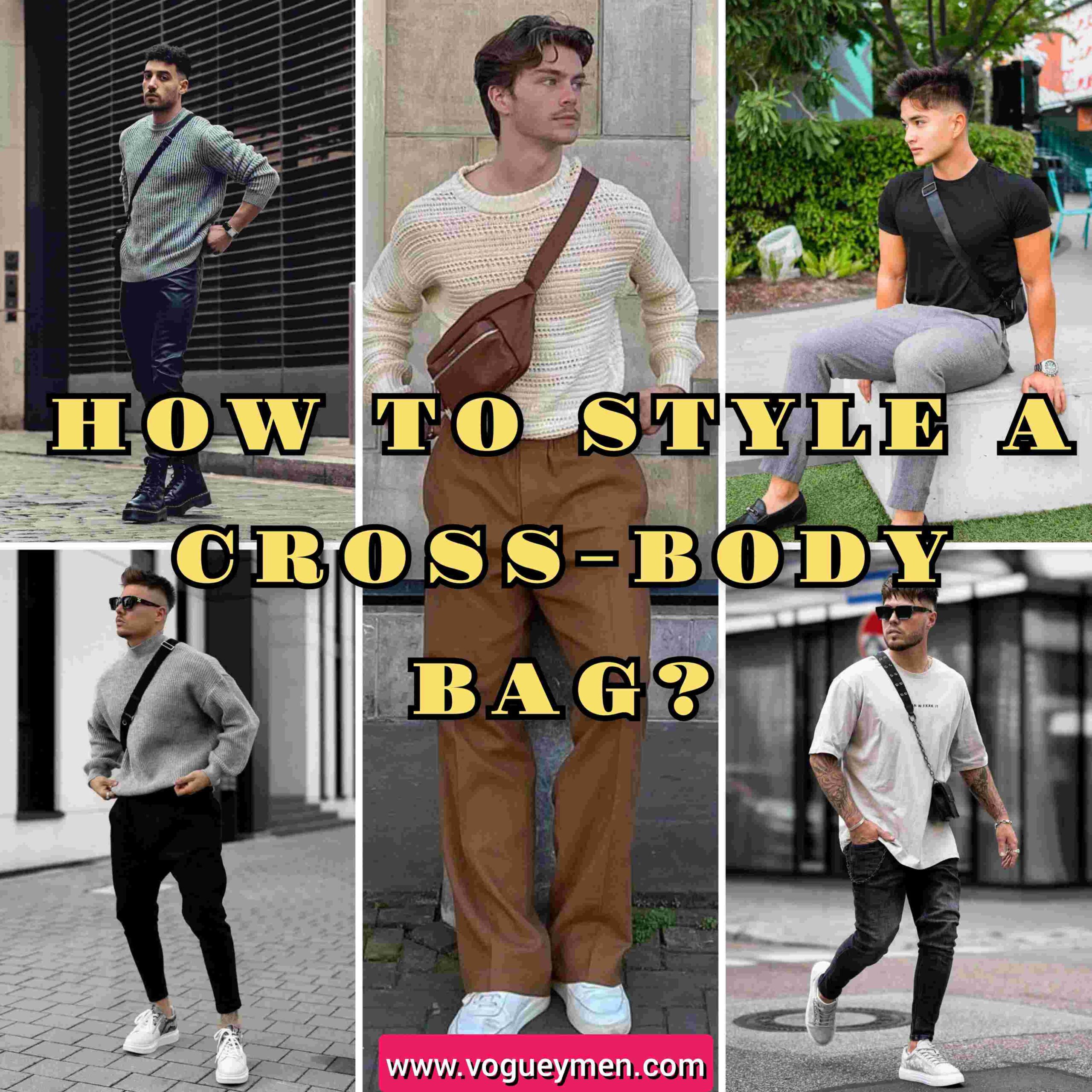 If you are a fan of cross-body bags or sling bags, you already know that they are more than just bags! A cross-body bag can make you look incredibly dapper if worn right of course. A bag that's pleasantly practical and soothingly stylish, elevates your casual swag by awarding you automatic style points. And it's not enough to buy, own and wear one, you have to rock a cross-body back the right way. That's where this blog post comes in, you will find out something about styling a cross-body bag the right way, the way that'll help you look your best self and fall in love with this shoulder bag. If you want to earn some extra fashion points and add some functionality to a day-to-day outfit, a cross-body bag is a fashion accessory that helps you walk a couple of more miles. This accessory is especially helpful for you in managing your melange when on the go, you can always feel safer with it. Your cell phone, pens, cards, and cash, will be out of reach of those pickpockets, all you need to do is to be mindful of this sling bag of yours. Before digging into the details of the styling of a cross-body bag, let's have a look at this brief style guide on how do you style a cross-body bag
What actually is a cross-body bag?
A cross-body bag is any shoulder bag with a strap that you wear across the body. This it's not a separate type of bag per se, it's more of a style of wearing a shoulder bag. This ingenious way of supporting a shoulder bag divides the weight and evenly distributes it, thus avoiding overburdening a single shoulder. It can be worn in a number of ways, close to your chest, waist, hip, or back. With that said, a cross-body bag can add an extra layer and flair to any casual or street-style outfit. 
Where should a cross-body bag sit on men?
As mentioned earlier, cross-body bags are of diverse styles, with different lengths of straps and varying pouch sizes. There are sling bags, chest bags, waist bags, back slings, and many other styles and cross-body bags, but the most popular style is the one in which the strap hangs down from a shoulder and extends to or just above the opposite hip. If you are in doubt about where your cross-body bag sits in, go for this classic length, meaning your bag should sit at or just above your pant pocket. This will make it easier for you to access it and will be ergonomic too. When you are using a cross-body bag on a busy street when touring a populous metropolis, it's better to use the chest bag version, as it will be safer and closer to your body. 
Purpose and function:
A cross-body bag is a fashion accessory that is remarkable for its utility. Men use these packs to carry their important stuff while on the go. Your stylish cross-body bag can make your life a lot easier when you're strolling down the busy streets of the city. It carries your omnium-gatherum of cash, keys, cards, USBs, earpods, small cameras, cell phones, and the list goes on. For a modern guy, a cross-body bag is, we'll repeat, a fashion accessory that is pleasantly practical and phenomenally functional and who can forget, elegantly stylish. 
Front or back?
Do you wear a cross-body bag in front or back? That's simply a question of convenience, you can wear a cross bag both ways depending on the situation. It will be easier to access your things in real time when you are wearing them in front. And you can wear this bag on your back as a backpack too. This is especially handy for short hiking trips and long walks. 
Size and length of strap:
An ideal cross bag should have a strap long enough to reach your opposite hip. The size of a cross-body bag is considerably less than an ordinary messenger bag or tote. Sling bags or chest bags are relatively spacious, which makes them suitable for your stay at populous destinations where you intend to spend your vacay.  As mentioned earlier, you use these bags to put your keys, cards, and cash to make them easily available while your hands are free and you don't have to stuff your pockets while on the go. 
How do you style a cross-body bag?
First off you need to choose the right length, size, and fit for the cross-body bag to look good on you. A chest cross-body bag sits snug on your chest, whereas a hanging one needs to be of proper length to sit where it's accessible like a pocket. This means it should hang around your belt or hips or waist, from the ease of access point of view as well as from a style perspective! 
Mixing and matching?
Like any other accessory that you rock, a cross-body bag is no exception when it comes to matching and color coordination. Leather is the most popular material as far as men's bags are concerned, and you will be playing it safe when matching your leather cross-body bag with your belt or shoes. When wearing colors other than black or brown, you can wear a bag in shades of the color of your pants or any top you are wearing. It can also be another accessory, like a baseball cap or beanie that you can pair with your cross-body bag. If a mixy-matchy look is not your cup of joe, you are welcome, you can still rock a cross-body bag. Just go for the basic colors and make sure that it feels comfy on your body with the right length and dimensions.
What materials and colors to choose?
It's a question that pops up in your mind when you want to step out of that comfort zone demarcated by leather and basic colors, we mean black and possibly brown. Camel, beige, off-white, grey, and khaki are the hues you can opt for when you are looking for a subtle touch of color in your outfit. For an adventure-loving outdoorsy touch, opt for a camo-patterned cross-body bag, it will be a treat to add it to any fall outfit for a stroll down a leaf-strewn street. Speaking of materials, unfortunately, there's not much choice available to men other than leather. But a mini bag cut from a lightweight tactile version of canvas can be an alternative if you want to try something other than leather. 
25 outfits with cross-body bags for men.
Outfit example 1:
A black sling bag in leather looks great with a black tee outfit, and black leather loafers complete the look in style.
Outfit example 2:
A cross-body bag helps you keep your things accessible on a hot summer day, especially when you are using no layers and therefore not many pockets. And you can match the leathers, for example, a leather cross-body bag with your leather shoes if not anything else!
Outfit example 3:
Can men wear a shoulder bag in white? The answer is a resounding yes! and when you wear a matching pair of white sneakers you'll feel way better.
Outfit example 4:
Now you see, a brown leather chest bag can look absolutely fabulous on you, especially when you have a pair of brown pants to rock!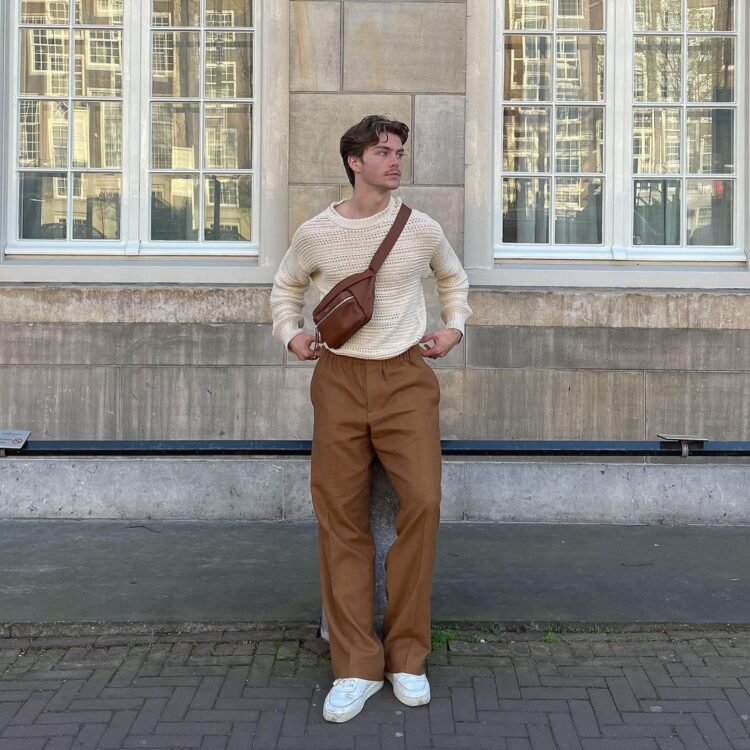 Outfit example 5:
A black cross-body bag in leather blends in perfectly with an all-black outfit comprising of black jeans, and a hoodie layered under a black wool topcoat.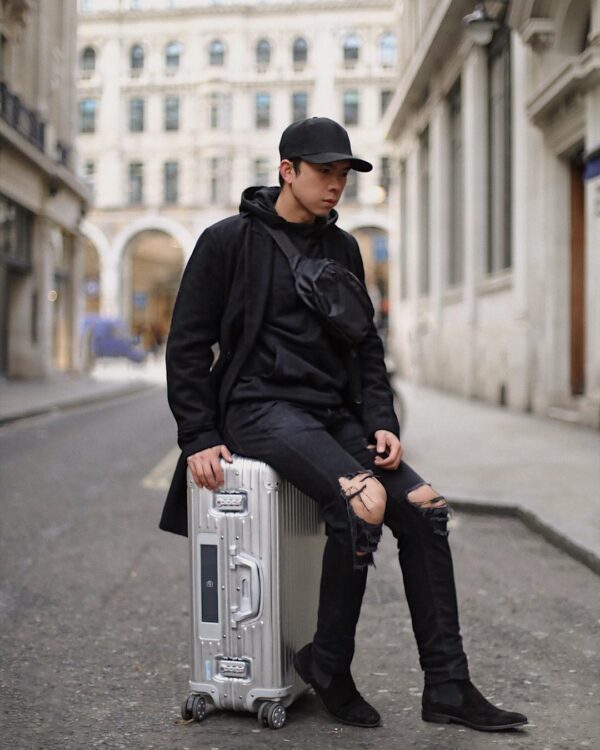 Outfit example 6:
A black cross-body bag, a basic black tee, a pair of sunnies, and black sneakers all in one outfit, is a perfect recipe for unassailable street-style cool.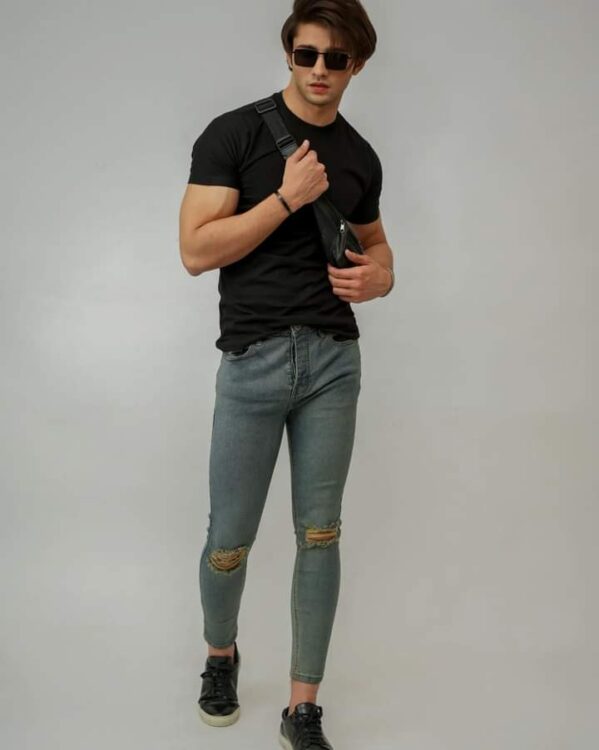 Outfit example 7:
A black shirt, tee or polo, and a black leather cross-body bag are made for each other, and this chemistry works even better in the presence of a pair of black leather boots.
Outfit example 8:
Can you match your shoulder bag with your pants? You should especially when you own a classy black leather cross-body bag and want to make it look good on you.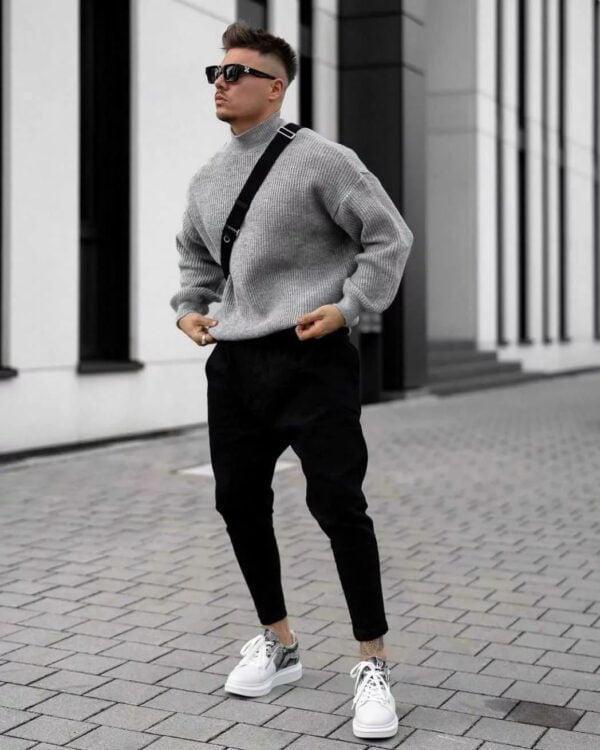 Outfit example 9:
A small cross-body bag can look good on you despite not being a heavyweight in your collection of accessories.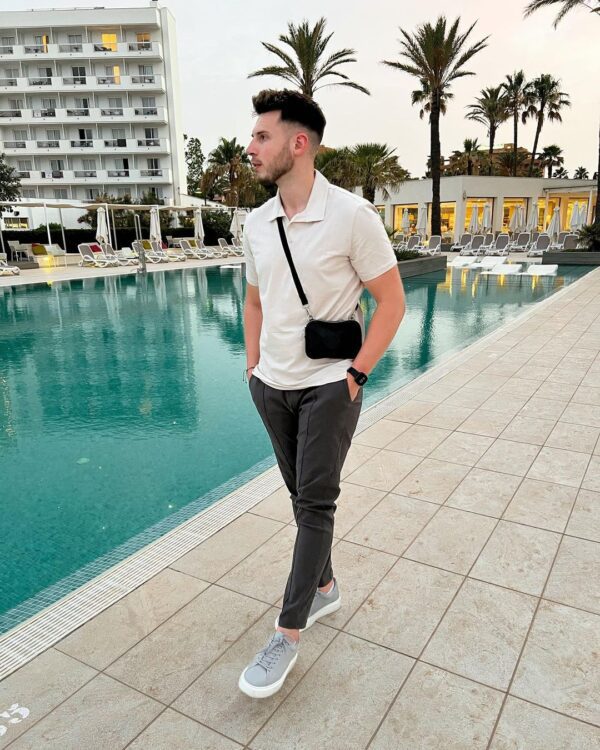 Outfit example 10:
Rock your black leather shoulder bag with black leather pants and chunky boots for a contemporary cool look.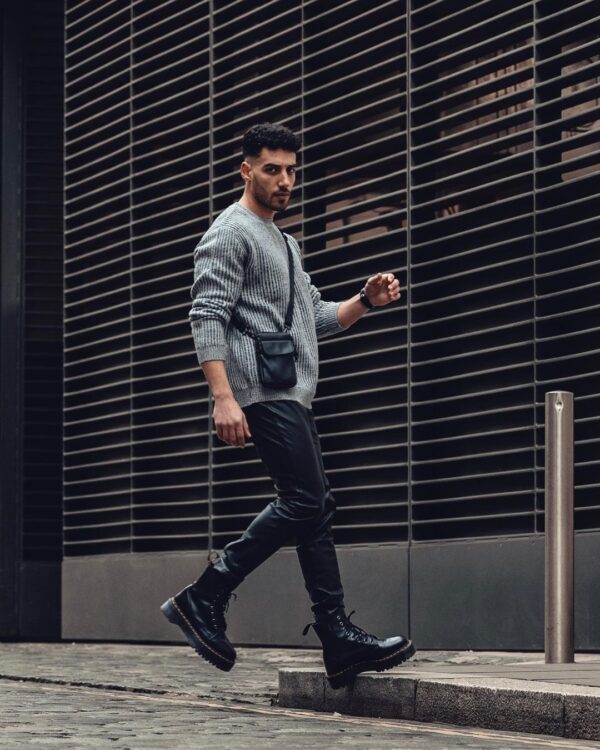 Outfit example 11:
Seems a no-brainer! A black leather shoulder bag works perfectly with black bottoms, both shoes and pants.
Outfit example 12:
A look that screams summer! A cross-body bag worn with a short-sleeve floral print shirt layered over a white tee and paired with black pants.
Outfit example 13:
Wondering how to wear a small cross-body bag? Just have a look at this look and find your inspiration.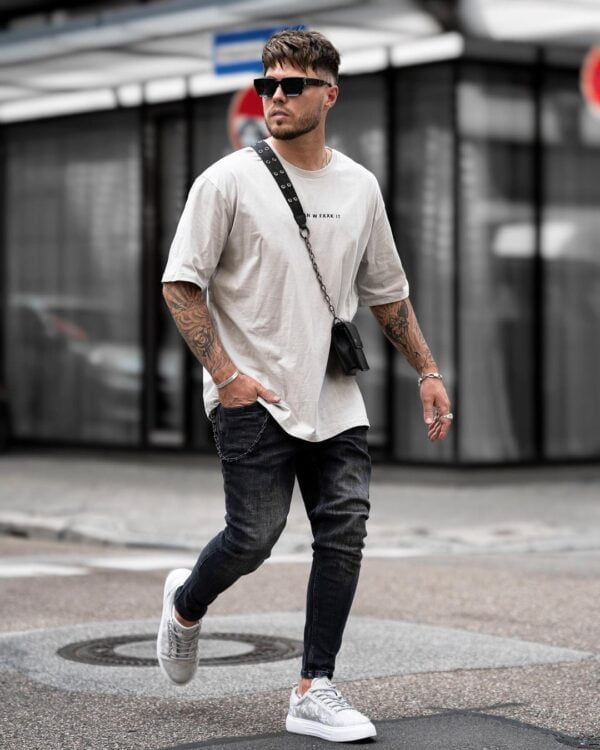 Outfit example 14:
Black is the king when it comes to choosing the color of your cross-body bag, in fact, the default color for most guys. The color black doesn't have to be boring, you can add accessories to level up the style.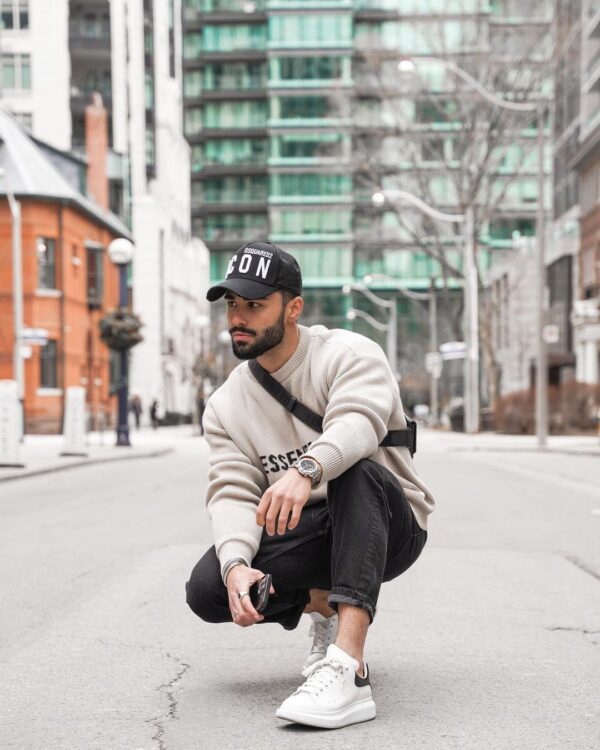 Outfit example 15:
The addition of sunglasses, when you are matching your cross-body bag with a pair of baggy trousers, can be a game-changer in your travel style game.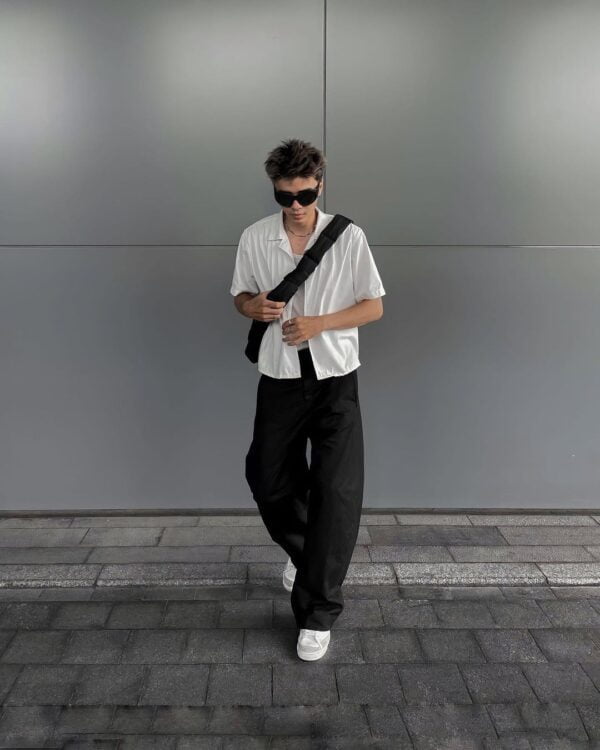 Outfit example 16:
How to wear a small cross-body bag in an effortlessly cool way? The answer is, color-match it with your pants! And that is undisputedly one of the best ways to look stylish when wearing one.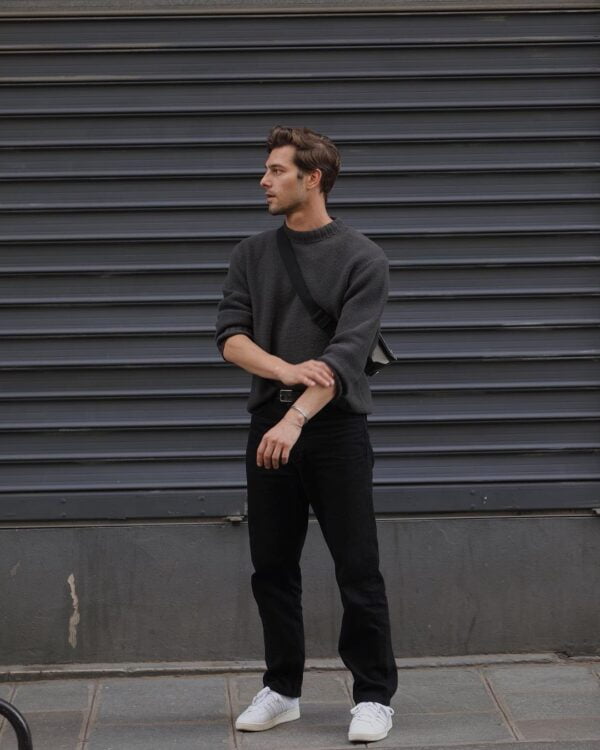 Outfit example 17:
A quirky black leather cross-body bag and a pair of black jeans, work for everyone.
Outfit example 18:
If you know how to use your wardrobe staples in black, you are guaranteed to stay ahead of most men in your style game. A black suit jacket layered over a black tee, black shoes, and a black leather shoulder bag can't get more elegant than this outfit!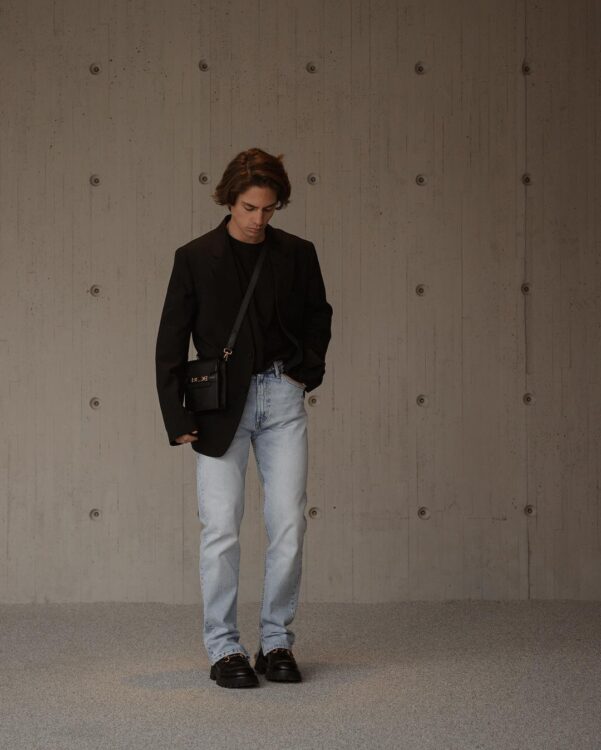 Outfit example 19:
When styling a black cross-body bag with a double denim look, it's better to layer a black tee under an unbuttoned denim shirt and finish the look off with a pair of black sneakers.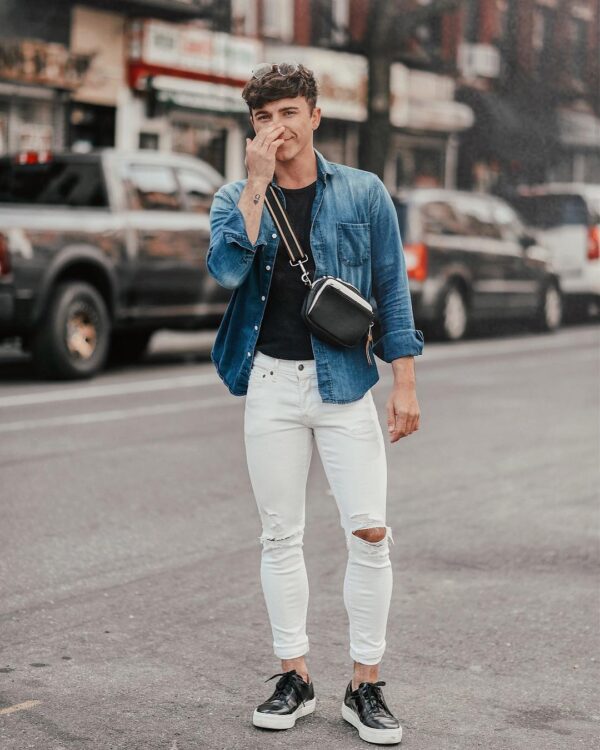 Outfit example 20:
You can use a sling bag under a jacket, and make use of some matching materials to spiff up your casual style.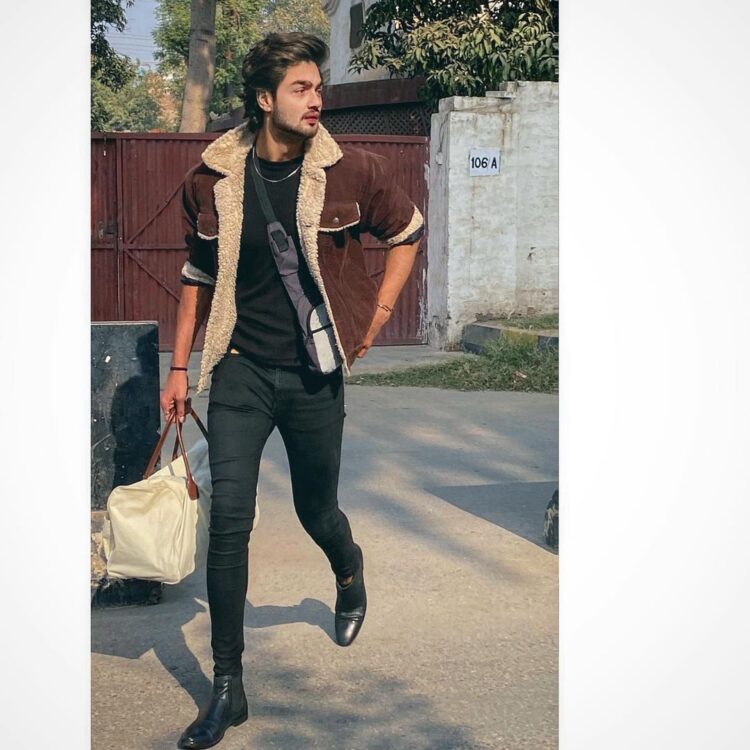 Outfit example 21:
Matching a brown cross-body bag with a jacket in earthy tones and similar shoes is a perfect way to look stylish on the go.
Outfit example 22:
A black belt, a pair of black shoes, a black leather cross-body bag with white pants, and a tucked-in white shirt, a smart casual outfit with a cross-body bag that exudes elegance.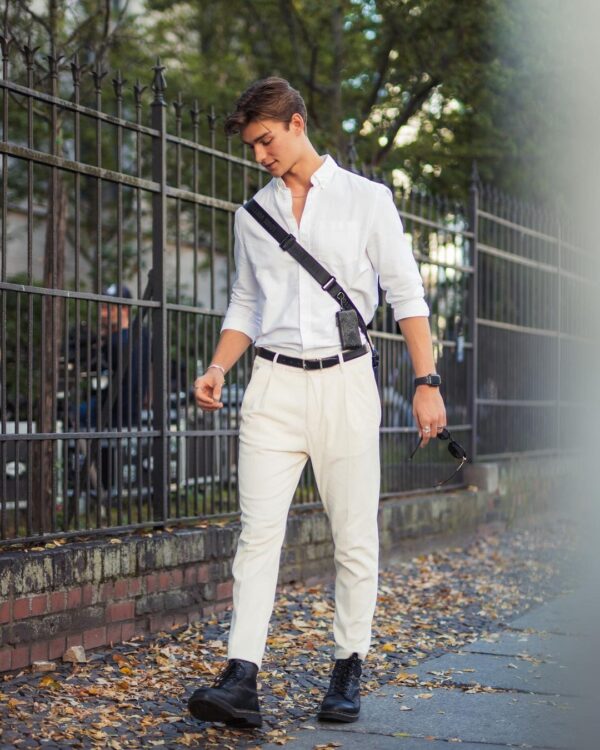 Outfit example 23:
You can use your sling bag as an extra layer in winter, a black leather bag slung across your shoulder over a black puffer jacket not only looks perfect but makes it easy to access your things saving you the hassle of scouring pockets in your jacket or jeans.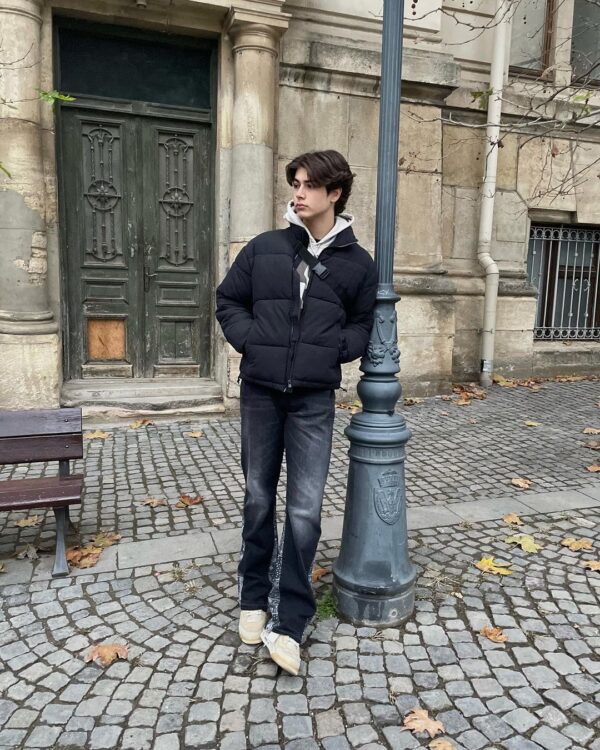 Outfit example 24:
You can layer a cross-body bag under a trench coat or any topcoat and use a matching pair of shoes for a stylish off-duty look.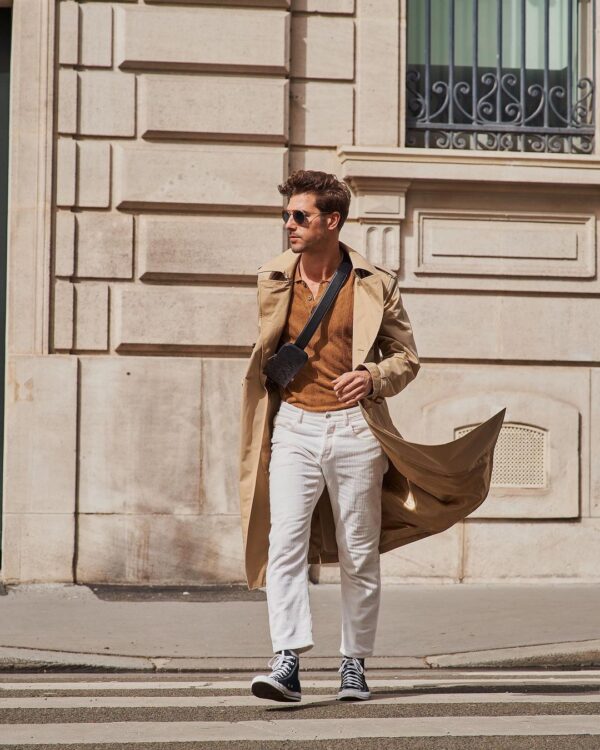 Outfit example 25:
It's totally possible for men to wear a white cross-body bag and look stylish while wearing it with a laidback outfit.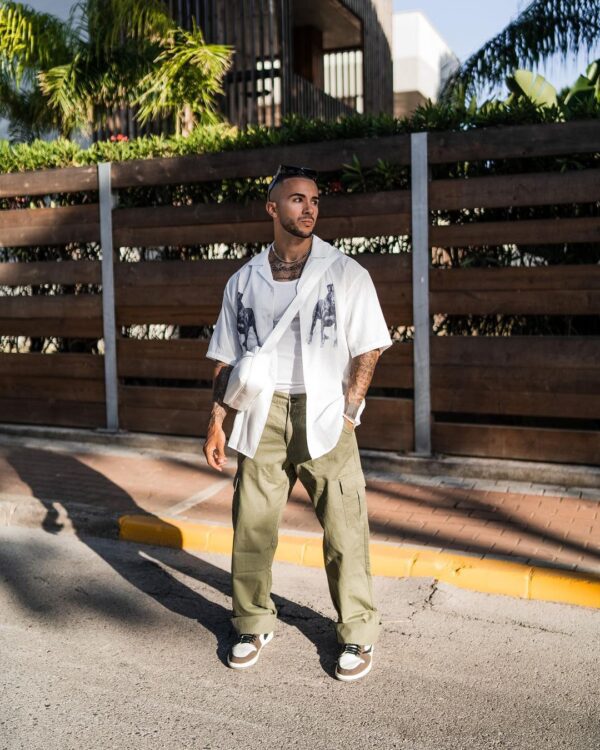 outfit example 26:
A white cross-body bag matched with white shorts creates a stylish summer outfit.
Outfit example 27:
You can use a matching accessory with a cross-body, a white baseball cap, and a white sling bag, for example, looks great, especially with a summer outfit with shorts.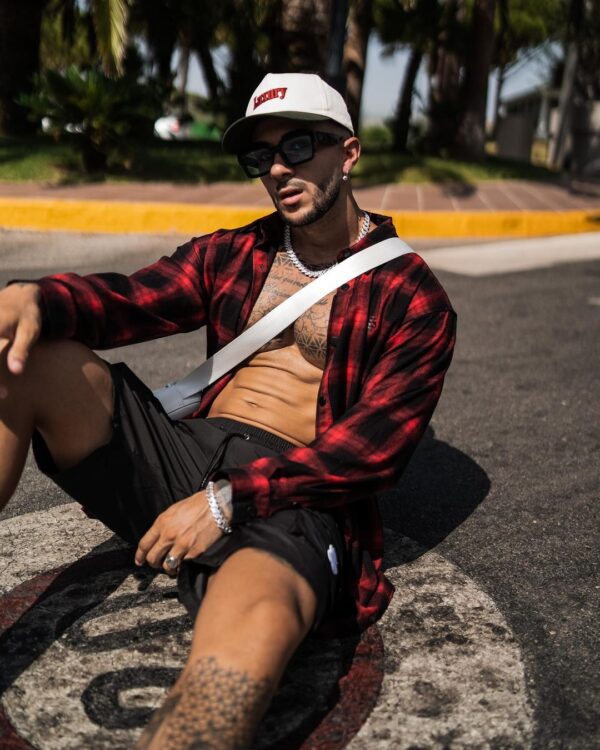 FAQs: 
Can a man wear a cross body bag?
Absolutely yes, a cross-body bag is not just okay for men, it's a style staple for fashionable men. Cross-body bags are as practical and as stylish for men as for women. It is no longer considered a women's only accessory. Its resemblance with women's purses is one reason that may have led some people to think that cross-body bags look feminine on men. In recent years men have embraced this style of a shoulder bag that hangs diagonally down the torso. 
What is the proper length to wear a cross body bag?
When it comes to length it's better to stick to the classic around the waist or around the belt, so that it remains accessible to your hands at all times and it's ergonomic too, a safe and suitable way to keep your valuables in sight and accessible.
Where should a cross body bag sit men?
It can sit anywhere on your torso provided that it remains within your reach and doesn't ruin your outfit. The waist, hips, and chest are the body parts your cross-body should stay close to. This explains why a cross-body bag goes by a host of names like chest bag, belt bag, waist bag, and bum bag to name a few. Wearing a cross-body bag anywhere around your waist with the strap slung over your shoulder is the most popular way it is worn.
Why do people wear cross body bags?
Men wear cross-body bags for a number of reasons. Carrying your stuff like cash, keys, cards, etc when running errands or exploring your favorite destinations while walking through the busy streets is made a lot easier and safer by the humble cross-body bag. Cross-body bags are so easy to use and look stylish too. By adding an extra layer to your getup, it's become a fashion accessory for men, some even call it a fashionista's staple. With all your important stuff in one compact pack so close to your body, you are all set to roam around your favorite destination with the peace of mind you want.