How to dress up a hoodie for work?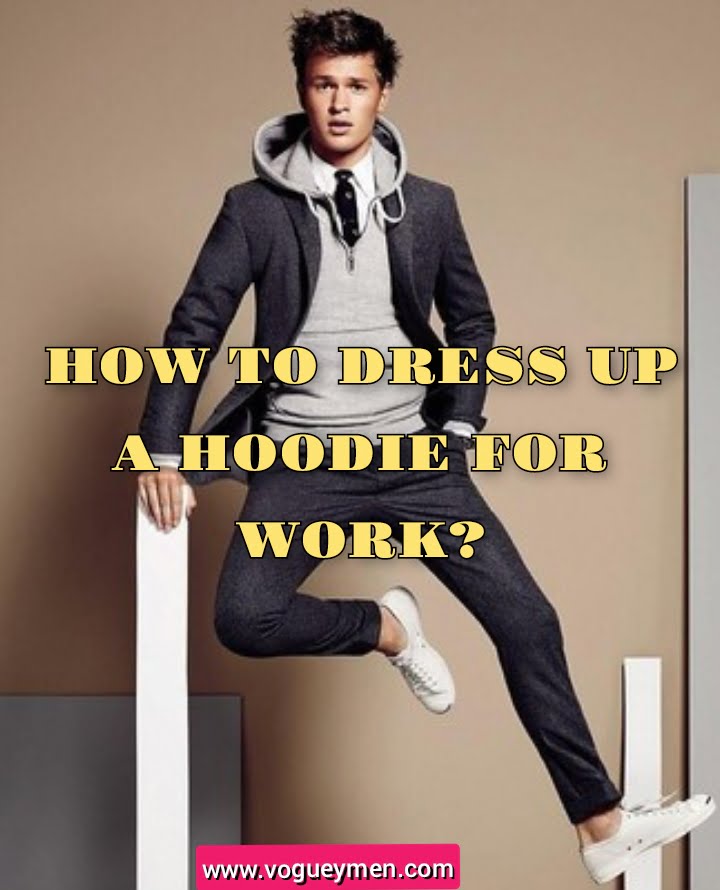 A hoodie might be the last option that comes to your mind when thinking about getting ready and dressing yourself up for your office. This casual hooded sweatshirt is associated with sporty style and streetwear and working out outfits but formal office wear. It's a hard nut to crack for most of us to use it with our office attire, and quite understandably so. This hooded shirt was deemed to be strictly casual by most men just a few years back, but now many men are wearing it with dressier pieces like dress shirts, suits, and blazers. This humble hooded sweater has become so popular and ubiquitous over the years, after all those controversies and stereotypes associated with it. And due to this increasing popularity, some guys are willing to wear it to the office. If you are one of those guys, who revere this hooded sweatshirt as a symbol of dignity and defiance and you feel connected, safe, and cocooned in it, then the idea of wearing it to the office and work must have crossed your mind at some point. You might have thought about elevating and dressing up your usual hoodie outfit. In this article we'll be looking into this matter, hoodies as a safe and sensible office wear choice, if your workplace allows you to dress in a smart casual way. 
Is the hoodie formal or informal?
A hoodie has never been exclusively an item of formal wear, it's seldom used in this way. It's worn mostly by men with sporty and casual outfits, working out attire, and lounging around on off-duty days. During the post-pandemic years, some men began to wear it to the office. It's very rare though, a hoodie is still trying to carve out a place in the men's formal wear department. But you can dress your hoodie up to create some smart casual outfits you can wear with confidence to your office and look professional in them.
5 ways to dress up your hoodie:
1. Use your hoodie with a suit: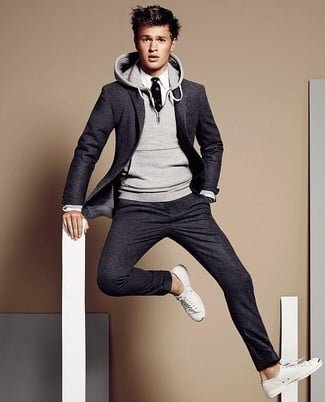 This way you can easily dress up your hoodie to create a smart casual outfit. You only need to swap the dress shirt/t-shirt with a hoodie, preferably in solid and muted hues for a laid back smart-casual ensemble. Keeping the hoodie and the shoes monochromatic will just be the right fashion move to keep this look put together. And when layering it over a button-down shirt add a necktie if you like to smarten up things a bit more.
2. Layer it over a button-up with a necktie and team up with dress pants:
To dress up your favorite hoodie, the one you feel most comfortable putting on, you just need to layer it over a button-up dress shirt with or without a necktie. Bring in the dress pants to complete a smart yet laid-back look for the office. A zip-up or a buttoned hoodie will work best in this situation as compared to the pullover one.
3. Layer it under a suit jacket: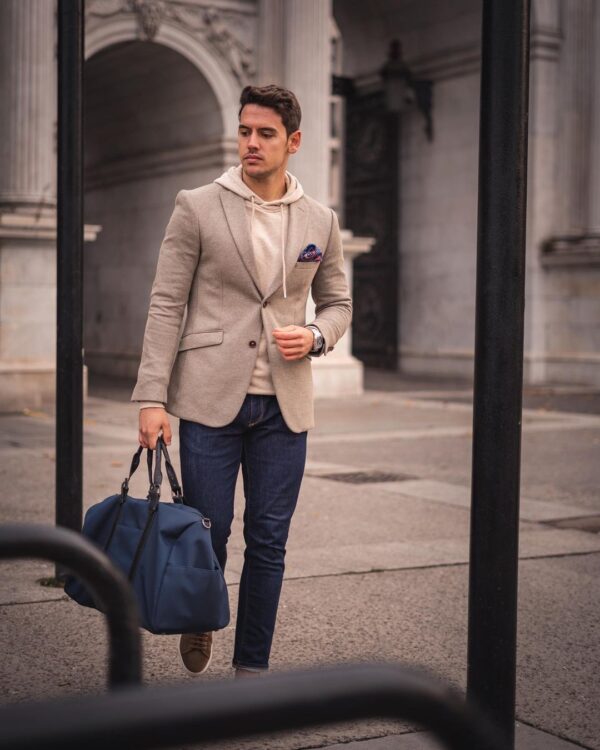 Using the hoodie with suit separates is another idea to dress up your hoodie. Layer your hoodie under any suit jacket and team up with slacks to create that somewhat formal office getup with a hoodie. The trick here, that'll transform this outfit into a winning combination, is keeping the hoodie and the jacket in different hues of the same color. Alternatively, you can use the bottoms in hues matching the hoodie, letting your tailored suit jacket stand out, this will render your ensemble a touch of structure and sophistication. A gray hoodie with charcoal pants and a navy blazer up top is an example of how you play with colors to create a combo that works.
4. Use it with a button-down, necktie black topcoat, and regular jeans: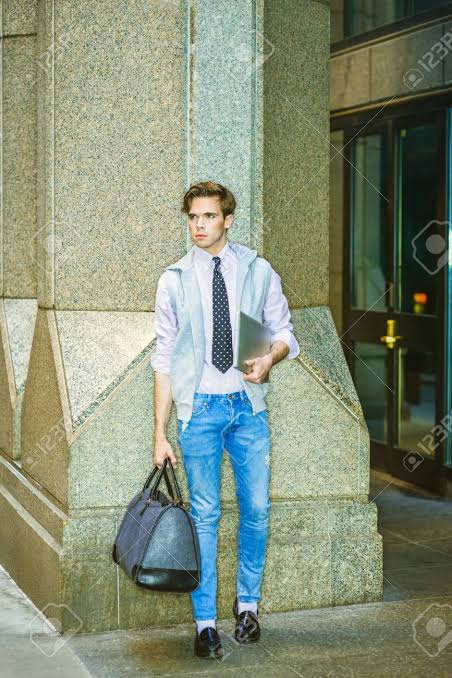 This combo is another way you can dress up your hoodie, and it's suitable for days when the weather commands you to use layers to stay put at your workplace. Again a zippered hoodie would look way better in this role, it will allow the necktie to be visible and amp up the formal effect of the ensemble.
5. Prefer a zip-up or button-up hoodie over the pullover for office settings:
There are many types of men's hoodies but it's way easier to dress up a zippered hoodie than a pullover one, we'll recommend investing in one. The same is true for a buttoned hoodie. This doesn't mean you can't dress up a pullover hoodie, it's possible but it won't look as formal as its zippered or buttoned counterparts. It's better to use a pullover hoodie with a suit to look professional exuding smart casual vibes.
FAQs: 
Is it acceptable to wear a hoodie to work?
It depends on your office culture. If your office permits you to dress in a smart casual way, then you will surely be able to rock your favorite hoodie for your work. But it's important to dress up your hoodie a bit, by comboing it with formal pants and dress shirts. Think of introducing a formal blazer or a necktie to the equation to smarten up the outfit.
Can I wear a hoodie as business casual?
You can wear a dressed-up version of a hoodie as a business casual option. Make sure that you wear a hoodie in solid and muted hues with tailored pieces which can be a suit, or suit separates. For a business casual look, layer your hoodie with a dress shirt and pair them with a crisp pair of formal pants.
Can you wear a hoodie with a blazer?
Absolutely yes, you can layer a blazer over a hoodie to create a smart casual look. The blazer can be a suit jacket or a casual unstructured blazer, you can form some stylish combinations. A blazer over a hoodie look is a good way to dress up your hoodie.
Can you wear hoodies with formal pants?
Absolutely, you can team up your hoodie with a pair of formal pants to create a laid-back casual look. You dress up your hoodie by pairing it with formal dress pants. This combo will work both ways, in strictly formal settings as well as informal ways.