15 Different types of hoodies for men.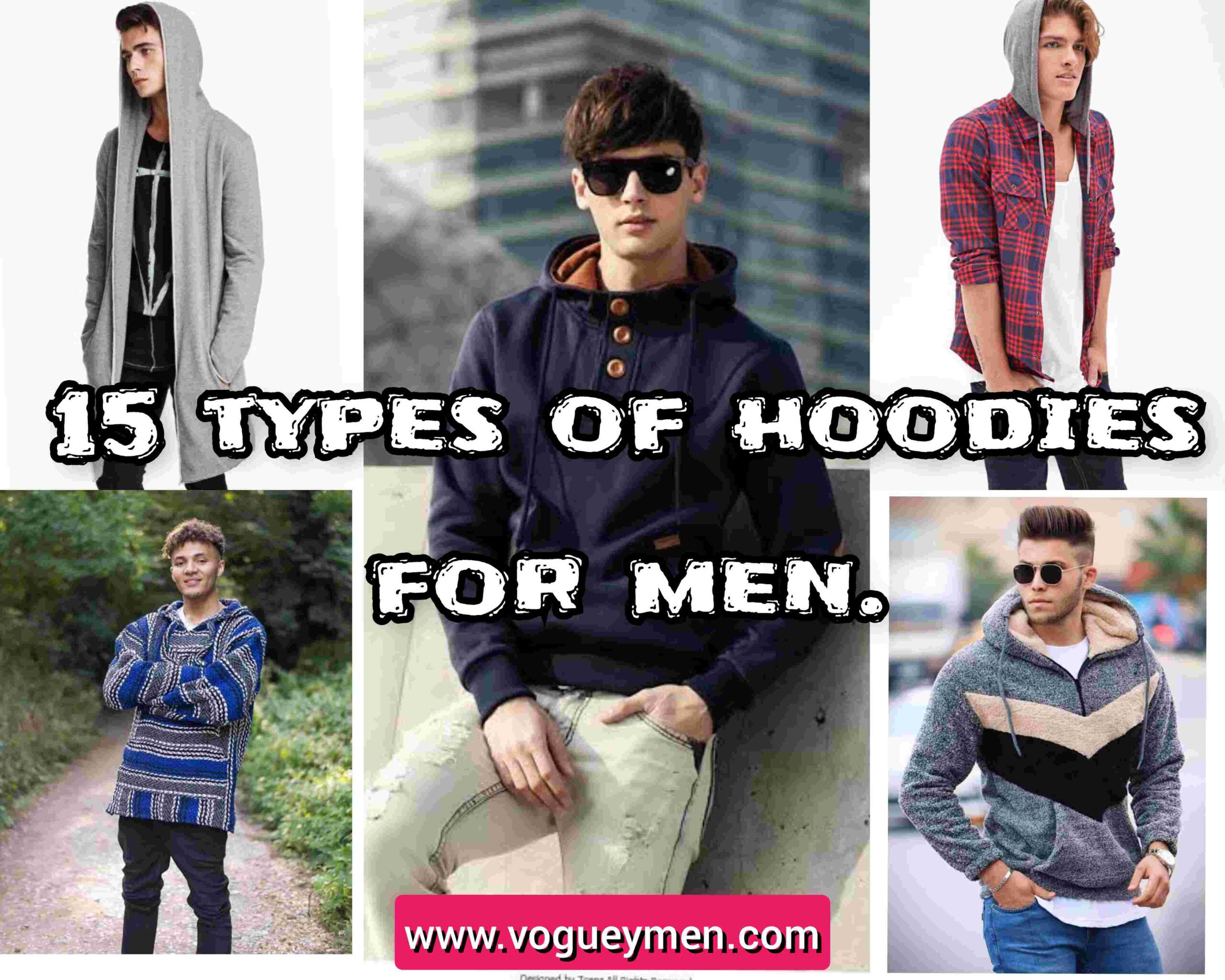 A hoodie can spice up any casual outfit in so many ways. This preppy top can be found in multiple styles, and if you are here to find out more about different types of hoodies, you are at the right place. As a hoodie aficionado you already know that all hoodies are great, they are like hugs that keep you warm and cozy. Before diving into our list of 15 types of hoodies, let's clear up the confusion first!
What actually is a hoodie?
Any sweatshirt with a hood is a hoodie, at least for the purpose of this article! But what about a leather jacket with a detachable hood? Or a long woolen coat, a parka, or a puffer with a hood? Well, we don't classify them as hoodies and this won't be showing up in this list of 13 different types of hoodies. A hoodie is simply a sweater/sweatshirt with a hood up top, and that's it. So, we have made it clear already, a "sweatshirt" with a hood is called a hoodie. So any knitted top with a hood, detachable or otherwise will be treated as a hoodie. Now it's time to dig a bit deeper into our definitive list of 14 different types of men's hoodies.
1. Pullover hoodie: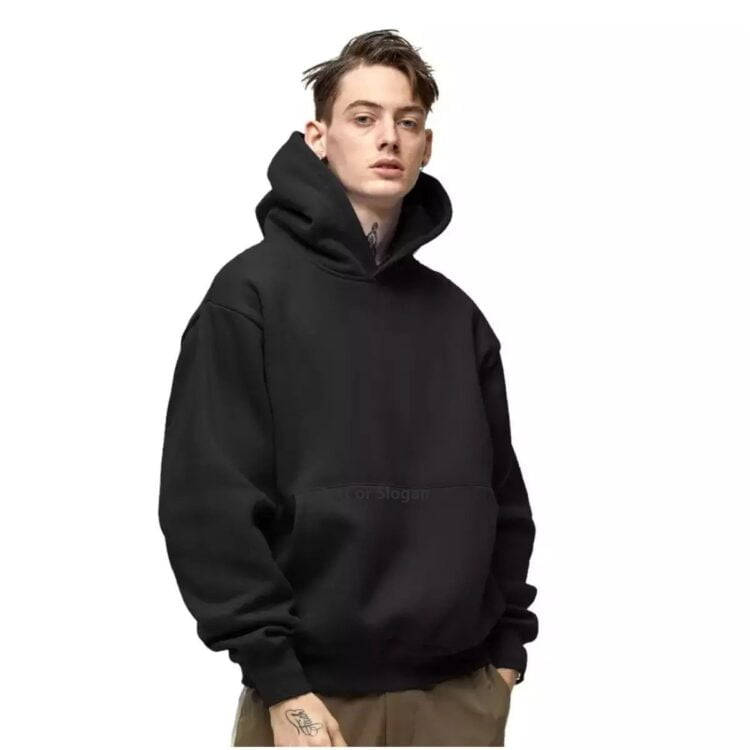 We'll start off with the commonest type of hoodie, the most ubiquitous and popular, the pullover hoodie. It's a type of hoodie that doesn't have a zip front or a button front. You just have to pull it over your head to rock it. It's the unisex, casual, hassle-free, easy-going top you can rock on any off-duty day. A pullover hoodie can be close fitting or baggy, in solid colors or color blocks, prints, or logos, it's one of the most popular casual tops for both men and women for the utility and stylishness it offers. This type of hoodie usually features a couple of pockets at the waist like any ordinary jacket. 
2. Zip-up hoodie: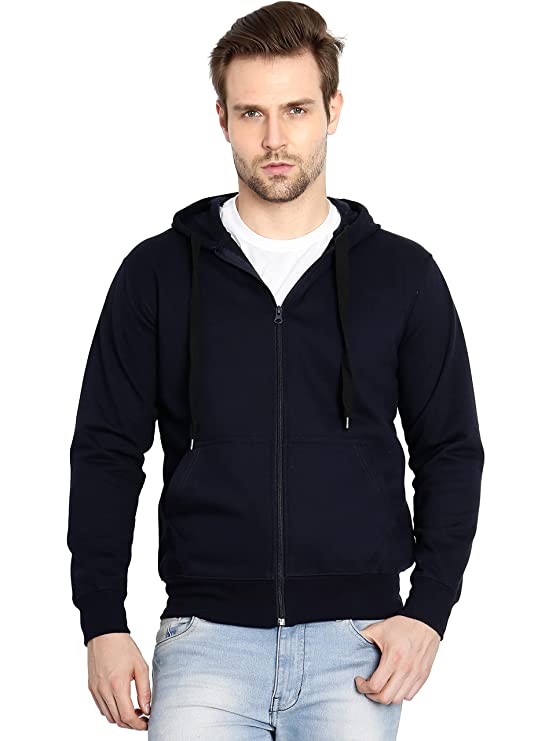 In contrast to a pullover hoodie, this style of hooded sweatshirt features a zipper front and is the comfiest sweatshirt you can wear on a cool day. A Zip-up hoodie is a clear winner when it comes to ease of use. When you are in no mood to disturb your hairdo while getting ready for a workout, you would thank this zip-up hoodie and will surely be happier with it than the pullover one. From the style point of view too, this zipper hoodie won't disappoint you, just choose the right material and color to go with your casual outfits.
3. Button-front hoodie:
This type of hoodie features a button front, just like the cardigan. This classic version of the hooded sweater vest may feature a line of buttons all the way down the sweater front or just the upper part of the shirt front (like the classic polo shirt). Button-front hoodies are usually more embellished and sophisticated than the common pullover hoodie. Button material can add additional swag to your casual hoodie style. Because of these extra bells and whistles, a button-front hoodie can be a boon for your casual style.
4. Drawstring hoodie: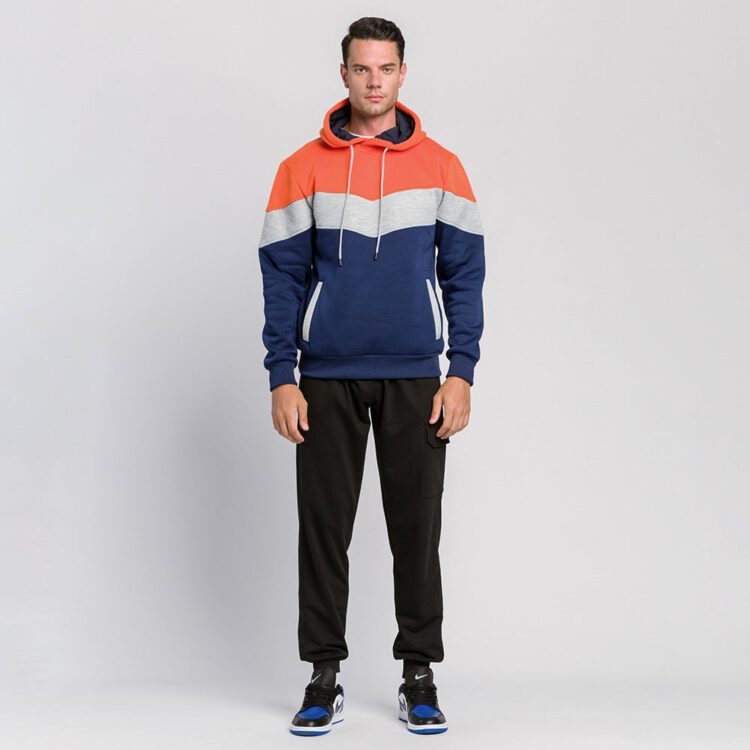 Most hoodies these days showcase a drawstring contouring the hood. It can be a pullover hoodie, zip-up hoodie, or any hoodie under the sun for that matter with a drawstring. The drawstring serves both style and utility purposes, it helps the wearer in keeping the hood in place for a cozy fit on a cold day and this dangling string also enhances the casual cool of the outfit.
5. Flannel shirt hoodie: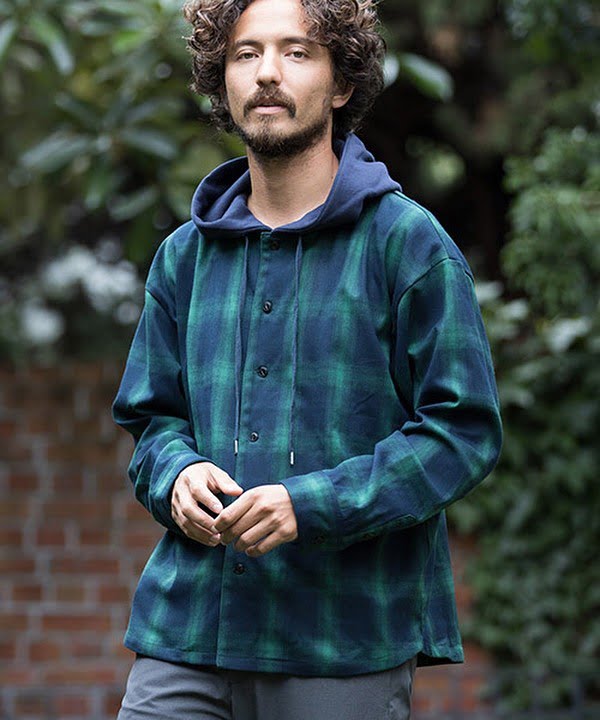 It's simply a flannel shirt with a hoodie, often checkered or plaid, this type of hoodie embodies unassailable street-style cool. A flannel shirt hoodie can be fleece lined for extra warmth making it suitable for wearing on a chilly day. You can wear it all buttoned up or otherwise depending on the situation and weather. The flannel shirt's casual versatility makes it a perfect choice for guys who take their street style seriously.
6. Short sleeve hoodie:
This type of hoodie is basically a tee or possibly a polo shirt with a hoodie. Short sleeve hoodie is often a pullover but it can have a buttoned placket. These hoodies are usually worn with workout attire and are manufactured from stretchable fabric with moisture-wicking quality. You can wear them as a warmer weather substitute for a regular full-sleeve hoodie, you can rock a hooded tee just like a regular tee. When it gets cooler some people layer a sleeveless hoodie over a full-sleeve sweatshirt for a cozy casual top. 
7. Sleeveless hoodie: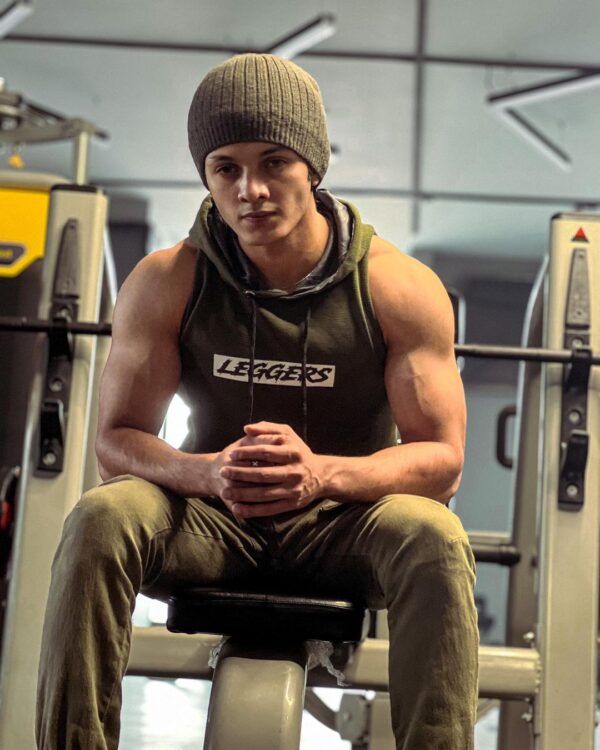 The next on our list is the sleeveless one, you can think of it as a hooded tank top. Again, this kind of hoodie is preferred as a working out or gyming option, but you can wear it as a casual top too, especially as a beachwear or summer resort wear option. These hoodies work best with shorts, joggers, and jeans, they are often close-fitting and like any other sporty top, are made from stretchy and absorbent fabrics for maximizing utility and comfort. 
8. Long hoodie: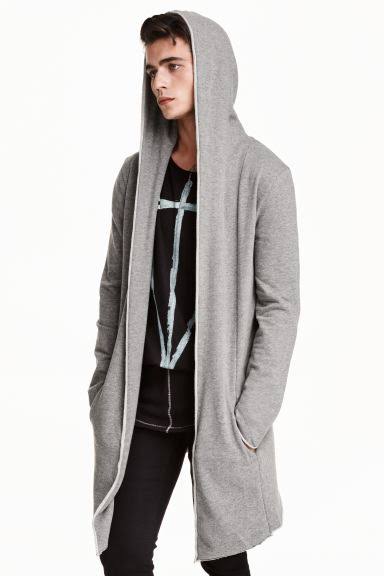 Long hoodies are like topcoats but they never extend beyond knee length. Long hoodies almost always have a button-up or zip-up front. These hoodies are a tad smarter than most other hoodie types, they can be oversized to allow layers to fit comfortably underneath. A long hoodie is a statement piece and it must be worn properly with the right ingredients for perfect impact. 
9. Raglan sleeves hoodie: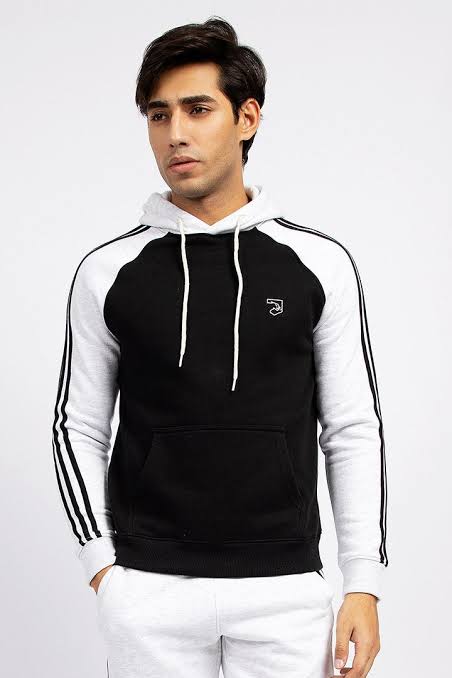 Raglan sleeves tees are one elegant version of a basic tee, and a raglan hoodie is just a raglan tee with a hood. Raglan sleeves hoodie typically features sleeves that branch off not from the shoulders but right from the neck without a shoulder seam. This hoodie can have either long sleeves or short ones. They are more versatile than the plain ones in certain ways.
10. Cowl neck hoodie:
This type of hoodie features a cowl, a kind of loose and wide hood that covers parts of the face, and a draped neckline that loosely hangs at the front. This kind of hoodie is popular among men with a taste for the ancient. Because modern cowl neck hoodies have a lot in common with ancient Roman and Greek cloaks. This kind of hoodie belongs to the more individualistic and retro-inspired style of men's tops.
11. Mantle hoodie: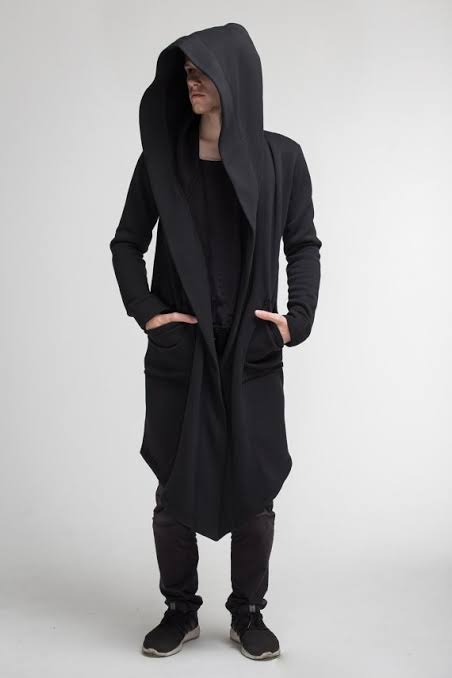 A mantle hoodie is a long hoodie with an oversized hood, and like the ancient mantle which is an open robe or cloak, is open at the front. A mantle hoodie is always open at the front, it can have buttons but they are seldom fastened and it's always worn front open. This hooded mantle is often associated with hip-hop culture and gothic fashion influence. Mantle hoodies use thick woolen fabric or fleece often in darker shades to reinforce the aura of mystique. A mantle hoodie, sometimes called a Ninja hoodie, is often long in length extending down below the knees and is often paired with slim-fit jeans and sturdy boots. 
12. Asymmetric hem/zip hoodie: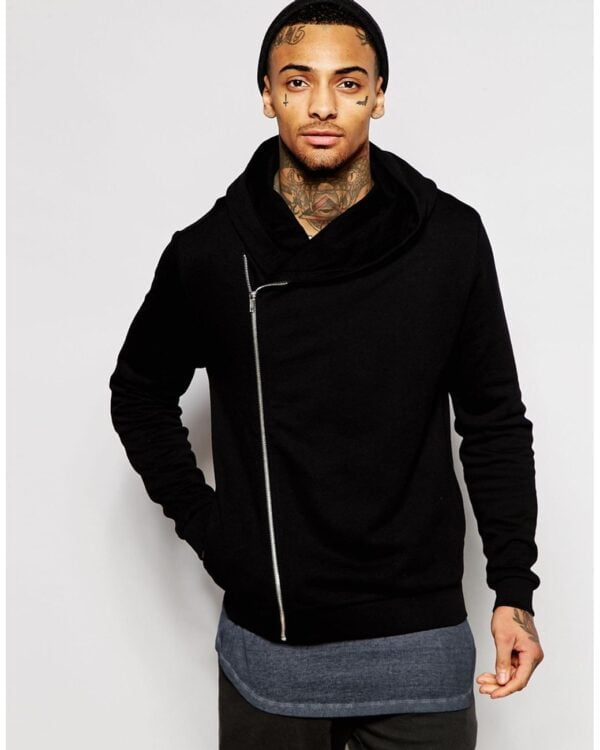 As the name suggests, this type of hoodie boasts a hemline or zipper that's irregular or asymmetric. The zipper is oblique and the hemline can be longer on one side and the hoodie front sometimes features a diagonal zip closure. It's popular among hip-hop fashion enthusiasts and it's often paired with ripped jeans and stylish sweatpants. This type of hoodie is often knee-length and comes in a wide range of asymmetric hemline styles, featuring different styles of hemlines, vents, and cuts. Shorter-length asymmetric hoodies exist but they are rare and often feature oblique zippers, slanting pockets, fancy drawstrings, and other bells and whistles of interest.
13. Baja hoodie:
This unique type of hoodie is of Mexican origins and is distinguished by typical prints and woolen fabric. A Baja hoodie is sometimes called a drugs rug or a Jerga, it features an array of bright, often contrasting stripes, horizontal at the sleeves and both vertical and horizontal at the body. Baja hoodies are almost always unisex and are popular as a festival wear option. Baja hoodies are made from cotton blend fabric, including a percentage of acrylic. A large kangaroo pocket or pouch is present on the front of most Baja hoodies for keeping your hands warm and storing essentials.
14. Mask hoodie:
This version of the hooded sweatshirt features a built-in mask. The purpose of the mask is more stylish than functional, as masks have become somewhat of a fashion accessory during these post-pandemic years. This mask is actually an extension of the tubelike neck cover which can either be zippered or zipless. Mask hoodies are almost always pullovers, the only zip, if there's any, can be found at the mask. 
15. Three-button hoodie:
As the name implies, a three-button hoodie features three front buttons. It's a kind of hybrid between a pullover hoodie and a button-front hoodie. One can think of a three-button hoodie as a hooded polo shirt. Three-button hoodies often have decorative features like elbow patches, fancy buttons, and piping on the hems and edges.
FAQs:
What is a hoodie with a zip called?
It's called a zipper hoodie! A zipper hoodie features a vertical zipper at the front in the middle, as contrasted with the pullover or the buttoned one.  Most hoodies feature a straight vertical zipper but there are some types that have a slanting or asymmetric zipper, usually on the left side. 
What is the proper name for a hoodie?
A hoodie is basically a hooded sweatshirt, the most popular term used both by businesses and people for a hooded sweatshirt is a hoodie. There are some other terms like "kangaroo jacket", "bunny hug" etc used by some people, but the most widely used term is "hoodie".
Is a hoodie better than a jacket?
In some situations, yes. A hoodie is different from a jacket in many ways, you can use a hoodie just like a casual sweater or a light casual jacket. A pullover hoodie is usually cozier and more flexible than a leather biker jacket or a denim jacket when it's of thicker material. You can't use a jacket during workouts and other athletic activities the way you can use a hoodie. For certain activities, a hoodie can fare better than a jacket, and under some conditions, a jacket would be better for being dressier. 
What is a hoodie with a mask called?
A hoodie with a mask is simply called a mask hoodie. Some mask hoodies have zipper closures but most are pullovers. Some businesses market mask hoodies by the name of Ninja hoodies, but this term is used for mask hoodies that are long and have irregular hemlines along with extra embellishments.
Is a hoodie a jacket or a sweatshirt?
A hoodie by definition is a sweatshirt or a shirt(flannel) with an integral hood up top. A jacket (leather jacket, puffer, or parka) with a hood is not a hoodie, you can call it a hooded jacket, a hooded puffer, or whatever but not a hoodie. A hoodie is essentially a knitted sweater of wool, cotton, or any synthetic fabric.