How to wear super skinny jeans, a brief style guide for men.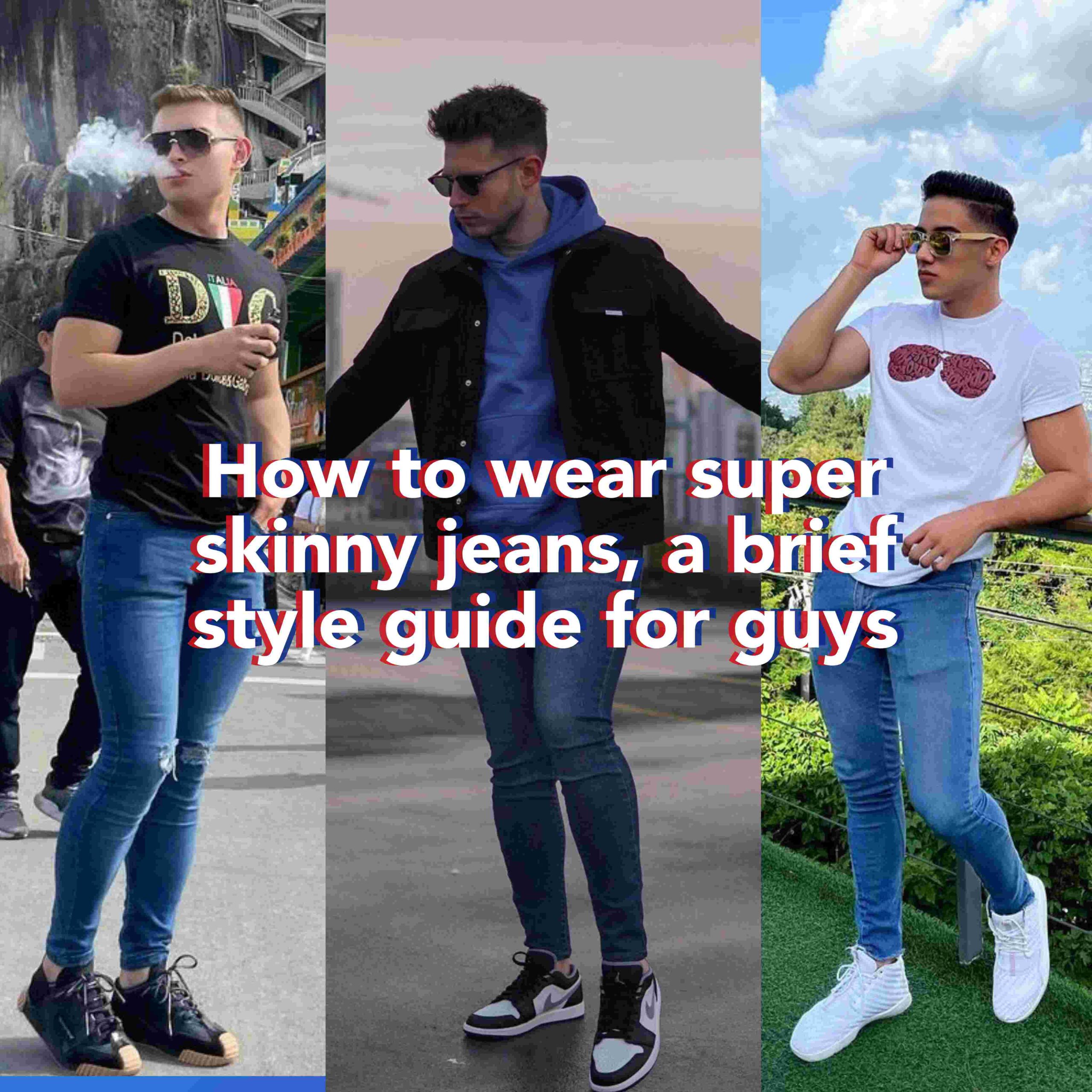 Men's super skinny jeans were a rage only a few years back, but no one talks much about them these days! Does that mean their days are over or the trend is dead? Not at all. While lots of guys continue to wear them, for many people super skinny jeans are challenging and tricky. This extreme and enticing style of denim is still irresistible for the aesthetic and oomph they offer. Some fashion commentators predicted the demise of skinny jeans (this obviously included super-skinny jeans) as far back as 2015, but these prophecies have yet to see the light of day. The trend has lasted for more than a decade, and skinny jeans are almost the norm now. Super-skinny jeans have carved out a spot for themselves in the wardrobes of many fashion-forward and fitness-savvy men. Men's super-skinny jeans are a casual wear option for off-duty days or as a date-outfit option for guys who are not afraid to flaunt their well-toned legs. This brief super skinny jeans style guide is meant for guys like you, who find this style flattering and appreciate the super skinny aesthetic. You can find some super skinny jeans outfit inspiration in another article. Now it's time to get started with this short and sweet style guide on how to look slaying sexy in a pair of men's super skinny jeans.
Article outline: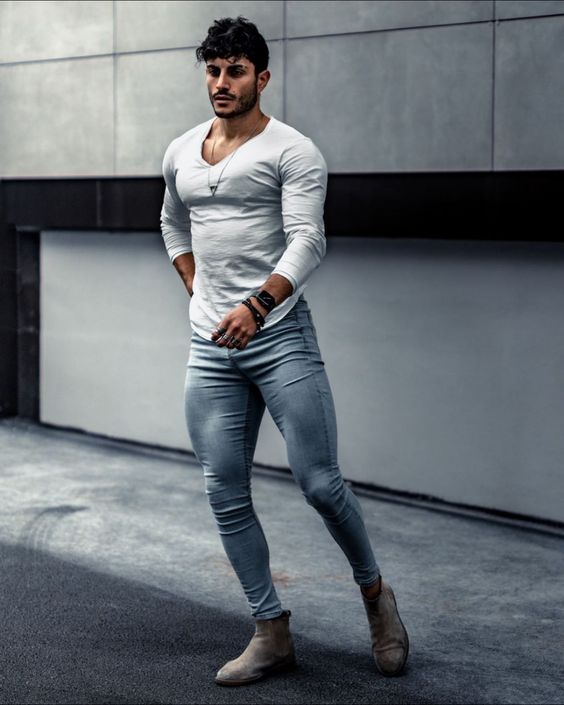 What are super skinny jeans?
Super-skinny jeans are the extreme version of skinny jeans. They are jeans that are more form-fitting or figure-hugging from the ankles to the hips and somewhat resemble leggings. Spray-on or stick-on jeans are other terms used by businesses to market these jeans. The name spray-on suggests that the super-skinny jeans are just like the second skin sprayed on your body. 
4 reasons why so many people still love super skinny:
Harry Styles wearing super skinny jeans.
The One Direction lead singer and style icon of the 2010s Harry styles was one reason why this super-snug version of jeans became such a craze in the 2010s and is still very popular.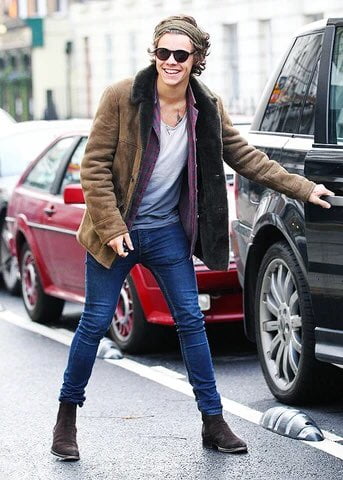 Despite not being the mainstay, the popularity of super-skinny denim has soared over the years not just among women but men as well. Men's relationship with this style ranged from some sort of a guilty pleasure for those who loved them, to a necessary evil for those who hated them. Guys fell for the mystique and allure of super-skinny jeans for a handful of compelling reasons
Super skinny jeans are flattering for being super tight, they let men exhibit their gym-sculpted thighs and "pattable" bums, as such they are aesthetically pleasing and relentlessly sexy.
Super skinny jeans make the wearer look taller and slimmer, which makes them perfect for short guys. A gracefully slim look is what guys are usually after, super skinny jeans offer this coveted svelte look.
They let you draw attention to your footwear, you have to put on your best boots with them to look truly dapper.
Super-skinny jeans are super comfortable for being stretchable and soft. No matter how tight they are they can be worn with amazing ease.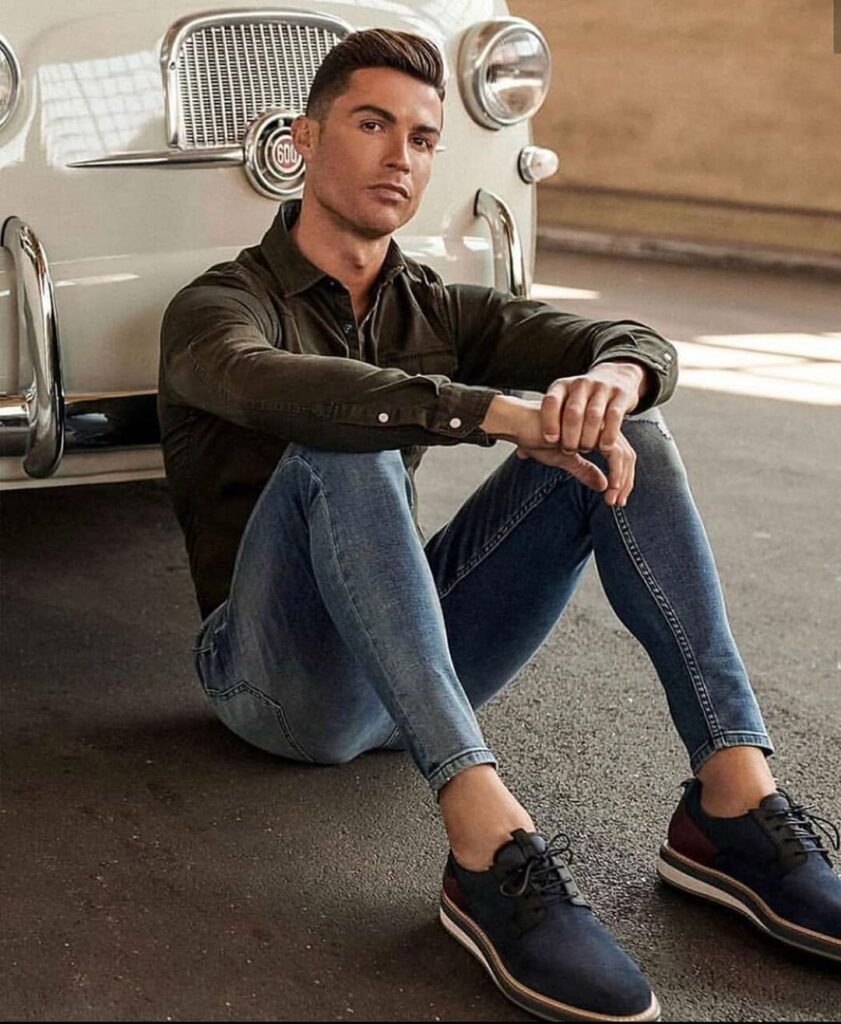 How to wear my super skinny jeans?
Fit:
The most important measurements are length and waist when it comes to the fit of super skinny jeans. The hem of your super skinny jeans should never cover your ankles, cuffing up or pin rolling is not an option when you are wearing these jeans. If your pair of jeans are longer than normal and you wear them uncuffed there will be creases and wrinkles at the hem that don't look attractive. 
When to wear super skinny jeans:
These jeans are meant to be a part of your casual attire. You can pull them off for your off-duty days, for concerts and parties, and for a date night where it is important to show off your "credentials". 
Making them look better on you:
Wear with confidence, and put on your best shoes that complement other ingredients of your outfit. Accessories are always welcome if you are looking to ginger up your look. Tees and tanks are the best match for your summer look, it's always a good idea to use a basic white or black tee and match it with your sneakers for a minimalist on-trend look. Voluminous puffer jackets and chunky turtlenecks are an option for you in winter/fall for a bolder look that showcases your legs even more.
4 tips for you to look great in your super-snug super skinny jeans.
Choose your men's super skinny jeans in shades that mix well with other wardrobe items you intend to use with them. It's always better to use contrasting jackets or sweatshirts with super-skinny denim to draw maximum attention to your jeans.
Wear your super skinny jeans with your best pair of ankle boots or sneakers. Chelsea boots, cowboy boots, or combat boots are the footwear choices that always work. High-top Converse sneakers are another choice that can blend well with an outfit having super skinny jeans at the center stage. Loafers and espadrilles are a good choice for the warm sunny season, go sockless with them or use no-show socks for a trendy statement. These heavier boots balance out the overly slim look.
Leather biker jackets can be considered without a second thought for a swanky streetwear statement. Long coats with men's super skinny jeans are an iteration worth trying in winter for a suave and refined look. 
Summer is an ideal time to introduce a twist in your style of super skinny jeans, prefer the ripped and distressed ones for a breezy feel. T-shirts and sweatshirts will go amazingly well with them. For a bolder and younger style, introduce a crop top into the equation for a bolder look.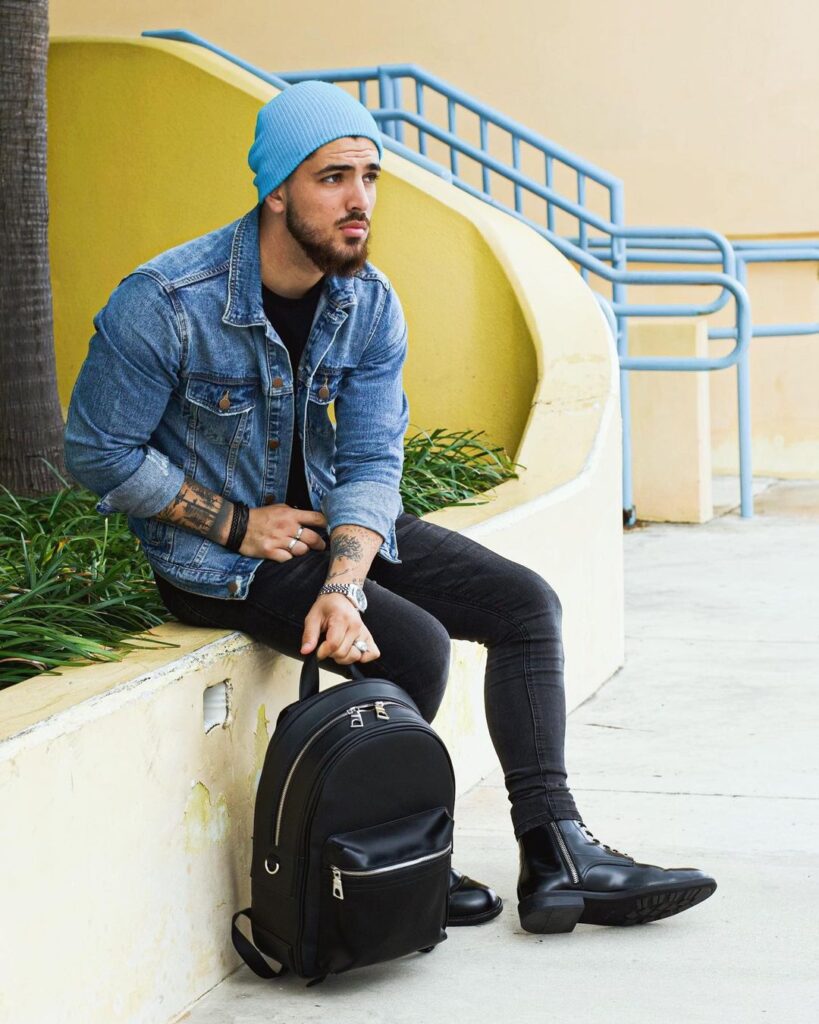 5 best Super Skinny Jeans Brands:
Legend London
Hollister co. 
H&M
Asos
Cult of individuality. 
FAQs: 
Should I wear super-skinny jeans?
It all depends on your body type and the level of confidence you have in it. If you are not one of those guys who are way too skinny or way too bulky then super-skinny jeans are perfectly okay for you to put on for a day out. If you are too skinny then better avoid wearing them, go for slim-fit/bootcut jeans instead. Super skinny jeans are great for men who have strong gym-sculpted legs, they let these lucky guys show off the fruit of their labor in the gym. That doesn't mean that you have to have a flawless athletic build to wear these super-skinnies, they can look good on an average body type with a little effort in the styling and combo-ing department. 
Do super skinny jeans look good on guys?
The simple answer should be yes, but it depends. But if you can pull them off with confidence, the answer is definitely yes. If the thickness of your thighs worries and you are a bit figure-conscious then it's better to work on your body and gain some confidence first, until then you should be thinking about these super-snug jeans. Super-skinny jeans look great on guys who are in good body shape, not necessarily athletic and are ready for some experimenting with their casual style.
Do super skinny jeans restrict movement?
No, skinny jeans are made of a very stretchy type of denim, which makes them very stretchable and easy to wear. These super skinny jeans are manufactured by making use of elastane or spandex. This material makes these jeans very stretchy and flexible and they are also known as stretch jeans.
What is the difference between skinny jeans and super skinny jeans?
The big difference between skinny jeans and super-skinny jeans is the way they fit on your body. Skinny jeans are skin-tight down the knees while remaining somewhat roomier at the thighs and hips. Super-skinny jeans on the other hand are unforgivingly tight from hips all the way down to your ankles. They are tight on every inch of your legs and bum, as such, they are suitable as casual streetwear. Super-skinny jeans have more elastane in the fabric, as such, they are more stretchy and flexible. 
Why do some people hate skinny jeans?
There are people with varying tastes and choices and it is perfectly natural. The people who criticize this style of skin-tight denim wrongly accuse the style to be uncomfortable, when the opposite is true. There are some men who deem this super-skinny denim to be overly feminine and unmanly, they sometimes associate this style with queer culture. Even though there is nothing wrong with having a non-straight sexual orientation, as a matter of fact, most guys who prefer this style are confident straight guys with athletic physiques.
Do straight men wear super-skinny jeans?  
The super-skinny style of jeans is popular among people across gender identities and sexual orientations, it is considered by some as a unisex item of clothing. Most guys who love these super-snug spray-on jeans are straight guys with lots of confidence and muscles to show off. For women, confident athletic men dressed in super-tight skinnies are more than desperate attention-seekers, they are in fact incredibly irresistible and relentlessly sexy.