How to wear a turtle neck with style? A 7-tip style guide for men.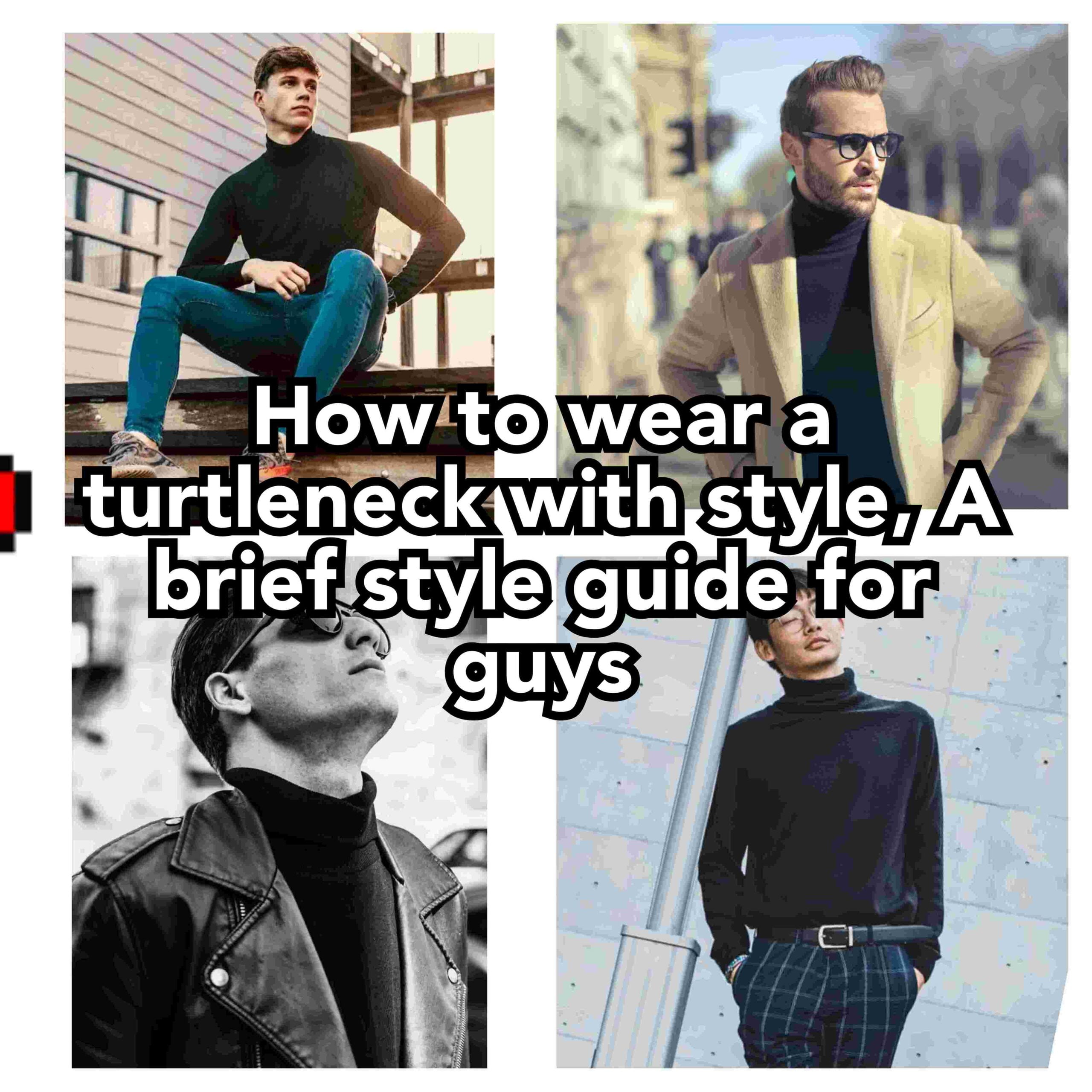 Turtlenecks, these tops having neck covering foldable or standing round collars are an important element in any guy's closet. Like sweatshirts, sweaters/jumpers, and hoodies, a turtleneck is a fall staple, and believe me, if you don't own one you are lacking something important. Turtlenecks are known to make a comeback every fall, every year in men's wardrobes. Turtlenecks are unique in the sense that they belong to those versatile wardrobe items that go equally well both in casual and formal settings. Stylish as they are, turtlenecks are reassuringly functional in warding off the cold in fall and winter. Turtlenecks have secured a special spot in men's wardrobes all these years, and they have gotten more important as ingredients in men's fall and winter outfits. Before going on with the details of how to wear turtlenecks for men let's have a look at the different monikers they use for these neck-enveloping tops.
Kill the confusion!
 Don't confuse varying terms used for this standing-collar (that can be rolled over), neck-covering top that can be jumpers or sweatshirts. High-neck, turtle-neck, skivvy, roll-neck, mock neck, and polo-neck are some of the monikers these tops are known by. In the US turtleneck is the preferred term, in the UK and South Africa they go by the name roll-neck for obvious reasons, because you can roll up the tube-like collar. In Australia and New Zealand, they call it a skivvy and nobody knows why! In India, this version of a sweatshirt is called a high-neck, and a turtleneck is a term you can use all the time for a shirt with the tube-like foldable collar you use in winter and autumn. A mock neck is a style of turtleneck that has a shorter collar extending only up to your Adam's apple. A turtleneck usually has a long collar that may extend up to the lower jaw.
Lightweight, medium-weight, and heavy or chunky turtleneck:
A turtleneck comes in a variety of styles and types, a can find a type suitable for any season and occasion. There are lightweight versions for summer and spring, and they can possibly have short sleeves. Medium-weight roll-necks are ideal for cooler temps, especially as a layering piece under blazers and denim jackets. The chunkier versions are for winters and autumn, you can wear a heavy woolen turtle neck as a stand-alone top with jeans or chinos on a cool autumn day, or you can throw on a topcoat or a puffy on a chilly winter day.
A little bit of the history of turtlenecks:  
It all started as a comfort shirt for medieval knights to be worn under chainmail, it was a necessity due to chaffs and bruises caused by clinking metal on the neck. Nobility adopted the turtleneck as a fashion statement and a status symbol during the Elizabethan era in England. Later on, after the industrial revolution, the working class adopted these roll-necks for their practicality during colder months. During the later decades of the 19th century, turtlenecks were used by ice Polo players in the United States and the UK, and they came to be known as polo-neck shirts.
Turtlenecks attained widespread popularity during the twentieth century. Roll-necks were used as a handy alternative to traditional dress shirts with neckties as formal wear, and they were enormously popular during the mid-twentieth century. Intellectuals like Carl Sagan and Michel Foucault wore these turtlenecks routinely during their time; celebrities and politicians were equally comfortable in them even in formal settings.  Recently turtlenecks have seen a resurgence in their popularity and they are now a staple in men's both casual and formal collections.
Carl Sagan wearing a turtleneck layered under a camel blazer, and Michel Foucault wearing a turtleneck under a leather jacket.
Now it's time to move on to our brief but not boring 7-tip style guide for you to throw on a turtleneck in style.
7 tips for guys who care:
1. Choose the correct type for the correct season:
You can't go around wearing a chunky cable knit turtleneck in summer, and you can't expect to ward off cold while clad in your favorite white cotton turtleneck. You can't feel stylish while feeling uncomfortable. Choose the type of turtleneck that is season-appropriate. Use lightweight mock necks in summer and on warmer spring days, while reserving the chunky roll-necks for your fall outfits. You need to own a variety of turtlenecks that can be used in all seasons.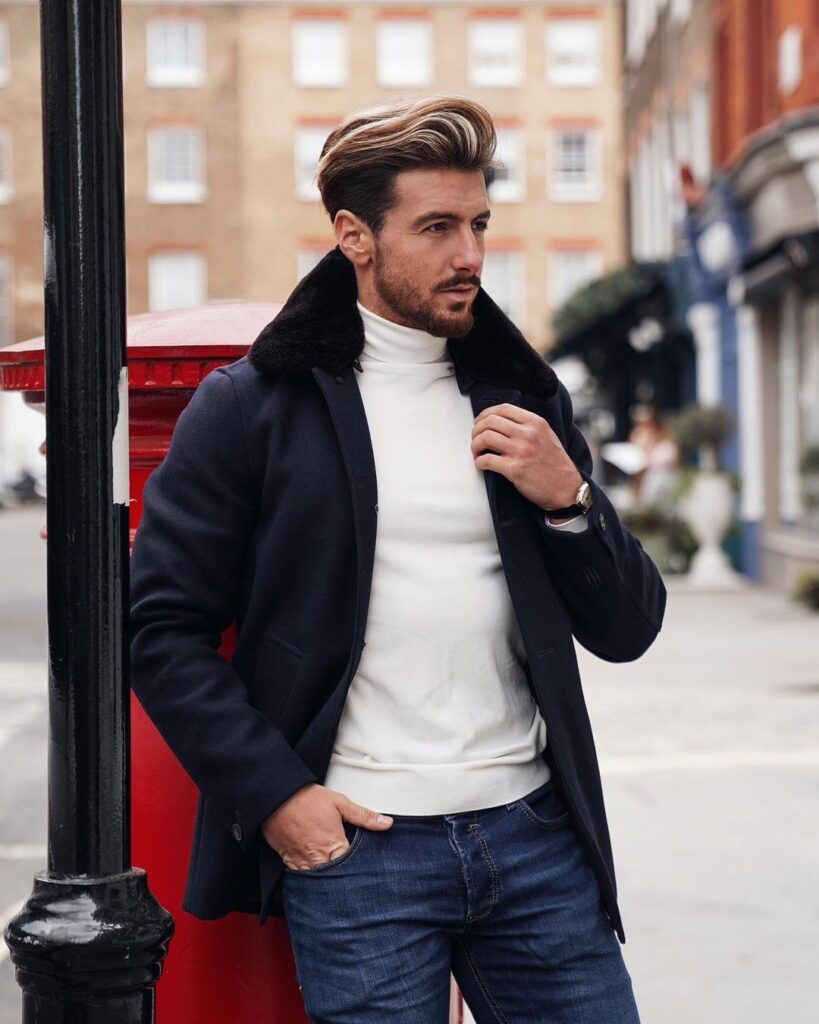 2. Start with the basic colors:
Avoid colors that are too bright if you haven't tried on a turtleneck for a while. Luckily enough when it comes to turtlenecks, plain white and plain black colors work best for all men. Plain black is by far the most versatile. This is not to say that brighter or pastel colors are a no-go area for men, plain colors just work best and are easy to style and match.
3. Choose a lightweight turtleneck in basic colors/ pastel hues for formal wear:
If you are dressing up for a formal occasion, choose the lightweight turtleneck in basic colors over the chunkier and fancier ones. A chunky cable knit roll-neck is a tough nut to crack when styling it with a formal suit.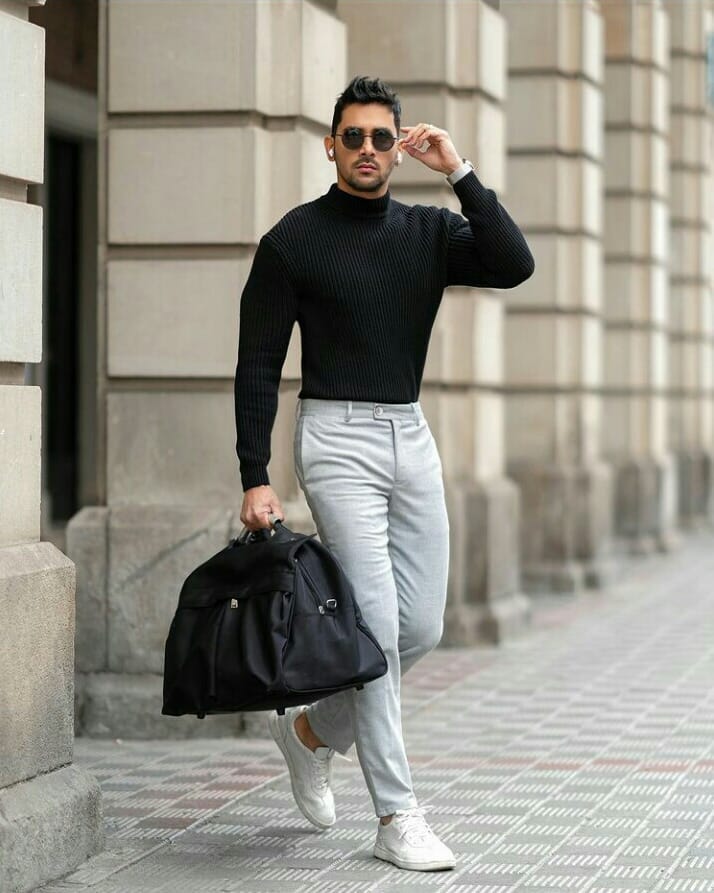 4. Avoid going monochrome while wearing a turtleneck with a suit:
If you love your brand new black mock neck and if you want to throw it on with a formal suit, that's all okay. But wearing a black turtleneck with a black suit will be a mistake. This is simply not a good choice unless you are getting ready to attend a funeral. Wearing a black turtleneck with a grey suit is a great idea, in fact, way better than the monochrome snafu.
5. Don't ignore color-coordinating your turtleneck with the rest of the outfit components:
A black turtleneck under a black biker jacket is snazzy, and there are other even snazzier ways to color-coordinate your turtleneck with other components of the outfit. Let your imagination do the work.
6. Tucking in/not tucking in while wearing a turtleneck on -its-own depends on the type of turtleneck:
Tuck in or not to tuck in my turtleneck? when not wearing anything on top, shouldn't be a sticky situation for anyone. Don't tuck in your roll neck if it's chunky, thick, and loose-fitting. Tuck in if you love wearing more fitting ones and if you love the way they look on you.
7. Chunky Parka coats or puffer jackets are not created to pair well with a turtleneck:
Bomber, wool topcoats, biker jackets, shearling suede jackets, and denim jackets go so well with turtlenecks but puffer jackets? and Parkas? well, not that good a choice. Leave your puffies and parkas for those unsunny days when you just want to give your turtlenecks a break.