6 must-have jackets for guys other than a blazer/suit jacket.
Every guy needs to own a suit jacket or a blazer that's a no-brainer. But what are some other must-have jackets for guys you should own to suffice your needs when temps take a dip? Fall is an exciting time not just for long nights and bonfires, but for the seasonal fashions that give us an opportunity to look stylish. Coats and jackets, guys, are fall essentials,  we just can't do without them during the winter. When fall arrives we have to say goodbye to our cotton tees and tank tops and flannel shirts and the changing weather sends us back to our winter wardrobe searching for warmer tops.
 Coats and jackets are the terms often used interchangeably, both refer to the warmer, chunkier tops we have to throw on to ward off cold. "Coat" is a term used for a garment worn over something that has a length that extends to mid-thighs and down. Jackets are usually waist-length. 
This article is about six types of must-have jackets or coats that will suffice every man's basic fall/ winter needs. Not every one of us can afford to purchase dozens of coats and jackets of varying styles that will cost thousands of dollars. These six coats will fulfill the style needs of any man without breaking the bank of course and without making any big sacrifices in the style department as well. These 6 types of coats will keep your fall style in line with the trends, will keep your fall outfits sufficiently up-to-date, and above all will keep you warm. These 6 jackets and coats in fact define a bare minimum for your fall fashion. 
1. A camel topcoat: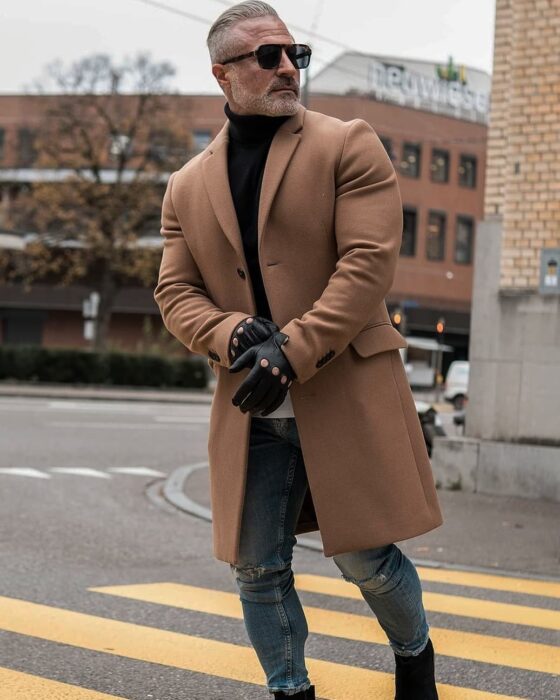 In 2022 your winter wardrobe is incomplete without a topcoat. Topcoats are coats that are long enough to extend up to or beyond your mid-thighs. Long coat and overcoat are two other terms used for them. Every guy must own at least one topcoat, this is a non-negotiable. A camel topcoat is a remarkably versatile and handy addition to your winter wardrobe. Camel topcoat outfits can be used in any situation, formal, informal, and in-between. If you haven't bought one, you better make a decision now. A crisp topcoat can smarten any outfit you try and it can be worn over a turtleneck, sweatshirt, or hoodie. Camel, buff, black, and graphite grey are some of the most loved hues when it comes to men's topcoats. image source
2. A trench coat or a peacoat: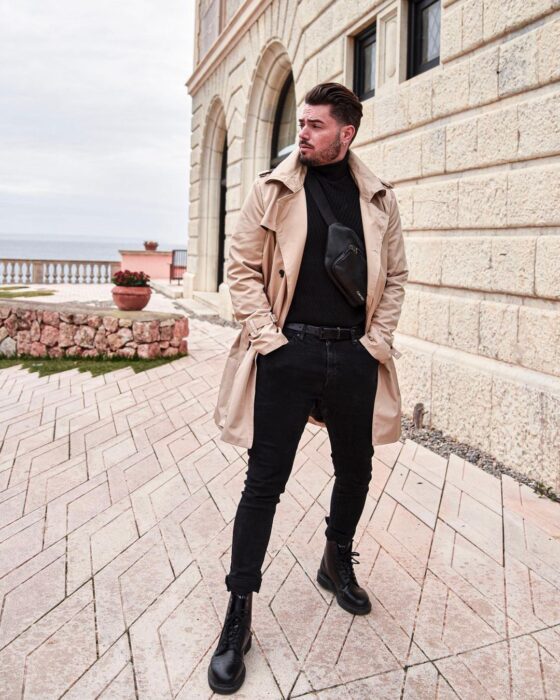 Yes, you are right, a trench coat and a peacoat are not one and the same thing. There is a lot of difference between them, and there is a lot that is similar between them. Trench coats are usually longer and are made of a thinner material, usually gabardine cotton. Peacoats on the other hand are of shorter cut and are almost always made up of wool. A trench coat can't keep you warm the way a peacoat does but both are quite similar in the styling department. By adding some extra layers, you can wear your trench coat exactly the way you wear the peacoat. A trench coat is a staple in men's wardrobes and you can create some stylish trench coat outfits by putting your layering and mixing and matching knowledge to good use. image source
3. A denim jacket: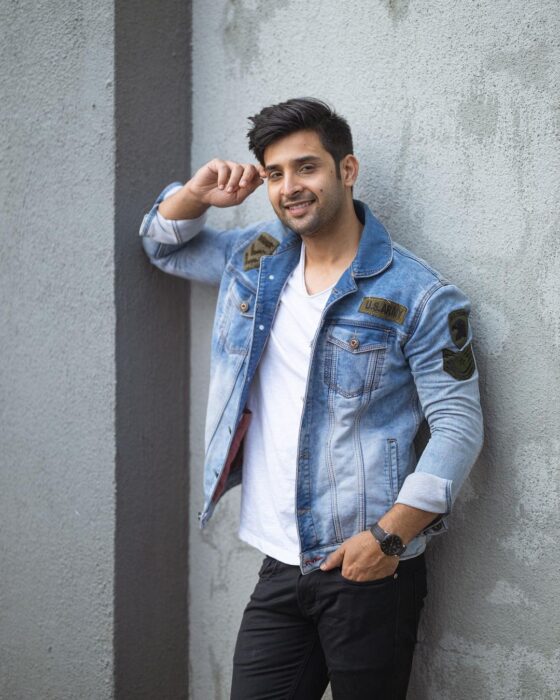 A denim jacket is one of those rare must-have jackets for guys that never go out of style.  Denim jackets are always in and this is the reason why you need one in your wardrobe. Your casual fashion repertoire is incomplete without a jean jacket, a jacket that's in fact your all-weather friend. This jacket came into existence during the 1920s, Levi is credited with the invention of a denim jacket. This type of jacket looks great not only with jeans but with any casual pants. image source
4. A black leather biker jacket: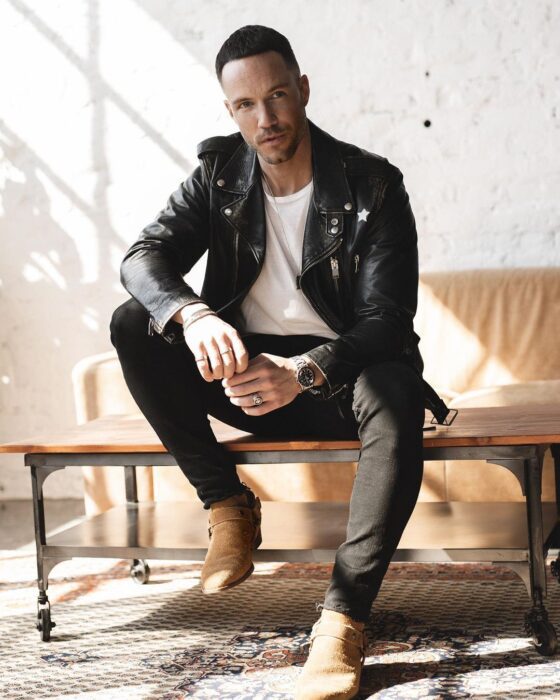 There are days when you just wanna be yourself, You want to look as badass as you really are, or perhaps more, right? A leather biker jacket symbolizes that badassness, that rebellious nonchalance like nothing else. This is the reason why a leather biker jacket occupies a spot in our list of must-have jackets for men. A black leather biker jacket layered over a black sweatshirt paired with black slim-fit jeans like nothing else but this monochrome look is not the only option available. There are a number of ways you can toss on your biker jacket and look amazing.  Image source
4. A quilted coat or a puffy:
These bulky down-filled jackets are a winter staple and they are the next entry on our list of must-have jackets for guys. Nothing beats a puffer jacket in combating cold in winter thanks to the quilted layers and down-filled insulation. The puffer offers you the protection you need in winter in addition to enhancing your style game. Usually coming in darker shades, a puffy can be coupled with any pair of slacks or jeans. A long puffer is an even better choice to ward off the chill.  image source
6. A reversible/ double-sided bomber jacket: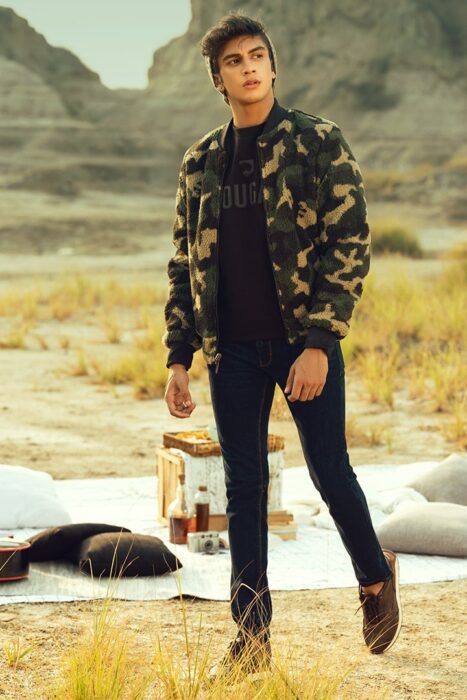 Also called a double-sided bomber jacket, a reversible bomber can be your best investment in winter without any doubt. Nothing beats a reversible bomber jacket when it comes to utility and value for money it offers. You have a two-in-one situation that is rare to find at a reasonable price. A double-sided bomber jacket lets you diversify your look at no additional price, you only need to flip your reversible bomber jacket inside out to get a totally new look.  image source: