How to wear cargo pants? 50 stylish cargo pants outfits for men.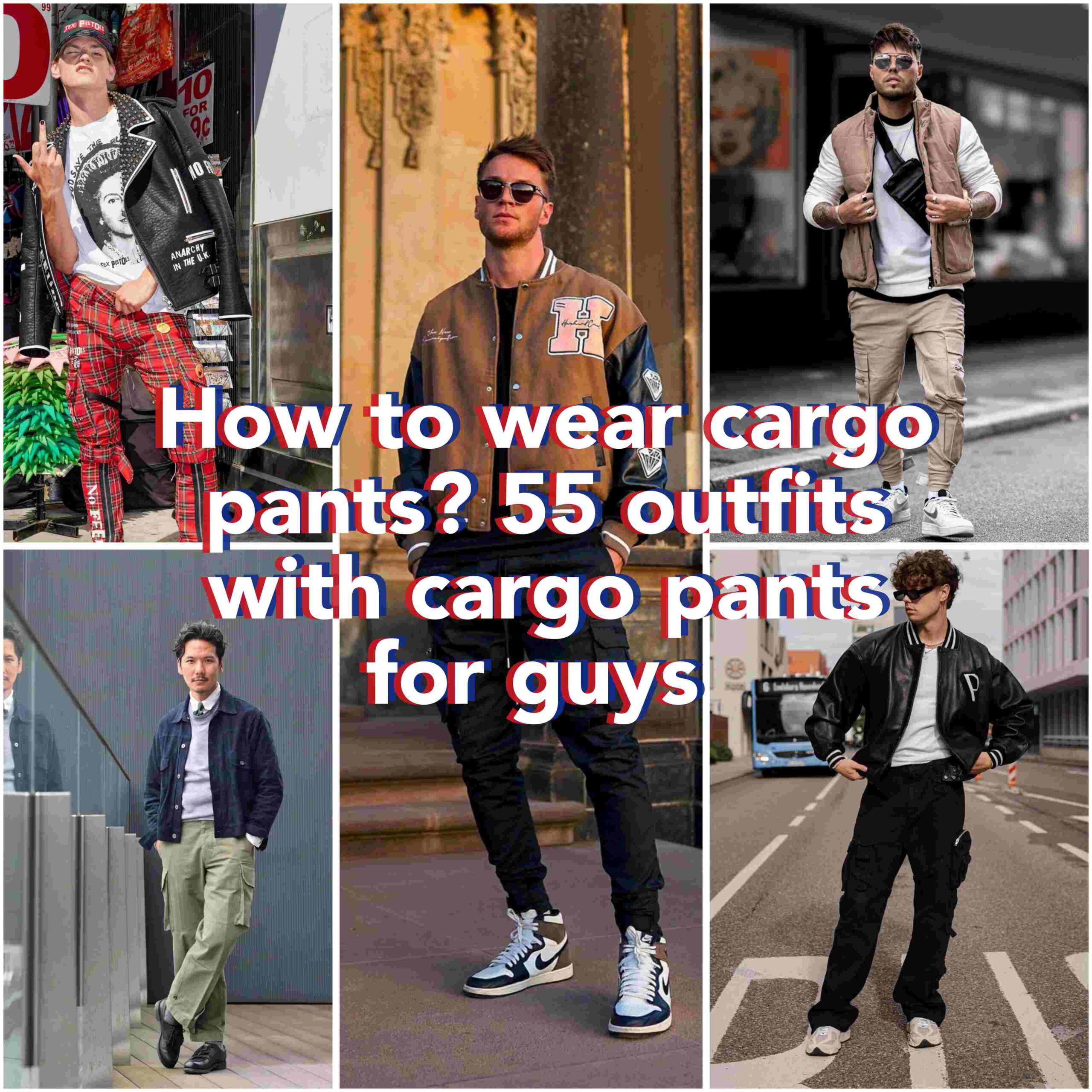 Cargo pants are not just back in style, they are back with a vengeance. Once derided as big, baggy, and bulky, cargo pants have undergone a complete transformation in recent years, and the new cargo pants are not only fitted, slim, and smart, they are dapper and somewhat dressier than in the past. Modern cargo pants outfits tend to be tailored and more silhouette-friendly and are preferred by men with an inclination towards outdoor activities. Regarding utility during an outdoor activity like a hiking trip or camping, there's nothing like a pair of cargo pants with multiple pockets, like patch pockets and inconspicuous zipper pockets. As a streetwear option too, a pair of cargo pants are both practical and cool at the same time.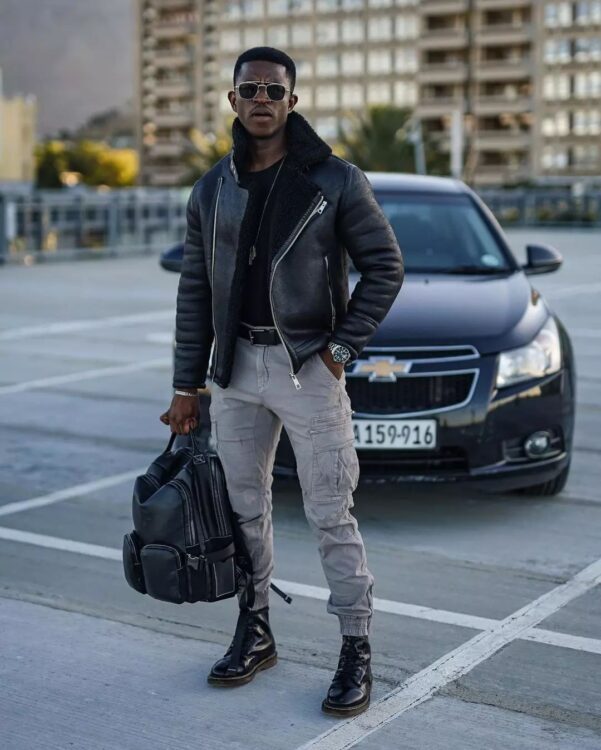 How to style cargo pants:
Fit:
The fit of cargo pants is a very liberal affair with a wide range of options. In 2023, the tailored and tapered fit is the most popular fit and it's the go-to look for most guys. Baggy yet tapered cargo pants are also becoming popular, they look exceptionally stylish when paired with cropped jackets. The length of cargo pants should be the same as your regular formal pants, this means your cargo pants should be bootcut, which makes them slightly longer than slim-fit chinos and jeans. So your cargo pants of proper fit will cover your ankles, but this is not a rule. You can have your cargo pants in shorter lengths like chinos to let your ankles breathe. Stay away from pants that are too baggy or too snug as it will be difficult to style them.  
The fabric (of cargo pants):
Cargo pants are manufactured from almost every fabric. They have a unique style and can be recognized by multiple pockets, both patch pockets, and hidden zippered ones. Cargo pants can be found in every material. Still, you should choose one that is tough and durable so that it can cope with the rough-and-tumble use your cargo pants will be subjected to, as they are primarily for outdoor activities. Additionally, you should look for some amount of stretch in your cargo pants, fabrics with a blend of spandex or elastane are the best in the market in terms of stretchability. Fabrics used in making cargo pants run the gamut from tough canvas to soft wool fabrics. You can opt for cargo jeans or cargo joggers, whatever is your cup of tea! 
Colors:
Choose the color for your cargo pants that you are confident to incorporate into your outfits easily. Neutrals like black, khaki, and grey, as a starting point, are the best options, and cargo pants in these colors are the easiest to style. Camouflage patterns and some soft colors like fawn, buff, beige, and stone are the options to be considered when you are looking for a laid-back look with cargo pants.
Shoes that work well with cargo pants:
Sneakers and trainers, combat boots, and platform boots are the kicks of choice when it comes to styling your cargo pants. Sneakers and trainers in any style can be effortlessly introduced into your chic urban look with cargo pants. For a look with cargo pants that is both stylish and sophisticated try to match the shoes with the pants are keep them in complementary shades. Alternatively, match the shirt or any layered top with the shoes for a well-coordinated casual look. 
What do cargo pants go well with?
Cargo pants can be used across seasons, which makes a long list of wardrobe pieces that go well with these pants. In summer, a tee shirt or a tank top that matches your shoes in color is the best option. A black tee, a pair of black sneakers, and a pair of cargo pants in any color or fabric is one effortless way to rock an outfit with cargo pants. In fall your options are limitless, overshirts, jackets, and coats all work will cargo pants, provided that you keep things coordinated. Think of your favorite camel topcoat with khaki or beige cargo pants, a red or brown biker jacket in leather or suede can also be a choice. A black leather biker layered over a black tee will work with any pair of cargo pants under the sun. When using pair in ultra relaxed and loose fit think about pairing a cropped jacket with them. Varsity jackets, hoodies in neutral hues, and bombers are some of the tops that work well with cargo pants provided that you keep the look well-coordinated. 
Styling a pair of cargo pants as a streetwear option:
These pants are valuable not only for their durability and practicality but also for their stylishness. When it comes to street style, keep things simple and minimal. Use the boots that you feel most comfortable in, and opt for the fit that suits your body type, Slim and tapered cargo pants look good on everybody. Don't go for something too baggy and loose if you cannot pull off the look. 
How to make cargo pants look better on you? 
Like always, pay attention to fit, color coordination, and accessorizing for a more stylish outfit with cargo pants. Stick with neutrals, try matching the cargo pants and shoes, or alternatively match the top layer with the shoes for a dapper look. Go full bad boy mode with your skinny cargo pants by introducing accessories like a pair of sunnies, bandanas, bracelets, finger rings, and necklaces. Introduce a baseball cap or a bucket hat to add extra detail to the outfit, and don't forget the integrate the headgear into your outfit.
50 cargo pants outfits for men.
Outfit#1: Khaki cargo pants outfits.
Now, khaki is one of the most popular colors when it comes to cargo pants. You can wear khaki cargo pants just like ordinary khakis save for the fact that cargo pants are decidedly more functional and practical for outdoor activities. Choosing the fit and style really depends on your own personal preference. Skinny and tapered cargo pants are preferred by guys who are confident about their shapes and don't mind flaunting.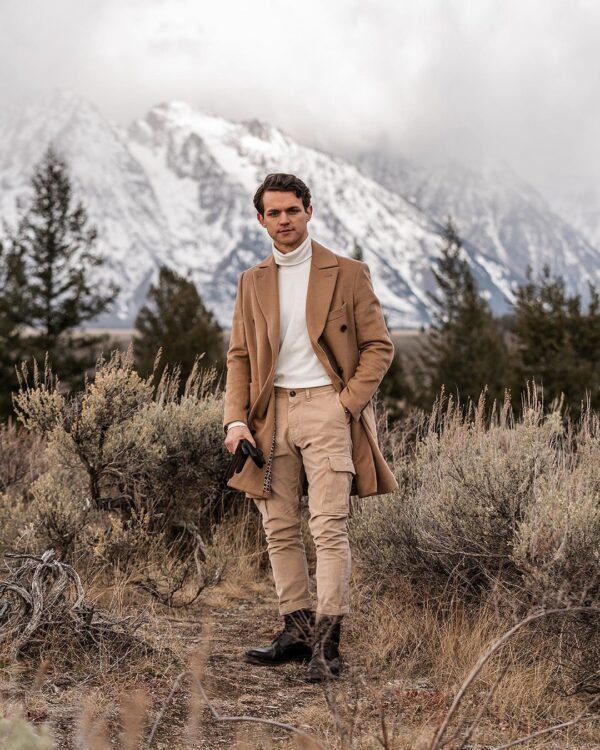 Outfit#2: Black cargo pants outfits for men.
Black cargo pants are uniquely stylish and a very versatile piece of clothing. Black cargo pants are especially preferable during the cooler months of the year.  This doesn't mean you can't use them in slightly warmer months. You can easily combo them with winter and fall staples like leather jackets, topcoats, and turtlenecks. Comboing a black hoodie with black cargo pants is a perfect way to create a casual but edgy all-black look.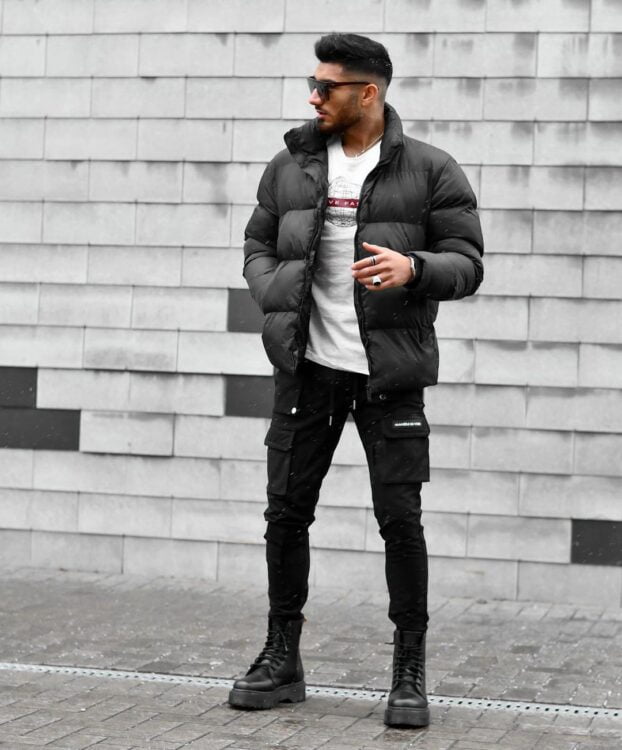 Outfit#4: Grey cargo pants outfits.
Gray is one of the most popular colors when it comes to cargo pants, because of all the scruffy and somber connotations of the color gray. Gray cargo pants can be combined with a variety of tops, and they are suitable to be worn all year round. 
Outfit#5: In pastel hues.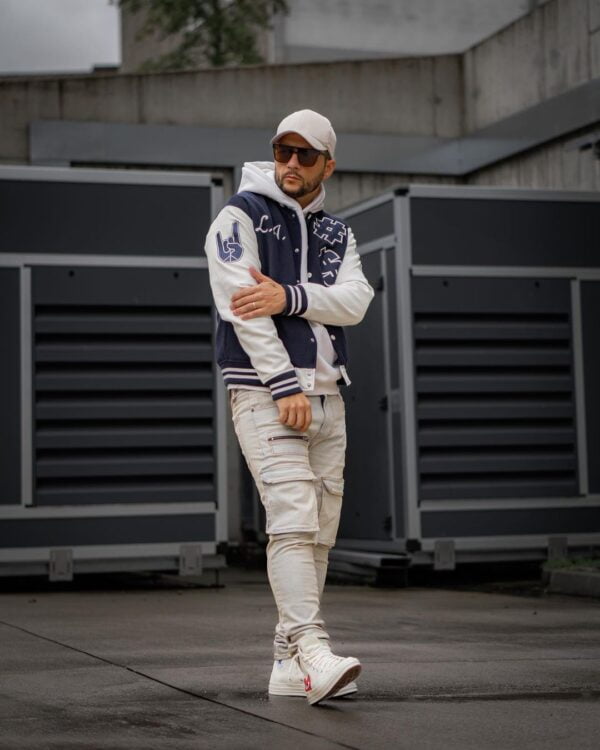 Outfit#7: In earthy tones.
Cargo pants in earthy tones are the most popular for obvious reasons. You are going to use them when outdoors during camping, hiking, and other stuff. These cargo pants outfits in earthy tones will give a hint to style these pants in earthy colors including camouflage. Camo cargo pants double down on the military chic associated with men's outdoor style.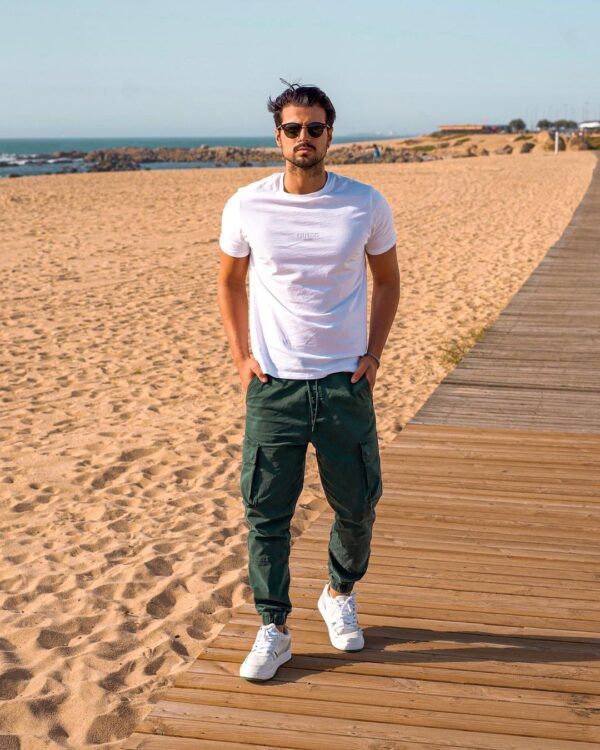 Outfit#8: Baggy cargo pants outfits for men.
Baggy cargo pants are slowly outpacing the skinny fit in popularity. Baggy cargo pants can be stylishly combined with a number of tops and accessories, these outfits will give you a hint to style them in your own unique way.
Outfit#55: Cargo jeans outfit ideas for men.
Cargo jeans are one of the types of jeans, these casual jeans with lots of pockets can be styled to create some fun outdoorsy outfits. You just have to choose the right fit, color, and accessories to style them for different occasions. Here are a few outfits that'll inspire you to wear them like a fashionista.