Styling the gray jeans, 30 gray jeans outfits for men.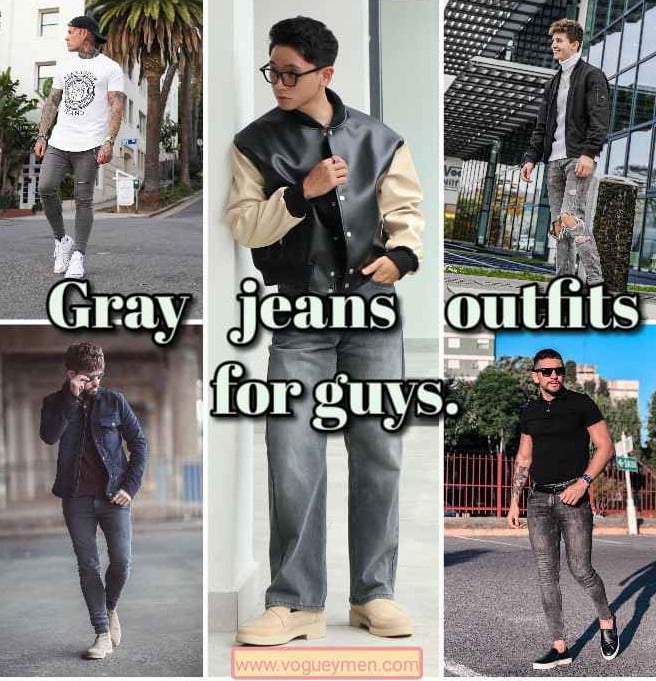 That gray pair of jeans is still lying in an obscure corner of your wardrobe with the price tag on, and you are still wondering whether to give that pair of gray jeans a whirl. Can't decide what to mix and how to match with that grey pair of denim jeans? We have come up with a brief style guide on how to style gray jeans plus an assortment of stylish gray jeans outfits and styling ideas for you. Grey doesn't have to be dull, complicated, and intimidating, the mystique of this enigmatic hue shouldn't be that much of a challenge for you. These gray jeans outfit ideas will help you appreciate the richness and versatility of the color. And next time when getting ready for a Sunday city stroll you won't think twice about donning that gray pair of jeans with the price tag on! 
As usual, we'll have a look at a brief style guide on how to wear gray jeans, before moving on to our collection of outfit ideas. Let's get started
How to style gray jeans:
Gray jeans are not as mainstream as their blue counterparts, but they are equally stylish, especially in a casual street style way. 
Fit and style of gray jeans:
You should opt for the fit that you usually wear, the fit that syncs with your personal style. Avoid the super skinny or baggy versions if you don't usually go for them. A slim-fit, regular-rise pair of gray jeans with slight tapering at the hems is your best bet. When it comes to shades, gray jeans are rich, you can find them in more shades than classic blue jeans. You can pick the ones you like from the darkest charcoal hues to the lightest stone shades. Dark shades of grey can be dressed up a little by adding some layers like blazers or topcoats, light shades on the other hand are more suited for casual use.
Light vs. dark gray jeans:
Grey is rich in shades as described earlier, and choosing between dark and light shades is important. Gray jeans are predominantly reserved for casual wear by men, and the shades you choose depend on the way you style your casual off-duty outfits. If you dress smart casually go for a pair of jeans without any distressing, and darker shades would be better. But this doesn't mean you can't wear light gray jeans to dress smart-casually. It all depends on the way you layer, mix, and match your pieces. –
Choosing the shirts or tops with gray jeans:
Which color shorts/ should you choose as a beginner with gray pants? The simple answer is shirts in basic solid hues. A plain black, light gray, and white top is the list of colors that go well with a pair of gray jeans. A black or white tee looks effortlessly cool with a crisp pair of gray jeans. Using contrast is a good idea with this style of denim, it's better to use a pastel palette with a pair of jeans in charcoal hues. Shirts in darker hues look good with slightly lighter gray pants. Other than the classic t-shirt, you can team a pair of gray jeans with a polo shirt, a casual lined shirt, a denim shirt, or even a tank top, if it's your thing. A fleece hoodie or a sweatshirt in basic colors like white, black, or navy will look effortlessly cool with these jeans.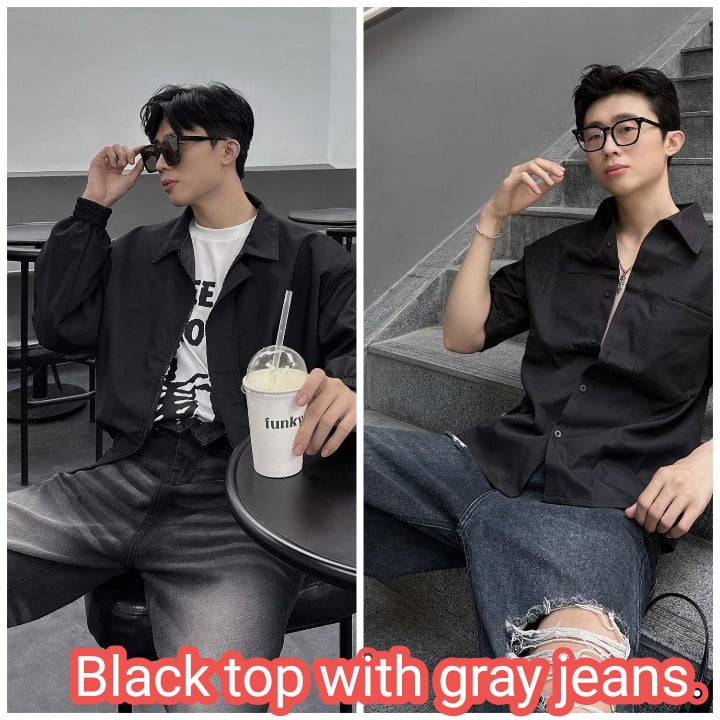 Top color combos: These are the top color combos for the gray jeans aesthetic.
Black shirt (buttondown, tee, or polo shirt) with gray jeans.
White T-shirt, button down or polo with gray jeans 
Light gray top with gray jeans 
Navy shirts with gray jeans.
Footwear choice: Like any casual jeans outfit, gray jeans outfits need to be completed by a nice pair of shoes. For casual outfits, a pair of white sneakers will work best, high-top Converse shoes are a great option too. When trying layered outfits, especially with leather jackets and blazers, leather boots work equally well. A pair of Chelsea boots in black or brown will smarten up the gray jeans, use a leather belt that matches the boots. Dressier shoes like a pair of formal loafers or monks are an option for you when you want a smart casual outfit with gray jeans.
30 gray jeans outfits for guys.
Minimalist gray jeans outfits:
Choose a t-shirt, button-down, turtleneck, or hoodie of your choice, and team it with your gray jeans and a matching pair of shoes for a minimalist look. A white tee/hoodie/ or casual shirt, gray jeans, and a pair of white sneakers together conjure up an effortless gray jeans outfit that works for everyone. Matching the shoes with the shirt you are wearing with these gray jeans is a surefire way to look great in these jeans and rock them when hitting the boulevards.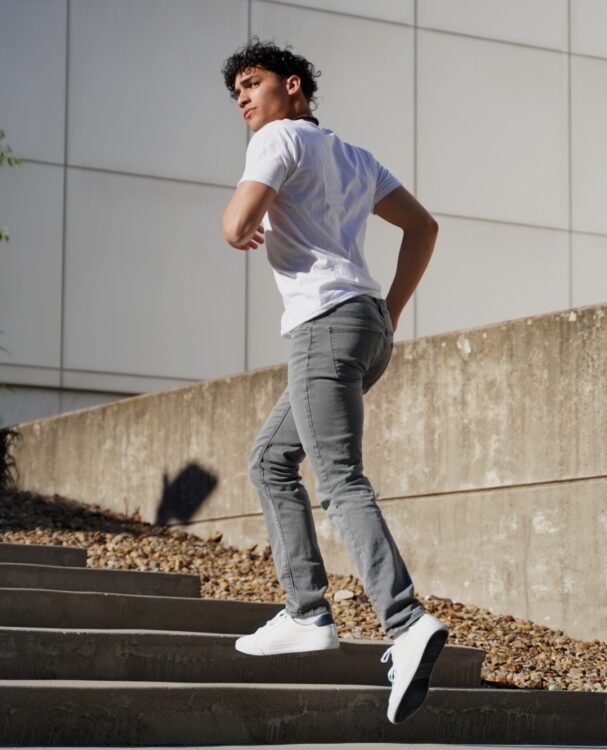 With black shirts and jackets:
Black shirts and gray jeans are made for each other, these outfits will prove that beyond doubt. Whether you couple these jeans with a black tee, button-down, or polo shirt, the verdict is the same. Even with a layered look, a black top, hoodie, or jacket will make the gray jeans absolutely spot-on.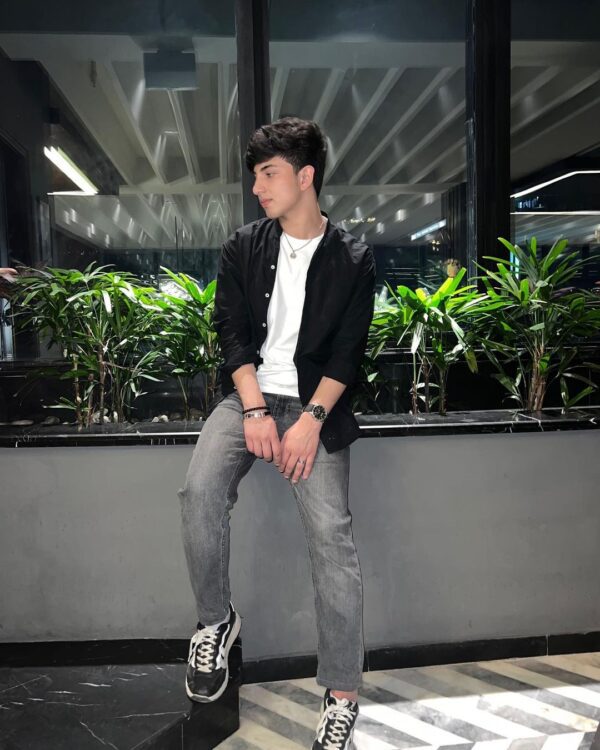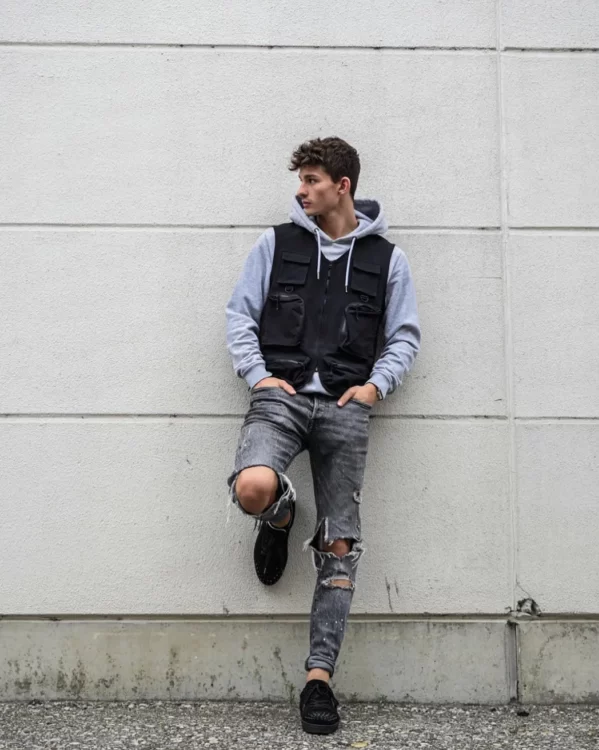 The layered flare:
layering can completely change your ultra-casual gray denim outfit. A crisp blazer for example can elevate an overly casual look. A black or brown leather biker jacket can give off those coveted bad-boy vibes. A topcoat and a chunky turtleneck will create a comfy and stylish fall outfit. Using different shades of gray would definitely up the chic factor of the outfit, we emphasize using different shades, so an all-gray monochrome look may not be a piece of cake for everyone.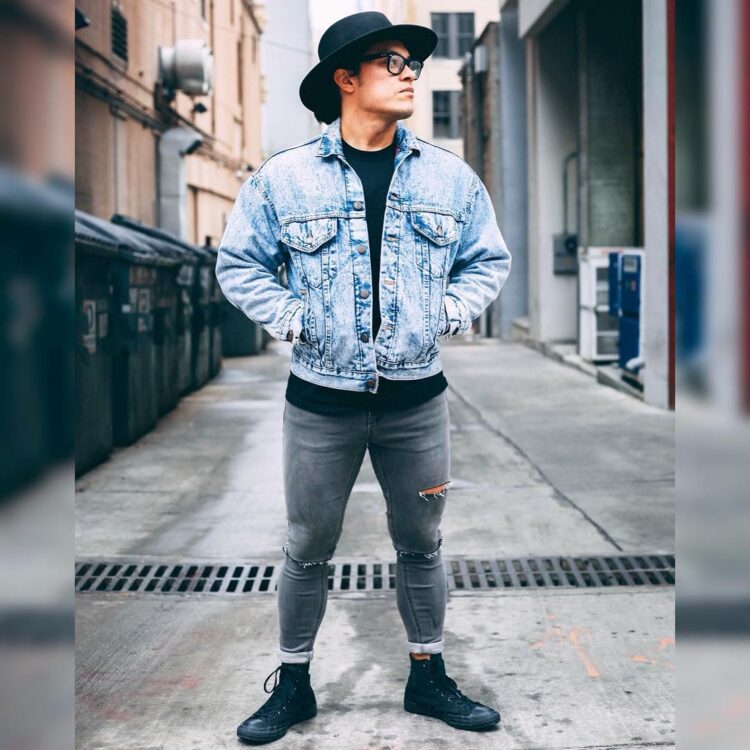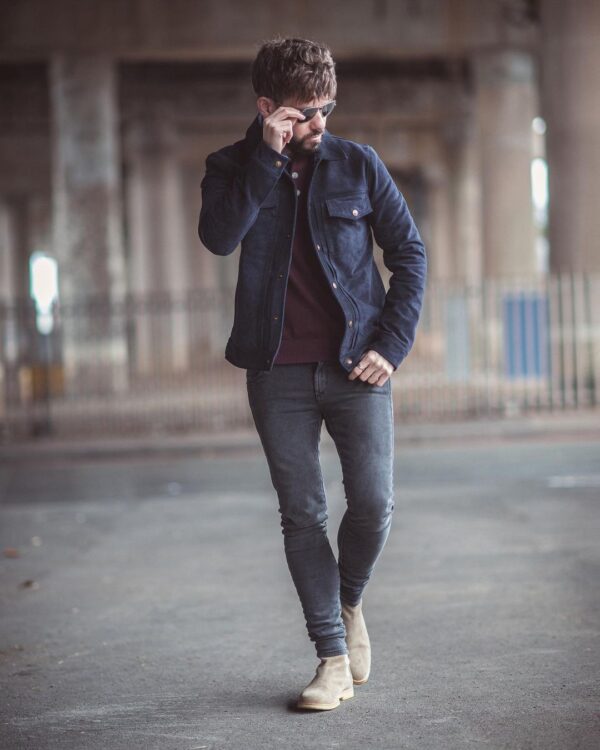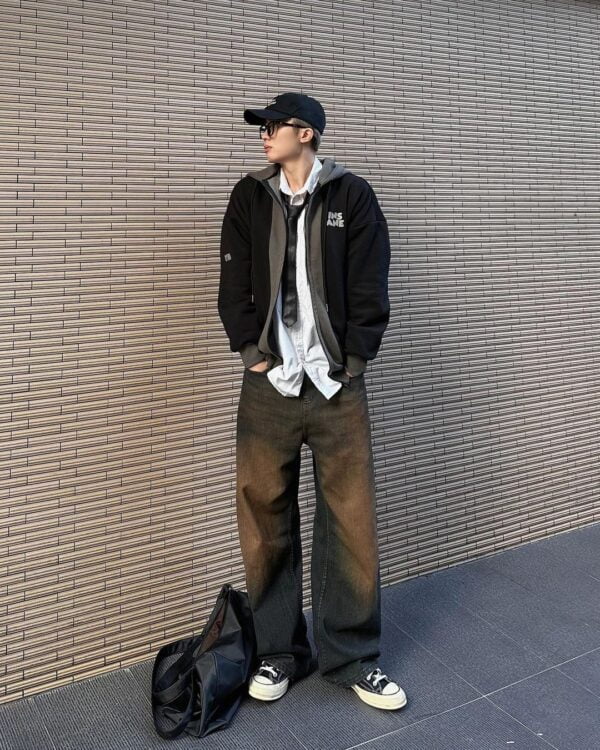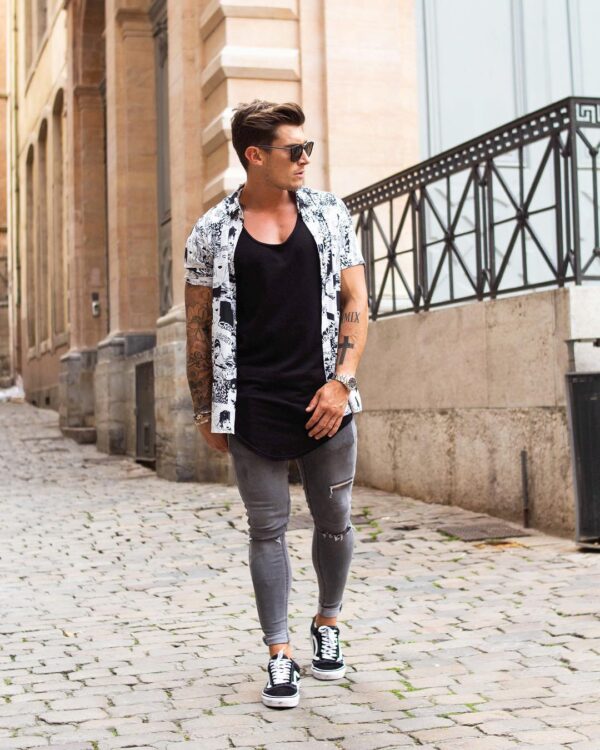 Smart casual gray jeans outfits:
For a smart casual twist, swap the tee with a button-down or a polo shirt and add a crisp blazer to your gray jeans outfit. As a starting point, a navy blazer and a black button-down will work best. This doesn't mean you have to skip the tee for a smart look with gray jeans, just layer a crisp suit jacket over a white tee, add white sneakers to the outfit, and enjoy that effortless smart casual gray jeans look. For a bolder take on this look go for a button-down shirt and a necktie, layer your best v-neck sweater, leather jacket, or even a suit vest over it. This look is for guys who won't hesitate to become the center of attention on any day.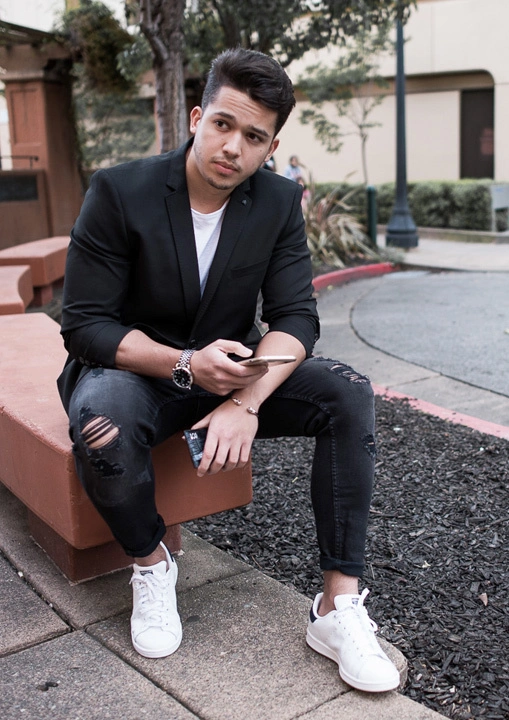 The double-denim looks with gray jeans:
An all-gray double denim may not be everyone's cup of coffee, but it's a perfect option for those denim fans who aren't intimidated by the color gray. If you have some blue or black denim jackets in your wardrobe or some blue denim shirts, think of a double denim look with contrasting tops and bottoms. A light blue denim jacket and charcoal denim pants are made for each other. You can style a denim-on-denim look in multiple ways, even with gray jeans. It is entirely up to you to choose separates or settle for a monochromatic Canadian tux look.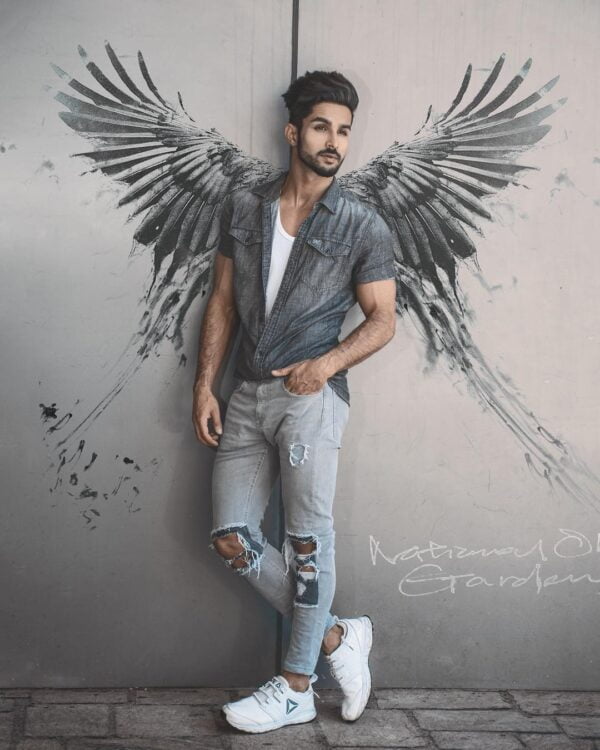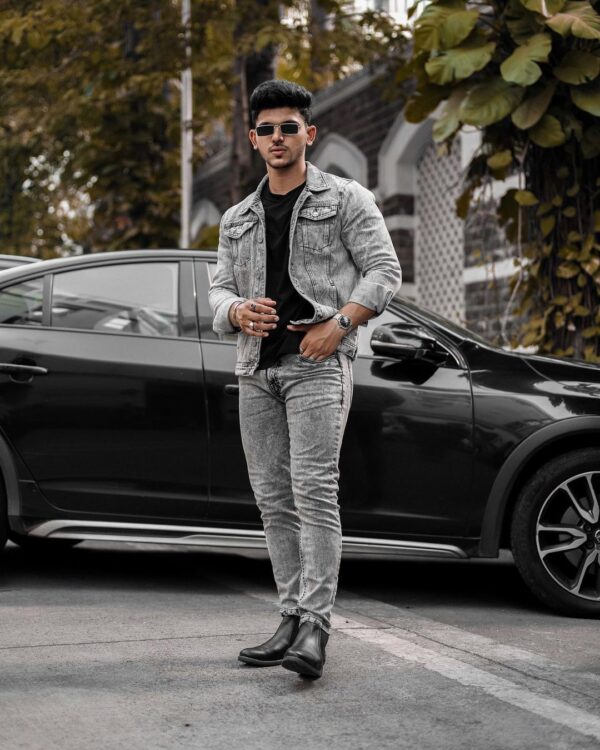 In the darker shades of gray:
Darker shades are more popular, like any other men's bottoms, Men prefer darker shades, and that's perfectly understandable. As they are much easier to pair with tops. Here are some outfits that might pique your interest.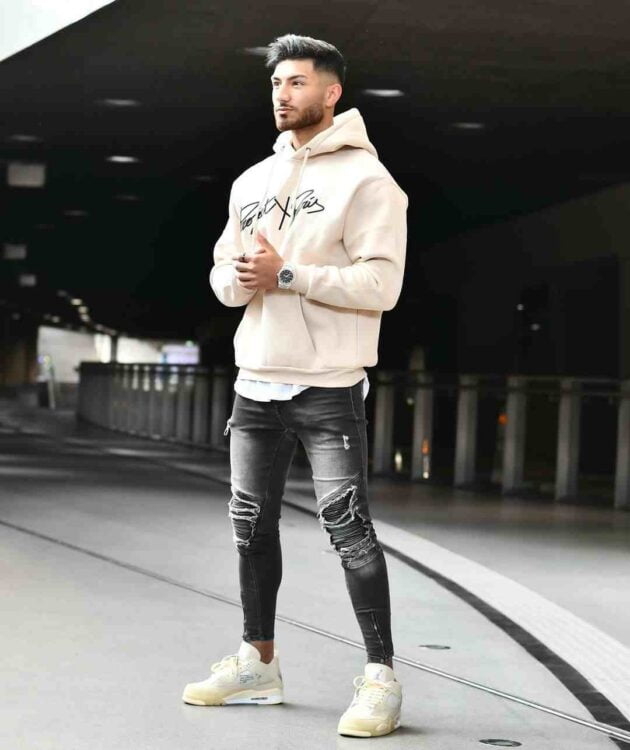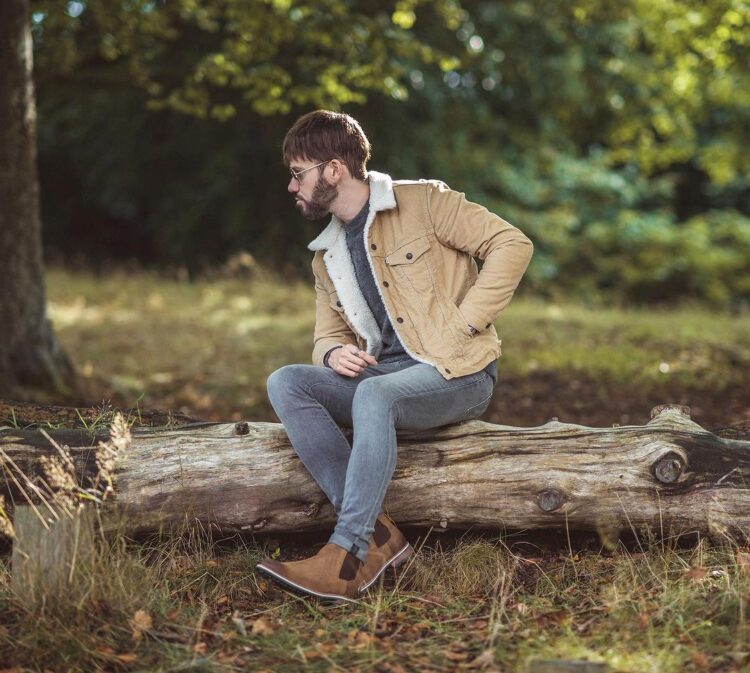 Light Gray jeans outfits:
These light gray jeans outfits will inspire you to conjure up your own combos if you are not very much into recreating someone else's outfits, so scroll down to satisfy your curiosity.