How to style a peacoat? 55 men's peacoat outfits.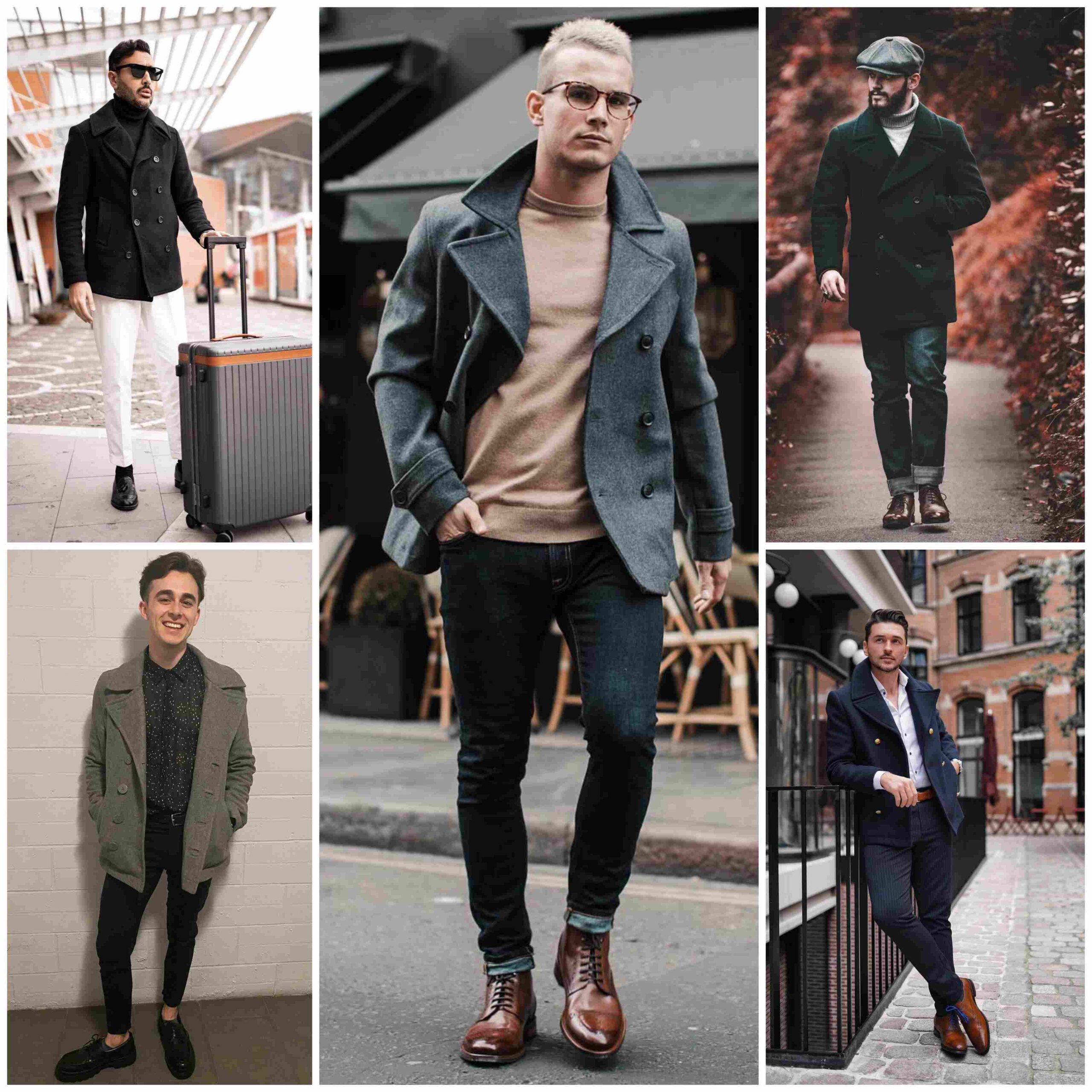 A peacoat like any other garb of military origins works as a two-edged sword for fashionable guys, for being amazingly practical, and stylishly elegant at the same time. Often black or navy, a peacoat is a winter staple, this write-up is all about creating some stylish peacoat outfits for guys. These men's peacoat outfits will not only spark your sartorial interest but will make you fall in love with the peacoat. Now, before moving any further, we'll take the liberty to introduce you to some basics about the peacoat followed by a short and sweet style guide. 
How do you style a peacoat?
Something about the peacoat:
A peacoat is a double-breasted winter coat often navy or black, made from thick woolen cloth, having broad lapels and two rows of front buttons each row having three or four buttons. It's bulkier and longer than a formal suit jacket but considerably shorter in length than the iconic trench coat and the top coat. Other than navy and black, you can find a peacoat in colors like gray, stone, and burgundy. 
The strange name: Why is it called a peacoat?
Okay-okay you are here to find out some pea coat outfit ideas for this fall, and not to take a history or semantics lesson. The pea coat is such a strange term, it's pleasing to our ears too, and it might have piqued your curiosity at some point. And you must've wondered what this broad-lapelled coat has to do with peas, or chickpeas for that matter? These crunchy green peas that you love to munch sometimes have nothing to do with this coat of military origin. The word pea here refers to the English alphabet p, and this stands for pilot cloth, a coarse but sturdy military-grade cloth used for overcoats. Earlier, a pea coat was a p-jacket, it then became a pea jacket and finally, it changed into a term we use today. They changed pee to pea, well, they had to, for obvious reasons, pea replaced pee and this broad-lapelled jacket got its beautiful name, the peacoat. 
The fit: 
A peacoat is supposed to be closed-fitting and of proper length. These coats come in a variety of lengths, you should choose the one that suits your style. Peacoats that are too short cannot be used with smart outfits, as they will look misplaced and shabby. What are you wearing your peacoat with is an important aspect to consider, if you are layering it over a suit jacket or any other jacket you have to make sure that the peacoat remains the dominant layer, it should never be shorter than the blazer or denim jacket you are wearing it over. If the peacoat is too long on the other hand, it will not fit snugly in the middle and it won't flatter your body shape.
Choosing the color: 
Black, navy, and gray are the most popular colors, but they are not the only game in town! Other colors like maroon, khaki, or stone are not off the table for guys, you can style a peacoat in these colors in equally stylish ways, keep scrolling down if you are looking for some innovative peacoat outfit ideas for guys. 
What shoes to wear with a peacoat for men?
It depends on what pieces you are going to put together to create an outfit. It's better to stick with the options that can be mixed with these pieces. It depends on how you are dressing up, if it's a smart and dressy outfit with a peacoat, it's better to go for formal shoes that suit the occasion. Formal shoes always work better than casual ones, they work even better than trainers, and sneakers with a peacoat outfit. 
When should men wear peacoats? 
Peacoats are amazingly versatile winter coats surpassed only by wool overcoats in utility and versatility. You can wear a peacoat in any situation, formal and casual situations, and every situation in between. This coat is particularly hip for smart casual fall and winter outfits, with formal slacks, jeans, or chinos. It's possible to throw on a peacoat with a regular office outfit with a stiff collar shirt and a necktie on a particularly chilly weekday. A peacoat is for if you are looking for something smarter than a puffer or bomber jacket something less formal than a topcoat, and something more practical than a trench coat in winter. Avoid combining the peacoat with pieces that are too informal, for example, a graphic hoodie or a graphic tee, or a shirt with prints that are too bright and loud.
55 men's peacoat outfit ideas.
Men's peacoat outfits, going the smart way:
Unlike other winter jackets and coats, a peacoat can be layered over formal office attire even without a suit jacket. This makes it the most versatile winter coat for men. These outfit examples will show how you can style a peacoat for the office or for any formal event that requires smart dressing.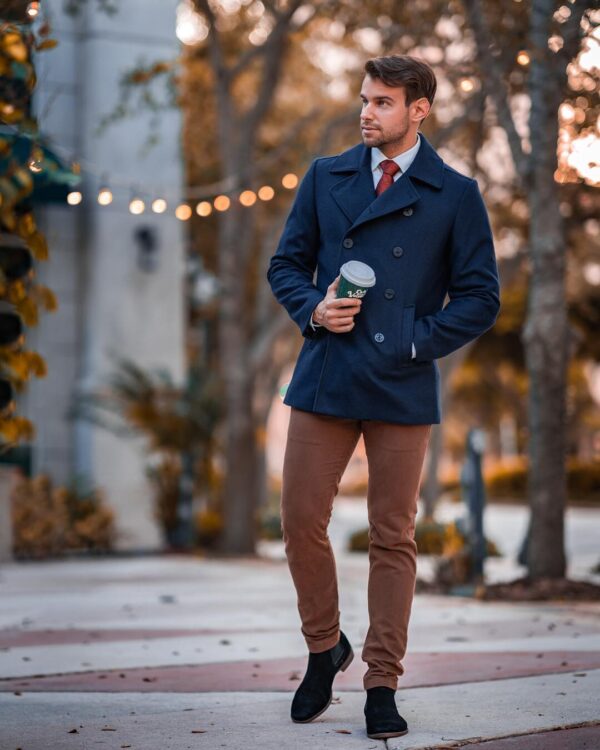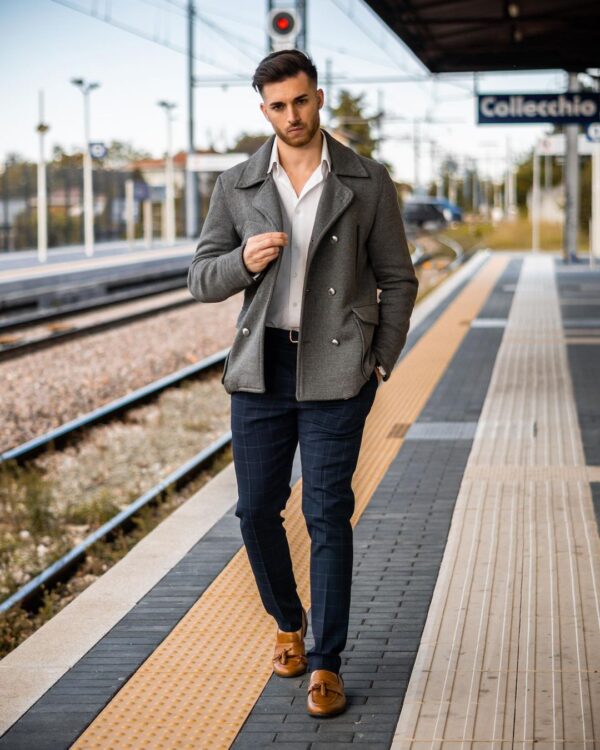 Men's gray peacoat outfits:
Color gray is one the most favorite manly colors, a peacoat in gray is truly a gift for men who like gray. There are so many ways you rock a gray peacoat, it is possible to use it as a standalone gray piece with other neutral pieces. You can add another gray piece, not necessarily monochromatic, to make the outfit more sophisticated. Gray jeans will work perfectly with a peacoat in similar hues, here are some men's gray peacoat outfits to spark your fashion imagination.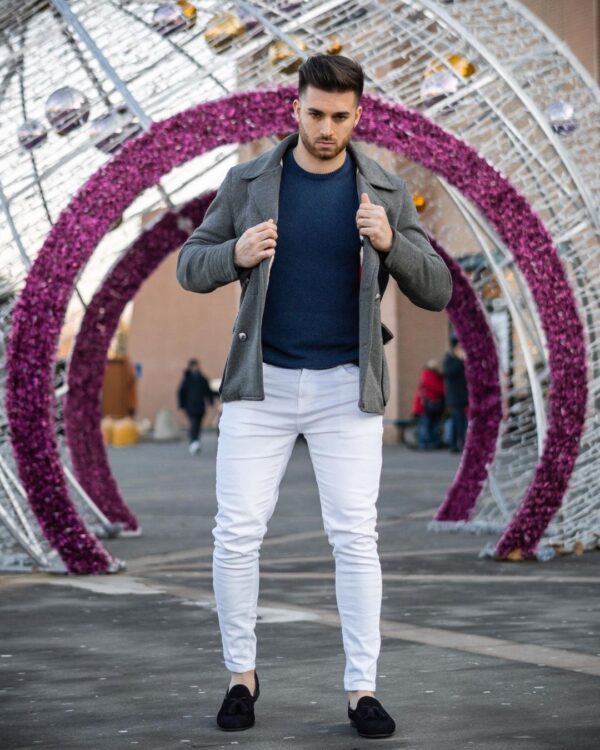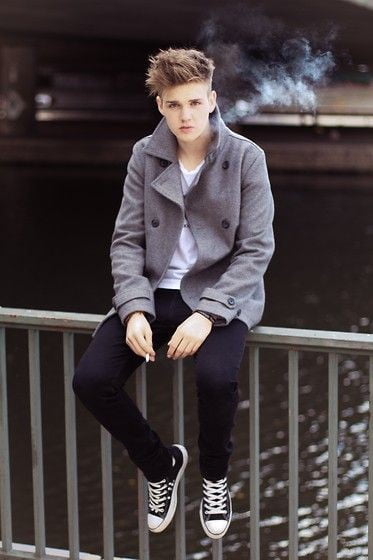 The off-beat winter casual take:
A peacoat is not just about dressing like everyone else, looking regular and acceptable, you can let your individuality shine even with this iconic piece. Whether you want to give it a geek or nerdy chic touch or go full boho, a peacoat can help you create that look, with the right ingredients of course. You can improvise the peacoat outfit with pieces like floral shirts, super-skinny or ultra baggy (whatever floats your boat) bottoms, striped pants, chunky footwear, and add-ons like quirky eyeglasses, bucket hats, and scarves to achieve the aesthetic you aim for.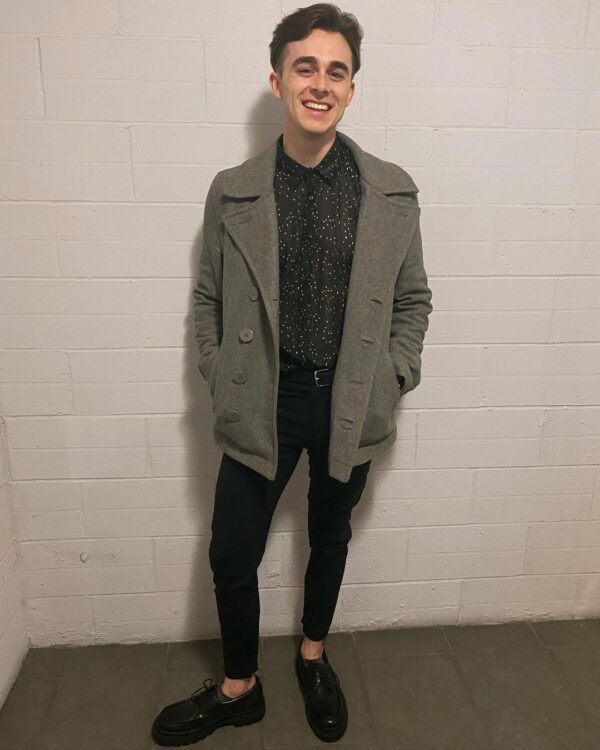 With turtlenecks:
A turtleneck is a peacoat's best buddy, and when you find the right combination of shades for them, it's a match made in heaven. So yes, a turtleneck can take your peacoat outfit to the next level, these men's peacoat outfits with a turtleneck as a layering piece will give you a glimpse into this epitome of elegance.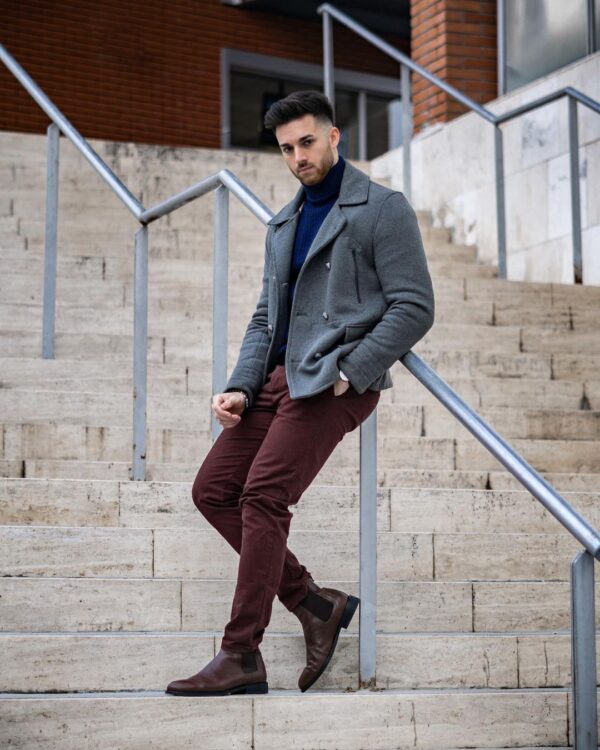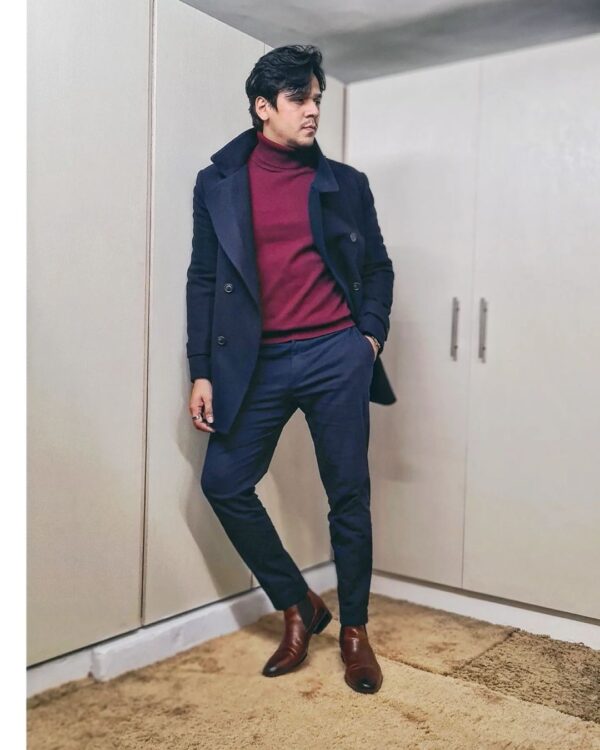 Peacoat outfits with tees and sweatshirts:
For an ultra-casual take on the peacoat, you can layer it over a tee, a sweatshirt, a hoodie, or a sweater vest, depending on the season and your mood. Scroll down to have a closer look at this way of styling the peacoat.
Red and maroon peacoat ideas: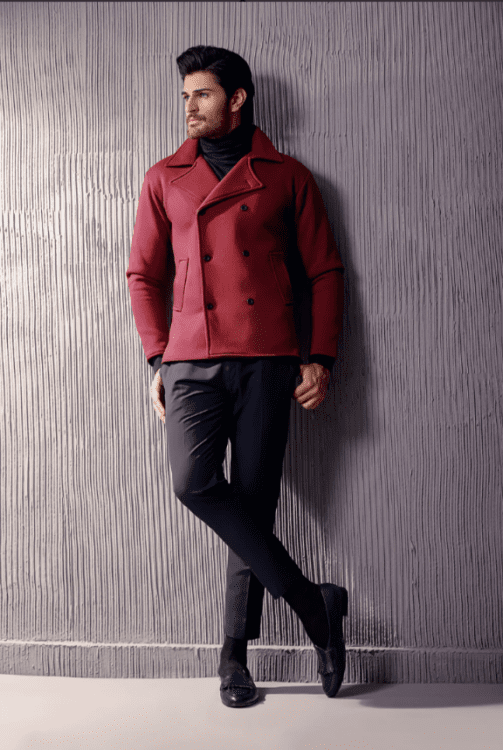 FAQs. 
Can you wear a peacoat instead of a suit jacket?
The answer is yes. A peacoat is the dressiest winter coat and can replace a suit jacket with a peacoat on a chilly day in the office. It's possible to wear a peacoat over a formal three-piece suit if the coat is long enough to cover the suit jacket. A tailored peacoat can be a good alternative to a suit jacket, it will provide the insulation you are looking for without compromising the formal tone of your outfit. 
Can I wear a peacoat unbuttoned?
You can wear a peacoat buttoned or unbuttoned depending on the occasion and weather. In dressier situations, you are supposed to keep it buttoned up, in relaxed situations you can wear it unbuttoned, especially when it isn't too cold out there. For style purposes, you can keep it unbuttoned if you like by opting for layers that can keep you warm and comfortable even if it's quite chilly. 
How to wear a peacoat casually?
To style a peacoat casually, you need to pair it with casual pieces, especially the ones suited to your winter style. You can choose from jeans, casual slacks, chinos, and even joggers to tone down your winter outfit with a peacoat. It's important to note that you can't use a peacoat (Which is almost always in somber hues like navy, black, and gray) like a jacket that's usually worn in an informal way like the Moto jacket, denim jackets, and bombers. The best way you can use a peacoat is to use it in a smart casual way with a touch of your unique personal style. 
What do you wear inside a peacoat?
You can layer a peacoat over a formal suit jacket or any layer that's not too informal like a casual hoodie or a printed sweatshirt. You can wear a formal shirt with a necktie under a peacoat as a formal office outfit. Other tops like flannels, sweatshirts, turtlenecks, and denim shirts can be worn inside a peacoat for a cozy winter combo.