What to wear with striped pants? 40 pinstripe pants outfit ideas for guys.
Pinstripe pants are nothing new to the men's fashion game, they have been around for decades. True, they are a bit old school and offbeat and quirky from an ordinary guy's standpoint, but when done right they can look incredibly stylish on any man. Pinstripe pants can be formal or informal depending on the tailoring and materials used. Striped pants that have broader stripes give off relaxed vibes and there is a lot in common between PJs and these pants, but this doesn't mean they belong to the loungewear department of menswear. You can rock these pinstripe pants in smarter ways even outside of our lounge and casual days at home. We'll walk you through some of the most stylish pinstripe pants outfit ideas in a while but first, we'll let you dip your toes into the very basics of styling the pinstripe pants.  
What are pinstripe pants?
As the name implies, these pants feature thin vertical lines from the top to the very bottom. Pinstripes are thin lines and the thinner the lines the more formal the pants, provided they are tailored. Pants with broader stripes tend to be more relaxed and casual. Formal pinstriped pants have long been valued as a part of the iconic pinstriped suits. These pants can also be worn on their own, without the accompanying suit jackets. Casual striped trousers are becoming increasingly popular, they are becoming more mainstream so much so that you can ditch your jeans in favor of them on certain occasions. Stripes are often in contrasting colors to the dominant colors of pants, pants in pastel hues may feature darker stripes and vice versa. Chalk stripe pants are the ones with thin white stripes against a dark background, both these terms are often used interchangeably.
A glimpse into the history of Pinstripe pants: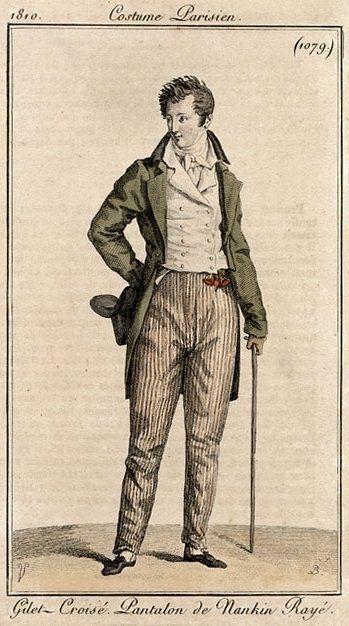 Bankers of the 19th century used pinstriped suits, it was a sort of uniform, and different banks had different patterns of stripes. During the same period, baseball teams were also using pinstripe uniforms. During the Regency era (early 19th century), breeches gradually became out of style and pantaloons took their place. Striped pantaloons were very popular during that period and were quite similar to modern-day tailored pinstriped pants. 
How striped pants make you look better?
What makes these pinstripe pants utterly priceless is the fact that the vertical stripes present on these pants make you look taller and slimmer. Pinstripe pants are in fact a great boon for the chubbier and vertically challenged of us. The more visible the stripes the more pronounced the lengthening and slimming effect becomes. Even if you are of athletic build with well-toned and sculpted thighs, these pants are great for you to flaunt your physical gains casually. They'll make you look more confident in them, and the height and slimming effect you achieve are an added advantage. Don't shy away from accessorizing, add accessories to amp up your look, a baseball cap, a necklace or a quirky bandana can just be that cherry on top.
Shirts and tops to wear with pinstripes:
It's always better to take into consideration the color scheme of tailored pinstripe pants and the accompanying dress shirts. They are quite versatile in this regard, as you can use the shirt with similar shades to either the stripes' color or the pants' color. Things get a little more interesting with the casual and relaxed version of striped pants. You have got more options available with these informal pants. It's always better to try tees, polo shirts, and sweatshirts in solid and neutral hues. Opting for a shirt that is color-coordinated with the dominant hue in the pinstripe trousers will be even better. A solid white or black tee or polo shirt will work with any pair of stripe pants. Adding a blazer to the equation will definitely smarten up the overall look. Overshirts, blazers, topcoats, and bomber, varsity, or biker jackets anything will go with these striped bottoms as long as the individual pieces remain well coordinated.
Choosing the colors and stripes: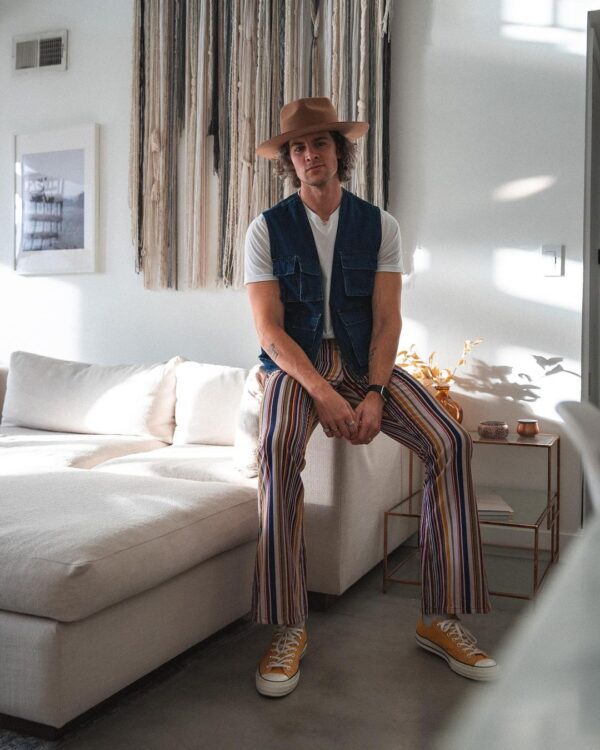 Whether you opt for dark shades or pastels for the pants, choosing the tops with the right color and pattern that work well with your outfit is important. Let's start off with the very basics, prefer pinstripe pants in dark earthy tones with contrasting stripes in lighter hues, keeping the shirting solid and neutral hues. This doesn't mean you can't wear color with these pants, but in this case, you'll have to pay closer attention to the color scheme as this could make or break the entire thing. Pants with finer stripes are easier to pull off than the ones with larger and more noticeable stripes. 
How to wear pinstripe pants with blazers?
A blazer will definitely elevate your pinstripe pants outfit up a notch, without comprising the overall casual and relaxed vibe. Choose a casual unstructured blazer with these pants when dressing casually. When putting together separates, with formal pinstripe dress pants it's better to top your dress shirt with a crisp blazer in solid colors. Patterns can unnecessarily overcomplicate things, it's better to combine the stripes with solids up top and take advantage of complementing colors or even better contrasting ones. A tailored black or navy blazer will work with pinstripe pants for every guy, complete the look by adding a pair of black leather tassel loafers. 
What shoes to wear with pinstripe pants? 
Things are pretty straightforward with striped dress pants, any pair of formal shoes, oxfords, leather or suede lace-ups, or slip-ons will do. For relaxed and casual ensembles you have options aplenty. A pristine pair of white sneakers is a no-brainer. Black leather loafers, tassels, kilties,s or penny loafers will work just fine with sharp and tailored black pinstripe pants. For a more relaxed effect go for boat shoes, espadrilles, or even trainers. For a minimalist low-key look, simply combine a white tee or polo shirt and white sneakers with your pinstripe pants.
Pinstripe pants outfits for men.
Outfit 1: A casual denim shirt with pinstripe pants.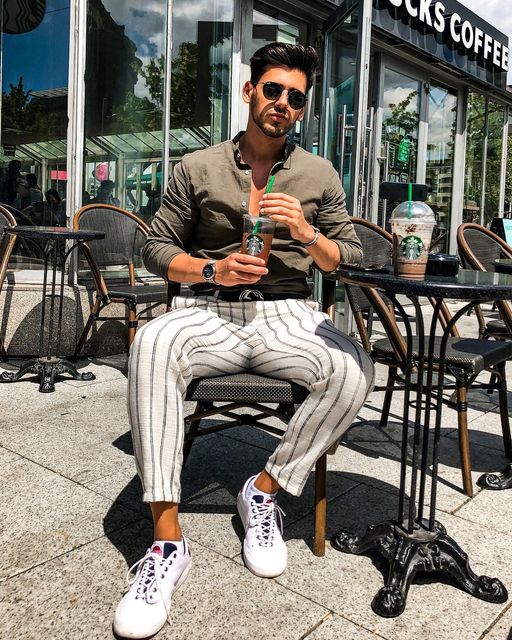 Outfit 2: Navy pinstripe pants outfits.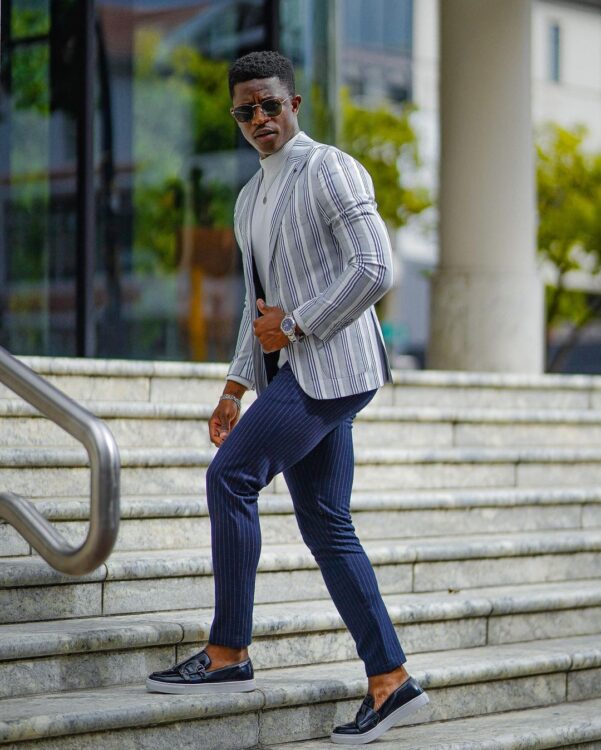 Outfit 3: With a denim shirt and a blazer.
Outfit 4: How to wear pinstripe pants with blazers?
Outfit 5: How to wear pinstripe pants with blazers?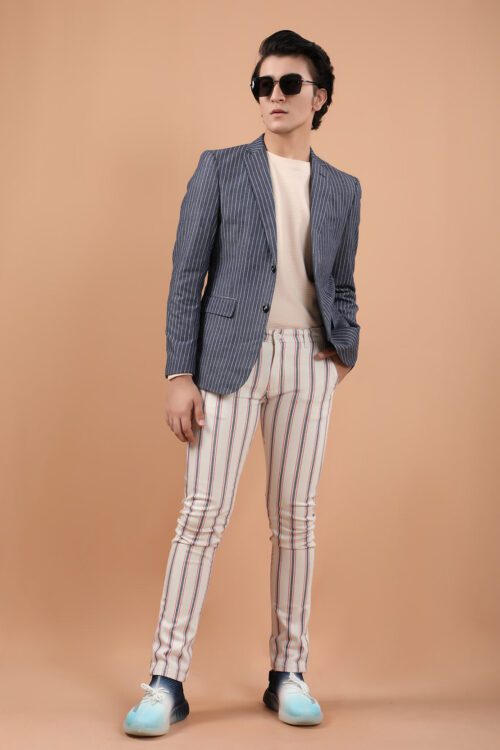 Outfit 6: Beige pinstripe pants with a casual jacket.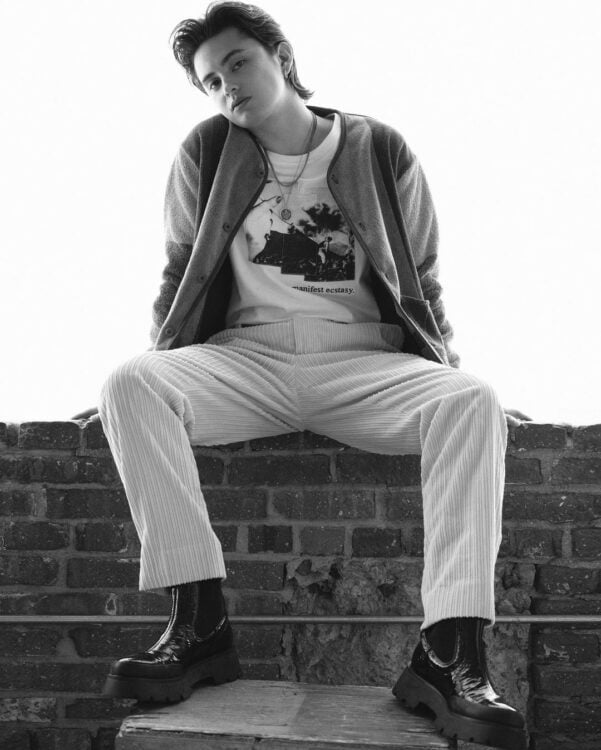 Outfit 7: Black striped pants with a white tee, white sneakers and a black baseball cap.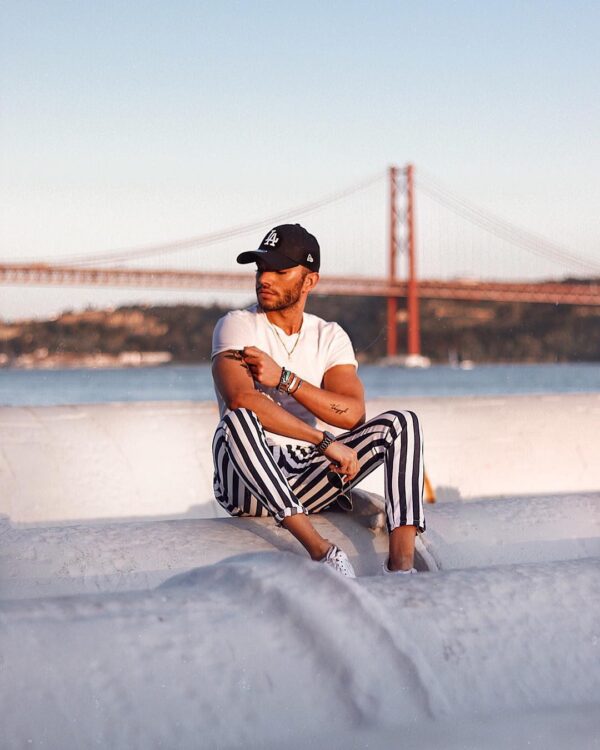 Outfit 8: Black pinstripe pants with a sweater.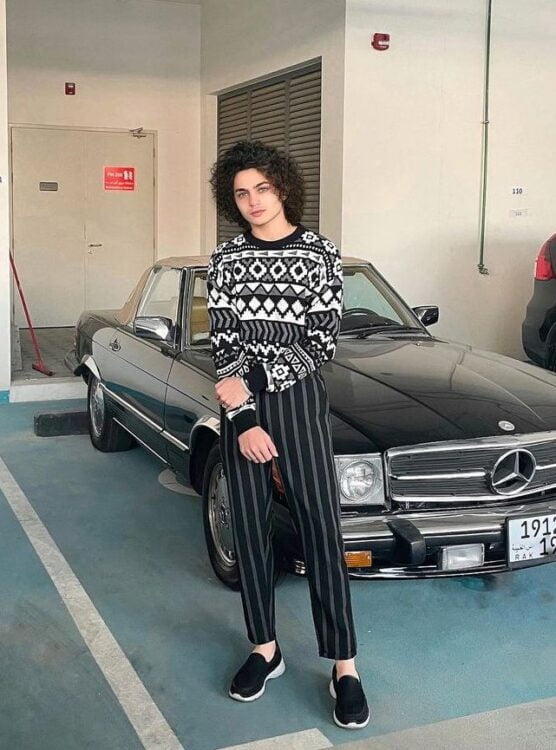 Outfit 9: Navy pinstripe pants with a grey polo shirt.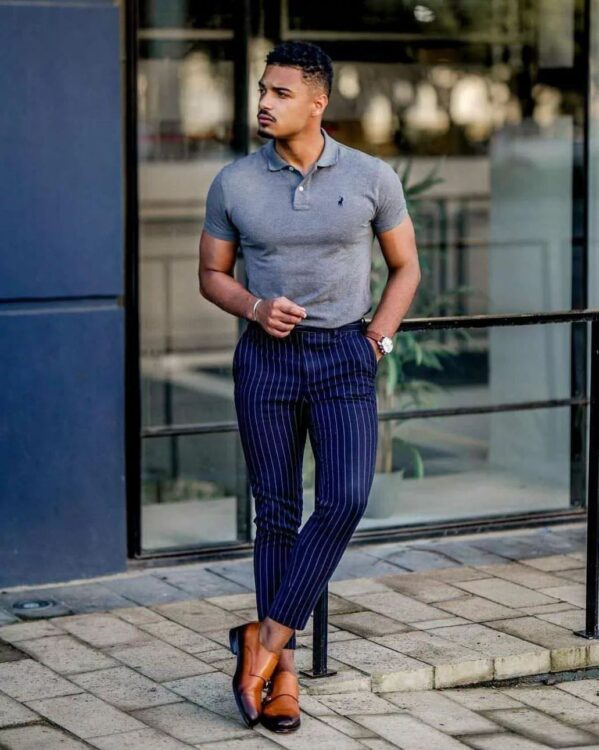 Outfit 10: Grey striped pants outfits men's.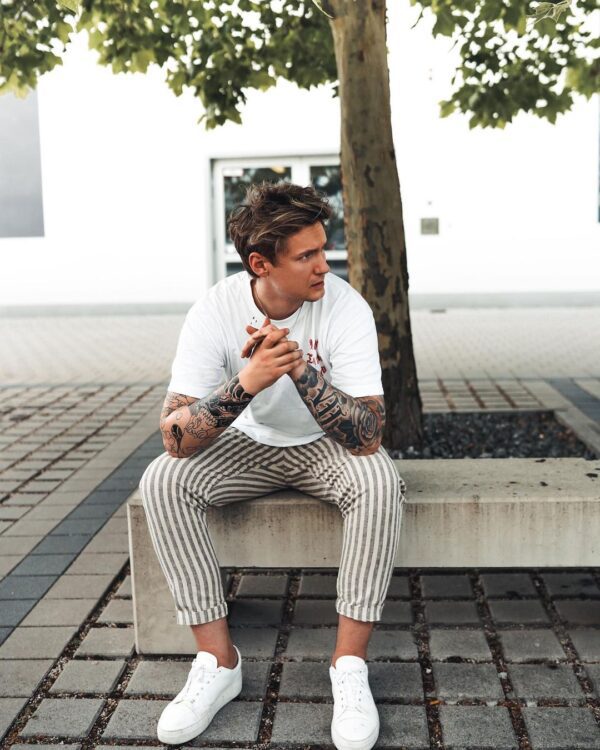 Outfit 11: How to style navy pinstripe pants?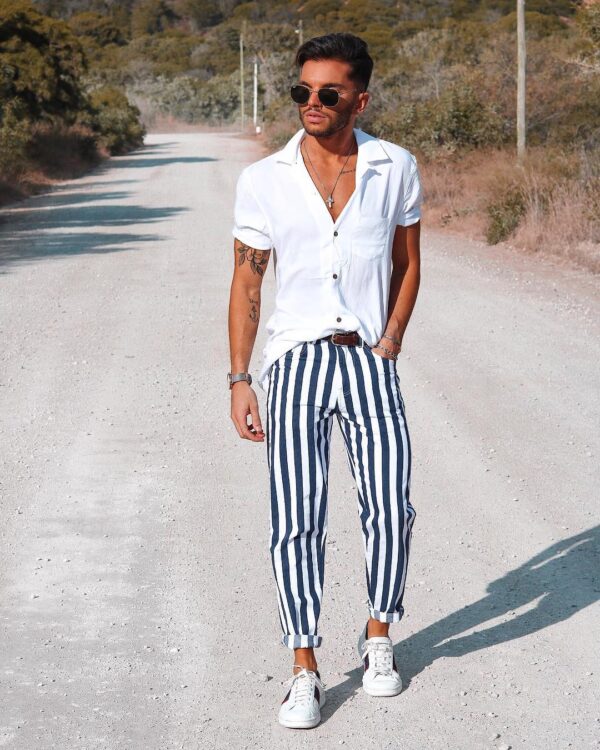 Outfit 12: With red camp collar shirt.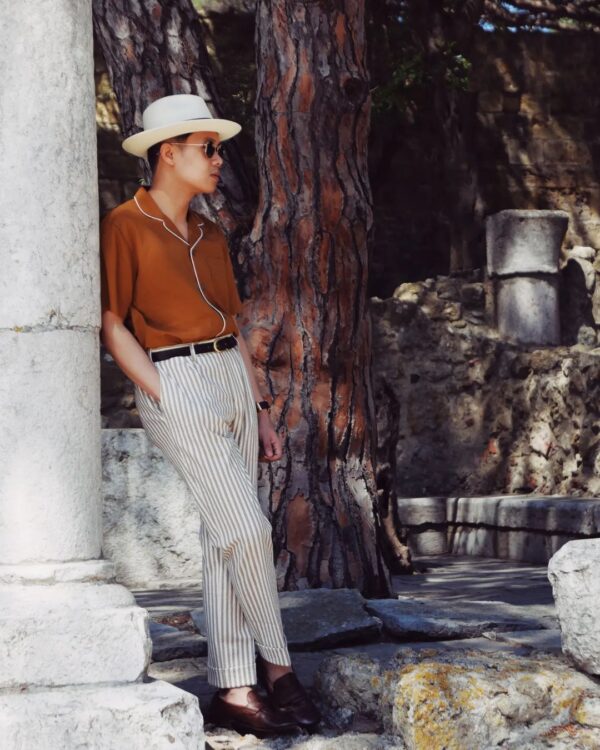 Outfit 13: Black pinstripe pants outfit ideas for men.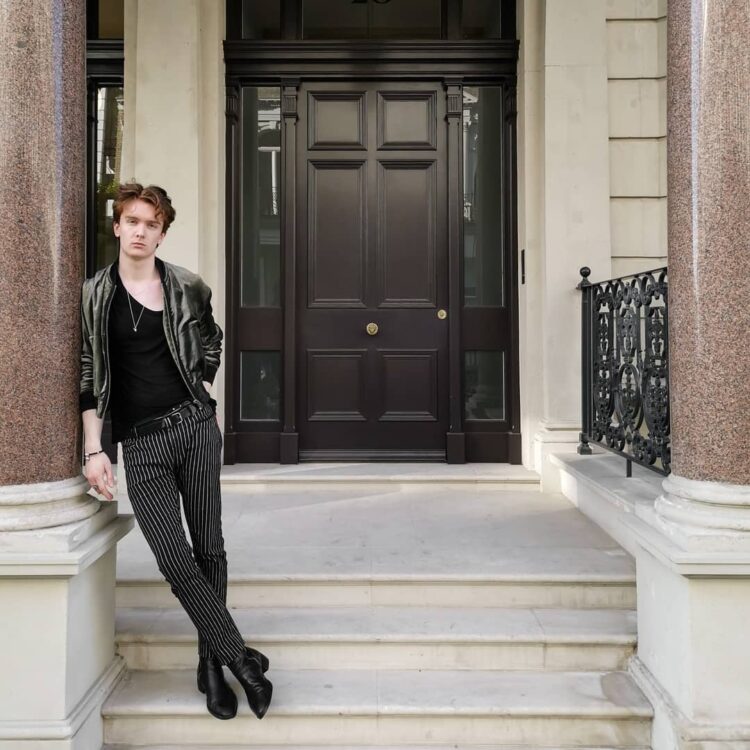 Outfit 14: With white polo shirt.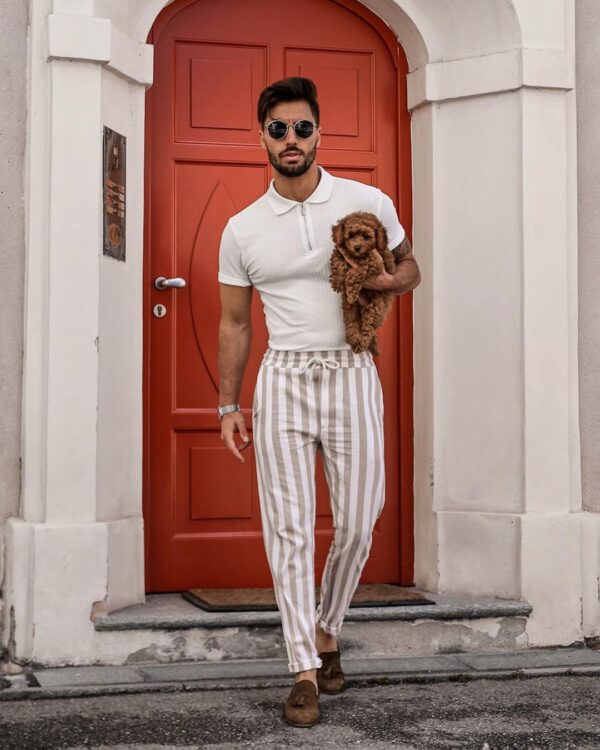 Outfit 15: A black hoodie with black pinstripe pants.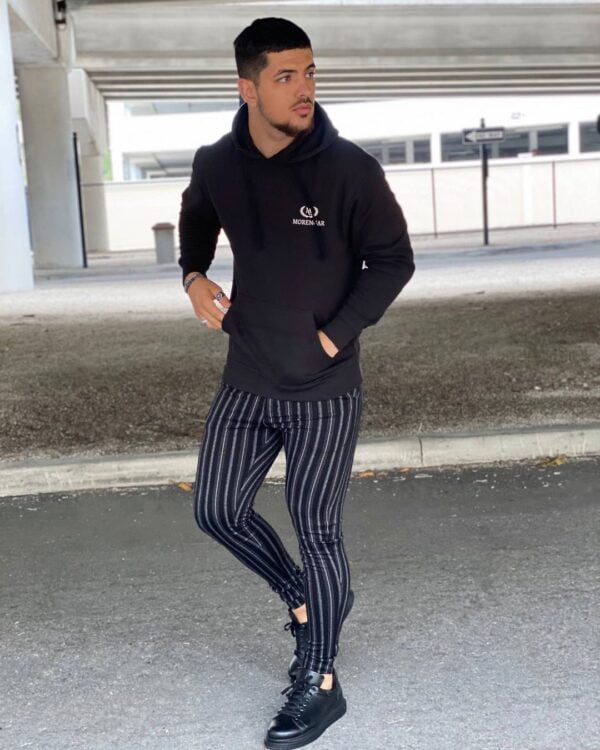 Outfit 16: With the classic black polo shirt.
Outfit 17: Grey striped pants outfits men's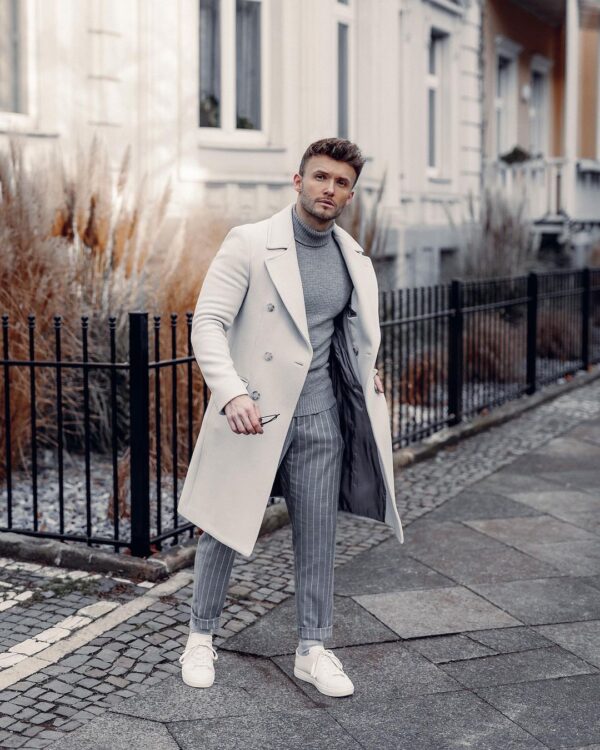 Outfit 18: With a casual mandarin collar shirt.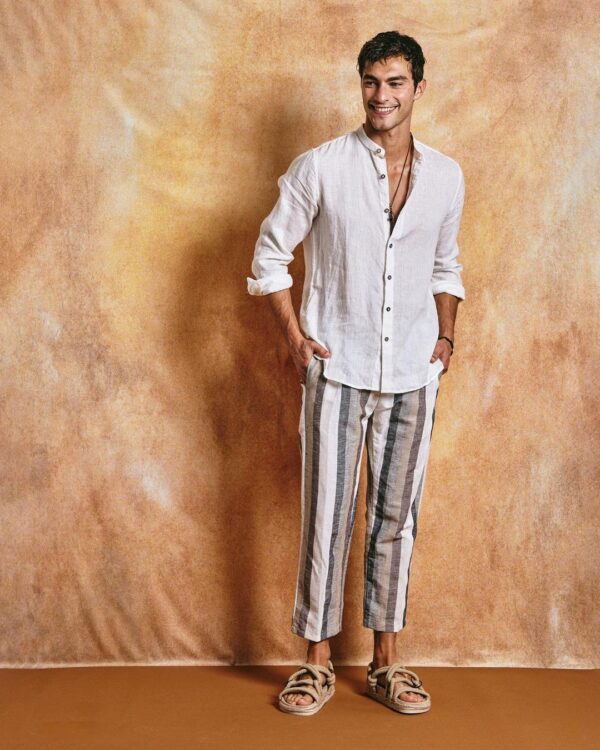 Outfit 19:
Outfit 20: What to wear with black pinstripe pants?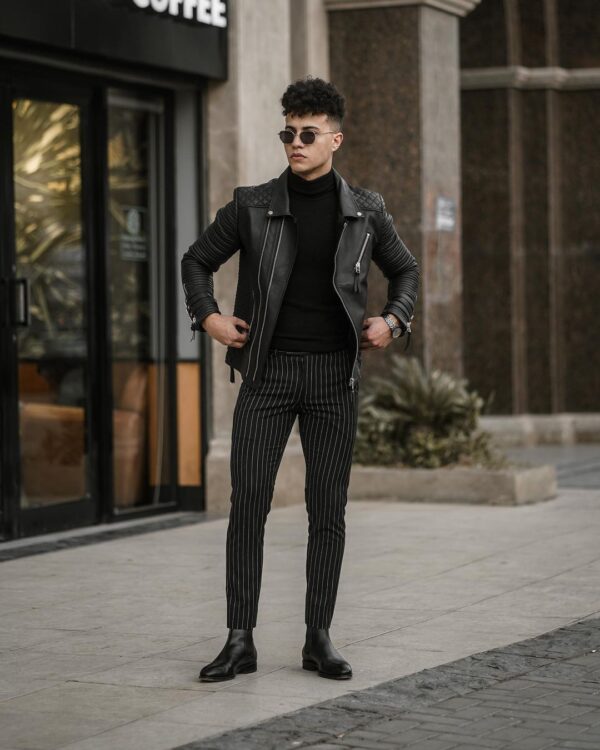 Outfit 21: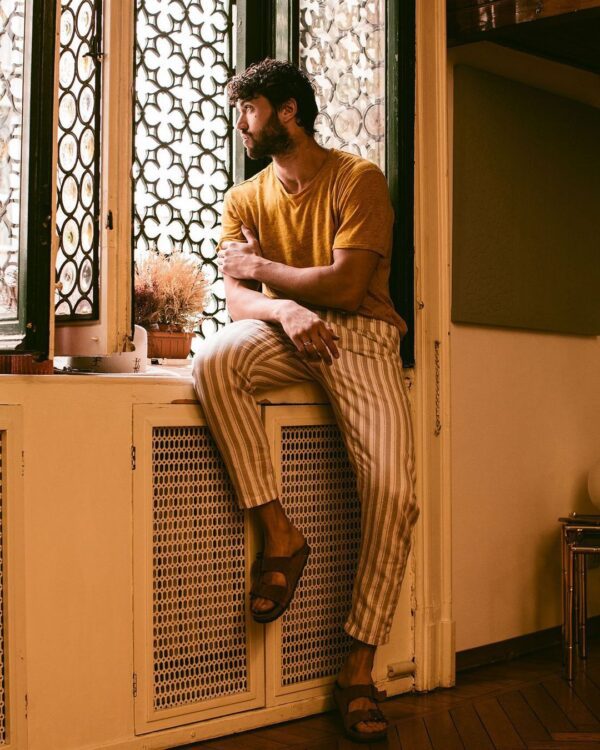 Outfit 22: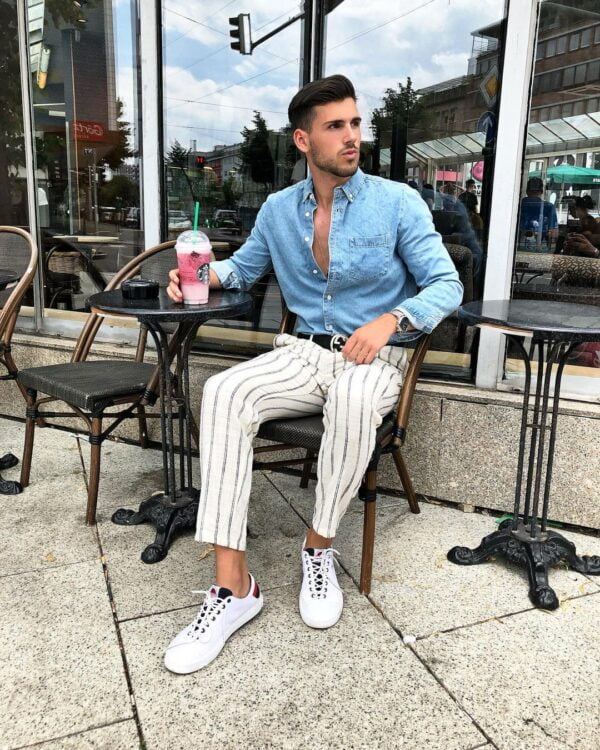 Outfit 23: A red tee with a pair of black pinstripe pants.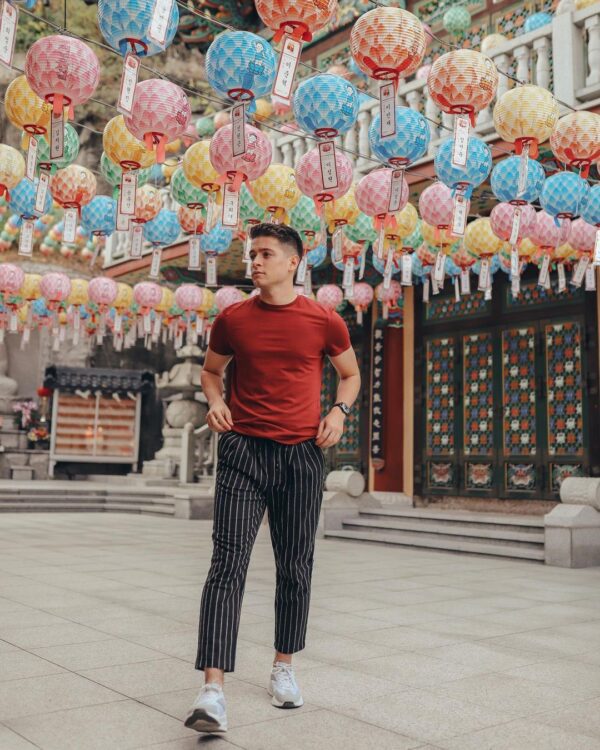 Outfit 24:
Outfit 25: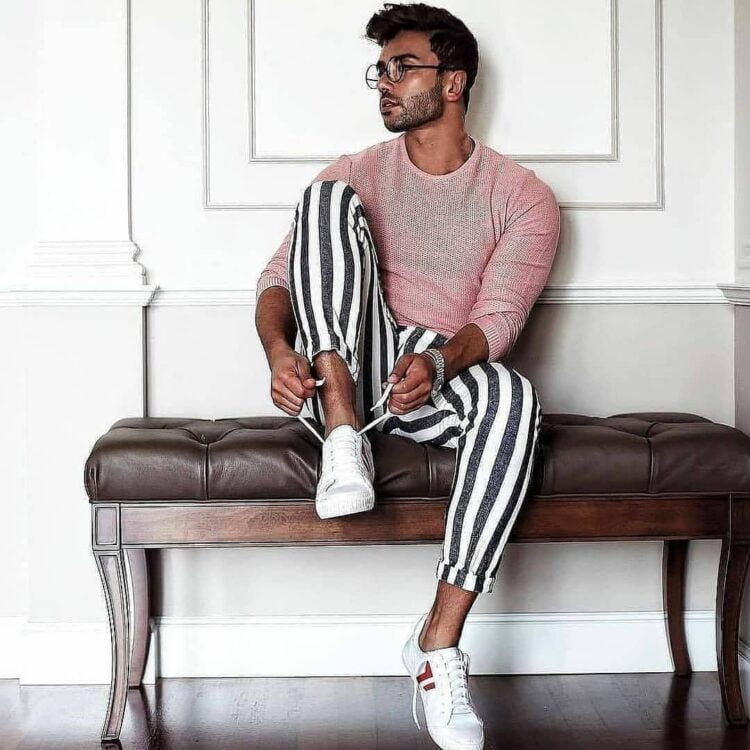 Outfit 26: A white jacket with black pinstripe pants.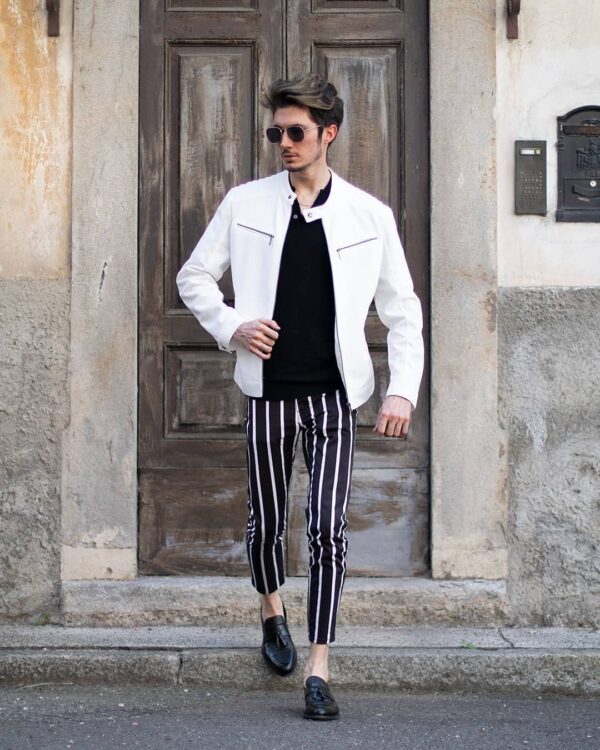 Outfit 27: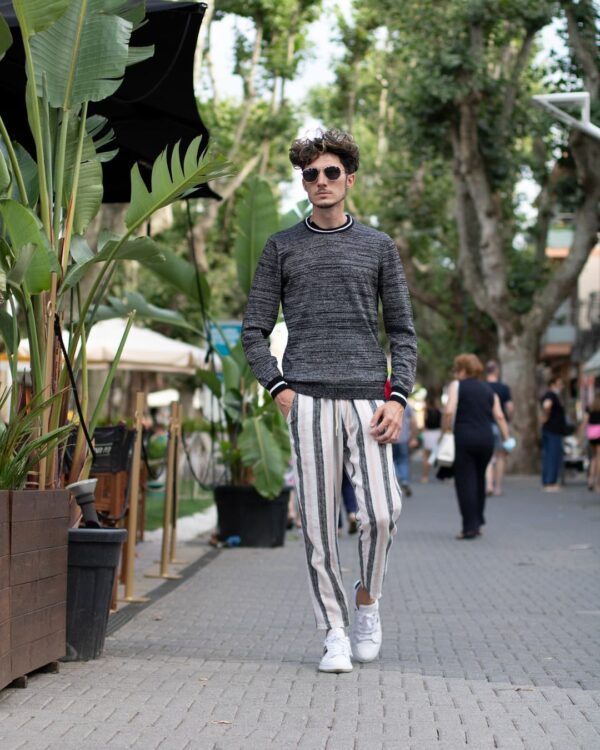 Outfit 28: A leather biker jacket with black pinstripe pants.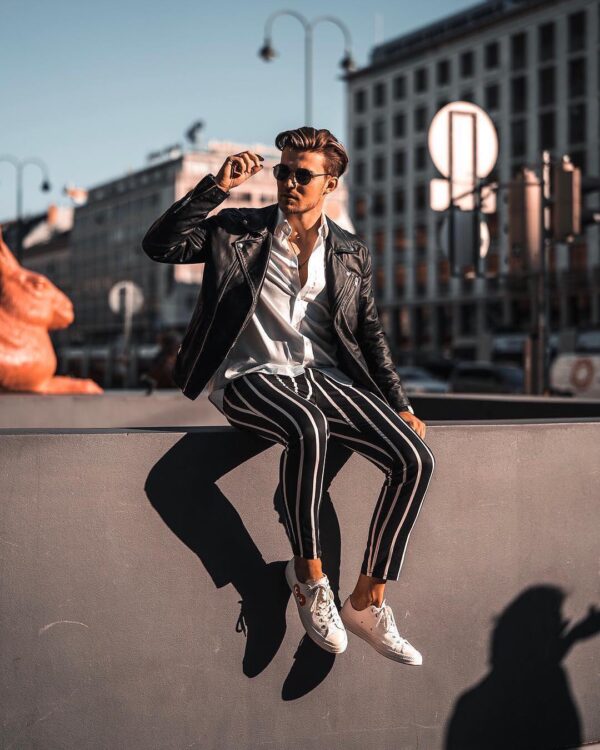 Outfit 29: A black polo shirt with striped pants in pastel hues.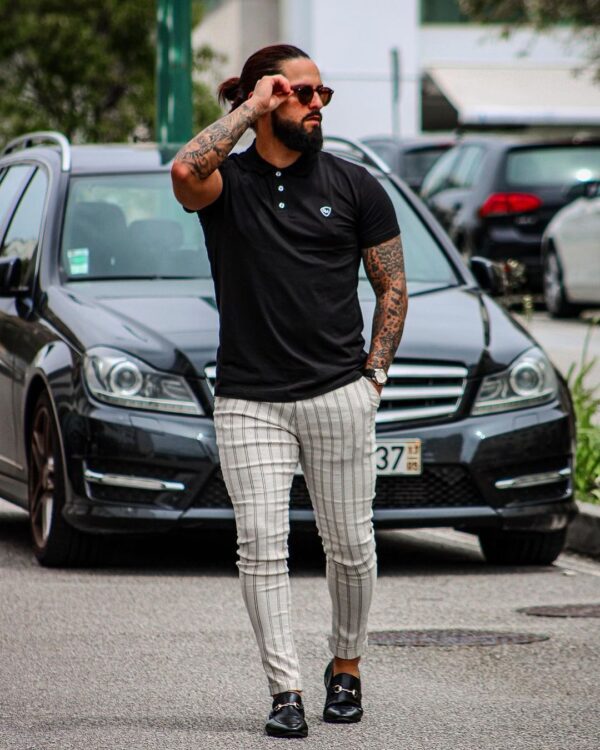 Outfit30: Grey striped pants outfits men's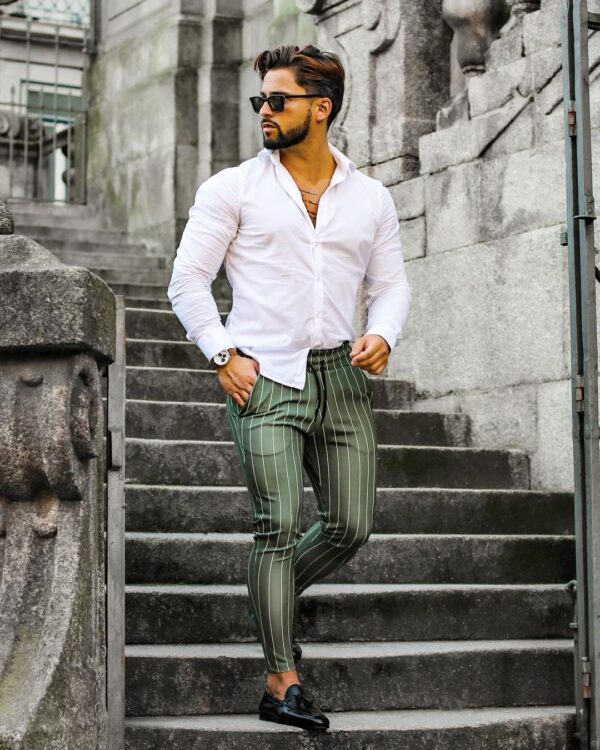 Outfit 31: A navy polo shirt with white pinstripe pants.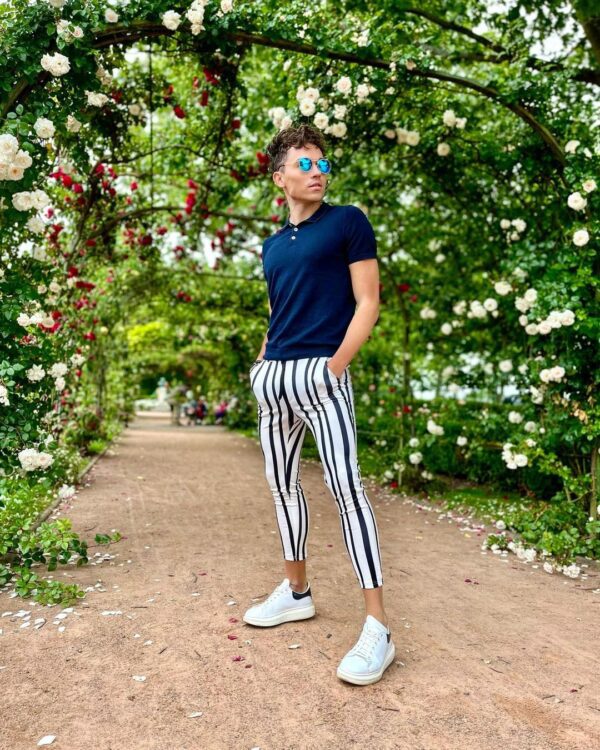 Outfit 32: Grey striped pants outfits men's.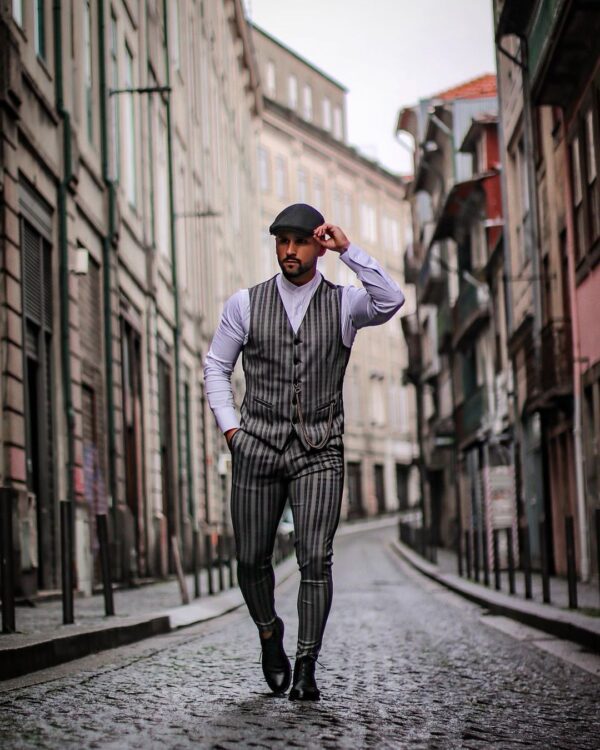 Outfit 33: Grey striped pants outfits men's.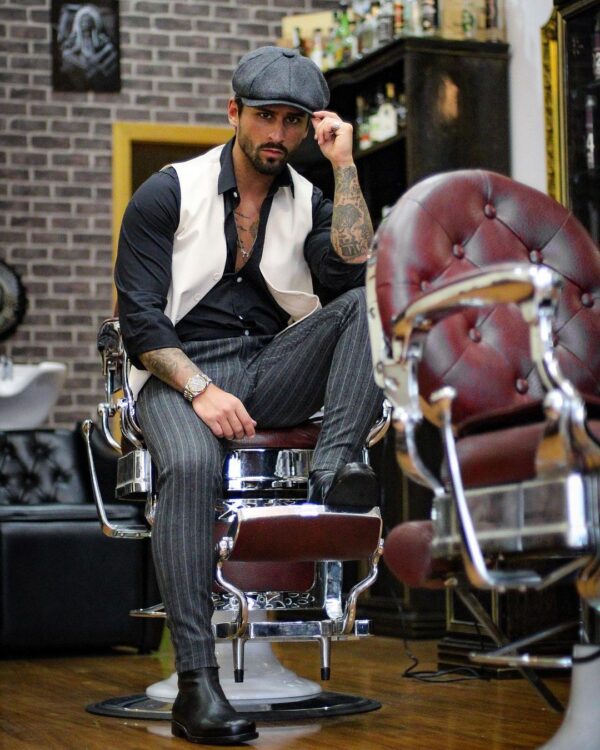 Outfit 34: A minimalist casual look with black pinstripe pants.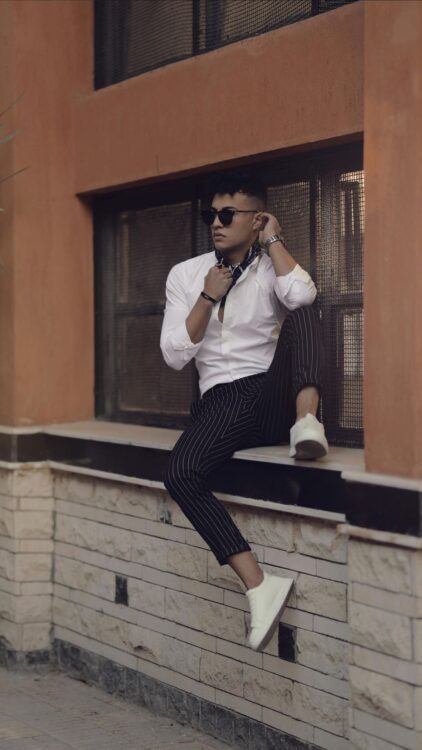 Outfit 35: An overshirt with black striped pants.
Outfit 36: A burgundy wool topcoat with red pinstripe pants.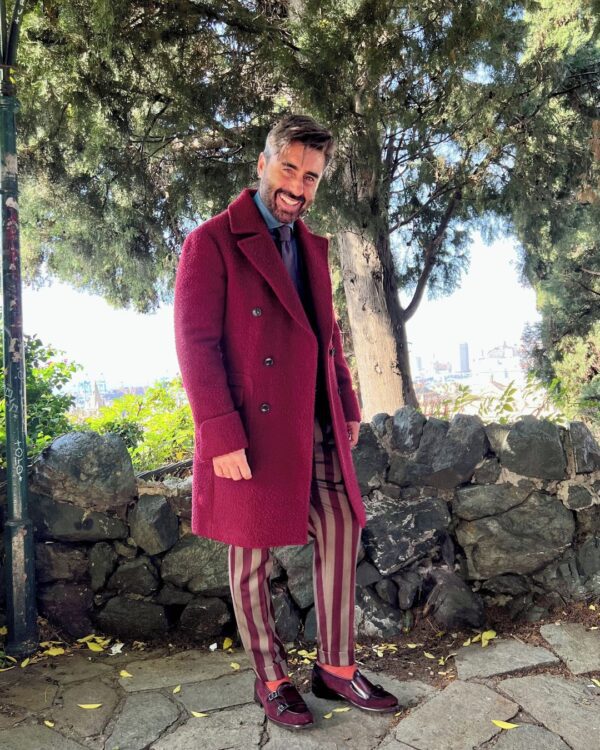 Outfit 37: Black pinstriped pants with a casual white shirt.
Outfit 38: Black front open shirt over a tee with off-white striped pants.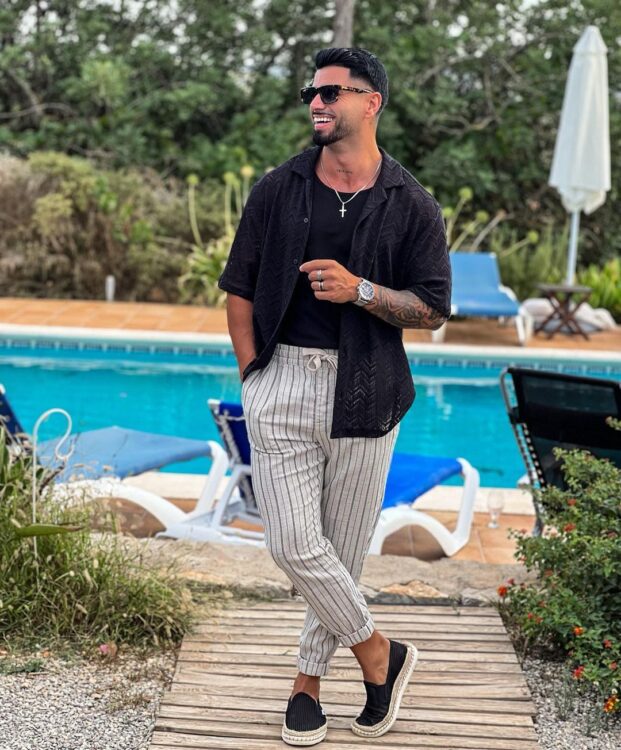 FAQs 
What color shirt goes with black pinstripe pants?
You can wear a black tee or polo shirt with black pinstripe pants and introduce a pair of black leather loafers for that classic total black look. On the other end of the spectrum, using a white tee or a button-down with black pinstripe pants is another perfect way to rock them. Tops in other pastel hues will work just fine with a pair of black pinstripe pants.
Are pinstripe pants in style in 2023?
Pinstripe formal pants are a timeless classic, you can rock them any day of the year. Casual pinstripe pants have made a comeback in recent years and they are likely to stay in style in 2023.
Can men wear pinstripe pants?
Absolutely yes, pinstripe pants are for men. Men have been wearing them for decades. Men wore pinstripe pantaloons during the regency era (early 1800s) of British history. Today, they are as manly as jeans and joggers. 
Are pinstripe pants formal?
They are both formal and informal. And it depends on the tailoring and fit. Pinstripe pants are both formal and informal. You can pull them off in every situation with the right pieces put together in the correct way. 
Can you wear pinstripe pants with a solid shirt?
Of course, you can. A solid shirt, whether a button-down, a polo, or a tee works perfectly with a pair of pinstripe pants in any color. Solid tops are in fact the go-to options for most guys, they work better than patterned or striped shirts. 
Can I wear a solid blazer with pinstripe pants?
Yes you can, in fact, you should prefer a blazer in solid colors with the pinstripe pants. Whether you are short and stocky or have an athletic build, Solid tops with striped pants work to your advantage. They'll draw attention to your toned legs in case you have athletic legs, and if you are short this will help increase the perceived height by drawing the eye up and down. It turns out a solid blazer is the right choice to pair with pinstripe pants.