How to mix and match your socks and suits?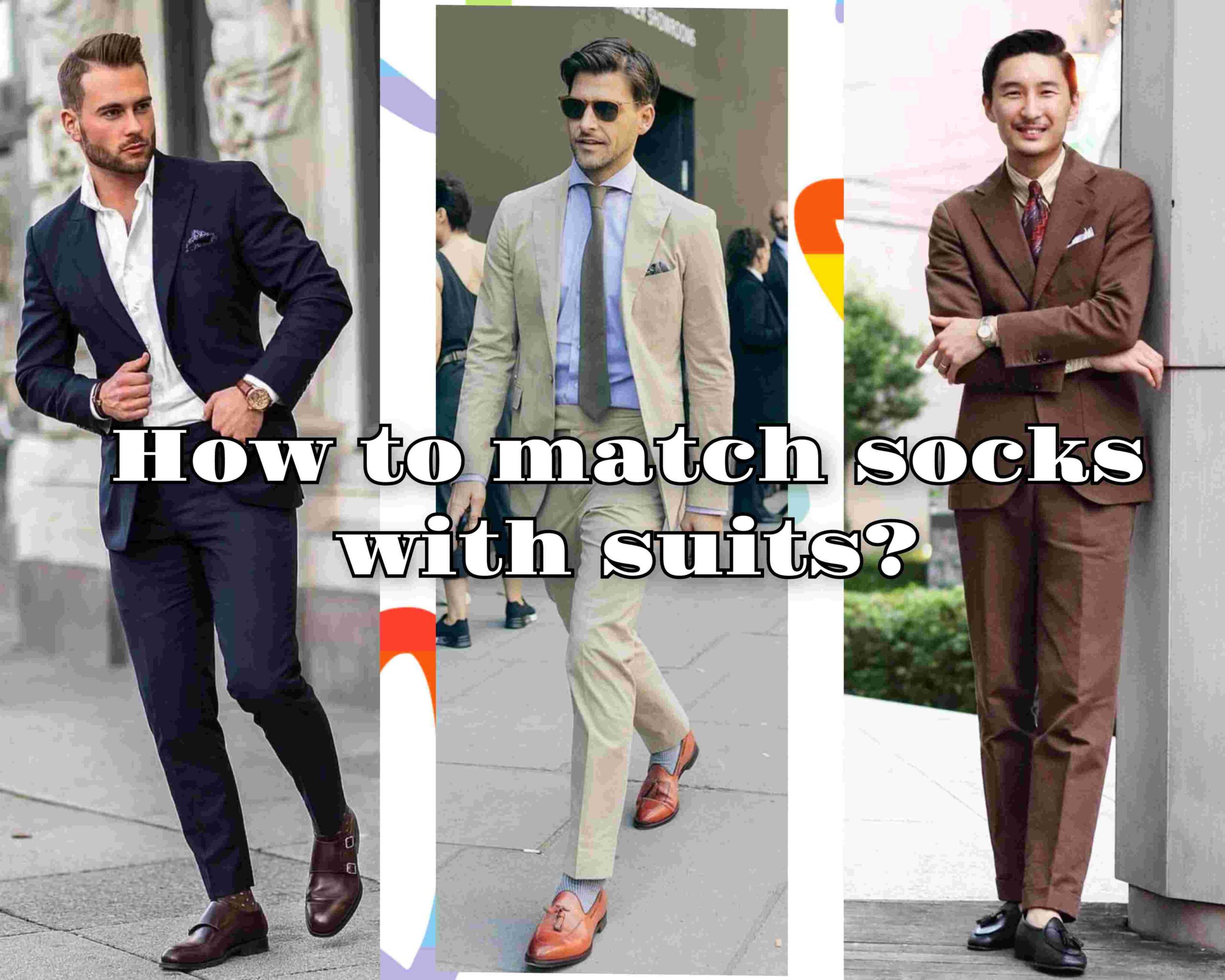 Suits and socks are inseparable companions, whether the suit is a formal suit or a smart casual one. What we mean by that is, you simply can't rock a suit without a crisp pair of socks. Socks in darker shades and subtle patterns are the preferred choice for formal wear. Patterned or solid, socks should match your pants or shoes for a streamlined silhouette. You can rock your favorite white ankle socks too but make sure you wear them with white sneakers (or maybe sneakers in any other color) with the smart casual version of the suit. 
No one would like to ruin his choicest suit with a sloppy choice of socks, choosing a correct pair of socks is a part of the process of good dressing you just can't afford to ignore. Because socks are the very foundation of any outfit and more importantly, it's the only innerwear item that you can't hide! Socks give a picture of how you look from the inside, or how much you actually take care of yourself up close to your body. But this doesn't mean your socks should scare you off. So much so that you start thinking about going sockless with your suit for that special wedding? That would be another mistake by the way. Let's not make a meal of matters related to socks and suits, they are far from being a labyrinthine maze. There are some pretty straightforward things you should keep in mind to stay on track and avert any nuisance and sartorial faux pas. Let's get started from the very basics…
What type of socks should you wear with a formal suit?
This is pretty much the first question that springs to your mind when you start paying attention to dressing up in your formal suit. With formal suits you should wear socks that show minimal contrast, the best ones are those that match your shoes or alternatively, suit pants. This makes black and brown and their respective shades the best to coordinate with suits since these are the colors men prefer for their formal shoes. Socks in plain solid colors and earthy tones are a far cry easier option for men. They will look more put together, focused, and formal. Patterned socks, on the other hand, will add personality and a subtle pop of color to your formal outfit. Always make sure your patterned socks match your shoes or pants in some way, it's better to stick to subtle and subdued patterns for a streamlined silhouette with a formal getup. 
Going sockless with a suit?
Going sans socks with a formal suit? Not the best way to dress up for an occasion where lots of people would be judging you. Not a good idea at all! Does this "rule" apply to those not-so-formal suits without neckties? Absolutely yes. You can opt for those trendyish ankle socks or even no-show socks to go with your smart casual suit. Going sockless is not an option, because without socks your sweat gland will make both your shoes and feet feel bad! Your feet will sweat and smell like a pig and your shoes will be all sloppy and nasty! You can be sure that there's going to be no winner in your battle for socklessness. 
What kind of socks work best with my brown suit? Navy blue suit? We'll just be touching on this top topic, for all the 5 most popular colors of men's suits. 
Socks with black suits:
With a black formal suit, using black socks is a no-brainer, in fact, an overwhelming majority of men go for a black pair of socks with a black suit. And to be honest, there's not much choice available to you when matching socks to black shoes/suits. At the most, you can go for a pair of dark navy or charcoal grey pairs of socks. When wearing this black suit as a semi-formal suit without a tie, you can go for white socks/ white ankle socks with sneakers and loafers, but you will have to introduce a white shirt or tee to the equation to create a put-together outfit. The addition of a black shirt will help you create a monochromatic all-black look which is going to be both satisfying and exciting. 
Socks with grey suits:
With a grey suit, black socks will always work, especially when you're wearing black leather shoes. You can go for patterned socks with some grey and black hues to accompany a grey-patterned suit. Socks in any shade of grey, navy, dark brown, and olive green will work with a grey suit. 
Socks with brown suits:
What color socks should you wear with a brown suit? Well, as a rule, black socks work with every type of suit, especially when you are wearing black leather shoes, but they are far from being the best choice. Patterned socks with some hint of brown will work best with a classy brown suit. Subtle shades of green can be your choice if you are looking for a pop of color. Socks in earthy tones, khaki, beige, cream, and olive green are the hues that'll never disappoint you with a brown suit. Orange and grey, on the other hand, are the colors that'll clash with your brown suit, it will be best to avoid socks in these colors. 
Socks with navy blue suits:
Navy and any shade of blue will work with a navy suit, but it will be better to avoid lighter shades. You can rock socks in a diverse range of colors with a navy suit including earthy tones like khaki, olive green, brown and beige. Maroon, pink, grey, and purple shades will work with just as much ease with your navy blue suit. 
Socks with tan suits: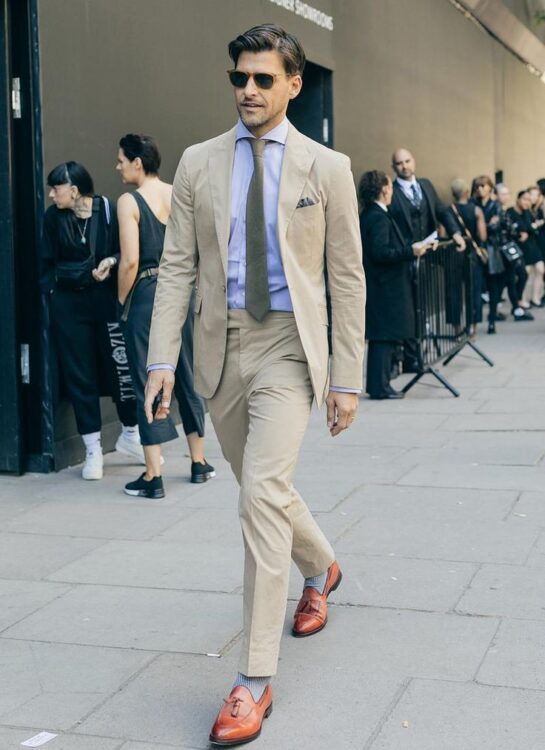 Tan suits are for warmer weather and for less formal occasions. This means you can experiment a bit with the choice of your socks. But when dressing up for formal wear with your tan suit, it's better to be on the safer side specifically when it comes to socks. When wearing a tan ensemble for formal settings, stick to socks in shades of brown and earthy tones when wearing brown shoes. Black or charcoal grey socks are safe to put on when wearing black shoes. Khaki or tan suits are preferred by most men for less formal occasions going with a necktie and switching the button-down with a tee or polo shirt is the way to go. This makes the case for white socks ( ankle socks or regular dress socks) and also for the no-show socks for trendy tassel loafers and white sneakers and classier monks. 
Socks with smart casual no-necktie suits:
Modern smart suits sans neckties and sans button-downs, let you enjoy the luxury of going sockless (in reality wearing no-show loafer socks) when wearing loafers. This ultra-easy style of suit lets you feel easy in your sports shoes specifically sneakers. Turns out you can wear ankle-length sneaker socks with your smart no-necktie suit. Avoid putting on your regular dress socks with this neo-smart suit, it will simply look out of place and totally schlumpy. 
Patterned suits:
What socks best suit the patterned suits? Patterned socks, you guessed it. Patterned socks that somewhat match the color or pattern of your suit will work best. This doesn't mean you can't opt for socks in solid hues, you can always go for the plain ones, as they will be an easy way to complete your look. But patterned ones will add some depth and dimension to your formal outfit, they'll look well placed with the patterns of your suit. 
Here's a quick rundown of what you should keep in mind when styling your socks with suits.
Stick to neutrals, black and earthy tones: 
Avoid the clashing colors, and clashing patterns for that matter, because you need to present a streamlined silhouette, not a fragmented skeleton. 
Opt for regular dress socks or no-show socks with formal suits with neckties. Crew socks and sneaker socks have got nothing to do here.
Opt for ankle socks and no-show socks with smart casual suits, crew socks or regular dress socks won't make sense here.
When using pattern socks, keep them subtle and subdued, something must be common between the pattern and your pants.
FAQs: 
Should socks show with a suit? 
Socks can show with a crisp and stylish suit without compromising anything. They can peep out from between your pants and shoes and it's perfectly fine. How much should your socks show when wearing a formal suit? As a general rule of thumb, no skin should show when you are wearing a formal three-piece or two-piece suit with a necktie, and the upper edge of your socks should be covered by pants. The only exception is when you are wearing sneakers or loafers with a smart casual suit without a tie.
Do you wear black or white socks with a suit?
Black socks are in fact a no-brainer, they go with every species of the suit under the sun. This is especially true for black socks when you are wearing black shoes. So black socks go with everything but what about white socks? Regarding formal suits, white socks can work only with suits in pastel hues like cream, tan, or off-white. It's better to wear white sneakers with smart casual suits, and with them, you can always be at home with white ankle socks.
Should men wear socks with suits?
Socks should always be on your feet with suits, even if you don't like to show them off. No-show socks are the solution if you wanna go sockless with a suit. Without socks, you risk getting your shoes and feet spoiled with sweat because feet are the sweatiest organs in the human body. Socks will protect your feet from odor-producing bacterial growth and they will also protect your shoe insoles from getting sweaty, stinky, slippery, and discolored.
What color socks to wear with a brown suit?
Socks in solid earthy tones or patterns and prints that have some hint of color brown in them are your best bet to use with a brown suit. Black socks will work with a brown suit just as well, especially when you are pairing a pair of black shoes with it. If your brown suit is light enough ( resembling khaki or beige) then you can go for white and pastels.