9 Men's fashion accessories that will elevate your leather biker look and make it 100 times sexier!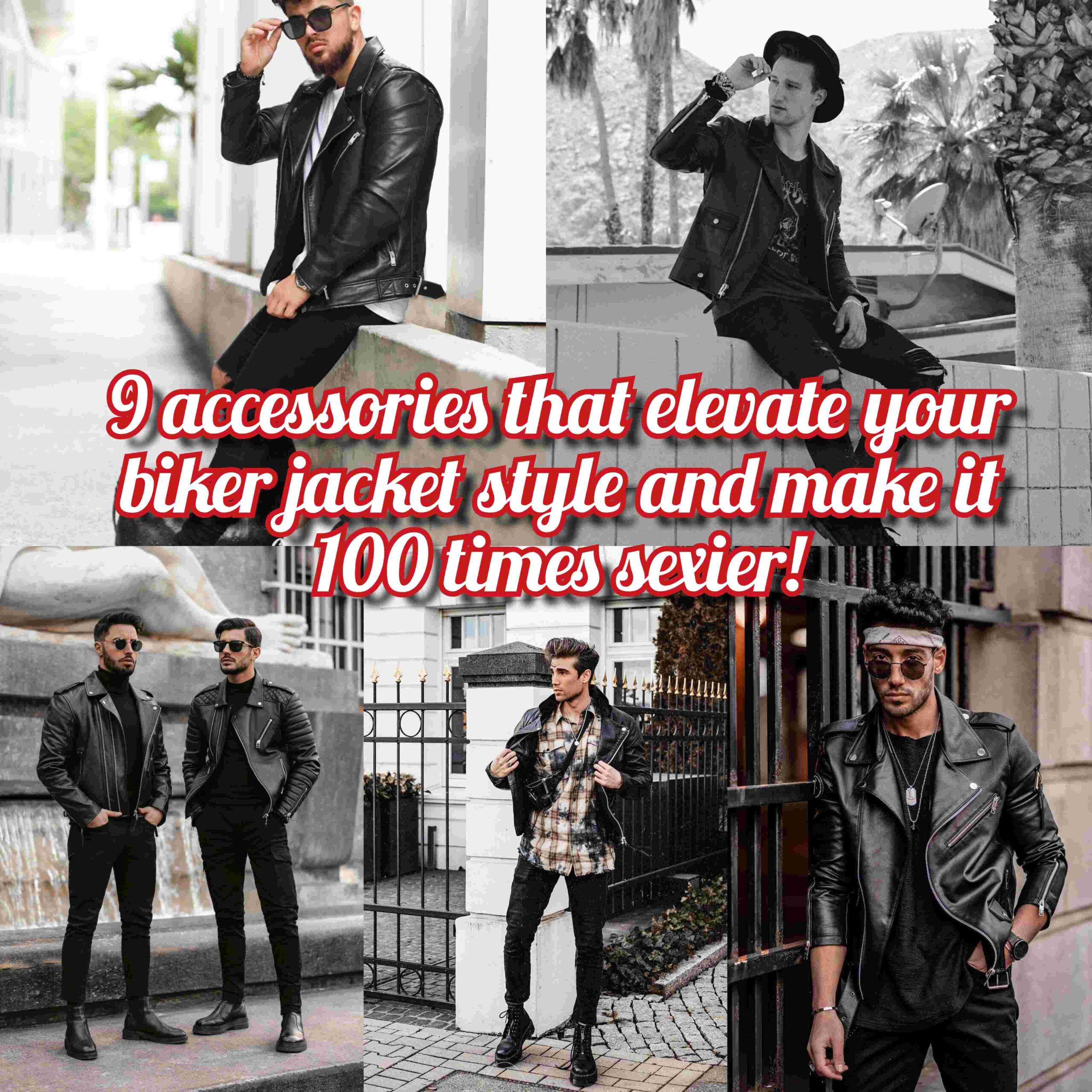 Men's fashion accessories can add oomph and pizzaz to any street-style outfit and you already know that. You are absolutely in love with your black leather biker jacket and you also know how fashion accessories can elevate a leather biker jacket look. You love to combo and mix and match, have tried all-black outfits with leather jackets, and have been experimenting with leather biker jacket outfits that are not all-black.  But now, you want to somewhat spice up your style and make things more interesting, you want your black Moto jacket to look sexier, cooler, and more badass, and are wondering how. You don't want to come up with the same old story every single time you throw your biker jacket on! We'd love to help you with this little problem of yours. Accessories can do wonders, they come to your rescue when you are looking to elevate your style game. The answer to your quest lies in the intelligent use of fashion accessories to make you look more fashion-forward, sophisticated, and cool in your leather biker jacket. So welcome your aha moment, these 9 accessories will rev up your leather biker jacket look (whether you use a single accessory or a combination of them ) and they'll make you love it even more. 
The 9 accessories you can use to elevate your leather biker look.
1. A pair of sunglasses: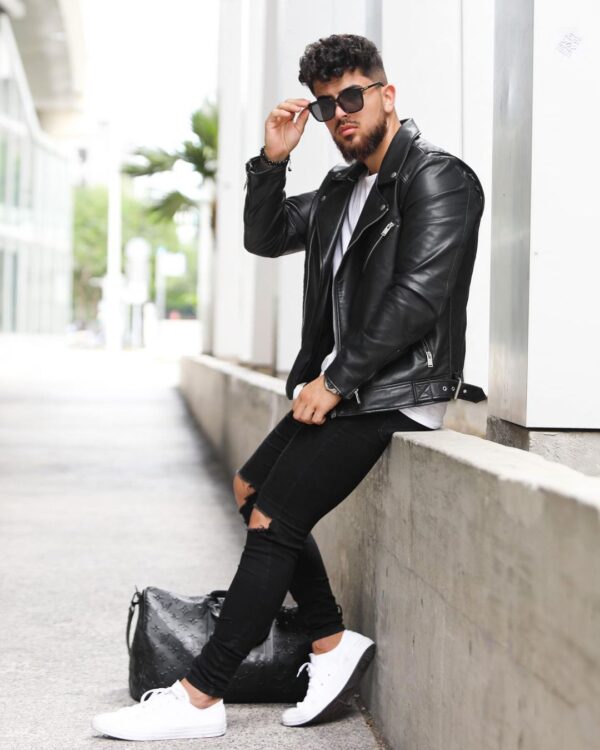 A pair of sunnies works like a charm to rev up your style game, especially your biker look. Even if you are not a big fan of these sunglasses and don't usually wear them, you can give them a shot with a leather jacket and swag it up a little. Image source
2. An intelligently chosen and styled Bandana: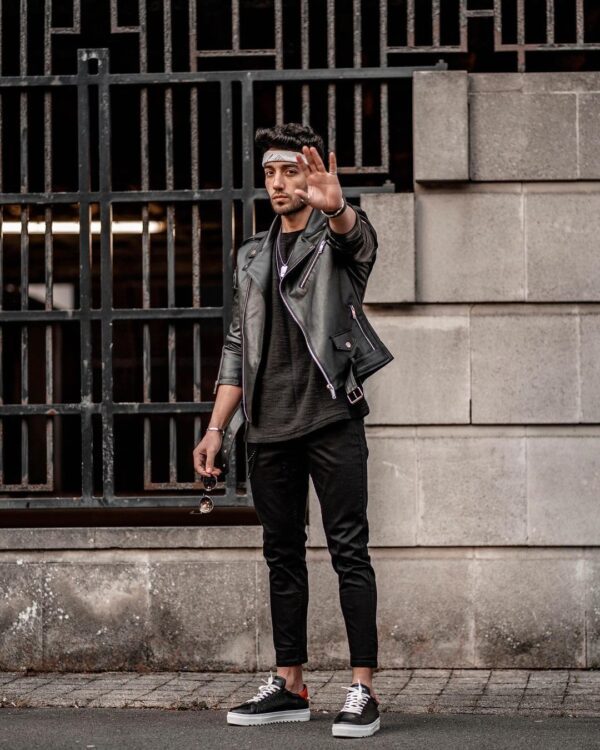 A bandana when worn right, looks great with your moto. Whether you like to tie it up on your neck or use it as a headband or even as a headwrap, a bandana can kick your street swag up a notch. If you are in the mood to change your moto jacket look, do give that square piece of cloth with paisley prints (a.k.a a bandana) a try.  Image source
3. A black wool beanie or a black baseball cap: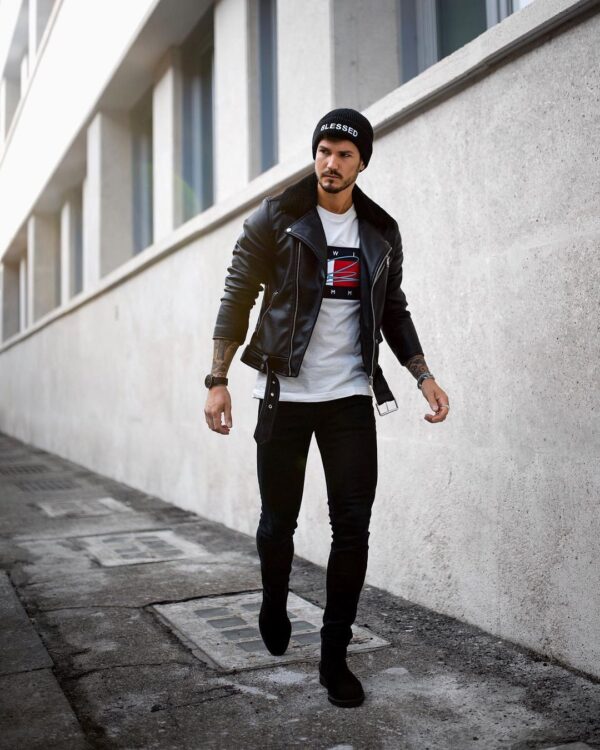 When the sun shines unexpectedly bright on an autumn day or it gets colder than usual, it's time to take out your headgear. A baseball cap or a beanie. How does a beanie or a dad cap rev your style a hundred times? Just match them ( the beanie/ dad cap) in color and see the magic. Remember a black baseball cap with a black Moto jacket. Image source
4. Belt chains:
Yes, those belt chains do give your biker look an undeniable edge. This thing dangling off your belt (ahem) creates an aura of badassness like nothing else. A shiny belt chain along with your belted biker jacket will definitely be a fun twist on your usual biker look. Image source
5. Black leather boots:
To do justice to your black leather biker look, always introduce at least one black item to accompany the black jacket, as some fashion gurus emphasize. Why not a crisp pair of black leather Chelsea or combat boots? A pair of black leather boots should always be your number one choice when it comes to footwear in a black leather biker outfit. Image source
6. A black leather cross-body sling bag:
Crossbody bags are on-trend and are an incredibly handy accessory. Choose a black leather crossbody bag to pair with your black Moto, sling it over your shoulder with a biker jacket and you are A-okay with your bag. Image source
7. A quirky pair of leather gloves:
Gloves are functional, they protect your hands against all the rough surfaces and make your manual tasks smooth. But they are no longer than usual rough-and-ready aid to do some hard manual work. They are, if worn right, a statement piece! And a stylish and sturdy pair of leather gloves will complement your biker look, make it even more badass, and gingers up your scruffy chic biker jacket style.  Image source
8. A bracelet: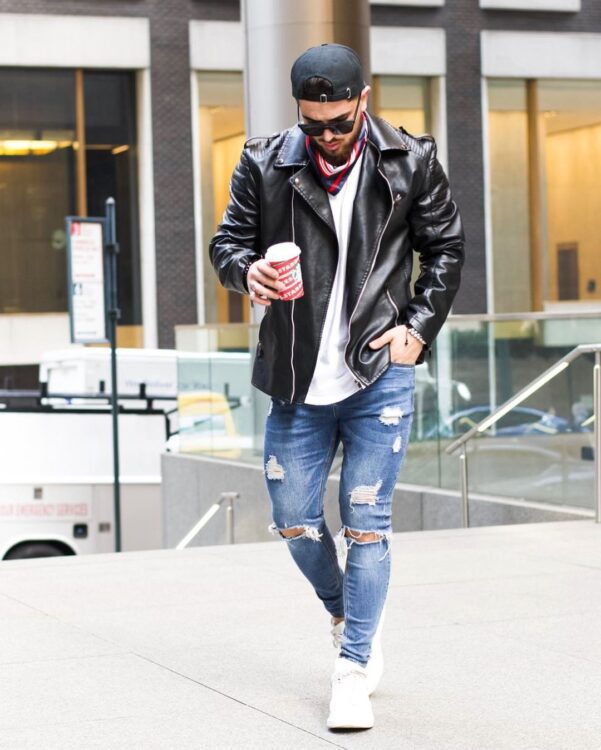 You can always count on an edgy bracelet to add that extra ounce of oomph to your style. You can effortlessly rev up your leather bike jacket outfit with a bracelet that works well with this jacket. This funky accessory can help you tell your story and share a vibe with those around you all you have to do is wear it well and choose the one that looks good with your biker jacket. It can be a metal bracelet, a leather one, the beaded one, or even a paracord bracelet.  Image source
9. A necklace:
Ever thought of adding some dimension to your casual outfits by wearing a necklace? You better give it a thought. Men are increasingly turning to jewelry to express their styles, a necklace being close to your heart(we mean it literally) expresses your style like nothing else.  A gold or silver chain necklace is one of the most popular accessories, they can elevate any of your outfits and give them a touch of sophistication. And you can easily top off your biker jacket outfit with a classy necklace and the end result will be a more stylish and elegant casual style statement. Image source