10 must-haves for guys to keep their wardrobes well-organized and spick and span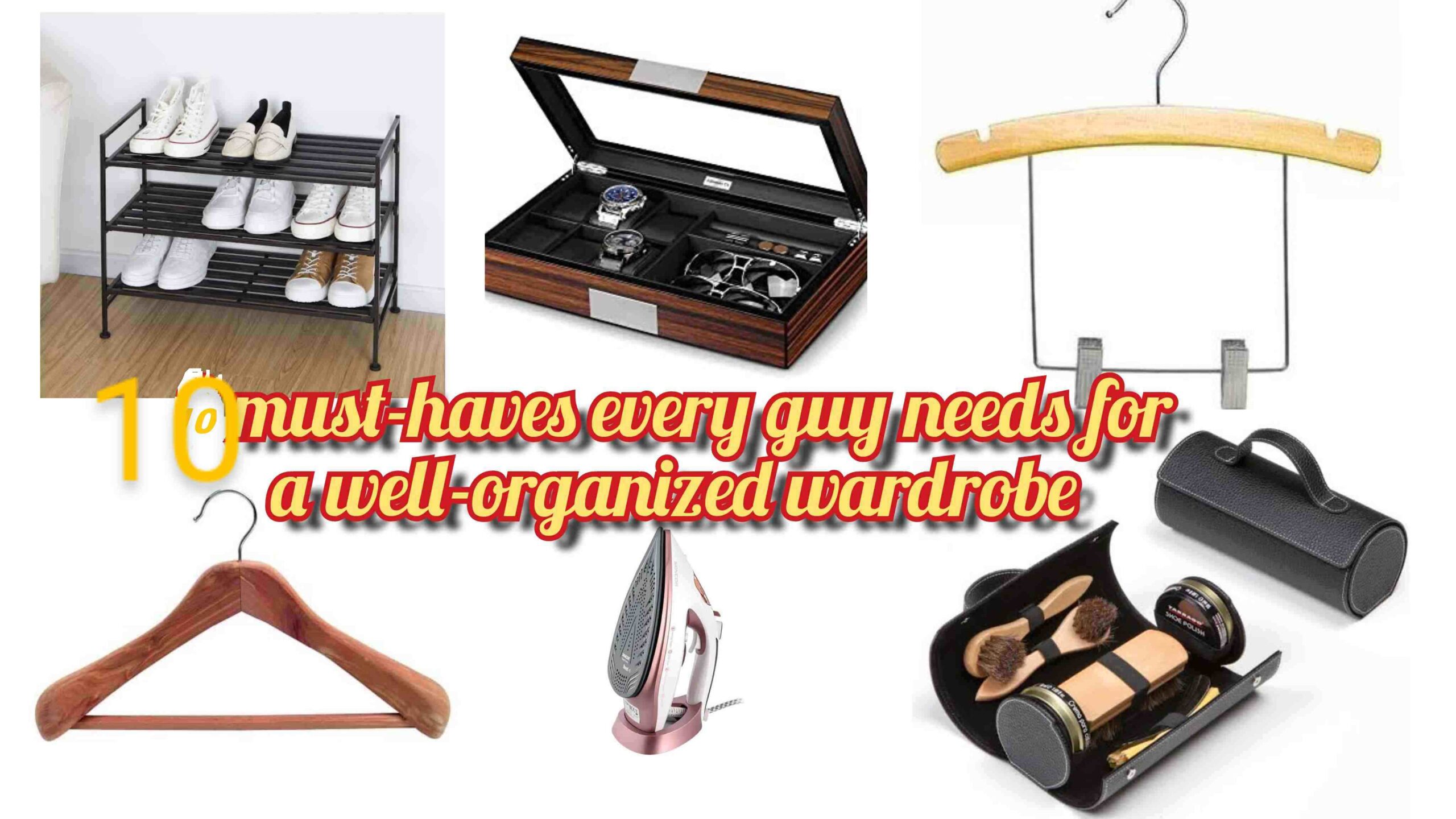 All the shoes, T-shirts, and jackets and the whole shebang you have spent your money on and more importantly have enjoyed living in deserve a certain amount of care and respect. Nobody would want to rummage around in the closet frantically searching for the last remaining pair of clean boxers while hurrying and worrying to make it to the office in time. And it will sure as hell drive you nuts to find the left one of your only clean pair of no-show socks missing while getting ready to rock your newest pair of tassel loafers. Long story short, you want a tidy wardrobe for yourself with the staples being within easy reach and available when needed. You want your leather shoes to be properly polished and scuff-free, your cotton pants and vest suit flawlessly ironed and your socks and ties and underwear easily findable when getting ready for your friend's much-awaited wedding. This checklist of 10 must-haves for guys will help you keep your closet well-organized and spick and span.
The idea of having a tidy and well-organized wardrobe always remains at the back of your mind, it's perfectly doable, and believe me, you don't need a robot butler or a guardian angel for this!  All you need is to develop some habits and invest in some of these must-haves we are talking about. 
 Adding new entries to your wardrobe is important to stay on-trend but taking care of what you already have and use daily is equally important. And you will surely agree that every guy needs to own each of these ten must-haves to keep his wardrobe well-organized, tidy, and spick and span.
1. Shoe conditioner/shoe polish kit for your leather shoes:
Why do you need it?  Leather shoes enjoy the lion's share of every man's shoe collection. Taking care of them is absolutely important because these kicks complete your outfits, make you look dapper, and take you everywhere. In return, they deserve some care for staying in shape and for a long happy life. So yes, you need to be aware of how your footwear department is working and is taken care of. A product named shoe conditioner is what you need to own.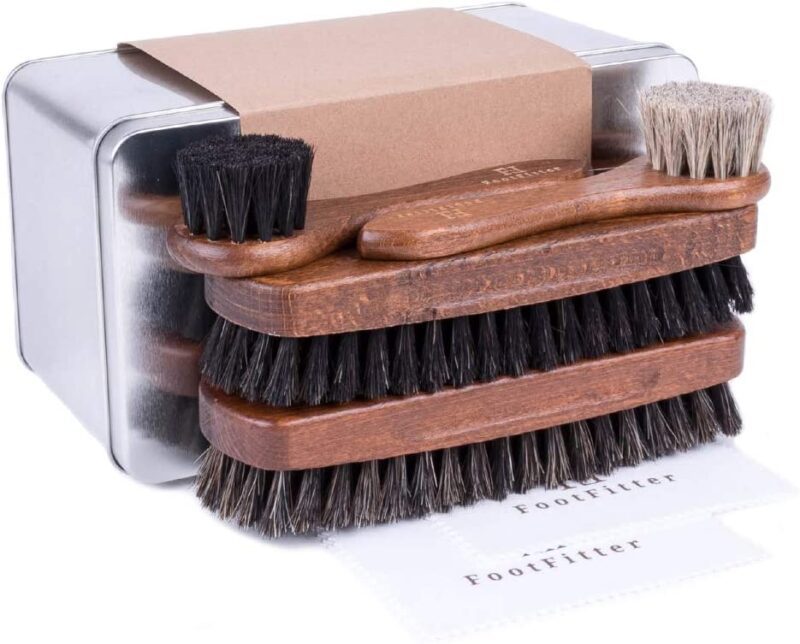 Our pick:
FootFitter Essential Shoe Brush Set – Horsehair Brushes for Polishing Men's Shoes!
10 must-haves for guys.
What should you be looking for in a shoe conditioner?: You should opt for the product that is easy to apply and gives your shoes and boots the shine you want. A good shoe conditioner should be able to remove scuffs and blemishes that are tarnishing your shoes. The patina left by a good shoe cream or polish leaves resists moisture from the outside. It shouldn't change the color of your shoes for this you ought to be looking for a conditioner that is wax-free. 
2. Smart steam Iron: 
Why do you need it?: You want your tees, button-downs, and pants to have a smooth wrinkle-free finish after ironing. Steam iron is your best bet and owning a top-of-the-line steam iron is a must-do investment.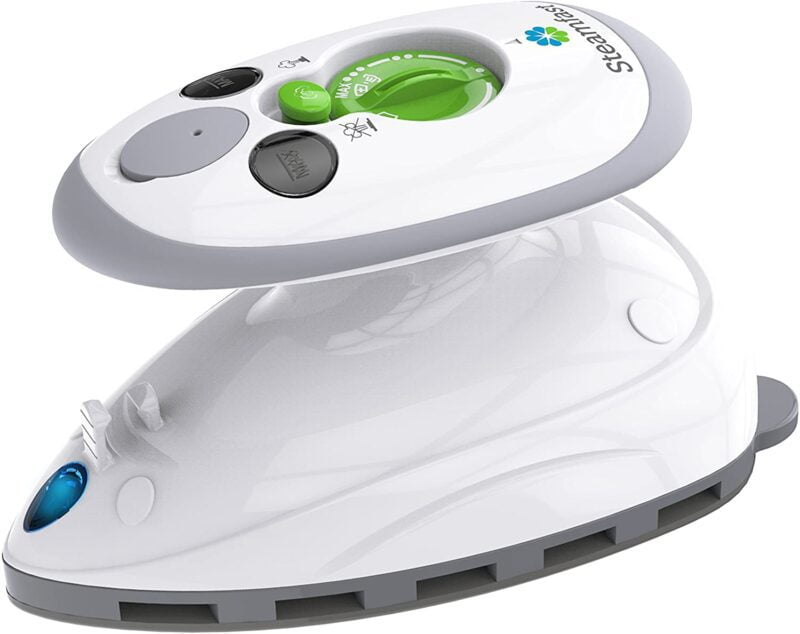 Our pick:
Steamfast SF-717 Mini Steam Iron with Dual Voltage, Travel Bag, Non-Stick Soleplate, Anti-Slip Handle, Rapid Heating, 420W Power.
10 must-haves for guys.
What should you be looking for in a steam iron: You'll be using this gadget often as such it should be the best affordable variety available on the market. A good steam iron has an efficient heat-up and temperature-ready indicator. It must be able to produce a sufficient amount of steam to facilitate the ironing process without any leakage of water. This anti-drip feature is important so is the auto-shut-off mechanism. The sole plate of the iron mustn't be ceramic coated because it wears faster. Instead, it should have the sole made of aluminum or stainless steel they have excellent glide and are easiest to clean.
3. A sturdy presentable umbrella: 
Why do you need it?:
Imagine you are all dressed up for a stroll down the boulevard and it starts pouring down like a bolt from the blue, or imagine yourself crossing a wide street during a heavy downpour, umbrellaless! In such a situation all you can do is to get drenched from head to toe, pray for the rain to stop, and miss your brolly dearly.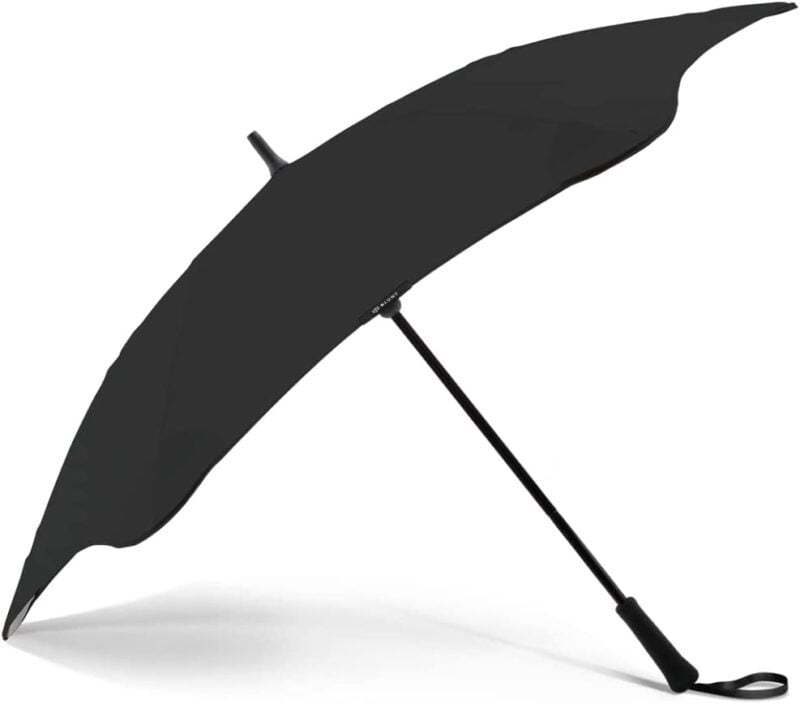 Our pick:
BLUNT Classic Stick Umbrella 48" – Waterproof & Wind Resistant Radial Tensioning System – Strong & Compact & Light – Built to Last – Easy to Use [Perfect for Travel & Commuting]
10 must-haves for guys.
What should you be looking for in an umbrella?
You need an umbrella to shield you and your a-la-mode outfit from rain and winds. And you need an umbrella that is compact yet has a sufficiently wide canopy to protect you when it's chucking it down. You need to have an ergonomic design of the canopy and the handle and the shaft and frame should be strong enough to withstand gusts of wind. 
This article will help you find out more about the 7 best umbrellas available online.
4. A versatile multifunction underwear/socks drawer organizer: 
Why do you need it? You don't want a jumbled mess in the drawer where you put your socks, belts, boxers, and ties in, that omnium-gatherum of your vital wardrobe accessories. A little tidiness and organization will make life much easier for you, a drawer organizer gets you covered.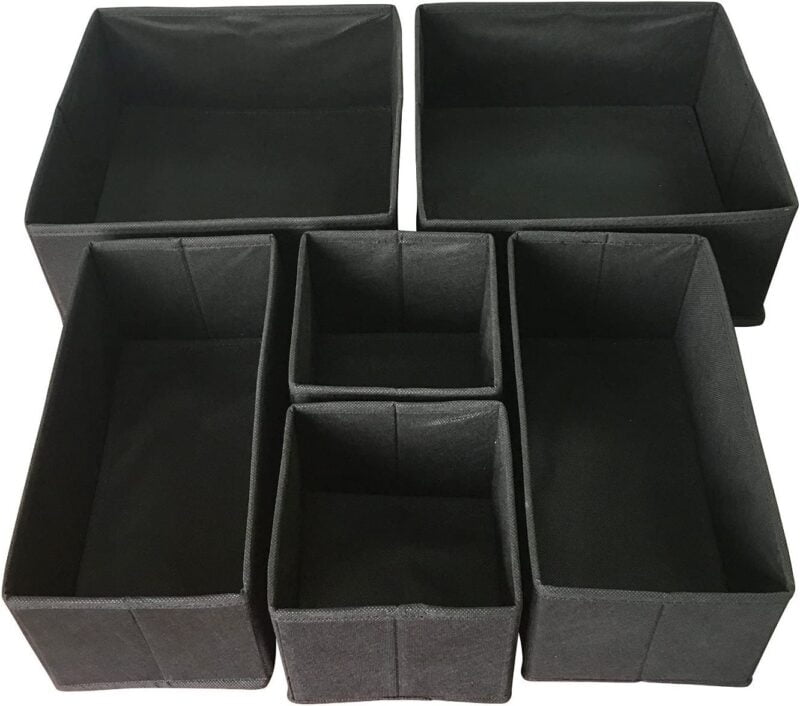 Our pick:
Sodynee® Foldable Cloth Storage Box Closet Dresser Drawer Organizer Cube Basket Bins Containers Divider with Drawers for Underwear, Bandanas, Socks, Ties, Scarves, 6 Pack
10 must-haves for guys.
What should you be looking for in a drawer organizer? The drawer organizer should be compartmentalized so that different items can be stored separately in these compartments. Before buying a drawer organizer it is better to consider the proper depth and width of different slots and the material from which it is made. Prefer the one that is customizable and manufactured from sturdy material like plastic.
You personal grooming is as important as anything else, there are essentials that can take your grooming game to the next level, this checklist of grooming must-haves will offer you a lot of help.
5. Shoe organizer: 
Why do you need it? It's about time you shun your shoe-tossing habit for a tidy self and space for yourself. Every man needs to own 10 to 20 pairs of shoes, and keeping them at a designated place is important. You can't keep the shoe boxes of all the shoes so it's important to have a piece of furniture for that purpose.
Our pick:
Simple Trending 4-Tier Stackable Shoe Rack, Expandable & Adjustable Shoe Organizer Storage Shelf, Wire Grid, Bronze
10 must-haves for guys.
What should you be looking for in a shoe organizer?: A spacious shoe system designed from a durable material like wood, plastic, or metal is worth your investment. It must be capable of accommodating 10 to 20 pairs of shoes so that you can place all your footwear items in it. A good shoe organizer shouldn't take up too much space, it should be easy to use when putting shoes in it or taking them out. And aesthetic aspects can't be ignored too, your shoe organizer must look good at your place and improve on the decor. 
6. Shoe deodorizer:  
Why do you need it?
Nobody on earth wants to make his guests, no matter how sick you are of them, run away from your place because of that pesky, intolerable smell originating from your shoes and socks. It would be plain embarrassing! You have to get rid of this stink before your girlfriend gets rid of you. Simple as that! Go get a shoe deodorizer for you man, you have to!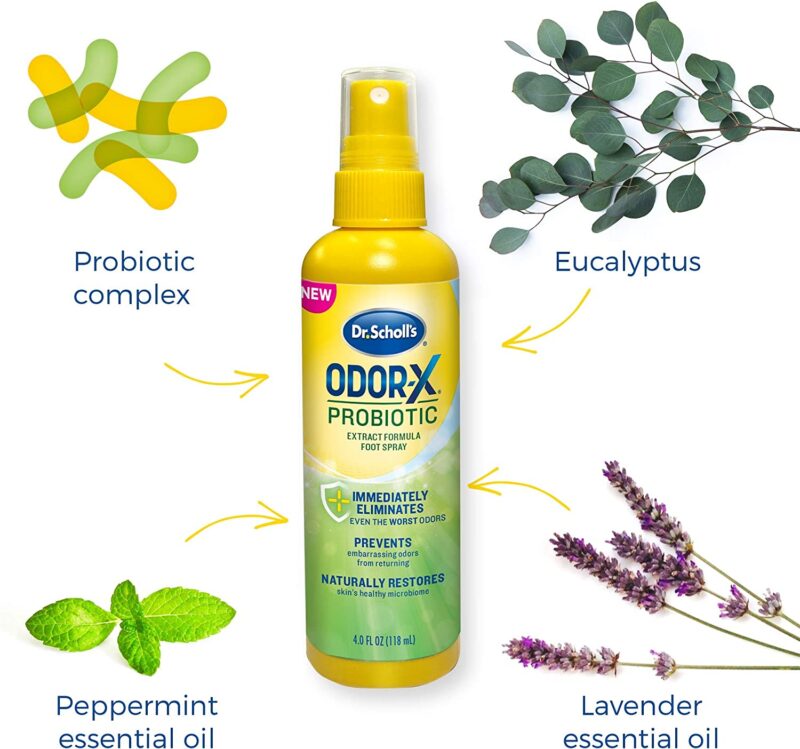 Our pick:
Dr. Scholl's Probiotic Foot Spray 4oz Immediately Eliminates and Prevents Odors from Returning Shoe Deodorizer.
10 must-haves for guys.
What should you be looking for in a shoe deodorizer:
Shoe deodorizer, which can be a spray, a powder, or an absorbent pouch, comes to your rescue to curb that order that has made your life a living hell. You need to choose a deodorizer that doesn't just cover up the stench with a fragrance but actually fights the bacteria and fungus that produce the odor and that also prevents the stench from coming back. 
7. The right type of hangers for pants, shirts, and jackets: 
Why do you need it?: Your shirts, tees, jackets, and topcoats need a resting place and a dignified one. Hangers are small accessories everyone owns but do you own the right ones?  You need to have different hanger types for different wardrobe pieces.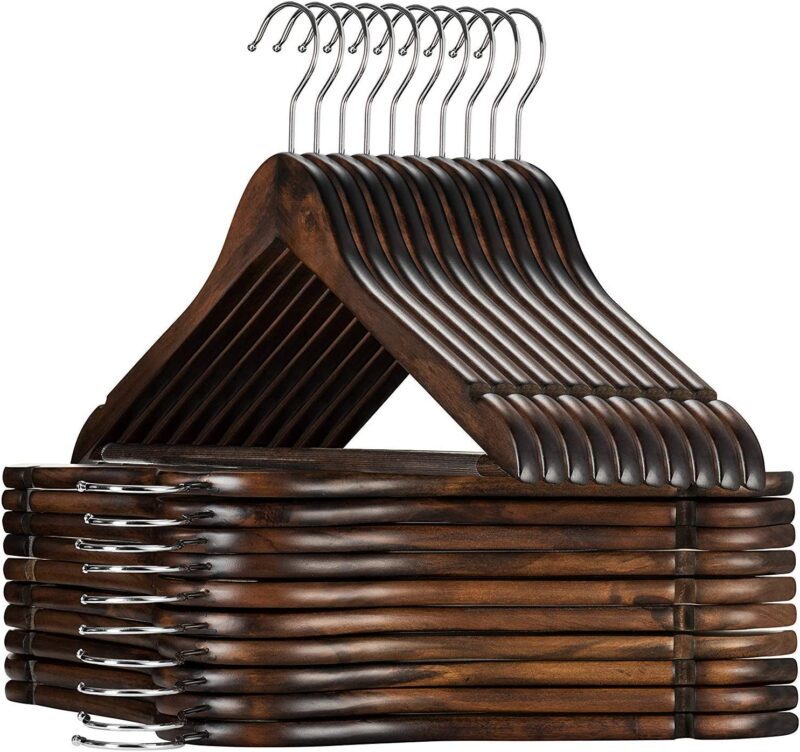 Our pick:
High-Grade Wooden Suit Hangers with Non-Slip Pants Bar Smooth Finish Solid Wood Coat Hanger 360° Swivel Hook Precisely Cut Notches for Camisole, Jacket, Pant, Dress Clothes Hangers – 30 Pack, Vintage
10 must-haves for guys.
What should you be looking for in these hangers? 
You should use heavier wooden hangers for those pricey wool coats and jackets. The best option is non-slip velvet hangers for all kinds of clothes. Avoid wire hangers, they easily bend after prolonged use and they are not non-slip. For delicate fibers like silk or cashmere use padded hangers to keep your valuables safe. Use sturdy hangers with bars for suits to save space, one hanger can easily accommodate both the pants and the suit jacket. Investing in some sturdy wooden hangers is totally worth it because they are going to keep your pricey coats and vests and blazers in good shape. 
8. A classy jewelry box or a valet box: 
Why do you need it? Not all men hate wearing jewelry, lots of dudes actually love the necklaces, Signet rings, watches, bracelets, cufflinks, and even pants chains they use. If you are one of these dudes who are jewelry buffs you probably own a jewelry box. If not, then you have to invest in one to keep your jewelry safe and available when needed by you.
Our pick:
Mele & Co. Davin Men's Wooden Dresser Top Valet in Dark Burlwood Walnut Finish,
10 must-haves for guys.
What should you be looking for in a valet box: Opt for a box that can display and keep safe all of your jewelry items.  What kind of jewelry box you should buy? It all depends on the type of jewelry you use. If you are a watch aficionado then it's better to own a watch box with a number of slots to hold all these watches plus other jewelry pieces you own. If you have a more extensive variety of valuables then you should look for a box that allows for customization. Whatever you are going to store in your jewelry box, from cufflinks to eyeglasses, your top priority should be safety and design. A box with a soft lining and dependable locking system is what you should prefer to get the most out of it.  
9. Ultrasonic jewelry cleaner:
This is a gadget that cleans your pricey jewelry items and eyeglasses by using ultrasonic waves. 
 Why do you need it?: The eyeglasses you wore all summer long and your favorite wristwatch you wore with every suit need proper care and cleaning. Like every other object humans use, jewelry pieces and other accessories gather dust and get dirty and grimy. Cleaning your wristwatch, earrings, necklaces, and even cellphones with water is not at all possible let alone advisable. Cleaning your jewelry manually with toothpaste and other chemicals is a laborious and time-consuming process. And visiting the jeweler for getting your jewelry cleaned can cost you a lot of money, so why not invest in an ultrasonic jewelry cleaner to make your life much easier if you are a jewelry fan?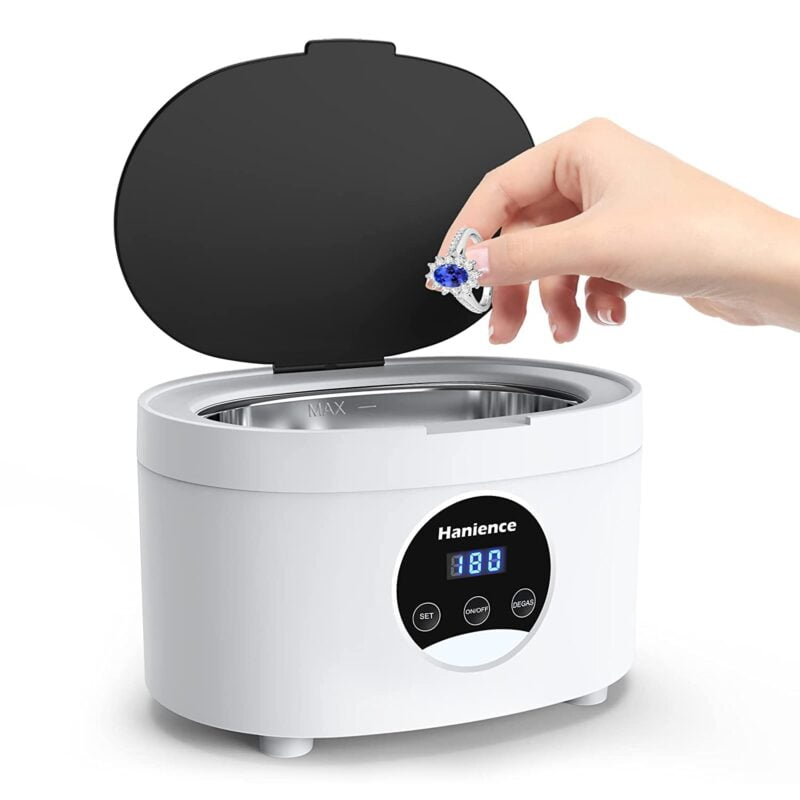 Our pick:
Ultrasonic Cleaner, 600ML Portable Professional Ultrasonic Jewelry Cleaner Machine with 5 Digital Timer and Degas, for Cleaning Jewelry, Ring, Silver, Dentures, Glasses, and Watches
10 must-haves for guys.
What should you be looking for in a jewelry cleaner? : A compact, durable, and spacious ultrasonic cleaner that sports a timer should be your choice. These ultrasonic waves clean up the grime and dirt without damaging the items. This gizmo will surely make the cleaning process of your jewelry a breeze, and they are not a costly item to purchase, this is the icing on the cake really. 
Read this article to find out more about quality ultrasonic jewelry cleaners.
10. Electric lint remover:
Why do you need it: Some fabrics just can't help give off that clingy fuzzy fluff and this is quite annoying. It destroys the appearance and textures of your wearables. To get rid of lint you need a lint remover or a defuzzer, ( also known as a fabric shaver or a pill remover). For many reasons, an electric defuzzer is much better than a manual lint roller.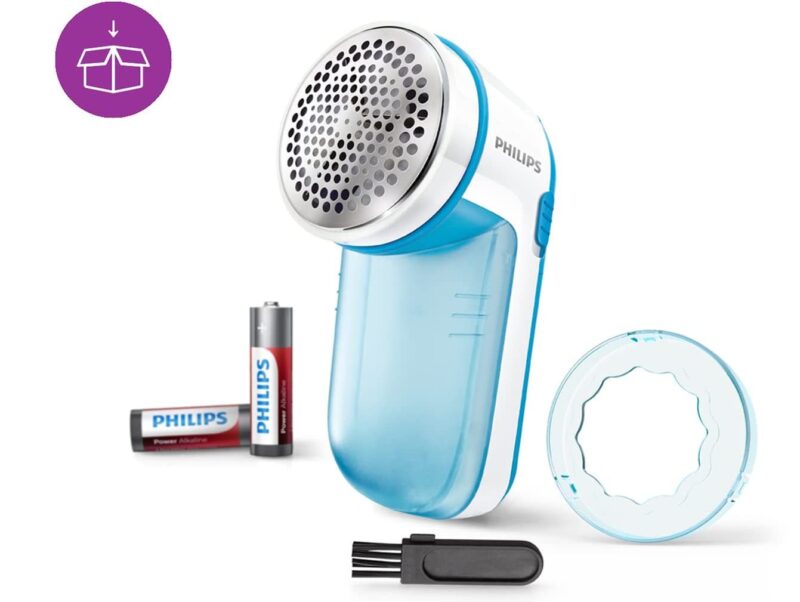 Our Pick:
Philips GC026 Electric Lint Remover
10 must-haves for guys.
What should you be looking for in an electric defuzzer?
First and foremost, you must be looking for a lint remover that has a long battery life, is easy to hold, easy to use, and is easy to clean up. You should be able to charge it easily. A good electric defuzzer revives the fabric of your coats and sweaters by getting away with all the clingy fuzz and pills.