Teaming up the white blazer: 45 white blazer outfits for guys.
A white blazer is a daring style move for most men if not all. And if you are one of those daring devil-may-care types in the mood to overcome your inhibitions and give that insanely intriguing white blazer a whirl for the first time in your life, we've got you covered. How can I look stylish in my white blazer? You needn't look any further to search for an answer to this query!  This article is just about that. We'll introduce you to a wealth of white blazer outfits but let's have a look at this short style cheat sheet on how to style a white blazer for men. Let's get started. 
How to rock a white blazer: A brief style guide.
The fit:
 Like any other blazer, a white blazer needs to be of proper fit. There's no one-size-fits-all sort of formula when it comes to the proper length of a blazer. Some men like a blazer to be short and fitted, and some prefer slightly longer lengths. It's up to your personal preference. A short blazer is just below the mid-fly, whereas a longer blazer is a couple of inches longer. A blazer must fit properly at the shoulder without being too tight to hinder arm movement. 
Teaming up the white blazer: 
This isn't as tricky as it sounds but styling a white jacket is slightly different from styling a white tee, polo, or button-down. Teaming up a white blazer means layering it over shirts and pairing it with bottoms, the shirt you opt for will be decisive. One way to keep the white jacket the center of attention is to go for darker colors when choosing the shirt, pants, and shoes. Contrast work for most men, a buttondown or polo layered under a white blazer paired with black pants is just one of the many examples you can capitalize on contrasting pieces. A floral shirt may a shirt of choice for someone who's after bold and cheerful chic casual outfits. For a slightly smarter take on the white blazer look, go for other pieces in pastel and subdued hues like soft brown, beige, stone, and possibly smoke. 
Footwear options: 
A white blazer is a versatile piece that can be dressed up or down depending on the occasion. The option of shoes depends on the occasion and the aesthetic you want, so here are some shoe options for men to pair with a white blazer:
1. Crisp White Sneakers: For a casual and clean look, white sneakers are an excellent choice. They complement the blazer's color and give your outfit a fresh, modern feel.
2. Brown or Tan Loafers and monk strap shoes: For a more relaxed but still smart appearance, brown or tan loafers work well. They add a touch of sophistication to your outfit while keeping it comfortable. It's better to opt for pants in black or earthy tones to complete the look.
3. Black Dress Shoes: If you're going for a formal or semi-formal look, black dress shoes, such as oxfords or derby shoes, can be a great match. They provide a classic and polished appearance and can add a touch of individuality to your outfit while still appearing refined.
4. Espadrilles: When aiming for a summer or beachy vibe, consider espadrilles. They are comfortable and come in various colors and styles that can complement a white blazer nicely. Espadrilles are especially stylish when wearing shorts with a white blazer. 
5. Suede Desert Boots: These boots in a neutral color, such as beige or light gray, can create a stylish, semi-casual look when paired with a white blazer.
Remember, the choice of shoes should also depend on the other components of your outfit, the formality of the event, and your personal style, it's better to coordinate your pair of shoes with other pieces of your outfit. Whether it's a casual, semi-formal, or formal look you're going for, you can find a suitable pair of shoes to complement your white blazer.
Formal or casual:
 Is a white blazer formal or casual? Well, it's a bit of both but to varying degrees. A crisp white blazer belongs to that edgy smart casual realm of men's dressing. A white blazer elicits a festive mood, it's something that lacks both strict formality and rugged casual vibes. It's a statement piece that is known for being refined, elegant, and sophisticated in a unique way, combining it with other pieces will require some tact and some inspiration of course. Without further ado, let's dive into our collection of 40 white blazer outfits.
45 white blazer outfits for men.
White blazer outfits for wedding: 
A white blazer outfit can be the choicest option for a wedding. When backed by the right accessories and tailoring a white blazer is second to none as a wedding attire option. Here are some white blazer outfit examples for you to consider when dressing up for a wedding.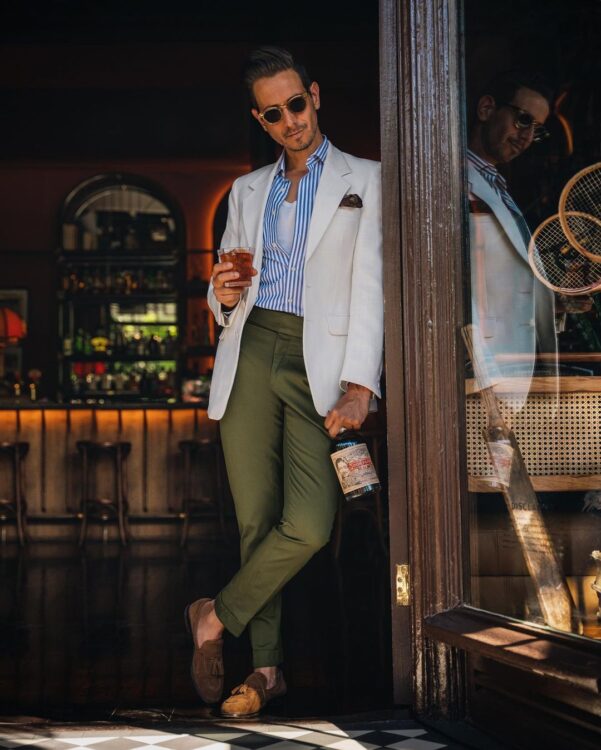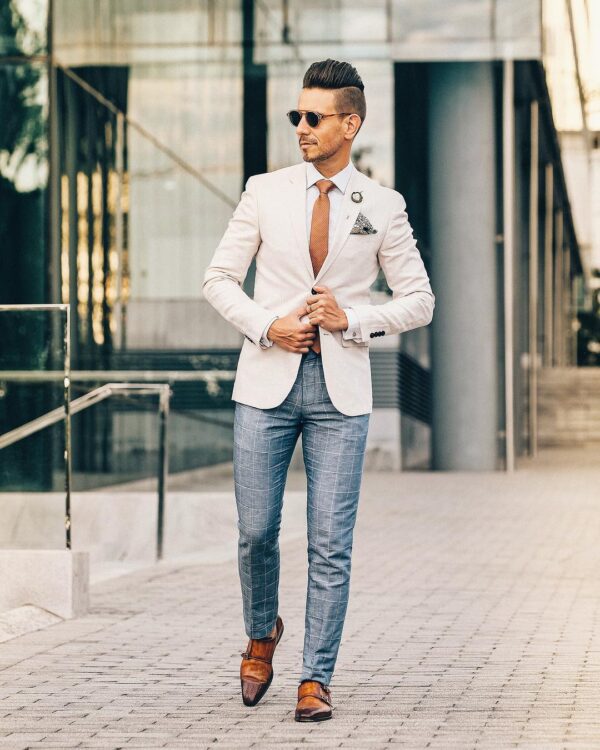 With everything black: 
A white blazer provides perfect contrast with a black shirt teamed with black pants. It's a scheme of basic neutrals that is universally stylish, anyone anywhere can go for this combo, with the right fit of course. Keep your blazer tailored and your pants neatly ironed and pleated to ace this iconic white blazer outfit idea.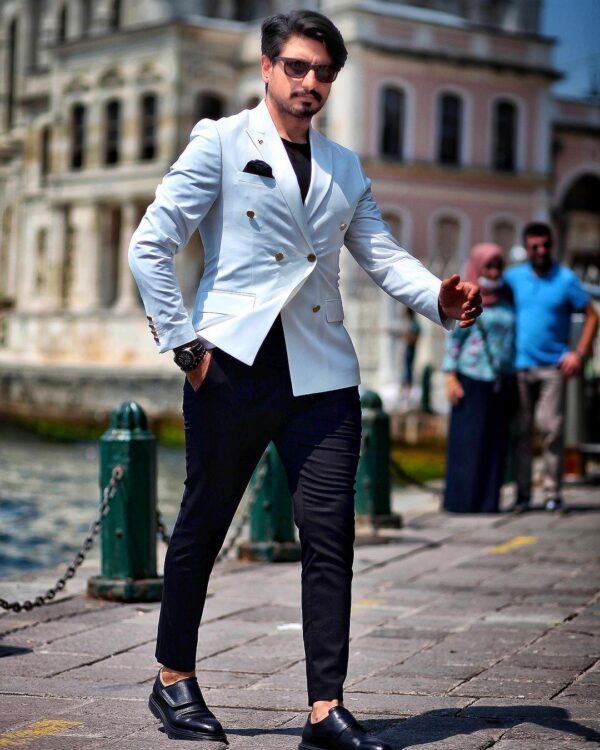 The chic casual take: 
You can rock this supremely stylish statement piece in a casual and relaxed way too. By combining it with casual shirts, like the floral print ones or even a crisp denim shirt can be a rewarding experience. Bring in those jeans that you spared for some dressier occasion and combine them with this blazer to nail this look, here are some ideas that you will find appealing. 
White blazer combinations with jeans: 
A white blazer can smarten up your jeaned look in a unique way. When done right, a blazer-jeans combination is perfect for a suave urban look, a white blazer will be better to make this combination even edgier. It's better to opt for dark wash jeans to combo with a white blazer, as they offer that stylish contrast between tops and bottoms. Go for slim and tapered jeans, straight jeans are okay too, but styles of jeans that are too skinny, baggy, or ultra-casual like extra ripped and distressed might not work well for everyone with a crisp white formal blazer.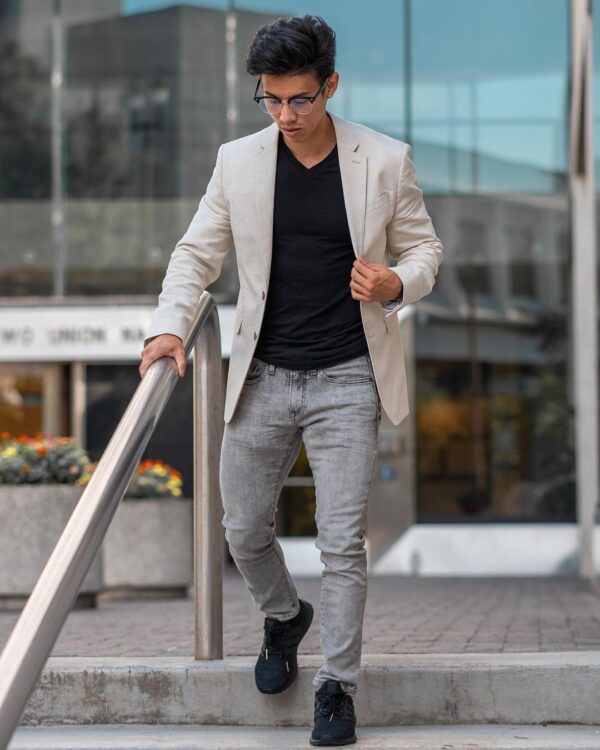 FAQs
Is a white blazer formal?
A white blazer is more of a formal type or you can think of it as a jacket of the occasionwear type. It's a statement piece reserved for special occasions, weddings, parties, and for a chic casual dressing experience on a relaxed off-duty day. You do not wear it in very casual situations, because it's not an everyday wear item, it has to be taken care of regularly and it has to be saved from losing its color by being exposed to the elements and gathering dust. 
Can I wear a white blazer to the office?
Yes, you can, but not very often. Sometimes things can get hectic at the workplace, so you need to be dressed professionally, not quite like a party. You can wear a white blazer to the office when you are expecting something fun and less businesslike or on any less busy day just to elevate your mood.   
What pants to wear with a white blazer? 
You can wear any pair of pants with your white blazer, just avoid ripped distressed jeans, jeans that are too skinny and casual, patterned pants, and cargo pants that are too baggy. Any pair of pants you believe in will work with this blazer provided that it's not too baggy, too skinny, or too casual. 
Is a white blazer a high-maintenance statement piece? 
It shouldn't be too intimidating for you to team up with a white blazer. A white blazer is a statement piece, it looks better when in a neat and prim shape and when worn on a predictable and organized day. But this doesn't mean you can't wear it on an ordinary day. If you want to look extraordinary on an ordinary day, just go for any of the white blazer outfits you have come across in this blog post earlier.