How to style a tank top, 10 spot-on ways to rock one!
Tank tops are a summer staple, every man's summer wardrobe needs several stylish tank tops to add oomph to his summer style. Summers are becoming hotter and longer (to some extent) every year, thanks to global warming and thanks to the prayers of summer lovers who always want more of this summer warmth and sunshine at whatever cost. The modern casual style fashion rules require you to have a special spot reserved for tank tops only in your wardrobe because they have, in fact, become a non-negotiable style need. Whether you like it or not, it is the way it is. Tank tops are important not only for the functionality they offer but also for the spiff and spice they add to your style. 
1. With gym shorts: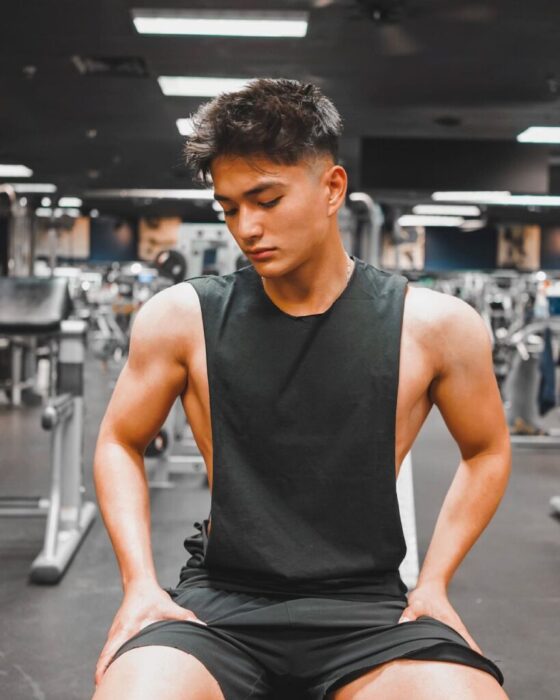 Tank tops and gym shorts are made for each other, you can't possibly go wrong with this combo. Gym suits comprising shorts and a tank are one of the most popular gym outfits for men. It's always safe to pair your tank top with a matching pair of shorts. This combo is a perfect wardrobe choice not just as a gyming and working-out option but as a cool streetwear option on a hot summer day.
2. With sweatpants/joggers: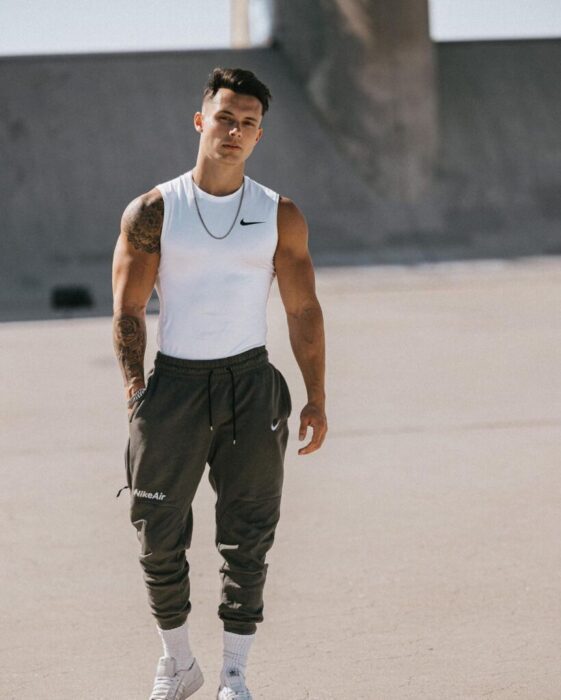 The second on the list is a tank top teamed with sweatpants. This is a perfect choice for loungewear, casual wear as well as workout attire. Sweatpants are adored by people for the comfort and style they offer. When used in unison with tank tops, they form one of the comfiest combos you can lay your hands on. 
3. With track pants: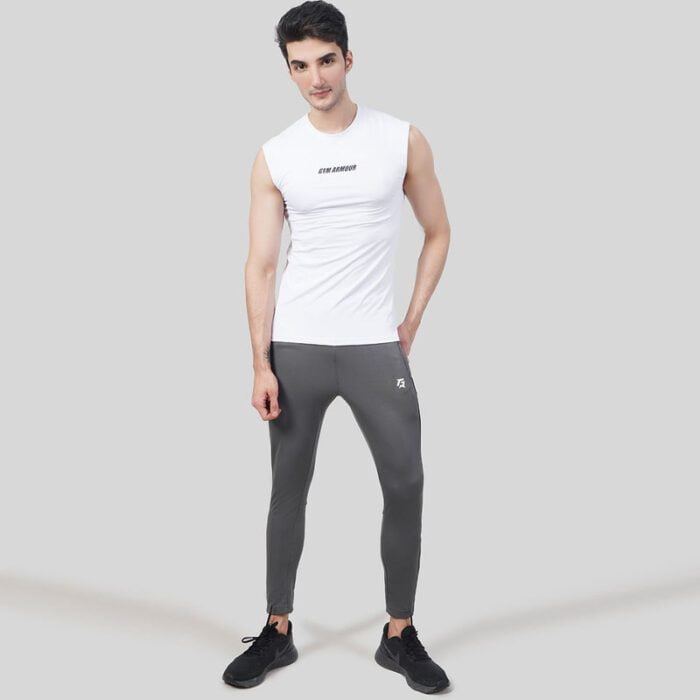 You can wear your favorite tank top with the track pants you prefer for workouts and for a casual walk down the street. Track pants, just like tank tops are staples in men's athleisure wardrobe and every guy should own a number of them.
4. With running shorts: 
Running shorts are no strangers to the wardrobe of even those men who don't usually take running very seriously. These shorts are the shorter and more form-fitting style of shorts and they let your calves and thighs breathe in hot summers. You can wear them shorts as a casual option for the beach or as loungewear and tank tops work with them perfectly to create a sexy summer look.
5. With chinos:
Chinos are versatile bottoms that can be worn in a multitude of ways. With tank tops, they form a preppy combo that you can try on any off-duty day. Side slashed tank shirts or floral tank tops can be used with chinos but paying attention to the right mix of colors is the key.
6. With jeans: 
A tank top with jeans outfits is one of the sexiest casual looks you can try in summer. Skinny jeans, if that happens to be your cup of tee, can be one of the hottest bottoms you can try with tank tops. Jeans of any shade and style work with tank tops of any type, in solid hues or printed. You simply can't go wrong with this combo when you try it at the right time and place.
7. With denim shorts: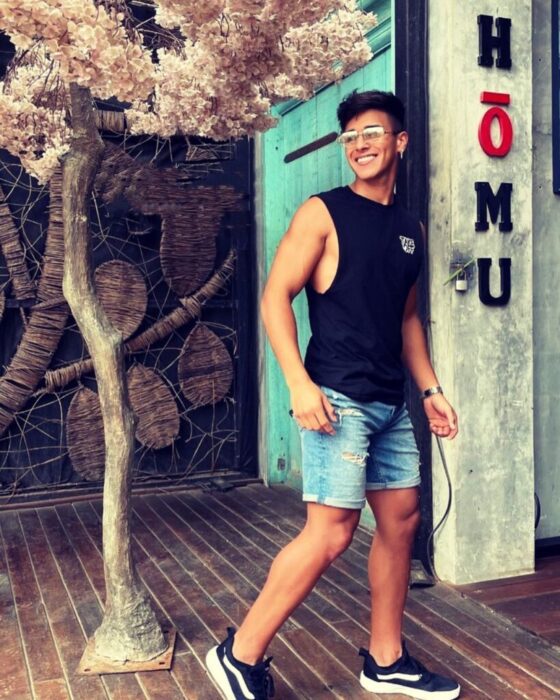 Denim shorts are one of the most popular summer shorts for men, tank tops can be paired with them effortlessly. Try a side-split tank top with distressed denim shorts for a day out on the beachside and let your legs and torso breathe. Floral tank tops, or plain tanks in pastel color work best with jean shorts in any shade of color. A tank top with denim shorts can be your go-to style with denim short outfits when vacationing at a summer resort.
8. With cargo pants: 
cargo pants are a much-loved staple in men's casual bottoms, and these pants pair well with a neat tank top. Choose a stylish pair of slim-fit cargo pants and pair them with your favorite tank top for a dapper and trendy look. Avoid wearing cargo pants that are too baggy and have bulky pockets.
Unsplash
9. With Bermuda shorts: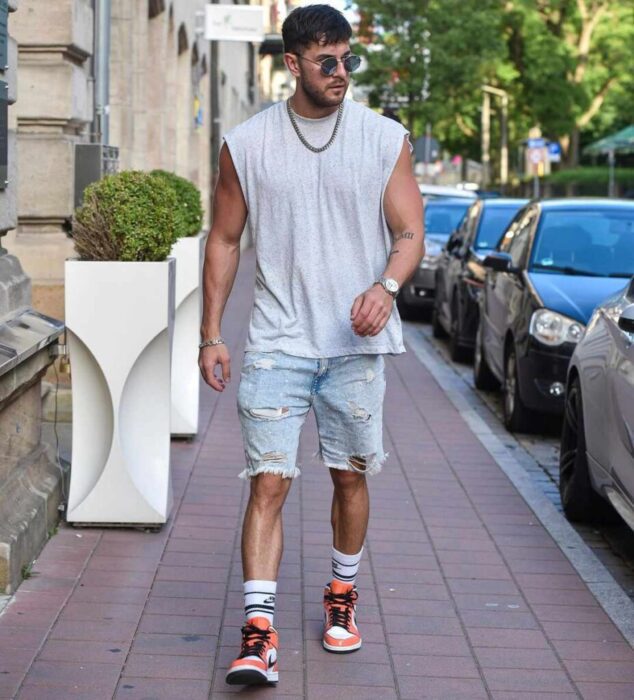 Bermuda shorts are longer shorts that reach up to the knees, tank tops will form a combo worth trying with them. The Bermudas are never out of style in summer, if you love wearing them, wear them with tank tops for a stylish look to spend a relaxed day outdoors.
10. With cropped pants: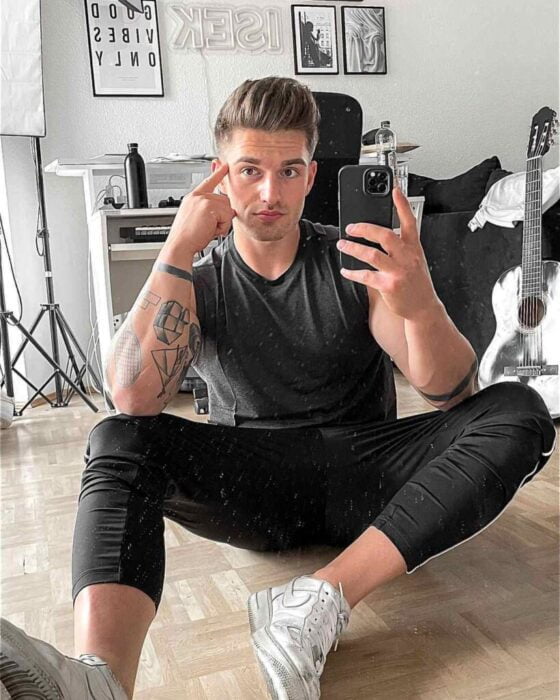 Slim-fit cropped pants with a tank top create an edgy outfit to make your summertime style exciting and memorable. Cropped slim-fit pants are sometimes called capri pants, and when paired with a tank top will make them look great on anybody.