35 outfits with red vans or sneakers for guys.
So red is your dose of joy, since you have landed on this page inquiring about red sneakers and vans outfits. Red vans (speaking broadly) sneakers are for men who love their casual outfits not just to be comfy and cool but to be bold and brilliant at the same time. Red sneakers can give a certain level of edginess and undeniable oomph to your casual style, and this article is all about giving you that dose of inspiration to create some stylish red sneakers outfit, but let's first have a look at a brief style guide on how to style red sneakers. 
How to style red sneakers? 
Red sneakers can be worn with any casual outfit that doesn't have any piece that glaringly clashes with red shoes. Fortunately, there are very few such pieces that will clash with red sneakers. Too much color, especially pastels like yellow, lime, and pink should be avoided if you don't want to end up looking like an attention-seeking manchild. It will be a lot better to use shades of red for other pieces, but in moderation, to add some depth to your ensemble. 
What pants go with red sneakers?
You can wear jeans in any shade of blue when wearing red sneakers. With white jeans, these red sneakers will work perfectly but when wearing black or gray jeans do include a red tee to bring symmetry to your outfit. Chinos, cargo pants, and joggers all work with red sneakers, there are certain colors that should be avoided. They include pastels like orange, lime, and yellow to avoid looking kitschy and crass. Certain light colors like smoke gray, light khaki, pink, and brown will work with your red shoes, in fact, they look great with them. The key here is moderation, use colors in moderation to truly rock your casual red sneaker outfit. You can't wear formal pants with them in most situations but a smart casual suit with red sneakers can look incredibly stylish on some guys. Add another (only one will do) red piece, preferably a shirt to complete the look in style. A tee, a hoodie, a mock neck, or a polo shirt in red or shades of red will be that proverbial match in heaven for your pair of red sneakers in a smart casual suit without a necktie. Khaki pants, camouflage pants, and denim shorts will work just fine with a pair of red sneakers.
How to make red sneakers look better on you?
Introduce a red shirt, a tee, or a polo depending on your situation into the equation to subtly elevate your casual swag. Take advantage of the contrast offered by different pieces and bring in accessories. If a baseball cap is your thing, introduce one(preferably one in shades/variations of red) into your casual red sneakers outfit to truly rock it like a pro. Artfully introduce your favorite shades of red by using accessories like a baseball cap, beanie, or bandana, to kick the chic quotient up a notch.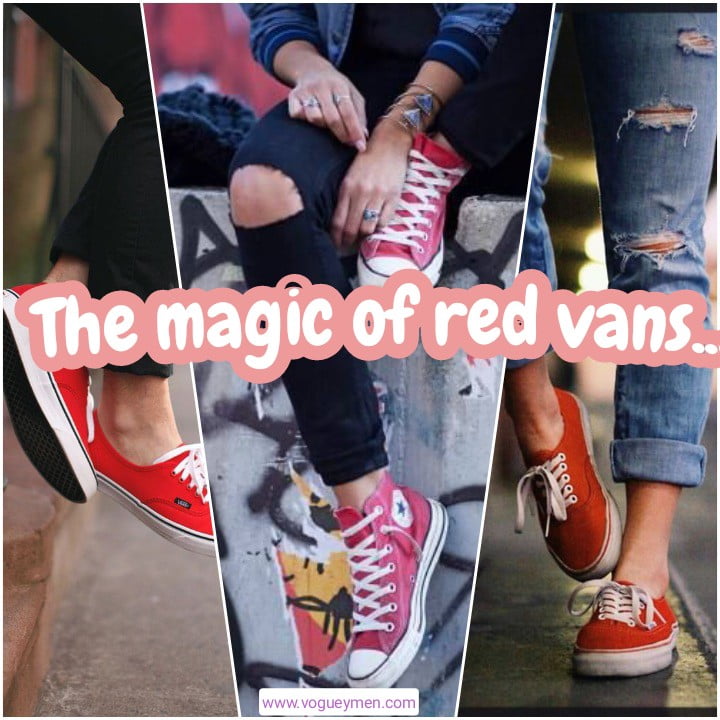 5 key takeaways:
Use your red sneakers with contrasting pants to highlight the pop of color.
Introduce another red piece, preferably a shirt or tee, to make the ensemble look more sophisticated and balanced.
Use colors in moderation, avoid colors that are too bright and light, and compete for attention. 
Prefer lighter shades of gray, khaki, and brown for your pants to pair up with red sneakers.
You can't use red sneakers in formal events, except when wearing a smart suit without a necktie, make sure that you are layering a red tee, or polo under the suit jacket. 
30 outfits with red vans
So, we are finally here, with our 30 outfits with ruby-hued kicks. There are casual red sneakers outfits, some outfits combining jeans and red sneakers, khakis and cargo pants with red sneakers, and other outfits on the list. Let's jump right into it. 
The smart casual way to rock the red vans:
It's totally acceptable to wear red vans in a smart casual way. You can rock a pair with a smart casual suit with a T-shirt. There are other smart and chic ways to rock these burgundy vans here are some outfits to spark your imagination. You can wear some accessories to spice up the look, for example, a red baseball cap will look just spot on with these red vans fashion situations.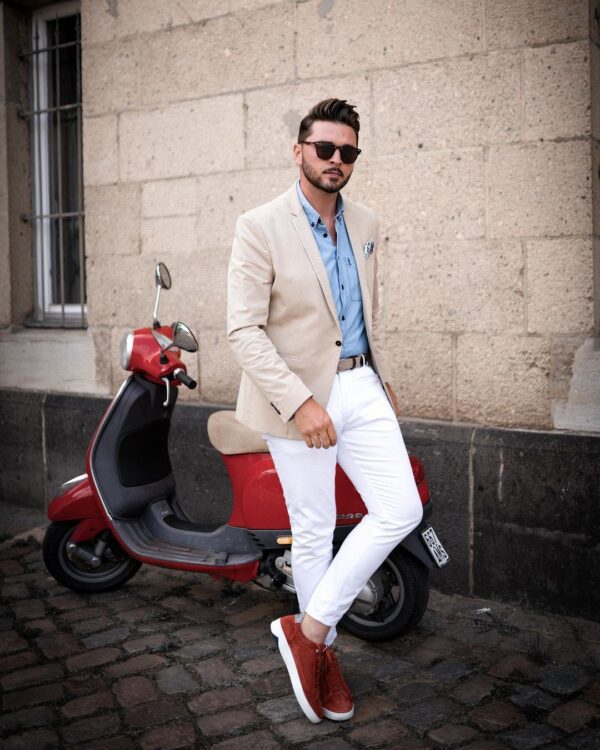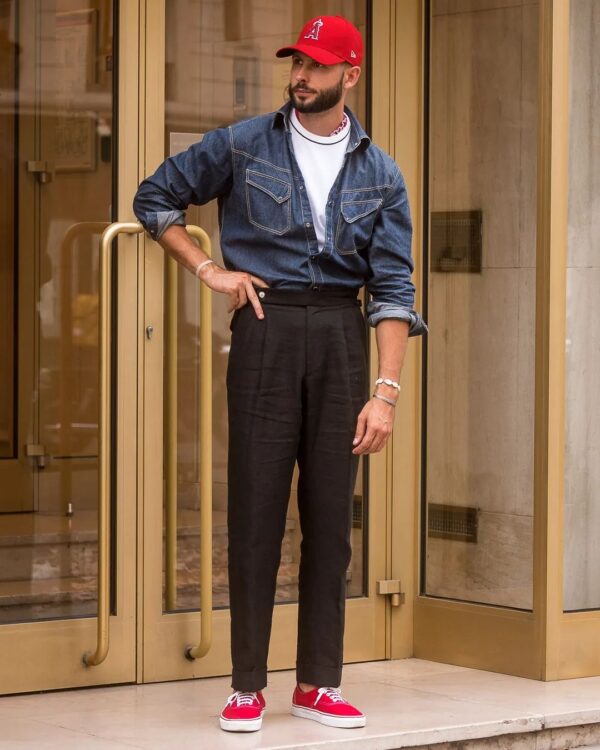 With shades of red:
Now, if you are one of those rare guys who are not scared away by red, this is the way to go. That is, if you use a top in red or shades of red (Picture pink!), you will be amazed by the end result. A red tee, a red leather jacket, a floral print shirt, or any top in shades of red will do, it's time for you to just do it.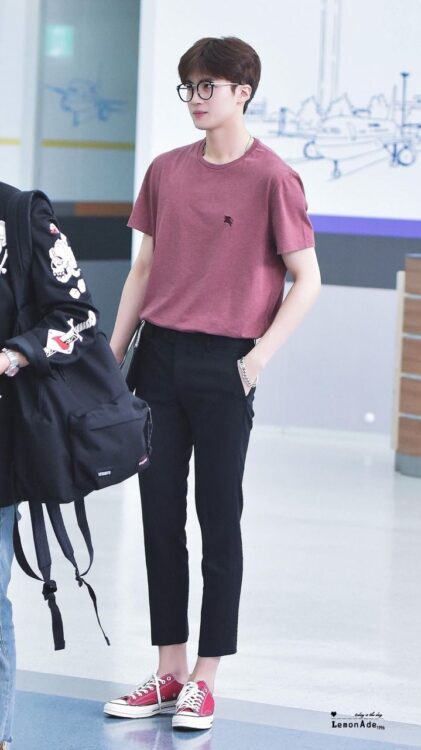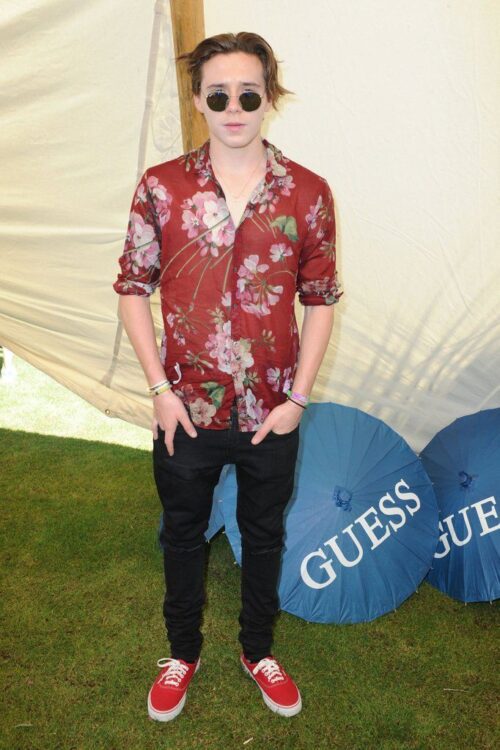 With shorts:
It's a popular way to rock these sneakers in red, when you are looking for a fun twist to your casual summer style with shorts, it's always possible to sub your white sneakers or espadrilles with a quirky pair of red vans to augment your white shorts or a basic black shorts look or to spiff up a basic denim shorts outfit for a day at the beach or at a summer resort.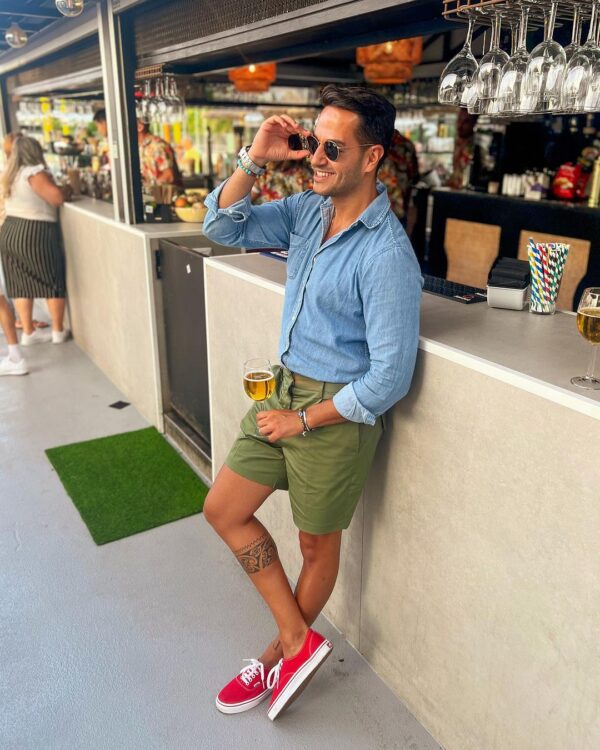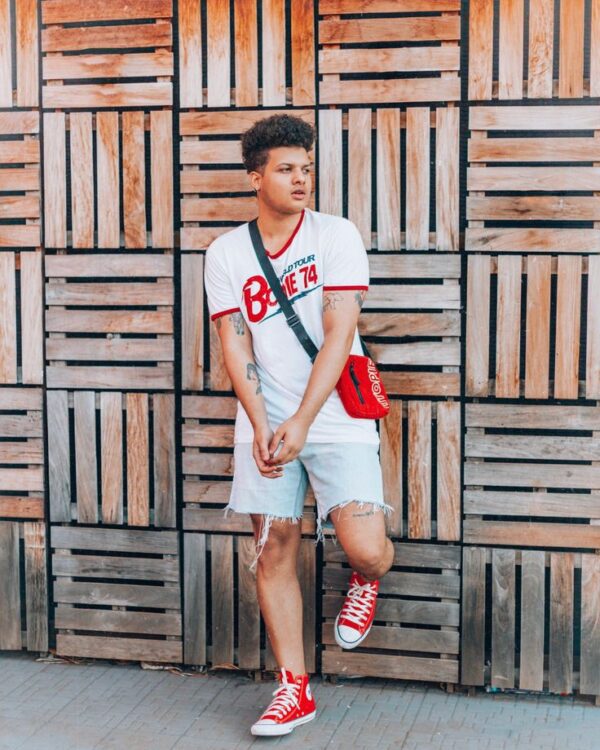 The quirky style:
Red is a bold choice even in the footwear department, you can create a bright and vibrant look with stylishly expressive pieces like leather jackets, bandanas, denim vests, and so on. Using a matching accessory like a red baseball cap or bandanas spice up your casual style with a pair of red vans.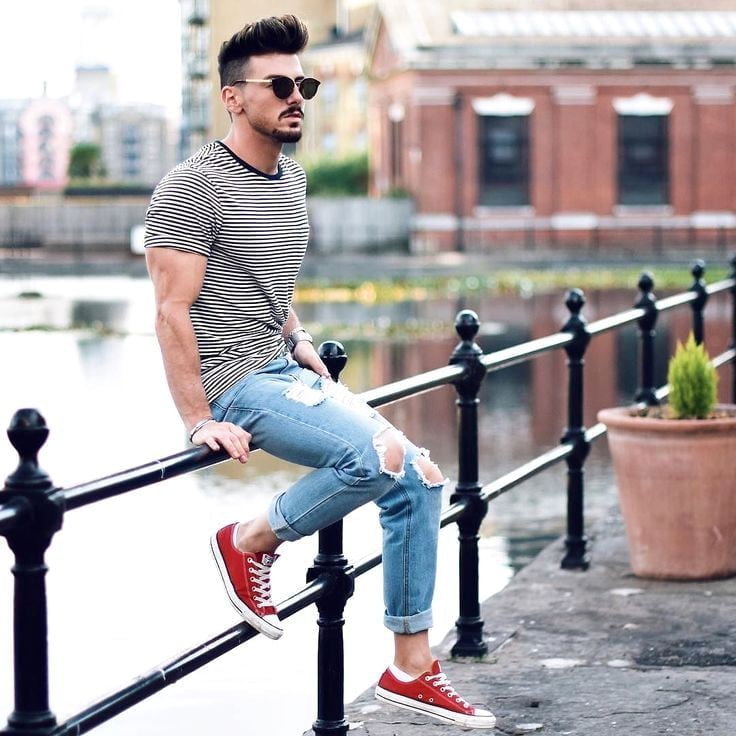 The layered look:
You can rock your red vans with cozy fall and winter outfits. Adding red vans to a casual fall outfit is a perfect way to add a pop of color to an otherwise bland getup. Here are a few outfits with layers like bombers, Moto jackets, hoodies, turtlenecks, and denim jackets finished up stylishly with a pair of vans in shades of red.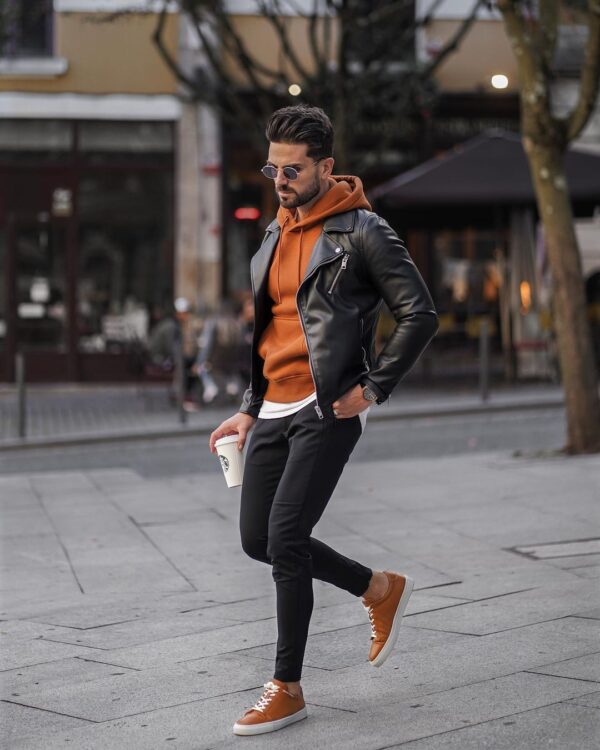 A treat for Beliebers:
Been a belieber and wanna have a flashback of how Justin Bieber rocked these red vans? This collection of Pinterest images will serve you well then…