45 black shorts outfits for guys.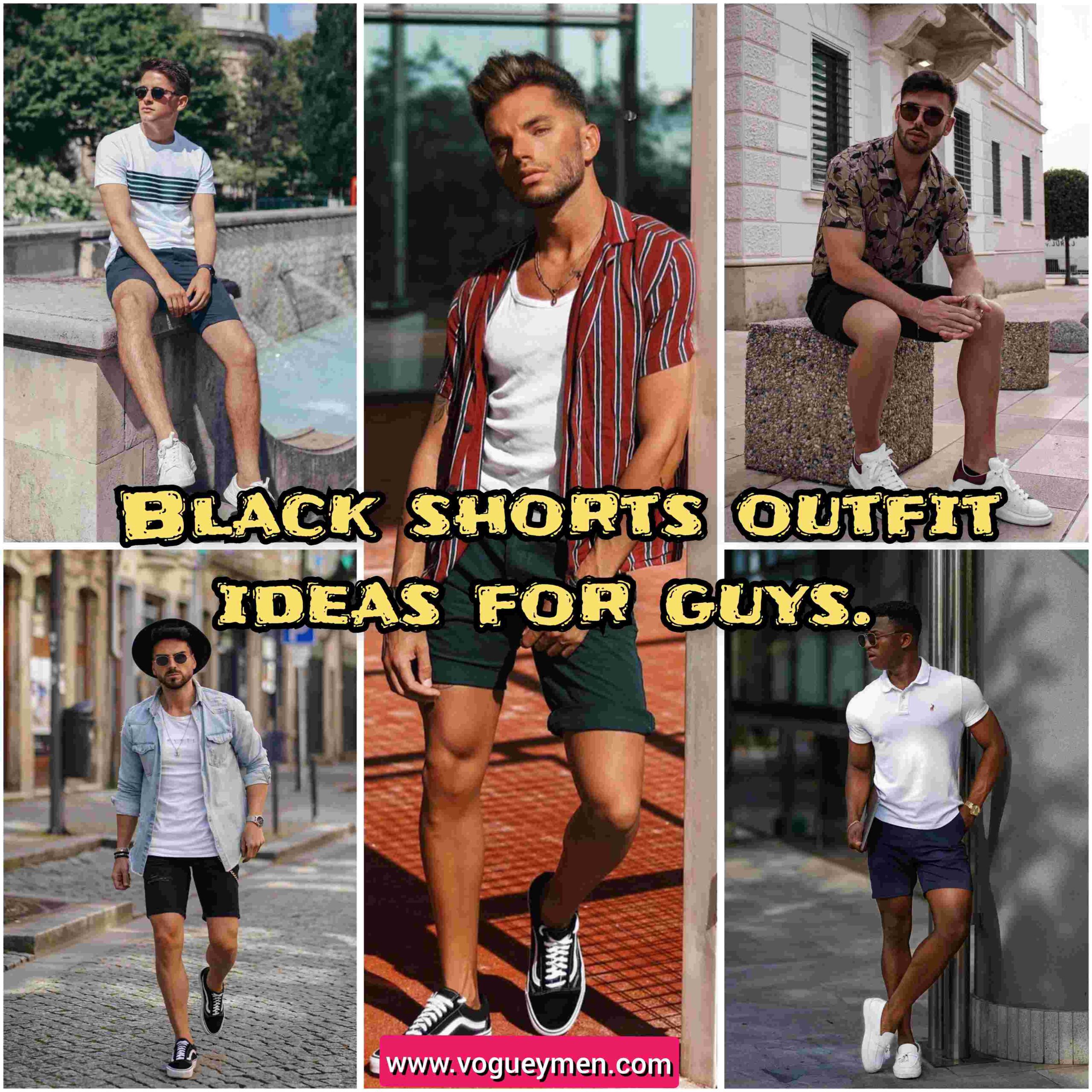 Black is irreplaceable and second to none as a sartorial color, and we can very much say the same about black shorts. Black shorts are the go-to shorts of most guys, and if you are someone who believes in spending summers in style, you already know that. They are elegant, versatile, easy to style, easy to dress up and dress down and experiment with. This makes these black shorts just perfect for both seasoned fashionistas and newbies. Most men prefer their summer ⛱️ shorts in neutral hues, most of the time black or white shorts are the default choice. These 45 black shorts outfits are a goldmine of summer shorts style inspiration for the experienced and newbies alike. So your black shorts don't have to be those boring and commonplace, run-of-the-mill and lazy summer schmattes.  Before getting started, we'd love to draw your attention to the basics of wearing black shorts.
How to style black shorts for guys?
Fit and fabric:
Like any pair of shorts, black shorts need to be of neat fit and nice fabric. You have to choose carefully between the 5-inch and 9-inch lengths. According to GQ magazine, if you are a short guy with a height below 5 feet 9 inches, you should go for 5-inch shorts, if you are 6 feet or under then 7-inches shorts are for you, and if you are taller than 6 feet the length of your ideal shorts inseam should be 9-inches. Your shorts shouldn't cover your knees nor should they be too short to bare too much of your thighs to make you look and feel like a douche. The hemline should be just two inches above your knees, and they shouldn't be too tight or too loose, you should be able to pinch an inch of fabric anywhere on your shorts. 
Shirts to try with black shorts:
Guys often ask, what color shirt goes well with black shorts? The answer is simple, in fact, simpler than you'd expect! Any color goes with a pair of black shorts because black is one of the most powerful, and versatile neutrals. The colors of shirts you can wear with black shorts totally depend on your own personal style. For most guys muted earthy tones and neutrals work best. It's not just about playing it safe, it's about looking and feeling comfortable and it's about elegance and ease of style. If you wanna get a bit expressive and adventurous with your style, then go for patterns and layering. In layering you have more options, open front check shirts and floral and tropical prints, this is especially true when black denim shorts are your thing. As for shirt types, think beyond the basic tee, go for patterned button-downs, and polo shirts in pastel colors and patterns. The sky's the limit if you take liberty with your flight of fashion fantasy with these humble black shorts. 
When to rock black shorts:
Season-wise, black shorts are for summer and late spring and as for occasions, it depends on the way you style your shorts. Casual black shorts are to be worn on off-duty summer days, on weekends, when enjoying summer vacations, on a casual luncheon, and when resorting. Denim or Chino shorts can be used in a casual way while pairing them with tees, tanks, and button-down shirts. 
What shoes to wear with black shorts:
Black sneakers and black casual loafers are the default footwear choices for most men. White sneakers are the minimalist's choice, they are equally stylish to rock with black shorts. If white sneakers are your thing then it's better to wear them with a white top. Casual slip-ons like espadrilles are an ideal choice to pair with black shorts, especially when you are out and about enjoying vacations at your favorite summer destination. Here's the list of shoes you can rock with black shorts
White or black sneakers.
Boat shoes in black or in any other color that compliments the color of your shirt. 
Espadrilles 
Casual loafers preferably black.
Use brown leather boots only when you are wearing a brown top or sporting a similar belt.
Dressing up the black shorts:
Just switch the tee with a crisp polo in solid hues and tuck it into your tailored black shorts. You can go one step further by adding a leather belt and black leather loafers to the equation and smarten your black shorts outfit and make it party-ready. For a dressed-up black shorts look you needn't stick to neutral hues and minimalist pieces. Use pastels to your advantage and make your outfit stand out. You can add a blazer with the outfit to move things towards the smarter end of the spectrum.
Making black shorts look good on you, 5 key takeaways:
Black is neutral, this allows you to go beyond traditional manly colors, earthy tones, and muted pastels. You can go for patterns and shirts with vertical or horizontal lining and even floral prints. Here is the summary of what you have to keep in mind to look great in black shorts this summer.
Get the fit and length right for your shorts, neither too short nor too long. Just a couple of inches above your knees.
When in doubt, stick to neutral, and go for timeless black shorts ensembles like a white polo coupled with a pair of white or black leather sneakers. 
You can dress up your black shorts by using tailored polo shirts and short-sleeve button-downs. 
For an extra casual look use denim shorts and layer open-front button-downs over tees for a ready-for-fun summer look. Floral and tropical prints can multiply the stylishness of your black shorts.
Use accessories like simple straw fedoras and bucket hats as they can up the chic quotient many degrees. Think about adding a quirky bandana necktie, bracelets on your wrist, or possibly an ankle bracelet to your black denim shorts to earn extra style points. 
45 black shorts outfits
White shirt and black shorts outfits:
If there's one way to wear your black shorts all summer long without looking boring, this is the one. Black shorts paired with a crisp white tee, polo, or short-sleeve or full-sleeve button-down is that timeless way to ace this black shorts summer look. You can swap white sneakers with black sneakers and vice versa with this look without changing the look entirely with this simple move. Nothing screams summer sprezzatura like this effortless combo of a white tee and black shorts teamed with black or white sneakers.
Black shorts with layers and accessories:
There are accessories like a baseball cap, a bucket hat, sunglasses, pants chains, and layers like a denim shirt, floral shirt, or even a vest that can spice up your black shorts outfit and make it more sophisticated. Here are some outfit examples.
Black denim shorts outfits:
There's nothing like denim shorts outfits that scream summer and black denim shorts should top your list for unassailable casual cool on the beach. You simply have too many options to try your favorite casual shirts with these low-maintenance denim cut-offs. Casual short-sleeve button-down shirts with funky prints are the perfect way to spend a day on the beach in style. A tank top, or a graphic muscle shirt 🎽 in pastel hues perfectly blends in with black shorts.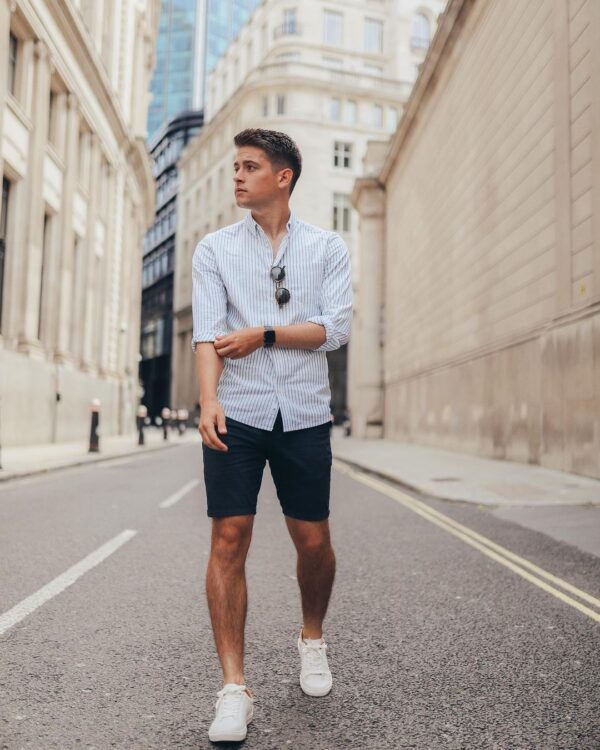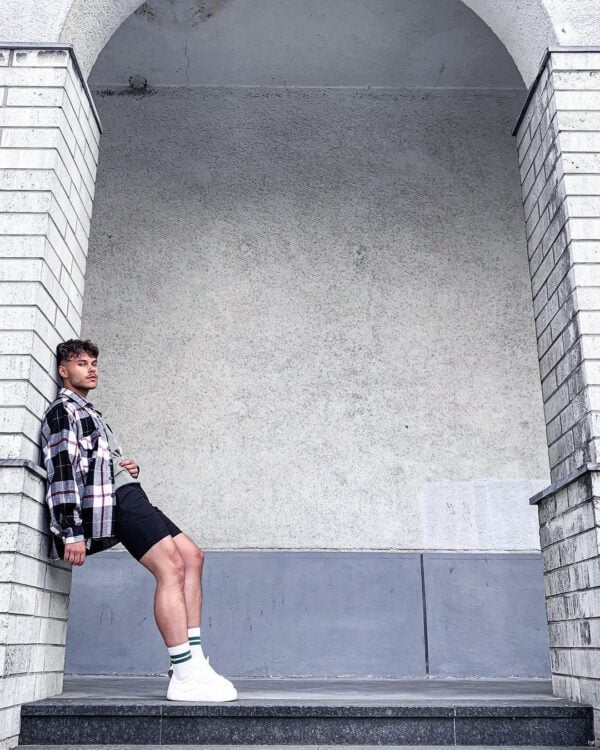 With floral shirts and patterned tops:
Floral print shirts are perfect for summer, with black shorts these printed shirts can be easily combined for a relaxed summer look. You can effortlessly combine tropical print shirts, patterned tees, button-downs, and polos with patterns with your pair of black shorts for a casually chic summer combo. So these outfits with floral shirts and printed tops with black outfits will surely spark your sartorial interest.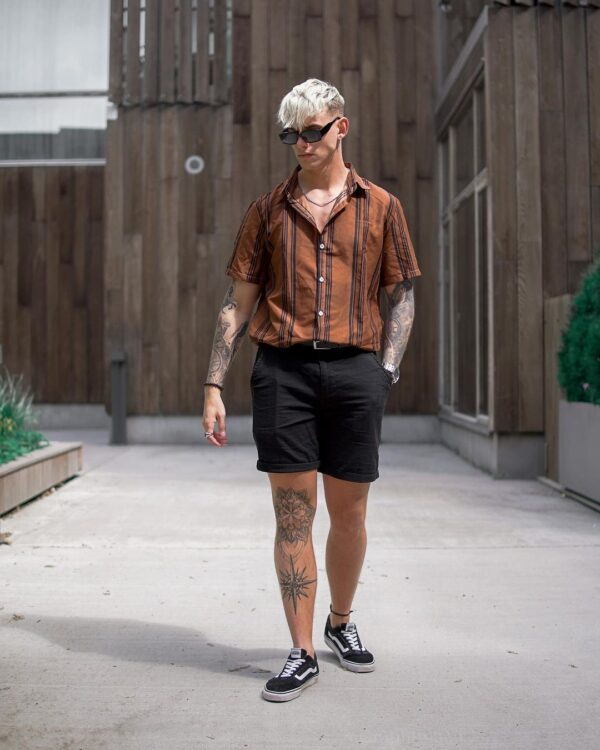 The Summer Casual: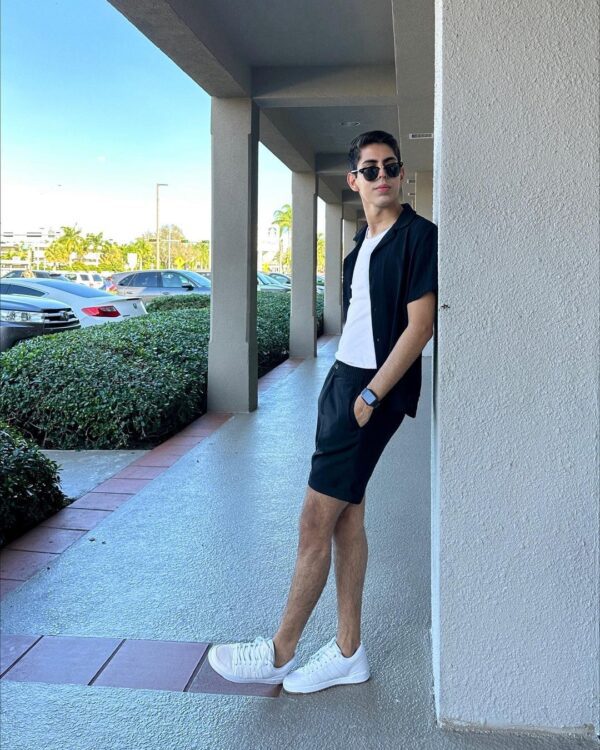 With tank tops: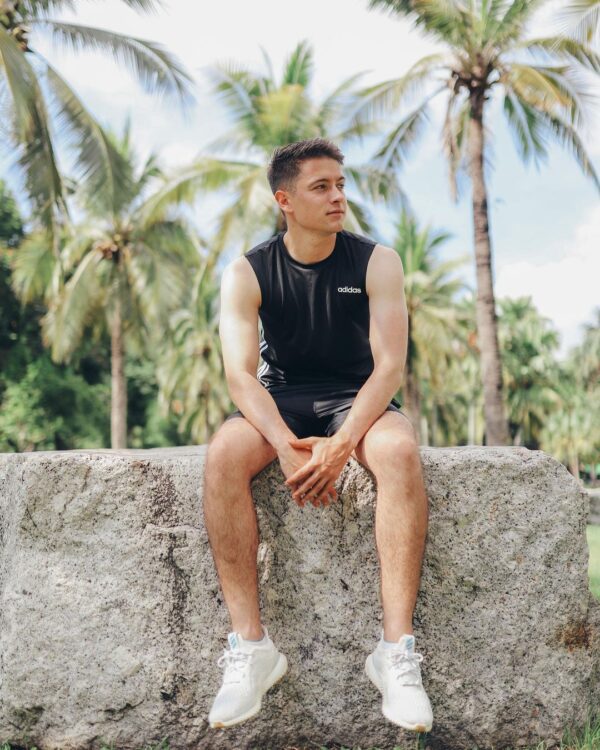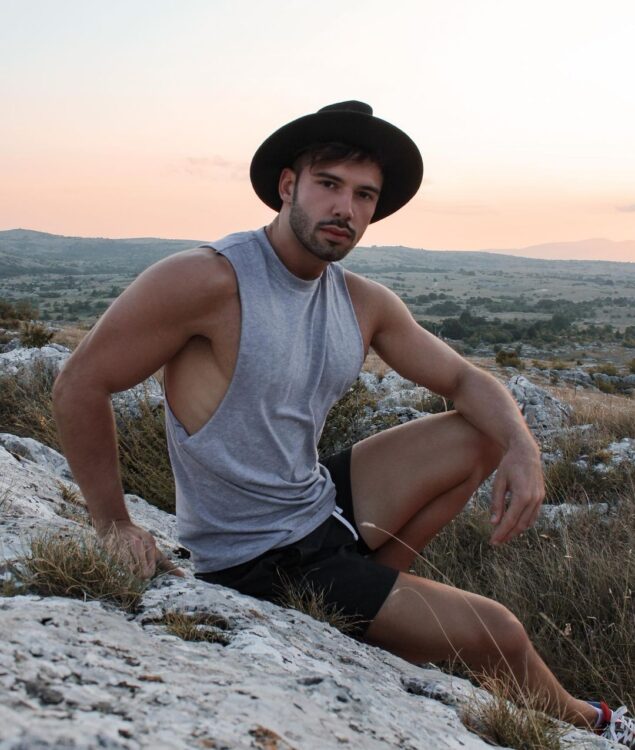 With hoodies: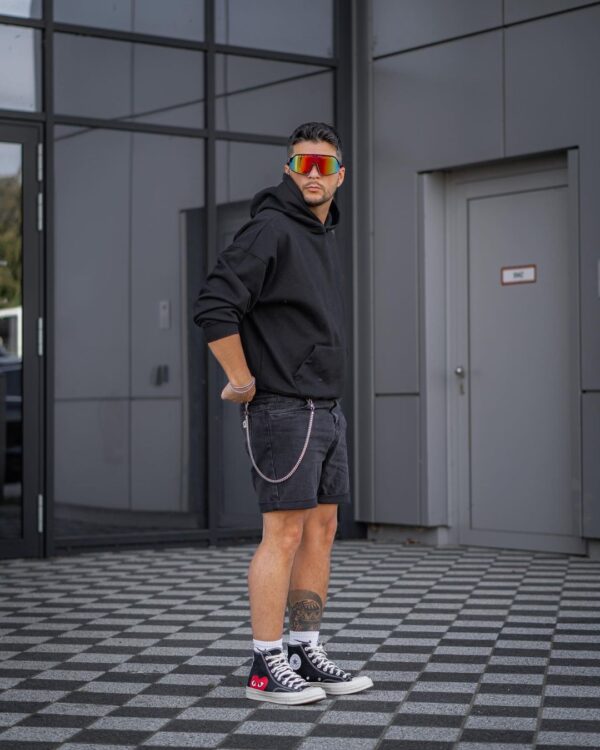 This was all about black shorts outfits, here is a collection of white shorts outfit ideas that you might find interesting.


: 45 black shorts outfits for guys.