9 things a guy should keep in mind to style a tank top tastefully.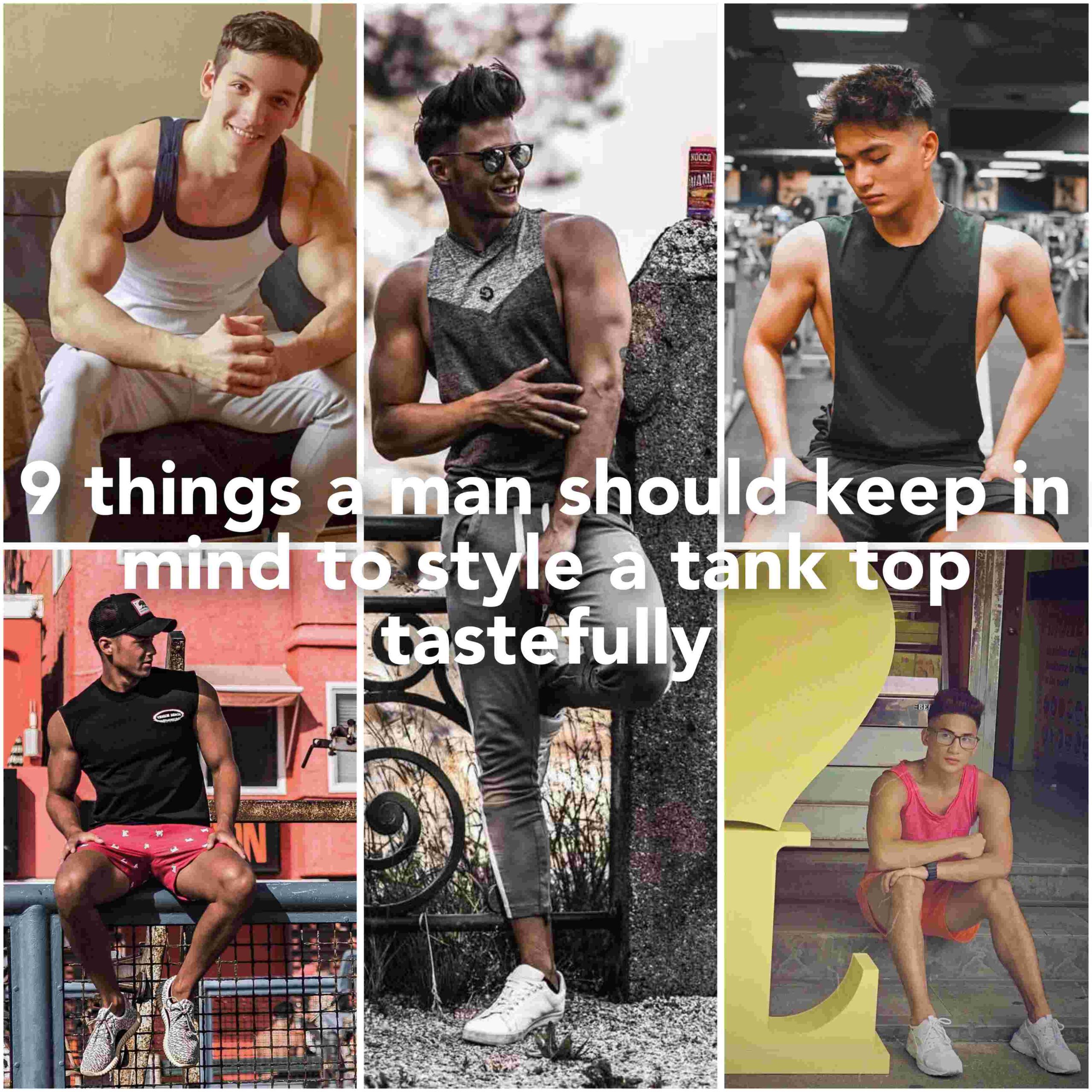 Tank tops for men are trendy and are stupidly popular these days. Celebs, athletes, influencers, fashionistas, and fitness freaks wear them and let the world know how cool this humble item is. Tank top outfits are no longer thought to be exclusively for working out, yoga, or for pool parties and beach scenes. These sleeveless tops are being worn as a day to day casual wear, for activities ranging from vacationing and staycationing to shopping in the malls and dining out. Tank tops are a summer staple meant to be owned by every dude who cares about looking his best self in the summer and is audacious enough to take his guns out when the sun's out! forgive my cliched phrase. It's exceedingly important for guys to have the best available information regarding this staple of men's summer wardrobe, here are expert 9 tips that will help you style this tricky sleeveless shirt.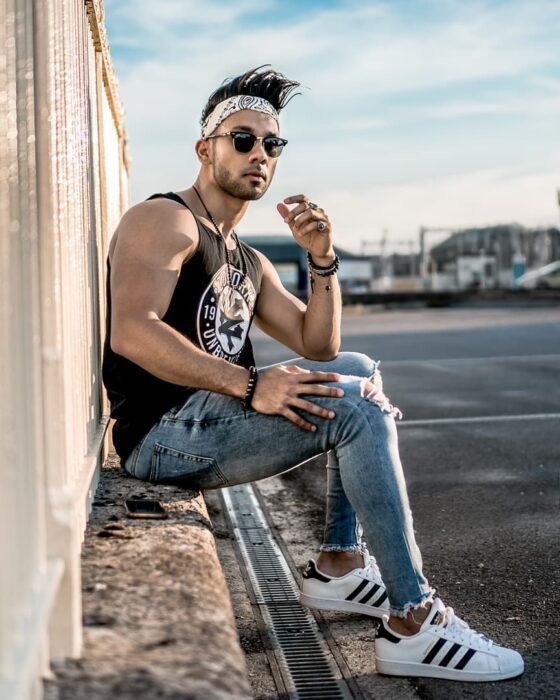 1. Fit is everything:
Your tank top has to be strategically snug, it shouldn't be too form-fitting nor too baggy. If it's too baggy it won't be flattering, and if your tank top is too tight it would be hard to put on or pull off. You won't enjoy wearing a tank that is a pain to slip on, always stick to the tanks that are comfy to wear and snug enough to flatter your silhouette.
2. Be careful about the length:
The length of your tank top should be the same as the normal T-shirt you wear. Your tank top should neither be too long nor too short, the two-inch rule is a handy dandy tool to solve the tank top length problem. Your tank top shouldn't extend two inches past the waistband of your trousers. Your tank top shouldn't exceed in length past the mid-fly of your pants or the lower end of your belt. If you extend your arms and the tank top you are wearing exposes your midriff then it's too short, opt for a longer one.
3. Mandatory manscaping:
If you have a really hairy chest, arms, and shoulders, it's better to at least trim this hair if not remove them by shaving or waxing. Manscaping or getting rid of unsightly hair from the chest and shoulders is absolutely mandatory to look your best in tank tops. Whether you like it or not, hairy chests and shoulders are totally out of favor aesthetically in this age and time. It's an era of immaculate hairless male bodies, mandatory manscaping is one of the inescapable new rules. There is no way you could break this rule without looking like a rusty relic of the last century. 
4. Your arms' muscles should make you feel confident, not insecure:
For this to happen you need to work out and make your arms presentable enough to show them to the world. That's not to say that you need to look like some bodybuilder to qualify for wearing a tank top, but it's certainly desirable to have well-toned arms to look great in these sleeveless shirts. Better have shapely arms that don't look like some carrots sticking out of the arm-holes of your tank tops, you will feel much more confident and self-secure.
5. Show off whatever you want except those nipples a-k-a manti**:  
Wear the skimpiest of all tank tops with the narrowest shoulder straps, or wear those with sides ripped or arm-holes down to the very waist, but make sure you don't show off your nipples because it's super creepy and cringy and totally uncalled for. This no-nipples rule is meant to be followed at all times whether you wear your best tank top to the gym, the beach, or the street. Better cover those tits of yours or you will end up looking like a weirdo at his wits' end.
6. Basic is not always the best choice:
 There is no denying that neutrals i.e. black, grey, and white are truly timeless colors but don't limit your choices. Experiment with prints and designs. Wear tank tops with eye-catching designs and make them more interesting by adding accessories. Try tank tops that accentuate your style by creating combos that strike the right style note. Give a whirl to ringer tank tops to the gym and tank tops with floral designs to the beach to make things more fun.
7. Avoid wearing them where you shouldn't be wearing them:
 Like any other casual shirt or bottoms, tank tops need to be worn on informal occasions. Exercise discretion while using them at certain get-togethers or parties, they don't always look appropriate and limit their use to informal settings in summer. There are occasions and places where you can look your best in one of your tank tops, but there are other occasions where you are best advised to avoid them. To know more about when to wear and when not to wear your tank tops read our article "When to wear tank tops" here.
8. Don't layer your best tank top:
Don't layer your best tank top: it's not the best idea to wear your favorite printed or stylized tank top under a jacket or an overshirt. There is no point in hiding away your proud possession from the public without a good reason, be it your muscles, six-packs, or a tank top. Layering a tank top in summer makes no sense period!. Use them with the best gym shorts, joggers, or jeans whatever you prefer, and use your imagination to create the best outfit showcasing your tank top. 
9. Accessorize:
Accessories make your outfit more interesting, suave, and sophisticated. This can be a stunning pair of sunglasses, a quirky bandana, a bucket hat, or a basic baseball cap. The stylish outfit that you wear to the gym with your favorite tank top on top, can be made more interesting with the help of a simple wristband (color-matched with it) or sweatband. Sneakers and trainers to be worn with tank tops should be carefully chosen to augment your style statement. Match a white baseball cap with a white tank top and see the magic.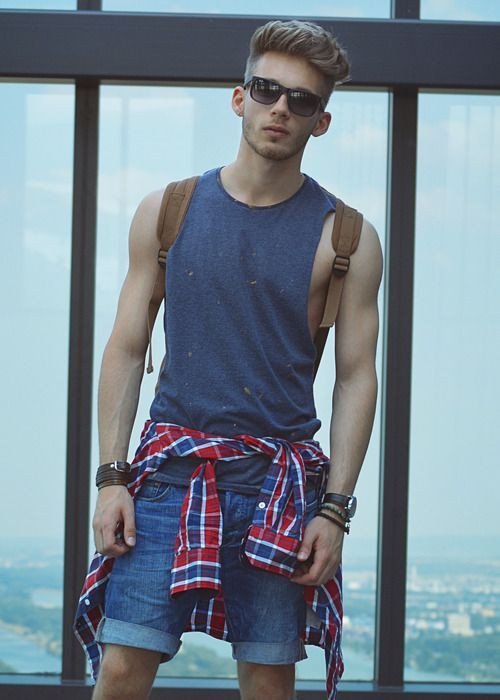 FAQs:
What are tank tops used for?
Tank tops are used as comfy outerwear in summer, and also as an undershirt or layering piece. These easy-to-use,easy-to-maintain, budget-friendly shirts are one of the most popular shirts among sporty guys who love working out and keeping their bodies in shape. Tank tops are also used as fashionable casual shirts in summer being unique for the practicality and ease of use they offer.
Why are tank tops so attractive:
Attractiveness used to be subjective sometime in the past, but probably not anymore these days. Attractiveness is now something you can achieve, and there is no shortage of material on the internet that teaches you how to grow more attractive. If you are confident, you take care of your body and you have a basic fashion sense with a face capable of smiling at any time, you are attractive and no one can challenge you. One of the most important factors (and by no means the only factor) that determines your Attractiveness is having a body worth showing off. Tank tops just help you show off your body and that makes you attractive by highlighting the hard work and the care your body has been receiving.
Do tank tops make you look bigger?
Yes, if your tank top is way too loose, too long, or too tight. An ill-fitting tank top can make you look like anything you don't want, it can make you look a lot bigger and bulkier than you actually are. An ill-fitting tank top is a bad investment and will make you hate them. If the tank top is too long and loose, it will certainly make you look like a ghost in the darkness, a portly guy struggling desperately probably in vain to lose some pounds. 
Do tank tops make you look skinnier?
Yes, they can. It is a well-known secret that men who wear compression tank tops look a lot thinner than they actually are. Body shaping athletic tank tops have this amazing characteristic, they can make your body look more shapely and toned.
Can skinny guys wear tank tops?
Tank tops can be worn by men with an average build, the more athletic your body gets the more attractive you to look in your tank top. Skinny guys look better than some bulkier guys while wearing a tank top, there are ways they could look better in a fitting tank top.
Should the tank top be tight or loose?
As a rule, your tank top should fit you snugly without being excessively tight and figure-hugging. The tighter a tank top the more difficult it is to put on or pull off, ease of use is of primal importance when it comes to the popularity of a fashion. Too loose, your tank top looks unflattering, shabby, and totally wowless. Moderation is the key and fit is everything if you want to look great in these trendy tank tops.