11 must-have workout accessories for working out at a gym.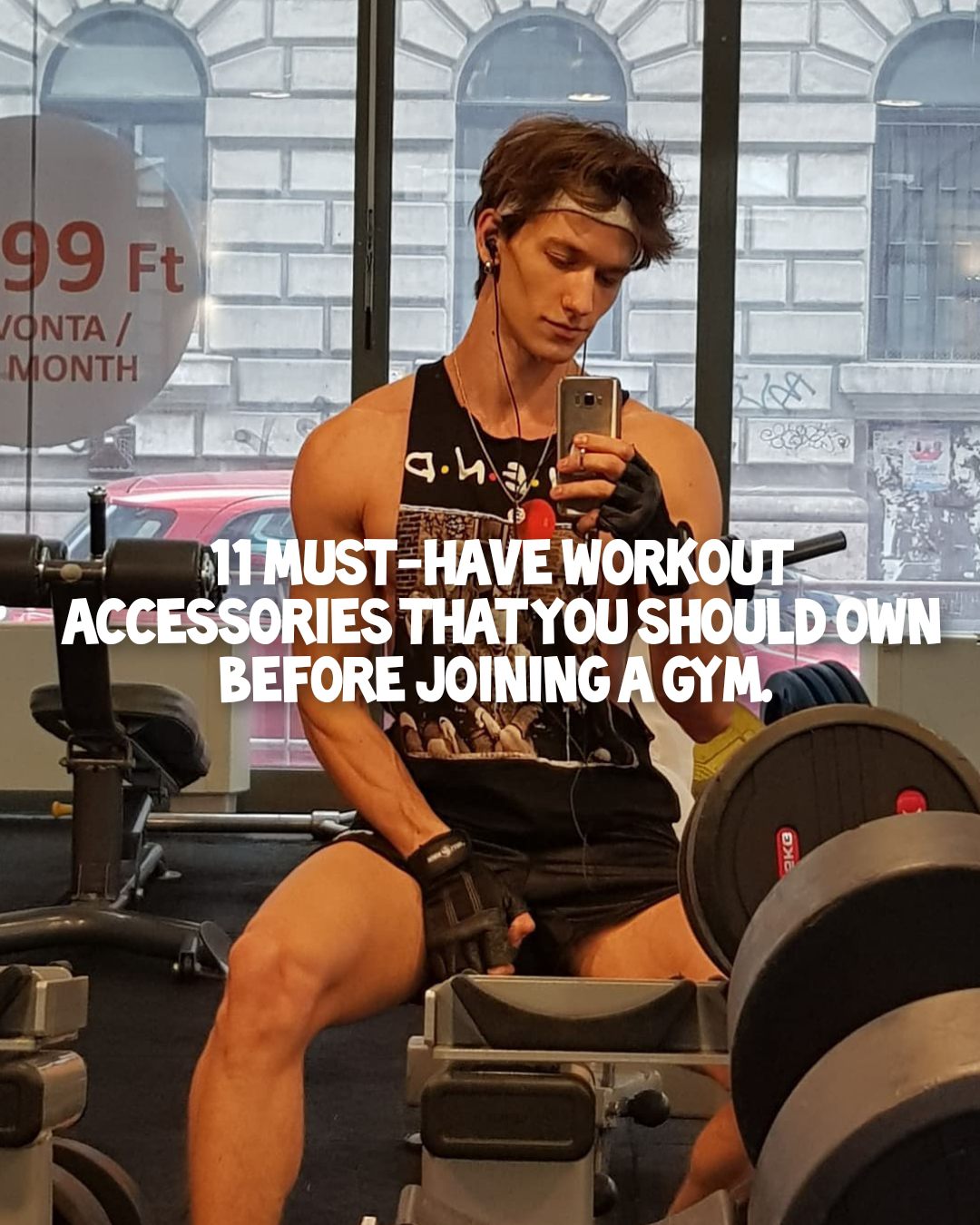 Thinking of joining a gym to regulate your workout routines and get some professional advice? It's better to make some necessary arrangements beforehand and buy the things you will definitely need during your training sesh at the gym. These 11 must-have gym accessories are going to be of immense help to you. If you are thinking of joining a gym you probably have been working out on your own and must own a few absolute essentials of working out. But working out at the gym is far different from working out within the confines of your home. You will be watched and probably judged for what you do at the gym, and how you look and present yourself there. You need to take your time, contemplate and make sure you have everything at your disposal that you will need at the gym. Here is our list of 11 essential accessories, the eleven must-have accessories that you may need at the gym and they will make your time at the gym much more fun and enjoyable. It is assumed that you've already bought a couple of comfy gym suits, shorts, and tank tops to dress properly for your working out routines at the gym. We will only be talking about accessories, so here is our list of essential gym accessories for men. 
1. A sturdy gym bag: 
A sturdy gym bag must be your first priority to buy if you are planning to join a gym club. You can either choose a duffle bag or a backpack gym bag. A tote should only be selected if you feel comfortable carrying it around and have too few things to store, for most people tote is not a good option. A handy ergonomically designed backpack with padded straps can be your best friend. A duffle bag is an equally good option, the only drawback is that you can't carry it on your back, and you'll have to hang this cylindrical bag on your shoulder. But a duffle bag or kit bag is equally spacious and convenient to use. Choose the bag of your liking, considering factors like strong fabric, ergonomic design, and spaciousness.
Our pick:
Under Armour Adult Undeniable Duffle 4.0 Gym Bag
2. A snazzy pair of sneakers or trainers and socks: 
The next on our list of gym essentials is a pair of sturdy sneakers or trainers. You need to own a pair of trainers that provide you rock-solid foundation and stability while doing your training. Choose the trainers that have grippy outsoles which can provide you with the necessary traction during your training and lifting sessions. Your sneakers need to be durable and flexible to provide you with stability and balance during the sessions. And last but not least they have to be stylish and in natural coordination with your gym outfit.
Our pick:
New Balance Men's 608 V5 Casual Comfort Cross Trainer.
3. Reusable water bottle: 
You need to stay hydrated when following regular training and exercise routine in the gym. It's an absolutely non-negotiable item if you are serious about your training for a considerably longer period of time. Choose an environmentally friendly BPA-free bottle preferably made of stainless steel with insulated walls. The bottle's lid should be leak-proof so that it could be carried in your gym bag without dampening the items stored in the bag. If you are buying a plastic bottle, make sure the bottle is odor-free, because a strong plastic smell can be a real nuisance. As far as the capacity of the bottle is concerned, 17 ounces or 500 ml storage capacity will suffice for your needs for at least an hour-long session at the gym.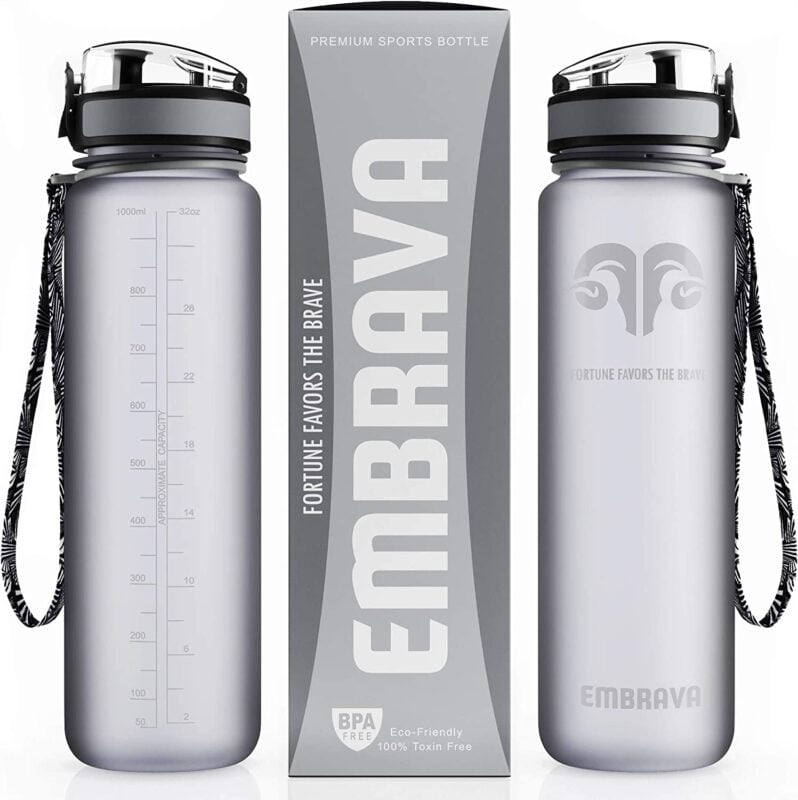 Embrava Best Sports Water Bottle.
4. An easy-to-apply deodorant or antiperspirant: 
It's never a pleasant experience to annoy yourself or other people in the gym with your body odor because of excessive sweating during workouts. Better own a premium quality antiperspirant to doctor your excessive sweating and body odor issue. Choose a deodorant that has a high concentration of aluminum chloride, this chemical suppresses your sweat glands and controls excessive sweating. You can use a scented or a non-scented deodorant in accordance with your personal preference. Antiperspirant is the best choice you can make, applying cologne will only suppress your odor without curing the root cause of body odor. The best practice is to apply your deodorant again to your body after a shower after finishing your workout.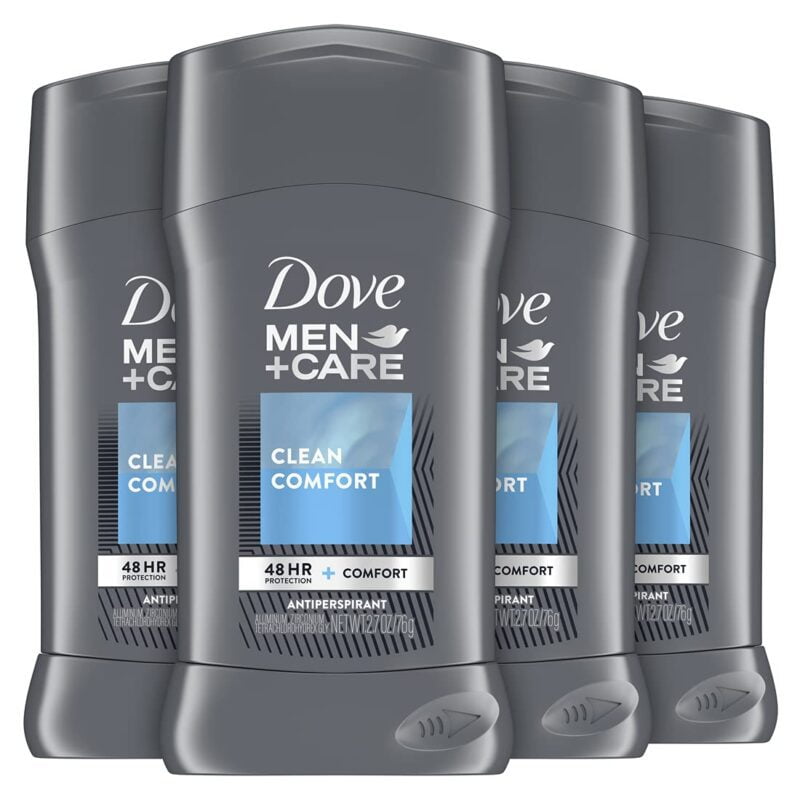 Dove Men+Care Antiperspirant Deodorant 48-Hour Wetness Protection Clean Comfort Deodorant for men with Vitamin E and Triple Action Moisturizer 2.7 oz 4 Count
5. A gym towel: 
A soft, fluffy, lightweight, and superabsorbent towel is something that should be carefully packed in any regular gym-goer. If you have finally made a decision to join a gym club, then better invest in a fast-drying ultra-absorbent microfiber towel. Microfiber is a specialty material that helps reduce shedding and fraying in towels. Buy a few good-quality microfiber towels, prefer the ones treated with silver ions which make them odor-resistant. It's absolutely necessary to have your own towel to wipe off sweat from your body, as it's always a risky option to use towels used by other people.
HOPESHINE Microfiber Exercise Fitness Home Gyms Towels for Men & Women Absorbent Sweat Yoga Towels Sports Towels Soft Fast Drying 3 Pack
6. A sweat headband and a wristband: 
It's advisable for any newbie gym-goer to stash a suitable sweat headband and a sweat wristband in his gym bag. You will definitely need to wick off sweat drops dripping from your forehead during exercise sessions. You can't use your towel all the time while working out, a wristband is an answer to this need, you can use it anytime during the workouts. A sweat headband is an accessory that you wrap around your forehead, it keeps your hair in place in case you support long hair, and more importantly, it will keep your forehead and back of the head dry, these are the spots that sweat the most during workouts. A sweat headband will save your eyes during intense training from the salty sweat drops.
ONUPGO Sweatband Set Sports Headband Wristband.
7. Gym gloves: 
You will have to use your hands a lot in holding hard dumbbells, barbells and during CrossFit, push-ups, and other training chores. A pair of sturdy, breathable, and flexible foam-padded gloves are another must-have accessory for you. You will need your fingerless gym gloves for a safe, secure, and confident grip. Choose gloves that have dense foam padding at the palm of the hands to provide sufficient cushioning against the hard and strainful equipment you have to handle during workouts at the gym. Good gym gloves have to be breathable to prevent excessive sweating in the palms of the hand, gloves having perforations at the palm and mesh cover at the back of the hand allowing air flowing and sweat evaporation are handy and comfortable to wear.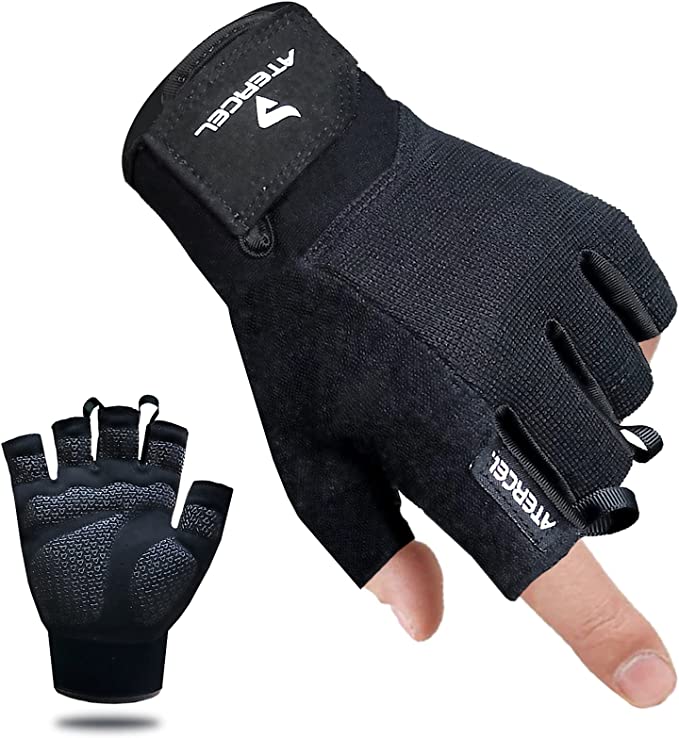 Atercel Workout Gloves for Men
8. A wrist wrap:
 If your gym gloves do not cover your wrists sufficiently or you don't want to use gym gloves then wrist wraps are an accessory you will need to keep your wrists safe during lifting. A wrist wrap or lifting strap is basically a piece of leather or thick and sturdy cloth that is wrapped around your wrists to protect your hands and wrists from strain, calluses, and injuries. A wrist wrap will give additional support, stability, and safety to your wrists during strenuous lifting and CrossFit workouts. These lifting straps usually have a thumb loop to prevent sliding during chin-ups, barbell or dumbbell lifts, deadlifts, and even pull-ups and push-ups. Invest in a sturdy pair of wrist wraps to make your workout less strained and tedious.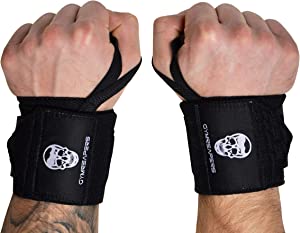 Our pick:
Gymreapers Weightlifting Wrist Wrap (Competition Grade)
9. Weight lifting belts or Back brace belts: 
 This is a broad belt made from a 4-to-6-inch wide thick leather strap with a metal buckle to keep it secure at the waist. A lifting belt or a lower back brace fastened at the waist increases the pressure within the abdomen during strenuous workouts, stabilizing your spine and back muscles. Be careful in using a lower back brace belt, use it only during heavy training, squats, and standing exercises. Your back brace should be true to your size i.e. it shouldn't be too loose or too tight. Buy weight lifting belts that are made of breathable fabric, with anti-slip materials. It's better to wear your back brace belt under the shirt you plan to wear to the gym.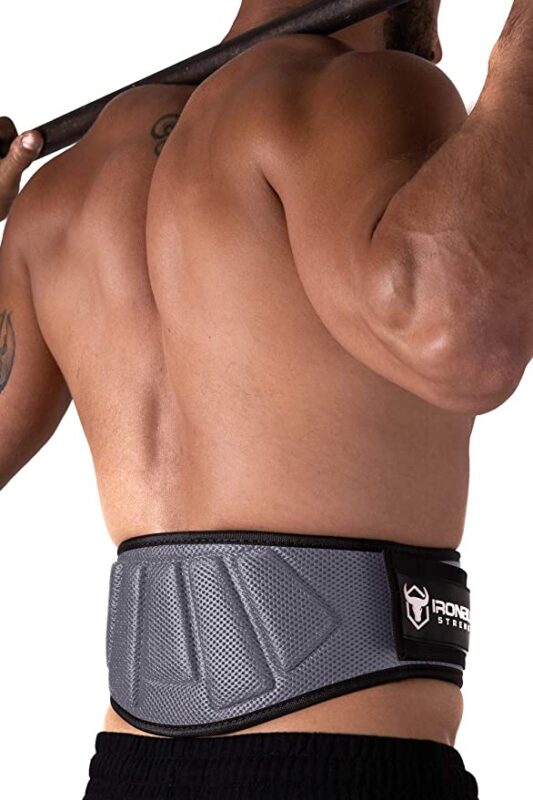 Our pick:
Iron Bull Strength Weightlifting Belt for Men.
10. Smartwatch or fitness tracker: 
A fitness tracker is a very handy gadget and can regulate your workout routines like no other device. A wearable fitness tracker is actually a smart and loyal personal assistant of yours.  This gadget can be bought at a range of prices, ranging from under a hundred dollars to a few hundred bucks. There is a myriad of features in a pricey wearable fitness tracker, you only need a few basic features in your gadget for the gym. A few workout trackers, a steps counter, heartbeat trackers, a sleep monitor, a skin thermometer, etc should be the essential features you should be looking for in your waterproof, lightweight, and sweat-resistant fitness tracker. You should prefer the one that has a display big enough to look for the necessary information and the one you can connect to your smartphone.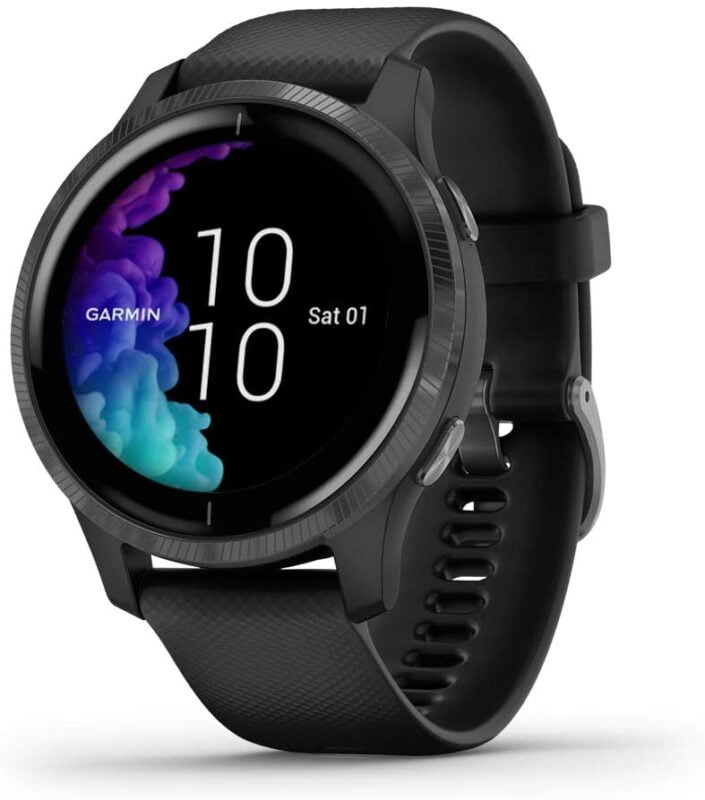 Venu, GPS Smartwatch with Bright Touchscreen Display, By Garmin.
11. Headphones or workout earbuds: Image courtesy: Amazon
gyms are noisy and busy places and you don't want to be distracted by the noise while doing your training. Focused attention is what you want for your training and above all continuous motivation. Over-the-ear headphones or workout earbuds will let you listen to your favorite motivational music when you are busy lifting or trampling the treadmill. Choose headphones that are waterproof and sweat-resistant, remember that sweat-resistant headphones are rated between IPX 4 to IPX 7, any less they won't be sweat resistant. Your headphones should be cordless/wireless and should connect to your device wirelessly, good battery timing(6 to 8 hours battery timing on 2 hours of charging), lightweights, noise-canceling quality, good listening experience, and ergonomic design are the other essential qualities you must look for in your headphones. Don't forget to keep your playlist of the songs that motivate you and keep you in high spirits updated for the gym.