30 light blue jeans outfits for men.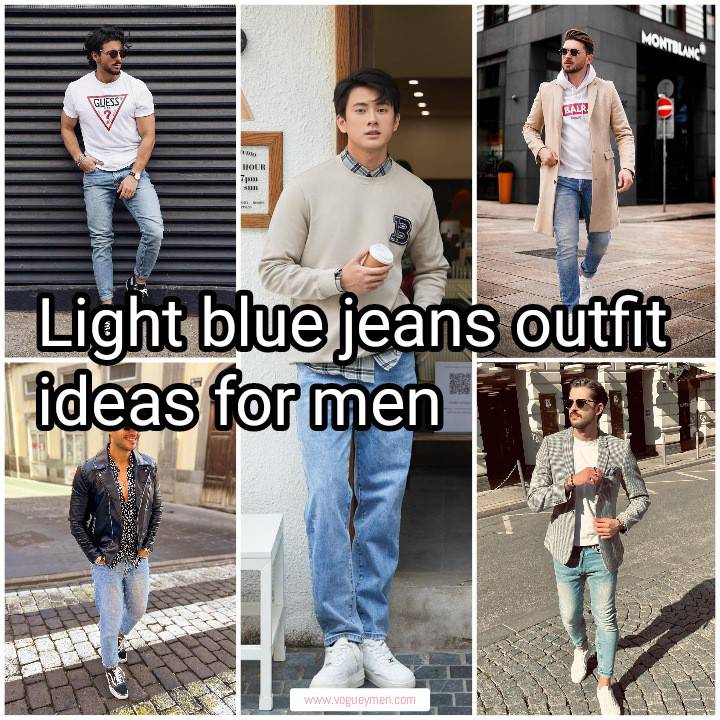 Navy jeans are the go-to style in the men's denim game, but light blue jeans are a staple that can brighten up your casual style like nothing else. At first glance, a light blue pair of jeans looks like a style challenge for men, in this article, we'll present 30 light jeans outfits with and without layering to help you carve out your next fits. Light-wash blue jeans have been there since the inception of jeans as the most popular men's bottoms. As compared to dark wash blue jeans, these light wash jeans are considered less formal, and more suited for casual streetwear options. But we'll show you can dress up these jeans in sky blue hues just like the usual navy blue jeans and earn compliments. But before moving on to the collection of outfit ideas let's have a look at this short and sweet style guide on how to style light blue jeans for men. 
How to style light blue jeans for men?
Choosing the fit and style:
First and foremost, you have to choose the fit that reflects your personal style and also looks good on you considering your body type. A slim tapered fit and slim straight cut work for most guys, skinny fit is popular among guys fortunate enough to have athletic bodies. Baggy Fit is becoming increasingly popular among Zoomers. 
Shirts that go well with light-wash blue jeans for men:
The next question is what shirts and colors go well with light blue denim jeans? It's pretty simple, white and pastels work best with them, better than the dark colors and earthy shades. What about black? Black always works with everything including these light-wash blue denim trews. Here's a list of shirts you can wear with this style of jeans.
A white tee, crew neck, or v-neck whatever floats your boat. 
A white hoodie works seamlessly. 
 Mock necks and button-downs and polo shirts in white or pastel hues for a dressier take on the light blue jeans.
A black tee, polo shirt, or mock neck.
Casual button-downs with linings and floral print short-sleeved shirts. 
What shoes to wear with light blue jeans?
As expected, shoes in lighter shades work best with light blue jeans, and black sneakers with a contrasting outsole also look great with light blue jeans. Use black leather loafers or Chelsea boots only when you are wearing a black top or a black leather belt. When not wearing the white sneakers, try matching your shoes to the shirt you are wearing. Here is a list of suggested footwear options with light blue denim
White low-top sneakers
Buff or any other light-colored boat shoes. 
Suede Chelsea boots with matching tops.
Espadrilles for extra casual outfits.
Trainers for athleisure-inspired outfits. 
Formal penny loafers with smart casual outfits.
Making light blue jeans look good on you:
Here's what you can do to your light blue jeans to make them look more stylish on you.
Mix and match your pieces, and pay attention to the fit of your jeans.
Using accessories to spice up things, a wristwatch, a bracelet, pants chains, and any other jewelry piece can add depth and dimension to the outfit.
A baseball cap or a beanie depending on the weather and your style can transform an otherwise simple outfit into a casually cool ensemble.
30 outfits with light blue jeans for men.
Minimalist light blue jeans outfits:
A white tee or polo shirt with light blue jeans and white sneakers is a match made in sartorial heaven, a timeless summer look that's equal parts sprezzatura and stylish. A black tee, light blue jeans and a pair of minimalist white or black leather sneakers is another such example that works for everyone. Adding an unstructured blazer or a crisp suit jacket will elevate the outfit to the next level, creating a simple smart casual outfit. 
With T-shirts: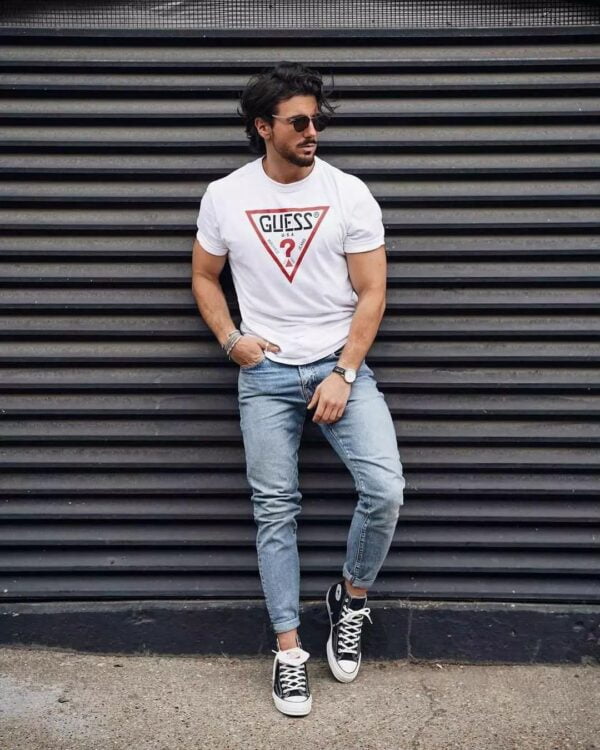 With button-downs:
How to dress up the light blue jeans? 
Dressing up your pair of light blue jeans is a simple affair. You can add a blazer over the tee, polo shirt, or a mock neck to create a smart casual outfit. Alternatively, wear a stiff collar button-up shirt with a necktie and layer a plaid blazer for a preppy-esque smart casual look. Adding other layers specifically a navy or black trench coat, a black or light gray wool topcoat, or even a leather biker jacket over this shirt with a necktie can dress up this look and create a quirky yet cool smart casual outfit with light blue jeans.
Smart casual light blue jeans outfits:
Here are some examples of smart casual outfits to inspire you to create your next fit. You can use a dressy sweater or jumper over a button-down to smarten up this look. Opting for a suit jacket or a blazer with jeans combo is the best option for a dressier look with light blue jeans.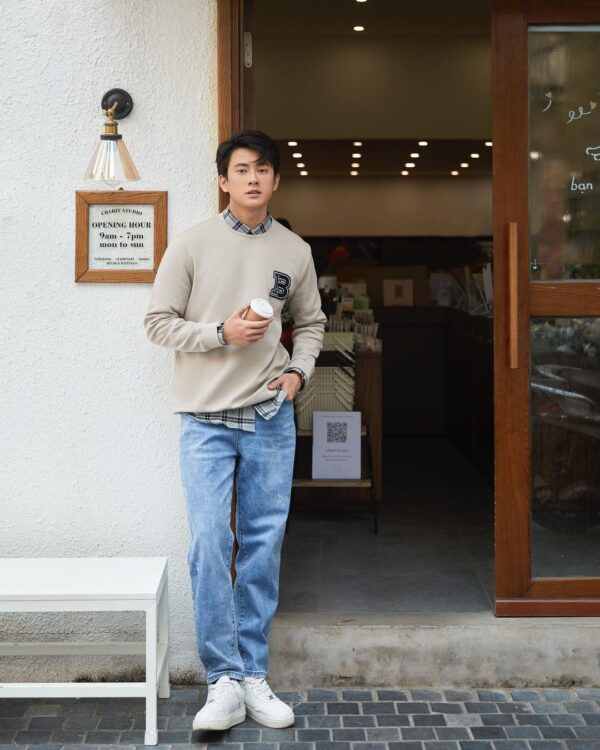 Layering:
Fall and winter call for layering and light blue jeans are not just for winter. Adding warmer layers like a bomber, varsity jacket, jean jacket (for a double denim twist) or wool topcoat will create fashionable outfits for cool weather. You can replace the tee with a chunky turtleneck or a hoodie to make the ensemble even more winter-proof. A fleece lapel jacket layered over a white turtleneck with light blue jeans is a perfect outfit to fight the cold in style. Topcoats, whether black, camel, or gray (A light gray overcoat is the perfect choice for these faded blue jeans) will help you create a dapper look with light blue jeans.
With winter jackets:
With topcoats: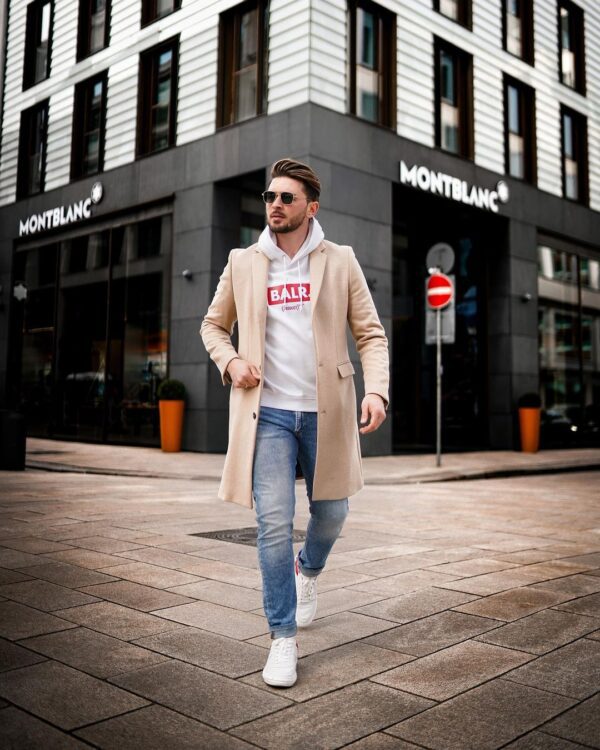 With sweaters and hoodies: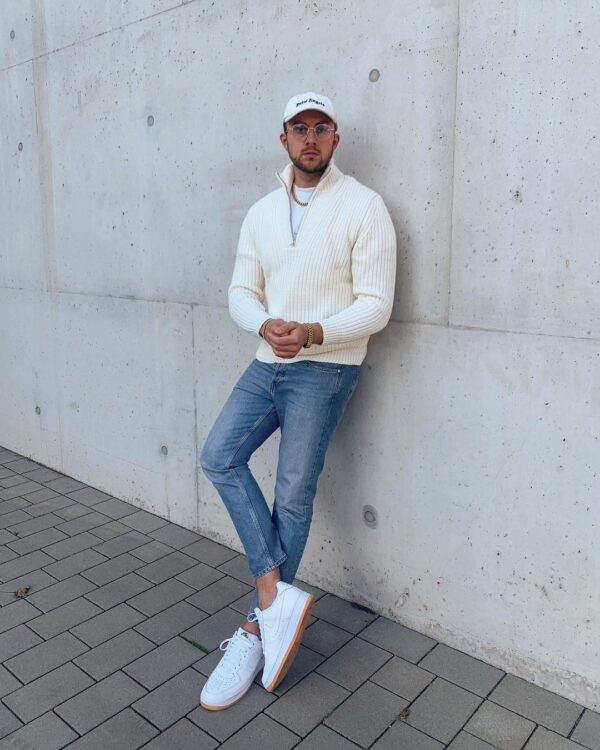 FAQs:
Are light-washed jeans in style for men?
Light blue jeans are one of the timeless staples of men's wear. They never go out of style despite being less popular as compared to their navy blue counterparts. They remain in and perennially usable across seasons especially in casual settings and occasionally in a smart casual way too. That being said, it remains in style in 2023 and is likely to remain in years to come. 
Can you wear black shoes with light blue jeans?
Yes, you can. Black sneakers are a handy option in most cases. Black leather shoes and boots should be used when you are wearing a black top, like a black tee, hoodie, or jacket. 
Can you wear light blue jeans in winter?
Absolutely, but you have to be ready to layer up your light blue jeans outfit, possibly multiple layers to stay warm in the biting cold. And if it gets too cold you'll have to add some bottom layers like warm long johns to ward off cold and keep your legs from freezing.