26 types of blazers for men.
There's nothing like a crisp and classy blazer if looking effortlessly elegant, stylish, and confident with a dressier and smarter outfit is your goal and you want to create a wardrobe just for that. A blazer is not only a must-have and a wardrobe staple for every modern guy, but it's also that indispensable Swiss army knife of men's fashion. Because you can use a blazer in every situation in every season, You can wear a blazer with slacks, chinos, jeans, and even shorts, and it will satisfy most of your style needs. A quality blazer or suit jacket is an investment, it will remain with you for many years and you'll really hold it dear like a gem in your closet. It's something you'll use when you want to be taken seriously and when you mean business, a crisp and classy blazer will just convey that message. You might be interested in knowing about the types of a blazer you could choose from, if so then this article has got you. A blazer jacket or a suit jacket is worn with a surprisingly large number of outfits, from super casual outfits to office-ready formal outfits. A blazer can be had in a variety of cuts, patterns, and fabric types, we have categorized the types by considering lapel type, fabric, pattern, style, and front buttons. Let's jump right into it, our 26 types of men's blazers.
1. Classic single-breasted blazer: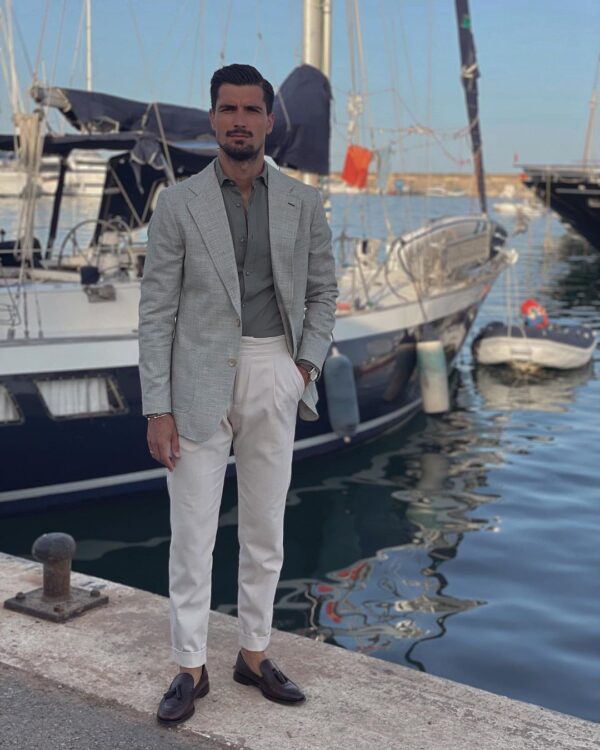 This is the most common and widely used type of blazer. As the name suggests, it's a blazer with a single column of front buttons, it can have one, two, or rarely, three buttons. The front flaps meet in the middle and the hem at the back sides can have a single or two vents.
2. Double-breasted (DB) blazer: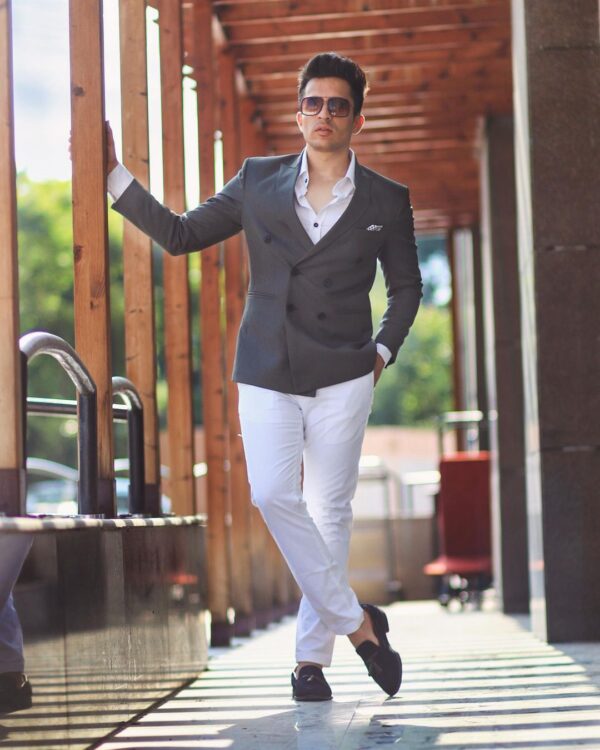 This type features two rows of front buttons and an excess flap or fabric that overlaps on the right side instead of meeting in the middle. This arrangement makes for a cozier and snug fit. A DB blazer can have four or six front buttons, only two buttons are functional others are for decorative purposes only. 
3. Notch lapel blazer: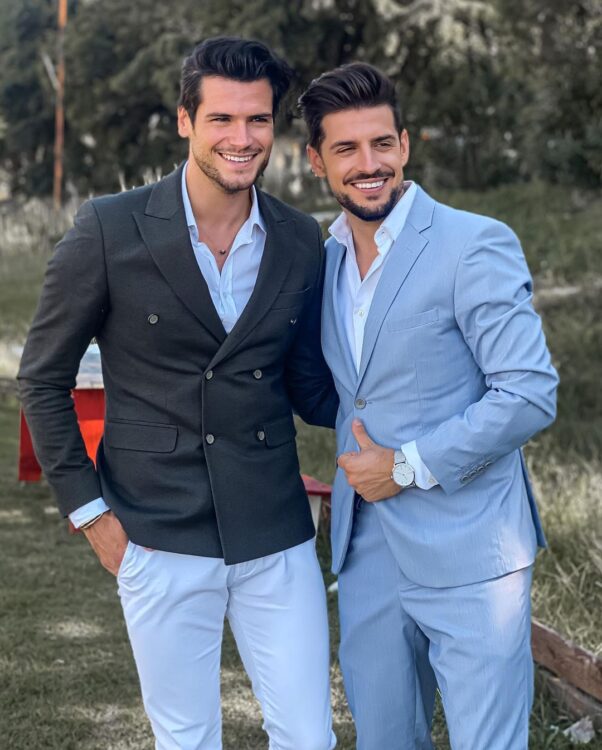 There's a v-shaped notch at the point where the lapel meets the collar. Both tips of this "v" are evenly located at the lapel. A notch lapel blazer can be either single-breasted or double-breasted but the most popular and ubiquitous one is the notch lapel one. It's business and everyday wear, and when the need arises you can dress it down for casual use. (The light grey suit comprises a notch lapel blazer in the image)
4. Peak lapel blazer: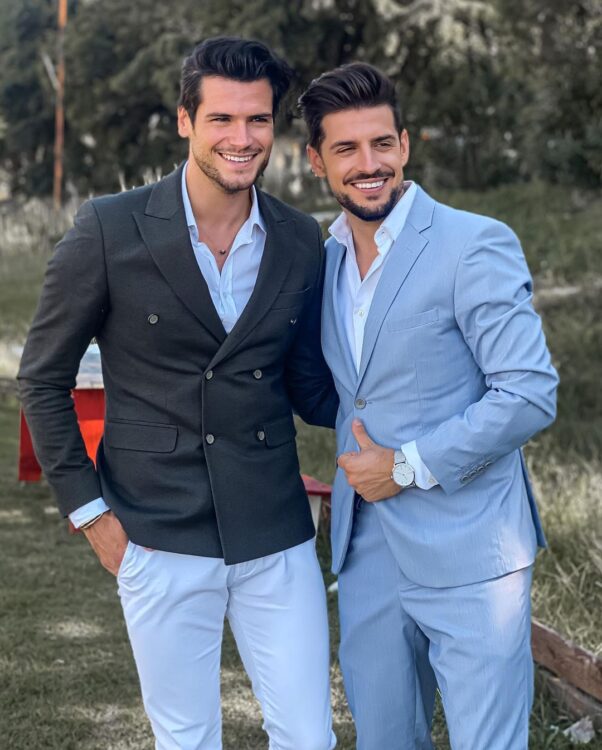 A peak lapel blazer is distinguished by its distinctive cut of the lapel. The lapel features a very narrow cut or indentation with one pointed edge. This "peak" points towards the shoulder and this is how it gets its name. The lapel width is usually wider in a peak lapel blazer than in a notch lapel one. This type of suit jacket is super formal and bold, it's a style that can't be dressed down. It's ideal though for shorter and bulkier guys for the slimming and lengthening effect it creates. ( The black blazer in the image is a peak lapel blazer)
5. Shawl lapel blazer: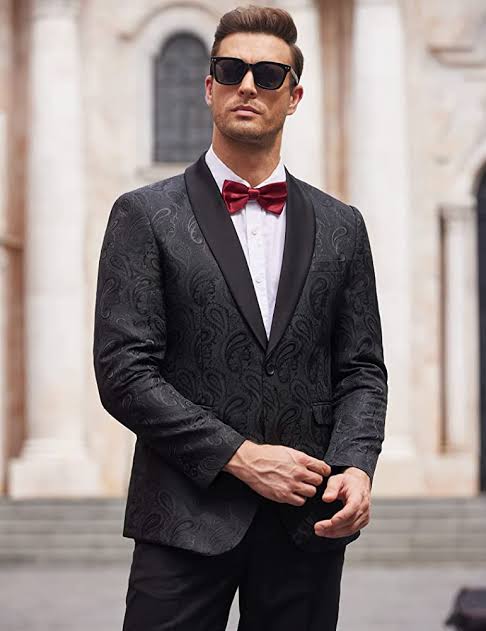 This blazer type features a continuous folded-over lapel that doesn't have any cuts, notches, or peaks. A shawl lapel blazer is somewhat similar to the iconic shawl collar cardigan. Shawl lapel suit jackets are preferred for formal occasions, parties, weddings, and other functions. A shawl lapel blazer is often preferred in black or earthy tones as a part of a tuxedo. 
6. Teba jacket: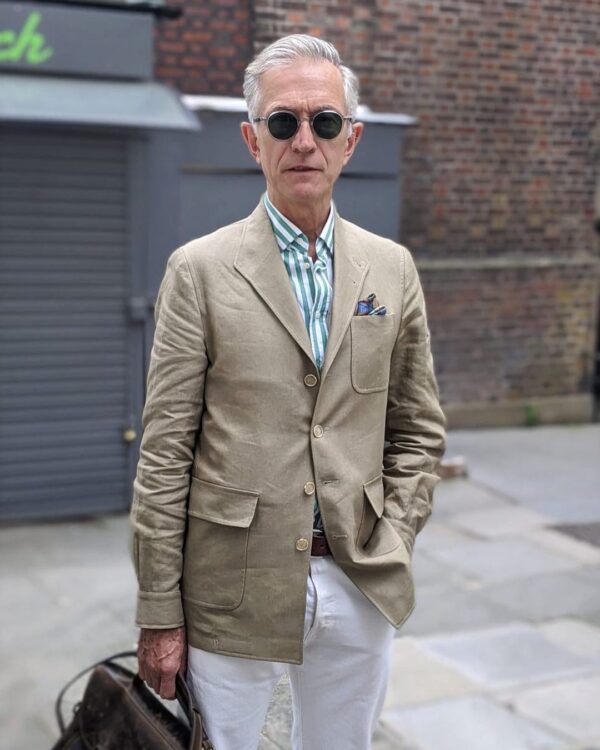 This single-breasted blazer is of Spanish origin and is characterized by a notchless lapel, shirt-like sleeves, patch pockets with flaps, four front buttons, and no vents at the hem at the backside. Fabrics used to manufacture tebas include wool, cashmere, and linen. This unstructured and unpadded blazer is used for outdoor activities. Teba was originally tailored as a hunting and shooting jacket, and gradually gained popularity among men as a casual jacket for outdoor activities.
7. Contrast lapel blazer:
As the name suggests, this suit jacket type showcases a lapel that contrasts in color with the rest of the jacket. The lapel in this case is almost always a shawl lapel. You can not dress down this jacket just like the peak lapel or shawl lapel jacket. This contrast lapel blazer is a more lavish type of blazer suitable mostly as a party wear option. 
8. Elbow patch blazer: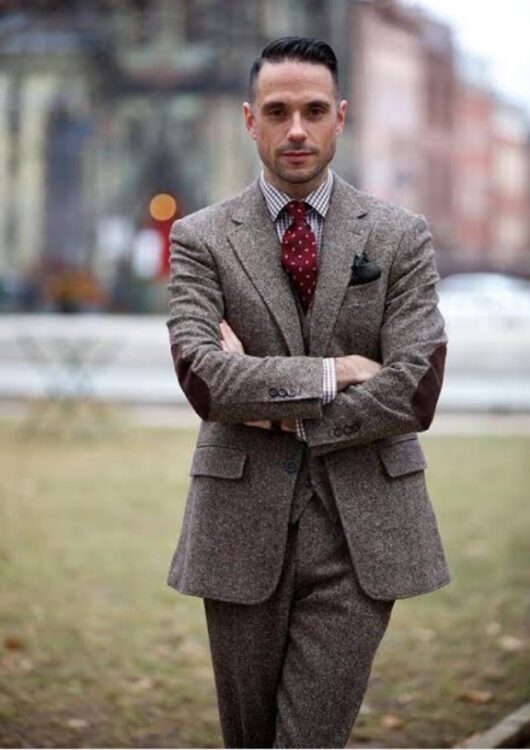 This blazer type features a patch in a color markedly different from the jacket at both elbows. The elbow patch protects the elbows from wear and tear, as such the fabric used is tough and durable like leather, suede, tweed, or even denim. This style was popular in the 1970s and it has recently made a comeback. The elbow patch nowadays is more decorative than functional.
9. Patterned blazer: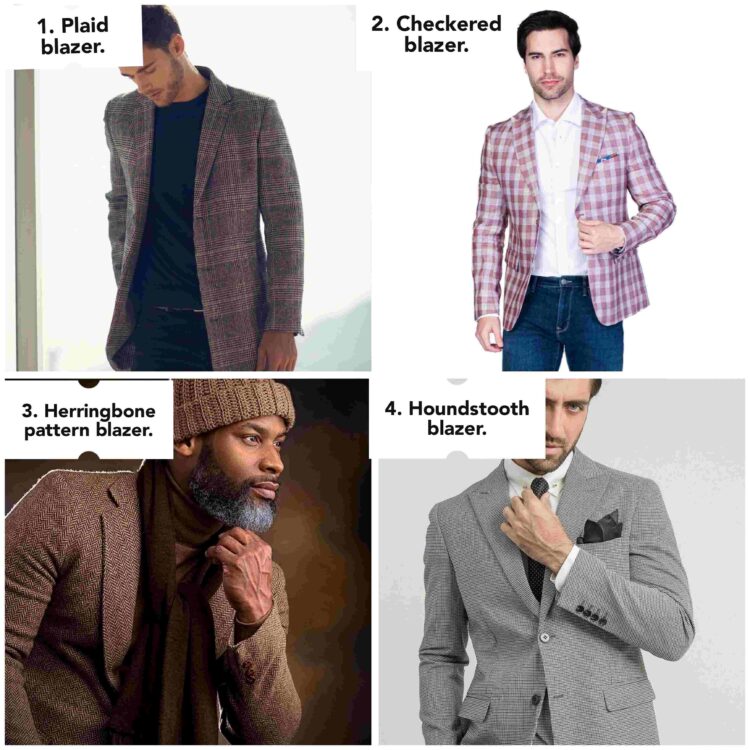 A patterned blazer exhibits fabric patterns like checkered, plaid, houndstooth, herringbone, etc. This kind of blazer is an option for those who love patterns and who want to enjoy mismatched separates. A patterned suit jacket is often used as a standalone piece rather than as part of a suit. Plaid blazers are the most popular and versatile, houndstooth blazers are classy and vintage, and checkered and herringbone blazers are both dapper and mysterious.
10. Floral print blazer: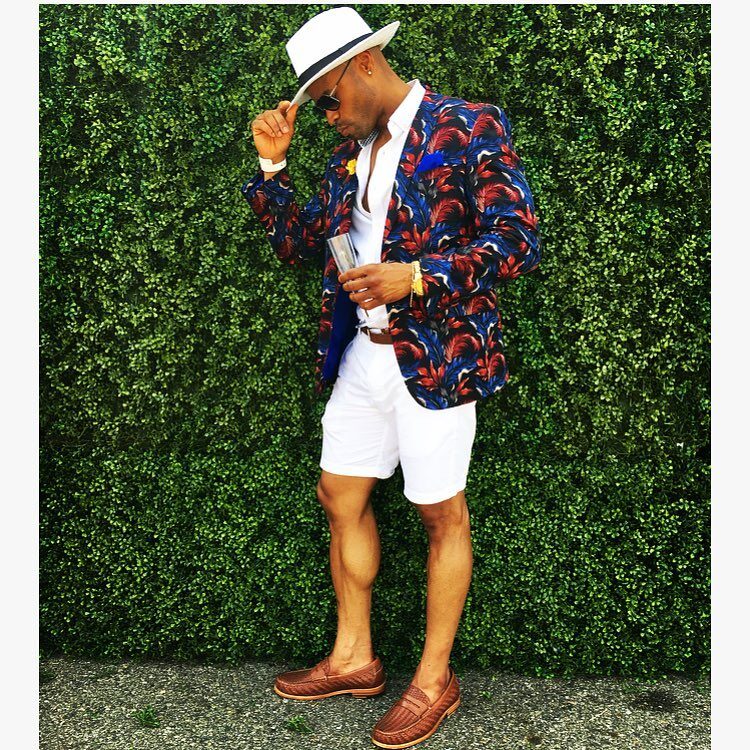 A floral print blazer is the choice of the bold! It features floral patterns or tropical prints and is sometimes part of a full floral print suit with a matching pair of pants. It's always better to match your pants with this super casual floral blazer. A floral blazer exudes relaxed and convivial vibes and this makes it an option for parties and clubs and maybe weddings.
11. Knitted or sweater blazers: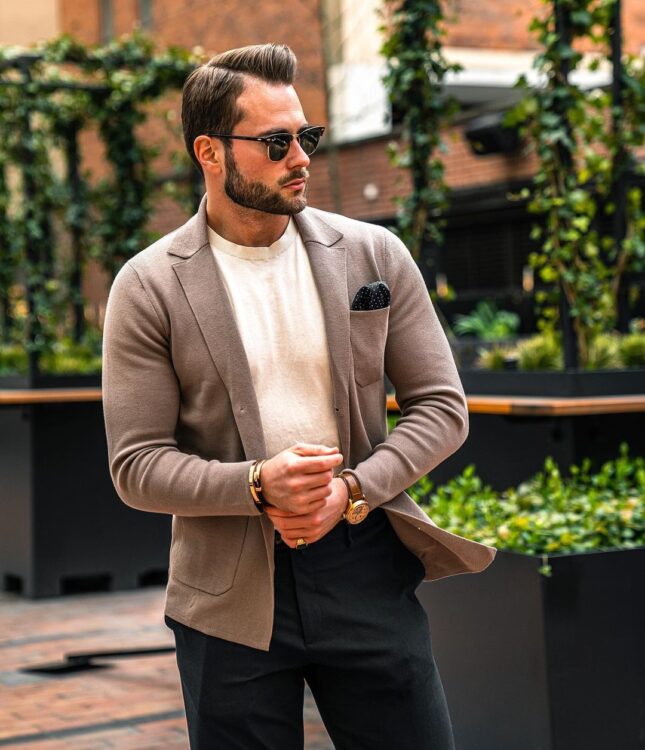 As the name suggests, this blazer is of knitted material like a sweater. It's the casual, informal, and unstructured version of a formal blazer suitable only for fall and mild winter outfits. Despite being more versatile, you can treat it just like a cardigan. The knitting pattern is almost always plain or ribbed, cable knit pattern is seldom used for knit blazers. 
12. Wool and tweed blazer: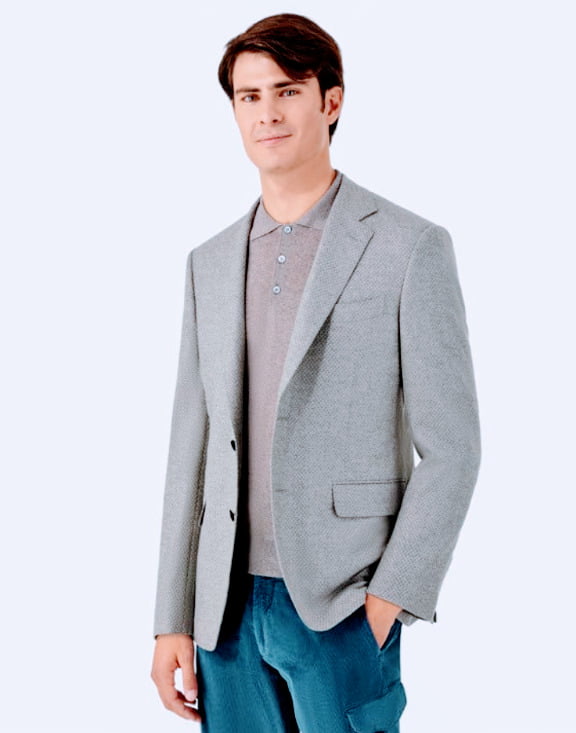 Tweed is a coarse and hardy woolen fabric of Scottish origins, and a tweed blazer is a classic blazer cut and tailored from tweed cloth. These blazers are warm and suitable for cold weather. Tweed blazers can be patterned or plain, worn separately or with a pair of pants with a similar style. Wool blazers on the other hand are made of plain wool cloth, they are thick and warm but not as warm as tweed blazers.
13. Leather blazer: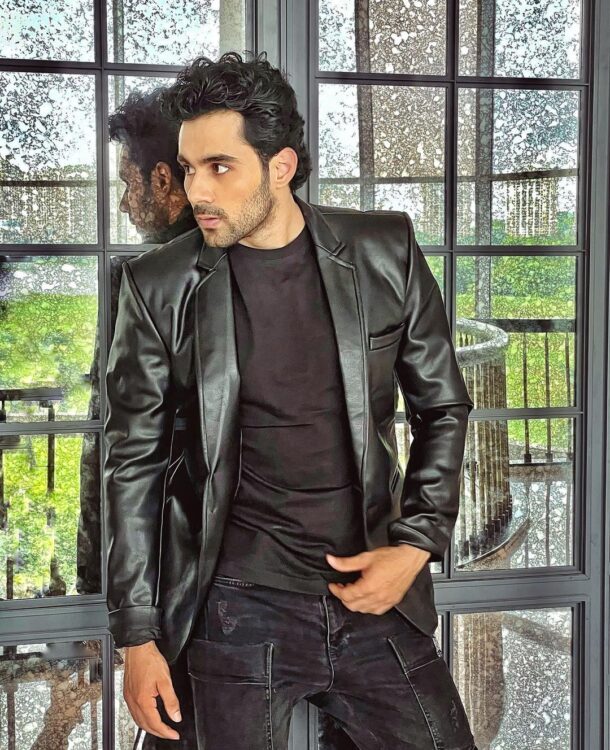 A leather blazer looks like a long, relaxed version of a Moto jacket. These blazers are super casual but hip and luxe, liked by men who sport the punk and hipster style. Rockstars rocked leather blazers for ages, and this explains their continued popularity and enduring mystique. 
14. Denim blazer: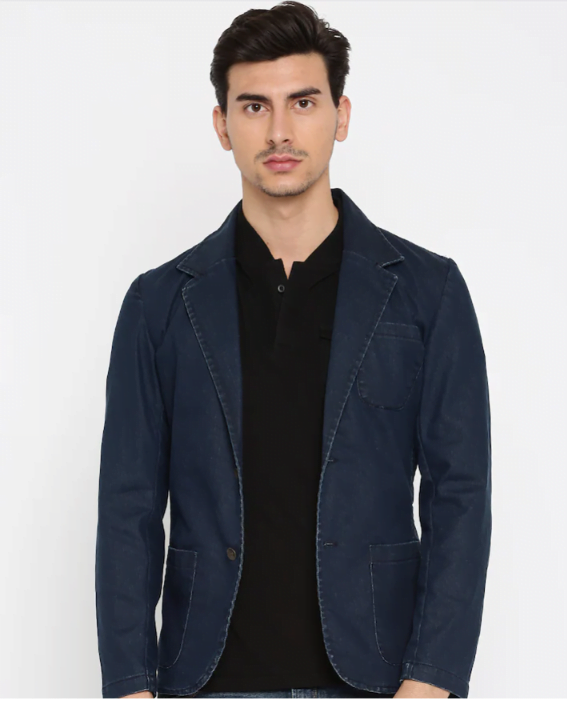 A denim blazer is a jacket prized by denim lovers. It's not as mainstream as other blazers but many guys love them and it looks really good if done right. It's one of those unpadded and super stylish blazers that can be worn to smarten up street-style outfits.
15. Camo blazer: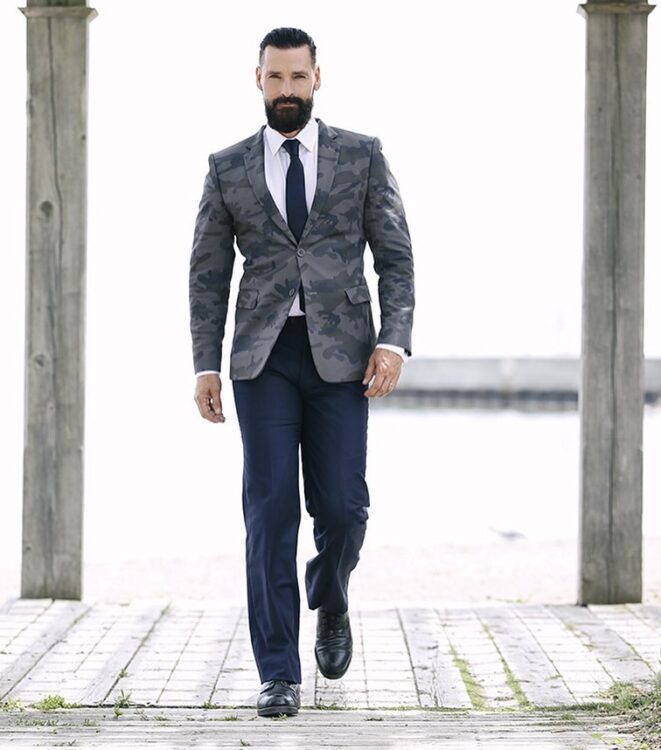 It refers to a blazer with camouflage patterns in any cut or fabric. A camo blazer is another casual blazer that is hard to dress up but exceedingly easy to incorporate into dapper casual outfits. If fall is your best time to dress your heart out a camo blazer will chime in well with your sense of style.
16. Sequin blazers: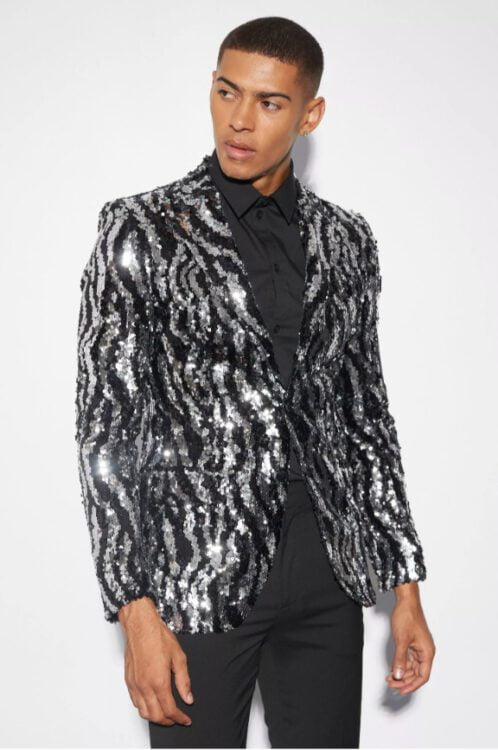 This ornate blazer is decorated with sparkling spangle and is used mostly by stage performers and musicians. Sequined blazers are often found in bright and shiny colors like red, pink, purple and white, etc. A sequin blazer can be had in fabrics like wool, linen, cotton, etc, it's then sequinned, which means it is decorated with sparkling shiny spangle (sparkling metallic material). You are best advised to wear this jacket at informal parties, functions, and musical concerts.
17. Velvet and silk blazer:
Silk and velvet are two different materials but a blazer made from velvet, and one made from silk looks very much similar to each other for having almost identical textures. They have the same utility and can be styled in similar ways. Velvet and silk are pricey and luxe materials and this makes a silk or velvet blazer a party wear option. 
18. Corduroy blazer:
A blazer made from corduroy cloth, that ribbed, thick, and soft fabric made from cotton or very rarely from wool. The corduroy blazer is one of the classics of men's fashion and it's still popular for being easy to maintain, for being soft, and warm. Corduroy is not a stretchy material so the fit of this blazer in this fabric should be taken carefully. It's perhaps the only type of blazer where the color black is not recommended because it gets visibly dusty over time.
19. Pinstripe blazer: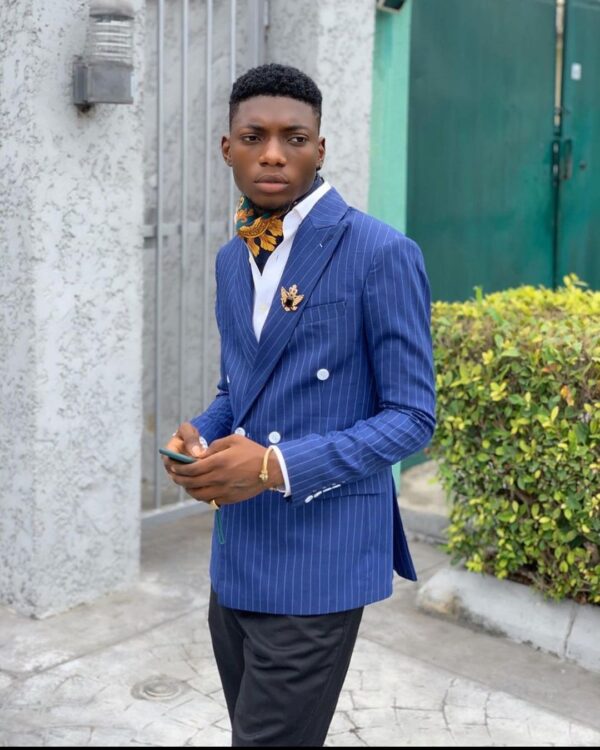 This blazer type features very thin vertical stripes, these blazers are very stylish and are a boon for those guys who want some slimming and lengthening effect. It can be worn in every formal situation and you can effortlessly dress it down by introducing a pair of jeans or slim-fit chinos. 
20. Piped blazer: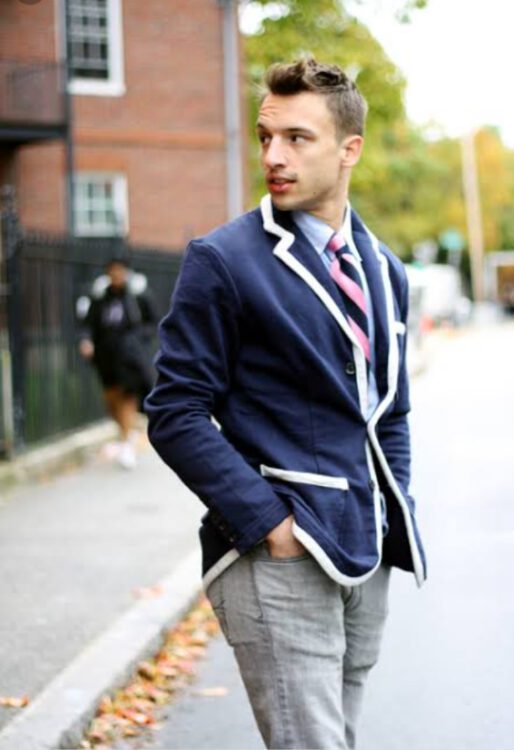 This blazer has decorative piping done at the edges and hems of the jacket. Piping, in case you didn't know, is simply those decorative edging stitched to the hems and seams of clothing, hats, curtains, etc. Piped blazers are worn sometimes as a uniform by members of certain sports clubs and teams. This blazer is sometimes called a club blazer. 
21. Boating blazer or rowing/cricket blazers:
And also a club blazer, yes this one is also called a club blazer, like the previous one, anyways, a boating blazer is similar to a pinstripe blazer, it's different only in relation to the size of the stripes. The contrasting vertical stripes here are more noticeable and have a greater width than the pinstripes. This blazer is used on semi-formal occasions, get-togethers of sports enthusiasts, and weekend parties. 
22. Crested blazer:
There's nothing special about this blazer except an ornamental logo crested at the front pocket. These blazers have been a part of school uniforms for ages and nowadays they are gaining popularity as a chic resort wear item. Brands are designing crested blazers specifically for resorts and beaches.
23. Quilted blazer: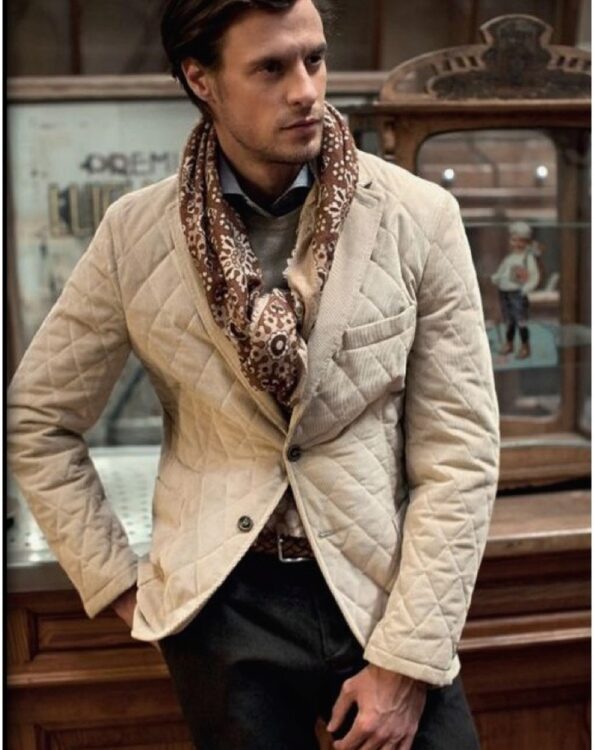 A quilted blazer feels like a quilt, having two layers of cloth sewn together with a layer of padding between them. The quilted blazer not only feels soft and puffy but it also boasts strong insulating properties. Ideal for chilly days of autumn and winter, this type of blazer is usually used with casual and smart casual outfits. The bottoms that work best with a quilted blazer are jeans, khakis, and cargo pants.
24. Belted blazer: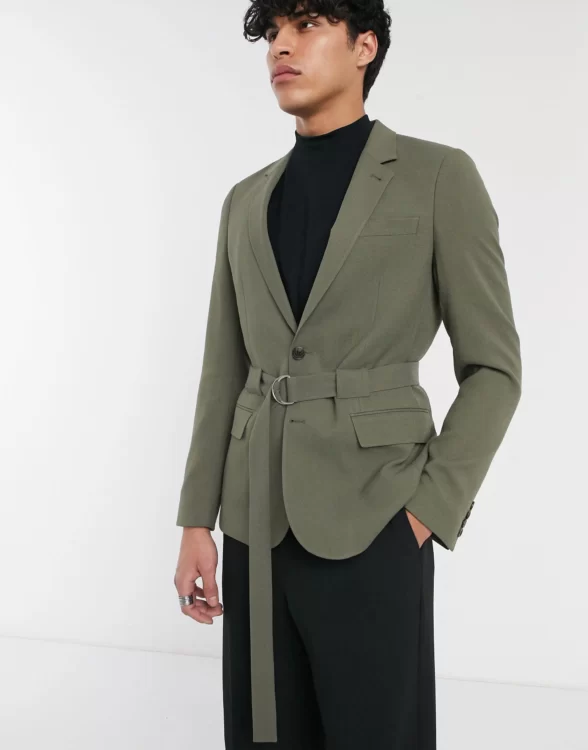 As the name suggests, a belted blazer sports a waist belt that has both practical and aesthetic purposes. This kind of blazer shouldn't be confused with a safari jacket, which looks like a belted blazer but has two or sometimes four conspicuous patch pockets. The belt can be a separate belt that passes through the belt loops present on both sides/flaps of the blazer. Some belts are sewn into one of the flaps of the blazer, in more tailored versions of the belted suit jacket. image source
25. Cropped blazers: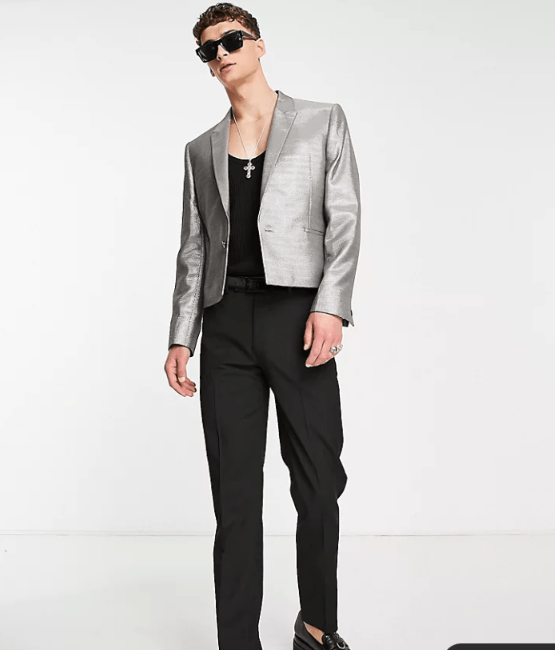 This type of blazer is of short length extending no further than your waist. Some cropped jackets are of even shorter lengths with hemlines just above your belly button. Cropped suit jackets are preferred by guys looking for a unique and bold party look. These blazers come in a diverse range of styles, they are double-breasted but single-breasted coats are not very uncommon either. image source
26. Cargo blazer: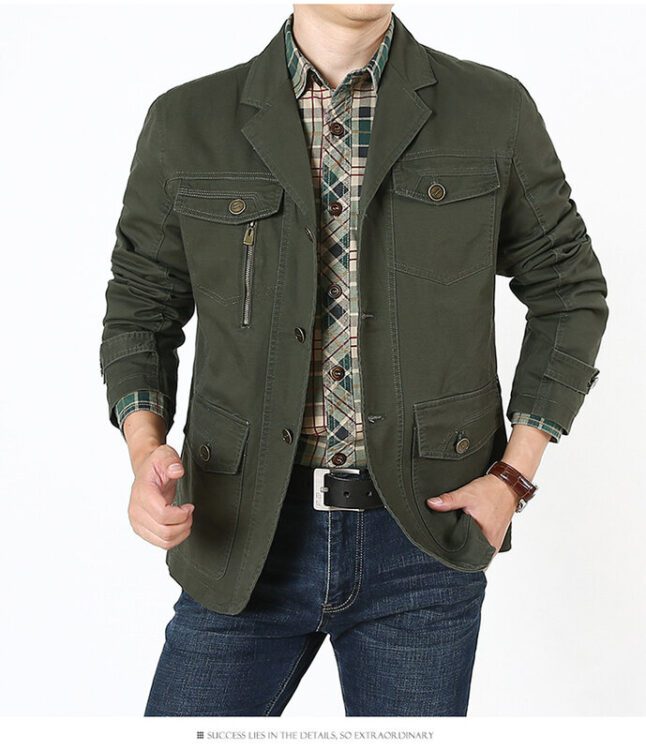 The cargo blazer is a military-inspired version of the classic suit jacket. Cut from sturdy military-grade fabric, a cargo blazer features up to four patch pockets with decorative buttons. Sleeves are adorned with buttoned loops at the ends just like a peacoat.