10 superstars who rocked leather pants and looked absolutely stunning.
So you want to give those leather pants a whirl, but are wary of actually wearing them? Because you don't want to invite unnecessary attention and don't want to "confuse" people about your sexuality.  This is perfectly understandable because of the well-known stereotypes and labels associated with these pants. But times are changing, they are no longer viewed as deviant, kinky, or suitable only for bikers, punk kids, and hard metal fans. These pants are becoming mainstream and it's time you should cast off your inhibitions, throw on these pants for a change, and just be yourself. These leather pants have been worn by our favorite movie stars and rock stars, and there is a lot of inspiration you can get from these celebrity leather pants outfits.
Let's get started 
1. Timothy Chalamet:
Call Me by your name star is one of the most coveted faces of Hollywood, he wore these leather when he hit the red carpet at SAG (Screen actors guild awards) Awards 2019. He just shone like a star in this sleek pair of leather pants and a black suit jacket layered over a polka-dot button-down.
Image source: justjaredjr
2. Justin Bieber: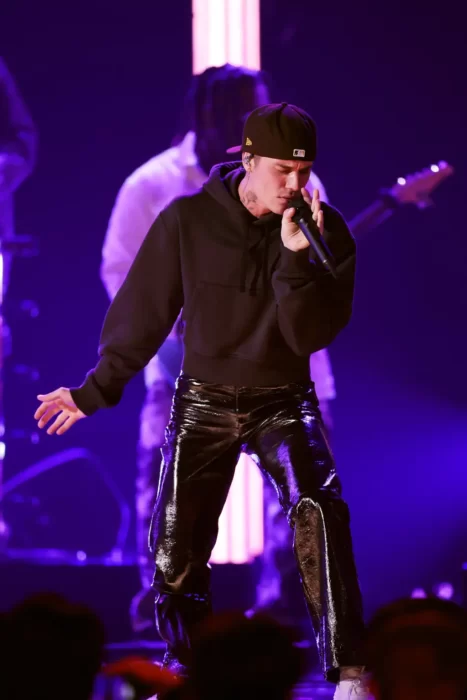 Justin rocked these loose-fitting leather pants at the Grammy Awards 2022. The rockstar completed the look by adding a black wool hoodie, a black baseball cap, and a pair of white high-top sneakers. Source: Getty Images.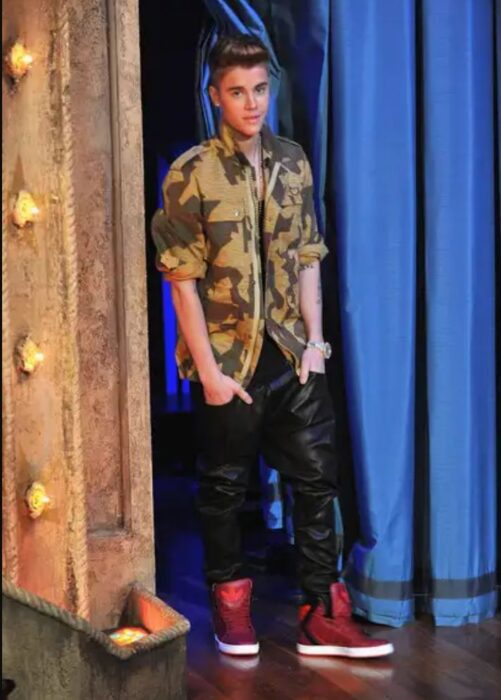 An older picture of Justin Bieber wearing leather pants with a camo jacket up top in 2013 on the late night with Jimmy Fallon show.
3. Zayn Malik: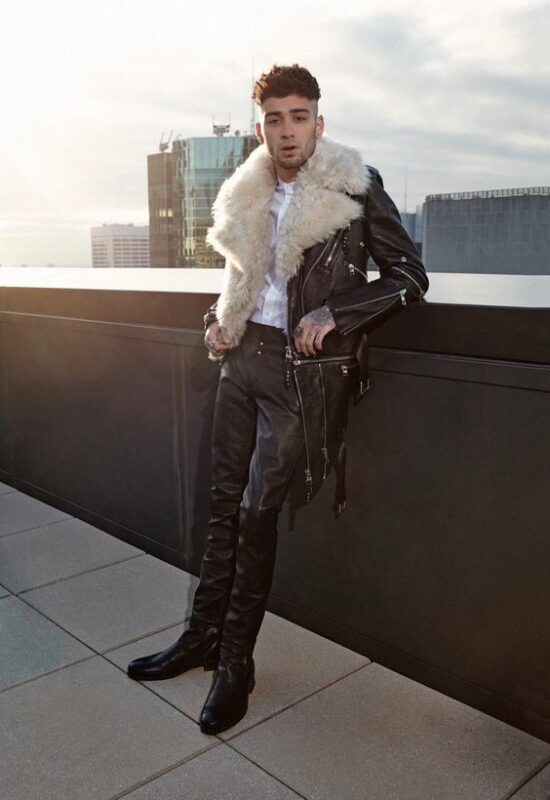 Zayn was spotted rocking a sleek pair of leather pants sometime in 2017. With a fur-collar leather coat up top and a pair of leather boots complementing his slim leather pants, Zayn's outfit stole the show.
4. Tom Holland: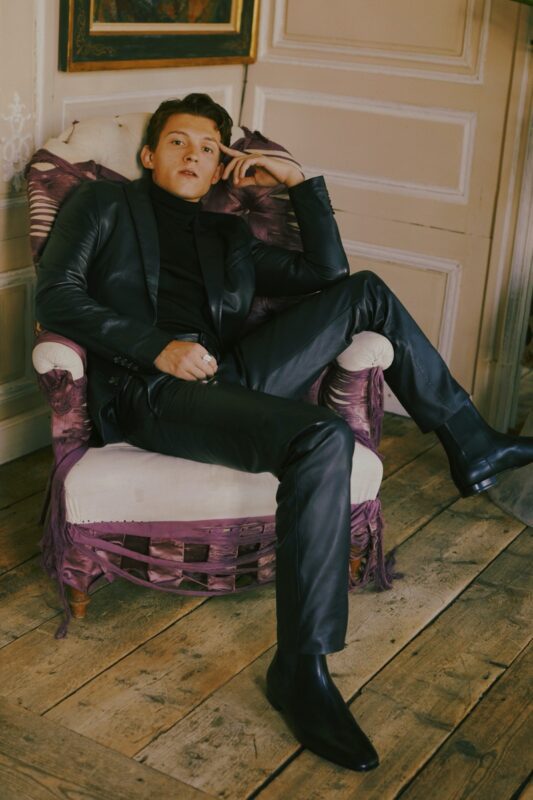 Tom Holland made an intelligent impression as he covered GQ Style USA in a look from Celine in 2019. The Spider-Man: Far From Home star created an elegant all-leather ensemble featuring a black leather blazer layered over a black rib-knit turtleneck, black leather pants, and black leather Chelsea boots. A slaying all-black ensemble!
Image source: the fashionisto
5. Harry Styles:
Harry donned this leather pants outfit while performing watermelon sugar at the Grammys in 2021. He paired a crisp leather blazer with these leather pants without allowing a shirt to ruin this look!
Image source: the cut
6. Machine gun Kelly:
Machine Gun Kelly, also known by his real name, Colson Baker, rocked this outfit with leather pants, a pink trucker hat, and a pair of black combat boots. The rapper, who is the boyfriend of artist Megan Fox was seen in L.A. in March 2021 rocking a skinny pair of leather pants teamed with a plaid trucker jacket, a pink baseball hat, and a pair of chunky combat boots.
Image source: Footwearnews
7. Travis Scott:
Travis Scott is already well-known as a rapper and the beloved boyfriend of the youngest self-made billionaire Kylie Jenner but he is equally praised for his edgie sense of style. Travis completes this stunning look by pairing a brown suede jacket layered over a black tee with black skinny-fit leather pants.
Image source: Fashionbeans
8. Kid Cudi: 
Rapper Kid Cudi, whose real name is Scott Mescudi, is one of the fashionistas in the music industry. Cudi rocked this leather pants outfit at the premiere of "Westworld" in L.A. in 2019. The grey shirt jacket along with a necklace made all the difference.
Image source: angelcitystyle
9. Maluma:
Maluma has collaborated with the likes of Madonna and Shakira in producing his well-received music but he is equally admired for his fashion sense also. He wore this quirky leather pants outfit at Esquire Latin America photoshoot in 2019, a combination featuring a short-sleeve floral button-up paired with a sleek pair of leather pants and high-top sneakers.
10. Rami Malek:
This academy award-winning Hollywood actor (and the hated villain in James Bond's no time to die) is much loved for his fashion choices. The choice in question is an iconic example of Rami's sartorial genius. A pair of leather pants teamed with a crisp grey topcoat layered over a lined button-up creates a stylish leather pants outfit.
Image source: Twitter.
Leather pants are becoming more mainstream, more guys are opting for them. Now that you are through this collection of 10 celebrity leather pants outfits, here's another article with tons of style inspiration, offering 40 leather pants outfit ideas for men, you can go through it and carve an outfit that's uniquely yours.