8 exotic casual shirts that you can choose from to accentuate your style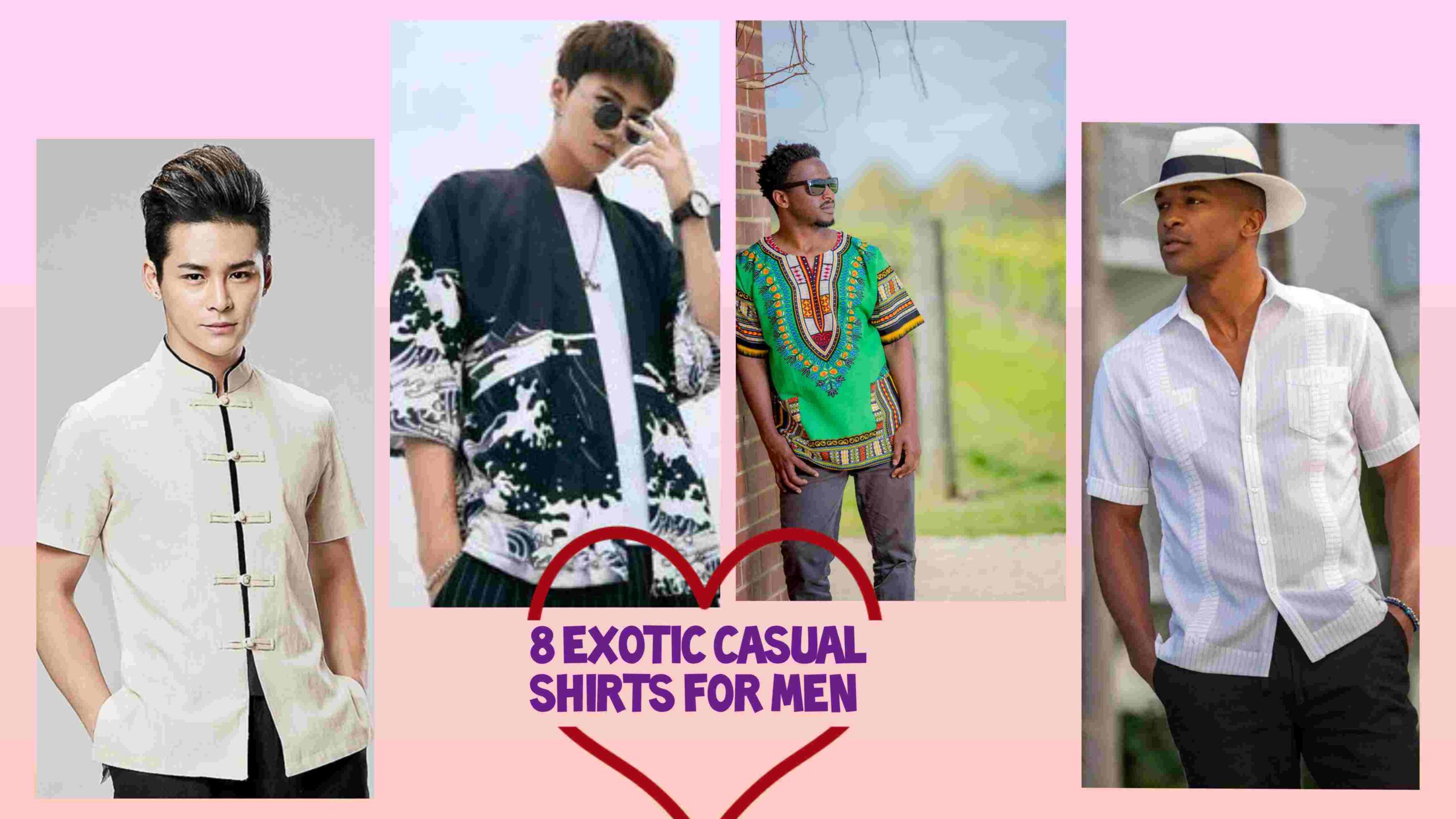 Summer is an exciting time to experiment with your casual style and try something new and different. A collection of sweatshirts, polos, tees, and tank tops is something every guy has to maintain and update regularly to remain stylish, that's a no-brainer. Here in this article, we are going to introduce you to some ethnic-inspired exotic casual shirts.  These shirts will help you ginger up your casual style and introduce some unicity into your casual collection to look your best this summer. Owning some of these ethnic shirts, which have origins in different cultures around the world, will make your wardrobe a lot more interesting and will bring in a welcome change in your casual style on some sunny summer day. You won't regret trying some of these 7 exquisite shirts on a sunny day while vacationing. These exotic styles and prints will surely spice up your style mix and will bring much fun.  
1. Kimono cardigan shirt:
What is a Kimono shirt? Kimono is a Japanese specialty, like everything Japanese, a kimono shirt is exquisite, exciting, and unique. Kimono basically means "something to wear" in Japanese and a kimono shirt is a T-shaped wrapped front(left side wrapped over right) top with loose, spacious, and square sleeves with a rectangular body. Worry not, you need not be a Shinto priest or a karate sensei to wear a kimono shirt. And you won't end up looking like a medieval ages Shinto Monk, because kimono tees are available in the trendiest and most modern styles. A waist-length front open cardigan kimono shirt is an uber-modern and popular take on this ancient Japanese attire. There is a sleeveless version of Kimono shirts that also go by the name of a kimono tank top.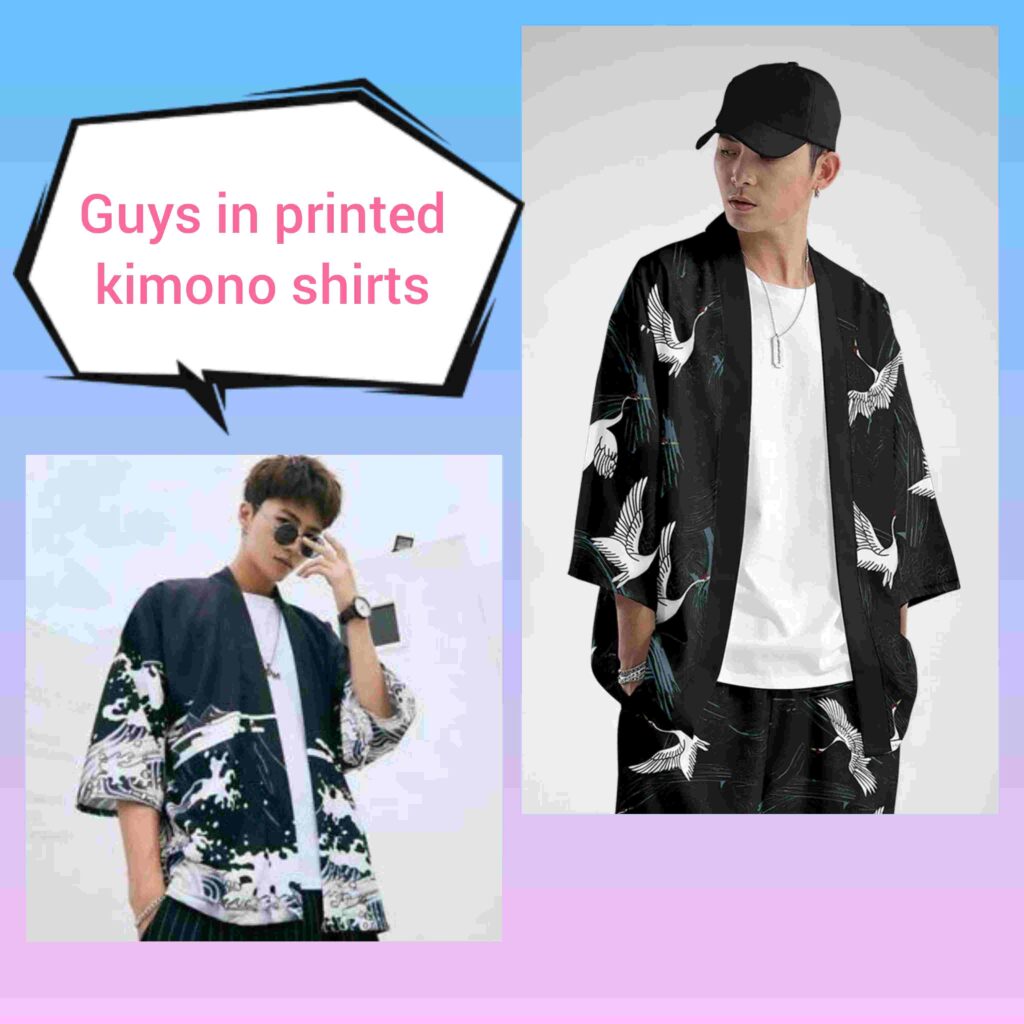 How to wear a kimono shirt? They traditionally wore them with Japanese-styled cropped harem pants and loose trousers but the story doesn't end here. Nowadays men are wearing this shirt in multiple ways within many combos. Short-sleeved kimono cardigans are by far the most popular, plain and printed both styles are loved by fashion-forward men. You can wear your kimono cardigan over a vest, tee shirt, or sweatshirt, as for the bottoms, chinos, jeans, sweatpants anything goes with them. Shorts look great with kimono cardigan shirts in the summer. You can even dress up your kimono shirt by substituting your dress shirt with a formal suit. A tucked-in kimono with dress pants is as elegant as it can be.
2. Dashiki shirt:
What is a Dashiki shirt? This ornate shirt style is African in origin and deeply rooted in African traditions. Dashiki shirts are also called Kitenge in East Africa and have been extremely popular in countries like Tanzania and later Kenya and other countries. What distinguishes this long and loose-fitting pullover shirt is traditional African embroidery around an ornate v-shaped collar, the most popular type has an inverted arch-shaped design and embroidered sleeve lines.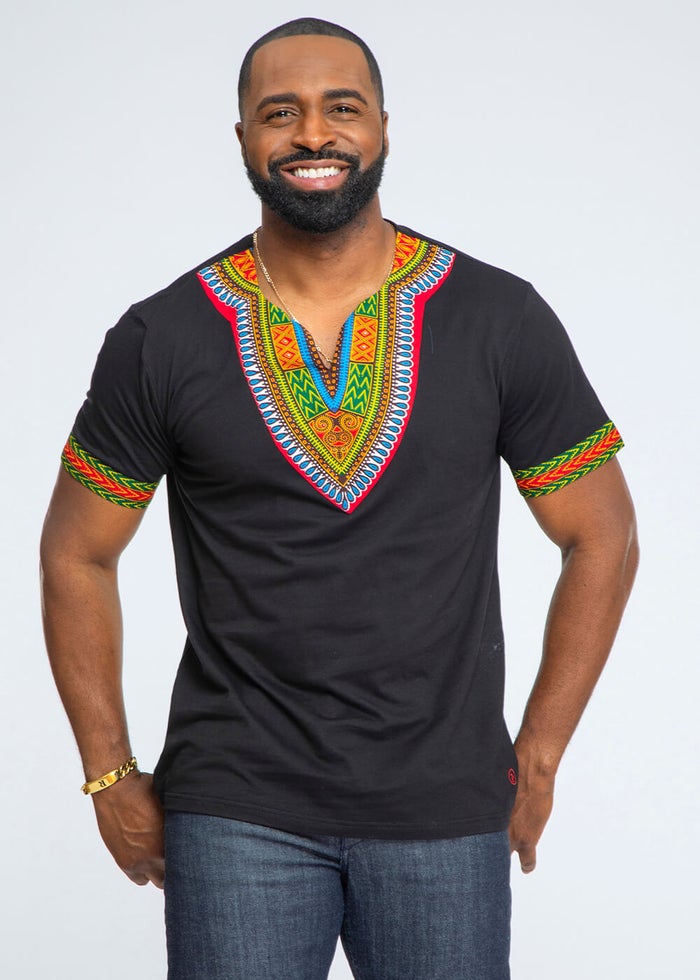 How to wear a Dashiki shirt: A Dashiki shirt can be an exciting addition to your casual wardrobe. Dashiki shirts for men are available in waist-length sizes that can replace any of your favorite tees for a day out. A perfect alternative to a tee on a sunny day, a Dashiki shirt can be effortlessly paired with jeans, chinos, joggers, or shorts. If you are after a jazzy badass style a dashiki shirt can work like magic when combined with a pair of black distressed jeans and accessorized by a matching baseball cap, a pair of sunglasses, and a pair of badass ankle boots.
3. Viking shirt:
 What is a Viking shirt?
 A Viking collar shirt is basically a shirt with a lace-up style rather than buttons. There are holes and a string that passes through these holes to fasten the shirt front rather than buttons and this is the distinguishing feature of a Viking shirt. A Viking-styled shirt can be a round neck shirt or it can have a standing collar, they come in a variety of styles when it comes to collar type. This shirt is a good choice for you if you are looking to introduce some extra variety into your casual styles.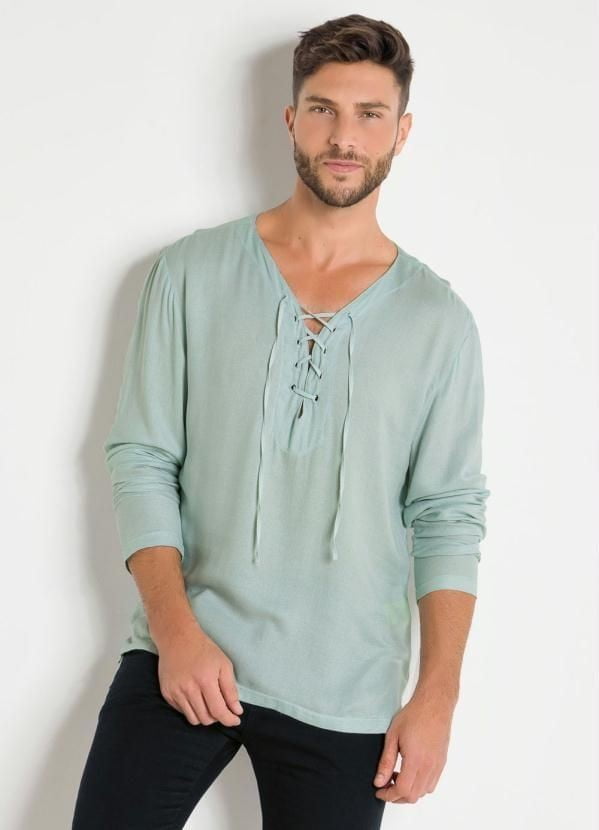 How to wear a Viking shirt: The rules for styling a Viking shirt and a tee shirt are more or less the same, which makes it a very versatile and easy-to-use top. Wear them the way you wear your tee, the way you color-coordinate and accessorize your tees, it's that simple! It won't surely be an eyesore for you to read one more sentence about this exquisite casual shirt, it's perfectly worth having it in your wardrobe for it's far edgier than a plain tee, and it requires no extra effort at all to style and mix and match.
4. A Kurta shirt:
What is a Kurta shirt?: A kurta shirt is simply a hybrid button-down and a pullover shirt that can either be collarless or has a small standing vertical collar that doesn't fold over. It's both a button-down and pullover because the buttons do not extend all the way down to the bottom end of the shirt, but only to the middle of the shirt. The kurta shirt is of Indian origin and the word "kurta" refers to a traditional knee-length collarless shirt often worn with a traditional Indian trouser called a "Shalwar". And a kurta shirt (also called a short kurta in India), when it has a small standing collar, is very similar to a Mandarin-collar shirt, they probably differ in name only.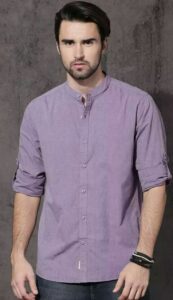 How to wear a Kurta shirt?: A kurta shirt works best as a casual outfit choice with a pair of jeans, and this is the most popular way it is worn by men. This shirt is almost always worn untucked except when you are planning to dress up your kurta shirt by using it with dress pants or chinos. Kurta shirts are available in a number of styles and designs, you can find them in varying lengths and collar styles and fabrics. Choose the style of kurta shirt that you can easily integrate with your outfits. You can throw on a collarless kurta shirt and dress it up effortlessly by wearing it with a blazer and this combo is no less stellar than a tee-blazer suit.
5. Guayabera shirts: 
What is a Guayabera shirt?: A guayabera shirt is a Caribbean entry in this list of exotic casual shirts. A guayabera shirt is basically a loose-fitting button-down shirt with at least two fine vertical pleats called aforzas that run down the front and back of the shirt. This shirt has two or four front pockets and it can have short or long sleeves. In essence, a guayabera shirt is to shirts what a pair of cargo pants is to pants! It is spacious, practical, and easy to use.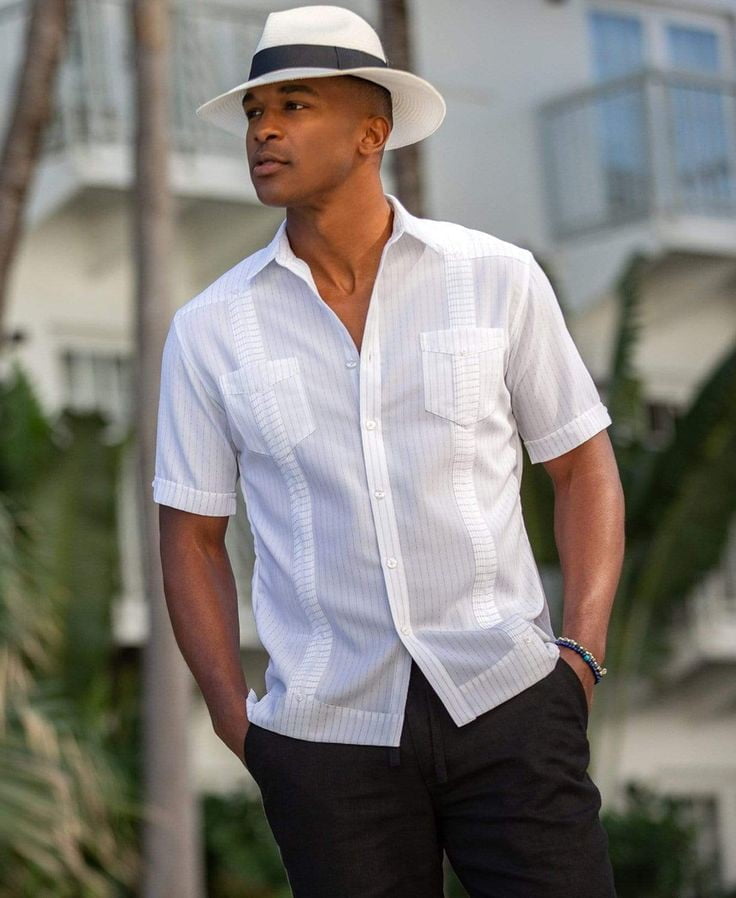 How to wear a Guayabera shirt? A guayabera shirt may not be the most popular kind of casual shirt for men but it definitely is an elegant exotic shirt that can make your casual style more vibrant and sophisticated. You can wear a white guayabera shirt with a pair of khaki chinos on any day and stand out from the crowd. You better use these shirts untucked with earthy tones for the best results. There are other ways this shirt can be used by any guy and it won't fail him because this elegant shirt is far from being a dead trend, it's perhaps an under-appreciated yet ever-green casual shirt that gives your casual style the boost you are looking for.
6. A Tang shirt:
What is a Tang shirt? A tang shirt, also known as a Mandarin collar frog button shirt, originated from traditional Chinese jackets called Tangzhuang jackets. A Tangzhuang shirt nicknamed the tang shirt is a modern casual shirt that features a standing collar and toggles, frog buttons (Pankou knots) instead of ordinary buttons for fastening. Available now in modern fitted and tailored fashions, this Chinese shirt can be an immensely enriching addition to your casual collection.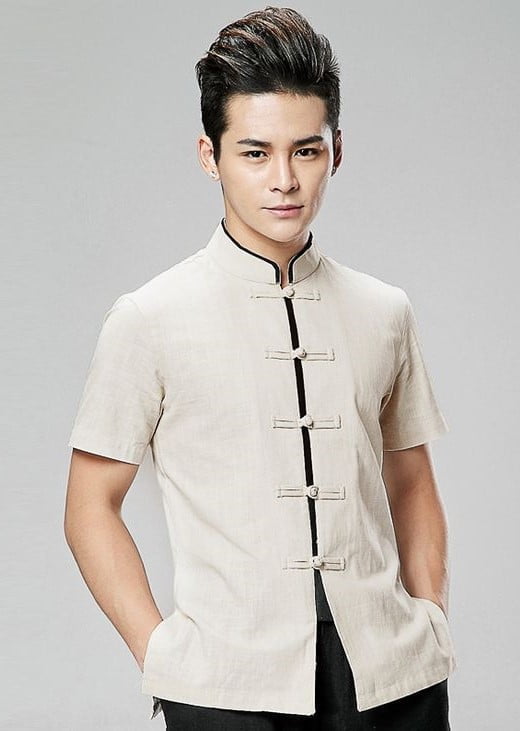 How to wear a Tang shirt? Tang shirts exist in many different styles, fits, and fabrics. Linen tang shirts are more popular, short sleeve and long sleeve styles both exist. Chinos and slim-fit jeans work best with a tailored tang shirt. Chino shorts are an equally good choice in summer to form a combo with a preppy tang shirt. A short-sleeved slim-fit shirt with black skinny jeans and a blazer is the perfect choice for guys of small or slim build. In addition to being worn untucked with dress pants and chinos, a tang shirt can be dressed up a bit with a cardigan or a blazer without much effort.
7. Batik print shirt:
What is a batik print shirt? Batik is not a type of shirt per se, it's actually a fabric dyeing technique. Batik is a wax-resist dyeing technique of cloth that is based in the islands of Indonesia and Malaysia. Shirts dyed by this technique are unique and exotic and are one of the most popular tropical shirts. These short-sleeved shirts, with bright colorful designs, are hand-made shirts often with immaculately crafted coconut shell buttons that can be an amazingly exotic addition to your casual wardrobe.
How to wear a batik print shirt: A batik print shirt can be worn for an exotic sartorial experience on any sunny day, ideal for vacations to some tropical destination or a visit to the local beach. Being a summer staple, a batik print shirt is best with shorts and loose-fitting lightweight trousers. This shirt is very similar to an aloha shirt in use and is completely worth having in your wardrobe. You can throw on your batik print tropical shirt in combo with any shorts you prefer, plain or printed, a winning combination can be formed with amazing ease.
8. Hanfu shirt or modern Hanbok shirt
True, not many people know about a Hanfu shirt, but this shirt can be one exquisite addition to your wardrobe.  A Hanfu shirt is another entry from China in our list, the other one being the Tang shirt. So what is unique about this shirt? A cross collar and a buttonless front are the distinguishing features of this shirt.  A Hanfu shirt must not be confused with a tang shirt, there is only one thing in common between them, they both come from China! Korean Hanbok shirts are very much similar to these Hanfu shirts, they have a similar but considerably smaller cross-collar front. Hanbok Shirts are seldom marketed as modern waist-length shirts.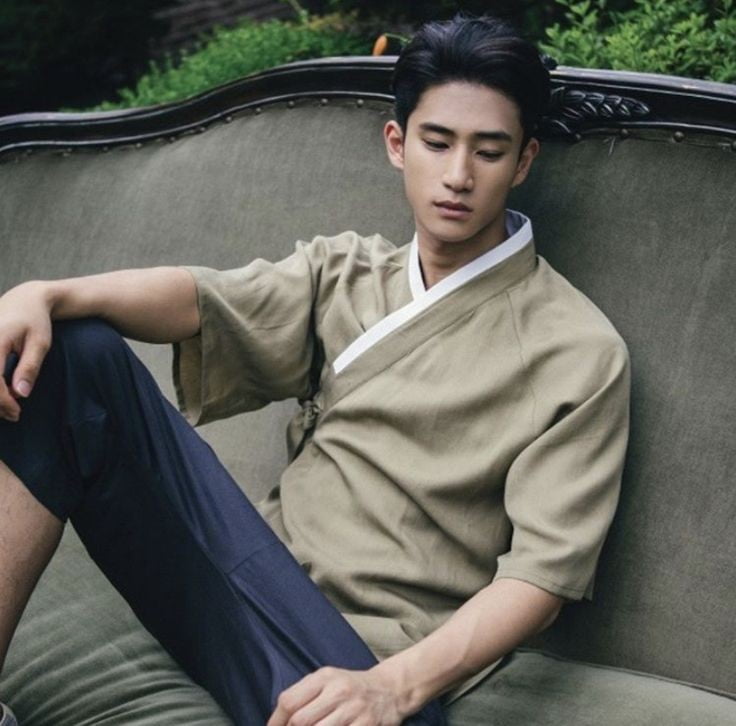 How to wear a Hanfu shirt? This shirt can be worn as a casual option with loose-fitting trousers, sweatpants pajamas, or joggers.  These shirts can test your imagination but they are worth it if you like them.  A Hanfu shirt can be worn with chinos, tapered pants, or even shorts in summer.