55 outfits with winter scarves for men.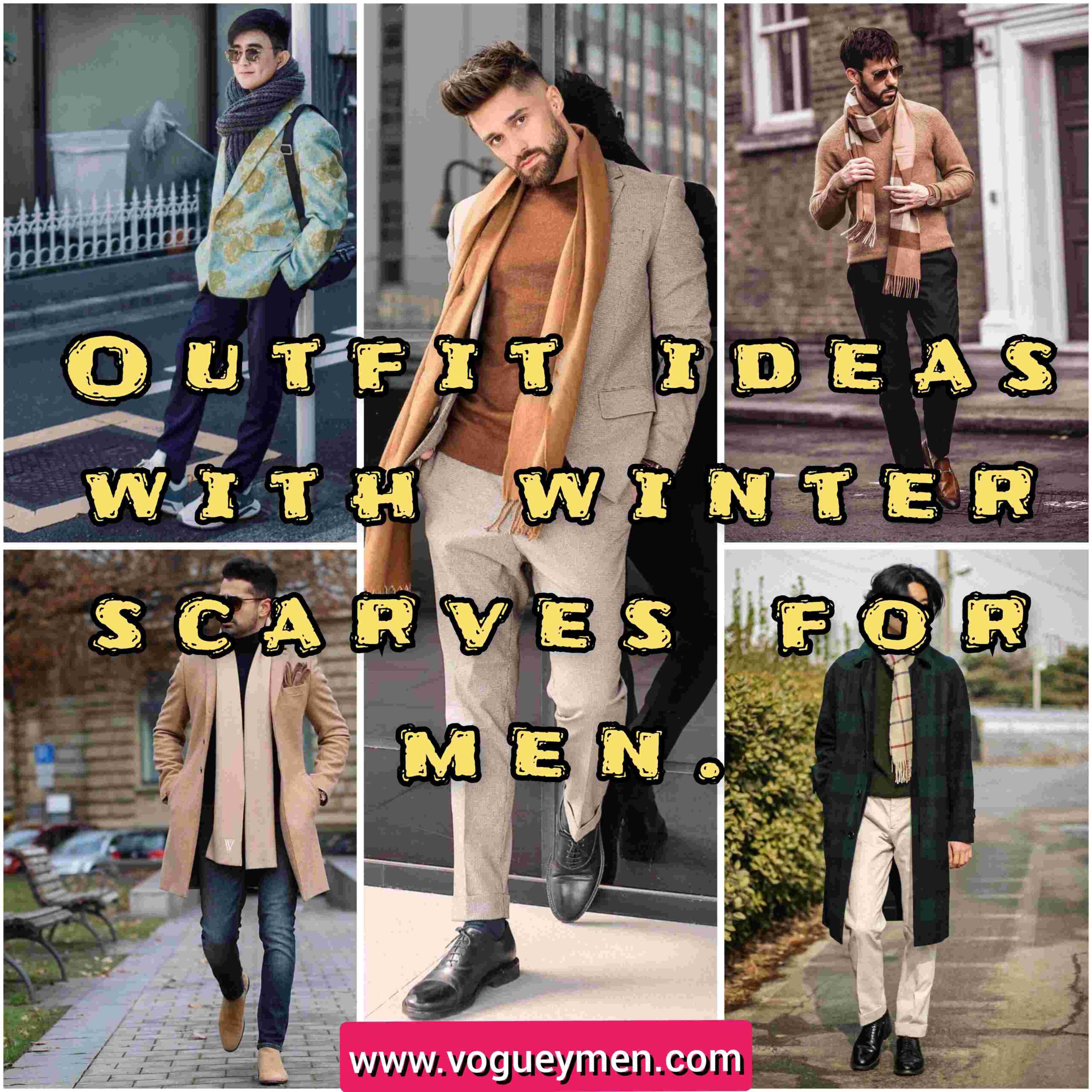 A winter scarf is one of the essential winter accessories that not only saves your neck (we mean it literally) and entire being from the frosty ferocity of winter winds.  But this 3 to 5-foot-long knit scarf can also elevate the style quotient of otherwise a bland and grim all-wrapped-up winter ensemble, this is what makes it special. Apart from definite functionality, a cozy woolly winter scarf is second to none in giving your winter/fall outfit a distinct touch of individuality. Wearing the scarf the right way is the key to looking stylish in winter. How can I look classy in my winter scarf? Do I have to match it with my outfit? How should I wear a winter scarf? These are the questions guys often ask, and we have come up with the answers plus a collection of 40 outfits with winter scarves for men to excite your sartorial imagination. But like always, before moving on to the outfit ideas let's first look at how to do your winter scarf stylishly, in a way that's not just functional but fashionable at the same time.  
How to match a winter scarf with your outfit?
A winter scarf, sometimes called a muffler, is so much more than just an accessory that is used to ward off the cold. You can upgrade an ordinary outfit into a fashion statement, the key to this is matching the scarf with the rest of your outfit. A winter scarf can do so much more than just add a protective layer or a pop of color to your fall outfit. 
Fabric, color, knot, and style of your winter scarf:
Styling the winter scarf involves paying attention to some basics. This includes choosing the color that's best for you plus the fabric that fulfills your needs, the appropriate length that you can pull off, and the way you tie this muffler around your neck so that you don't look like a dweeb. This seems like some one-thing-after-another kinda situation! Well, we are here to eat that elephant one bite at a time! 
Fabric: 
Wool is the king when it comes to winter scarf fabrics. It's warm, roomy and breathable. But wool is not the only game in town. Merino wool, silk, and cashmere are the lux options for you to rock at parties and functions. Acrylic, cotton blend, and polyester are other materials that are equal parts functional and fashionable for weather that's not too cold.
How to choose the length of your winter scarf?
Men's winter scarves can be found in 3 different lengths. 
Short length: A length from 30 to 35 inches is regarded as short length. It can be comfortably wrapped around the neck. 
Medium length: A length from 50 to 55 inches: It is most popular, and widely used with business casual and formal outfits with blazers often draped (untied, without knots), this length coincides with a regular blazer or jacket length.   
Long length: It's up to 90 inches long and rarely used. Gives off casual carefree vibes. 
Choosing the color of your winter scarf:
Neutrals work best for every guy, neutrals include black, white, khaki, beige, and gray. But if you want a little flare with the color, go for colors that match your skin tones. Plaid scarves are widely popular and like neutral work for every guy. A wool scarf in hues of blue will look good with your casual blue jeans outfits.
If your skin tone is warm, go for colors like red, rust, yellow, and deep green. If on the other hand, your skin tones are cool, go for hues like lighter colors, blue and gray. 
5 ways to match the winter scarf with your outfit: 
Here we are, it's time to turn our attention to the main question, how to match your scarf with the outfit. You don't have to use a winter scarf as a pop of color piece every day, it looks way more satisfying and stylish when you match it with one of your garms. We'll discuss five ways to do so, and you will appreciate the way it looks on you. 
1. Match the winter scarf with the top base layer: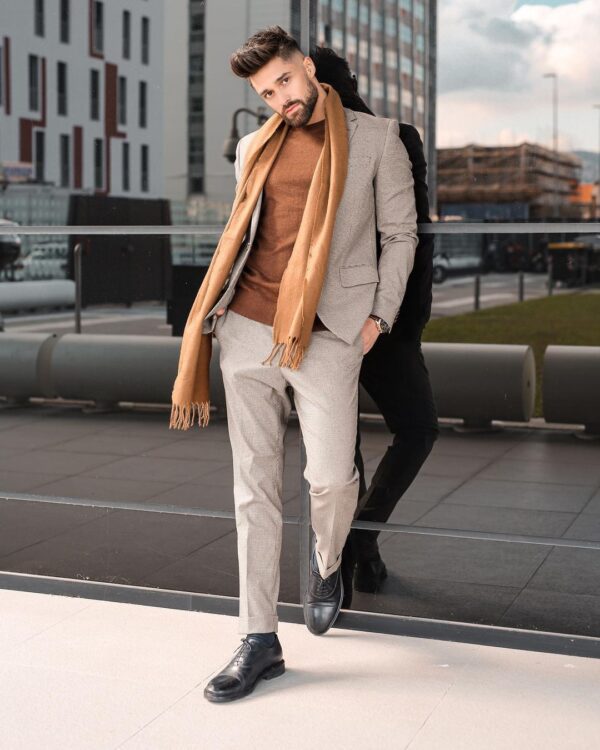 By top base layer we mean, any sweatshirt or tee you are layering under your jacket or top coat. It can be a tee, turtleneck, a sweatshirt, or a sweater. A camel winter scarf will look perfect with a similarly colored base layer. 
2. Headwear and winter scarfs: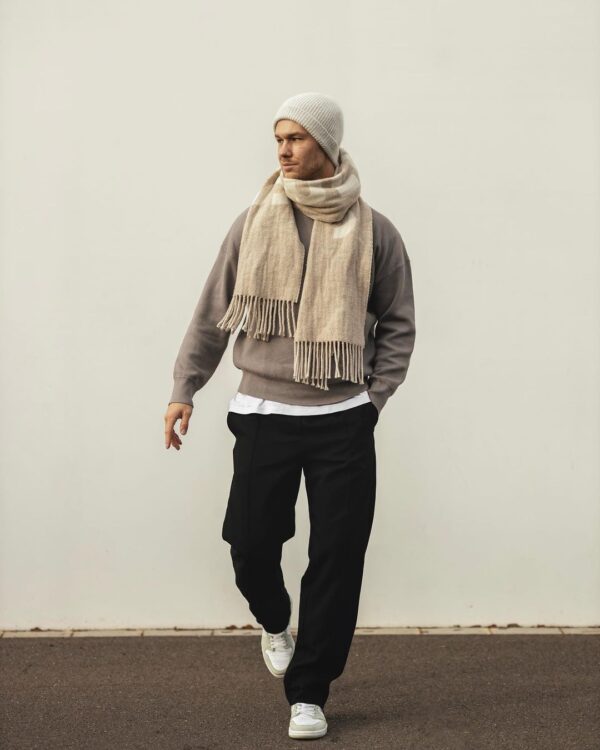 This is one of the most common ways to integrate your winter scarf into your outfit. A beanie, a baseball cap, or a fedora, you can rock your scarf this way and be the smartest man in the room. A beanie and muffler are made for each other and together, they fight like heroes to ward off cold in December and January. And when they are in matching hues, heck, they will get your winter outfit overflowing with swagger. 
3. Match the scarf and pants:
This is another way to make your winter scarf not look like an outsider in your outfit. This is especially true when you are wearing your scarf in the draped way, that is without a knot or winding around the neck. When you are wearing your scarf without any secondary layer, it's stylish to match it with your pants even when you are wearing it with a knot around the neck. Just keep your pants and the winter scarf monochromatic or tonal. Case in point: A khaki winter scarf wrapped around your neck will be a hundred times more dapper when you are wearing khaki pants.
4. The topcoat/ jacket and winter scarf:
Keep your topcoat or suit jacket whatever you are wearing, tonal with your winter scarf. Monochromatic may not look that enticing for everyone, but tonal shades can do wonders. A black wool scarf and a black leather biker jacket are made for each other, but a slight shade variation will make things even more interesting. 
5. Shoes and scarf:
Sounds somewhat outlandish? Well, it shouldn't. As a stylish man, you shouldn't miss a chance to create symmetry by arranging the pieces of the puzzle in the best possible way. When wearing a tan scarf try on a pair of buff suede boots to complete the look. The key here is to keep things related and make them look like they have been chosen carefully. 
Outfits with winter scarves:
Dressy outfits with winter scarves for men:
A winter scarf adds a dash of color to a formal winter outfit and can make it a tad edgier. You can wear a scarf with formal office attire and smart casual outfits in winter and fall in several ways, here are some outfits with winter scarves for smart and dressy situations.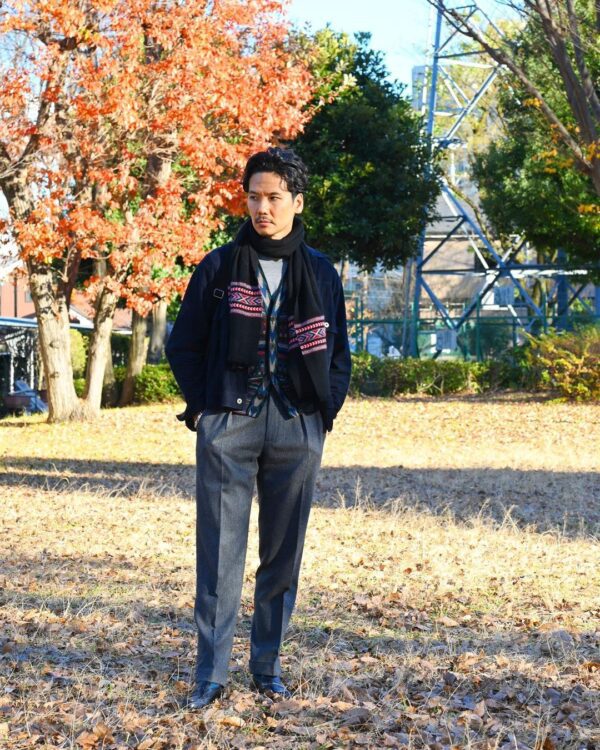 Outfits with winter scarves and coats:
Winter or fall style is about using layers intelligently to look fashionable without compromising practicality. Accessories like beanies and winter scarves can help you as add-ons in your quest for unmitigated style with all the layers. A winter scarf, as an accessory, can elevate an outfit with wool topcoats ( whether patterned or in solid hues like black, camel, or gray), trench coats, and peacoats, here are some outfits with winter scarves for men that can inspire you to incorporate it into these outfits stylishly.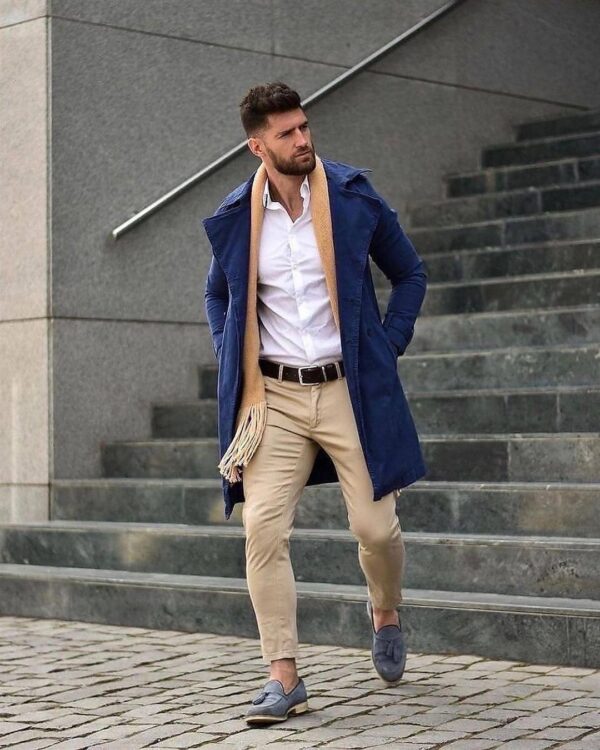 Casual outfits with winter scarves for men:
You can use a wool scarf with your casual outfit to add depth and dimension to it, not to mention the functionality it offers. It will be interesting to experiment with different styles of tying a winter scarf, you can start from the simplest drape and then move on to more sophisticated styles like the hitch, the twice around, or the Parisian knot, the casual setting gives you the freedom to experiment and have fun with the scarf.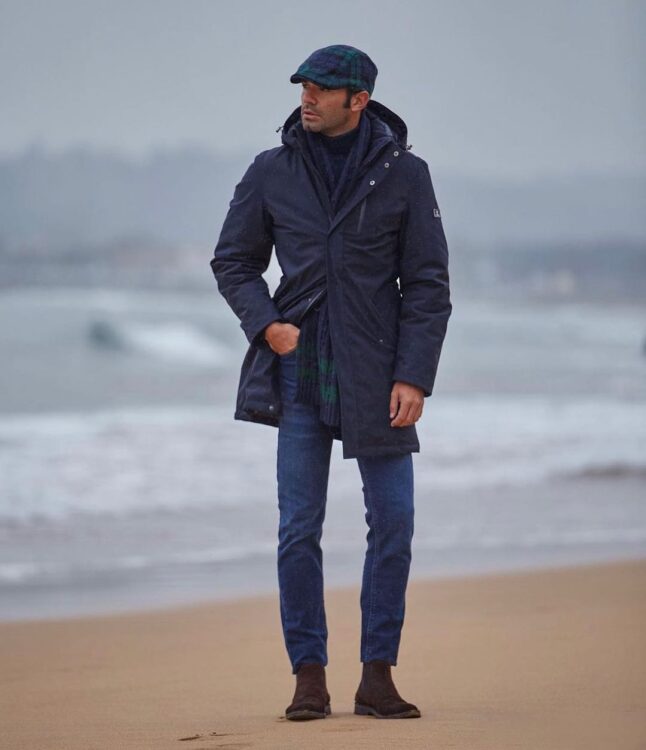 FAQs
What color scarf goes with everything:
So, you want a scarf that stays with you all winter long and works seamlessly with every outfit you sport, from the most formal and structured outfits to the most carefree and casual ensembles? It's a black wool scarf, you can pull it off with every outfit you put together in fall and winter. It's a must-have for every guy who wants to ace his cool weather style like a true fashionista. Plaid beige scarves are one of the most popular colors and patterns when it comes to winter scarf styles, but when compared to the solid black scarf concerning versatility and swag, it's not even close. A black woolen scarf should be your first choice when it's the first time you are buying one. 
How to wear a scarf with a coat? 
A topcoat and winter scarf are cold-weather essentials, they can be combined to create a winter or fall outfit that's equal parts classy and cool. You can wear the scarf in every possible style, with a coat of any type, whether it's a wool topcoat, a trench coat, or a peacoat. Matching the scarf with the outfit is the key to rocking it the way a fashion-forward guy does.
When the weather isn't too cold, you can go for the easygoing drape style, make sure you wear it well-ironed with your tailored topcoats. 
Go for knots when you have to get the most out of your winter scarf to ward off cold. As a starting point, a Parisian knot is just perfect, as it's easy to style and it does the job well. Twice around is another easy way to wear your scarf with a coat for maximum protection against cold. 
When wearing your winter scarf with topcoats prefer solid earthy tones, rather than bold patterns and bright colors.
How to wear a scarf with a suit?
The drape is the way to go for most guys when wearing the winter scarf with a suit. You can add a dash of color to a formal suit often in somber tones by using a crisp winter scarf in the colors of your liking. To cozy up your formal suit on a chilly day, opt for the connoisseur (Ascot) knot. Connoisseur knot not just looks fabulous it feels fabulous too because of the way it protects your neck from frigid winter winds.