20 different types of loafers for men.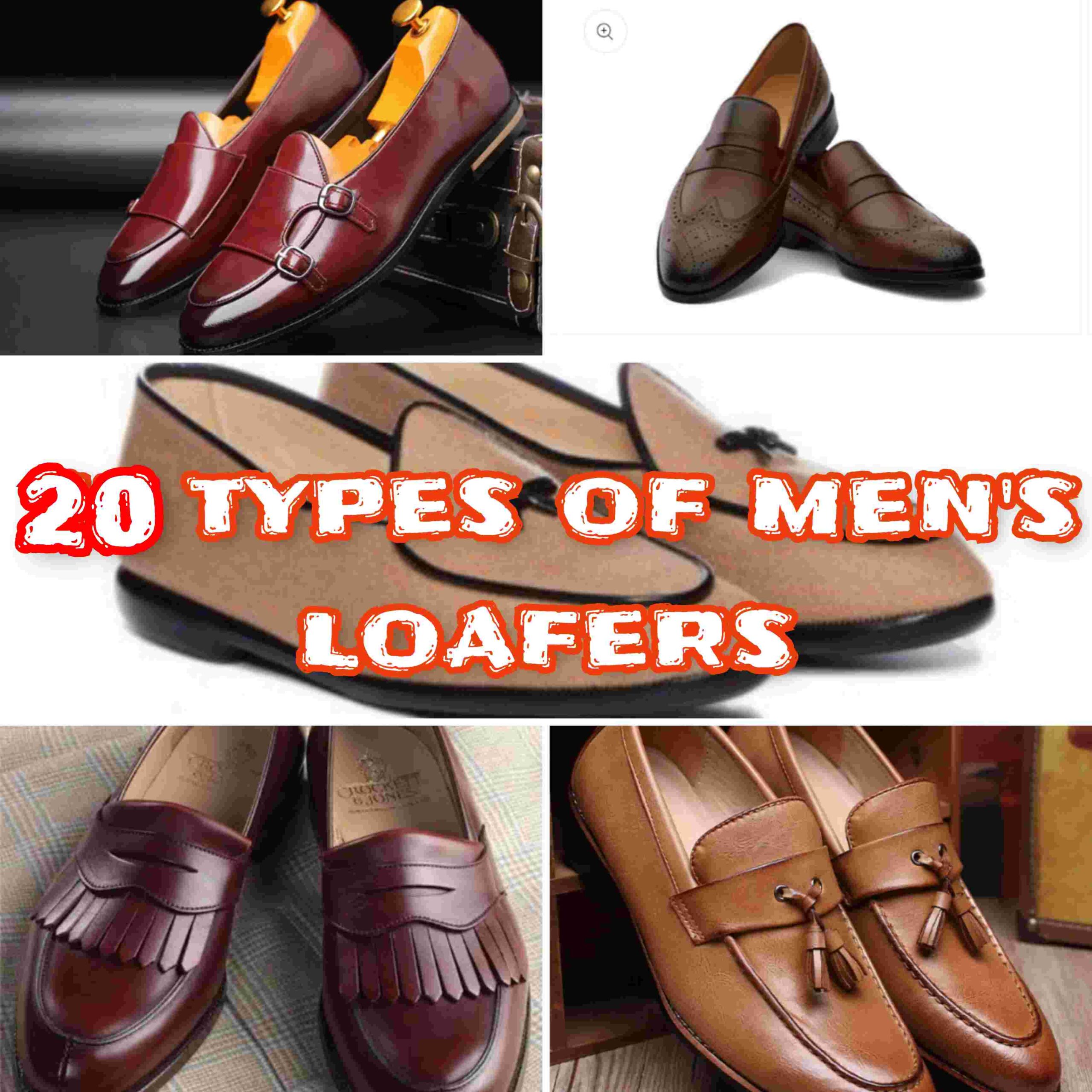 Loafers are one of the most popular shoe types men wear, and you can find a loafer in numerous types and styles, we'll introduce you to some 20 types of men's loafers. They are easy to put on and take off as there are no laces to take care of. Loafers come in a number of styles and types, you can use them across seasons and in all situations, formal, casual, and everything in between. At the workplace, at a wedding, on a date night, on the street, at a party, on the beachside, or on your favorite tropical destination, you name it, and you'll find a style of loafer suited for every one of these situations. Quite impressive, isn't it? Men's loafers are of many types, we'll walk you through the details with some 20 members of the loafer family, let's get started. And if you are interested in knowing about types of loafers for women, this article might interest you!
20 different types of men's loafers
1. Penny loafers:
Penny loafer is the most ubiquitous and popular type of loafer. The distinguishing feature of a penny loafer is the presence of a decorative slotted leather strap across the upper. A coin/ penny can be inserted into this strip, hence the name penny loafer. Penny loafer was manufactured and marketed by a Norwegian company during the 1930s. It was popular as weejuns among prep students who reportedly kept pennies in the saddle as pocket money. 
2. Tassel loafers: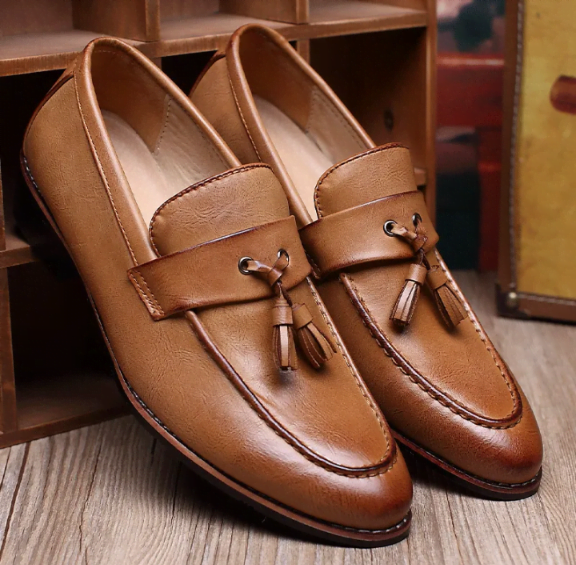 As the name implies, this type of loafer has a tassel held in place by a leather strand. A loafer in any style with a tassel over its upper is a tassel loafer. They are trendy and popular again in the 2020s. Tassel loafers are suitable for both formal and casual situations, you can wear them with formal suits, smart casual outfits, informal jeans, and chinos. 
3. Horsebit loafer/Snaffle loafer:
The Horsebit loafer is an iconic men's footwear piece made popular by Italian designer Aldo Gucci, the innovative son of Guccio Gucci in the 1950s. This type of men's loafer showcases metallic detailing resembling a horse bit or snaffle across the vamp. Horsebit loafers are suitable for every occasion, but they are more suited to wear with formal and semi-formal outfits
4. Kiltie loafers:
A kiltie or kilty loafer is set apart from other slip-on shoes by the presence of a decorative leather fringed leather panel at the shoe upper. This fringed leather panel can sometimes have a tassel up top. This kilt-styled over the vamp fringed flap reveals the Scottish origins of the kilted loafer. Kiltie loafer is an option for you with your business casual outfits. It's one of the more formal types of slip-on shoes as men seldom wear them with casual outfits.
5. Side-gored loafers: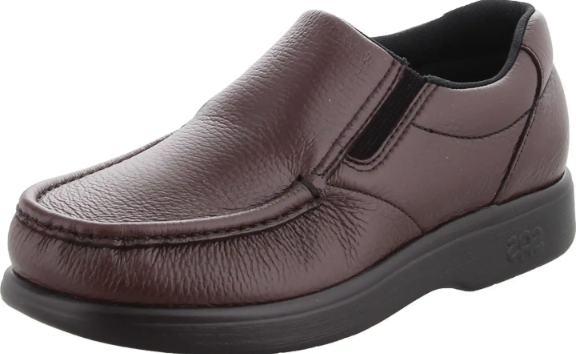 This kind of loafer shoe is characterized by the presence of an elasticated gusset (cloth piece) on the side of the vamp. This side-gored arrangement provides for a snug and comfy fit. Side-gored loafers are usually made cushiony from the inside and usually have a thick sole. You can wear these side-gored loafers both casually and formally, but they make a better footwear choice for relaxed smart casual outfits.
6. Driving loafers:
A pebbled outsole is the defining feature of driver loafers, this pebbled outsole provides that all-important grip on the pedals when you are driving around town. You needn't be an ardent gearhead to own a pair of these, apart from being useful when putting pedal to the metal, driving loafers are stylish in their own right. They are the most formal type of shoes, you can rock them with smart casual and business casual outfits.
7. Mule loafers:
Yes, mules are a type of loafer, a pair of mules is simply any pair of loafers without a back. These backless loafers can have horse-bit, kilt, or tassel detailing on top. Mules are the most casual of the loafer family, you often wear them with shorts, and PJs when lounging. They can be a lazier alternative to espadrilles when sunning on your favorite beach. 
8. Butterfly loafers: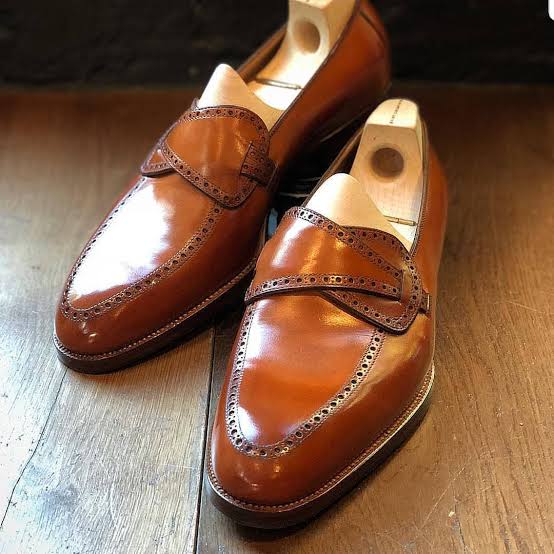 Butterfly loafers feature a pair of intertwined straps or flaps on the vamp with unique designs somewhat resembling the wings of a butterfly. These decorative interwoven strips give them a unique pizzaz, it's both vintage and classic. Butterfly loafers lie more on the formal end of the spectrum.  These high-end kicks are relatively unknown, yet refined and laid-back.
9. Venetian loafers or slippers: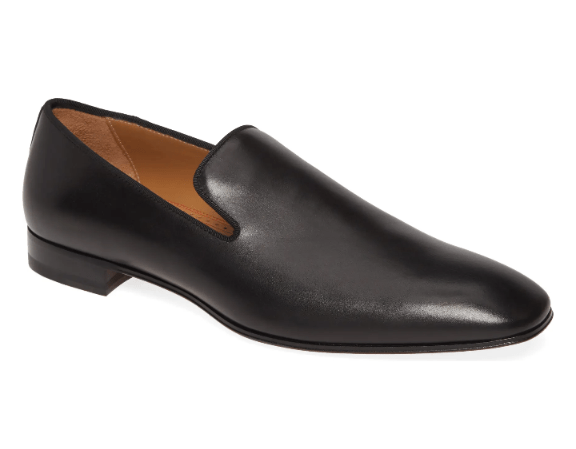 Venetian loafers are plain loafers without any decoration atop the upper. A pair of loafers sans decorative straps, kilties, and tassel on top are Venetian loafers, esteemed for simple elegance. These minimalist loafers often made from leather or suede are an all-season staple in any man's wardrobe, you can rock them all year round with your smart and smart casual outfits.
10. D Orsay loafers:
These are the loafers with prominent deep side cutouts that divide the upper into two parts. The upper in these shoes only covers the toes and heels. These vintage shoes are for guys who like to dress differently and don't fear standing apart from the crowd. They are named after a 19th-century French arbiter of fashion named Count Alfred G.G. d'Orsay. D'Orsay loafers are more popular among women, but they are gradually gaining ground in the men's fashion scene too  
11. Espadrilles: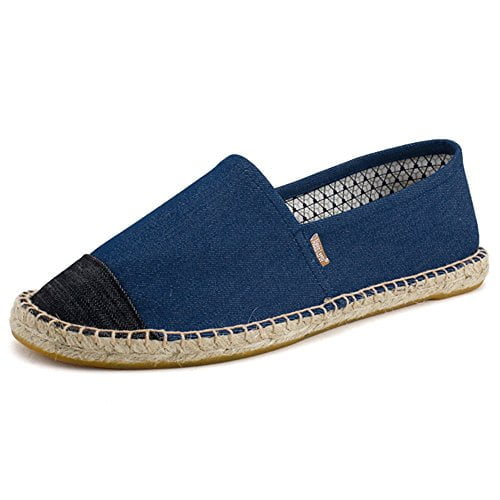 Espadrilles are light casual flat loafers having an upper made from fabric/ canvas and a sole made of rope or plaited fiber. Classic espadrilles have a sole made of esparto rope, made from perennial grass found in North Africa, Spain, and Portugal. Espadrilles are popular summer loafers for being breathable, stretchy, and easy to wear. Nothing will feel more comfortable on your feet than a quirky pair of espadrilles when sunning on the beach or at your favorite tropical destination.
12. Lug sole/Chunky sole loafers:
Chunky sole loafers feature a thick sole that provides extra protection and insulation when walking. They are stylish and quirky, guys often wear them with relaxed-fit trousers and khakis. Lug sole shoes can also add a couple of inches to your height in addition to providing you extra stability when walking down the street. Chunky sole shoes are just like the famous platform boots, the only difference being not having laces. These loafers are almost always made of fine-grain leather often in black or brown. 
13. Slingback loafers:
Slingback pumps are backless loafers with an open back and a strap around the heel. This design is obviously inspired by women's slingback shoes. Leather slingback loafers beautifully mix casual style with a bit of formality. These loafers are ideal for relaxed and warm days of summer when you want your feet to breathe. 
14. Belgian loafers: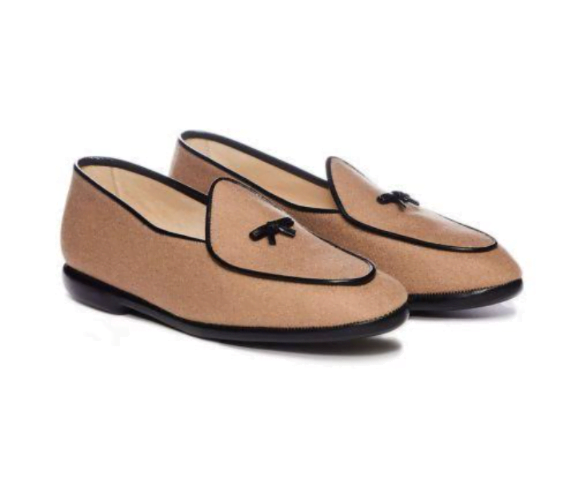 Belgian loafers are slipper-like loafers with a tiny bow or ribbon atop the upper. Belgian loafers are so-called because they originated from Belgium. This chic ribboned loafer was brought to the US in the 1950s and it never looked back ever since. These shoes are made from the finest materials and this makes them ideal for guys who want to infuse a touch of European elegance into their footwear game. 
15. Brogue or wingtip loafers: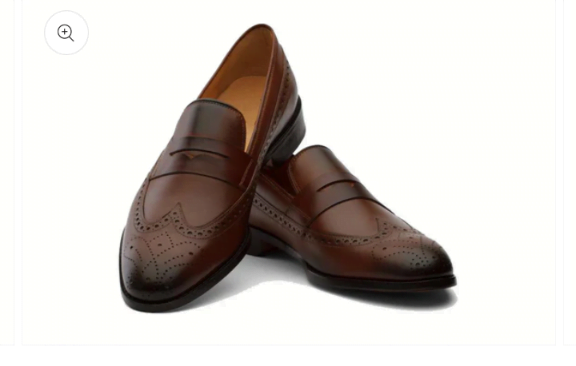 This classic specimen of men's loafers is distinguished by w-shaped decorative perforations and stitching(brogueing) at the toe cap. Timelessly elegant wingtips or brogues are a must-have in every guy's wardrobe. There's no better way to finish up your wedding outfit or informal business attire than donning a top-notch pair of fine-grained leather wingtips. Subtle decorative details in wingtips make them a perfect choice for fashionistas favorite to spice up otherwise bland formal suits.
16. Monk strap loafers: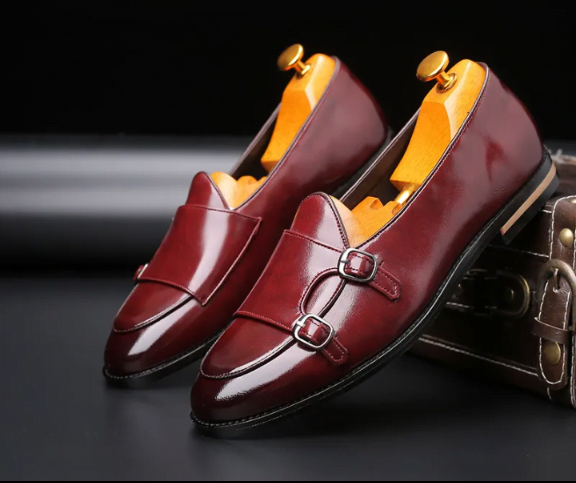 Monk straps or just monks are one of the most elegant members of the loafer family, they are distinguished by the presence of a fastening mechanism consisting of a side strap or two and metal buckles. These straps and buckles are equal parts functional and decorative. Monks straddle the boundary between formal and casual.  If you can rock them with your smart casual suits and equally smart denim outfits. Brown and oxblood are the ace colors when it comes to using them in relaxed situations, but black will work better for strictly formal dressing options.
17. Cap toe loafers: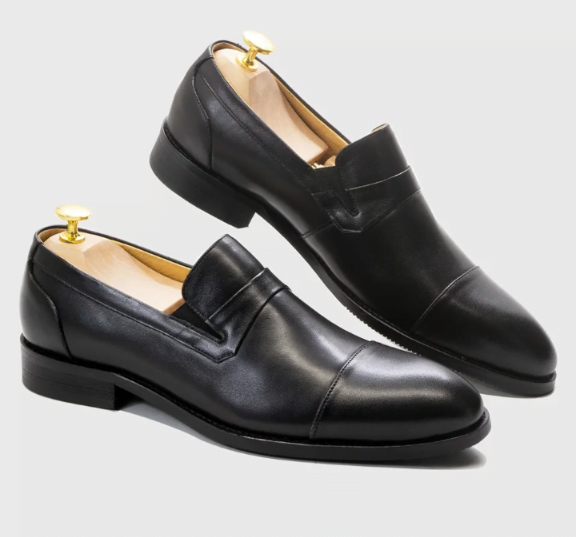 Cap toe shoes feature an additional layer sewn on the toe area, which is not only for decorative purposes but also provides extra protection to your toes. A line of stitching, that runs from the welt on one side to the other and separates the toe from the vamp of the shoe. Unlike cap-toe shoes, which are more common and very formal, cap-toe loafers fit in very easily in any outfit this is specifically true for outfits with sleek tailored pants
18. Moccasins (mocs):
Mocs or moccasin loafers are heelless loafers with sleek soles. Mocs are of native american origin, in their original shape they were made of a single piece of material usually leather around the feet coming together with a seam at the top. Modern mocs do have soles, sleek though but they do not have heels. Moccasins are quite similar to driving loafers the only difference being the sole, which is pebbled in the case of driving loafers. Mocs are casual and are worn with jeans, chinos, and shorts. Moccasin loafers can have laces, but they usually have a single pair of eyelets for the laces to pass through. The laces are insignificant as mocs are practically slip-on shoes. 
19. Athletic loafers/slip-on sneakers: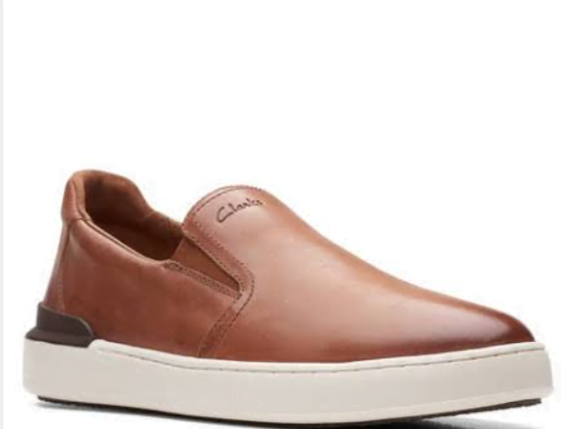 Athletic loafers are simply sneakers without laces, they are in fact slip-on sneakers. Athletic loafers are sporty but they are equally acceptable as a casual streetwear option. Athletic loafers can be found in a number of colors, as such they add a pop of color to your casual and sporty outfits. But neutrals like black, gray, or white remain the easiest to style in every situation. Modern athletic loafers are comfy, cozy, lightweight, and breathable, which makes them an all-season staple in men's wardrobes. These shoes often have thick rubber soles and leather or knit fabric uppers, the sole can have a contrasting color as compared to the upper. 
20. Braided/woven loafer:
Woven or braided loafers are one of the most stylish men's footwear options, they are very practical and are especially functional, especially for hot summer days. The unique braided structure of the braided loafer makes it especially handy to use in summer when temps are high and your feet are pleading for some air and breathability. Braided loafers are versatile and can be used in most situations. Season-wise, woven loafers are suited for warm or moderate weather because your feet won't suffocate due to heat.