8 different types of men's socks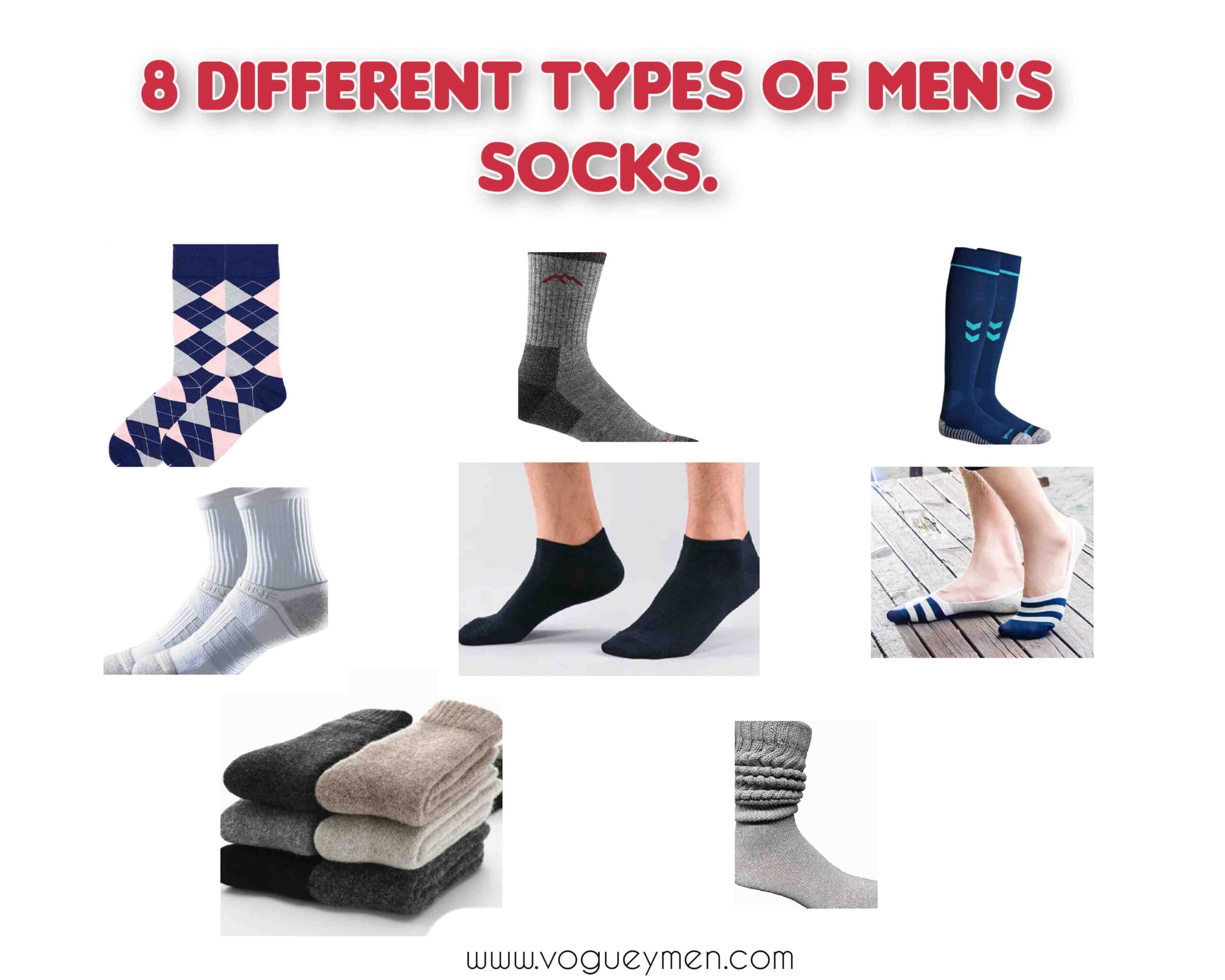 If there's one piece of advice, the majority of men often ignore, it would be "never underestimate the power of socks in creating an all-round fashion statement". If you fall in that majority group of men, you better mend your ways! True, there are no cops roaming in the streets asking men to stop and inspect their socks and sending them to jail for wearing a mismatched and discolored pair of socks for the 6th consecutive day, with a hopelessly ripped heel and the big toe peeping out at the front! Socks are important gentlemen, they are important as a foundation for any stylish outfit. A neat and well-cared-for pair of socks will make you feel more confident. There are dozens of types of socks available for men, but what types are the most popular and widely used, the ones worn by most men? If you are here to read about the important types of socks then you are at the right place. This article deals with 8 different types of socks you should own. 
1. Regular dress socks:
These dressy socks are of variable length, mostly having midcalf (crew-length)or over-the-calf length. Dress socks should be preferred in subtle patterns and solid and muted colors. Modern dress socks are cut from the finest fabrics that are both durable and breathable. Every guy should choose only the best and most durable dress socks as they will be a part of your smartest and dressiest outfits. You will be wearing these dress socks with oxfords, brogues, monks, and other formal shoes.
2. Boot socks: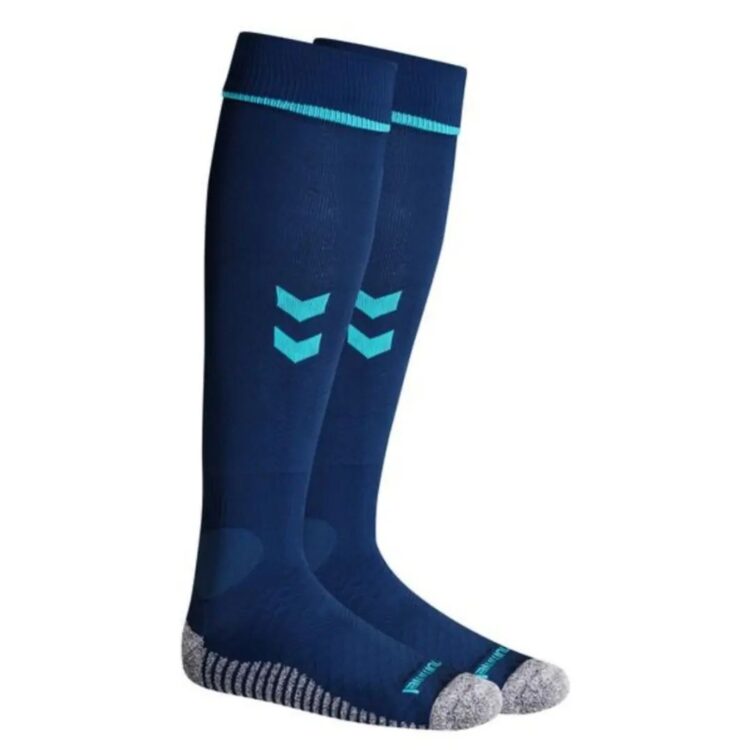 These socks are of a thicker knit and sturdier fabric, often having padding at the heels and toes. These socks are manufactured to be worn with rugged leather boots and for outdoor activities. Boot socks are of mid-calf length or higher and an average guy needs these socks with tough designs to be worn with work boots and other tactical boots and for activities like hiking and camping.
3. Crew socks: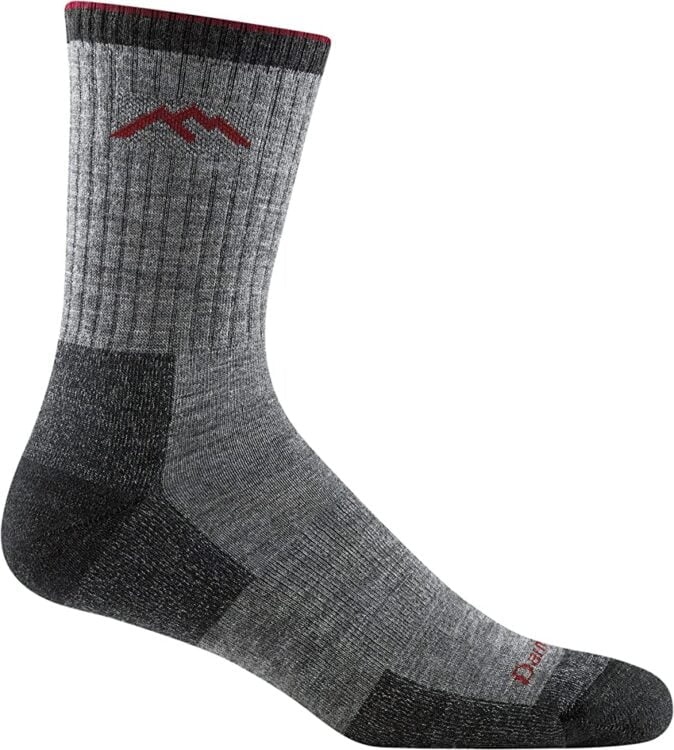 Any mid-calf length socks are called crew socks, they are the most popular type of socks. In modern usage, crew socks are those everyday socks that are of mid-calf length, often ribbed and textured at the portion above the ankles. Being the most versatile and widely used type of socks, crew socks are manufactured for every situation, formal, casual, and athletic and they can be found in every conceivable material, wool, cotton, polyester, acrylic, nylon silk, and any blend of these fabrics. The name crew is a tell-all sign of their military origin, which dates back to the world war-2 era. 
4. Sports socks: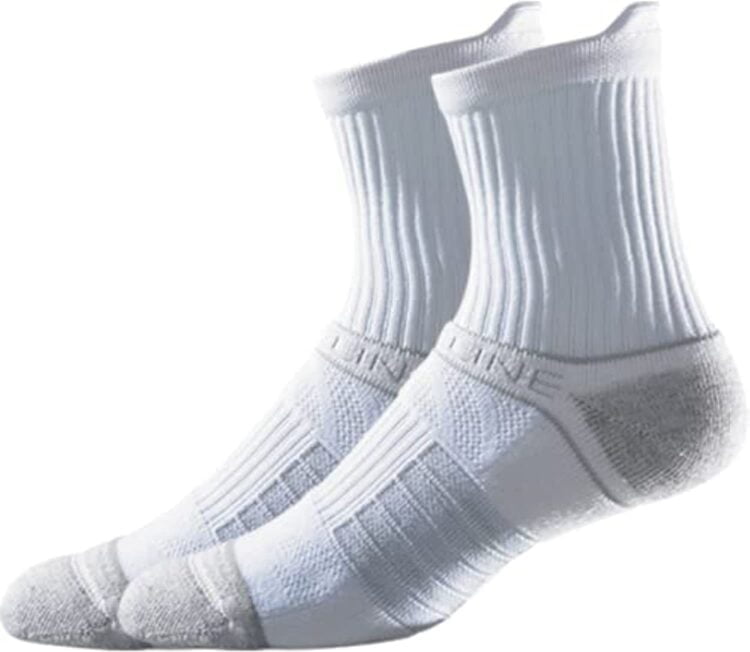 Activities like working out, training, running, and exercising are a part of every modern man's life, you need to own special shoes and socks for these activities. Sports socks are what you need to wear with your athletic shoes and work for your athletic goals. Sports socks must be breathable and cushiony,  Reinforced heel and toes, arch support, and moisture-wicking capacity should be the features you should look for when buying sports socks.
5. Low-cut socks/ankle socks/anklets/ sneaker socks: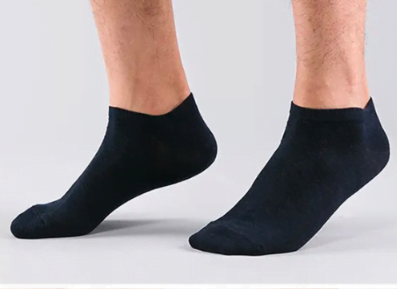 These socks tend to extend up to the ankles, they may or may not cover the ankles. Sneaker socks are meant to be worn with sneakers, especially low-top ones. These socks are summer socks and are made of cotton. Meshed top makes them more breathable and this makes them suitable for summer. White is the most popular color, and other solids, and neutrals like black, gray, brown, etc.
6. Loafer socks/no-show socks: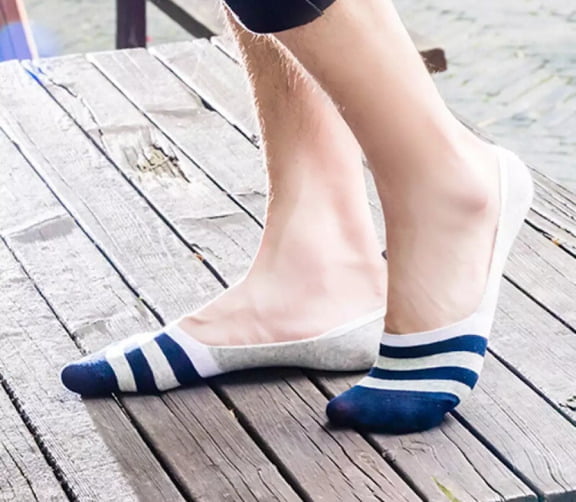 These socks are more like insole lining, you wear them in loafers, boat shoes, and espadrilles. Loafer socks are designed to cling to the lower part of your feet to keep your shoes from getting sweaty.  No-show socks often tend to slip off your heels, but modern versions are manufactured to keep them from slipping off. They have a stronger grip created by using silicon gel, in addition, they are made more elastic to avoid sagging. 
7. Thermal socks: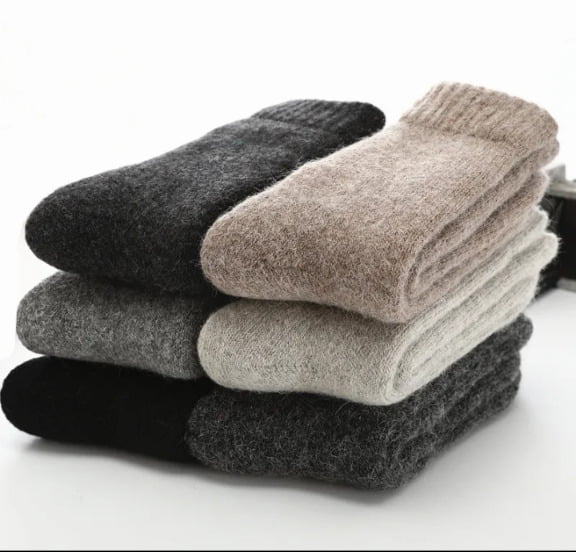 Thermal socks are thick winter socks to keep your feet toasty when temps take a dip. Thick Merino wool socks are the best solution to keep your feet warm, they are moisture-wicking and insulating to do the job. When buying a pair of thermal socks, choose the ones with cushioned toes and heels, they'll keep your toes from getting numb during winter. They should be moisture-wicking, cozy, and comfortable.
8. Slouch socks: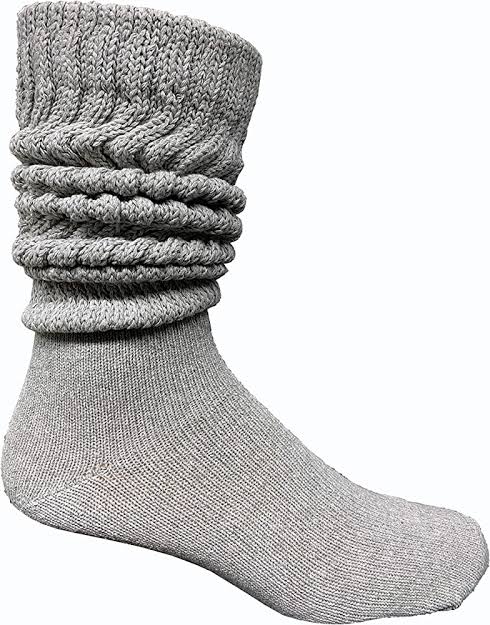 Slouch socks are casual socks made from thick ribbed knit fabric. Slouch socks are long and scrunchable socks that can be pulled up or pushed down to form folds or layers to provide extra insulation to your feet. These socks were popular during the 1980s and remained popular until the mid-1990s. These socks are still popular with guys with a taste for the vintage and the classic. You can wear your slouch socks with boat shoes, casual loafers, or sandals for a vintagey casual look.
FAQs
Are low-cut socks the same as ankle socks?
Low-cut and ankle socks are the same, both terms refer to the same type of socks. These socks typically have a length up to the ankles, they may or may not cover them. This means ankle socks or low-cut socks can have varying lengths. The thing that distinguishes them from other types is the fact that they are markedly shorter than the crew socks, and they are primarily worn with sneakers, that's why they are also called sneaker socks. 
Are boot socks and crew socks the same?
Boot socks are the sturdier and thicker type of socks with reinforced heels and toes often manufactured from wool. They are exclusively used with boots. Whereas crew socks refer to a particular length of socks, any socks of mid-calf lengths and ribbed tops are crew socks. Crew socks can be thick or thin, they can be casual or formal and even boot socks can be crew socks if they have a mid-calf length and a ribbed top. 
Are crew socks long or short?
Crew socks are of mid-calf length which makes them a medium-length type. These socks almost always have a ribbed and textured top that makes them cling to the calf and not slip off. 
Are thermal socks made of cotton?
Thermal socks are meant to be thick, warm, and insulating. So wool is the material most often used to manufacture them. Cotton, as a rule, is seldom used to knit thermal socks. Cotton is a breathable material but not as insulating as wool, so it's not as helpful as wool, this wool is the most widely used material for the manufacturing of thermal socks.
Why do guys wear no-show socks?
Guys wear no-show socks only when they don't want to wear any socks! Or when they want to appear sockless. It's a style preference to appear sockless but it's a necessity to wear these no-show socks. As they not only protect the feet from getting sweaty and smelly but also keep the shoe insoles from getting discolored and stinky. Moisture wicking is another function that these invisible socks offer.